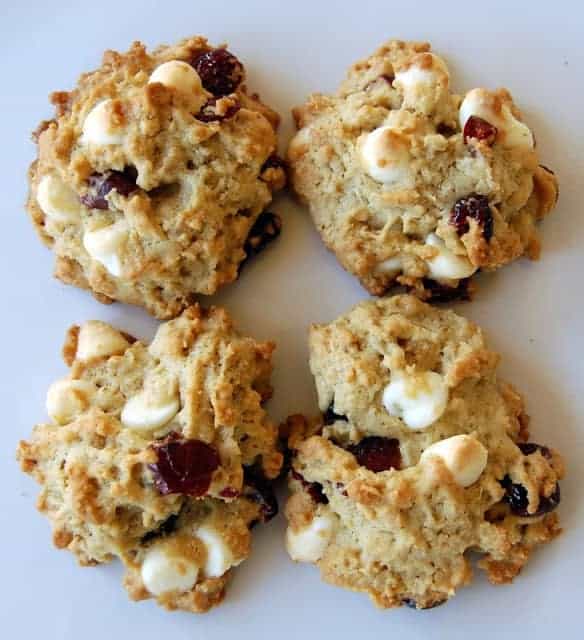 My mother-in-law gave me this recipe because my kids absolutely love when she makes these cookies, and it's also on the back of the Craisins bag if you're ever needing it.
Oatmeal Cranberry White Chocolate Chip Cookies
2/3 cup butter
2/3 cup brown sugar
2 eggs
1½ cups oats
1½ cups flour
1 tsp. baking soda
½ tsp. salt
6 oz. package Craisins (sweetened dried cranberries)
2/3 cup white chocolate chips or chunks
Beat butter and brown sugar until fluffy.
Add eggs and oats.
Combine flour, baking soda, and salt. Add to butter mixture.
Stir in cranberries and chocolate chips. Drop by teaspoonfuls onto a baking sheet.
Bake at 375ºF for 10-12 minutes. Makes 4 dozen.
I'm mixing the brown sugar and the butter together, then take out the salt and baking soda and realize I have less than ¼ cup of flour left. How can this happen? I'm doing an experiment/project/challenge that will last me a whole year on baking and I have less than ¼ cup of flour in the house?!
Not well prepared, so had to run mid-recipe out to the store. I bought the 10 pound bag, so that should last me through the middle of next week…I hope.
My kids love these cookies! I don't know if I made them as well as Grammy did; things always taste better when there are some warm fuzzy memories associated with them. But they were excited to come home from school to find them on the counter. My husband gave them the thumbs up, too. I preferred the plain ol' Craisins mixed with white chocolate chips personally.
Alright, so I had a little snack while I was mixing things together – just making sure they were safe to eat and weren't going to make anyone sick. On a scale of 1-4 rolling pins with 4 being the best, these cookies deserve a 3½!