Lemon Coconut Sugar Cookies – fresh lemon juice and zest, and shredded coconut make this frosted sugar cookie a great Springtime treat!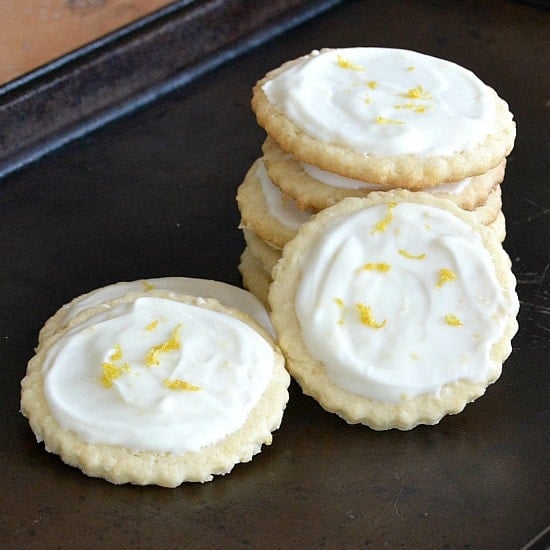 Spring has sprung!
Can you feel it? Or perhaps you're living in the northeast where temps. are still in the 30's and I've seen reports that it snowed…again.
I'm sorry. I know this winter has been especially hard with all that white stuff that's been coming down. I'm sure it seems never-ending.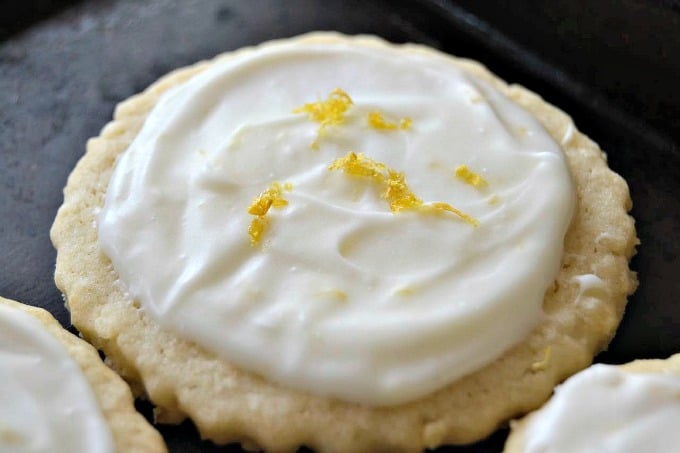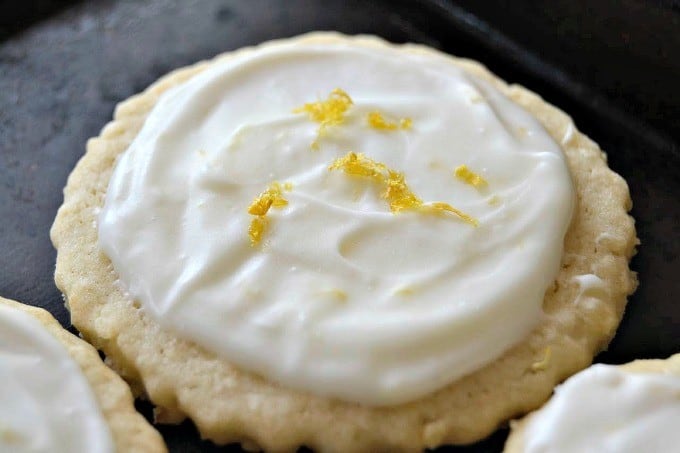 Back in '97, I was pregnant with our 3rd child and was due April 10th, and it snowed on April Fool's Day! No joke. And not just light little flurries, neither. We're talking blizzard with 18 inches in Rhode Island.
I have photos of the 5th birthday party for our daughter at Discovery Zone, an indoor amusement center with huge snow piles in the background. Fortunately, the party still went on as planned, but I was most nervous about going into labor during the storm.
Didn't happen. He arrived on the 11th after mom swallowed some *gulp* Cod Liver Oil to start the process. Yeah, the stuff really does work.
SAVE THIS SUGAR COOKIE TO YOUR FAVORITE PINTEREST BOARD!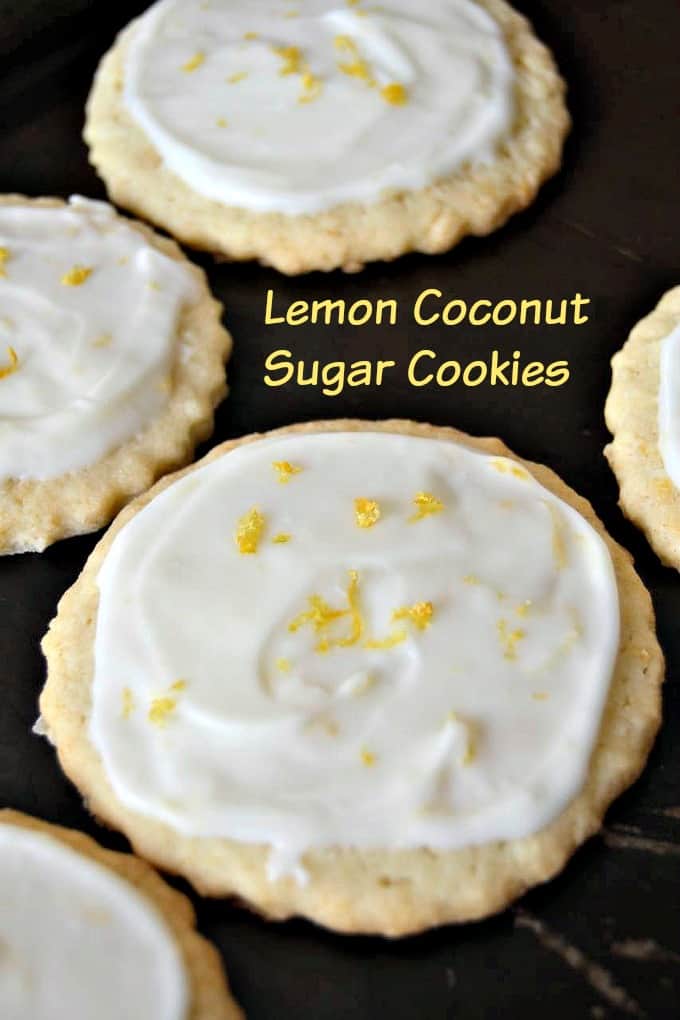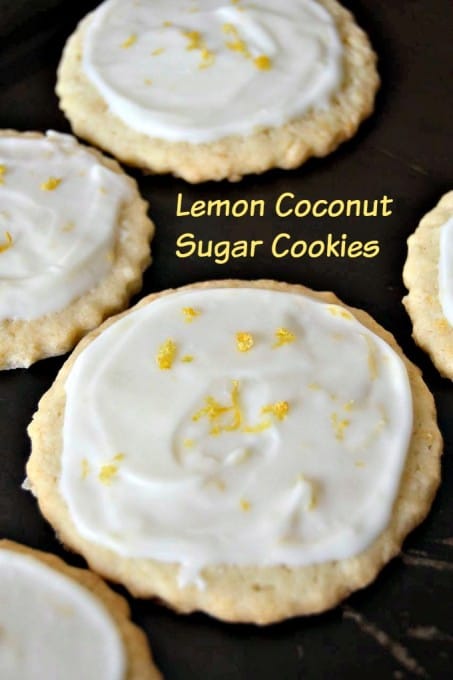 So, if it's not exactly feeling like Spring where you live or is feeling more like summer with temps. in the 90's, like here in Phoenix, then make these Lemon Coconut Sugar Cookies and they'll bring a smile to your face.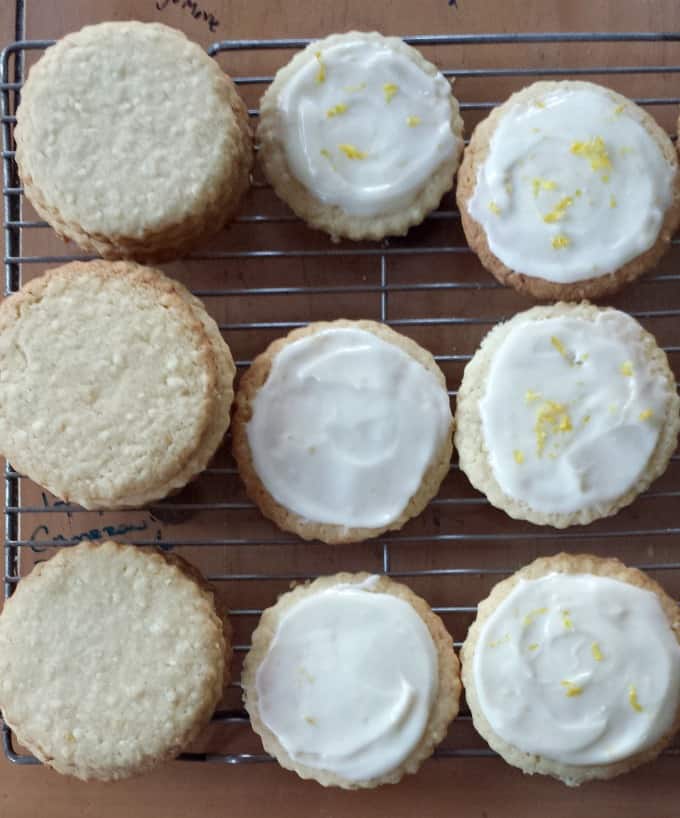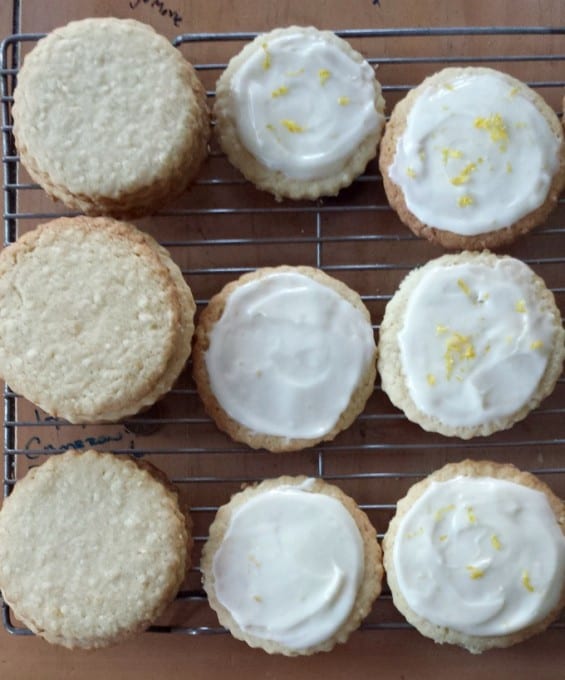 Well, maybe they will. Or, if you're like Mr. 365 who doesn't like "cookies with sauce" on them, then you won't.
Really, sauce on a cookie???? That's F-R-O-S-T-I-N-G. Sauce.
He's crazy. He just told me he "tolerates" them. haha, I've never heard of anyone tolerating a cookie. Nut.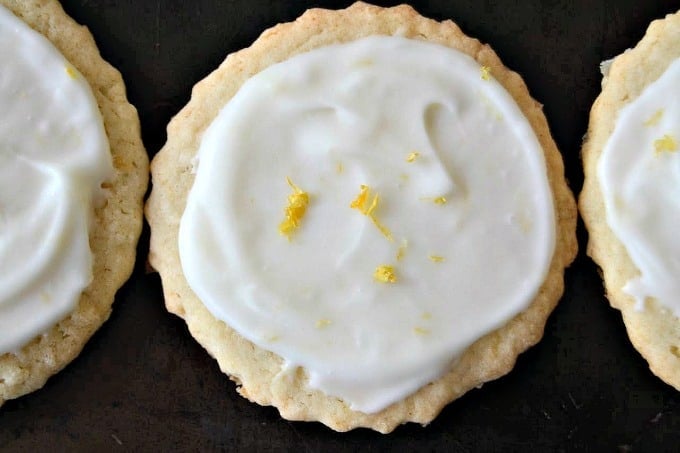 I can never have enough cookie recipes, especially sugar cookies!
I'm drooling over these Key Lime Sugar Cookies! You lime lovers out there are going to LOVE these!
This recipe for the Best Sugar Cookie EVER needs to be taped to the inside of my cupboard! Simple sugar cookies are awesome and perfect for the holidays…or every day in between. 😉 You can't go wrong with these I Want to Marry You Cookies. They might just get you a proposal if you make them for the love of your life! Do it!
Don't want to make cookies? Make these Sugar Cookie Bars! The kids will love them!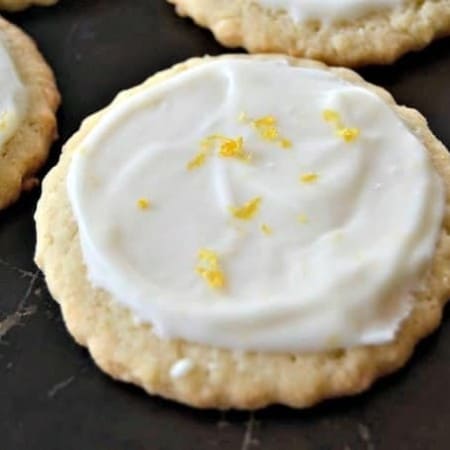 Lemon Coconut Sugar Cookies
Ingredients
1 ¾ cups + 2 tablespoons sifted all-purpose flour
¾ cup sweetened shredded coconut
1 teaspoon fresh lemon zest
¾ teaspoon baking powder
½ teaspoon Kosher salt
½ cup 8 tablespoons unsalted butter, room temperature
¾ cup granulated sugar
1 egg
1 tablespoon fresh lemon juice
1 teaspoon pure vanilla extract
Lemon Cream Cheese Frosting
4 ounces cream cheese room temperature
2 cups confectioners' sugar
1 tablespoon fresh lemon juice
1 tablespoon milk
1 teaspoon fresh lemon zest plus additional for decorating
Instructions
Cookies
In a blender or food processor, place the coconut and chop into smaller flakes

In a large bowl, whisk together the flour, shredded coconut, lemon zest, baking powder and salt.

In a stand mixer fitted with the paddle attachment, cream the butter and sugar together until light and fluffy, about 5 minutes.

Add the egg and beat until well incorporated.

Mix in the lemon juice and vanilla.

Gradually add the dry ingredients and mix until just blended.

Wrap dough on plastic wrap and flatten into a rectangle. Refrigerate for one hour.

Preheat oven to 375 degrees F.

On a well-floured surface, rollout 1/2 of the dough to 1/4-inch thick while refrigerating the remaining half.

Using a 3-inch round cookie cutter, cut out the cookies and place onto a baking sheet.

Bake for 10 - 12 minutes until edges are lightly golden.

Allow to cool on baking sheet for 5 minutes before transferring to a wire rack.

Cool completely before frosting.
Lemon Cream Cheese Frosting
In a stand mixer fitted with the paddle attachment, beat the cream cheese until smooth.

Gradually add the confectioners' sugar and one teaspoon of lemon zest

Add the lemon juice and mix well.

Pour in the tablespoon of milk and beat until smooth.

Frost the cookies, and top with additional lemon zest.

Allow frosting to set.
Did you make this recipe?
Share it with me on Instagram and make sure to follow me on Pinterest for more recipes.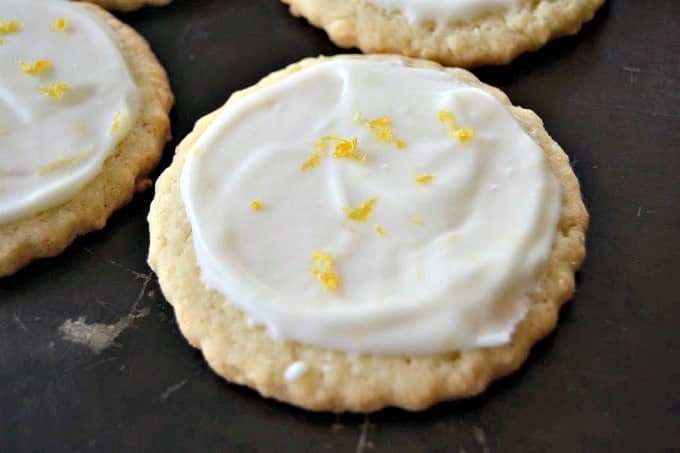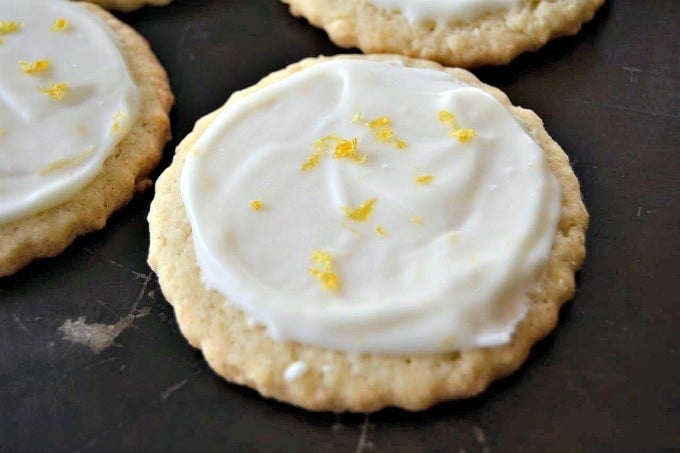 I rate everything I make on a scale of 1 – 4 with 4 being the best and these Lemon Coconut Sugar Cookies with Lemon Cream Cheese Frosting earned 4 rolling pins.
One bite and I was transported to my childhood eating those Sunshine Lemon Coolers out of the green and yellow box! I LOVED these!!
And sauce or no sauce, I think you will, too. 😉
If you like these cookies, take a look at our other great desserts…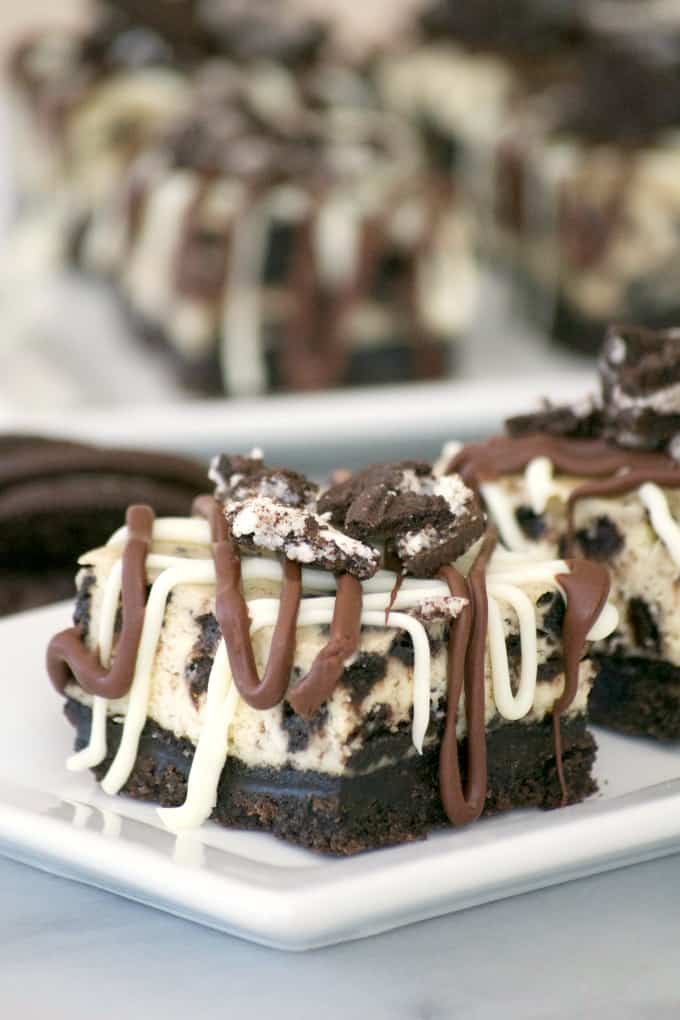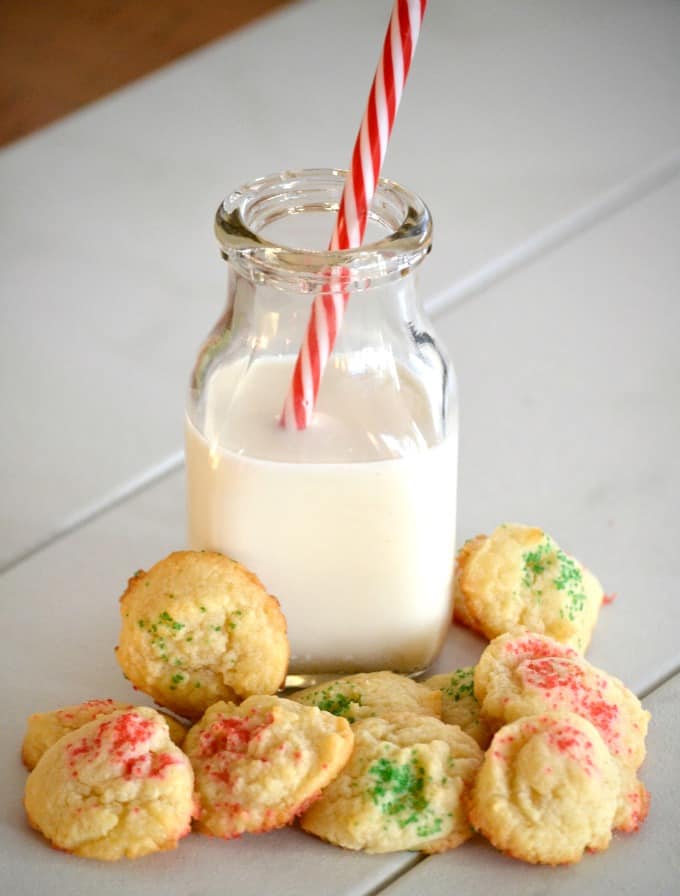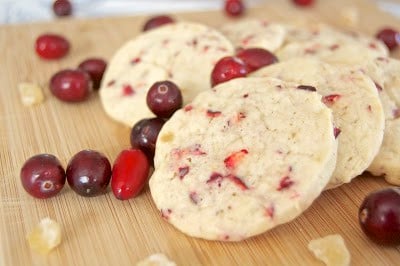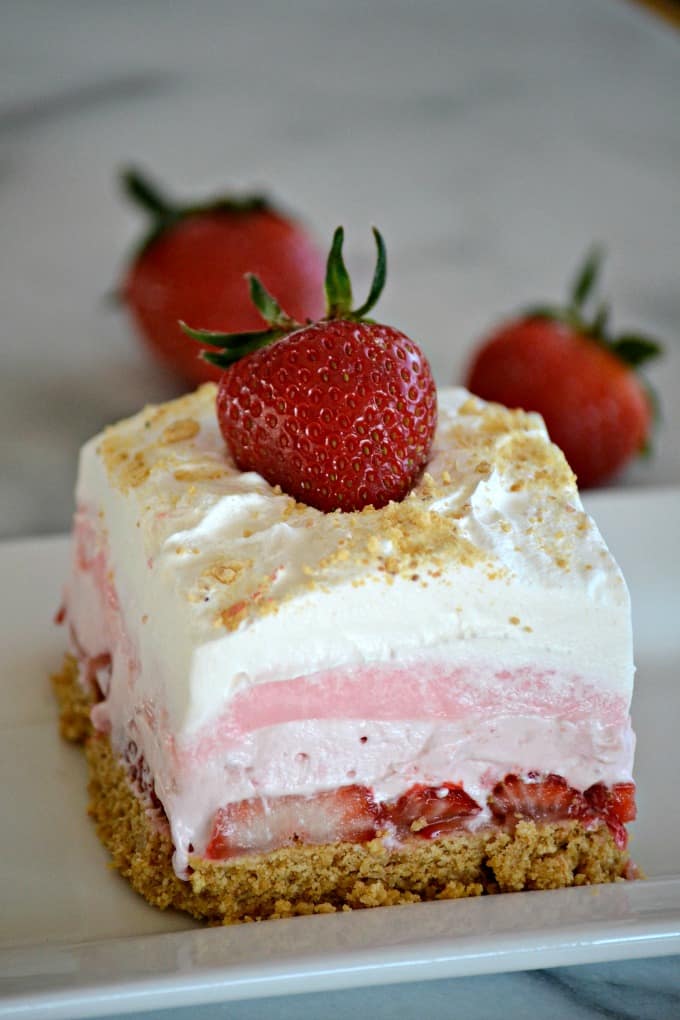 Want more cookie recipes? Take a look at these videos for more ideas!

Reader Interactions