Strawberry Cheesecake Dream Bars are a no-bake dessert made of a graham cracker crust, fresh strawberries, and creamy cheesecake. With a layer of white chocolate pudding and a whipped cream topping, these are the BEST strawberry cheesecake bars you'll ever taste.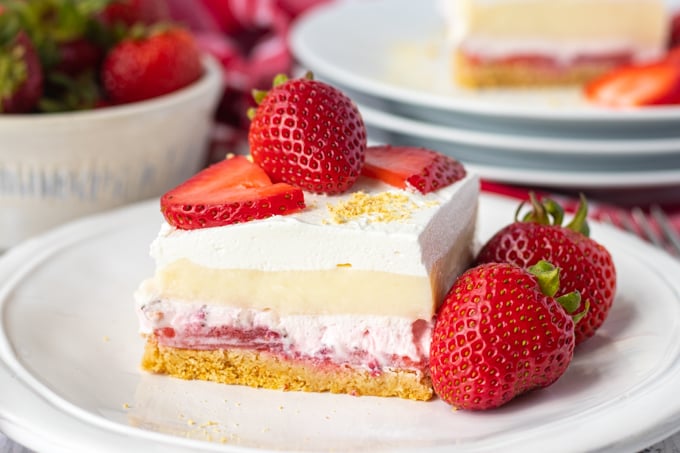 This layered dessert has been one of my family's favorite recipes for many years. My readers love it almost as much as my Chocolate Peanut Butter Dream Bars.
When the warmer weather rolls around, no bake desserts are always a good idea. These no-bake cheesecake bars remind me of a dessert lasagna or lush recipe.
SAVE THIS EASY STRAWBERRY CHEESECAKE RECIPE TO YOUR FAVORITE PINTEREST BOARD!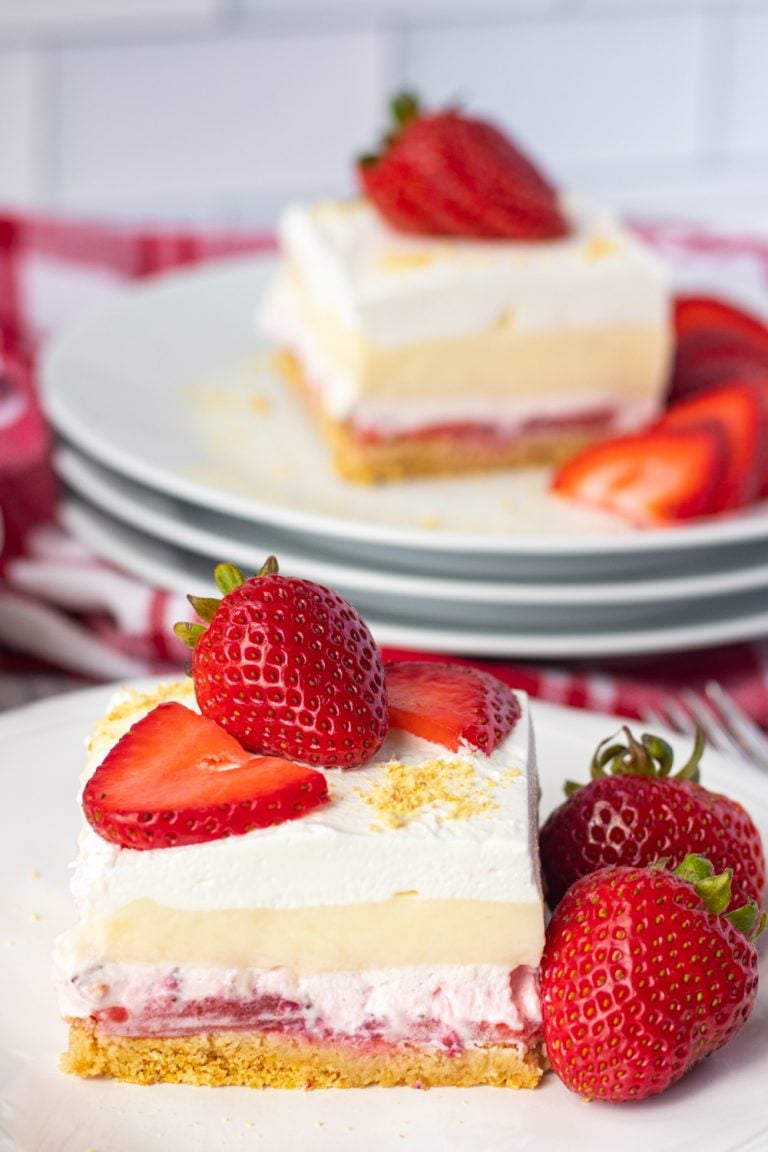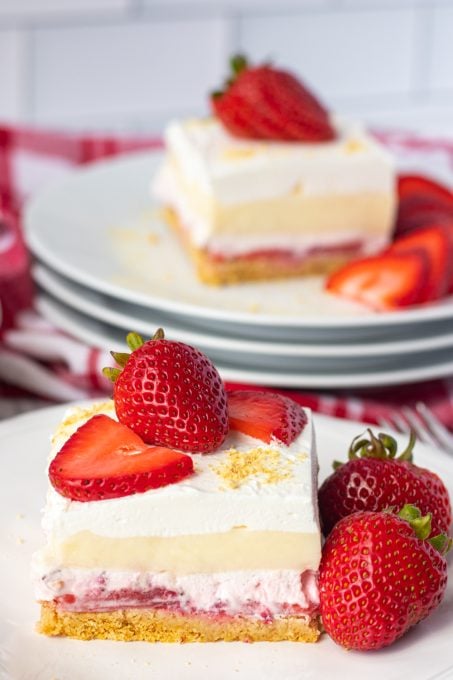 If you're looking for an easy dessert that's positively bursting with fresh strawberries, I can't see how anything could be better than these Strawberry Cheesecake Dream Bars.
The graham cracker crust is the perfect vehicle for delivering the creamy cheesecake, smooth pudding and juicy strawberries to your mouth!
You'll fall in love with this dessert at first bite. I promise.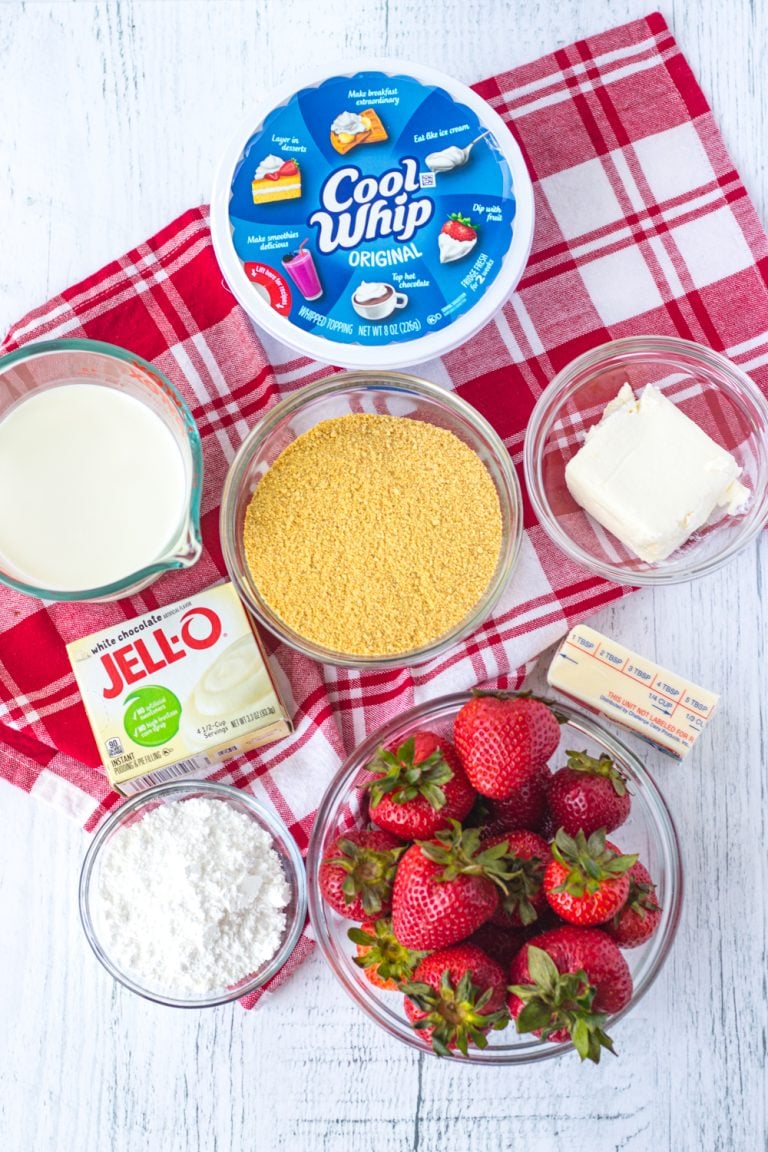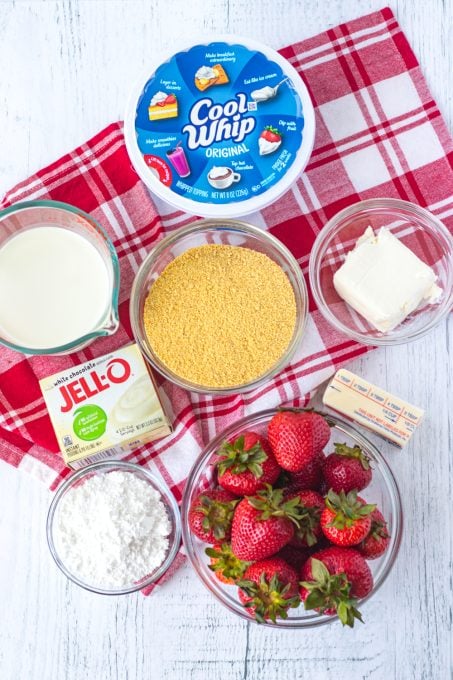 What do I need?
Here's what you need to make perfect layered Strawberry Cheesecake Bars.
Graham cracker crumbs
Unalted butter
White Chocolate Instant Pudding Mix – Unfortunately, I am no longer able to find the Strawberry Creme pudding I used in the original recipe, but Sonic makes a Strawberry Shake pudding you could use (though I haven't tried it). Instant vanilla pudding will work as well.
Milk
Cream cheese
Confectioner's sugar
Fresh Strawberries or you can use some roasted strawberries
Cool Whip or stabilized whipped cream
For those of you counting along, that's only nine ingredients for a homemade no-bake cheesecake. Not bad, right??
How do I make it?
Once you find out how easy it is to make Strawberry Cheesecake Dream Bars you're going to be making them all the time!
1. Mash the strawberries.
Use a mallet or a strong fork to mash up four of the fresh berries. Set aside the rest for decorating your finished bars.
2. Make the cookie crust.
Combine the graham cracker crumbs with melted butter. You can also use Golden Oreos or graham crackers. Put them into the bowl of a food processor and pulse them into a fine crumble. Press this mixture into the bottom of the prepared pan. Then freeze it for 30 minutes while you make the filling.
3. Make the fillings.
Whisk together the white chocolate pudding (or package of strawberry pudding mix if you can find it) and milk in a small bowl. In a separate bowl, cream together the cream cheese with mashed strawberries and confectioners sugar.
The filling should look fluffy, creamy and pale pink at this point.
4. Assemble!
Now it's time to layer all these individual components to create an incredible strawberry dessert.
Take the chilled cookie layer out of the freezer. Add the layers in the following order:
Sliced fresh strawberries on top of the crust
Creamy cheesecake filling
Pudding
More sliced strawberries
Whipped topping
I like to add a few extra slices of strawberries on top of the whipped cream, plus a few handfuls of graham cracker crumbs for a crumble topping to complete the look!
These are going to be a hit for your summer cook-outs, so you might want to double the recipe. Put it into a 9 X 13-inch baking dish to make sure there's enough for everyone!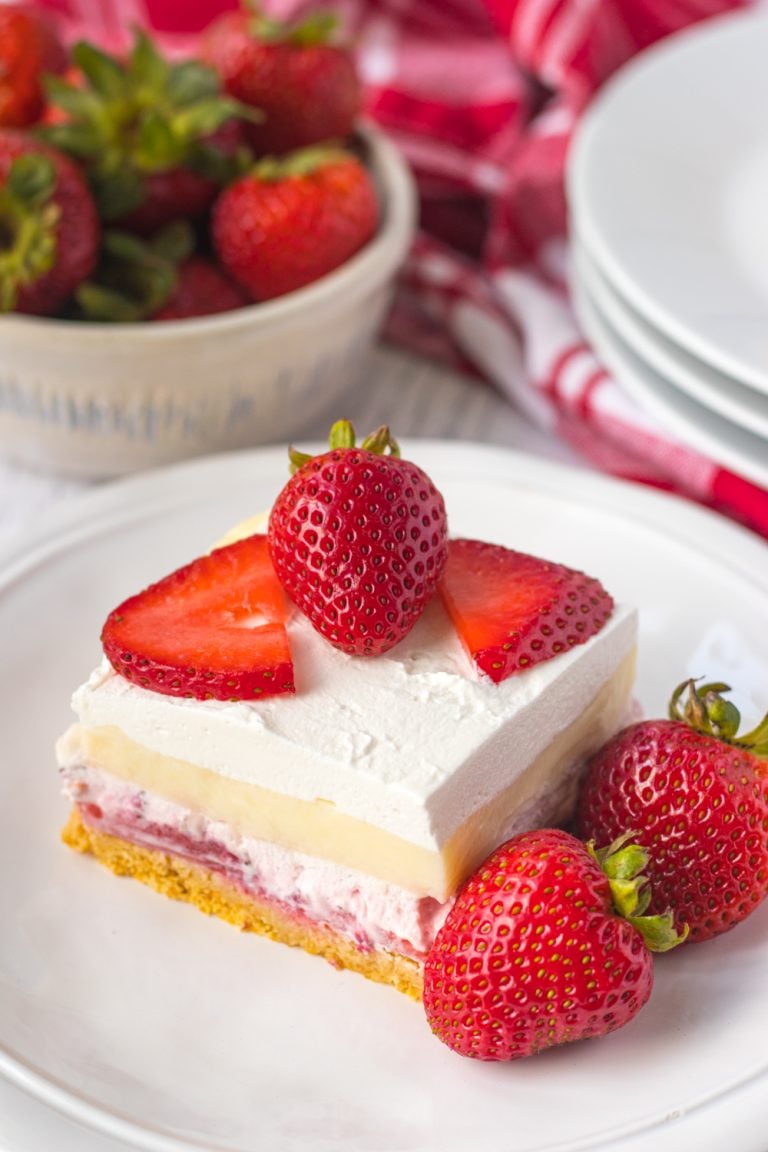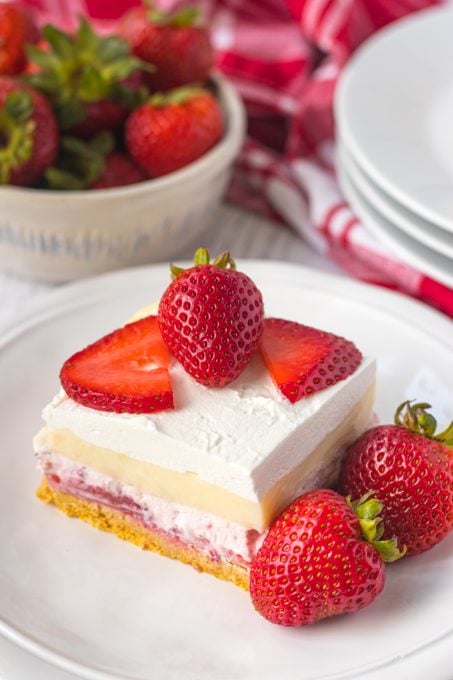 How do I store it?
Make sure to chill this no bake cheesecake for at least 2 hours before serving it. The pudding and cheesecake layers will firm up allowing for perfect slices.
One look at the ingredients for these Strawberry Cheesecake Bars shows you that this no bake dessert is full of perishable ingredients including cream cheese, milk and fresh fruit.
That means it needs to be stored in the refrigerator when you're not eating it. It's okay left out for about an hour or two, but after that you risk it spoiling prematurely. Not to mention, becoming too soft to slice.
Keep the bars covered and chilled and they'll stay good for up to a week!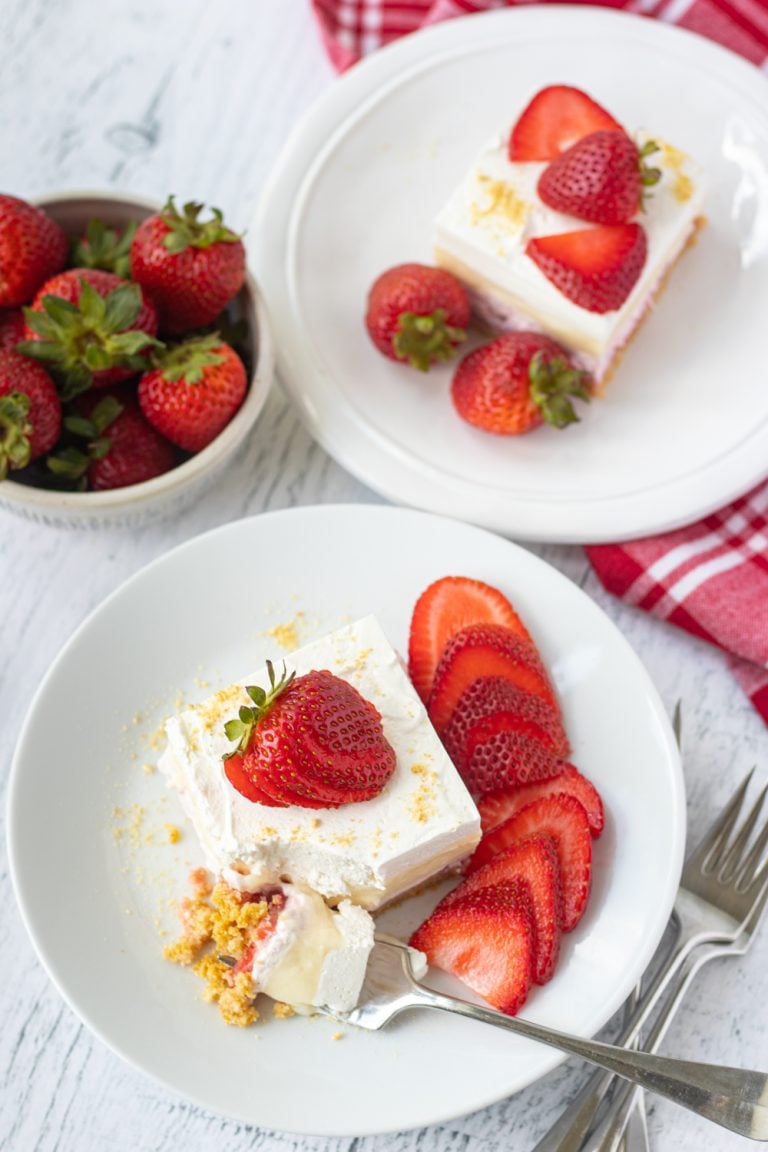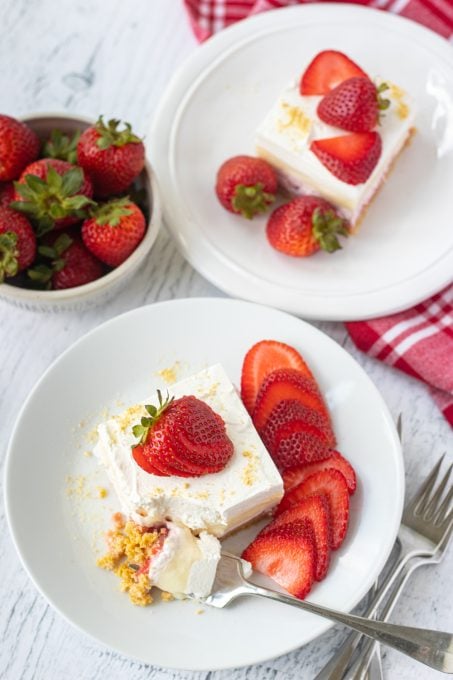 What can I use instead of Strawberry Creme pudding?
I've noticed lately that the strawberry creme pudding mix I adore in this recipe is becoming harder to find. If you're having trouble getting it too, there's an easy fix: white chocolate pudding mix!
You can find it or vanilla at almost every grocery. Add it plain or puree it with a few extra strawberries to mimic the "strawberries and cream" flavor of the original. It tastes just as delicious!
Can I use heavy whipping cream instead of Cool Whip?
I know some of you reading this are opposed to making desserts with Cool Whip or artificial whipped toppings. As much as I LOVE the stuff, I get why you prefer the real thing.
But this is one of those times when you do really need to use whipped topping with stabilizers, like Cool Whip or its' store brand equivalents.
If you can't find it where you live or prefer not to use it, I have great news.
I have a recipe of stabilized whipped cream exactly for that reason!
Give it a try and then use it to make these Strawberry Bars.
I promise it's well worthwhile!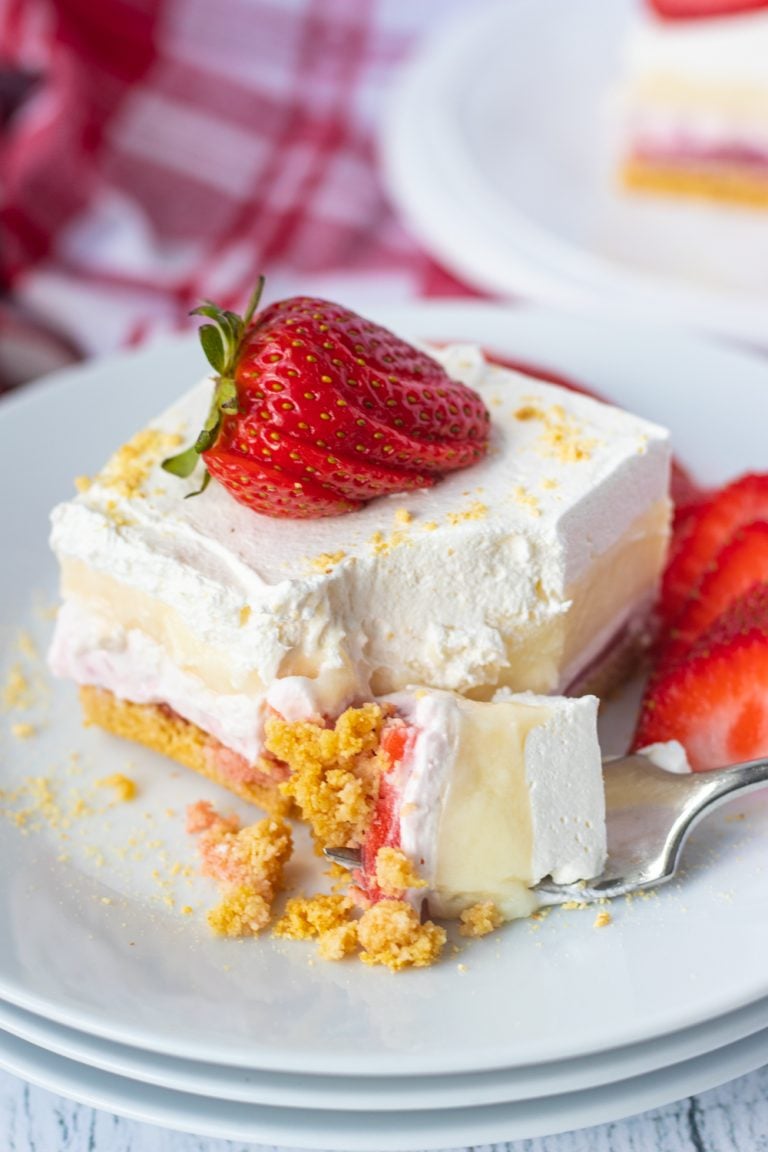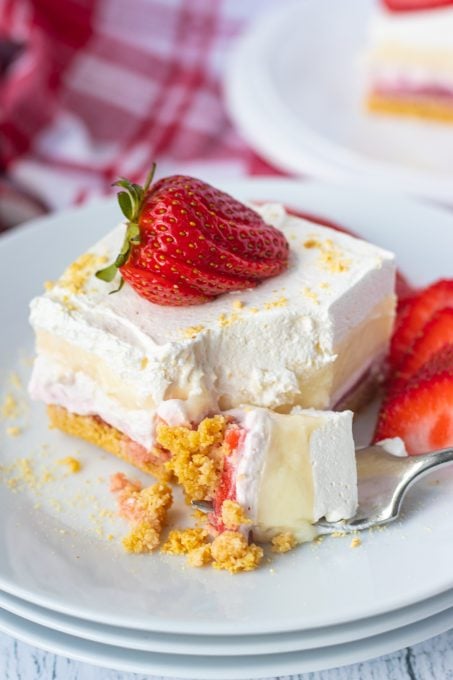 Dream Bar Recipes
Long time readers already know that I'm a little bit fanatical about my dream bars! I think they're the perfect no bake dessert for any occasion.
If you could find anything to criticize about serving Strawberry Cream Cheese Dream Bars for the dessert it would be that it doesn't have chocolate. I enjoy the pure flavor of the strawberries and cream here.
For those who NEED a little chocolate in their dessert, I have a recipe for Chocolate Covered Strawberry Dream Bars as well. I couldn't possible pick a favorite strawberry dessert between the two!
After strawberry season comes blueberry season, which means it's time to make some Blueberry Almond Dream Bars! Raspberry dessert lovers adore these No Bake Raspberry Cream Dream Bars too.
My favorite thing about dream bar recipe is how quick and easy they are to make, even if you don't have access to a kitchen with an oven. You only need a few ingredients to whip up a decadent no-bake dessert like Turtle Dream Bars or Peanut Butter Cookie Dough Dream Bars.
It's too difficult for me to choose a favorite dream bar recipe! You'll just have to make them all and tell me what you think.
No Bake Desserts
Dream Bars are far from the only no-bake dessert recipes I have on the blog. Check out these other delicious dessert ideas perfect for those hot days when you don't want to turn on the oven!
Let's start with No Bake Chocolate Peanut Butter Cornflake Cookies, a classic no-bake cookie made with cereal. I use cereal as the base for all kinds of desserts that don't require an oven, from Cinnamon Rice Krispies Treats to Lucky Charms Bark Recipe.
Cheesecake Bars aren't the only no-bake dessert recipe my family loves. My No-Bake Lemon Cheesecake recipe is a summertime staple. Then when cold weather arrives, you can still keep it "no-bake" with this No Bake Cherry Hot Chocolate Cheesecake!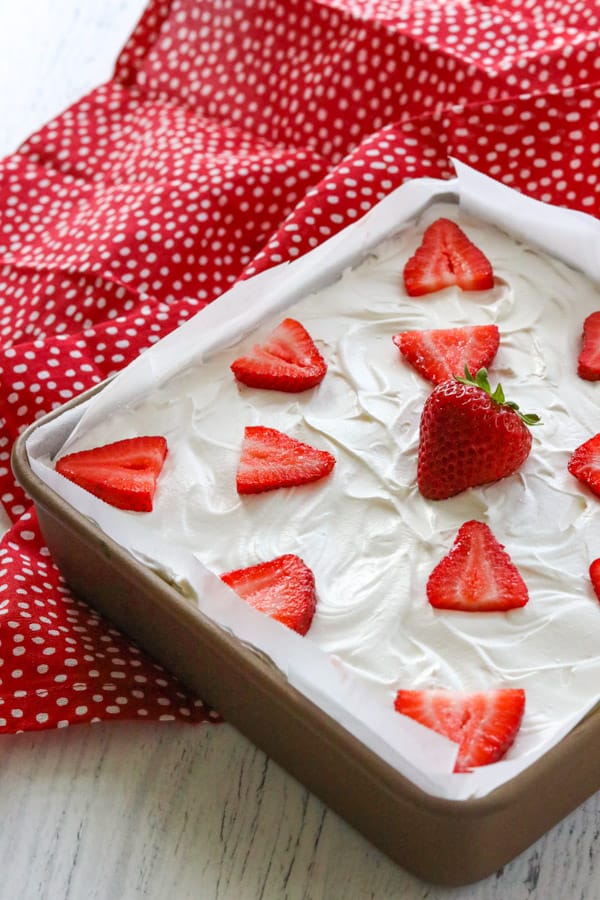 Strawberry Desserts
If the fresh strawberries in this Strawberry Cheesecake Dream Bar recipe are what caught your eye, you're in good company.
Strawberries are my most favorite fruit, so it only makes sense that I have quite a few recipes here on the site with strawberries in them.
One of my favorites ever since I was little is this recipe for Strawberries Lenox. It was always a special treat when mom made it every summer. It's so easy to make and is perfect on ice cream, pound cake or just by itself topped with some whipped cream.
Strawberry Cream Muffins are breakfast goodies I plan to make all year long, not just during strawberry season. These Easy Strawberry Scones are another baked good perfect for breakfast or your afternoon tea.
Want to have dessert for breakfast? Or breakfast for dessert? Either way my recipe Strawberry Nutella Crepes is a must try, full of rich chocolate and hazelnut spread.
Lest you think I only put strawberries in my desserts and baked goods, I've got a Strawberry Spinach Salad recipe to prove you wrong! Packed with freshness and flavor, it's a lunch or side dish you can make in minutes. You can even add grilled chicken and call it dinner!
Like cookies as much as I do? You'll love these Strawberry Buttercream Sugar Cookies. The frosting is AH-mazing!
My Dream Bar recipes are by far my most popular, but this Strawberry Pretzel Pie is pretty popular in itself. Just like that Strawberry pretzel salad your grandma used to make, it's a dessert you'll make for years to come. And if you don't want to make it in pie form, make it easy and serve these Walking Strawberry Pretzel Salads.
I've always enjoyed the combination of strawberry and rhubarb too. While I love a Strawberry Rhubarb Pie, I'd prefer a Strawberry Rhubarb Galette. It's easy to make and even easier to eat!
SIGN UP FOR THE WEEKLY
365 DAYS OF BAKING & MORE
NEWSLETTER BELOW!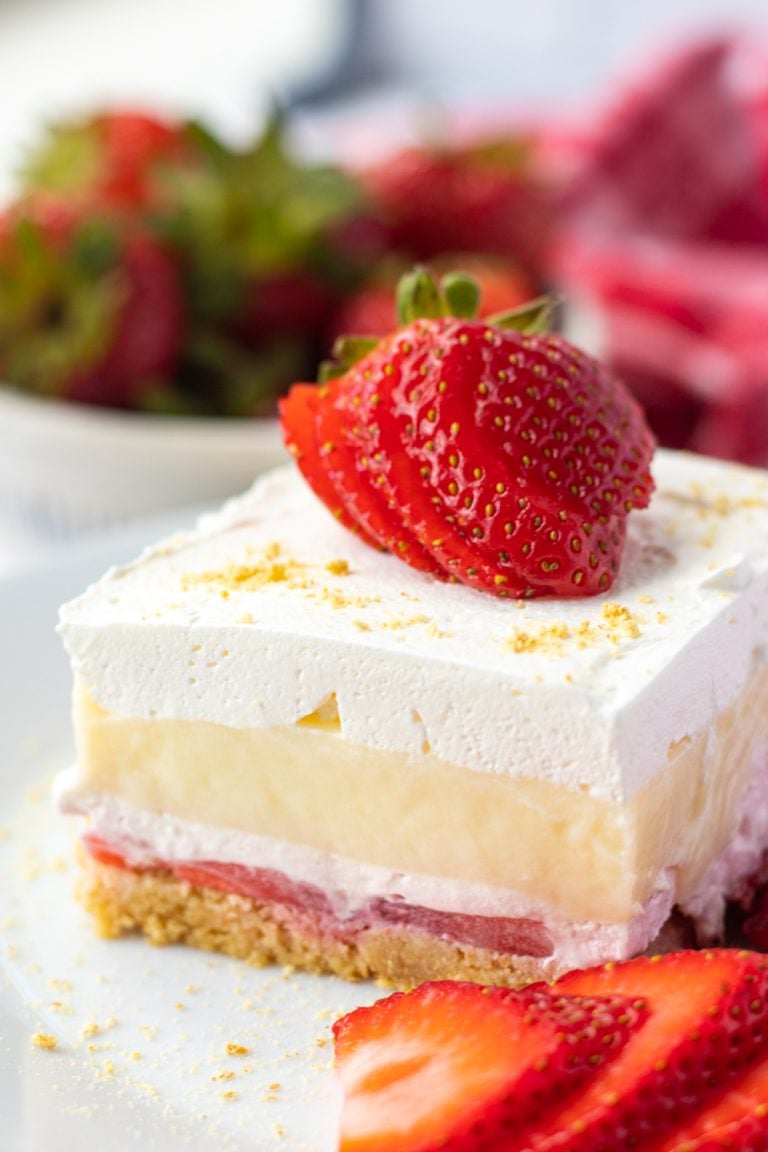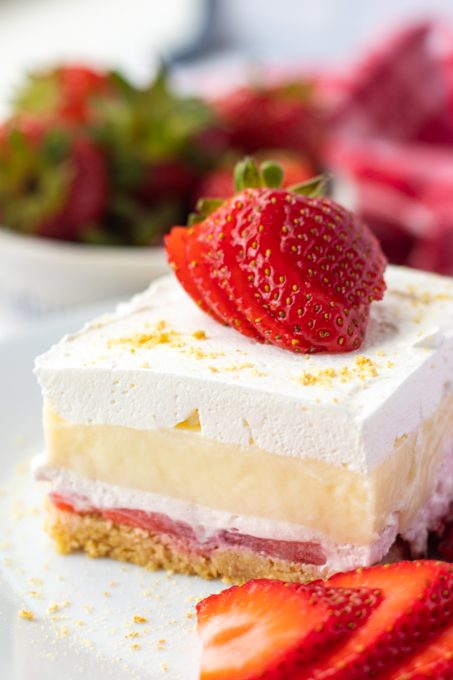 Grab a pint of strawberries and a handful of ingredients to make this amazing dessert. Strawberry Cheesecake Dream Bars are an easy, creamy cheesecake bar recipe that's bursting with fresh berry flavor!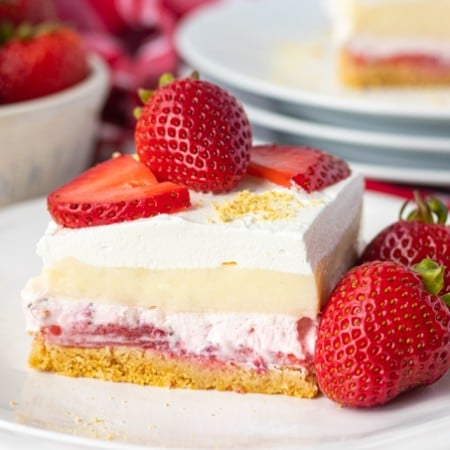 Strawberry Cheesecake Dream Bars
These Strawberry Cheesecake Dream Bars are layers of graham crackers, strawberries, strawberry pudding, and whipped topping. It's the perfect NO-BAKE dessert for strawberry season!
Equipment
Food processor or blender

8 X 8-inch baking dish

parchment paper

potato masher or fork

Offset spatula
Ingredients
1 ⅓ cups graham cracker crumbs plus additional for topping
5 tablespoons unsalted butter melted
16 ounces fresh strawberries divided, you'll need 4 for the cream cheese layer and 5 whole for decoration
1 ½ cups milk
3.4 ounces package white chocolate pudding *See note
4 ounces cream cheese room temperature
½ cup confectioners' sugar
4 fresh strawberries mashed
8 oz Cool Whip or Stabilized Whipped Cream divided
Instructions
Set 5 whole strawberries aside for decoration. Mash 4 of them for the cream cheese mixture and then slice the remaining strawberries.

Prepare an 8 X 8 baking dish by spraying it with cooking spray.

In a medium mixing bowl, combine the graham cracker crumbs and melted butter and mix until well incorporated.

Press into the prepared baking dish, and place into the freezer for a minimum of 30 minutes to set.

In a small bowl mix the 1 1/2 cups milk with the package of white chocolate pudding. DO NOT use the two cups as directed on the package. We want a firmer pudding. Refrigerate until ready to use.

Place the cream cheese, mashed strawberries and confectioners' sugar into a mixing bowl. Cream until soft and well combined. Fold in 1 cup of the

Stabilized Whipped Cream

or Cool Whip and gently mix.

Remove the crust from the freezer and completely cover with a single layer of strawberries.

With an offset spatula, place dollops of the cream cheese on top of the strawberries and gently spread until completely covered.

Spread the pudding layer over the cream cheese.

Top with the remaining whole and sliced strawberries, and sprinkle with more graham cracker crumbs.

Refrigerate for at least two hours before serving to set.
Notes
I am no longer able to find the Strawberry Creme pudding I used in the original recipe, but Sonic makes a Strawberry Shake pudding you could use (I haven't tried it yet). Instant vanilla pudding will work as well.
Nutrition
Serving: 1g | Calories: 262kcal | Carbohydrates: 33g | Protein: 3g | Fat: 13g | Saturated Fat: 7g | Cholesterol: 35mg | Sodium: 290mg | Potassium: 178mg | Fiber: 2g | Sugar: 23g | Vitamin A: 436IU | Vitamin C: 33mg | Calcium: 78mg | Iron: 1mg
Did you make this recipe?
Share it with me on Instagram and make sure to follow me on Pinterest for more recipes.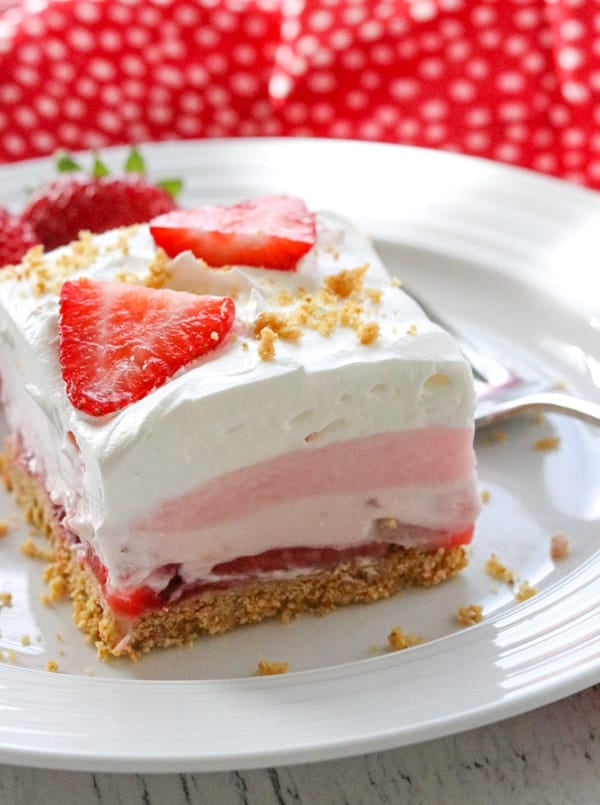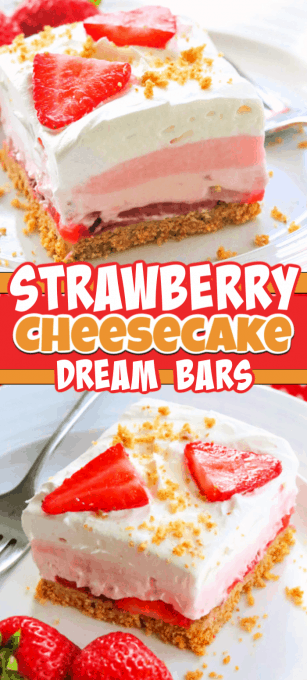 Reader Interactions