Lattice Strawberry Rhubarb Pie – a tart, yet sweet strawberry rhubarb filling with a hint of orange zest, and topped with a beautiful lattice crust. This pie is sure to impress your family and friends!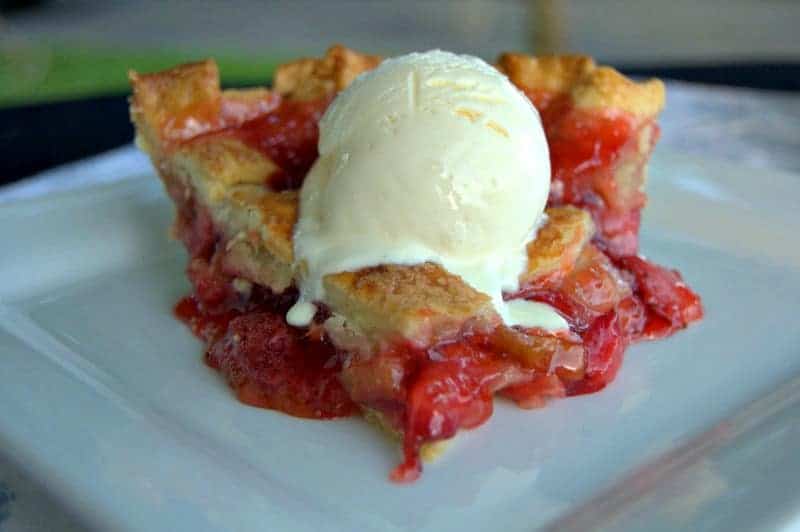 Believe it or not, this Strawberry Rhubarb Pie is the first one I've ever had.
I kid you not.
I have absolutely no idea why now, being in my late middle 40's I have never tasted one.
When I was a kid living in Illinois, there was this restaurant that was largely known for their pies, but for the life of me, I can't remember…WAIT, I know it!!
It was called Poppin' Fresh Pies!! Woo HOO!! Go, Lynne! That restaurant chain is now Baker's Square.
Anywho, I think my parents took me in there once and probably only because I wouldn't shut up about it. I remember what it looked like inside, but don't remember what I ate.
I'm sure that one of the pies on the menu, when it was in season, had to be a Strawberry Rhubarb Pie.
How could it not be? I mean it's quite a popular pie, yet not everyone likes the rhubarb part of it.
Like Mr. 365 for example.
Ok, it's not that he doesn't like it, he just…well, here's the story as I was putting this puppy together yesterday.
SAVE THIS STRAWBERRY RHUBARB PIE TO YOUR FAVORITE PINTEREST BOARD!
I'm standing at the counter getting ready to slice the strawberries. The rhubarb had been sliced into pieces about 1/4 – 1/2-inch thick and was sitting in a bowl.
My Mr. (God love him) casually walks into the kitchen puts his hand into the bowl and pops a piece or two into his mouth on his way to our bedroom.
"OH MY GOD!!! This celery tastes terrible!! It's SO sour!!"
????? Really, dude? Celery?
*sigh*
Ok, I'll give it to him, it really did look like celery. Kinda sorta. Well, not really all that much. It was green and slightly resembled it in shape, but that's pushing it.
The kids burst out laughing, very quickly letting him know that it was certainly NOT celery.
Needless to say, this beautiful pie was referred to as the Strawberry Celery Pie for the remainder of the night.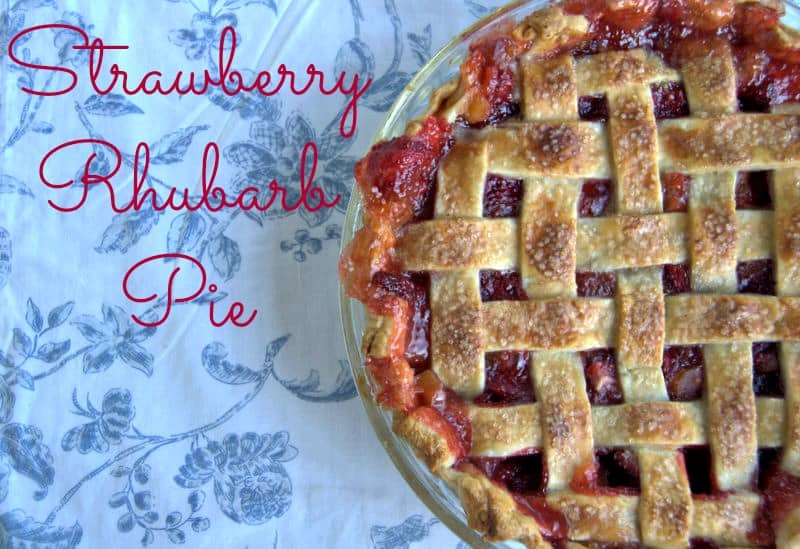 What, am I going to do with him?
I found the recipe for this pie here at Kraftrecipes.com.

The double pie crust recipe is from PillsburyBaking.com.
Here's a great tutorial on how to make a lattice top from The Kitchn.com. Or if you're the visual type, like me, here's a great video from YumSugar on How To Make a Lattice Pie Crust.
Ok, and this only appears to be a very lengthy recipe because of the lattice top directions.
PLEASE do not be intimidated and give it a try! 
Who cares if it doesn't come out the first time, the second or even the THIRD! Just keep at it and you're bound to get it. Heck, I think I even made mistakes going over when I should have gone under and vice versa.
We're here to have fun and try new things.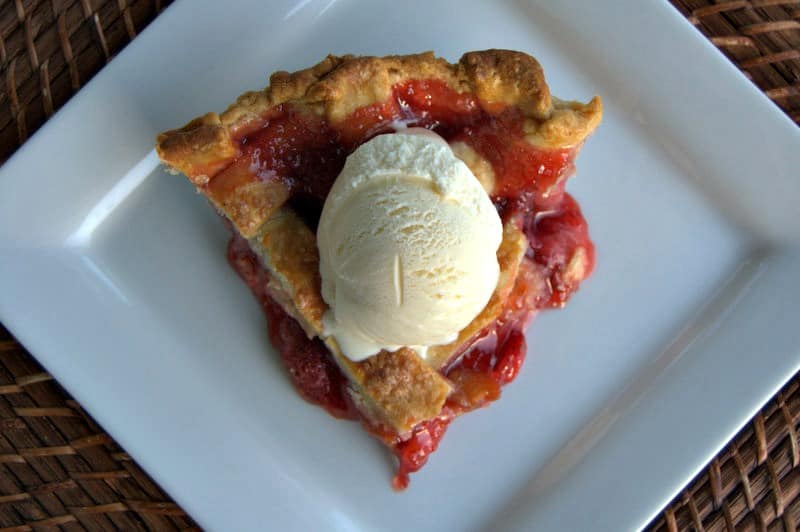 If you've never done one of these before and you go for it, I would love, love LOVE for you to post a picture of it on the 365 Days of Baking Facebook page!
You can do this, I know you can. Because if I can do it, so can you. I am nobody special, just a wife and mom who decided to teach herself better skills in the kitchen. We learn by doing and making mistakes. It happens.
Trust me on this and get excited about making a lattice topped pie!!
SIGN UP FOR THE WEEKLY
365 DAYS OF BAKING & MORE 
NEWSLETTER BELOW!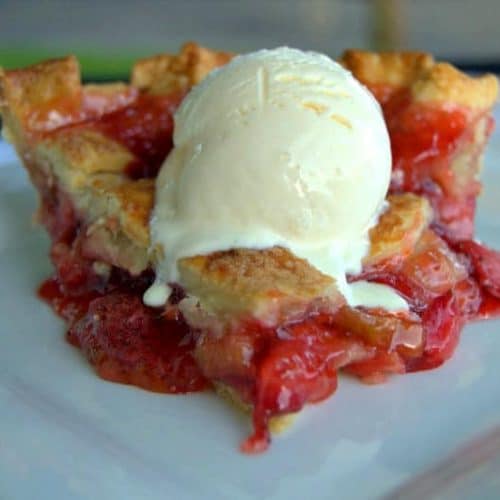 Lattice Strawberry Rhubarb Pie
Ingredients
2 cups peeled and sliced rhubarb
2 cups sliced strawberries
1 ¼ cups granulated sugar
¼ cup Minute Tapioca
1 teaspoon freshly grated orange zest
1 Double Pie Crust Recipe
2 cups flour
1 teaspoon salt
¾ cup well-chilled Crisco Shortening
4 - 8 tablespoons ice water
1 egg
2 tablespoons water
Turnbinado sugar or sugar in the raw for sprinkling
Instructions
Preheat oven to 425 degrees F.
Pie Crusts
In a large bowl, combine the flour and salt.

Add the shortening to the flour mixture in small pieces and with a pastry cutter cut the shortening in until it resembles coarse meal,

Add the ice water one tablespoon at a time, mixing well with a fork, and ONLY until the dough is moist enough and will form a ball when pressed together. You may not need to use the full 8 tablespoons of water.

Divide dough in half and form into balls, with one being slightly larger.

On a lightly floured surface or between two sheets of wax paper, roll one ball of dough out evenly from the middle so that it is approximately 2 inches larger than the pie plate. This will be the bottom crust.

Place dough gently into the pie plate by loosely rolling it up onto the rolling pin. Center the pin over the pie plate and carefully unroll.

In a medium bowl, combine rhubarb, strawberries, sugar, Minute Tapioca and orange zest. Mix well to combine. Allow to sit for 15 minutes.

Place filling into unbaked pie shell.
For Lattice Topping
On your lightly floured work surface or between two sheets of wax paper, roll the dough out to approximately 11 inches in diameter.

Cut the dough into slices 1/2 to 3/4-inch wide.

Beginning with the smaller piece of dough on the left, place it on the left side of the pie. Place every other strip of dough on top of the pie going across vertically until you reach the right side.

Fold every other strip of dough gently back over itself, refer to The Kitchn.com tutorial and YumSugar video if you have questions.

Place one of the longer remaining dough strips onto the center of the pie just next to the pieces of folded dough.

Fold the strips of dough gently over that piece just placed.

Working to the right of that strip, fold the opposite dough pieces back over themselves.

Place a slightly smaller strip close to the original, but not touching, and again gently fold the strip of dough over onto this strip.

Repeat process using gradually smaller strips and alternating between forming the over / under patter across the top of the pie.

When you have reached the side of the pie, return to the middle and begin working to the left of the original strip placed, alternating between folded strips.

Repeat process until pie is covered.

If needed, trim the edges of the pie crust.

Roll them up towards the center of the pie.

Crimp the edges so that the strips and bottom pie crust are firmly together.
Egg Wash
In a small bowl, whisk together egg and 2 tablespoons water.

Using a pastry brush, gently brush egg wash over crust.

Sprinkle with Turnbinado or raw sugar.

Bake for 45 minutes or until bubbles form and gently burst. Transfer to a wire rack to cool before serving.
Did you make this recipe?
Share it with me on Instagram and make sure to follow me on Pinterest for more recipes.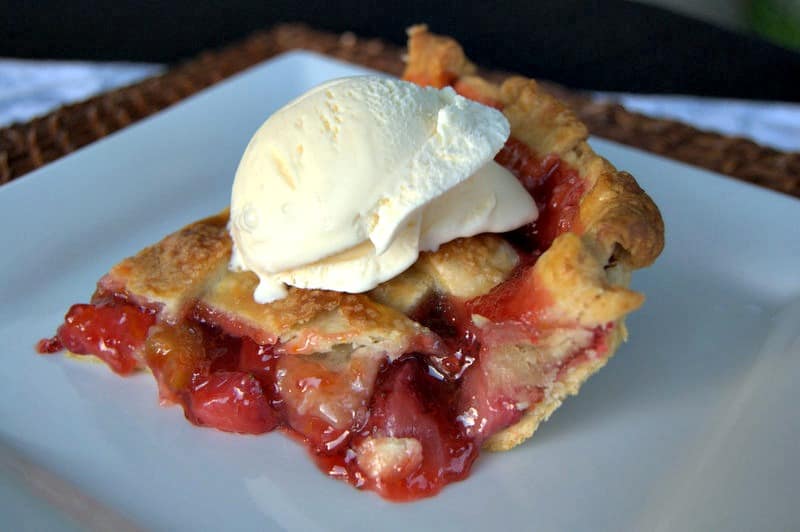 I rate everything I make on a scale of 1 – 4 with 4 being the best and this Lattice Strawberry Rhubarb Pie earned 3 1/2 rolling pins.
I really, really liked it. There was a nice balance between tart and sweet and the orange zest was a great subtle addition. I was glad I opted for the lattice top as it was bubbling quite nicely when it came out of the oven and it was cool to see how the filling oozed over the crust.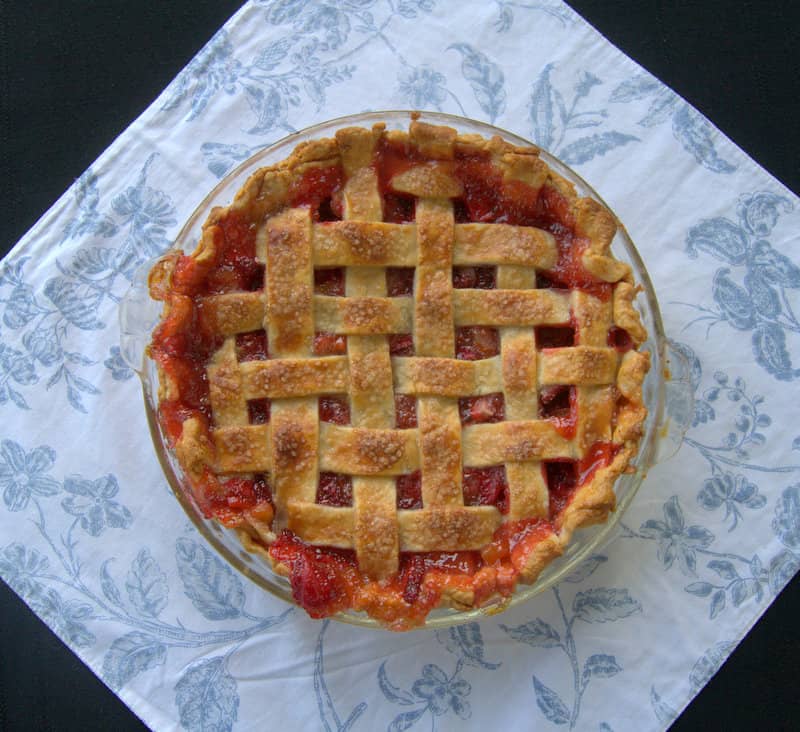 Again, please don't be intimidated by a lattice topped crust. I mean you can be, but once you get the hang of it, it really is pretty simple and really does add a nice finishing touch to your pie.
Whoever you serve it to will be impressed (most of the times because they themselves don't know how to do it!)!
And to make it even easier for you, you can use the packaged, ready-made pie crusts instead of making it from scratch.
AND you can lay half the dough strips on top of the pie, forgo the folding over business and just place the remaining dough strips on top. It will still resemble a lattice, just won't have the over/under business goin' on.
If you liked this then you'll LOVE…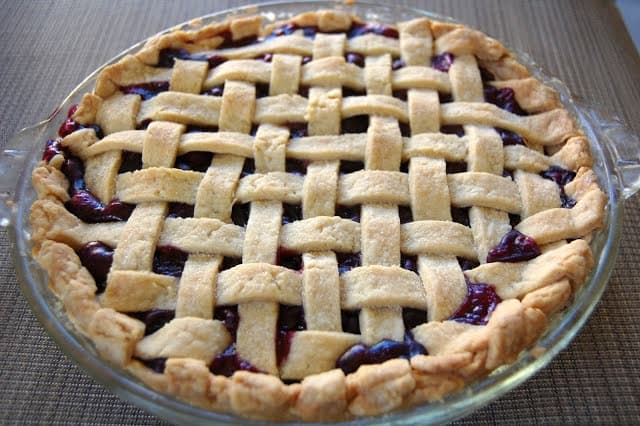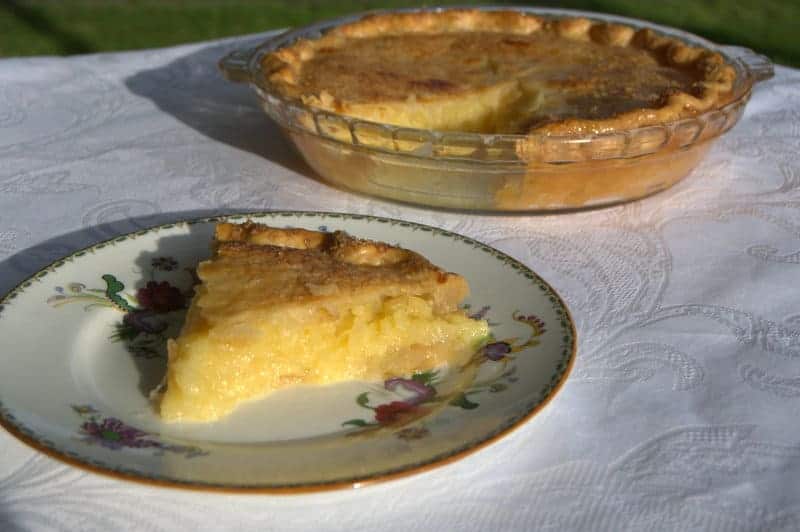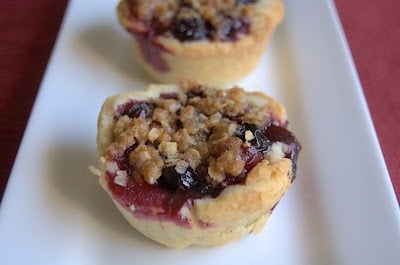 Reader Interactions