This Strawberry Rhubarb Galette is an easy flour and cornmeal crust filled with a strawberry rhubarb filling. Your guest will think you spent hours preparing this delicious and easy dessert.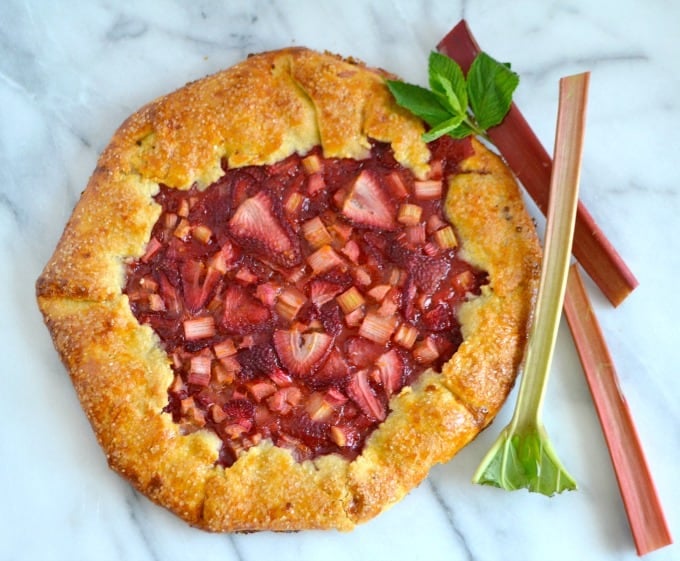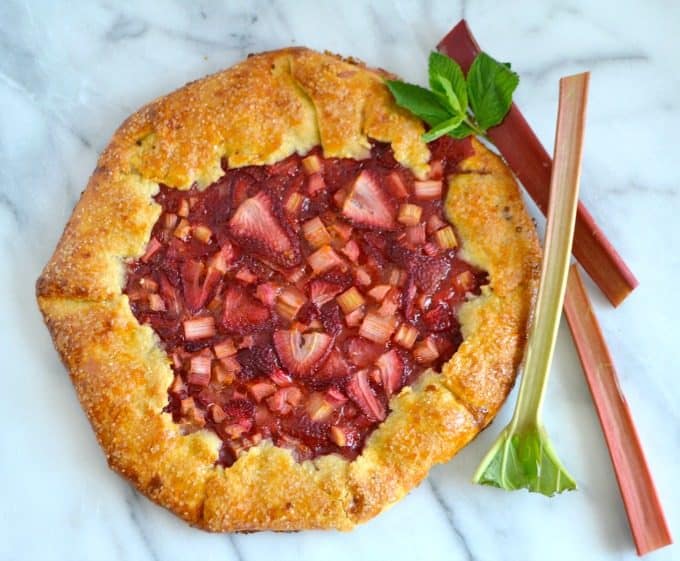 I love making galettes.
Have you made one yet? Until a few years ago I didn't even know they existed. I was intrigued because they're kind of, but not really like a pie.
They're great because they're free form, so if you're intimidated by making a pie crust this would be a perfect dessert to make and it will definitely impress your guests.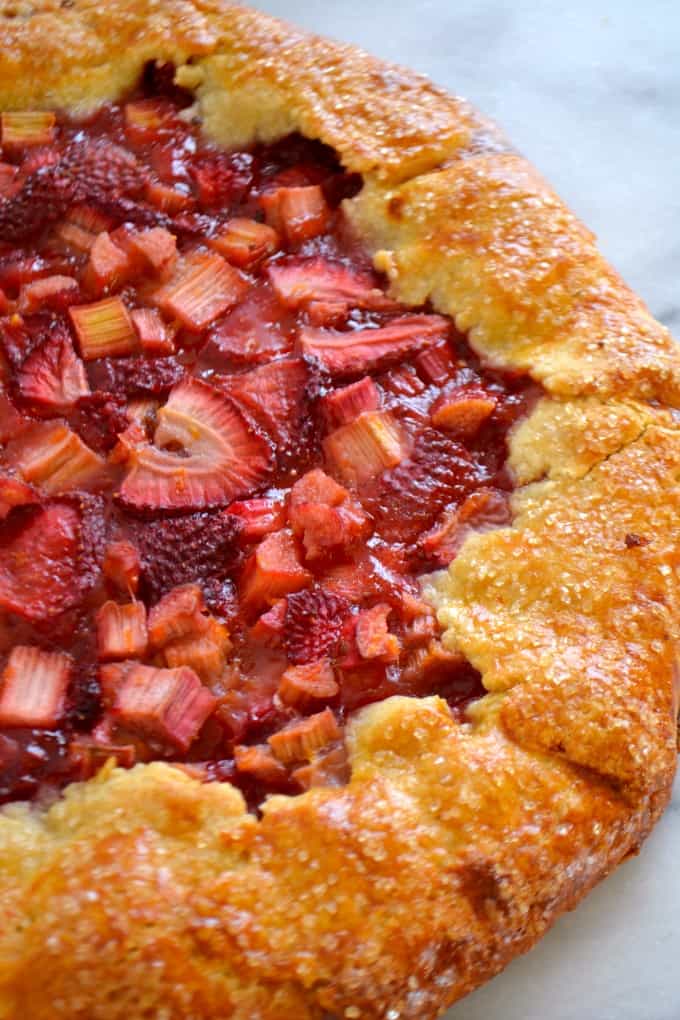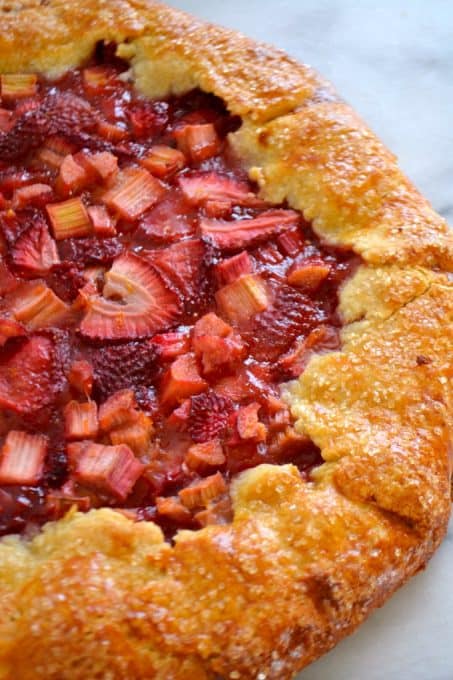 The crust is delicious – and the best recipe I've found and continue to use is this one from Maria and Josh's blog, Two Peas and Their Pod. It has a bit of cornmeal in it to give it a little more texture, becomes a wonderful golden color with a bit of egg wash and is extra special with some raw sugar sprinkled around the edge.
You can add different fillings and really make them your own. I've yet to make a savory one, but I think that's next on my list.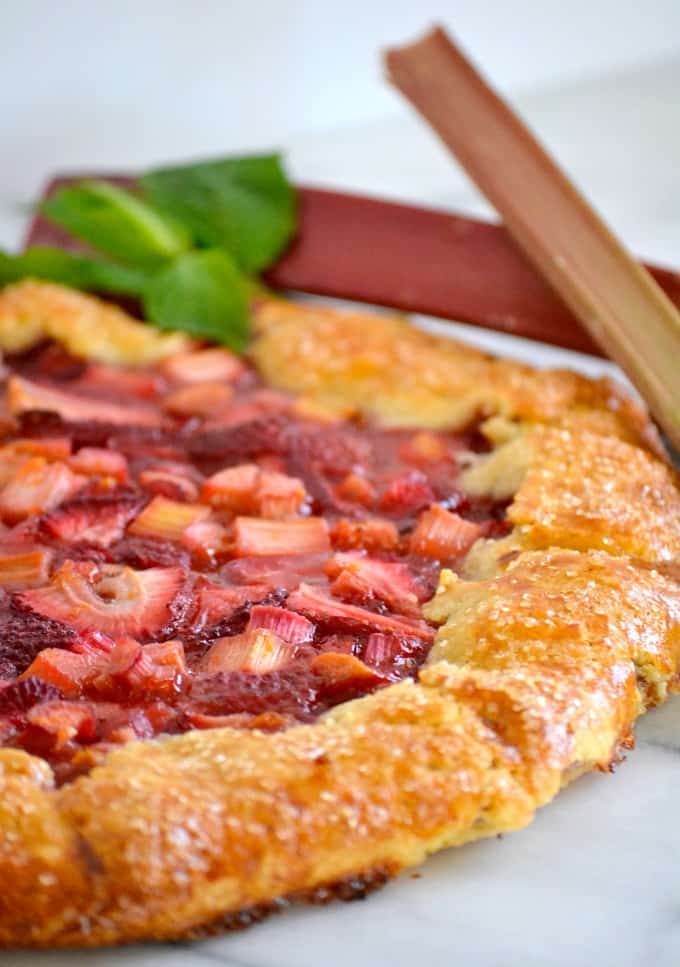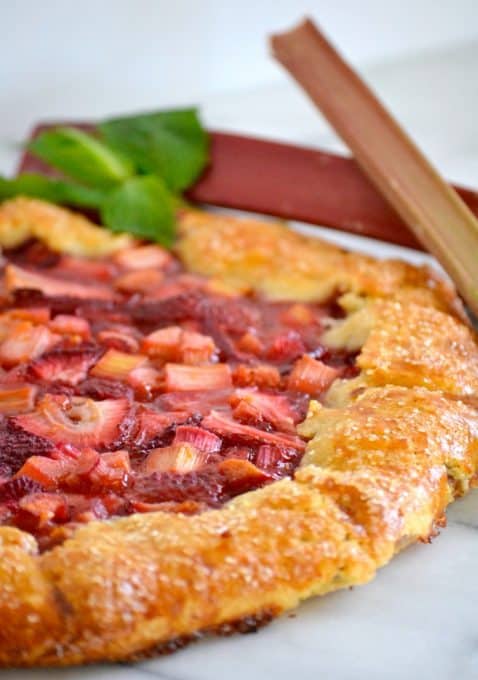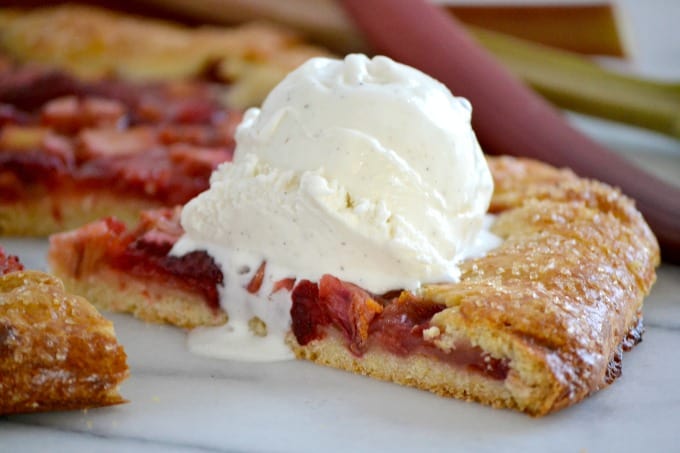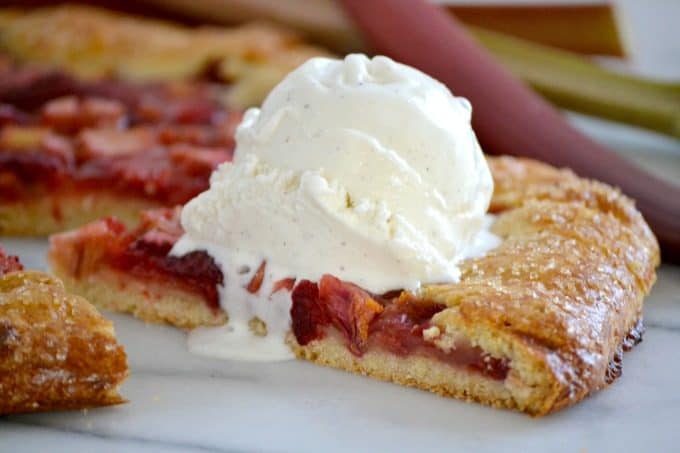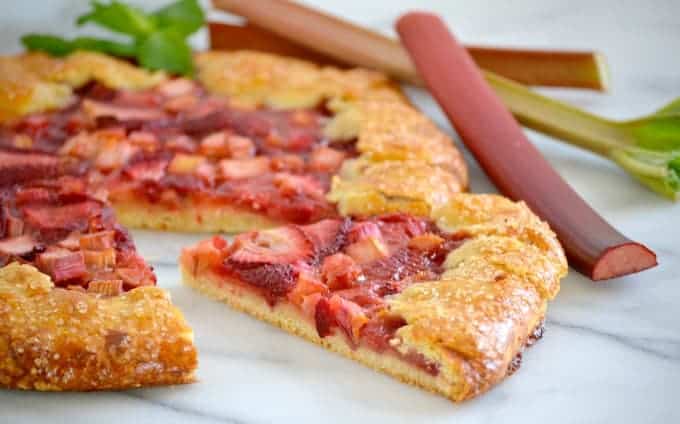 Strawberry Rhubarb Galette
This Strawberry Rhubarb Galette is an easy flour and cornmeal crust filled with a strawberry rhubarb filling. Your guest will think you spent hours preparing this delicious and easy dessert.
Ingredients
Crust
1 ¾ cups flour
⅓ cup granulated sugar
¼ cup yellow cornmeal
¼ teaspoon salt
½ cup cold butter cut into small pieces
⅓ cup buttermilk
1 egg beaten
1 teaspoon heavy cream
2 teaspoons turbinado sugar
Filling
2 cups sliced fresh strawberries
1 ½ cups peeled and chopped rhubarb
½ cup sugar
2 ½ tablespoons quick tapioca
⅛ teaspoon cardamom
zest of one orange
Instructions
For the dough
In a large bowl, combine the ingredients for the crust: the flour, sugar, cornmeal and salt.

Add butter and with a pastry cutter, blend it in until the mixture resembles coarse meal.

Pour the buttermilk into the bowl and stir until the dough begins to stick together.

In each galette I've made, the dough hasn't stuck together, so I just gather it into a ball as much as possible with my hands and then stick the rest of the dough remnants onto it while it's sitting on the plastic wrap. (If you do have a problem with it consolidating, add one and a half teaspoon more of buttermilk.)

Remove the dough ball from the bowl and adhere any remaining pieces of dough to it, then wrap in plastic wrap.

Refrigerate for an hour.

The galette dough is able to be made in advanced and can be refrigerated up to three days before being used.

When ready to bake, preheat the oven to 350 degrees F.
Filling
In a medium bowl, whisk together the sugar, tapioca, cardamom, and orange zest.

Add the strawberries and rhubarb and toss to completely coat. Let sit for 15 minutes before placing onto the crust.
Assembly
Place a piece of parchment on a baking sheet or pizza stone.

Remove the dough from the refrigerator and roll it out, starting from the center, into a circle (or as close as you can get it) 14 inches across.

Fold the edges of the dough up over the filling, overlapping the dough if necessary, and gently pressing the creases to ensure that creases are sealed.

Prepare the egg wash by combining the beaten egg with the teaspoon of heavy cream. (Using heavy cream will help the crust brown where as mixing it with water will give it a more shiny finish.)

Lightly brush the edge of the dough with the egg wash, and sprinkle with the turbinado sugar.

Bake for 1 hour, until the crust is golden brown and the filling is bubbly.

Transfer baking sheet to a wire rack and allow to cool for 20 minutes before serving.

Serve warm or at room temperature.
Notes
The filling of the galette may seep through the cracks of the crust, so I roll the parchment up around the edges to prevent it from dripping into the oven when I don't use a rimmed baking sheet.
Nutrition
Serving: 1g | Calories: 351kcal | Carbohydrates: 54g | Protein: 5g | Fat: 13g | Saturated Fat: 8g | Trans Fat: 1g | Cholesterol: 53mg | Sodium: 195mg | Potassium: 192mg | Fiber: 2g | Sugar: 24g | Vitamin A: 438IU | Vitamin C: 23mg | Calcium: 49mg | Iron: 2mg
Did you make this recipe?
Share it with me on Instagram and make sure to follow me on Pinterest for more recipes.
If you like this Strawberry Rhubarb Galette, then you'll love…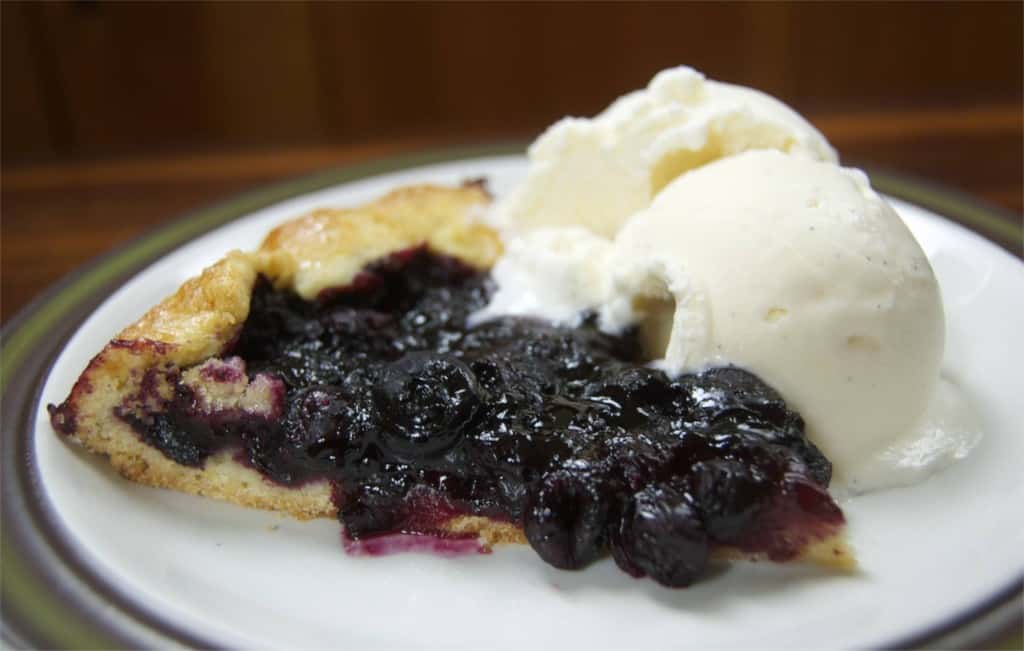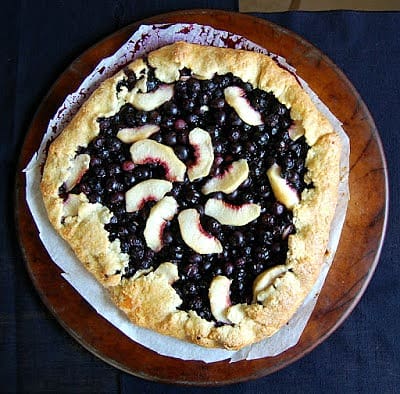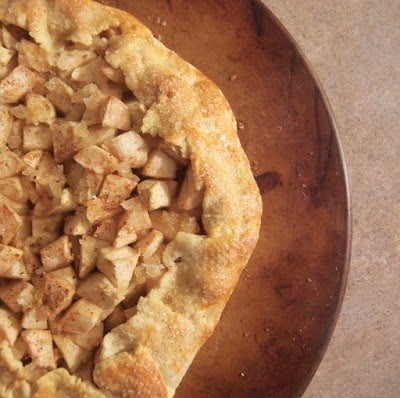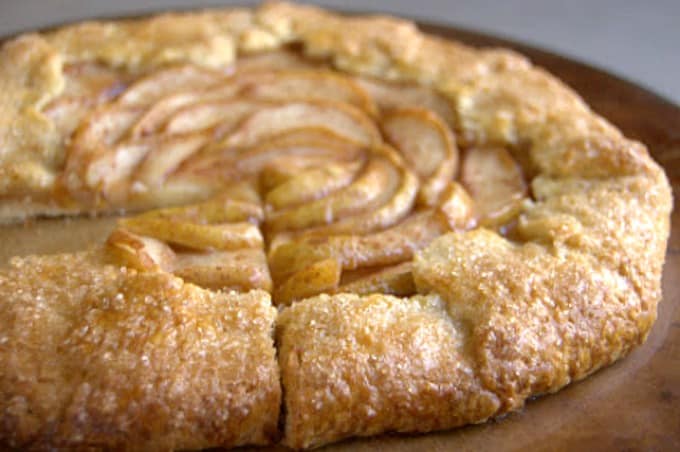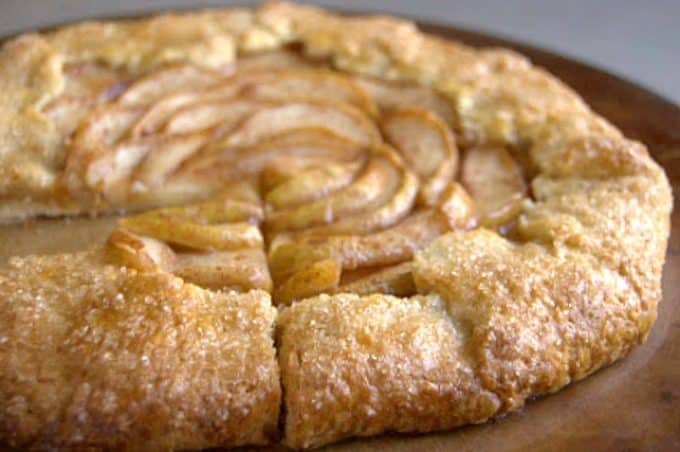 Reader Interactions