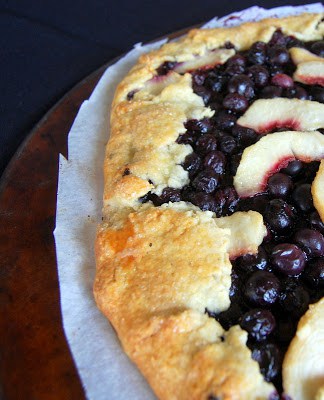 I'd like to welcome all of my new readers!! I know a lot of you are new to 365, so I want to extend a very warm welcome and say, "Thank you SO very much for being here!!"
I am extremely blessed that my little corner of the world is being read by so very many people around the world.
It honestly amazes me! And I LOVE reading your comments and receiving your e-mails, both good and bad, about recipes you've made, questions you have or just to "chat".
SAVE THIS BLUEBERRY PEACH GALETTE TO YOUR FAVORITE PINTEREST BOARD!
You all are very motivating and inspiring, and I LOVE that I am able to do this!! Finally at the age of *ahem*, I found out what I want to be when I grow up! Don't worry, if you're searching, there's still hope for you, too!
I love galettes both for their taste and for the fact that they're relatively easy to make. I consider it to be a lazy man's pie because I don't have to be as precise with the crust; there's room for error, and yet it tastes so good! This Cinnamon Pear Galette and Strawberry Rhubarb Galette are both testaments to that. I borrowed the crust from Two Peas & Their Pod. It's one that I've had great luck with and is delicious.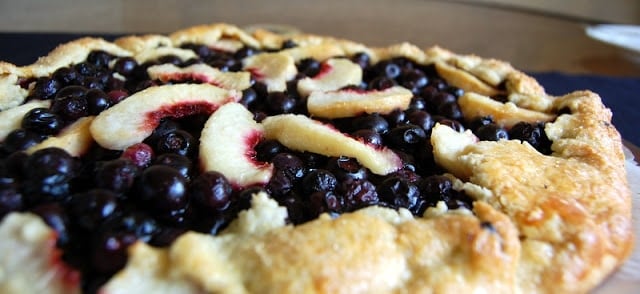 Here are some tricks and tips to help you with this Blueberry Peach Galette.
With each galette I've made, it hasn't stuck together, so I just gather it into a ball as much as possible with my hands and then stick the rest of the dough remnants onto it while it's sitting on the plastic wrap.
(OR with the processor running, slowly pour the buttermilk through the chute, processing until the dough forms a ball.)
If you're concerned about those errant pieces of dough falling off as you go to roll the dough out, don't be. Everything comes together quite nicely after it has been refrigerated.

The galette dough is able to be made in advance and can be refrigerated up to three days before being used.*
Mine leaked slightly, but I found that by creasing the edges of the parchment paper up, the juices that did leak stayed pretty much contained and didn't drip all over the oven.
SIGN UP FOR THE WEEKLY 365 DAYS OF BAKING & MORE
NEWSLETTER BELOW!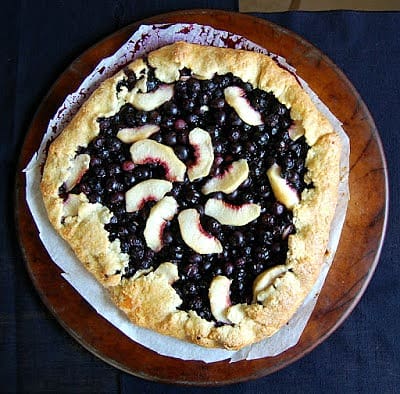 Ingredients
Crust
1 ¾ cups flour
⅓ cup granulated sugar
¼ cup yellow cornmeal
¼ teaspoon salt
½ cup cold butter, cut into small pieces
⅓ cup buttermilk
1 egg, beaten
2 tablespoons turbinado sugar
Filling
18 oz. fresh blueberries
2 white peaches
4 tablespoons granulated sugar
2 tablespoons corn starch
1 tablespoon fresh lemon juice
1 teaspoon fresh lemon zest
¼ teaspoon freshly grated nutmeg
Instructions
In a large bowl, combine the ingredients for the crust: the flour, sugar, cornmeal, and salt.

Add butter and with a pastry cutter, blend in the butter until the mixture resembles coarse meal.

Pour the buttermilk (or milk/vinegar mixture) into the bowl and stir until the dough begins to stick together.

Remove the dough ball and adhere any remaining pieces of dough to it, then wrap in plastic wrap.

Refrigerate for at least 45 minutes before rolling out.

Preheat oven to 350 degrees F. when ready to bake the galette.

For the filling, in a large bowl, combine blueberries, peaches, sugar, corn starch, lemon juice and zest, and nutmeg.

Gently mix everything together so that you don't crush the blueberries. If you want to you can, but I wanted to keep the peaches as white as possible.

Place a piece of parchment on a baking sheet. I place it on my round pizza stone because I found that it's the perfect size and bakes it quite nicely.

Remove the dough from the refrigerator and roll it out, starting from the center, into a circle (or as close as you can get to a circle) 14 inches across.

Place the filling contents into the center of the circle and then gently spread around the circle to within two inches of the edge.

Fold the edges of the dough up over the filling, overlapping the dough if necessary, and gently pressing the creases to ensure that creases are sealed.

Lightly brush the edge of the dough with the beaten egg and sprinkle with turbinado sugar. (You will have egg left over.)

Bake for 1 hour, until the crust is golden brown and the filling is bubbly. Transfer baking sheet to a wire rack and allow to cool for 20 minutes before serving.

Serve warm or at room temperature.
Nutrition
Calories: 1602kcal | Carbohydrates: 354g | Protein: 29g | Fat: 7g | Saturated Fat: 2g | Cholesterol: 8mg | Sodium: 674mg | Potassium: 470mg | Fiber: 9g | Sugar: 143g | Vitamin A: 130IU | Vitamin C: 5.8mg | Calcium: 125mg | Iron: 11.3mg
Did you make this recipe?
Share it with me on Instagram and make sure to follow me on Pinterest for more recipes.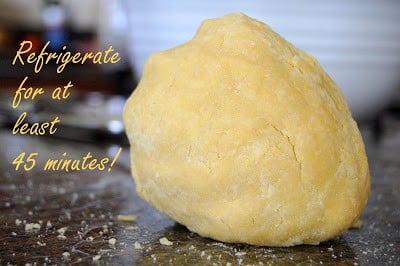 I know we all want dessert after dinner. Why not make something you'll ALL love?!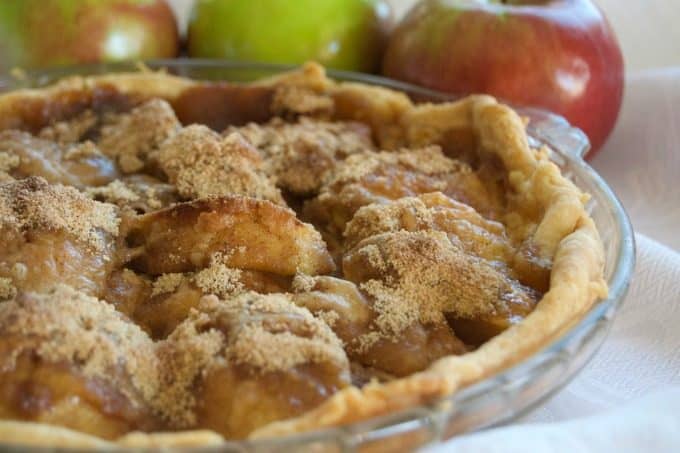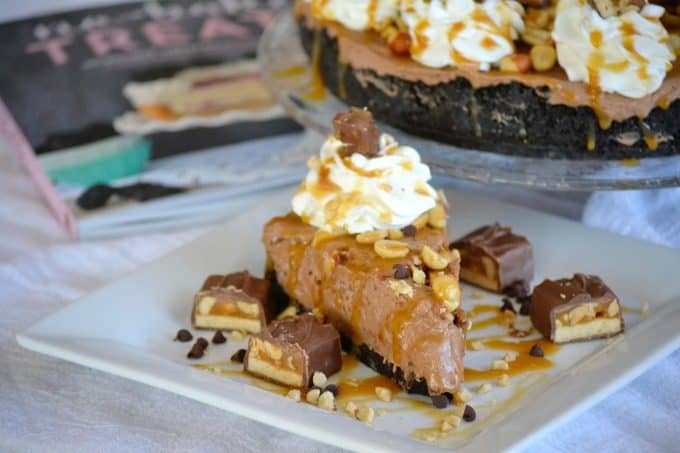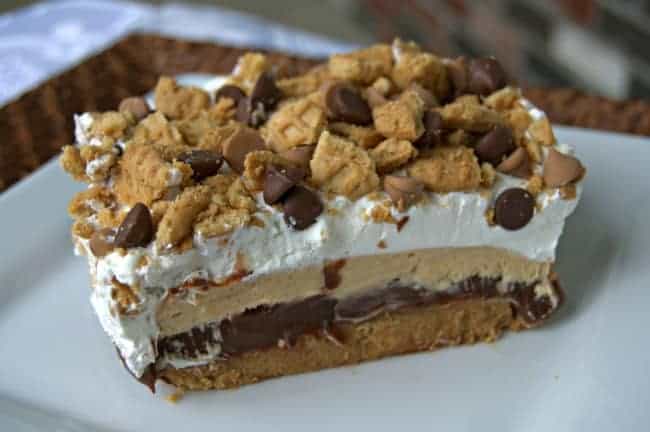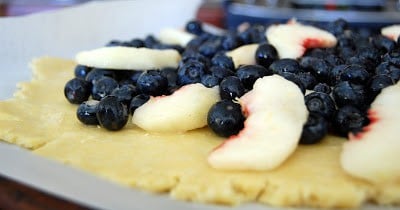 I rate everything I bake on a scale of 1-4 and this Blueberry Peach Galette earned 3 rolling pins. The blueberry/peach combination was a great summer treat. I love using fresh fruits that are in season in my baking ~ they just have so much wonderful flavor!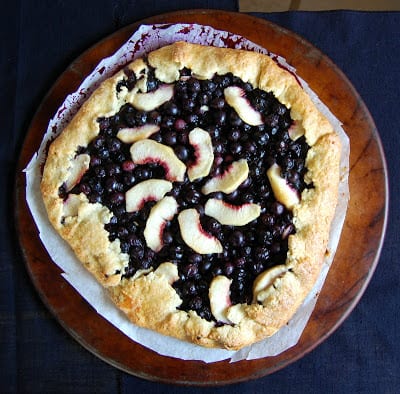 I brought this to share at the :
at Lady Behind the Curtain
and at DJ's Sugar Shack!! Go check out the other recipes my fellow bloggers have brought!!
Reader Interactions