No Bake Nutella Snickers Pie – an Oreo cookie crust with a creamy Nutella filling, mixed with mini chocolate chips, chopped peanuts, and almonds. Top it with some fresh whipped cream, salted caramel, and chopped Snickers candy bars and you've got the best NO BAKE dessert of the summer!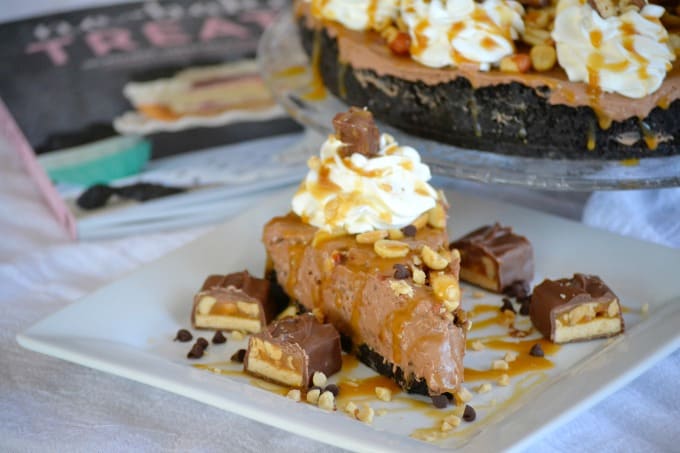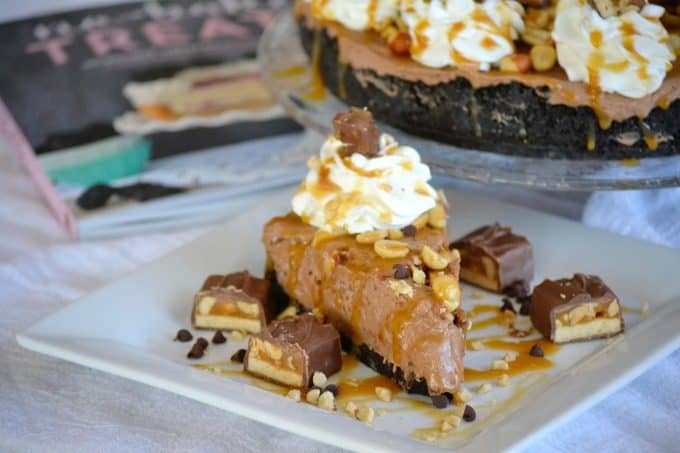 Are you feeling the heat of summer?
I know we certainly are here in Arizona. Right about now, these triple digit temps. get real old.
And I'm sure some of you are saying, "you chose to live there, suck it up, girlfriend"!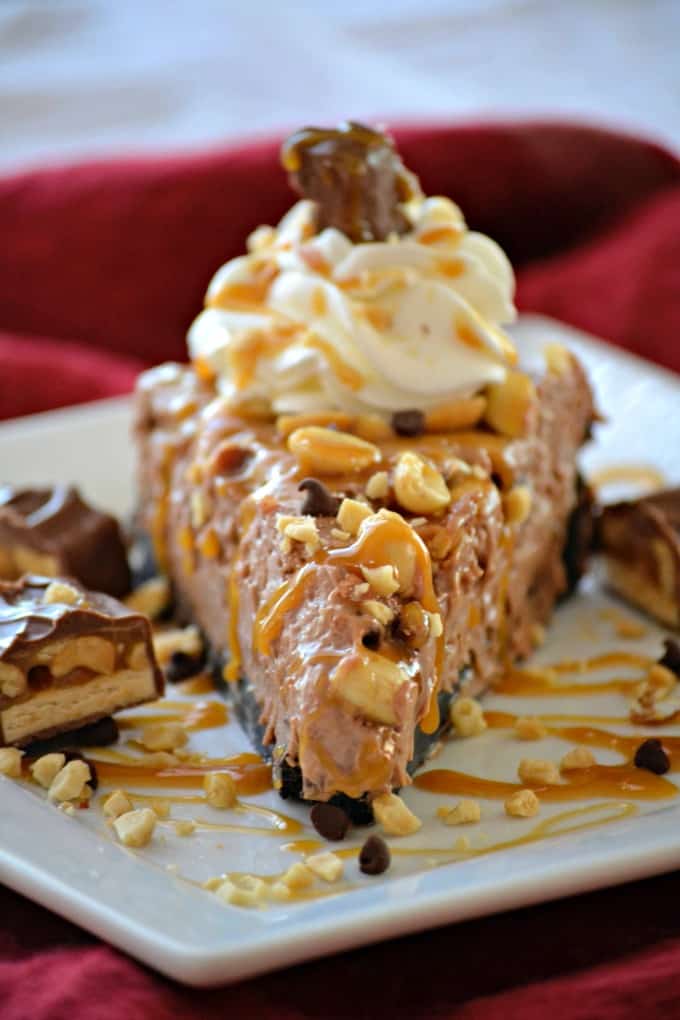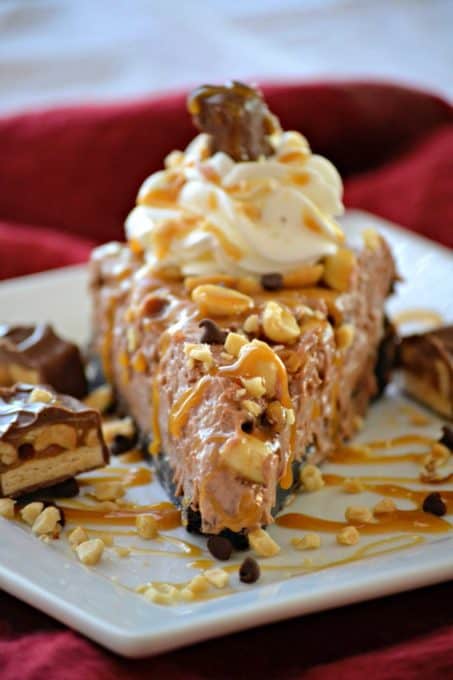 Ok, I will. Just for today. Of the many benefits I love about food blogging, meeting my virtual friends in real life. We share recipes, brainstorm, share strategies and help each other out with our blogs online, but when we can do that in person, it's a very motivating and incredible experience.
One of the many bloggers I've come to call a dear friend is Julianne Bayer of the incredible blog, Beyond Frosting. Maybe it's the fact that she's originally from New England, or that she loves Snooze, or absolutely loves baking yummy and delicious things as much as I do, but I really feel a connection to this sweet girl. I was finally able to meet her in person at our Blog N' Bake Retreat back in March.
She was every bit as wonderful as I thought she'd be, talented in the kitchen as she baked some of her favorites for us, and very knowledgeable about all things Beyond Frosting.
If you aren't already familiar with her blog, I highly encourage you to check it out. You WON'T be disappointed.
SAVE THIS NO-BAKE PIE TO YOUR FAVORITE PINTEREST BOARD!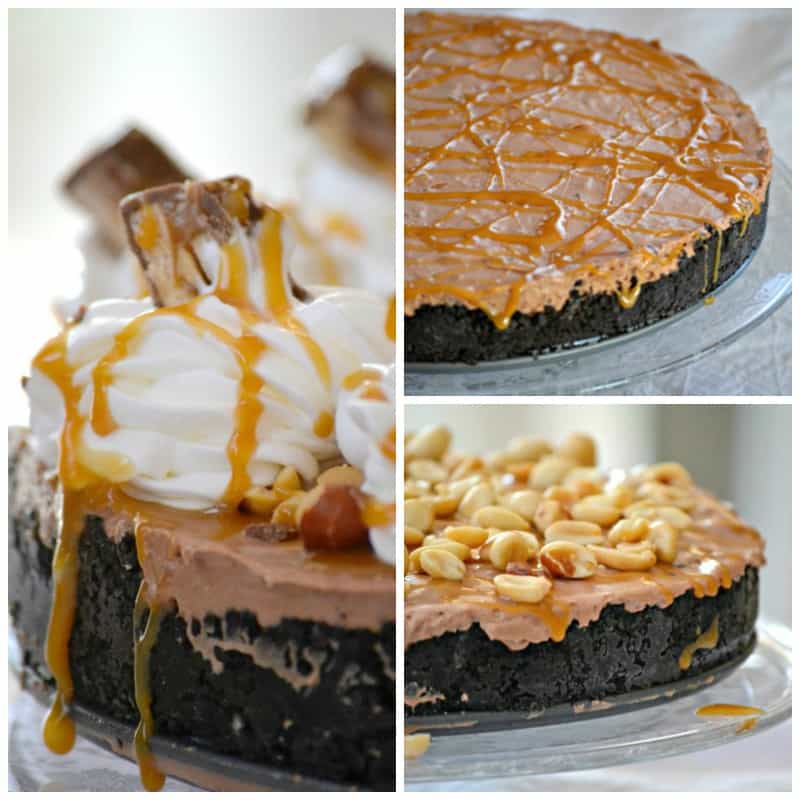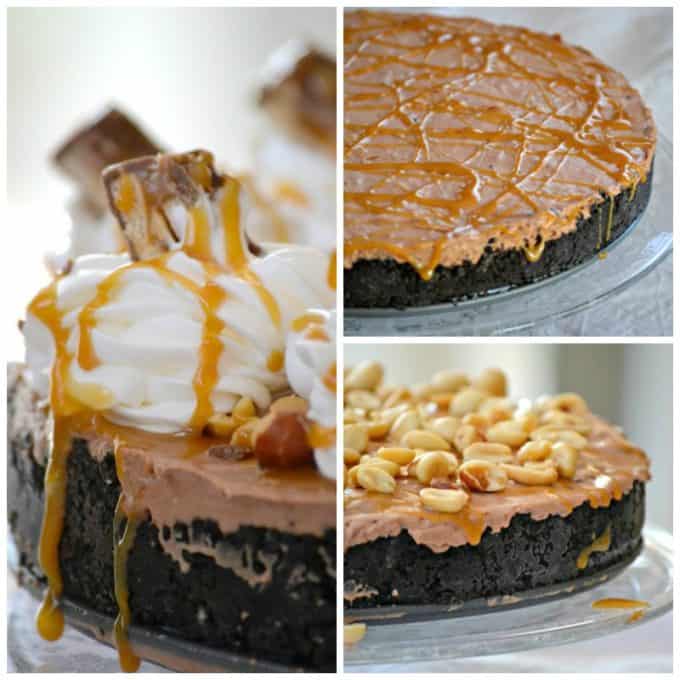 So, after meeting Julianne in person you can only imagine how very excited I was for her when she announced to us that she was publishing her very first cookbook! Last month she appeared on QVC for the pre-sale of her cookbook and sold out in less than 5 minutes!!
There are other bloggers who've made more NO BAKE recipes from Julianne's cookbook. Here are a few of them:
Her cookbook, No Bake Treats: Incredible Unbaked Cheesecakes, Icebox Cakes, Pies and More, IS that good, people!! I highly suggest you purchase yourself a copy and one for all of your loved ones. They'll make some great Christmas and Mother's Day gifts for next year.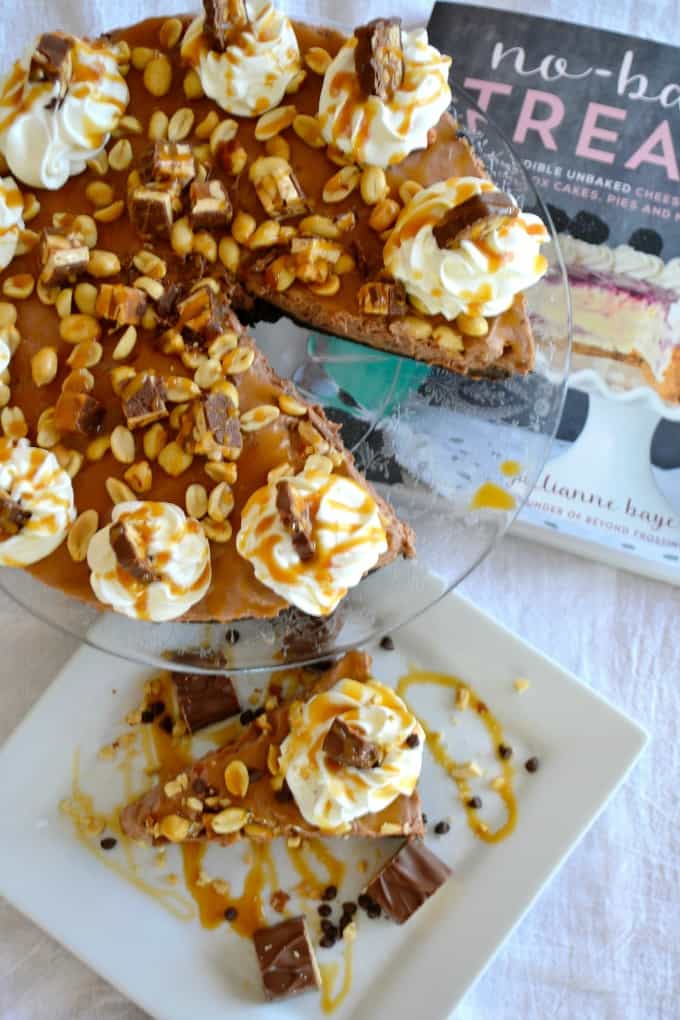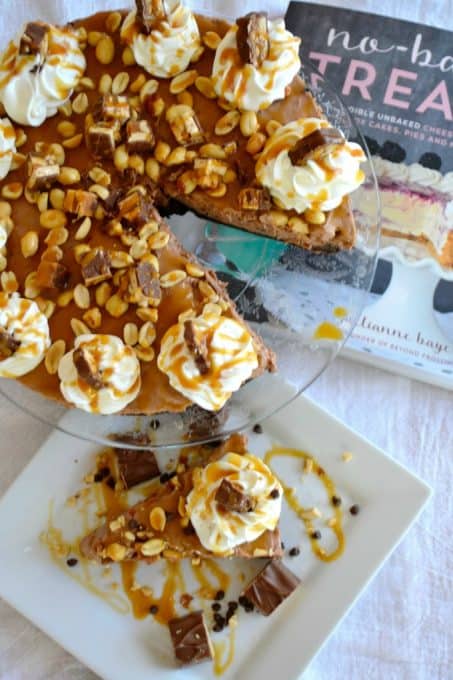 This recipe has been reprinted with permission from Page Street Publishing Co. All rights. Excerpted from No Bake Treats: Incredible Unbaked Cheesecakes, Icebox Cakes, Pies and More by Julianne Bayer. Copyright © 2016.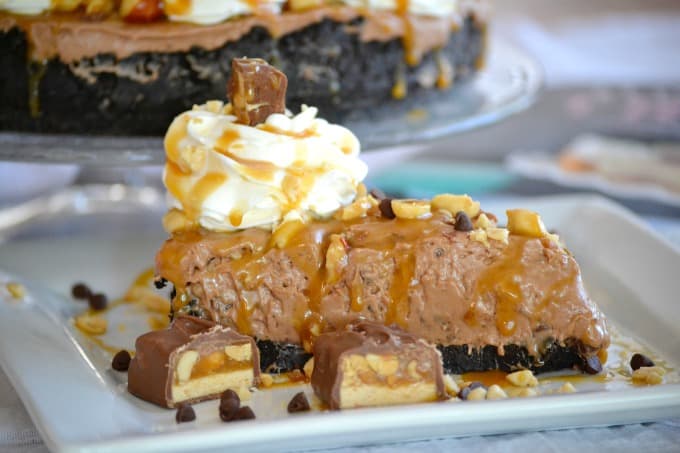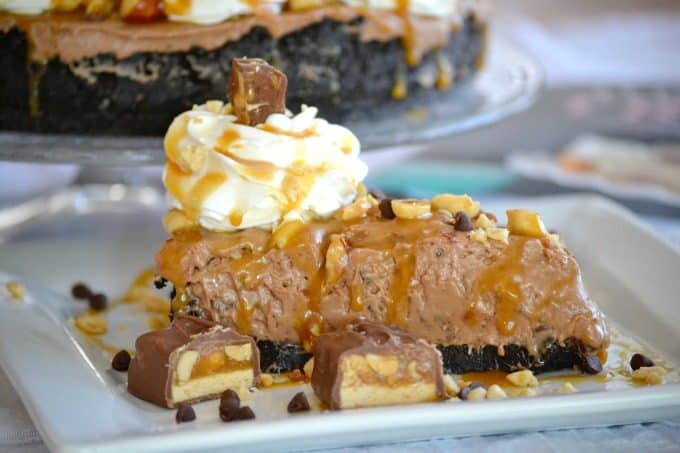 On Monday, July 25, join me LIVE on the 365 Days of Baking and More Facebook page at 4 pm EST to watch me make Julianne's No Bake Nutella Snickers Pie. Julianne will be on hand as well so you can "meet" her and answer any questions you might have.
Also, we'll be doing a GIVEAWAY!! One lucky winner will receive their very own copy of Julianne's new cookbook, No Bake Treats: Incredible Unbaked Cheesecakes, Icebox Cakes, Pies and More!! Julianne and I are very excited to have you join us! We'll see you there!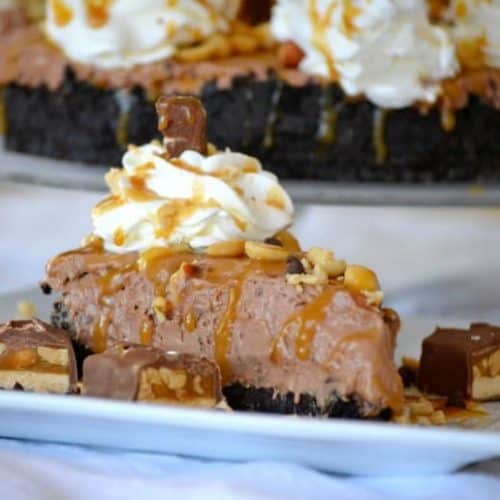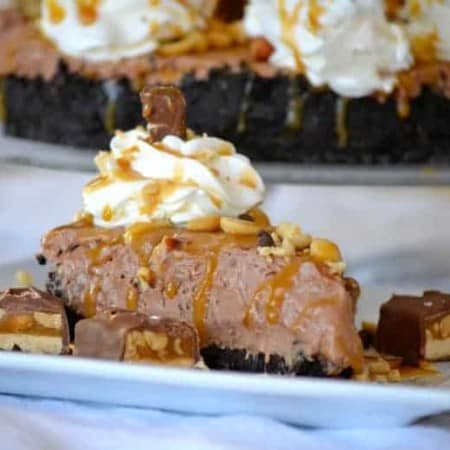 No Bake Nutella Snickers Pie
This No Bake Nutella Snickers Pie is going to be a hit this summer with the Oreo cookie crust, delicious creamy Nutella filling, and topped with salted caramel, fresh whipped cream and chopped Snickers and peanuts.
Ingredients
Oreo Crust
1 14.5- ounce package Oreos with filling
8 tablespoons unsalted butter
Filling
8- ounces cream cheese softened
1 ½ cups heavy whipping cream
1 cup confectioners' sugar
1 cup Nutella
½ cup mini chocolate chips
¼ cup salted peanuts chopped
¼ cup almonds chopped
Topping
1 cup heavy whipping cream
½ cup powdered sugar
½ cup peanuts
¼ cup salted caramel
⅔ cup Snickers candy bars chopped
Instructions
Crust
Prepare a 9-inch springform pan by lightly spraying it with cooking spray. Wipe gently with a paper towel.

Using a food processor, grind the cookies (filling included) into fine crumbs.

Melt the butter in a microwavable-safe bowl for about 45 - 60 seconds.

In a separate medium-size bowl, pour the melted butter into the cookie crumbs and stir until no dry crumbs are left.

Pour the crumbs into the springform pan and press firmly into the bottom and up the sides to create a thick crust.
Filling
In a large mixing bowl, beat the cream cheese at low speed for 30 seconds with the whisk attachment to eliminate any lumps. Increase the speed to medium and slowly start adding the heavy cream, about 1/4 cup at a time. The idea is to slowly add the heavy whipping cream so that the cream cheese will not be lumpy. It should resemble a liquid consistency.

Once all the heavy cream has been added, increase the speed to high until the mixture becomes bubbly. Slowly add the powdered sugar and continue beating until stiff peaks form.

Turn off the mixer and spoon the Nutella into the mixing bowl. Beat the Nutella into the whipped cream slowly at first, and once it starts to mix increase the speed to medium-high and beat for 30 seconds or until stiff peaks form again.

Fold the mini chocolate chips, and chopped peanuts and almonds into the batter with a spatula.

Pour the filling into the prepared crust. Cover and refrigerate for 4 to 6 hours.
Topping
Prepare the whipped cream by placing the mixing bowl and whisk attachment in the freezer for 5 to 10 minutes to chill.

Pour the heavy whipping cream into the chilled bowl and use an electric mixer to beat the heavy cream on medium-high speed until the cream gets bubbly. Slowly add the confectioners' sugar and continue beating on high speed until stiff peaks form.
Preparing to Serve
Remove the sides of the springform pan. Sprinkle the top of the pie with peanuts and drizzle on all but 2 tablespoons of the salted caramel. Pipe the whipped cream in a large circular motion, creating 10 or so soft peaks of whipped cream near the edge of the pie.

Chop the Snickers bar into small pieces, placing a small piece on each whipped cream peak, and then pile the remaining Snickers in the middle of the pie.

Drizzle with the remaining salted caramel.

*Julianne suggests freezing the pie for 20 to 30 minutes before slicing to ensure a cleaner slice. Also, a clean, sharp knife will cut the pieces best.
Notes
Julianne's original recipe calls for 1/2 cup salted peanuts, chopped to be included in the filling. Someone broke into my peanut stash and only left me with 1/4 cup, hence the addition of the almonds.
Did you make this recipe?
Share it with me on Instagram and make sure to follow me on Pinterest for more recipes.
This No Bake Nutella Snickers Pie…If there's ONE no-bake dessert that you make this summer, let it be this one. It is so gosh darn delicious with the Oreo crust, creamy Nutella filling, caramel, peanuts, whipped cream…MAN!
Julianne sure knocked it out of the park with this one and I can imagine that every single one of the recipes in her cookbook are just. as. good.
It's rich, so don't cut yourself a big slice. You can always go back for seconds. 😉 It serves 10, but for those who will want smaller slices, you can definitely feed more.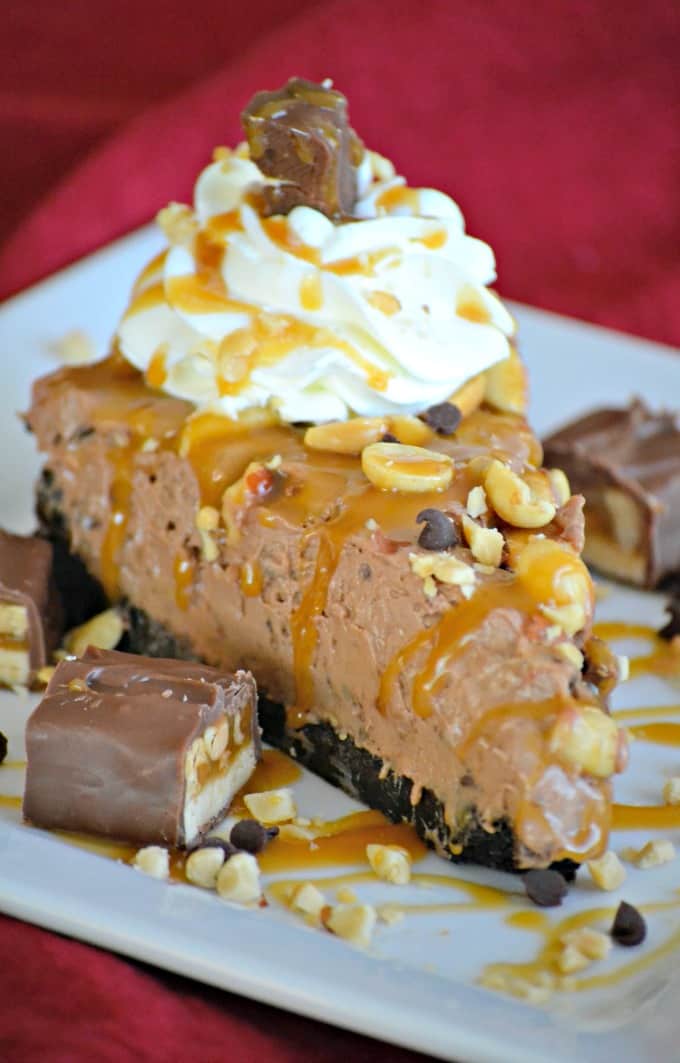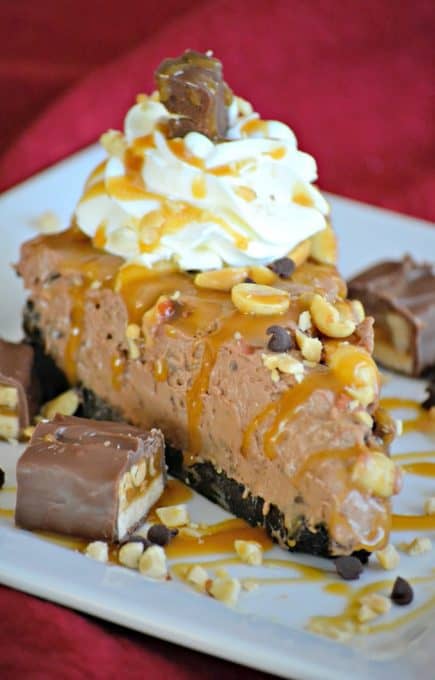 If you like this No Bake Nutella Snickers Pie, then you'll love…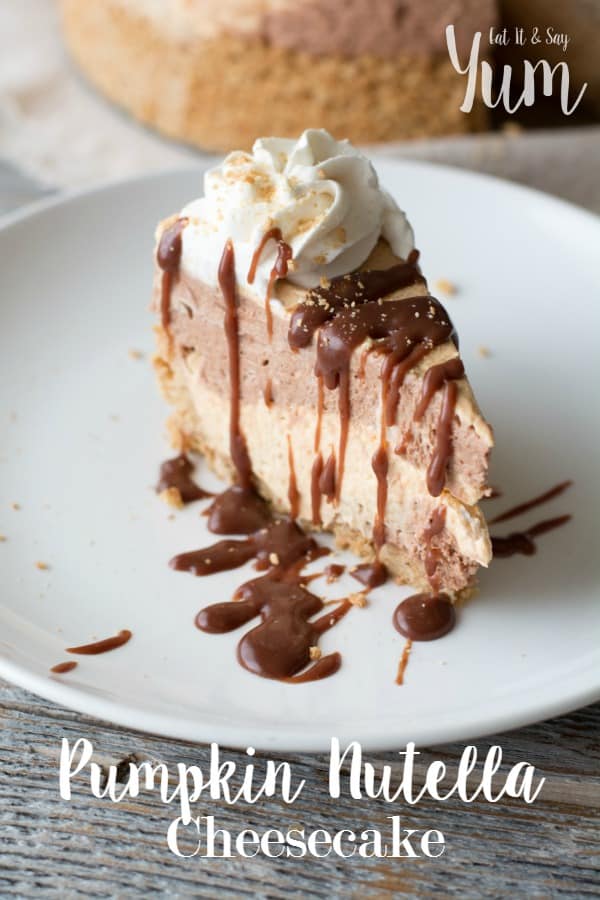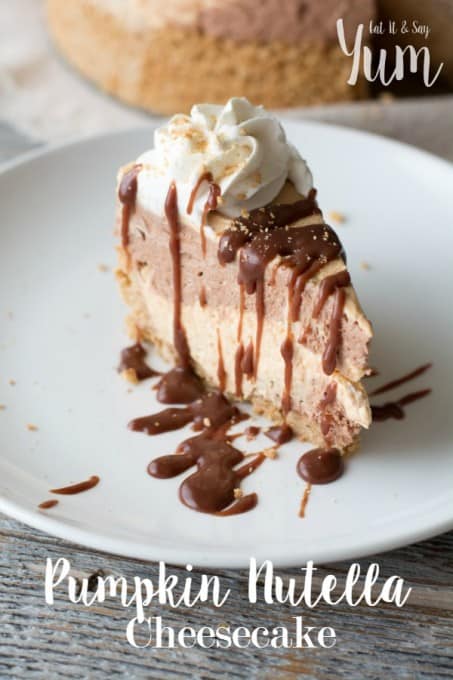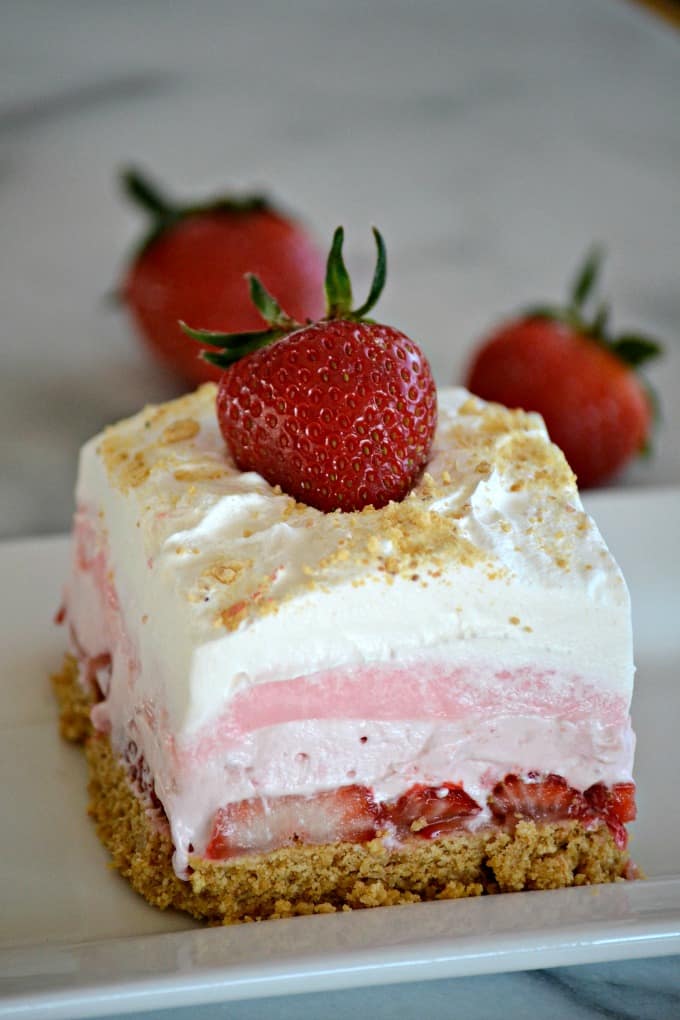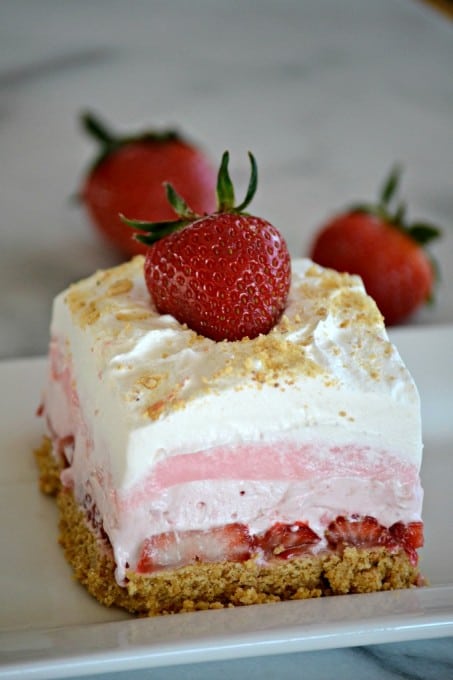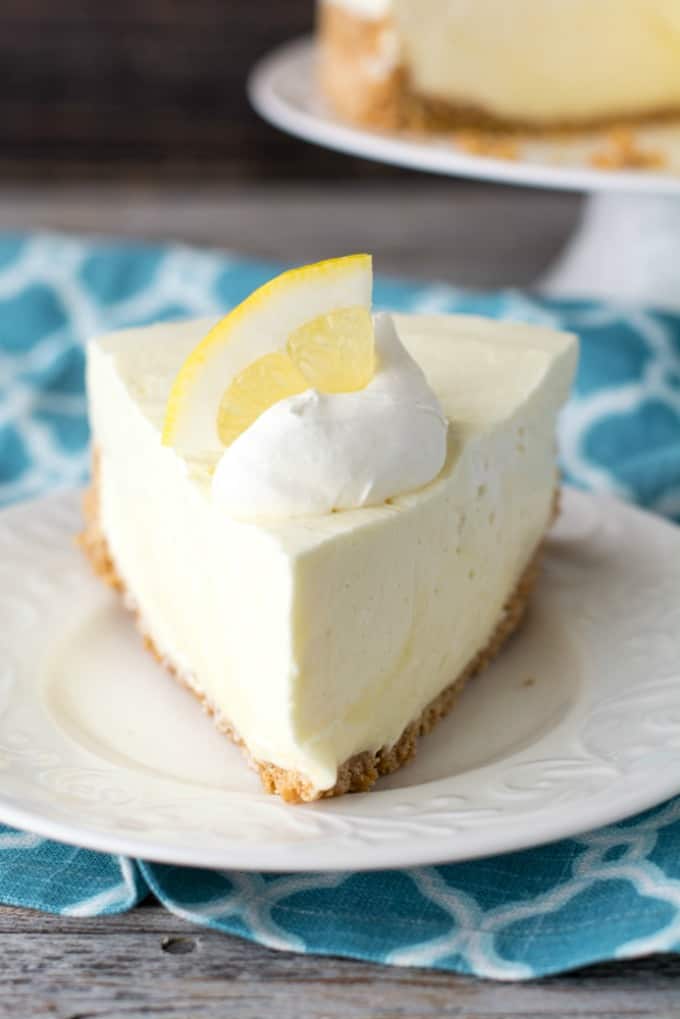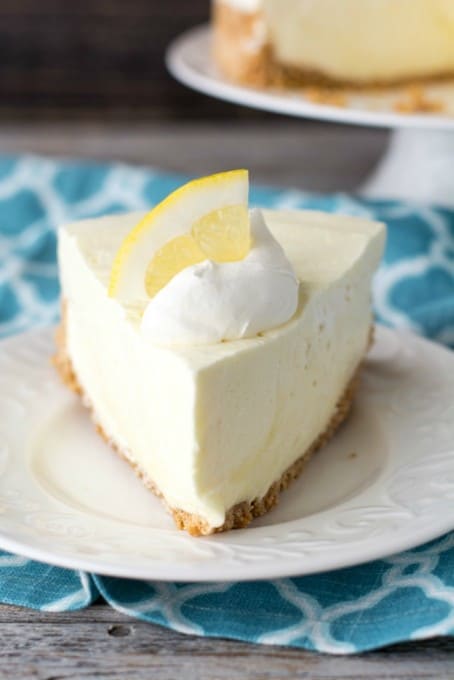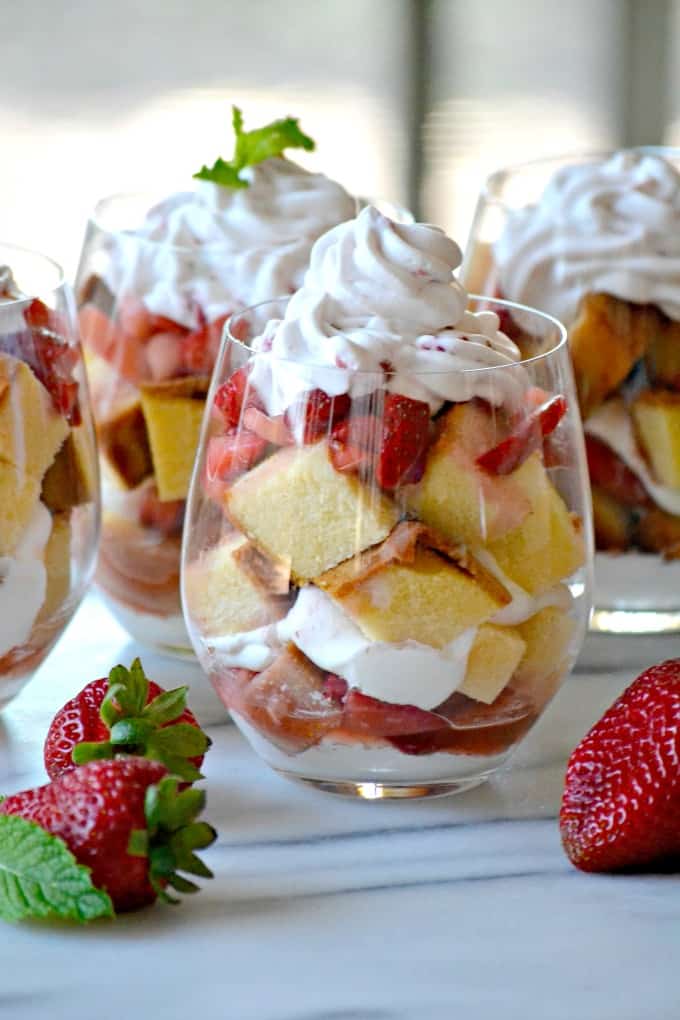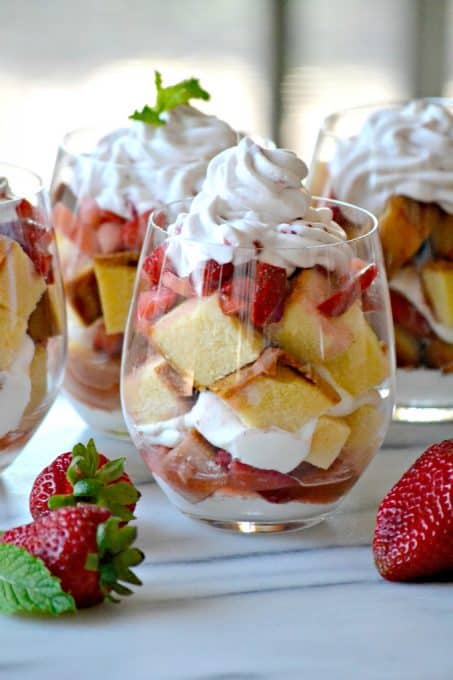 I was gifted a cookbook so I could support Julianne and share it with all of you. As always, all opinions are 100% my own. We both greatly appreciate your support!
This post contains an affiliate link(s). These are links that can take you to a product (or products) that I recommend. I do receive a portion of the sales or credit for my future purchases from any items purchased through those links. Your purchases encourage my baking, cooking and butter habit, and contribute to the life of this blog. I thank you so very much for your support. Let's keep having fun in the kitchen!!
Reader Interactions