Baked Blueberry Cream Cheese French Toast – lots of fresh blueberries, mixed with cubes of challah bread and cream cheese covered in a French Toast batter. This easy make-ahead breakfast will have your family begging for more!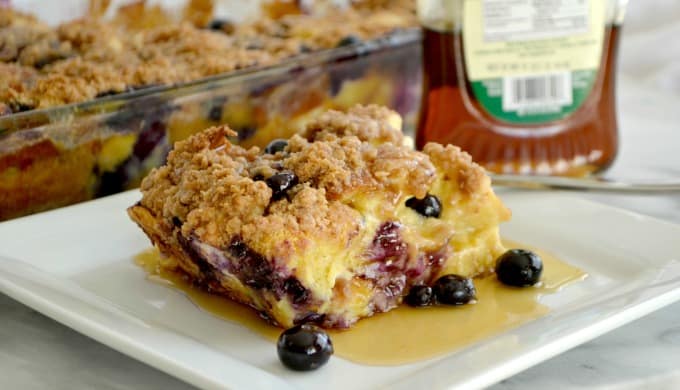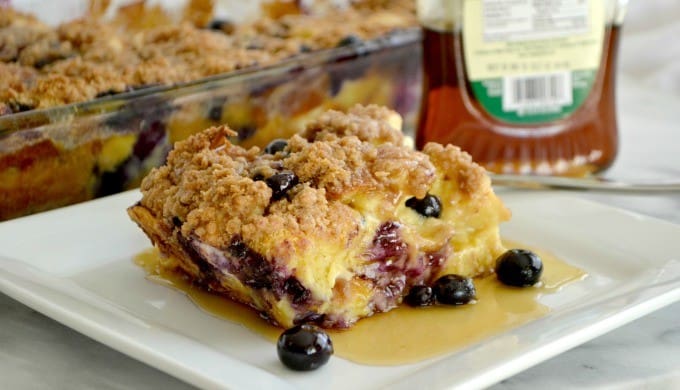 At the beginning of this month, I had the opportunity to go to Myrtle Beach, South Carolina for the Blog N' Bake Retreat with 9 wonderful bloggers.
I'd never been to Myrtle Beach, so I was really excited to be near the ocean and smell that fresh salty air! Living in Phoenix, but growing up overlooking Narragansett Bay, I'll take any chance I can to get to the ocean.
We stayed in a house right on the water called The Sanctuary. It was ginormous and each one of us fell in love with the views, but I think we LOVED the kitchen more. It was a great space for 10 food bloggers, and even had TWO dishwashers! haha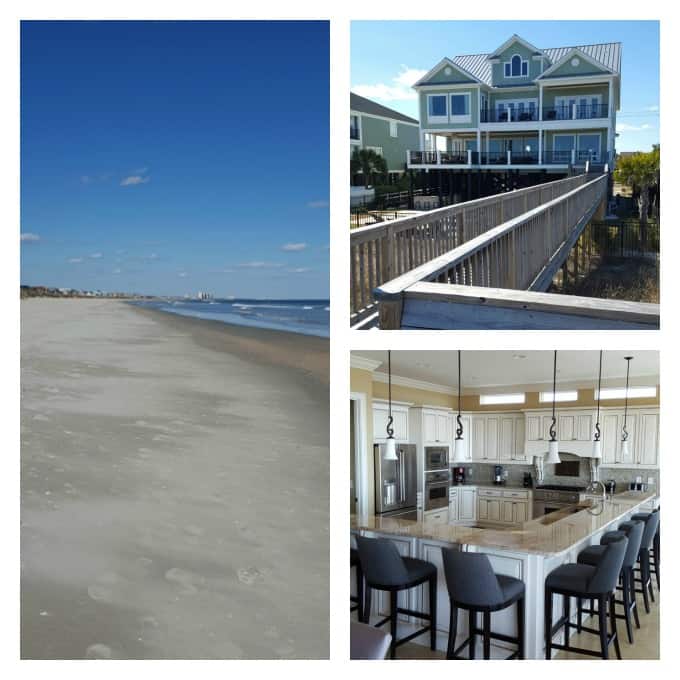 We had some incredible sponsors who made this Blog N Bake Retreat possible. Dixie Crystals (also known as Imperial Sugar in some parts of the country) provided us with 120 lbs. of sugar (yes, you read that right!)!
We were able to bake with it, AND we used it to make some incredible sugar scrubs. I made the Dreamsicle and it smelled so good!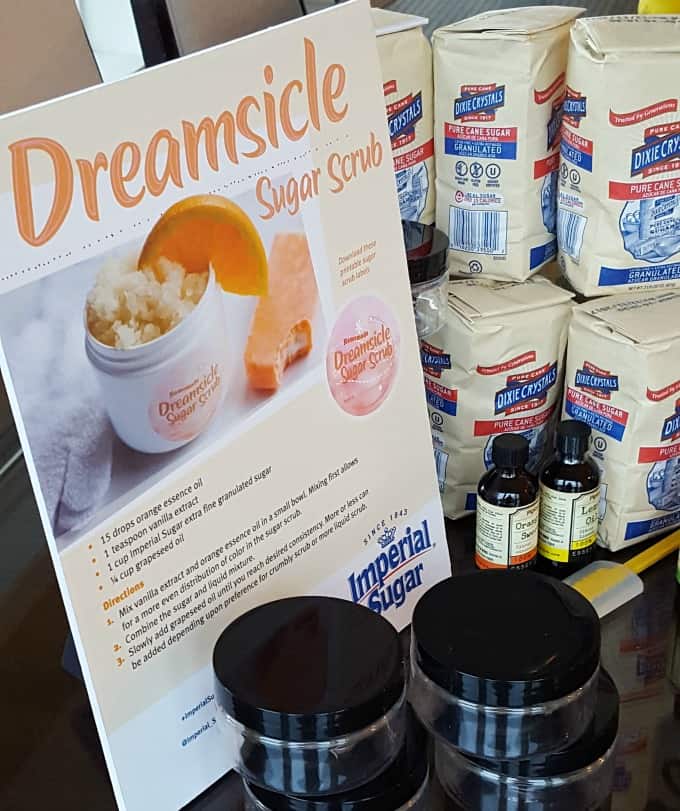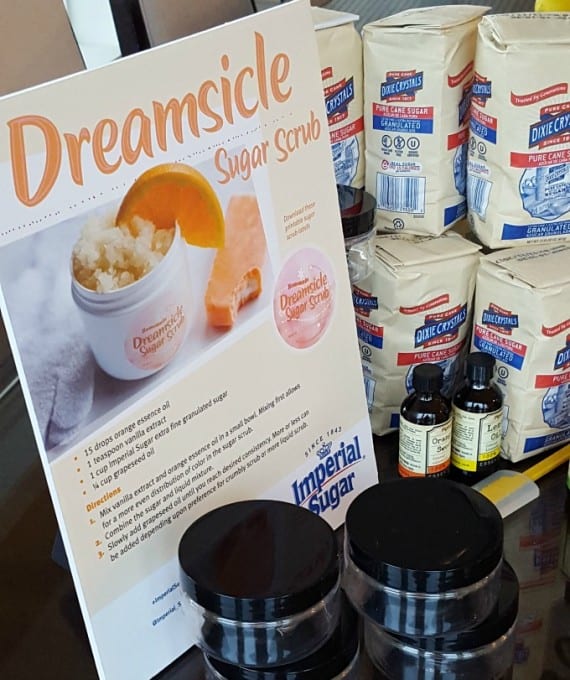 Davidson's Safest Choice™ Eggs provided us with 12 dozen eggs so that we could have an omelet bar and smoothies for breakfast. I really like their pasteurized eggs and used them to make my grandmother's Bailey's Irish Cream, and will be using them in another recipe this week, so watch for it!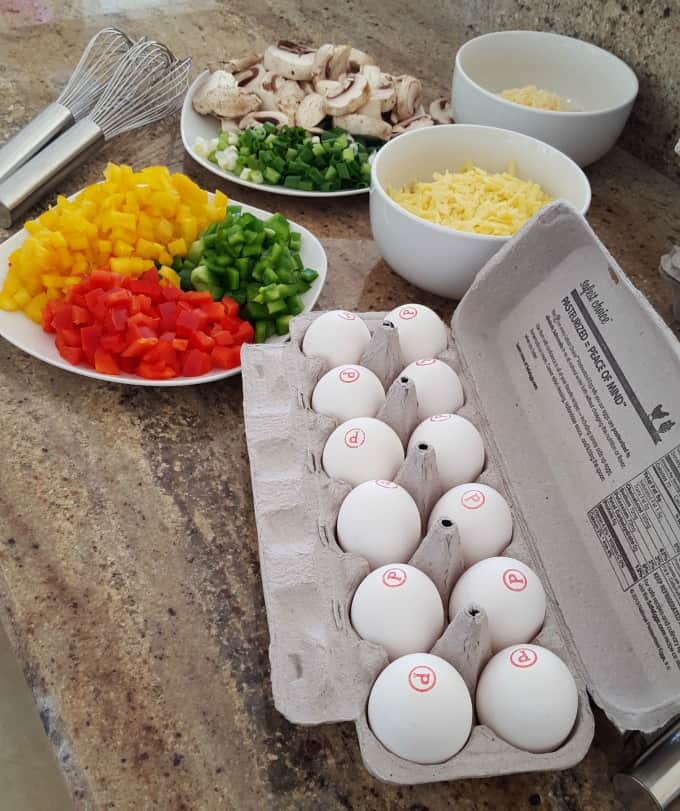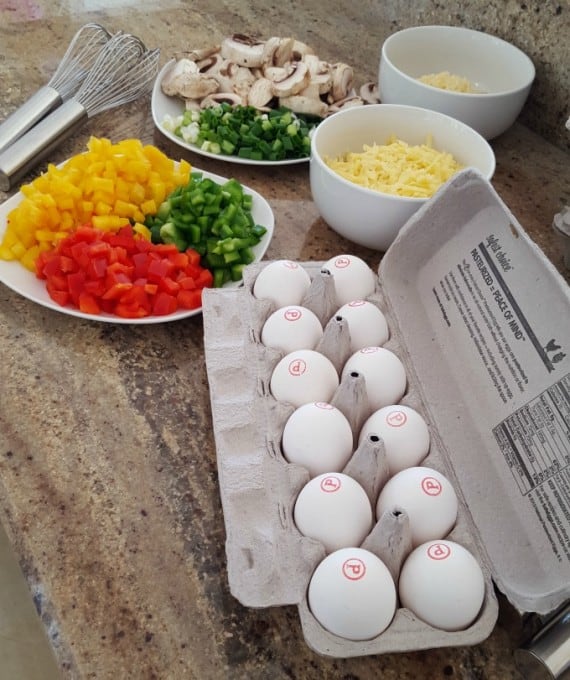 We were also well supplied with flour from Gold Medal Flour and were supplied with our morning and afternoon coffee thanks to the Ninja Coffee Bar.
The food and cocktails my fellow bloggers prepared were needless to say, delicious.
I prepared a Dixie Crystals recipe, Brown Sugar Bacon Brussels Sprouts with Candied Walnuts that I loved so much, I've made them at home and now the family's hooked.
Lindsay made her Raspberry Cream Cheese Coffee Cake. It was wicked hard to not have a REALLY big slice!
Roxana made Vanilla Bean Cheesecake Bars using Rodelle Vanilla Beans and it was one of the best cheesecakes I've ever had. We also used some of the Rodelle Vanilla Paste in a recipe that I'll be recreating soon, so keep an eye out.
Stephanie made her Flaky, Fluffy Southern Buttermilk Biscuits. Just look at those layers!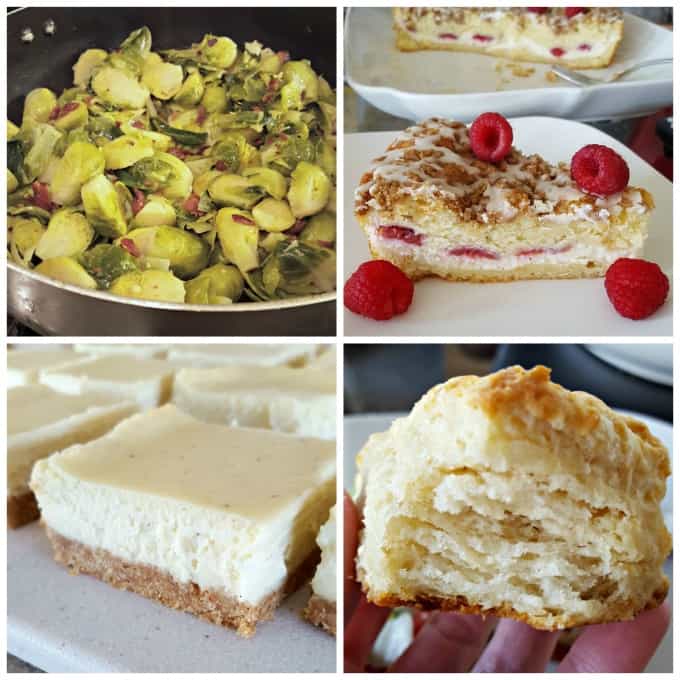 We also had lots more delicious food that I wasn't able to take pictures of – too busy eating it, you know?
We also had the pleasure of eating at Croissants Bistro & Bakery in Myrtle Beach for lunch one day. Heidi and her staff were so warm and welcoming and the food was of course, delicious.
I fell in love with the Butternut Squash Soup, and my favorite dessert of all that we sampled was that vanilla cake with raspberry filling. SO good! If you're ever in Myrtle Beach, definitely stop by and eat.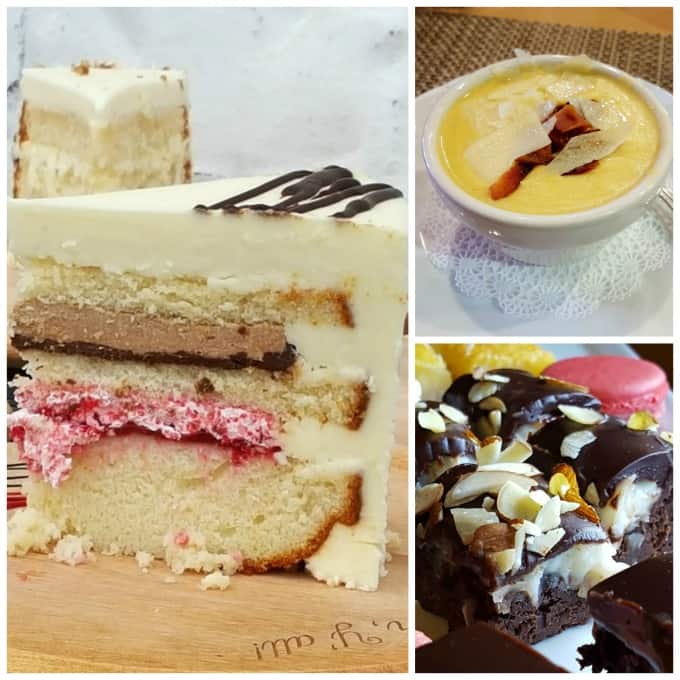 Theo Chocolate provided us with different kinds of chocolate for our chocolate and wine pairing night. That was a lot of fun and I enjoyed their Lemon chocolate bar the most. Two of my favorite flavors and unlike any chocolate I've ever tasted.
You can see below that standing on chairs is something we food bloggers often do to get the best picture when we post to our social media. 😉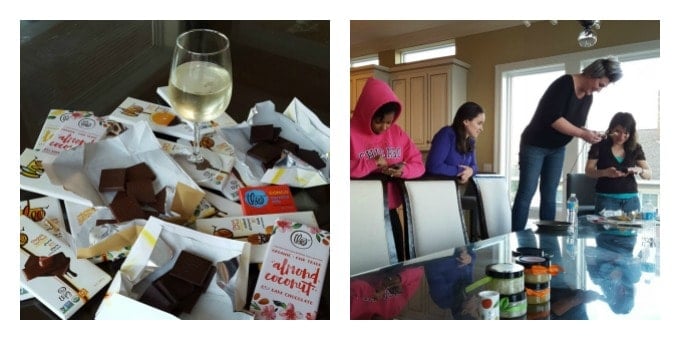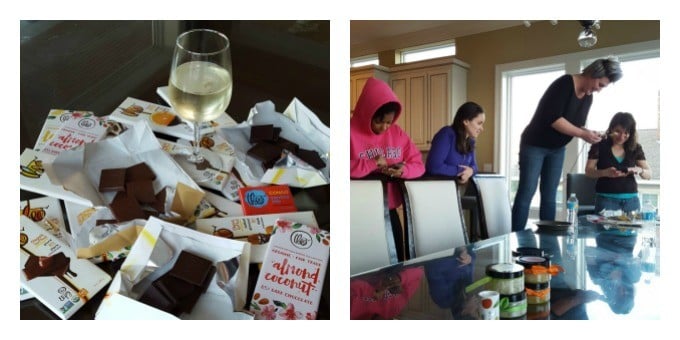 If you're a blogger, I highly recommend that you take advantage of blog retreats.
As much fun as large conferences can be, I've found that I always get more out of just sitting with others in small groups discussing our blogs, what we're doing or not doing and always, always walk away with something that I can implement.
If you haven't been invited to any, team up with a friend or two and organize one, reach out to sponsors, and just go for it. They're lots of fun and everyone will enjoy it.
So, here's to a great few days with old and new friends, business brainstorming, new ideas, great food and lots of laughs. It was an incredible experience and something I'll fondly look back on for years to come!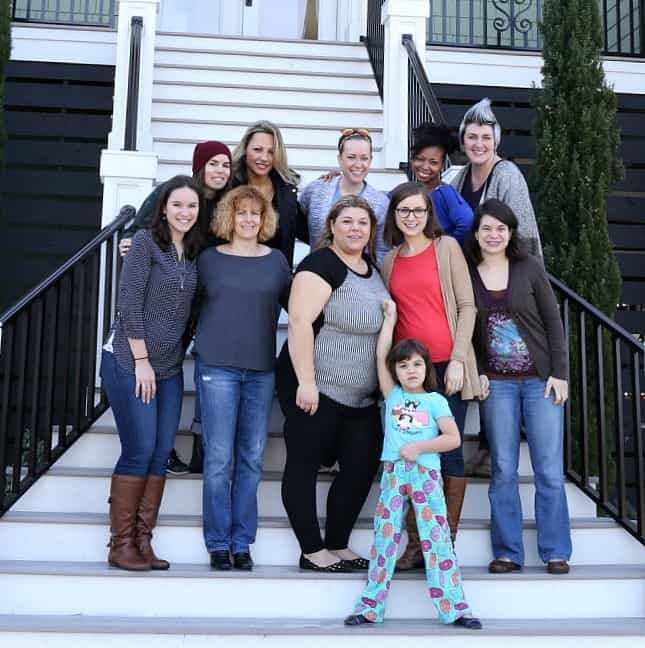 Pictured above in the back row – Julianne (Beyond Frosting), Katerina (Diethood), Becky (The Cookie Rookie), Jocelyn (Grandbaby Cakes), Ashlee Marie (Ashlee Marie).
Middle Row – Lindsay (Life, Love, Sugar), Me, Roxana (Roxana's Home Baking), Stephanie (Girl vs. Dough), Carla (Chocolate Moosey) and on the bottom, Roxana's very talented and entertaining daughter.
Now onto the Baked Blueberry Cream Cheese French Toast recipe, which I made for our breakfast that Thursday morning.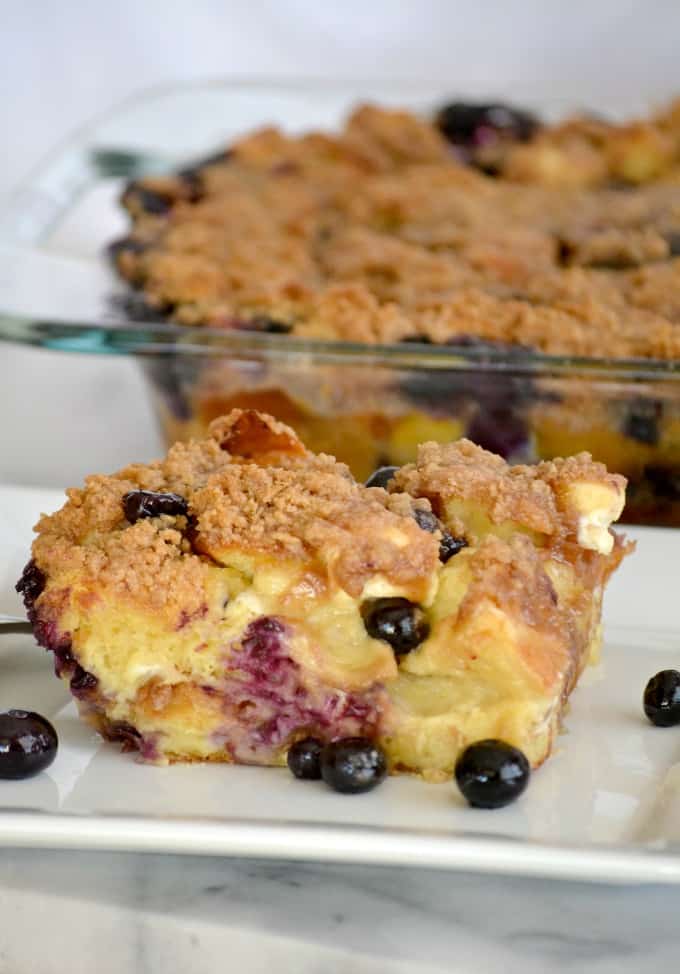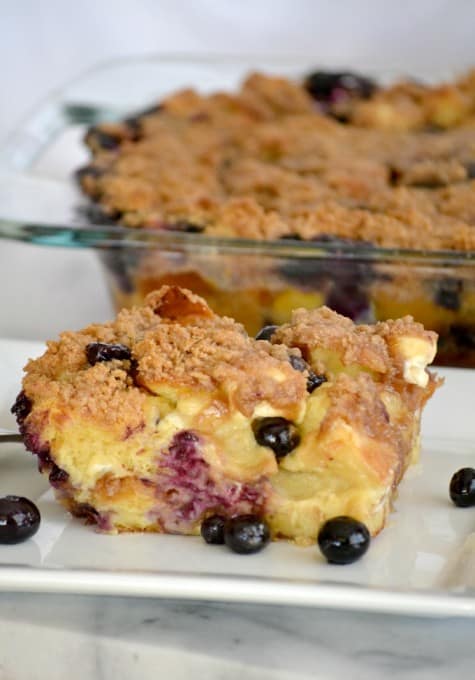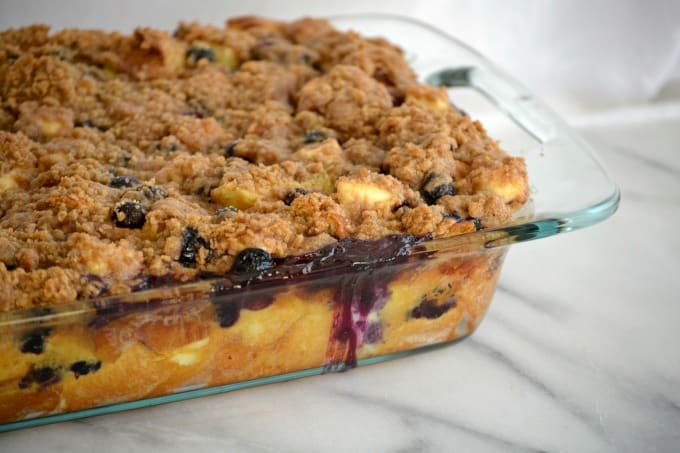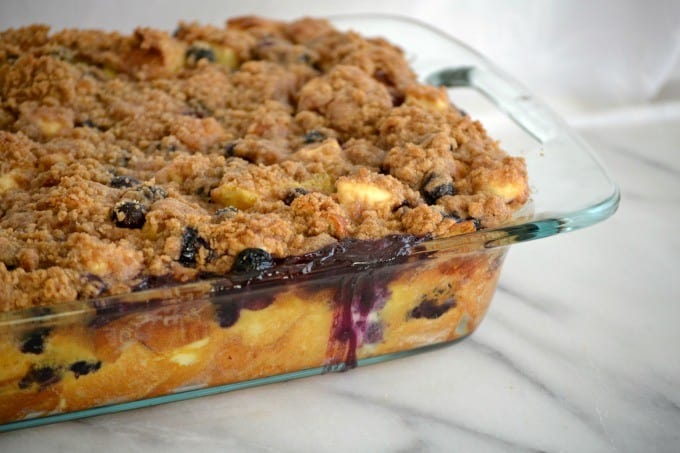 I think you'll like this. I've made it for the family since I've been back, and they said they like it more than other ones I've made which are linked to below.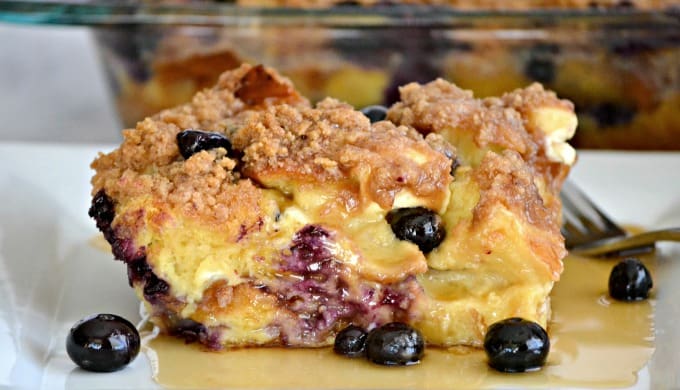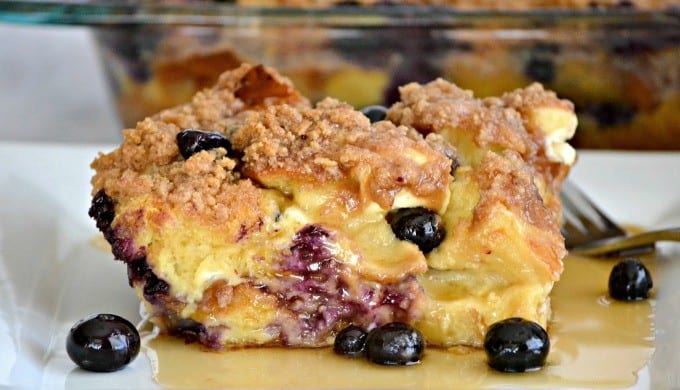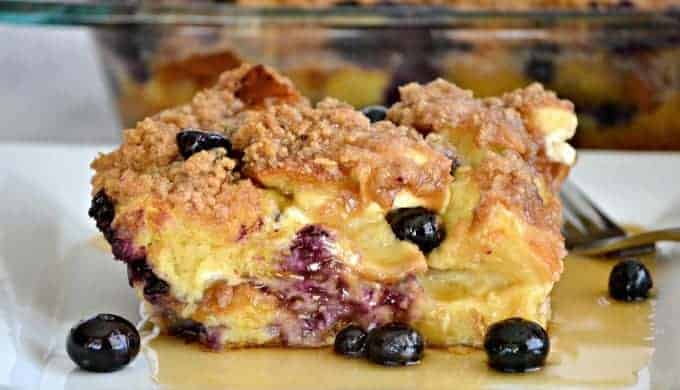 Blueberry Cream Cheese French Toast
Blueberry Cream Cheese French Toast - fresh blueberries, challah bread and cream cheese made the night before for a delicious breakfast the next morning!
Ingredients
1 Challah bread cut into one inch cubes
12 ounces fresh blueberries or 2 cups frozen blueberries thawed
8 ounces cream cheese cut into 16 cubes
8 eggs
2 cups milk
½ cup heavy cream
¾ cup sugar
2 tablespoons vanilla
½ cup flour
½ cup packed light brown sugar
1 teaspoon cinnamon
½ teaspoon nutmeg
¼ teaspoon salt
1 stick 8 tablespoons cold butter
Instructions
Spray an 9 X 13-inch baking dish with cooking spray.

Place half of the bread cubes into the prepared baking dish and evenly distribute half of the blueberries and half of the cream cheese cubes.

Place the remaining bread cubes on top along with the remaining blueberries and cream cheese.

In a medium bowl, whisk together eggs, milk, cream, sugar and vanilla.

Evenly pour mixture over the bread and blueberries.

Cover with plastic wrap and place into refrigerator to sit overnight.

In a medium bowl, combine flour, brown sugar, and cinnamon. Mix thoroughly.

Cut butter into small pieces and with a pastry cutter or two forks, blend butter into mixture until it resembles coarse meal.

Place mixture into a plastic bag. Seal and refrigerate overnight. This step can also be done in the morning before placing baking dish into the oven.

When ready to bake the next morning...

Preheat oven to 350 degrees F.

Uncover the baking dish and sprinkle the butter mixture evenly around the top.

Bake uncovered for 45 – 55 minutes. 45 minutes will give you a softer, slightly unfinished middle whereas 55 minutes will be firmer.
Nutrition
Serving: 1serving | Calories: 438kcal | Carbohydrates: 50g | Protein: 11g | Fat: 22g | Saturated Fat: 12g | Polyunsaturated Fat: 2g | Monounsaturated Fat: 6g | Trans Fat: 0.02g | Cholesterol: 217mg | Sodium: 257mg | Potassium: 270mg | Fiber: 1g | Sugar: 41g | Vitamin A: 960IU | Vitamin C: 4mg | Calcium: 156mg | Iron: 1mg
Did you make this recipe?
Share it with me on Instagram and make sure to follow me on Pinterest for more recipes.
If you like this Baked Blueberry Cream Cheese French Toast, then you'll love…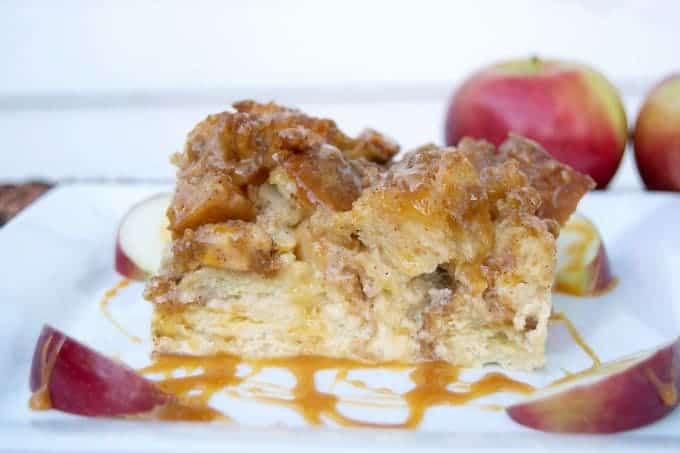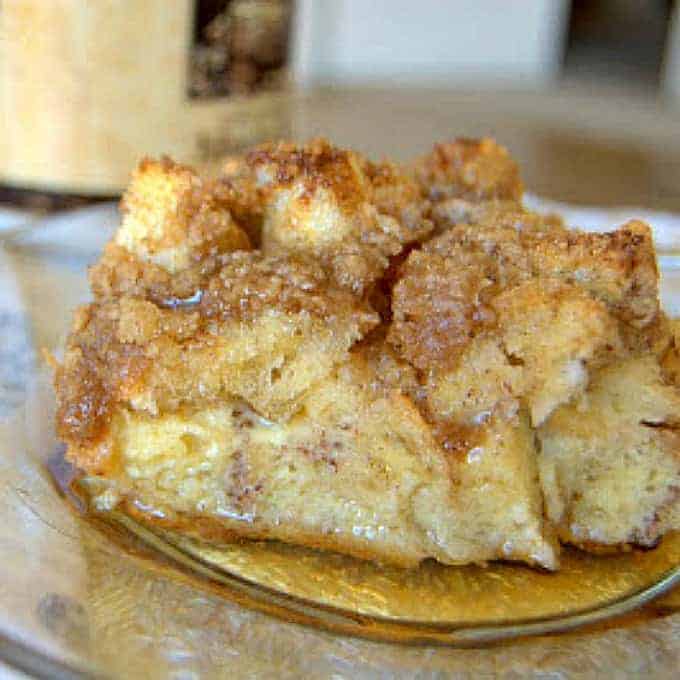 Reader Interactions