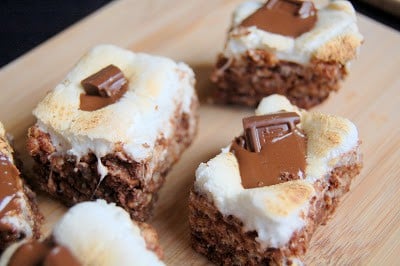 WOW! Can you believe it's that time of the month again?!
It's the third Monday of the month which means…it's time for The Secret Recipe Club reveal!!!!
The Secret Recipe Club was originally started by Amanda of Amanda's Cookin'. She has recently passed the reins on to April of Angel's Homestead and our Group C leader is Angie of Big Bear's Wife. These ladies have been doing such fine work for this fantastic club and I know it isn't easy. Stop by each of their blogs and say hello, won't you?
The Secret Recipe Club is like the Secret Santa that people participate in at Christmastime. People sign up to participate and they are assigned a blog from which they are to find a recipe of their liking, make it and post about it on their group's assigned reveal day. We're not allowed to reveal to the owner of the blog that we are secretly "stalking" them. It's so much fun going through blogs that you may or may not already be familiar with and getting to know the person behind it and their recipes. It's always nice to make a new friend!
It's also a lot of fun finding out who was assigned your blog for the month and finding out which recipe of yours they chose to make.
So, without further adieu, I present to you (hey, isn't it neat how I made that rhyme? haha) my assigned blog for the month of July…
This blog by Teri is FULL of recipes! She has so many to choose from, I really had a hard time deciding what to make, but as soon as I found the following one, I knew I had to try it. Such a no-brainer!
I love the background for Teri's blog. She started it as a way to help beginning cooks because everyone had to start somewhere, right? She has about 20 years in the kitchen end of the restaurant business and is completely at home instructing people how to cook and create. It is so apparent in the way she words her posts and by the step by step instructions accompanied by her pictures that she loves being in the kitchen!
Thank you, Teri, for such a great recipe and for the detailed instructions! Keep up the great work!
The recipe I chose was Teri's S'Mores Rice Krispie Treats.
We LOVE rice krispie treats here at the 365 home, as if you didn't already know from these Butterfinger Rice Krispie Treats and these Cake Batter Krispie Bars I've made in the past.
It doesn't take very long before these things disappear around here, so I'm always looking for a new combination and new recipe for them.
I made a few changes to Teri's recipe: instead of using the actual graham crackers, I mixed some graham cracker crumbs in with the melted marshmallows, replaced the large marshmallows on top of the bars with the flat StackerMallows that Jet-Puffed makes, and increased the amount of butter.
'Cause you can never have enough butter, right? 😉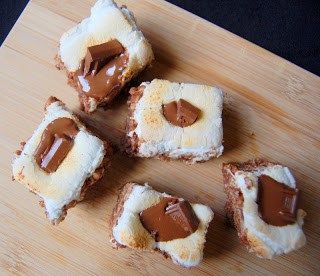 S'Mores Rice Krispie Treats – makes one 9 X 13-inch dish
5 tablespoons butter
6 cups Rice Krispie cereal
1 10 oz. package miniature marshmallows
1/2 cup graham cracker crumbs
2 cups milk chocolate chocolate chips
1 8 oz. package Jet-Puffed StackerMallows or you can choose a bag of the regular size marshmallows
10 frozen mini Hershey milk chocolate candy bars, broken into individual squares I found that if they were frozen they were easier to stick into the marshmallows and didn't melt as quickly even though they still melted.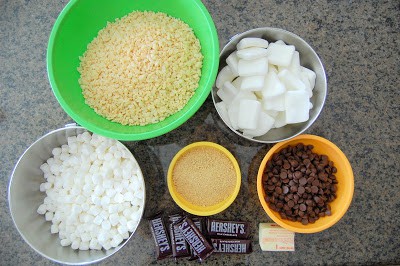 Preheat oven to 350 degrees F.
Prepare a 9 X 13-inch baking dish by generously spraying it with cooking spray.
In a large saucepan over medium-low heat, melt butter.
Add the miniature marshmallows to the pan and stir until they are melted. Turn heat down to low. I know in most recipes it says to remove from heat when everything has melted, but I've found that it's easier to stir in the Rice Krispies if the marshmallow mixture is still warm. It becomes very difficult to stir and I find it hurts my wrist as it cools. Just tryin' to save you a trip to the doctor in the future. 😉
Stir in the graham cracker crumbs.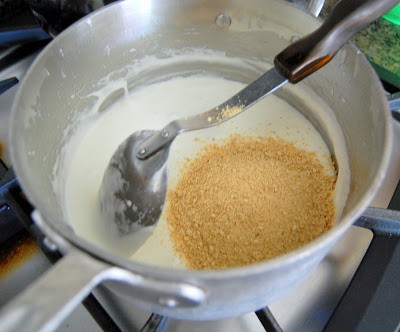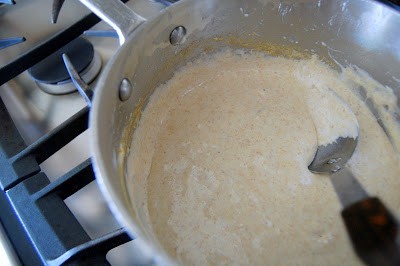 Add the Rice Krispies and mix until thoroughly combined. (Teri shared a tip here which I thought was a really good idea and had never done before, but it worked really well! Spray the spatula or spoon that you're using to mix everything together with cooking spray so that it makes it easier to mix.)
Remove pan from heat and stir in chocolate chips. And yes, they will melt. Don't worry about it.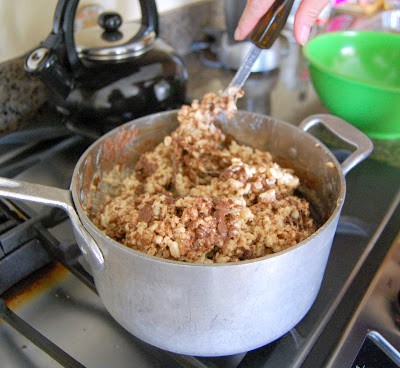 Pour mixture into prepared baking dish and press down with a rubber spatula so that it completely covers the pan. I find it easiest to spray my hands with cooking spray and flatten it that way (as long as it's just the family who will be eating them and yes, I do wash my hands first.).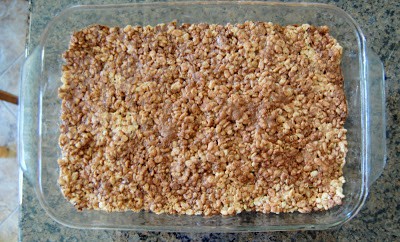 Place the Stackermallows over the Rice Krispies so that they are completely covered.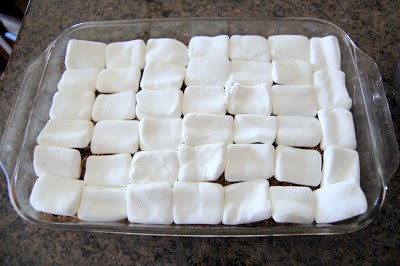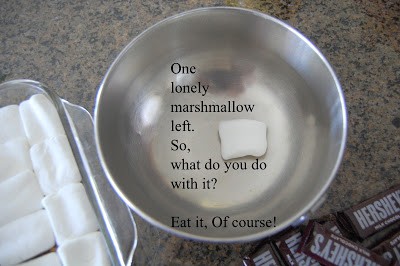 Place into oven for marshmallows to brown for 15-17 minutes.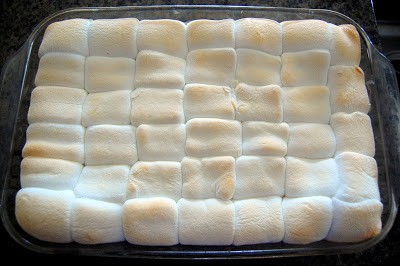 And this is where I used my little blow torch to make them a little browner.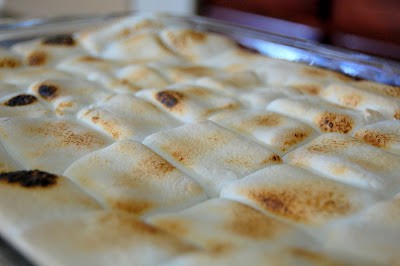 Remove from oven and place a Hershey chocolate square into each marshmallow.
Allow to cool completely before cutting.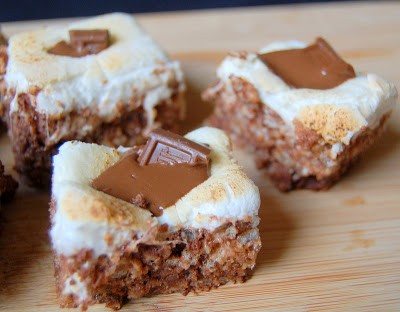 I rate everything I make on a scale of 1-4 with 4 being the best and these S'Mores Rice Krispie Treats earned 3 1/2 rolling pins.
They were so chocolaty and good, and the toasted marshmallow on the top was golden!
Unfortunately, I only detected a slight taste of the graham cracker. I was going to use a full cup instead of a half, but didn't want the marshmallow batter to be so thick I couldn't stir in the Rice Krispies.
Will have to try it with the actual crackers next time.
I also think Teri's idea using the large marshmallows on the top instead of Stackers would have been the way to go because she only had hers in the oven for 5-7 minutes whereas I had them in for 15 and they still weren't as brown as I would have liked them. I used my little blow torch to toast them the rest of the way.
Yes, I cheated.
I think you'll have better luck using the larger babies.
I also think leaving them in the oven longer may have had something to do with them sticking to the bottom of the pan. They weren't impossible to remove, just required a little bit of patience and some occasional elbow grease. I should have sprayed a little more cooking spray in the bottom of the pan, too since I wasn't using the crackers on the bottom.
Go with the big marshmallows and leave them in the oven for 5-7 minutes.
OR…
maybe you could broil them!
I would have done that, but our broiler is kaput, so that wasn't an option for me.
Let me know which choice you make and if it worked for you!
Until next month…
I give you BIG baking hugs and muffins!!
Don't forget to check out all of these other wonderful recipes my fellow bloggers have shared for their Secret Recipe Club reveal!