These NO BAKE Chocolate Peanut Butter Dream Bars are crushed peanut butter sandwich cookies, topped with chocolate pudding, a fluffy layer of cream cheese and peanut butter, and finished off with Cool Whip.

Previously a BAKED recipe, you can now just pop the cookie crust into the freezer for an easy and super delicious NO BAKE Chocolate Peanut Butter Bar dessert.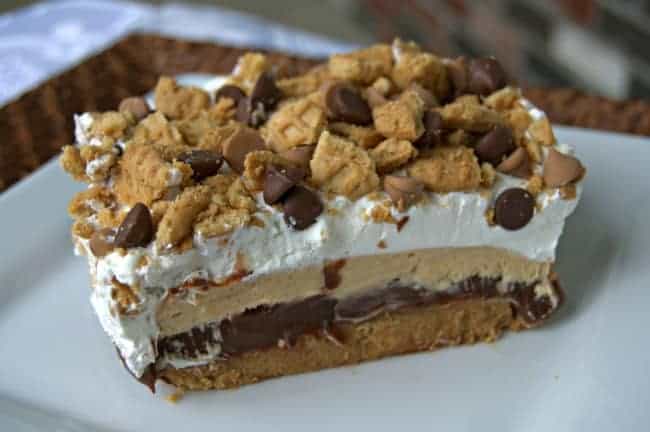 Chocolate and peanut butter…

**UPDATE as of 3/21/19 – I have a Stabilized Whipped Cream here on my site which will work perfectly for this Dream Bar Recipe as well as the others I have on 365 Days of Baking and More. It is the perfect substitute for those of you who do not want to use Cool Whip.**

It's a marriage made in heaven. Some things were just meant to go together, like Abbott & Costello, spaghetti & meatballs, Kim & Kanye (ok, maybe not that one).
Chocolate and peanut butter.
SAVE THESE CHOCOLATE DREAM BARS TO YOUR FAVORITE PINTEREST BOARD!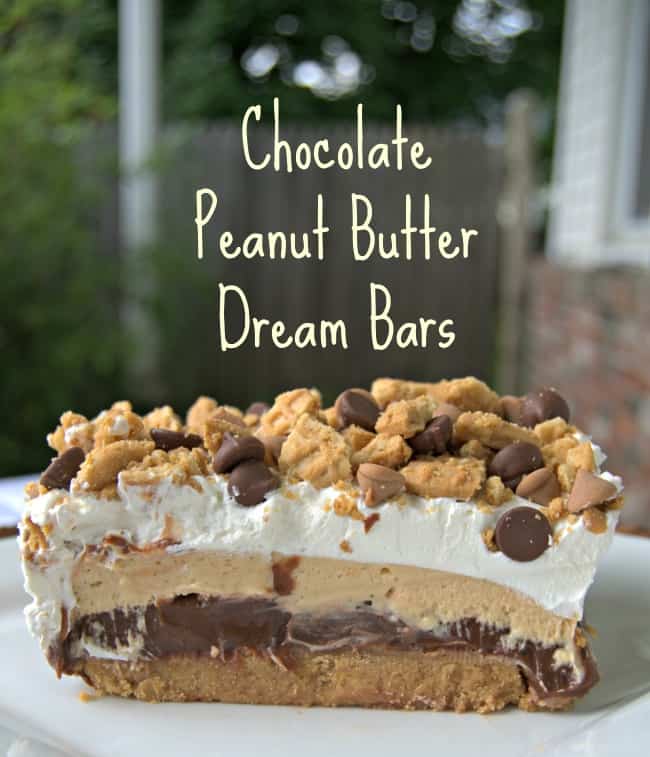 Just the thought of those two incredible flavors makes me swoon!
My oldest, youngest and I visited our local Walmart store last week to help them find items they'd need for their upcoming road trip out to Arizona. While we were there, I found the Jell-O Chocolate Pudding and Cool Whip needed for this incredibly delicious dessert.
Our daughter is moving to the northern part of the state and our son is moving back to Phoenix where he'll live with his best friend's family until Mr. 365 and I move out there in November.
Yes, another move across the country for this family. This one being our third.
We resided in Phoenix for 11 years before we decided to move back to New England and experience the mountains of New Hampshire.
We'd lived near the water, in the desert and decided it was time to experience mountain living.
Well, not the Grizzly-Adams-living-off-the-land-kind-of-mountain-living, but mountain living none the less.
Had the Mr. had his way, we would have done that. But I'm just not there and not sure if I ever will be. Give me running water, people to socialize with and a few major amenities and I'm a happy camper.
Recently, our son expressed interest in focusing on golf and returning to his old high school which became the impetus for our decision.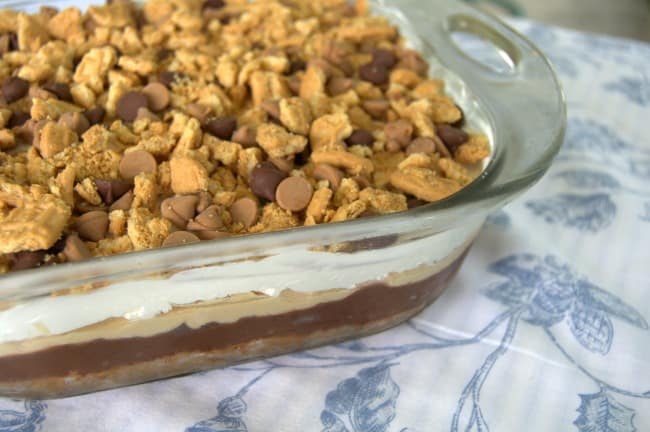 So, anywho, the two of them planned their trip, packed up their gear and set off on their excursion early yesterday morning. I've said goodbye to my children before for extended amounts of time as our daughters went off to college, but yesterday was different.
As the car pulled away, I experienced a whole mess of emotions – sadness, excitement, nervousness, pride, and a whole bunch of anxiety.
And my baby boy, albeit my 17-year-old baby boy, off to explore the country with his oldest sister.
Yes, this momma knew that for the next 3 nights or so that sleep would not come easily, and I was right as last night turned into the wee hours of this morning.
Finally after some wrong turns, getting lost by way of Massachusetts and Canada (don't ask), some minor car trouble and all of this consequently adding a few extra hours on to their trip, they arrived safely at their hotel in Ohio – thanks largely in part to their extremely patient and calming father who acted as their GPS.
Mom definitely needed these Chocolate Peanut Butter Dream Bars once I knew the kids were settled.
They helped to take the "edge" off and at least settle me down before I was able to catch a few hours sleep.
Had they known I'd made this, I'm sure they would have welcomed the chance to dive face first into it after the day they'd had!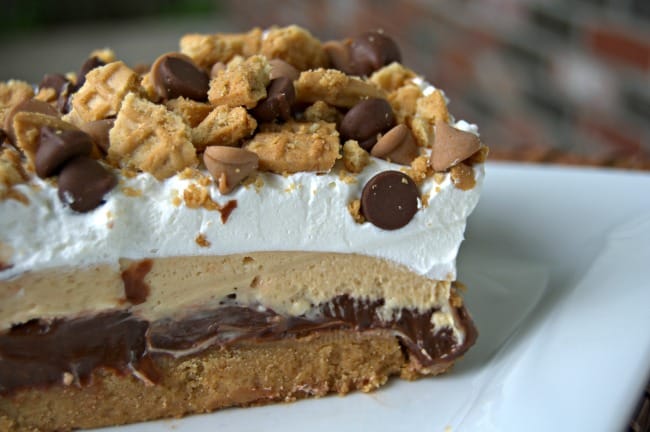 New adventures and lots of excitement. I'm happy for them and know this will be a trip they'll remember for a lifetime as they've already created some very interesting memories because of it.
SIGN UP FOR THE WEEKLY 365 DAYS OF BAKING & MORE
NEWSLETTER BELOW!
Take a quick look at the way these bars are made!
It's a NO BAKE CHOCOLATE PEANUT BUTTER BAR DESSERT!!
NOW, instead of baking the peanut butter cookie crust, this can also be an easy NO BAKE dessert!
Put the cookies into the blender or food processor as directed, and mix with the amount of butter called for. Press the buttered crumbs into the baking dish and put into the freezer for a minimum of 30 minutes.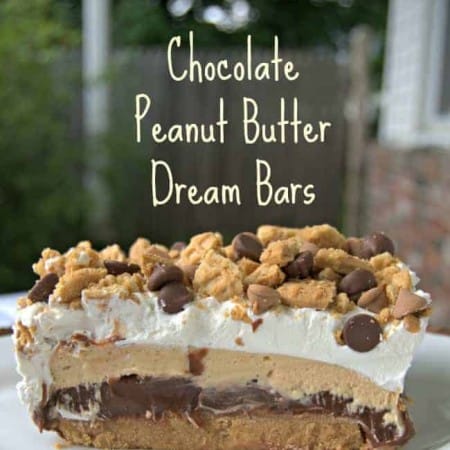 Ingredients
1 16-

ounce

package peanut butter sandwich cookies

divided

4

tablespoons

butter

1/2 stick butter, melted

4

ounces

cream cheese

room temperature

½

cup

confectioners' sugar

⅓

cup

creamy peanut butter

1 8-

ounce

container Cool Whip

divided

1 3.9-

ounce

package instant chocolate Jello-O Pudding Mix

1 ½

cups

milk

½

cup

milk chocolate & peanut butter chips OR 1/4 cup milk chocolate chips + 1/4 peanut butter chips
Instructions
Preheat the oven to 350 degrees F.

In a blender or food processor, finely crush 24 of the cookies.

In a medium bowl, mix together the melted butter and finely crushed cookies until well moistened.

Press into an ungreased 8 X 8-inch baking dish.

Bake for 10 minutes.

Allow crust to cool completely before proceeding.

In the meantime, mix the package of pudding with the 1 1/2 cups of milk in a small bowl.

In a mixing bowl, beat cream cheese, confectioners' sugar, and peanut butter together.

Fold in 1 cup of the Cool Whip and mix until well blended.

Spread the chocolate pudding over the cooled crust.

Place dollops of cream cheese mixture over the pudding layer and with an offset spatula, gently spread to completely cover.

Spread remaining Cool Whip over the cream cheese.

Refrigerate two hours. Place into freezer for a half hour to completely set and allow for neat slices.

In a plastic bag, break up the 8 remaining cookies.

Sprinkle the cookies and chocolate / peanut butter chips over the top just before serving.
I rate everything I make on a scale of 1 – 4 with 4 being the best and these Chocolate Peanut Butter Dream Bars 4 rolling pins.
It is Oh. My. Goodness. G-O-O-D!!!
Of course, the peanut butter and chocolate pudding compliment each other quite nicely and the Cool Whip adds a great creamy lightness to it. You can bet I'll be making this again. It will probably be one of the first things the kids ask for when I see them in Arizona come November.
If you like these then you'll LOVE…