Butterfinger Rice Krispie Treats. The classic soft and gooey treat mixed with Butterfinger candy bars! This easy recipe is chock full of peanut-y, chocolatey goodness. No baking required!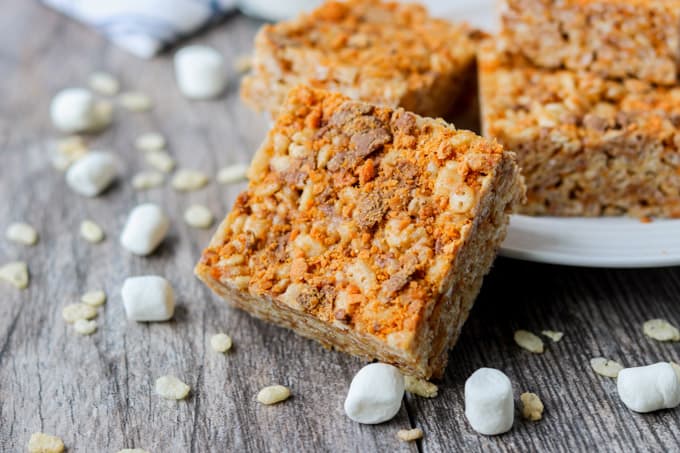 Love chocolate and peanut butter recipes? These Reese's Peanut Butter Rice Krispies Treats are another reader favorite!
You're NEVER too old for Rice Krispies Treats.
With crispy rice cereal and soft, buttery marshmallow, how can you go wrong?
As much as I LOVE a good old-fashioned pan of Rice Krispies Treats, I love them even more as a canvas for all kinds of flavors and mix-ins.
I've made quite a few variations and there are more on the horizon!
SAVE THIS EASY BUTTERFINGER RICE KRISPIES RECIPE TO YOUR FAVORITE PINTEREST BOARD!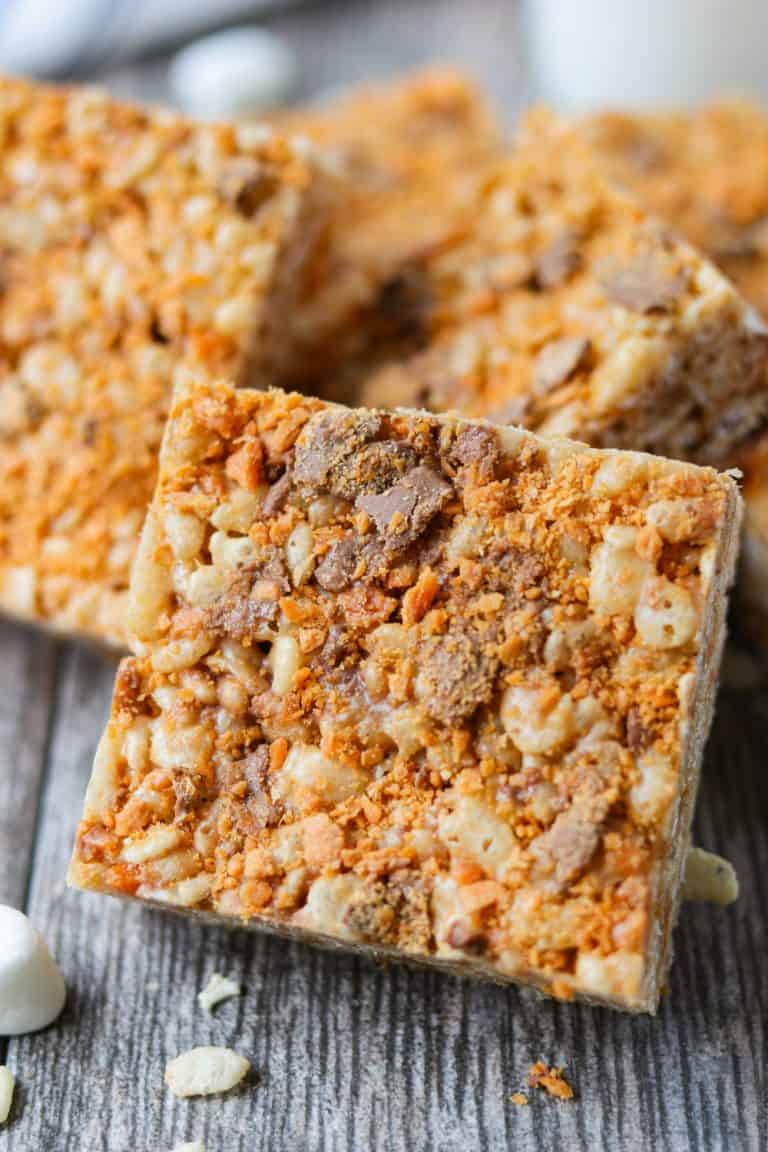 Lemon Meringue Rice Krispie Treats to this fun Circus Animal Cookie variation, there are endless ways to add your own spin to the classic no-bake dessert.
If you love Butterfinger candy bars, today's recipe is a must try!
After tasting these Butterfinger Rice Krispie Treats, my family quickly declared them their new favorite Rice Krispies.
With no baking time required and just a few ingredients, this recipe couldn't be easier!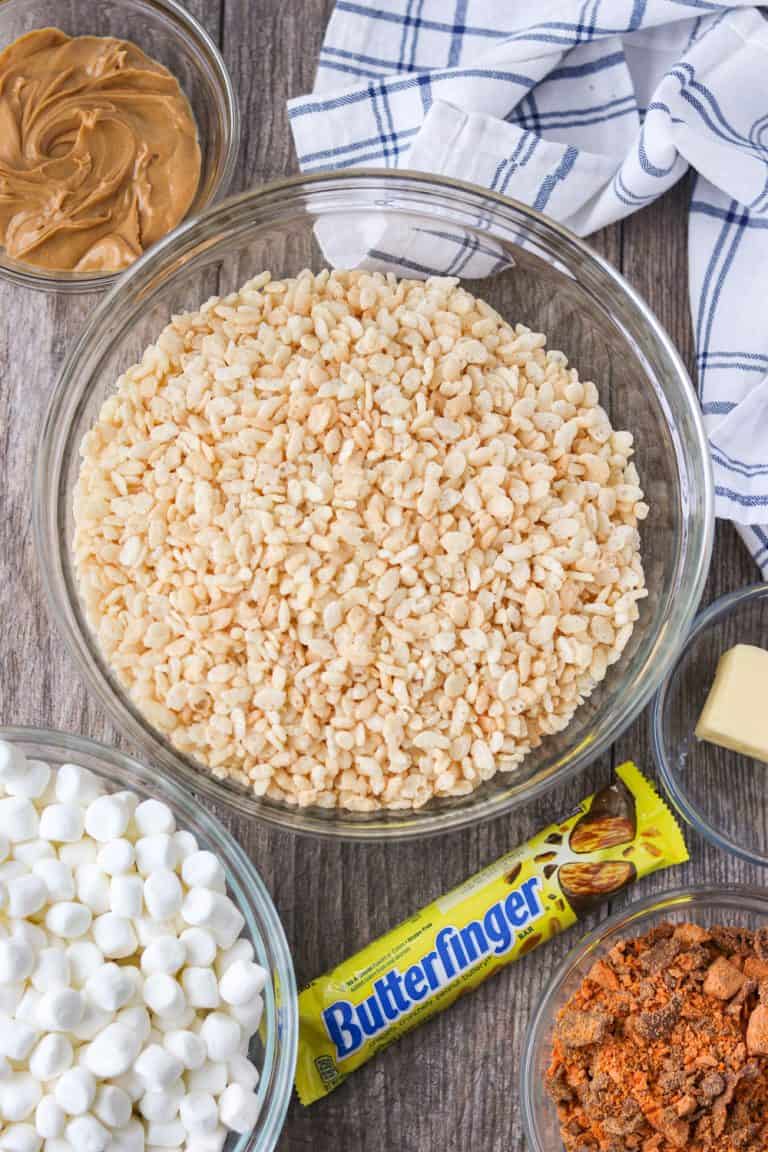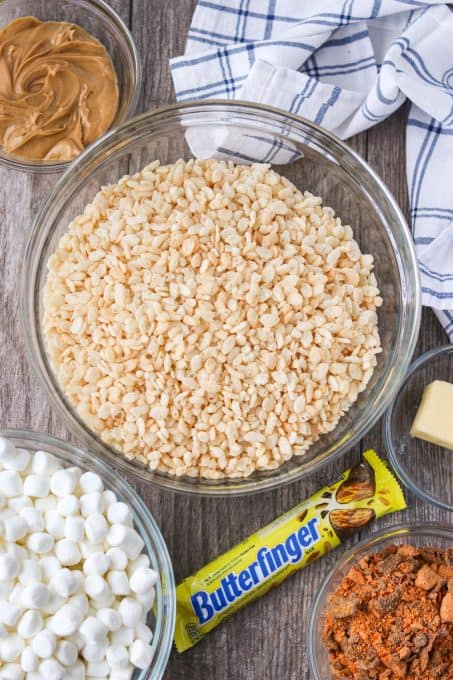 Ingredients to make Rice Krispies Treats with Butterfinger
unsalted butter
marshmallows
creamy peanut butter
Rice Krispies cereal
Butterfinger Candy Bars
Pro Tips
Crushing butterfingers: 
Place unwrapped candy bars in a zipped bag.
Use a rolling pin or mallet to crush them into pieces.
They don't need to be totally pulverized; just small enough to incorporate with the other ingredients.
Grease or spray your pan: 
Use baking spray or a very light coating of butter to grease your baking pan.
These treats are STICKY (hello, marshmallows) and can be a pain to remove if you forget this step.
You can even add a square of parchment paper to the bottom of your dish for extra stickiness prevention.
Work quickly: 
After removing the pan from heat, mix in the rice cereal quickly.
Otherwise, everything begins to harden and the batter is more difficult to work with.
Press treats gently: 
When adding the krispie treat batter to the pan, use a greased rubber spatula to spread it evenly.
Use a light touch. Pressing too hard will result in hard, dense treats.
The softer you press, the softer and chewier the finished treats will be.
These treats set up quickly right on the counter at room temperature.
Make sure to let them cool completely before slicing and digging in!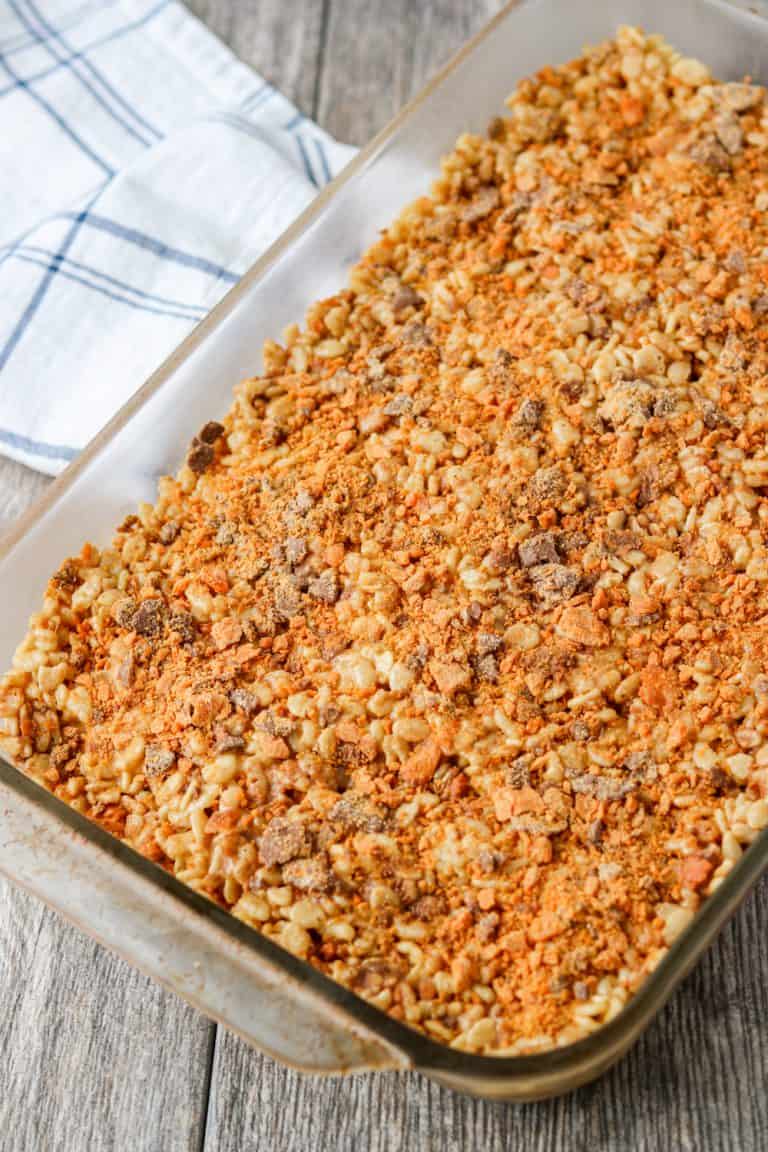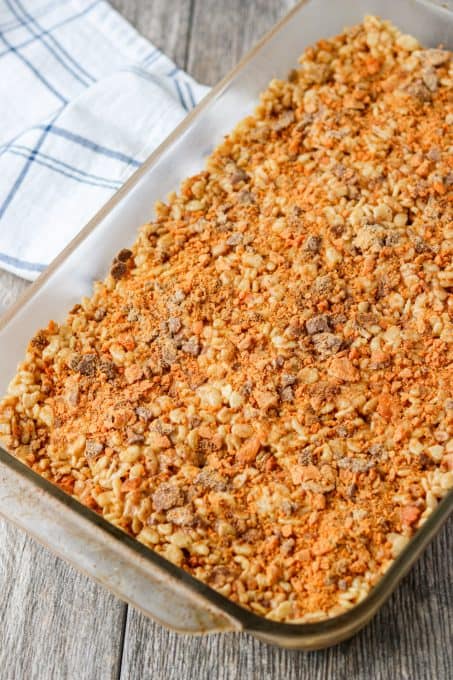 What size Butterfingers do you need for this recipe?
I used 3 full sized Butterfingers.
To use fun sized Butterfingers instead, you will need about 9 bars to equal the same amount.
Can I make Rice Krispie Treats with mini marshmallows?
Yes, you can swap mini marshmallows for the full sized ones in this recipe.
You'll need a full 10 oz bag (or approximately 5 cups) of mini marshmallows.
What's the best way to cut rice krispie treats?
Use a sharp clean knife or pizza cutter to make even cuts in your pan of krispies treats.
I cut them right in the pan, but some people swear by turning out the whole tray of treats and slicing them up on a cutting board.
Can you freeze rice krispies bars?
I don't recommend freezing these treats for best results.
The texture of the cereal changes and they don't taste super fresh after they've been thawed.
Good thing these are so irresistibly delicious, the whole pan will disappear long before you can even think about freezing them!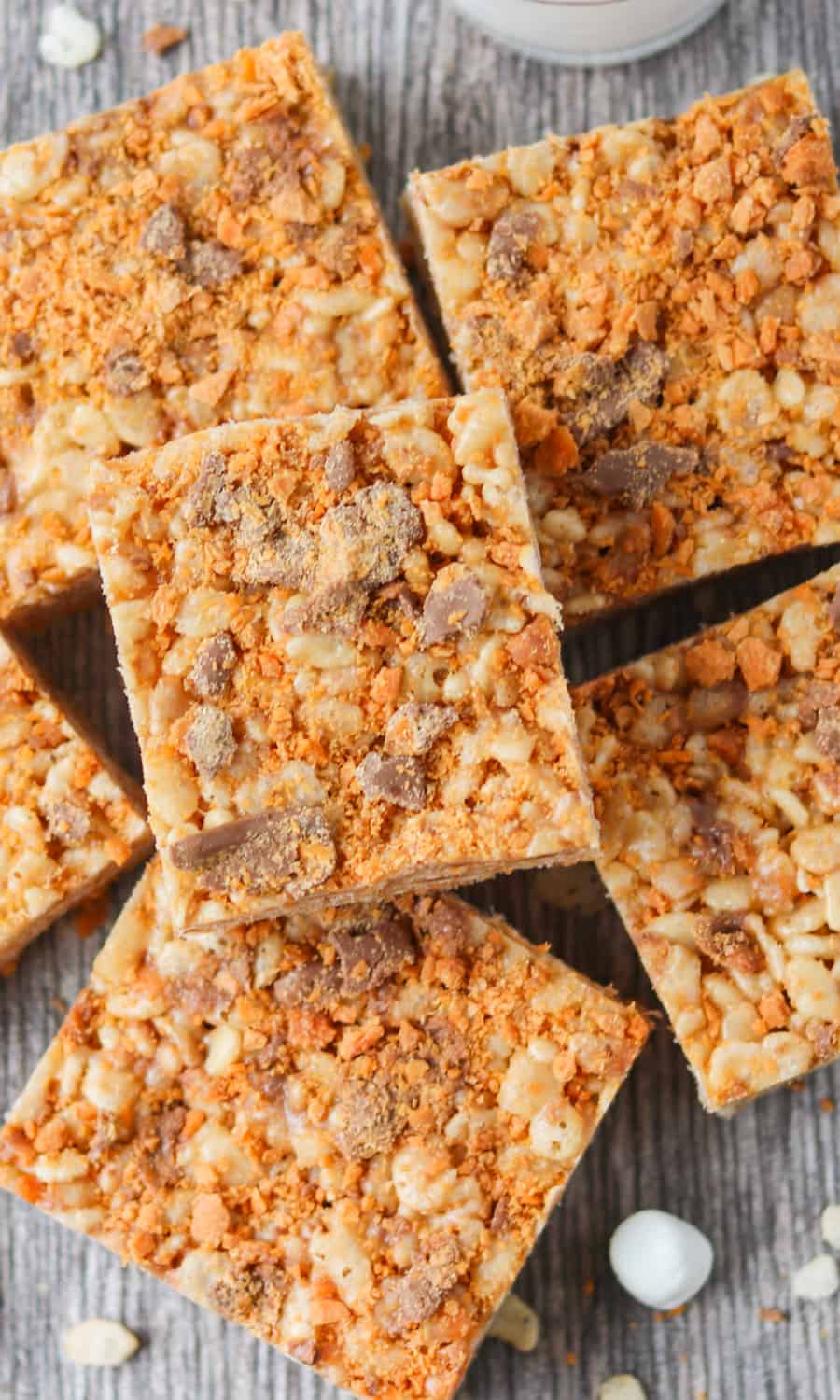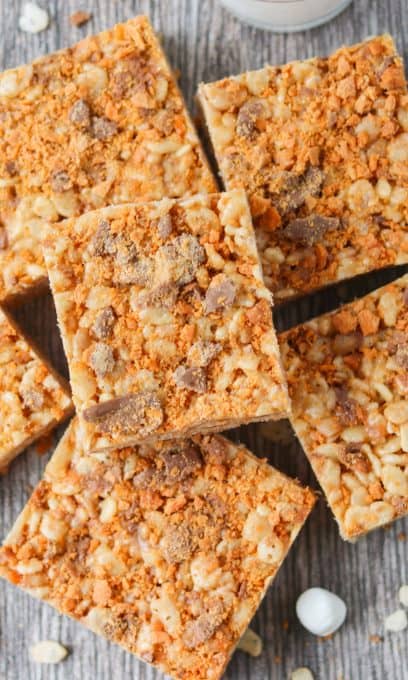 Rice Krispie Treats
Can't get enough Rice Krispie Treats?
Neither can we.
You'll love these other tasty versions of the childhood favorite.
No Bake Desserts
Butterfingers make every dessert better.
You'll love the crunchy bits of peanut butter flavor and chocolate packed into every bite of these super easy no bake Butterfinger Rice Krispie Treats!
~ FOLLOW ME ~
~ FACEBOOK ~ PINTEREST ~
~ INSTAGRAM ~ TWITTER ~
SIGN UP FOR THE WEEKLY
365 DAYS OF BAKING & MORE
NEWSLETTER BELOW!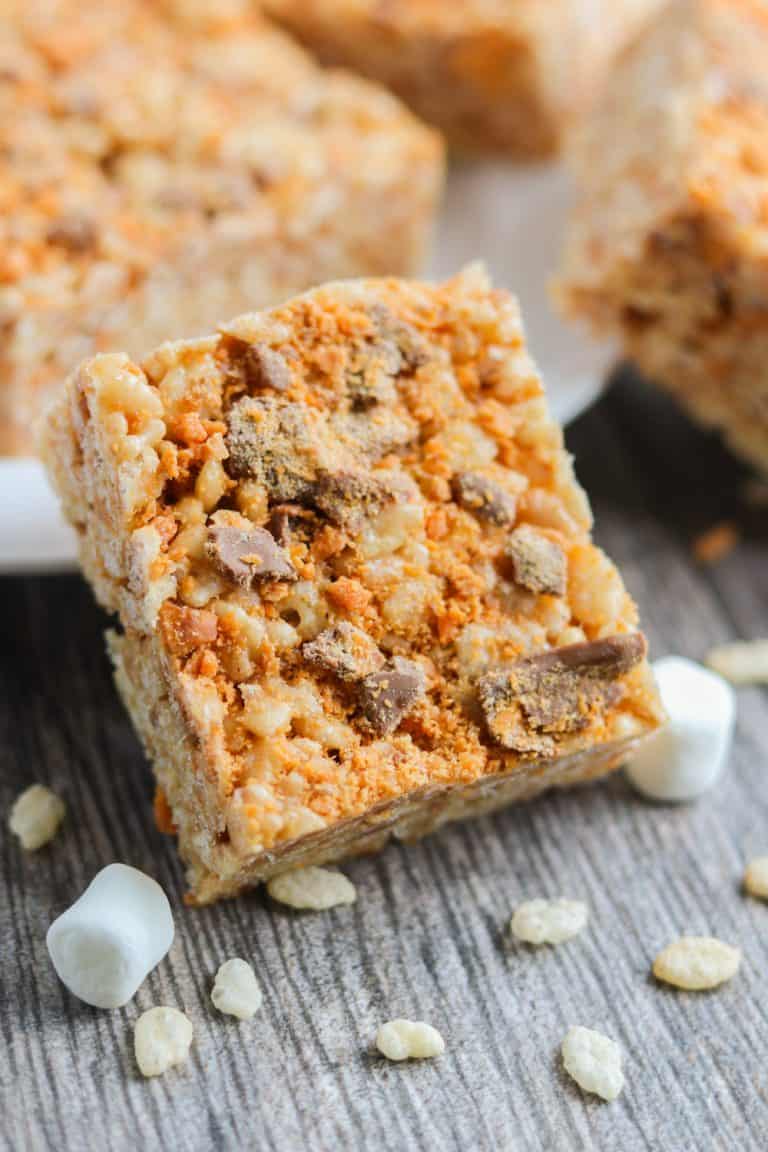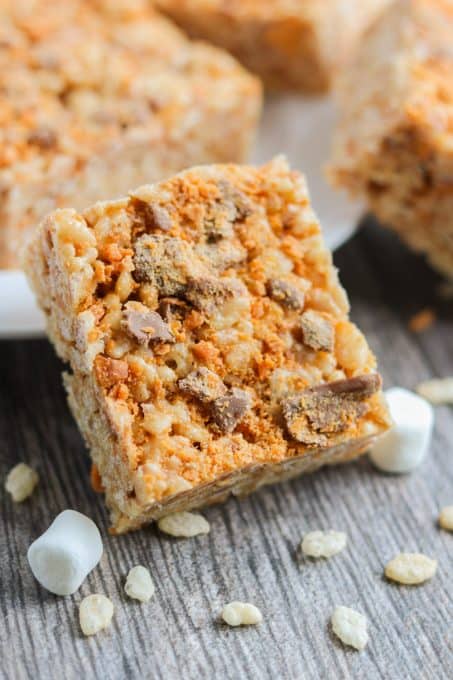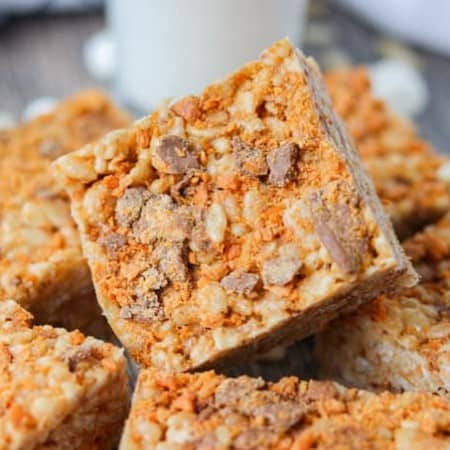 Butterfinger Rice Krispie Treats
Butterfinger Rice Krispie Treats. The classic soft and gooey treat mixed with Butterfinger candy bars! This easy recipe is chock full of peanut-y, chocolatey goodness. No baking required!
Equipment
9 X 13-inch baking dish

rubber spatula

large non-stick pot
Ingredients
¼ cup unsalted butter
10.5 ounces mini marshmallows
½ cup creamy peanut butter
6 cups Rice Krispies cereal
5.7 ounces Butterfinger candy bars (3) 1.9 0z candy bars or 9 Fun Size
Instructions
Prepare a 9 X 13-inch baking dish by spraying it with cooking spray.

Place Butterfingers into a plastic bag and crush with a rolling pin or mallet. They do not have to be completely crushed and can have larger pieces.

In a large non-stick pot over medium heat melt the butter. Add marshmallows and stir until melted.

Remove from heat and add the peanut butter, stirring constantly until it has melted and is thoroughly mixed.

Mix in crushed Butterfingers.

Add Rice Krispies and mix completely.

Pour contents into the prepared pan and spread evenly with a greased rubber spatula.

Allow bars to cool completely before cutting, about an hour
Nutrition
Serving: 1g | Calories: 233kcal | Carbohydrates: 35g | Protein: 4g | Fat: 10g | Saturated Fat: 4g | Polyunsaturated Fat: 1g | Monounsaturated Fat: 3g | Trans Fat: 1g | Cholesterol: 8mg | Sodium: 135mg | Potassium: 72mg | Fiber: 1g | Sugar: 18g | Vitamin A: 840IU | Vitamin C: 7mg | Calcium: 6mg | Iron: 4mg
Did you make this recipe?
Share it with me on Instagram and make sure to follow me on Pinterest for more recipes.
This recipe was originally published on April 23, 2012. It was republished with updated with pictures and in recipe format on 7/31/21.
Reader Interactions