These Circus Animal Cookie Rice Krispie Treats are those crispy rice cereal treats that we all love, but made even better with the addition of crushed Circus Animal Cookies, colored nonpareils and drizzled white and pink chocolate. The little kid in all of us will love these colorful treats!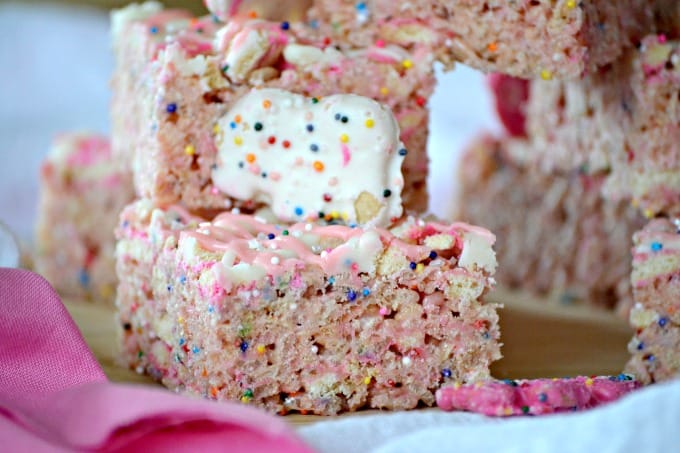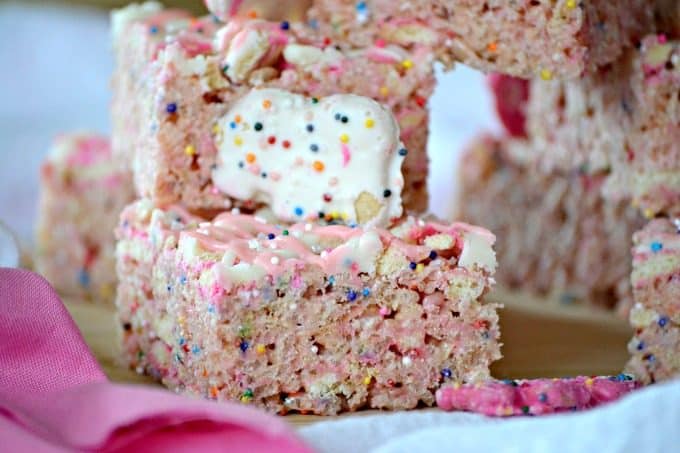 As far back as I can remember I have loved Rice Krispie Treats.
Did you know that this little goodie was created back in 1939, by two lovely ladies at the Kellogg company Home Ec. department as a fundraiser for the Camp Fire Girls??
I had no idea! I found that on Wikipedia and if it's there, it must be true, right? 😉 Because everything's true on the internet!
These Circus Animal Cookie Rice Krispie Treats – those crispy rice cereal treats that we all love made even better with the addition of crushed Circus Animal Cookies, colored nonpareils and drizzled white and pink chocolate. The little kid in all of us will love these colorful treats!
SAVE THIS RICE KRISPIE TREAT TO YOUR FAVORITE PINTEREST BOARD!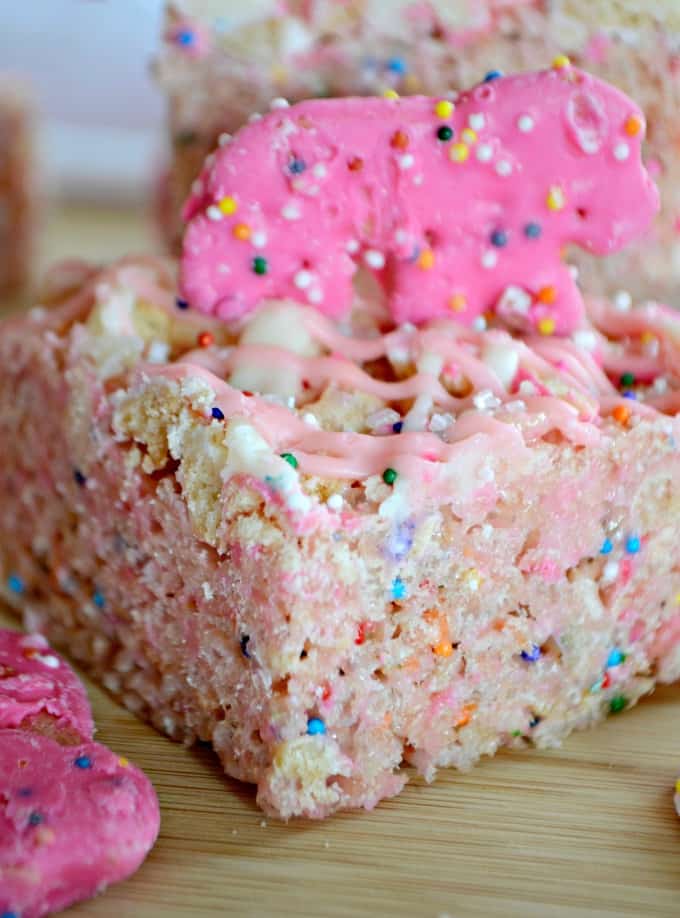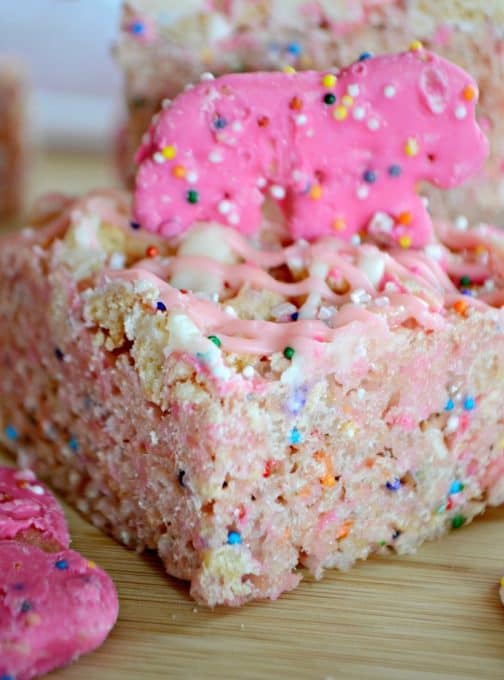 Mom always made the plain Rice Krispie Treats though. There was no creativity. I don't even think there were any recipes for variations of them back in the '70s.
Maybe there was, who knows. The plain ones worked fine for me and I loved them every time she'd make them. They definitely didn't last long and were always a treat when she packed them in my lunch to take to school.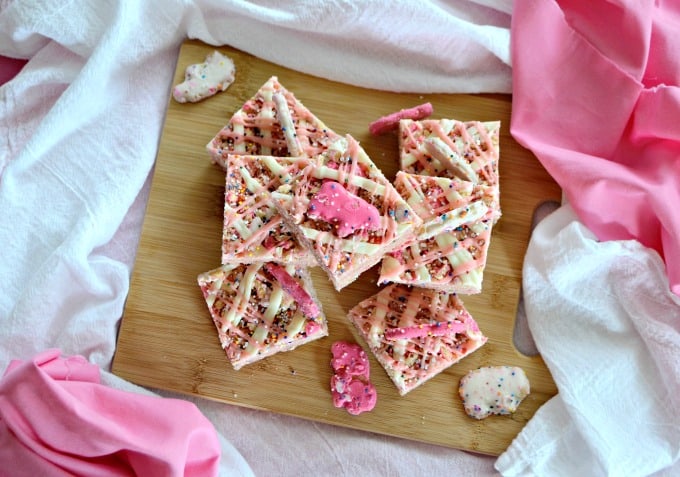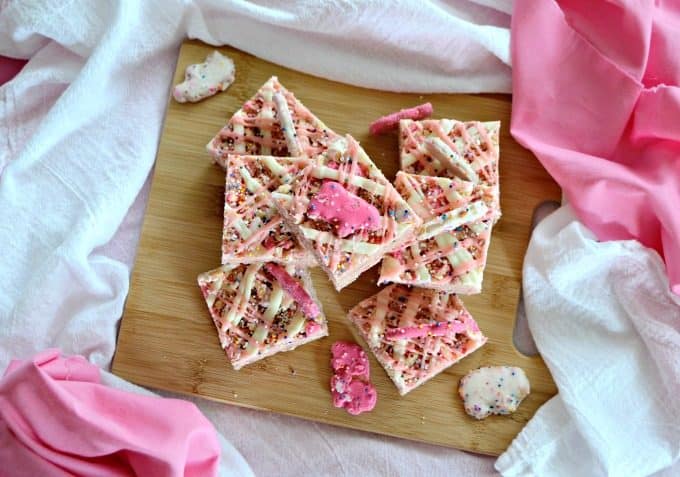 I made them when the kids were little, but not often because they were always such a pain in the neck. Seriously.
I hated, absolutely HATED the pot I had to make them in. It was one I inherited when my mother passed away and for some reason, it just never occurred to me to go out and purchase a different one.
I made them for the first time in years last week using the pot I had from this glorious set of Analon Non-Stick Cookware. And can I tell you, OMG!!! WHAT a difference a non-stick pot makes!! WHY oh why, have I not been using these things ALL of my adult life??
Unreal.
I originally came across Anolon when I was at a conference last year and entered to win one of their new Advanced Bronze Hard Anodized Nonstick 3.5-Quart Covered Straining Saucepan and I won! I was SO impressed with this pot that I knew I had to try more. They were kind enough to send me a set to review and I seriously fell in love with them.
If you don't own a great set of non-stick cookware, I seriously suggest checking these out. They great to cook with, transfer from stovetop to oven without any issues, and are GREAT when it comes to clean up. I was so impressed with them that I gave my mother-in-law a set for Christmas last year. She LOVES them, too!

So, with this great set of cookware, you can make these Circus Animal Rice Krispie Treats all. the. time. And you'll want to, believe me. These things are now SO easy to make because clean up takes less time than putting the whole recipe together and that's the best!
You'll also be wanting to make these treats and these as well!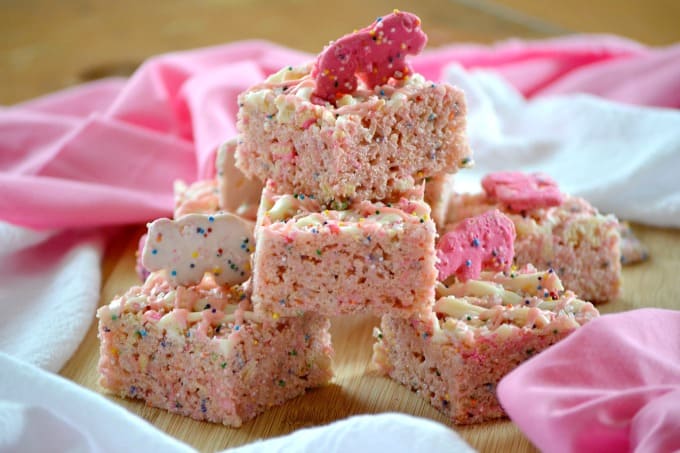 I've never made anything with Circus Animal Cookies, but have always loved those animal crackers in the red box with the string. After seeing this Circus Animal Cookie Cake from Beyond Frosting the other day and these Frosted Animal Sugar Cookies from Wishes and Dishes I was completely inspired!
Take a look at this quick video to see how they're made: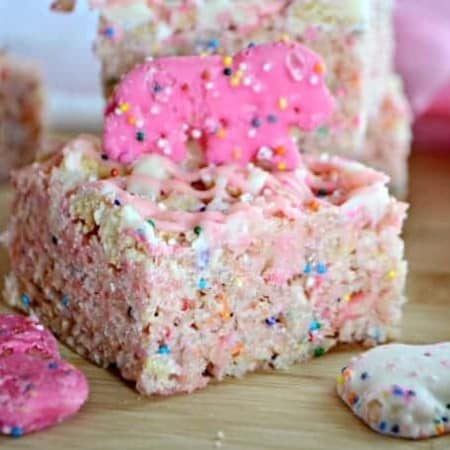 Ingredients
1 12-

ounce

package Circus Animal Cookies

1 10-

ounce

package marshmallows

6

cups

Rice Krispies cereal

4

tablespoons

unsalted butter

3

tablespoons

multi-colored nonpareils

divided

½

cup

white chocolate chips

red food coloring
Instructions
Prepare a 9 X 13-inch baking dish by spraying it with cooking spray.

Place all of the circus cookies into a food processor and pulse 3 - 4 times until cookies are in both crumbs and small pieces. Reserve 1/2 cup of the cookie pieces to sprinkle on top.

In a large pot, melt the butter and marshmallows over low heat, stirring often.

Remove from heat. Add the Rice Krispies, crumbled cookies and 1 tablespoon of the nonpareils to the pot. Mix until well combined. Sprinkle in 1 tablespoon of the nonpareils and mix again.

Place the mixture into the prepared baking dish and evenly spread into the pan with a rubber spatula.

Sprinkle the remaining crumbled cookies on top.

In two small bowls, place 1/4 cup of white chocolate chips. Microwave for 30 seconds. Stir until chips are melted and chocolate is smooth and creamy.

Place the contents of one bowl into a zipper top sandwich bag. Cut a small piece off one of the corners and drizzle over the top of the Rice Krispie treats.

Put in a very tiny amount red food coloring into the other bowl of melted white chocolate and stir. Add more food coloring until desired hue of pink is achieved. Do not add too much at first (as I did) because it will turn red and there's no turning back at that point. If you find that the chocolate is becoming too thick to stir, add 1/2 teaspoon of the heavy cream and stir until smooth. You will not need to reheat.

Place the pink chocolate into a zipper top bag, cut of a small corner and drizzle in opposite direction of the white chocolate.

Sprinkle with remaining tablespoon of nonpareils.

Cool until set.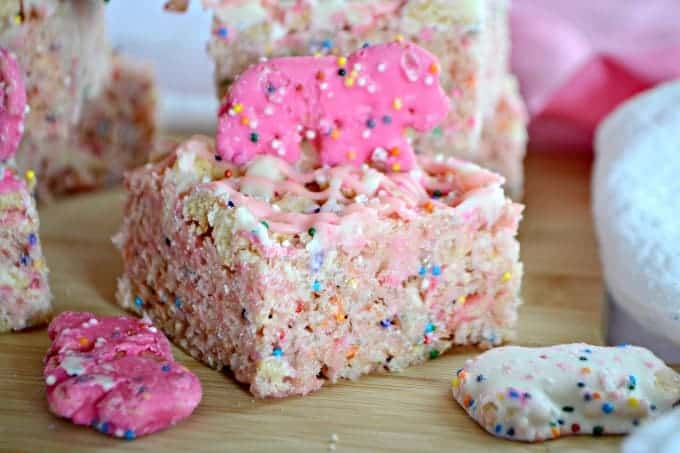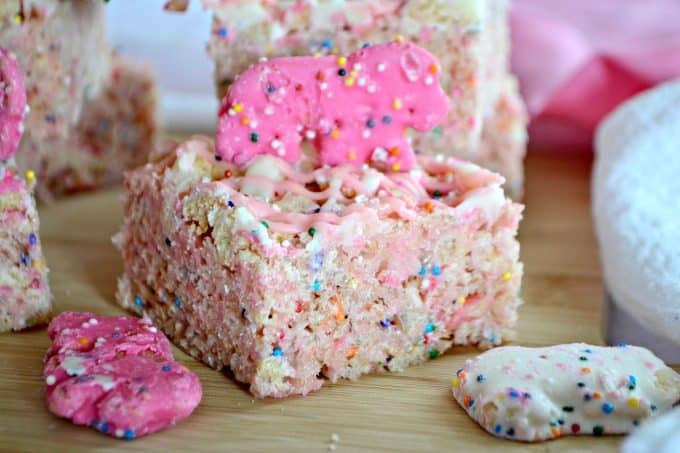 If you like these Circus Animal Cookie Rice Krispies Treats, then you'll love…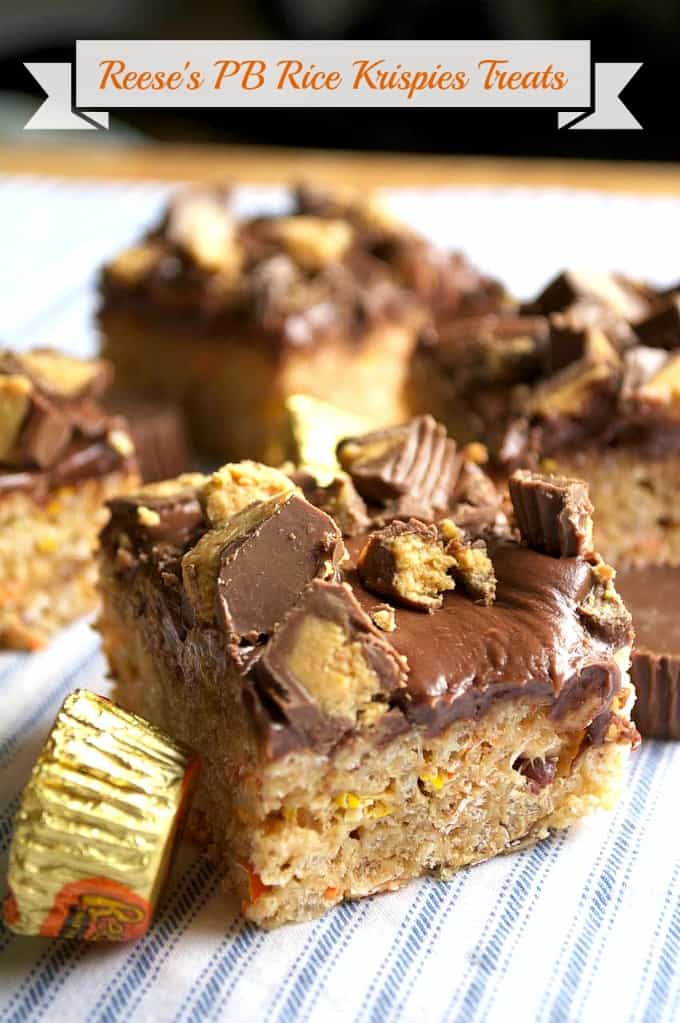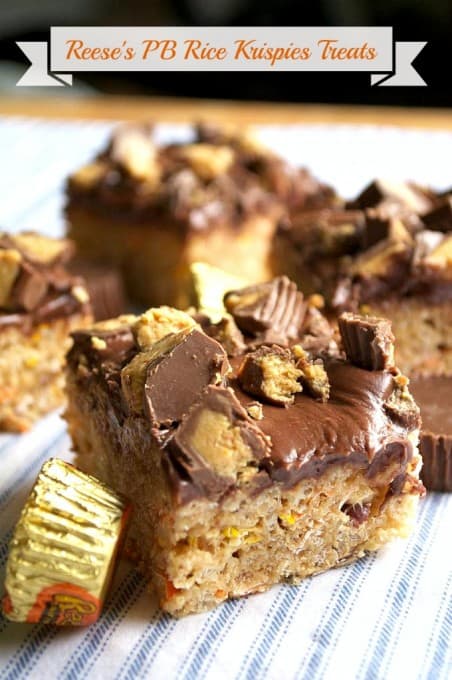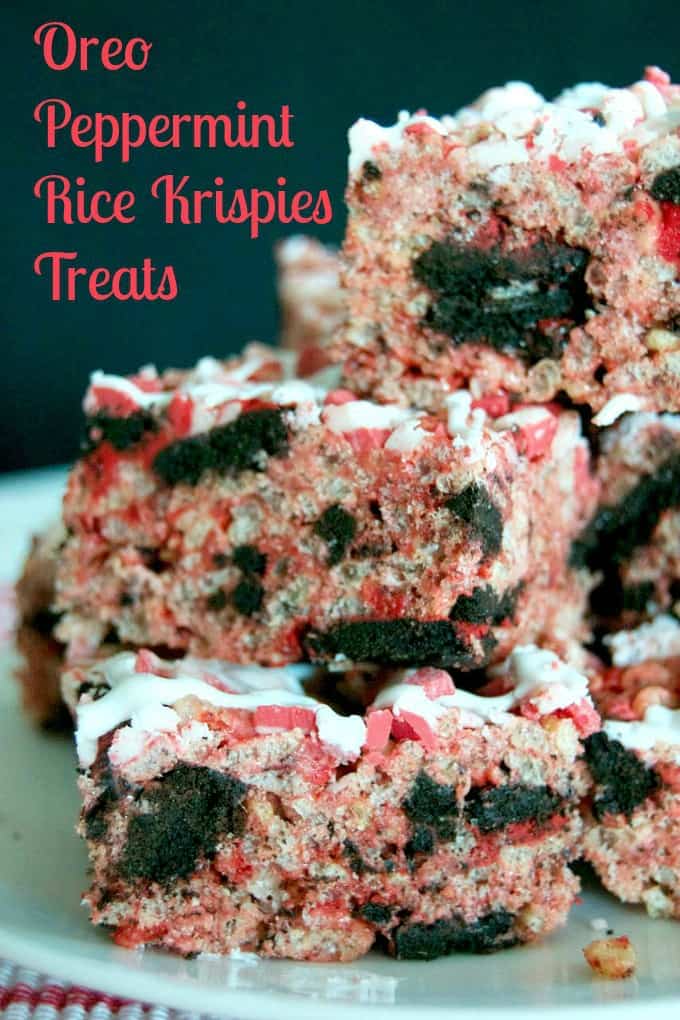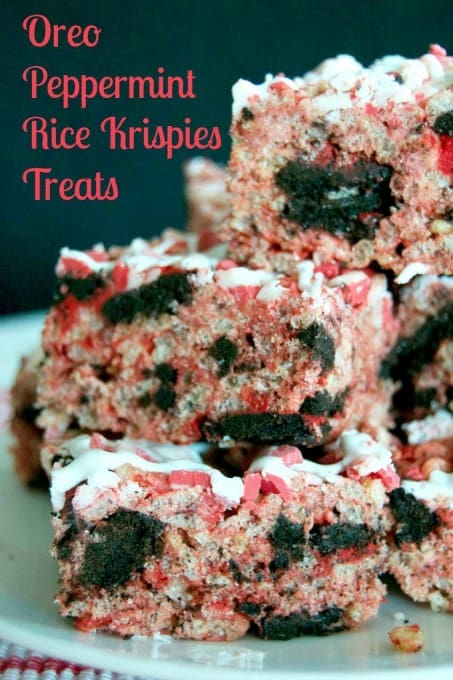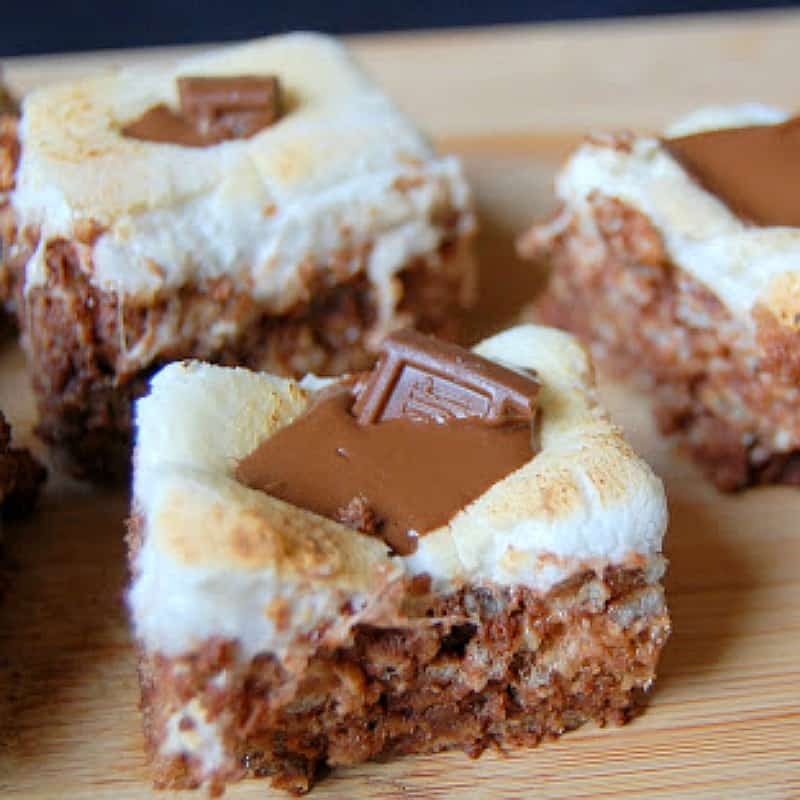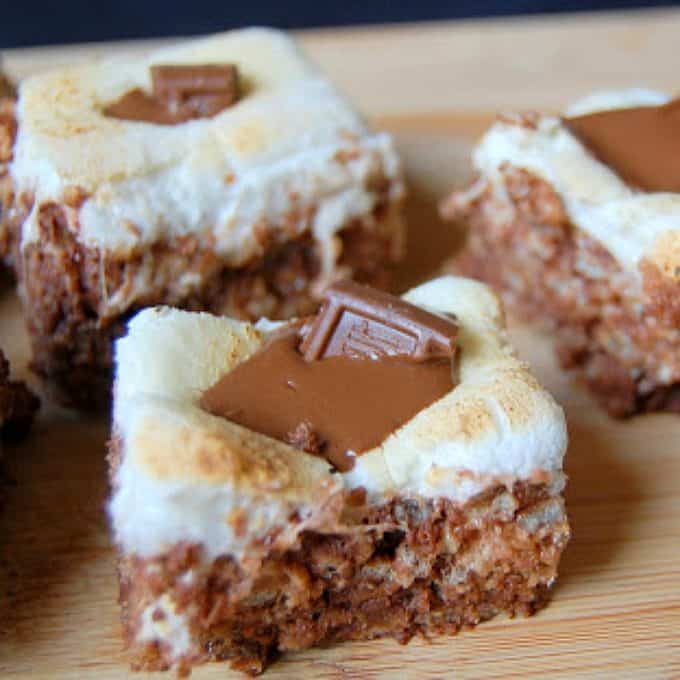 **This post contains an affiliate link(s). These are links that can take you to a product (or products) that I recommend. I do receive a portion of the sales or credit for my future purchases from any items purchased through those links. Your purchases encourage my baking, cooking and butter habit, and contribute to the life of this blog.
I thank you so very much for your support. Let's keep having fun in the kitchen!!