Chocolate Peanut Butter Cornflake Cookies are chewy, crunchy no bake cookies that everyone will be enjoying in just 20 minutes with just a few simple ingredients. Adapted from my No Bake Peanut Butter Cornflake Cookies Recipe – with NO Corn Syrup to Boil, these cookies will quickly become a new family favorite just like they did at our house!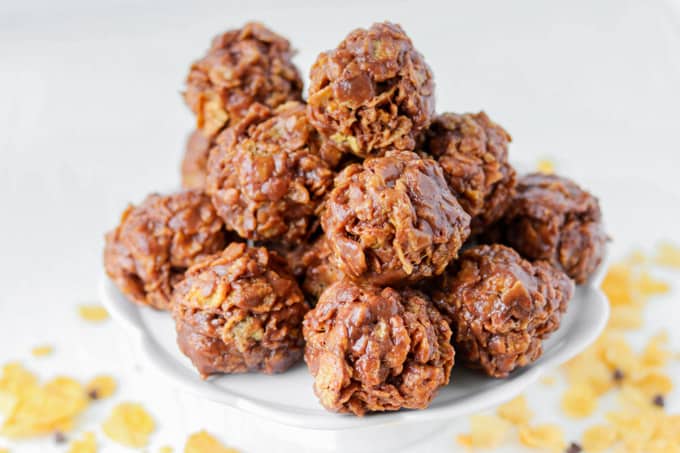 I've done it again.
Made a delicious no bake dessert recipe with the great flavor combination of chocolate and peanut butter!
My most popular dessert recipe is the Chocolate Peanut Butter Dream Bars.
Similar to a Lush Dessert recipe, it's comprised of layers that make every bite absolutely delicious.
There are chocolate cupcakes with peanut butter inside them and under the chocolate frosting.
Like lava cakes?
I've got a chocolate and peanut butter one of those, too!
This Chocolate Peanut Butter Fruit Dip makes a delicious and easy after-school snack or perfect addition for any dessert table.
But back to these peanut butter cornflake cookies with chocolate!
SAVE THIS EASY CHOCOLATE PEANUT BUTTER CORNFLAKE COOKIE RECIPE TO YOUR FAVORITE PINTEREST BOARD!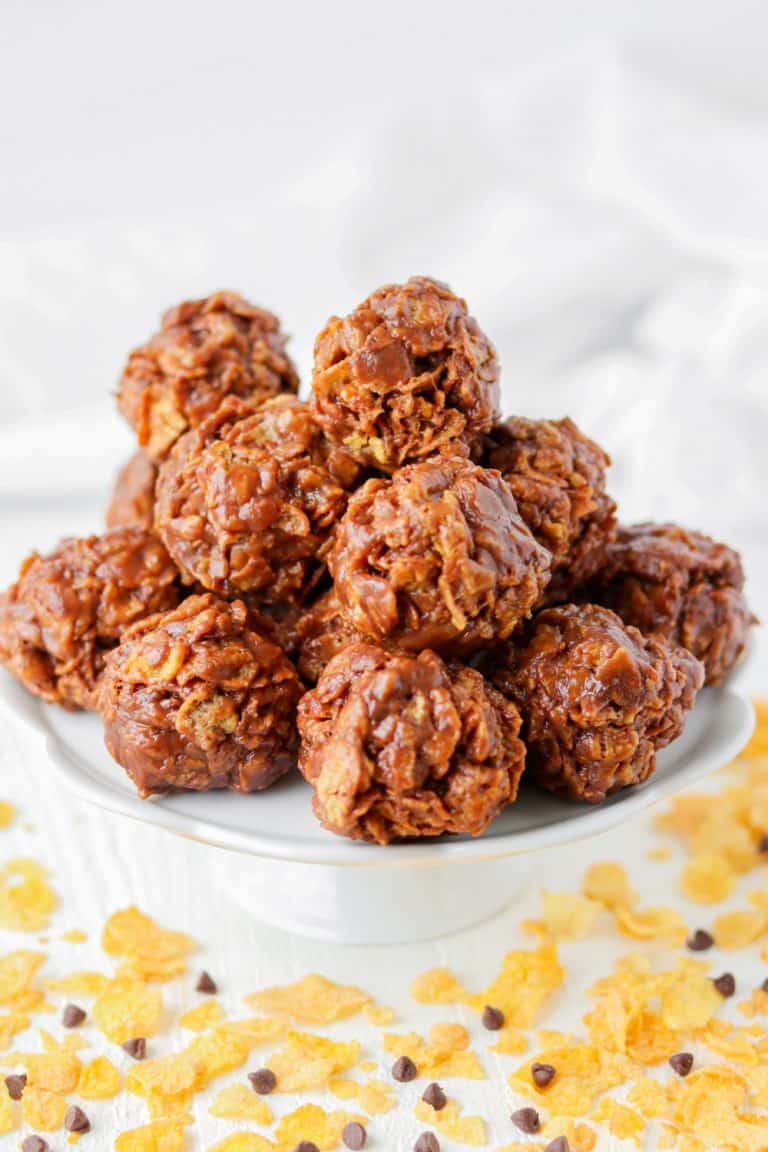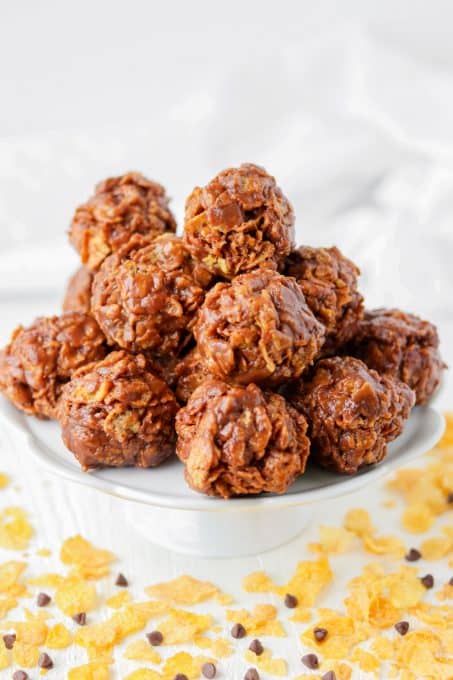 These cookies were such an immediate hit with my husband, Kurt, that he seriously polished them off in just two days.
18 cookies! LOL
One of the things I love about this easy cookie recipe is that I substituted marshmallows for the corn syrup.
Yes, before you jump all over me, I know that there's corn syrup in marshmallows.
But my point is, that for this recipe like my first cornflake cookies recipe, you don't have to stand over the stove waiting for the corn syrup to boil.
It's SOOO much easier this way!!
Similar to making the Rice Krispies Treats we all love.

Corn syrup is delicious and really adds to a lot of recipes, like these O'Henry Bars, and this Cherry and Dark Chocolate Galette.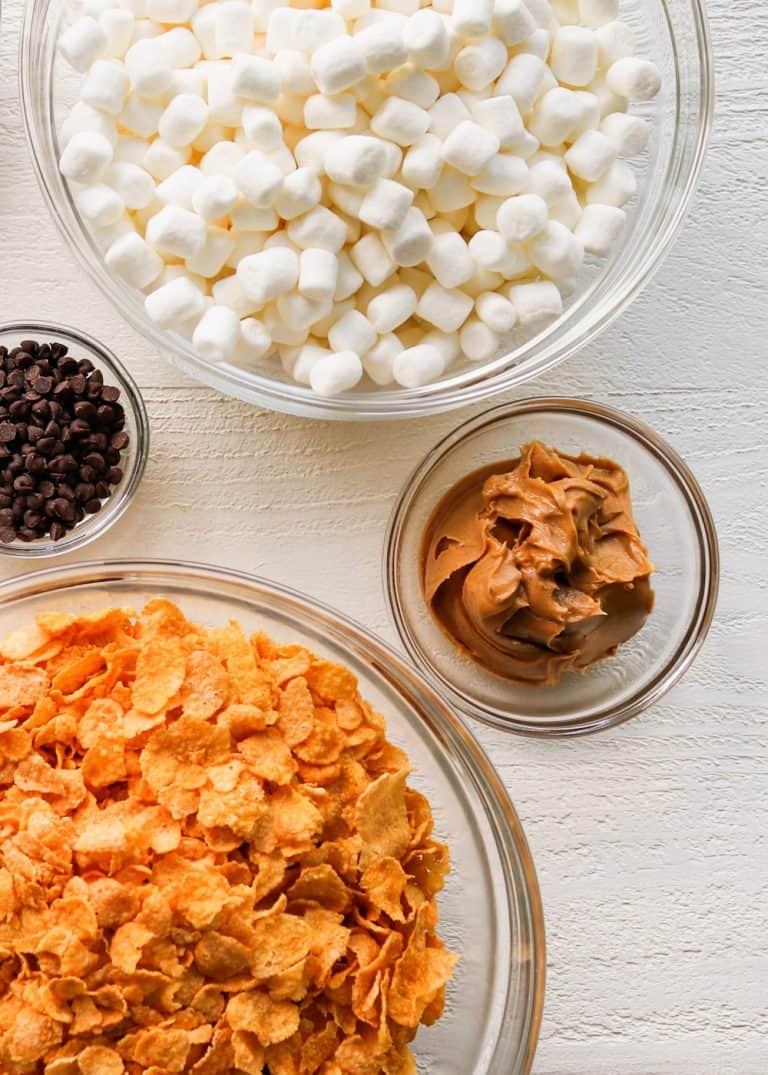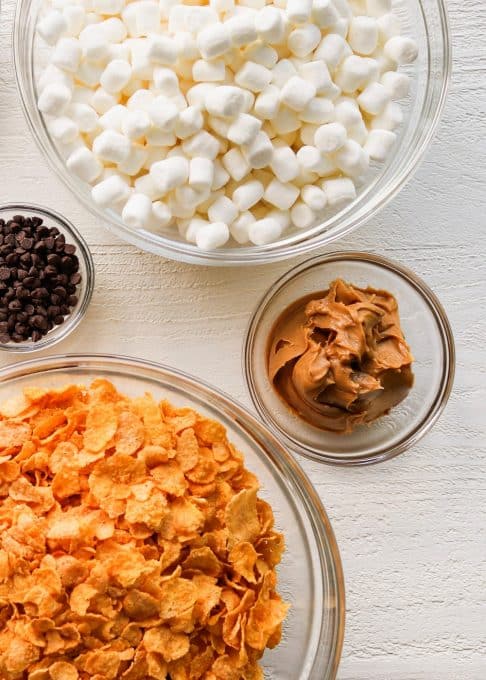 What Ingredients I need to make these cookies with cornflakes in them?
Cornflakes! You can't call them Cornflake Cookies if you don't include them.
Butter – salted or unsalted, but I prefer salted.
Marshmallows – NO Corn Syrup to boil, folks!!
And yes, I know, there usually IS corn syrup in marshmallows.
I use the miniature marshmallows because they'll take less time to melt.
Chocolate!!
I use the mini chocolate chips because they'll melt faster since they're smaller.
Peanut butter – I use creamy, but the peanut/crunchy would work as well.
Pure vanilla extract – yes, you can use vanilla extract if you're not using the pure, but PLEASE don't use the imitation!
It really does make a difference and you aren't doing yourself a favor even if you are saving a few pennies.
Are these chocolate cornflake cookies easy to make?
You betcha!
They're one of THE easiest cookies to make.
Melt butter in a large pot over medium-low heat.
I highly recommend using a non-stick pot. It really does make a difference.
After the butter has melted, pour in the marshmallows and continue stirring until melted.
Add the mini chocolate chips, peanut butter and vanilla, and mix until smooth.
Pour in the cornflakes and stir until well combined and covered.
Using your hands, form the mixture into golf ball sized cookies and place onto a non-stick baking sheet.
Allow to cool and harden for about 15 minutes until serving.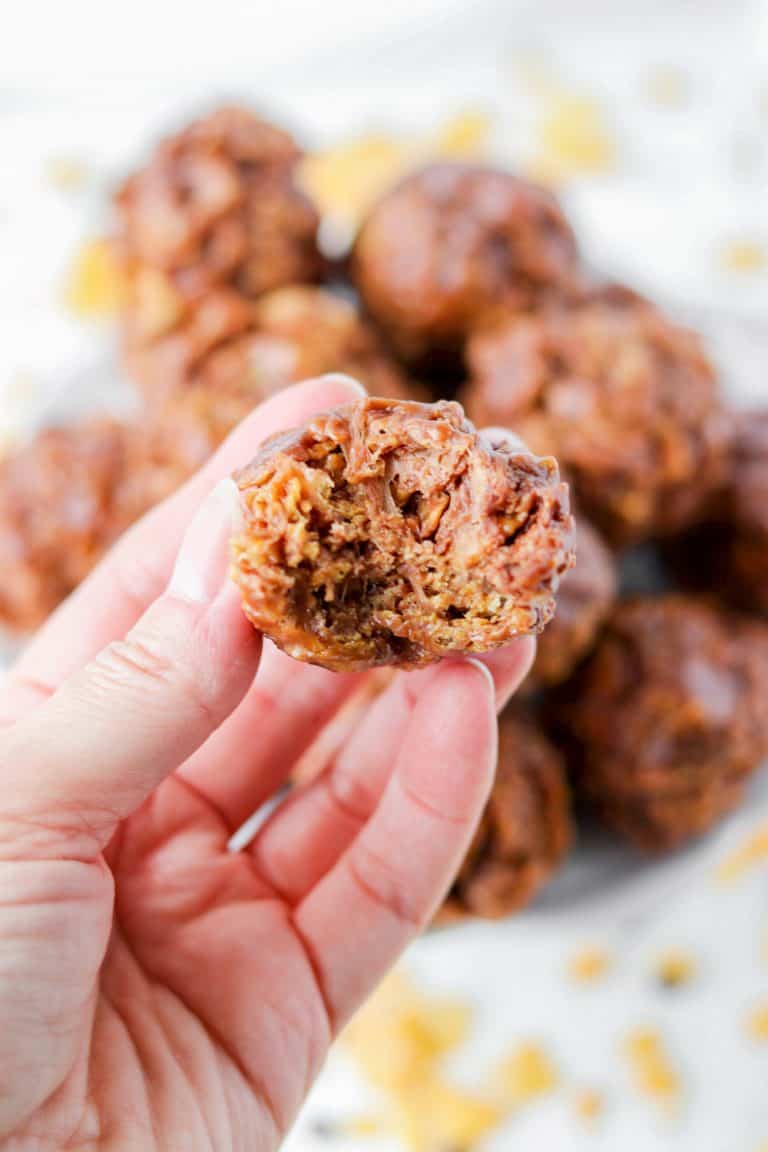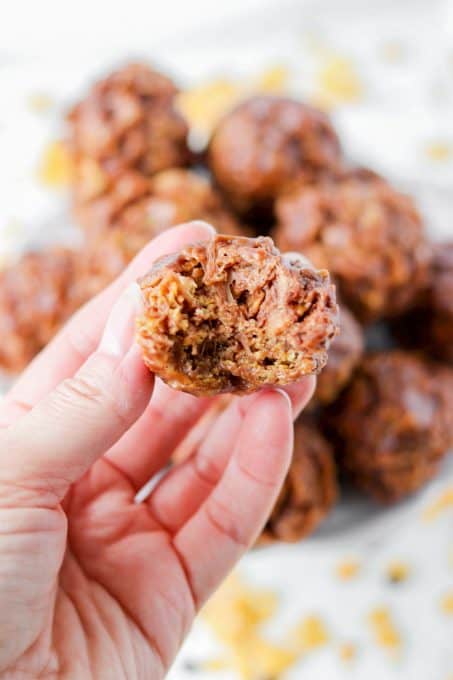 SIGN UP FOR THE WEEKLY
365 DAYS OF BAKING & MORE
NEWSLETTER BELOW!
Easy No Bake Dessert Recipes
Cornflake Recipes
No Bake Cookie Recipes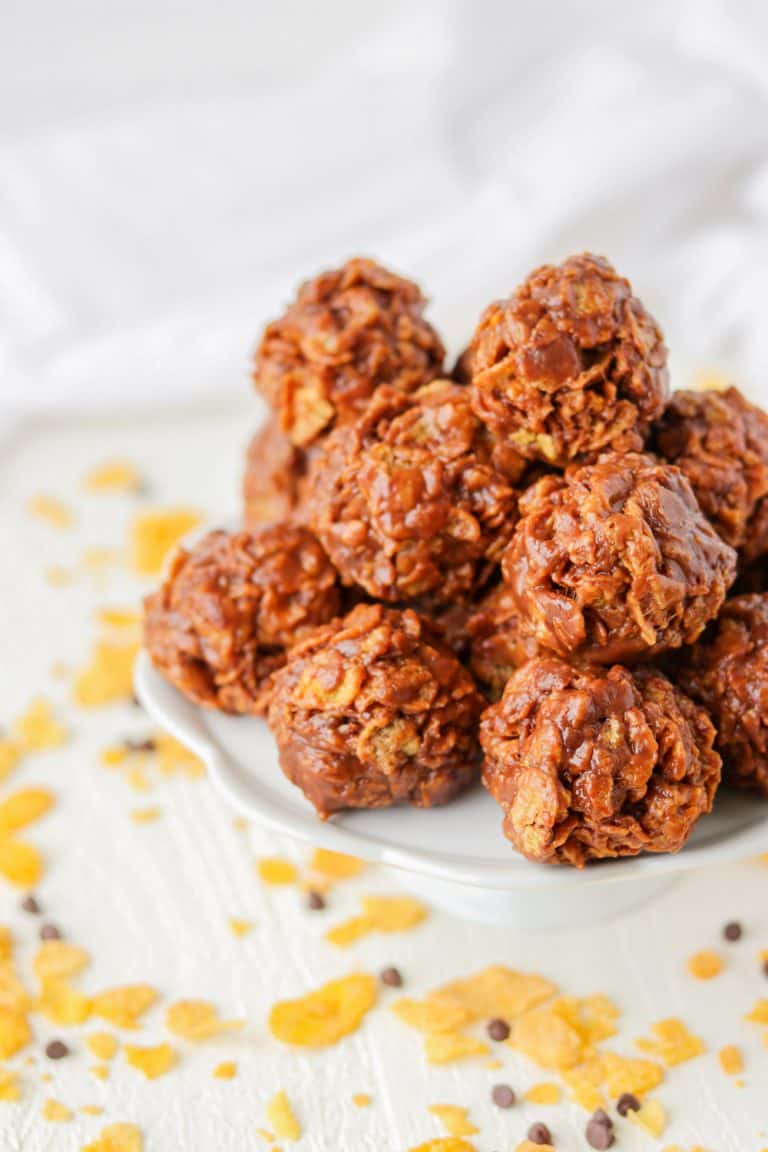 An easy peanut butter cornflake cookie that has been around for years is made even better with the addition of some chocolate!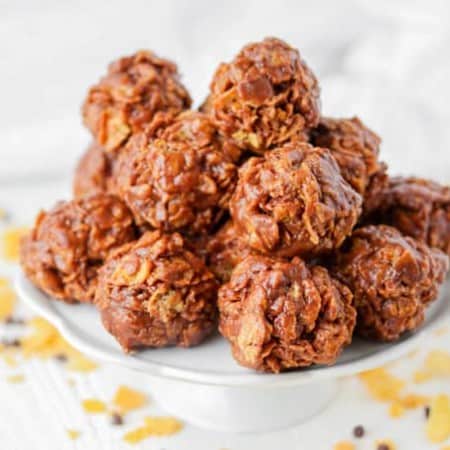 No Bake Chocolate Peanut Butter Cornflake Cookies
Equipment
large non-stick pot

rubber spatula

Baking Sheet
Ingredients
4 tablespoons butter
10 ounces miniature marshmallows
½ cup creamy peanut butter
½ cup miniature chocolate chips
1 teaspoon pure vanilla extract
5 cups corn flakes
Instructions
In a large non-stick pot, melt butter over medium low heat. Pour in the marshmallows and stir until completely melted.

Add the vanilla, chocolate chips and peanut butter. Mix until combined and both chocolate and peanut butter have melted. Remove from heat.

Pour in the cornflakes and stir until completely coated.

With your hands, form into cookies about the size of golf balls and place on a cookie sheet to set for about 15 minutes before serving.
Nutrition
Serving: 1g | Calories: 168kcal | Carbohydrates: 24g | Protein: 3g | Fat: 7g | Saturated Fat: 3g | Polyunsaturated Fat: 1g | Monounsaturated Fat: 2g | Trans Fat: 1g | Cholesterol: 7mg | Sodium: 128mg | Potassium: 61mg | Fiber: 1g | Sugar: 14g | Vitamin A: 228IU | Vitamin C: 2mg | Calcium: 11mg | Iron: 2mg
Did you make this recipe?
Share it with me on Instagram and make sure to follow me on Pinterest for more recipes.
Reader Interactions