No-Bake Chocolate Bourbon Balls – these are a festive holiday treat that you won't have to turn the oven on to make. Cocoa powder and bourbon are a great combination that all adults can enjoy any time of year!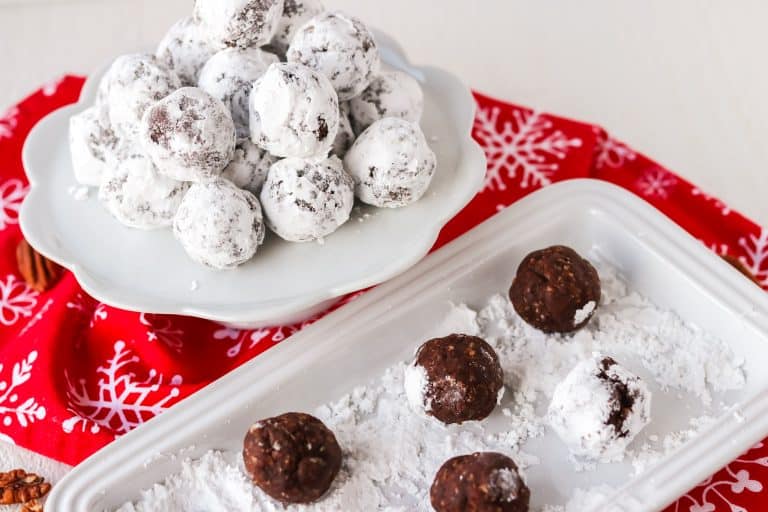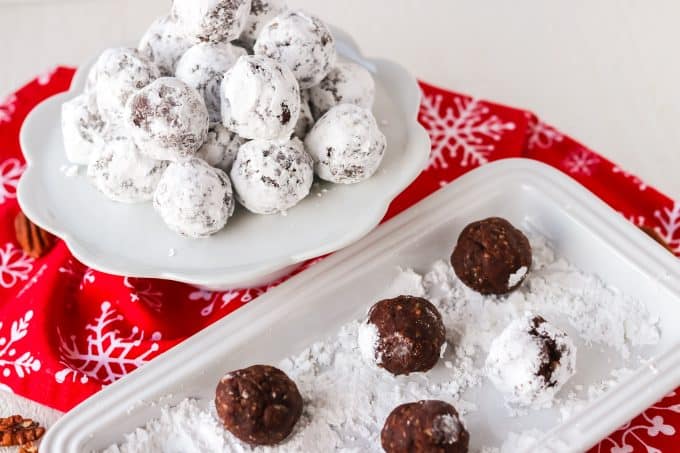 Kentucky bourbon balls are a boozy no-bake treat for your next adults-only party. They've been around since 1938, with the original recipe created by Kentucky native Ruth Hanly Booe. I love that you chill rather than bake these sweets, so you can give your oven a break from all that holiday baking!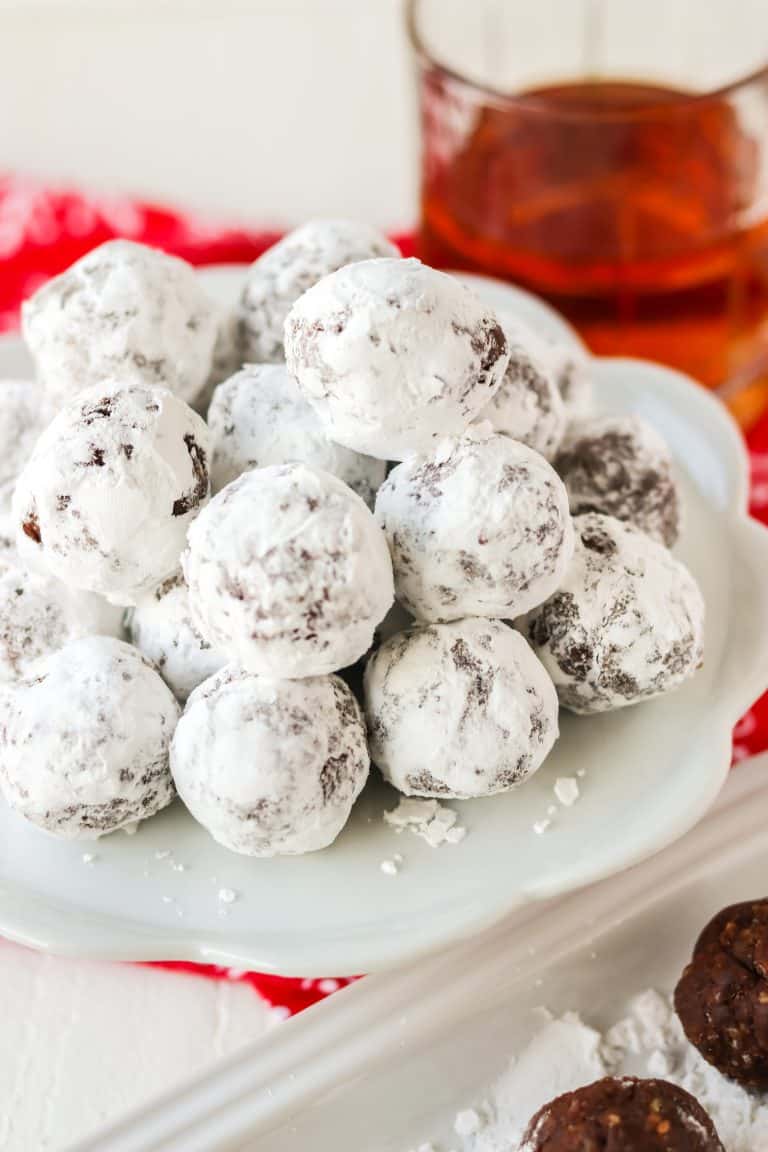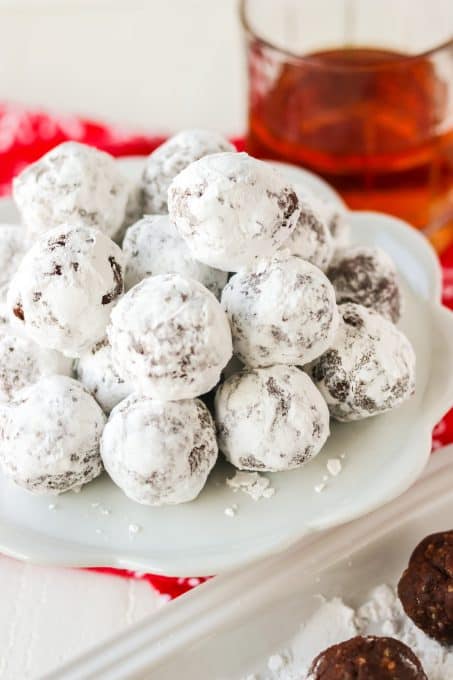 What kind of bourbon should I use for these homemade pecan bourbon balls?
Since these are a Kentucky treat, why not use your favorite Kentucky bourbon? Try one of these locally-made bourbons listed here. Of course, you can use a classic Jack Daniels or your favorite bourbon too.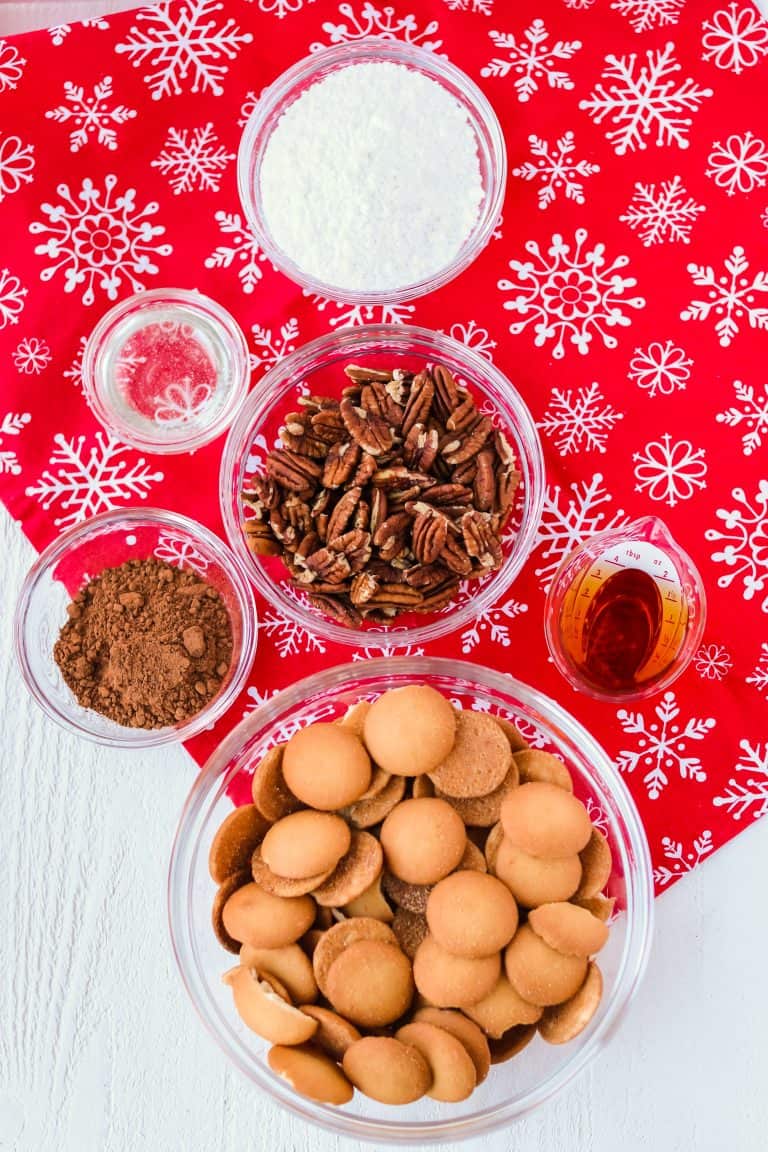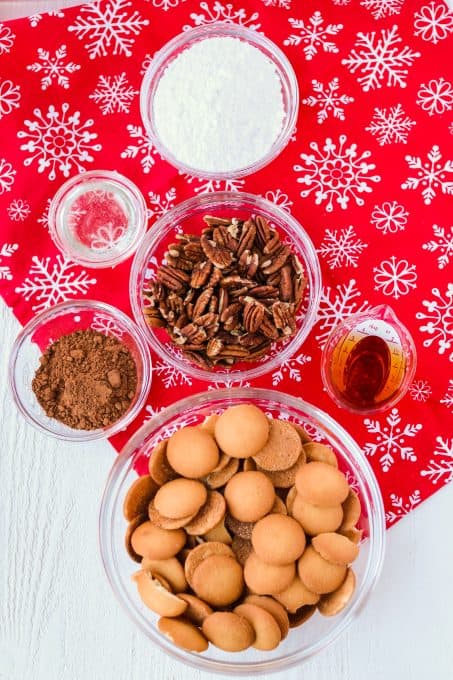 Chocolate Bourbon Ball Ingredients
Here are the things you'll need to make these delicious chocolate treats:
Vanilla wafers, ground to fine crumbs
Pecans, finely ground
confectioners' sugar (AKA powdered sugar)
Unsweetened cocoa
Light corn syrup
about ¼ cup of bourbon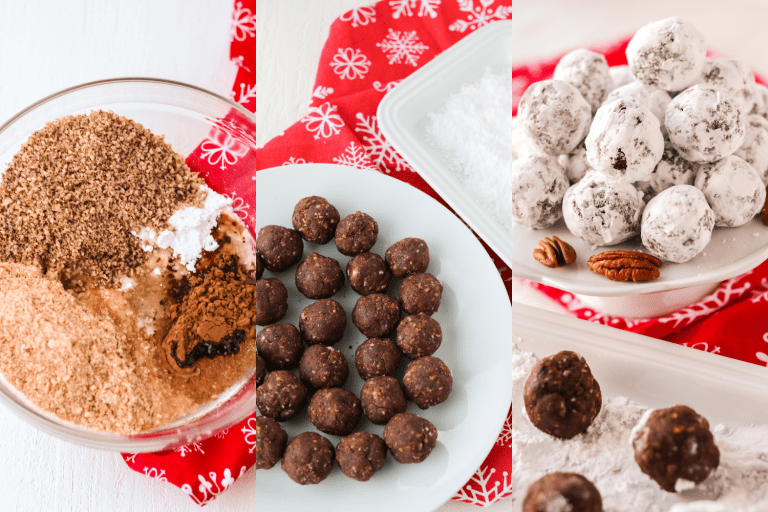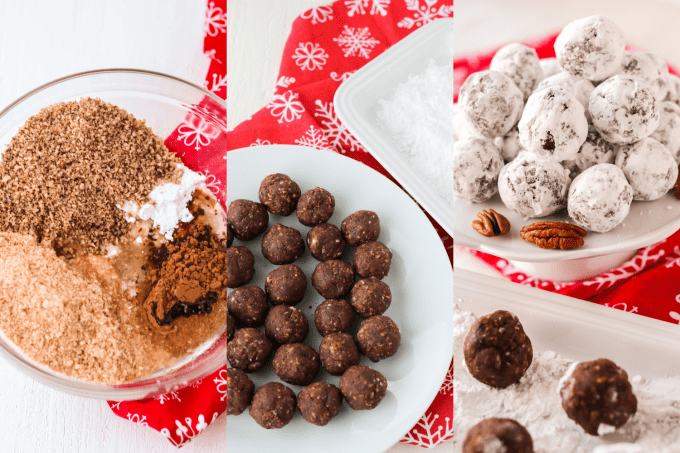 How to make No-Bake Bourbon Balls
This is such an easy recipe! First, use a food processor to grind your vanilla wafers to fine crumbs and then your pecans to a fine texture as well. If you don't have a food processor, you can put them in a Ziploc bag and crush them with a rolling pin until it reaches the desired consistency. This will be a little bit harder with pecans, though.
In a large bowl, combine your wafer crumbs, ground pecans, unsifted confectioners' sugar, and unsweetened cocoa powder. Then add your bourbon and mix everything with a rubber spatula until everything comes together. Do a final mix with your hands to completely incorporate the ingredients.
Note- if the dough is too sticky to handle at this point, refrigerate it for 15 minutes. I've also had success coating my hands with some confectioners' sugar as well.
Next, shape the dough into small balls that are about one inch in diameter and place them on a baking sheet or wax paper. You shouldn't need more than a tablespoon of dough for each one. Roll balls in the confectioners' sugar to coat.
Store these in an airtight container for up to 10 days. They will improve in taste and strengthen in flavor the longer they are kept.
Can these Homemade Bourbon Balls make you drunk?
While this chocolate bourbon ball recipe does have enough alcohol for you to be able to taste it, it is highly unlikely you could get drunk from eating these. There is only about ¼ up of bourbon, mixed with other ingredients and spread throughout 24 balls. Still, it's a good idea to warn minors and those who don't use alcohol before serving them to your guests.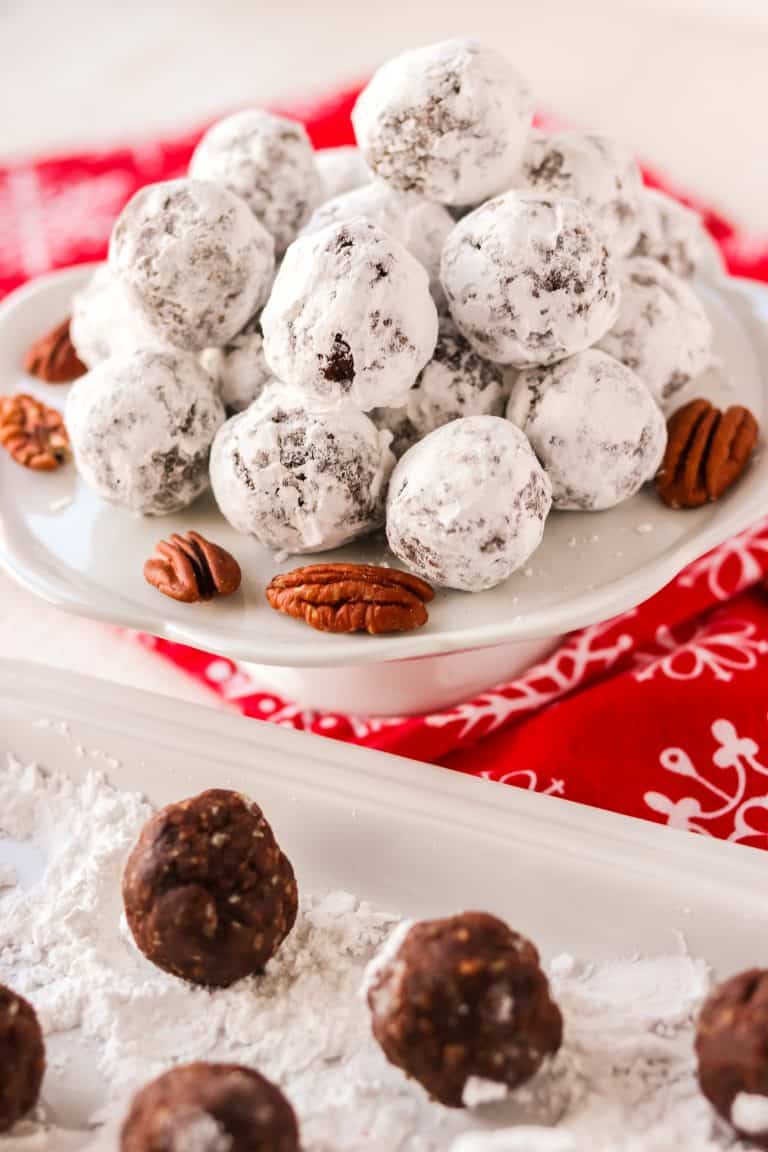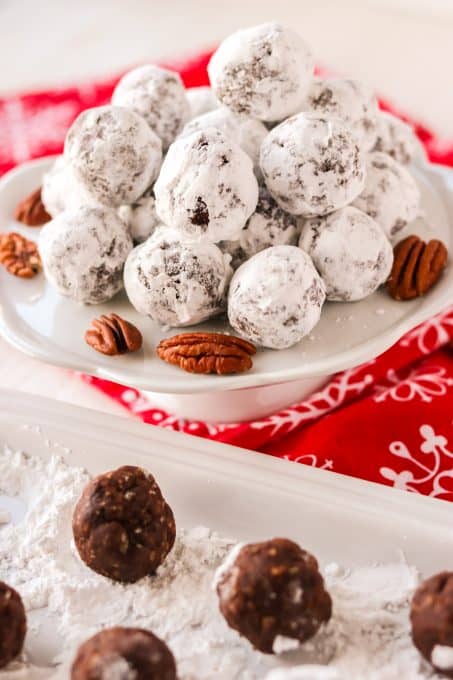 Should these treats be kept refrigerated?
Chocolate Bourbon Balls do not need to be kept refrigerated. You can store them in the fridge or at room temperature- just be sure to use an airtight container.
Can I make these ahead of time for holiday baking?
These are a great treat to include in your holiday trays because they can be made well in advance! Simply make the bourbon balls as directed, then store them in a freezer-safe bag or container for up to 3 months.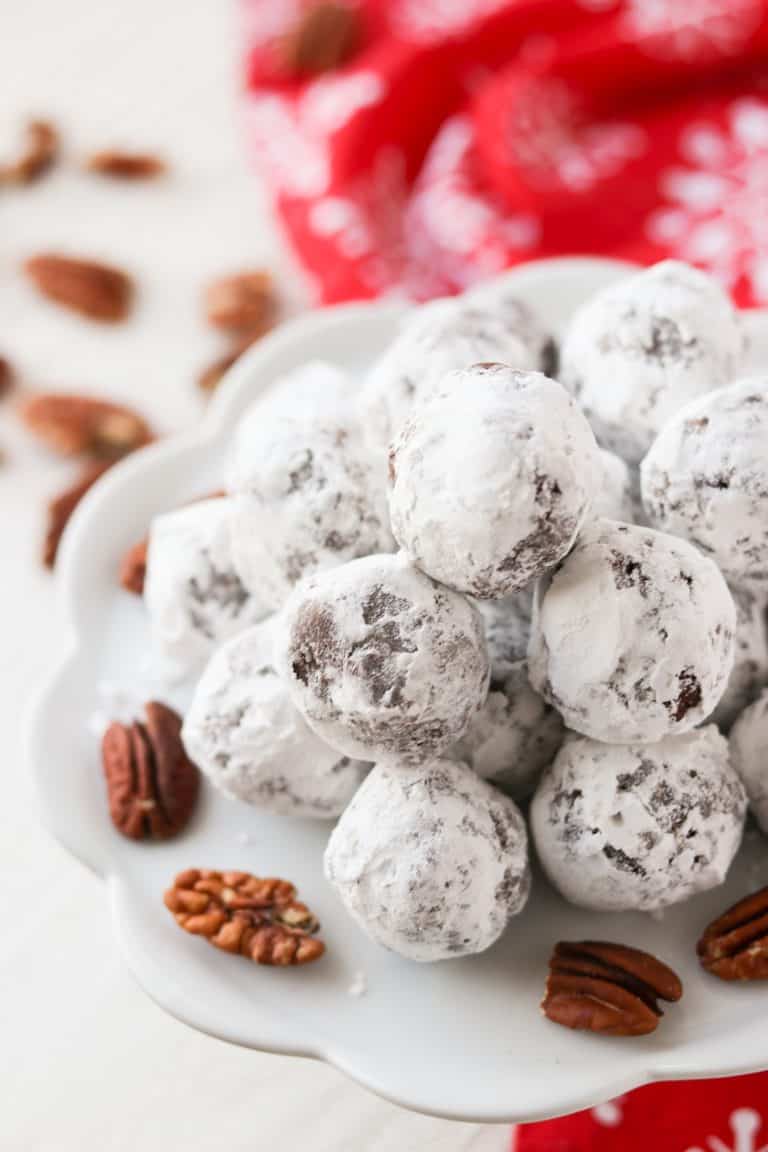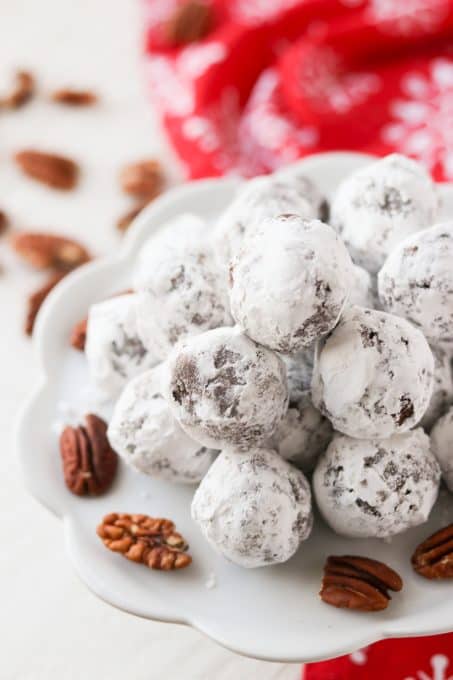 Need more treats for your Holiday Baking Trays?
It's so fun to put together edible gifts for friends and neighbors. We've got some perfect recipes for you to try. Include some of these candy and cookie recipes for your gifts this holiday season:
Other Alcohol-infused Desserts you'll love:
If you like treats with a little added alcohol, try our Bailey's Mousse or these Irish Creme Dream Bars. You'll also love these Pina Colada Cupcakes!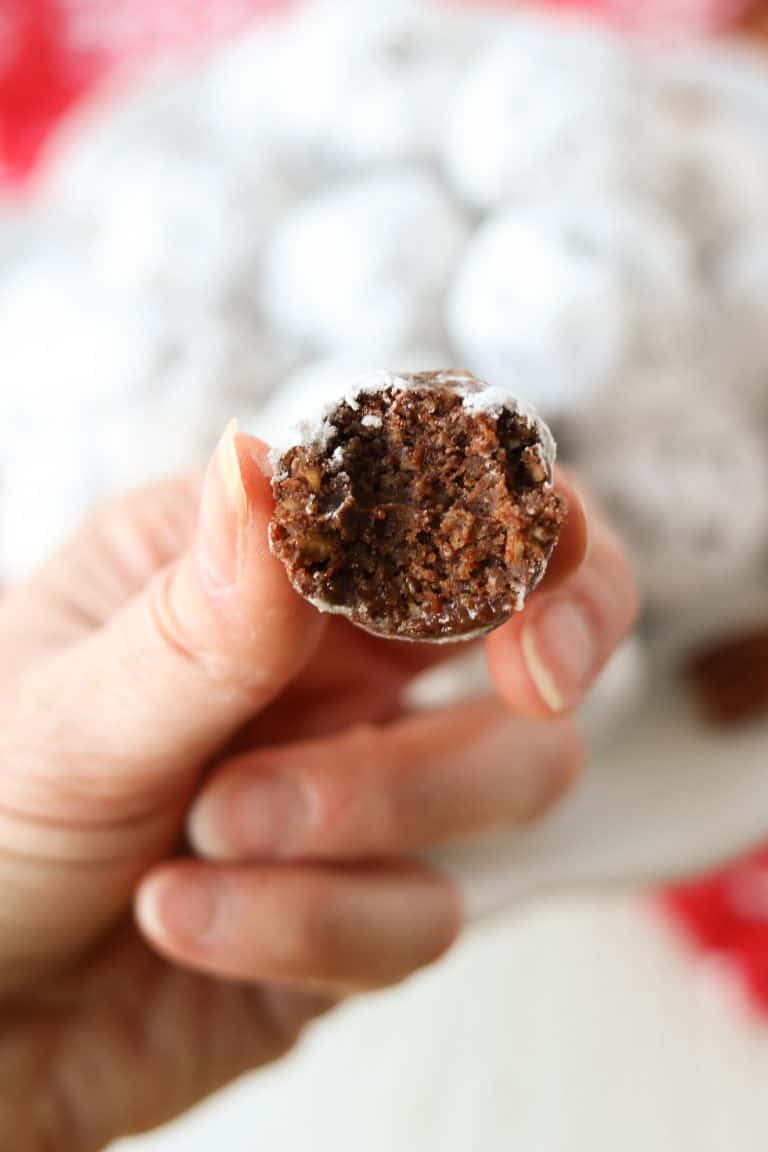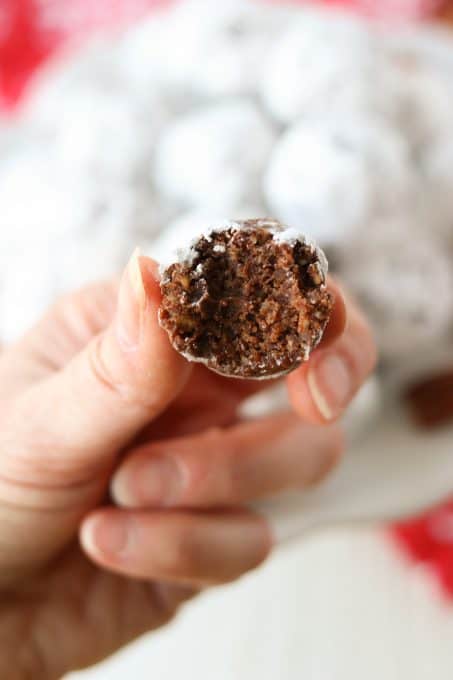 Cheers to you this holiday season!
This recipe is from the New Doubleday Cookbook, edited by Jean Anderson and Elaine Hannah, and was originally published 12/2/2015 and has been updated with pictures and in format on 12/8/22.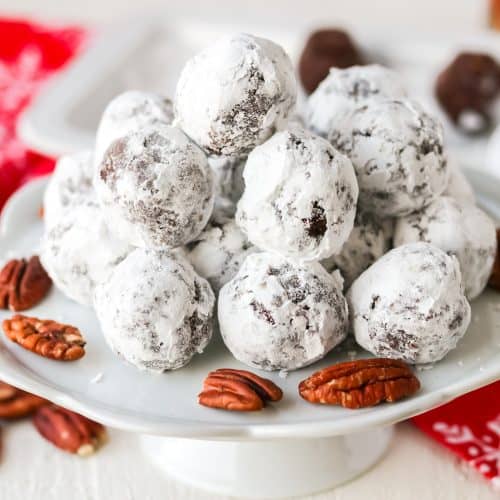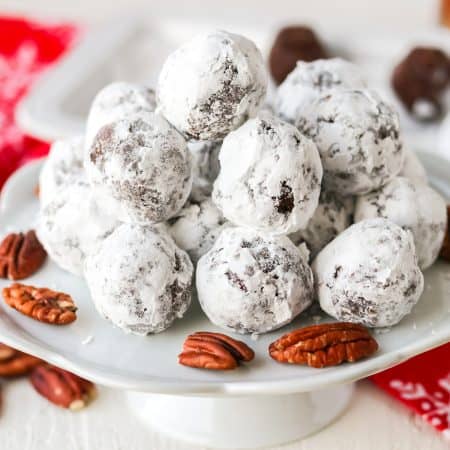 No-Bake Chocolate Bourbon Balls
Cocoa powder and bourbon are just two of the flavors that combine to make this no-bake treat perfect for any holiday occasion.
Ingredients
1 ¾ cups fine vanilla wafer crumbs
1 cup finely ground pecans about 1 1/4 cups pecan halves
1 cup unsifted confectioners' sugar
¼ cup unsweetened cocoa
3 tablespoons light corn syrup
¼ cup bourbon
⅓ cup sifted confectioner's sugar for coating
Instructions
In a large bowl, combine wafer crumbs, ground pecans, unsifted confectioners' sugar, cocoa powder, corn syrup, and bourbon.

With a rubber spatula, mix everything until it all comes together and do a final mix with your hands to completely incorporate.

If dough is too sticky to handle, refrigerate for 15 minutes.

Using less than a tablespoonful of dough, shape into balls that are about 1-inch in diameter.

Roll in sifted confectioner's sugar to coat.

Store in an airtight container for up to 10 days. They will improve and strengthen in taste the longer they are kept.
Nutrition
Serving: 1ball | Calories: 95kcal | Carbohydrates: 14g | Protein: 1g | Fat: 4g | Saturated Fat: 1g | Polyunsaturated Fat: 1g | Monounsaturated Fat: 2g | Trans Fat: 1g | Cholesterol: 1mg | Sodium: 30mg | Potassium: 36mg | Fiber: 1g | Sugar: 10g | Vitamin A: 2IU | Vitamin C: 1mg | Calcium: 4mg | Iron: 1mg
Did you make this recipe?
Share it with me on Instagram and make sure to follow me on Pinterest for more recipes.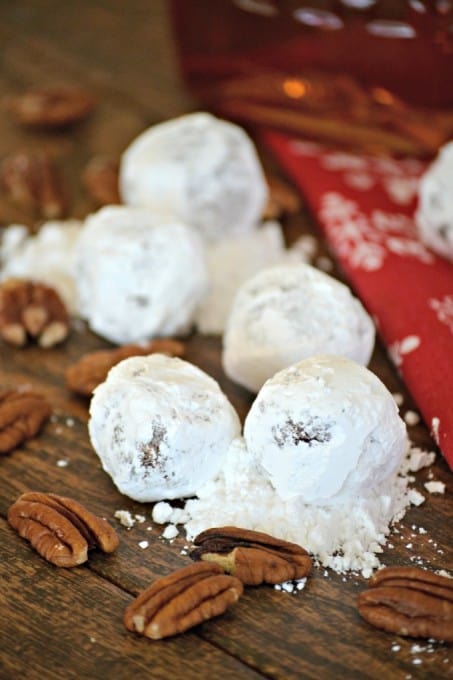 Reader Interactions