Peppermint Bark is a classic Christmas candy with just three ingredients! This easy candy bark with white chocolate, dark chocolate and a touch of peppermint is a great gift for everyone on your list.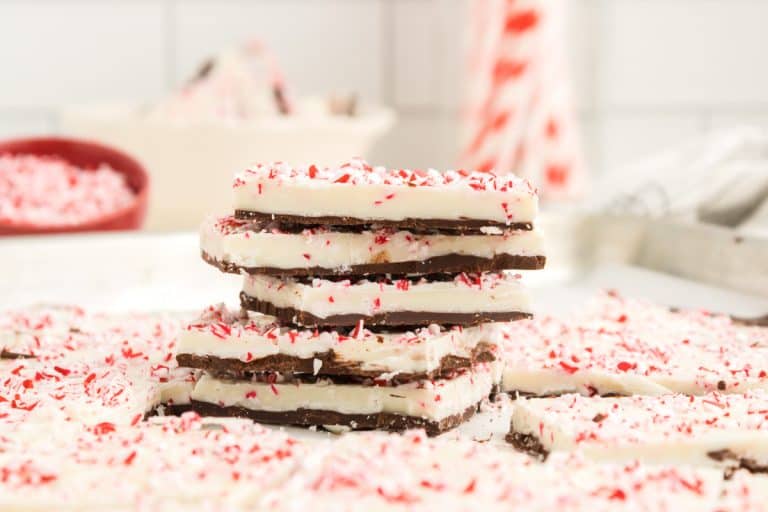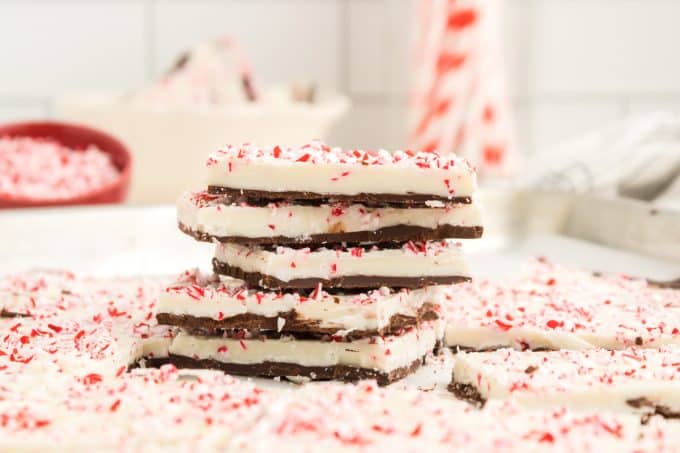 The best gifts are gifts you can eat. Do you agree?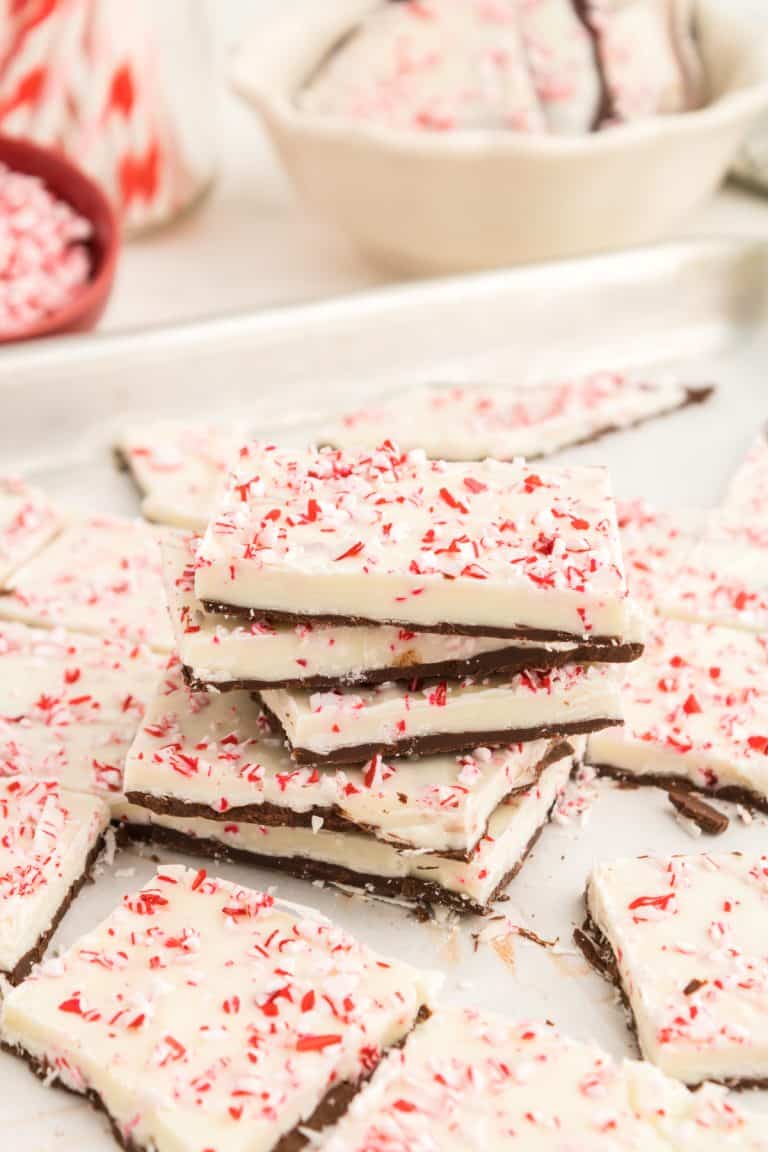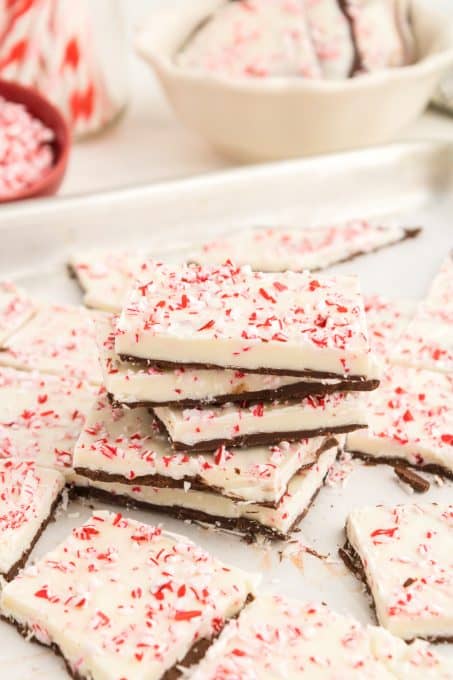 Chocolate Peppermint Bark is one of the easiest Christmas treats to make. You don't need any special equipment or baking skills. You don't even need to turn on the stove! It takes 10 minutes to make with 3 simple ingredients.
Did I mention yet how delicious this peppermint bark tastes? The combination of rich dark chocolate and sweet white chocolate is totally irresistible—especially paired with crunchy peppermint bits on top.
It's the perfect Christmas candy to give away as gifts or bring to the office holiday party. Put it in a mason jar tied with a pretty ribbon, decorative cellophane bags or arrange it in Christmas cookie tins and you have an instant homemade gift. That is, if you can resist gobbling up the whole batch yourself.
You won't be able to eat just one piece. That's why I love to make a few batches of this recipe. You'll have plenty to share with family and friends, plus a stash of your own to nibble on while you wrap presents and trim the tree.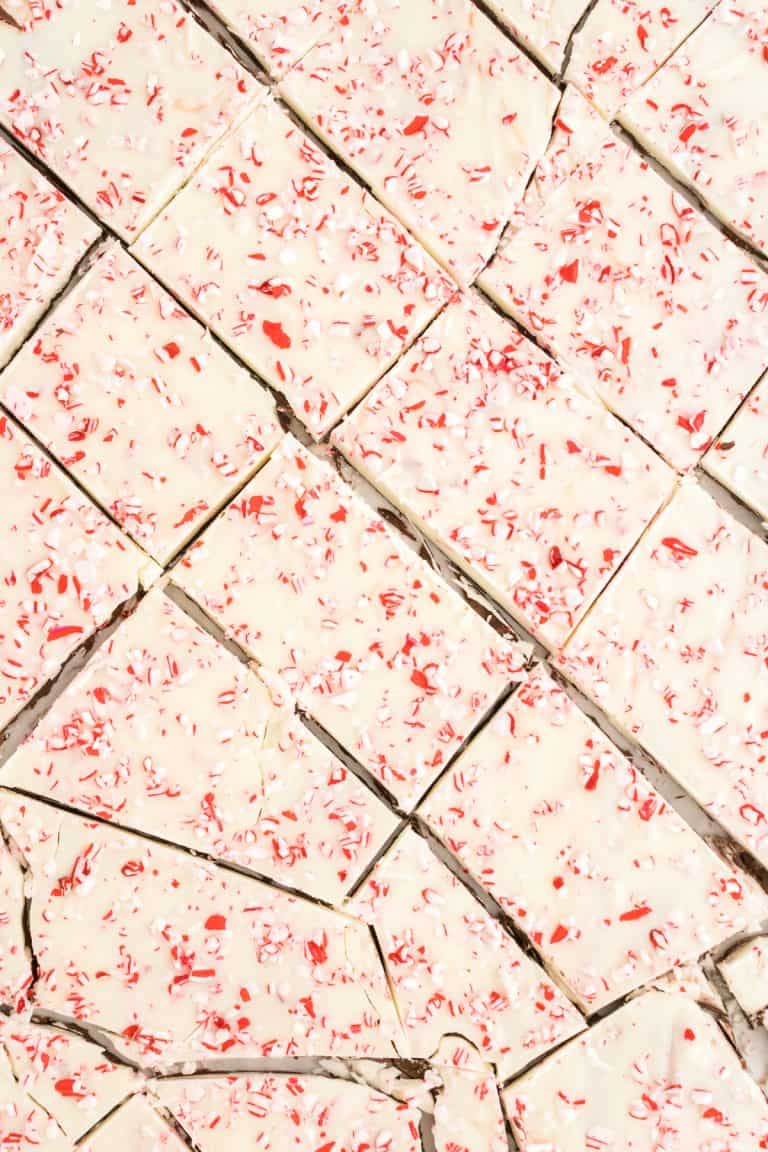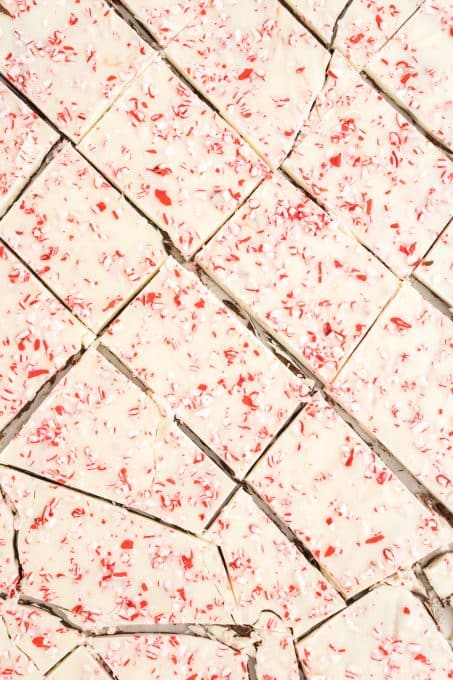 What is Peppermint Bark?
Peppermint Bark is a homemade candy made from melted chocolate and topped with crushed candy canes. The most popular versions, including today's candy bark, are made with both white AND dark chocolate for a perfect rich flavor.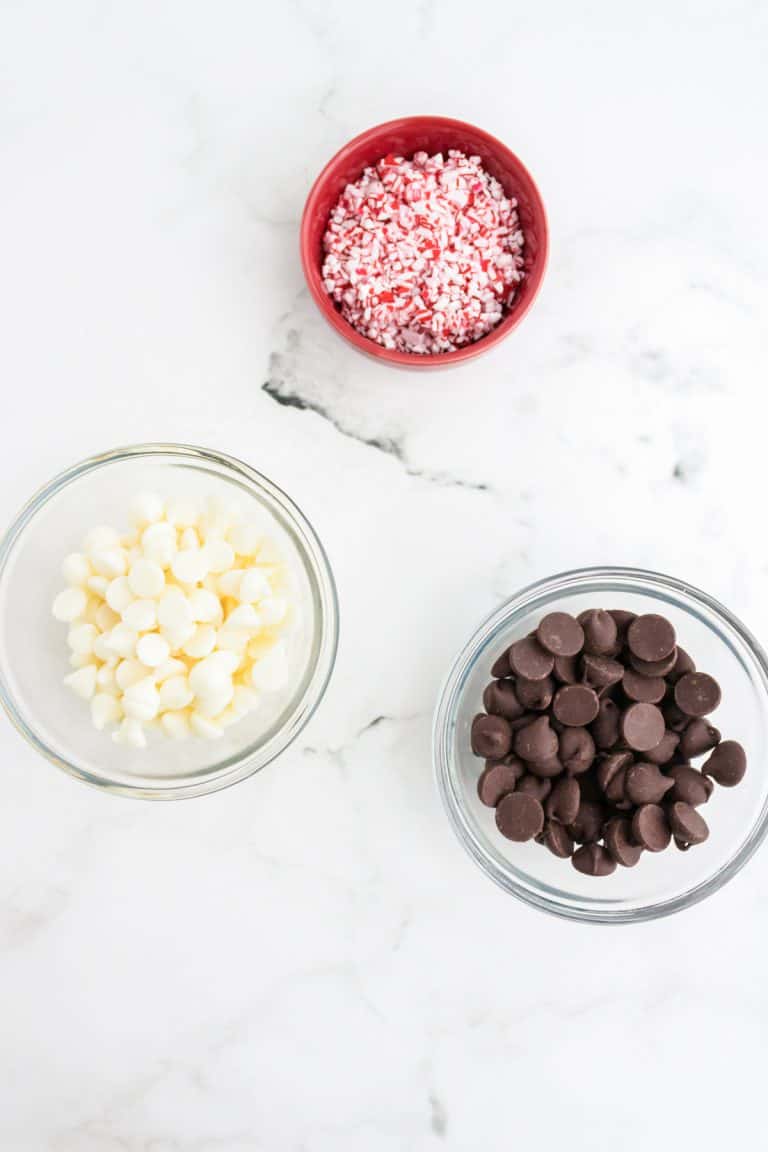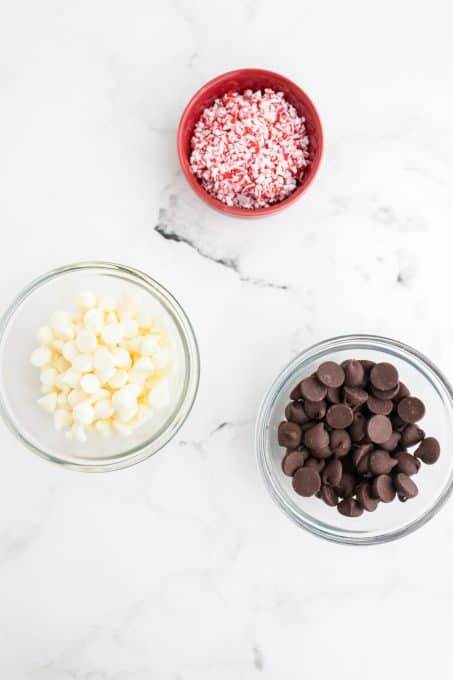 What do I need?
Some recipes call for all kinds of extra flavor add-ins and specialty chocolates. For our Peppermint Bark recipe, we keep it simple:
Dark chocolate chips – you can also use milk chocolate or semi-sweet chocolate chips if you'd prefer.
White chocolate chips
Candy canes – Or use any other hard peppermint candies crushed into pieces.
No bells and whistles. Just the pure goodness of chocolate and peppermint!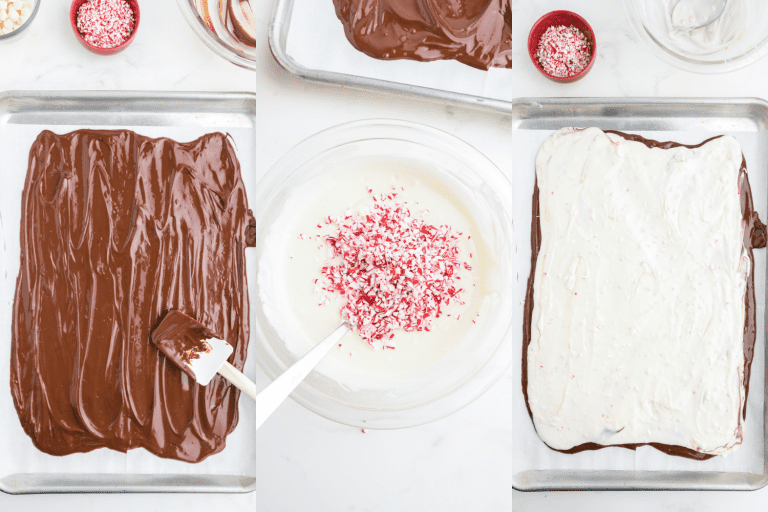 How do I make this easy recipe?
It's easy! Just follow these simple steps.
First step, line a cookie sheet with a sheet of wax paper or a piece of parchment paper.
Place the candy canes or peppermint candy into a zip-top bag and crush with a rolling pin or food processor.
Next, you're going to melt your chocolate.
Place the dark chocolate chips into a microwave-safe bowl. Microwave the dark or semisweet chocolate for 45 seconds. Stir.
If the chocolate isn't fully melted after stirring, microwave it for another 10 seconds. Stir and repeat until the chocolate is smooth and combined.
Follow the same method for the white chocolate layer by melting the white chocolate chips. Stir half of the peppermint pieces into the white chocolate.
Now pour the melted dark chocolate onto the parchment in the prepared baking pan. Use the back of your spoon to spread it into an even layer. Pour the melted white chocolate mixture on top, spreading carefully to cover the whole pan.
Sprinkle the remaining candy cane bits on top. Chill the bark in the refrigerator for about 10 minutes. When the chocolate is hardened, slice the bark into smaller pieces and enjoy!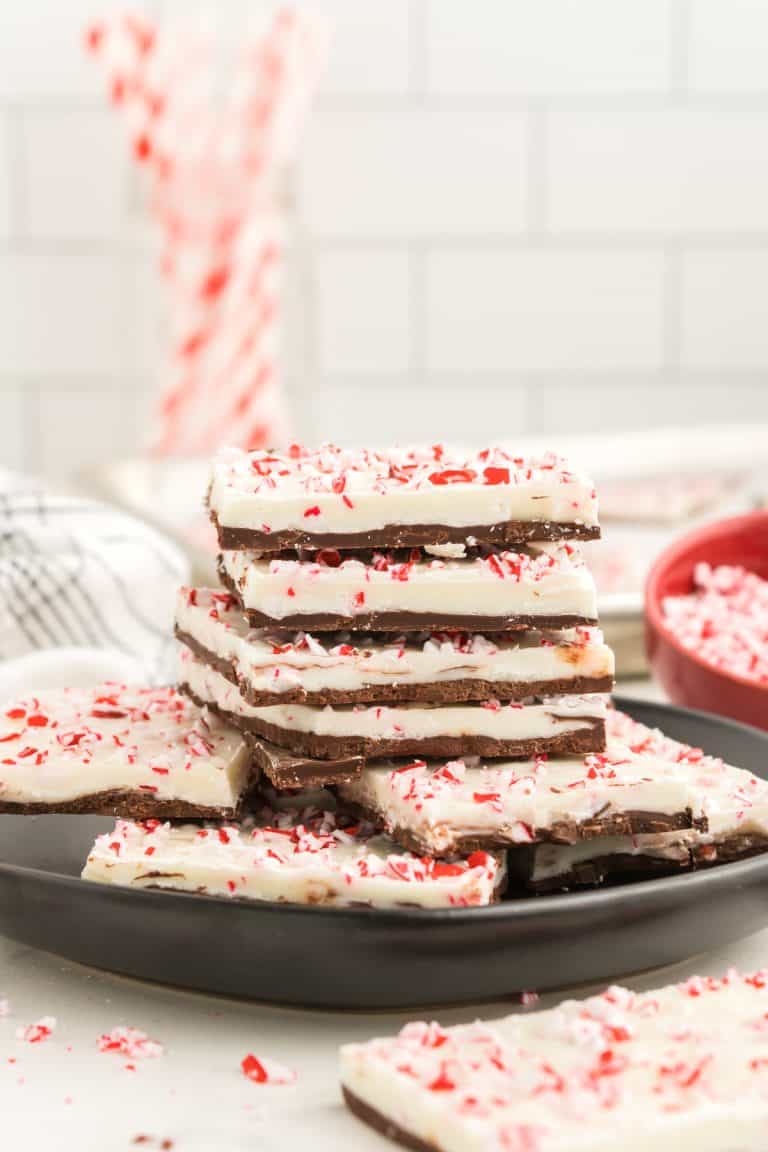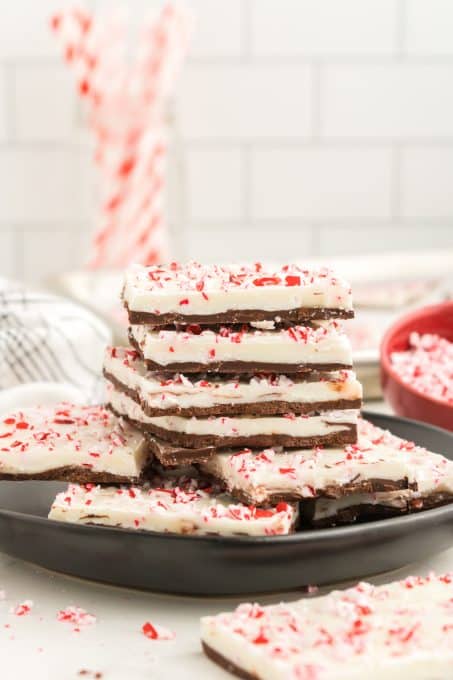 What types of chocolate is best for peppermint bark?
Any kind of chocolate chips, chocolate bark or baking morsels will work well in this recipe. Know that when you use high quality chocolate though, the better your finished candy bark will taste.
I prefer the flavor of the dark or semi-sweet chocolate paired with the sweeter white chocolate. If you want a sweeter tasting bark, feel free to use milk chocolate morsels instead of semi-sweet.
You can also use chocolate melting wafers instead of morsels, if preferred. The peppermint bark will set up a little softer, but still delicious!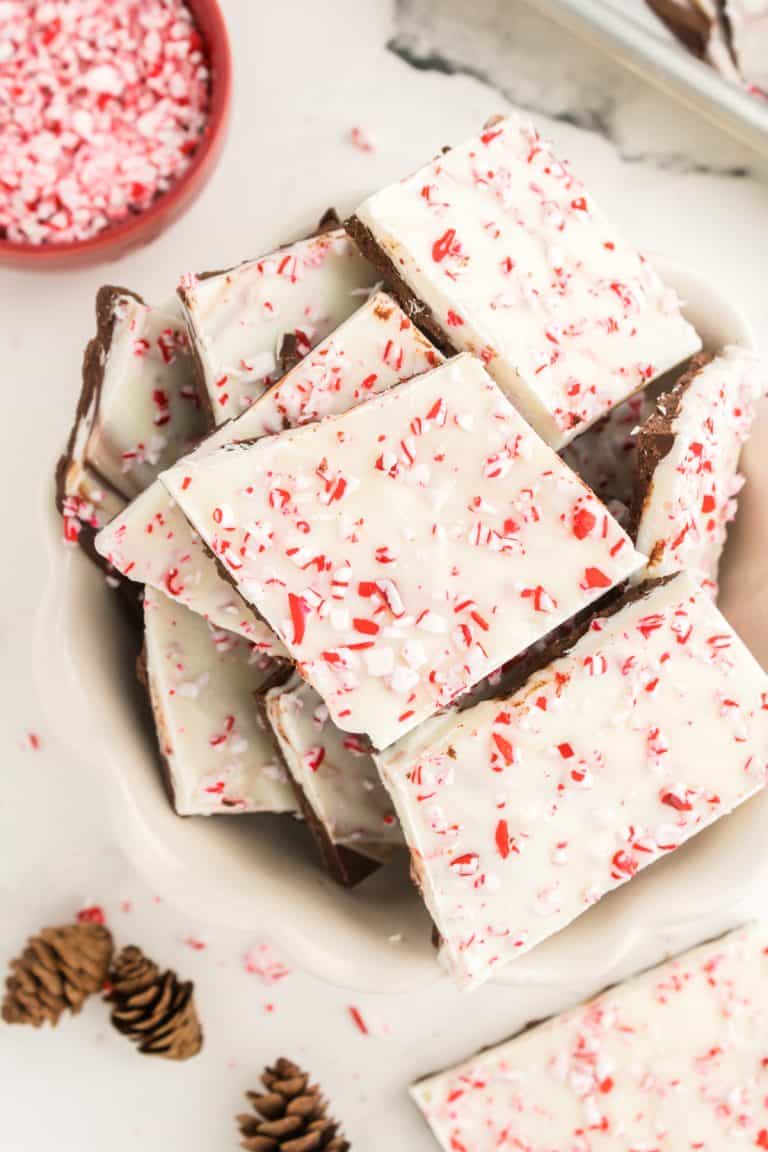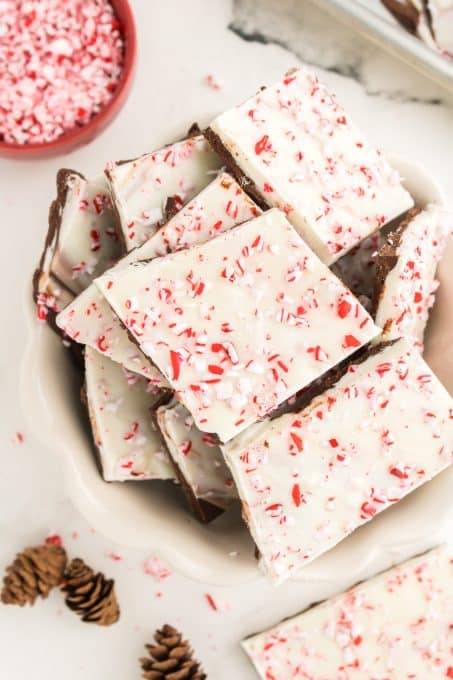 How to Store Homemade Peppermint Bark
Chocolate Peppermint Bark is best stored in the refrigerator in an airtight container. It stays good for up to 3 weeks in a cool place. But in my house it always gets eaten a lot sooner!
Need to leave it out at room temperature? No problem. There are no ingredients in this bark prone to spoiling, it just won't stay tasting fresh as long. The bark is perfectly fine left out at room temperature for a few hours during your holiday party or gift exchange!
Peppermint Recipes
Christmas isn't Christmas without plenty of candy canes and peppermint desserts!
Turn ordinary sugar cookies into a festive treat for the season with this recipe for Peppermint Frosted Sugar Cookies. You'll love these Peppermint Sugar Cookie Cups too.
Chocolate and peppermint are one of my favorite flavor pairings for the winter holidays. These Easy Peppermint Brownie Bites have peppermint patties tucked inside! The combination reminds me of this Chocolate Peppermint Cream Pie, a chilled dessert based on my grandmother's cream pie recipe.
The holidays give you a great excuse to eat cookies for breakfast. When you make biscotti, you can have cookies for breakfast any day! Try my Peppermint Chocolate Biscotti paired with a Peppermint White Chocolate Mocha for a sweet start to your morning.
When I don't want to go to the trouble of making a whole peppermint mocha drink, I love having this Peppermint White Chocolate Coffee Creamer on hand. Just a splash can make a simple cup of brewed coffee taste as delicious as a coffee house specialty.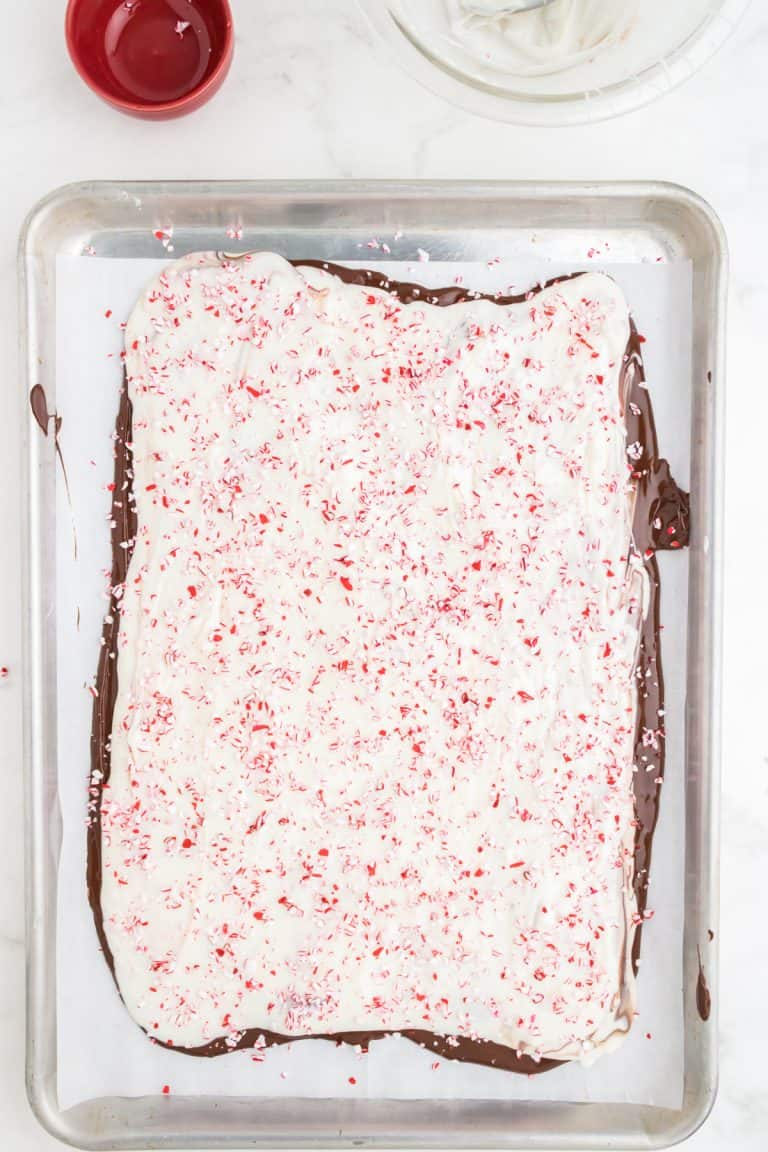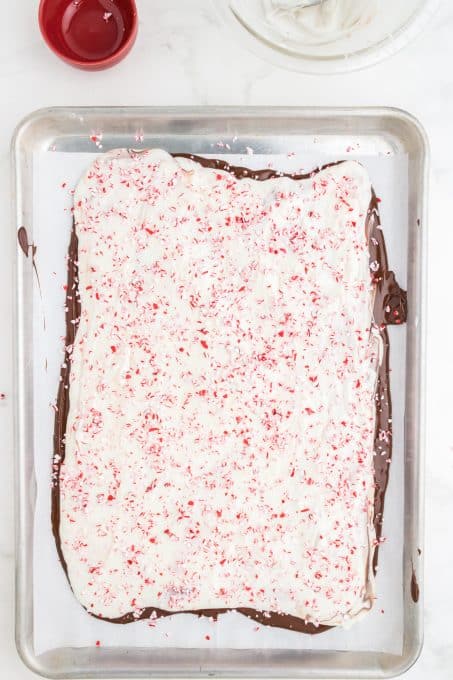 Holiday Favorite Desserts
Need a few more ideas to make your holiday season more delicious? Try a few more of the best reviewed holiday dessert recipes I've shared over the years.
3-Ingredient Recipes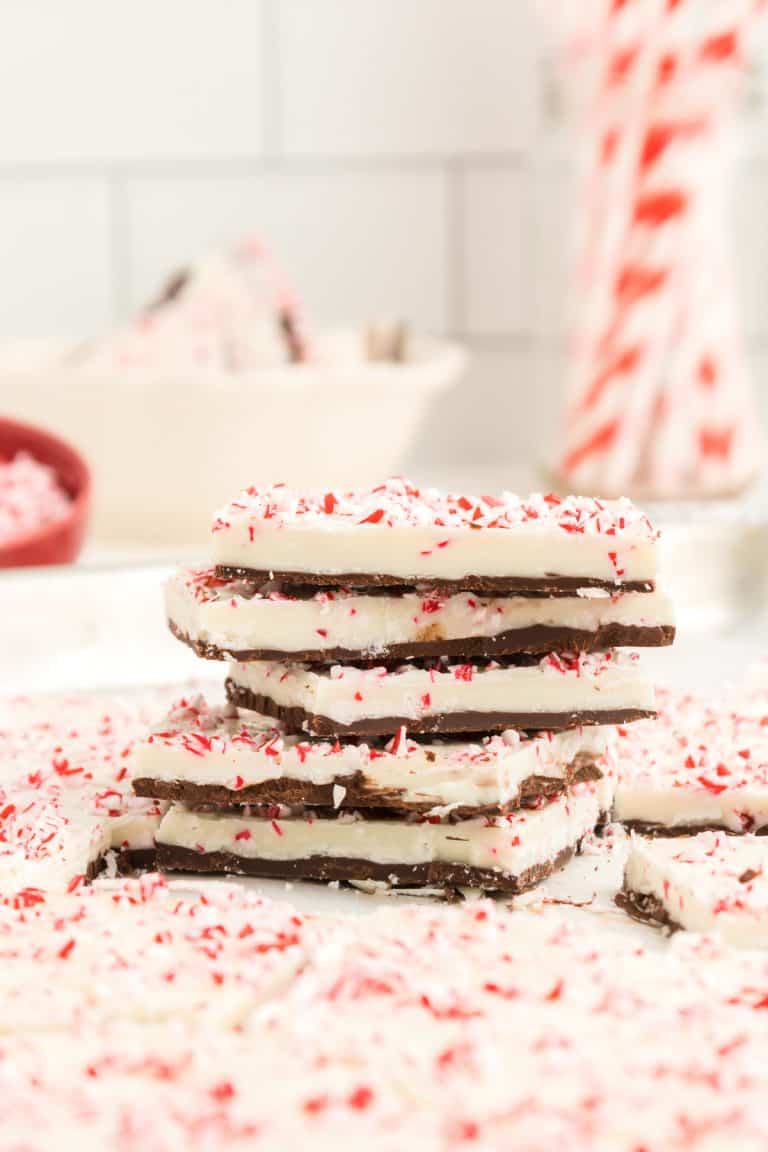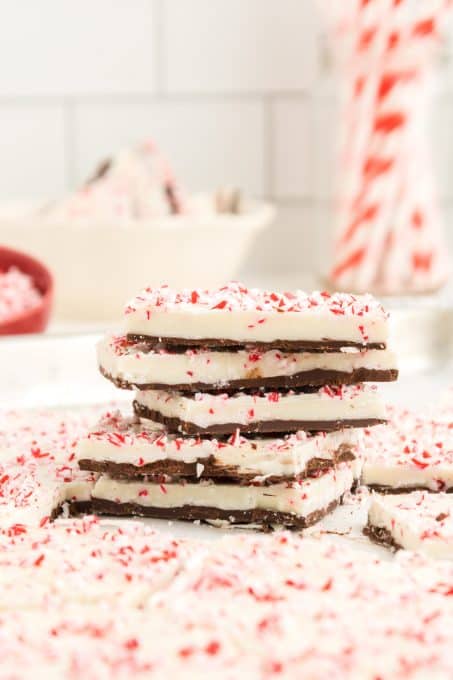 Whatever is on your baking list this year, make some room for this festive Peppermint Bark! You'll love this easy candy bark recipe for homemade gifts or as a delicious treat to share around the tree.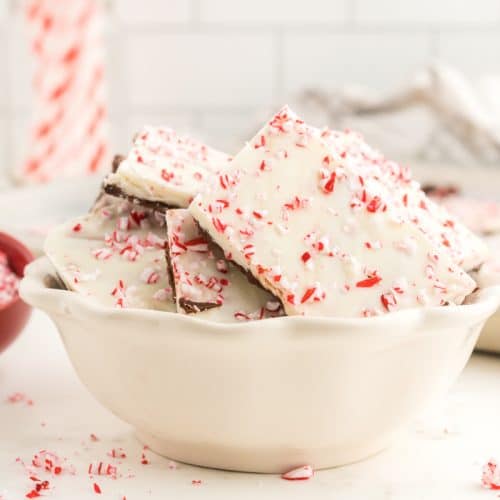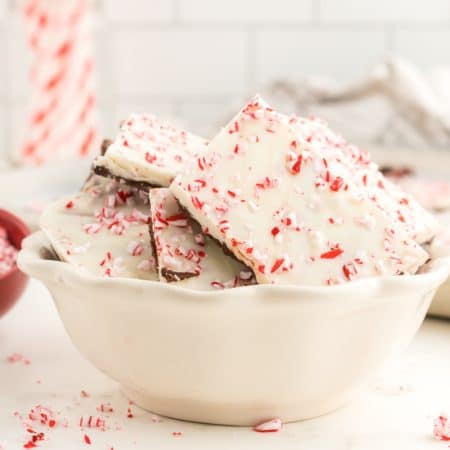 Peppermint Bark is a classic Christmas candy with just three ingredients! This easy candy bark with white chocolate, dark chocolate and a touch of peppermint is a great gift for everyone on your list.
Ingredients
18 ounces dark chocolate chips can use semi-sweet or milk chocolate chips
18 ounces white chocolate chips
½ cup crushed candy canes or hard peppermint candies
Instructions
Line a baking sheet with parchment paper.  Melt dark chocolate in a microwave safe dish for 45 seconds.  Stir, then continue to heat in 10 second intervals, stirring in between, until completely melted.

Melt white chocolate chips in a separate bowl in microwave following melting instructions above.  Add ¼ cup of the crushed peppermint candies to the white chocolate and stir to combine. 

Pour melted dark chocolate onto parchment paper and spread evenly to about ¼ inch in thickness. Pour white chocolate on top and carefully spread over dark chocolate. Sprinkle with remaining ¼ cup crushed peppermints. Refrigerate for 10 minutes or until hard. Cut pieces with a sharp knife.
Nutrition
Serving: 1serving | Calories: 688kcal | Carbohydrates: 74g | Protein: 9g | Fat: 41g | Saturated Fat: 31g | Polyunsaturated Fat: 1g | Monounsaturated Fat: 6g | Cholesterol: 14mg | Sodium: 126mg | Potassium: 586mg | Fiber: 3g | Sugar: 59g | Vitamin A: 26IU | Vitamin C: 1mg | Calcium: 320mg | Iron: 1mg
Did you make this recipe?
Share it with me on Instagram and make sure to follow me on Pinterest for more recipes.
Reader Interactions