Peppermint Sugar Cookie Cups burst with holiday cheer! This sugar cookie is filled with a Hershey's Candy Cane Kiss and is covered in peppermint frosting for a fun, festive and easy Christmas Cookie recipe!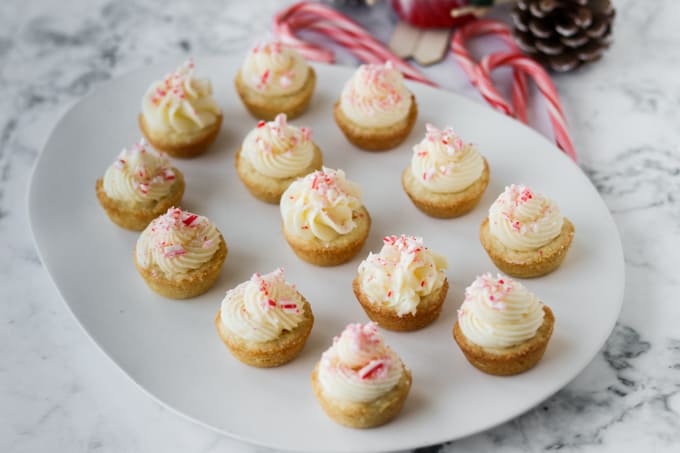 Remember these Peanut Butter Cookie Cups?
*This post contains an affiliate link(s).
Today's recipe offers another easy variation on homemade cookie cups. This combines the classic taste of Frosted Sugar cookies with cool peppermint buttercream!
Did I mention there's a surprise at the center of each one? A Hershey's Candy Cane Kiss turns these soft peppermint sugar cookies into "Surprise Cookies"!
These Cookie Cups with Peppermint Frosting are Day 12 of our 12 Days of Cookies
Be sure to check out all of the other days for more goodies!
Day 1 – Fluffernutter Cookies
Day 2 – Toffee Coconut Oatmeal Bars
Day 3 – Double Chocolate M&M Christmas Cookies
Day 4 – Lace Cookies
Day 5 – Whipped Shortbread
Day 6 – Chocolate Spritz Cookies
Day 7 – 3 Ingredient Sugar Free PB Cookies
Day 8 – Wasabi Chocolate Crinkles
Day 9 – Christmas Sprinkle Cookies
Day 10 – Stained Glass Cookies
Day 11 – Cream Cheese Meltaways
Day 12 – You're on it!
SAVE THESE SUGAR COOKIE CUPS TO YOUR FAVORITE PINTEREST BOARD.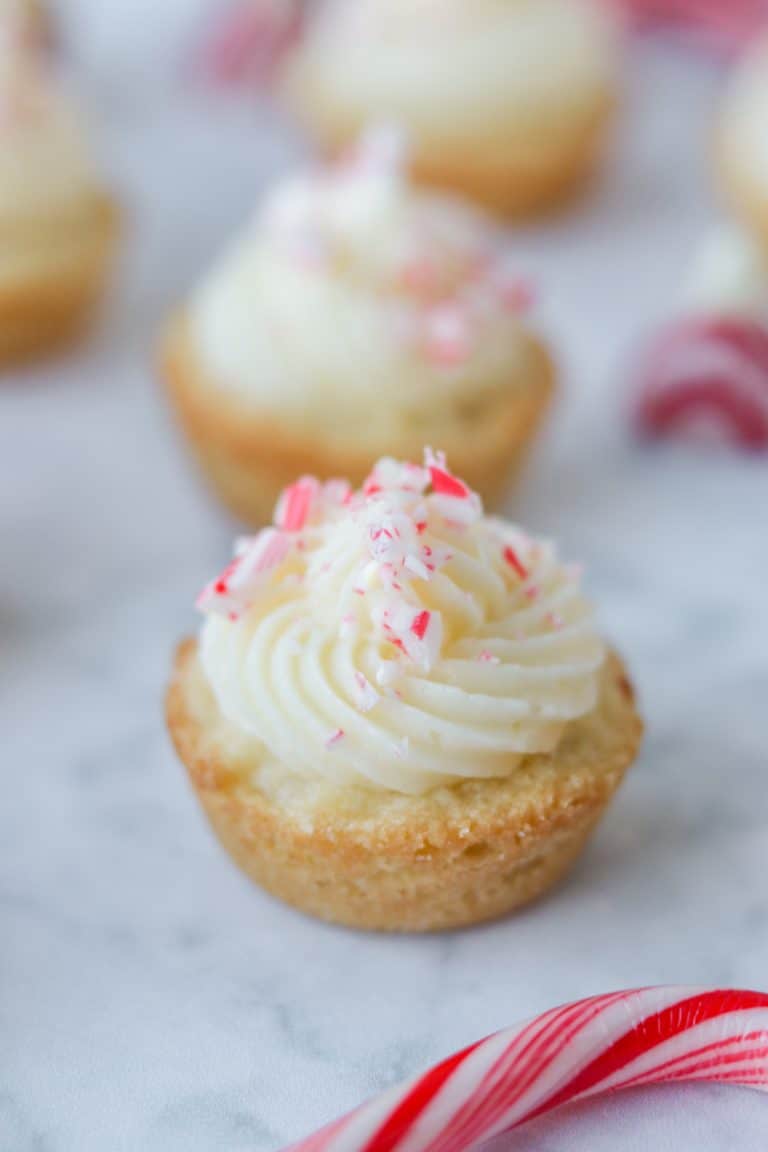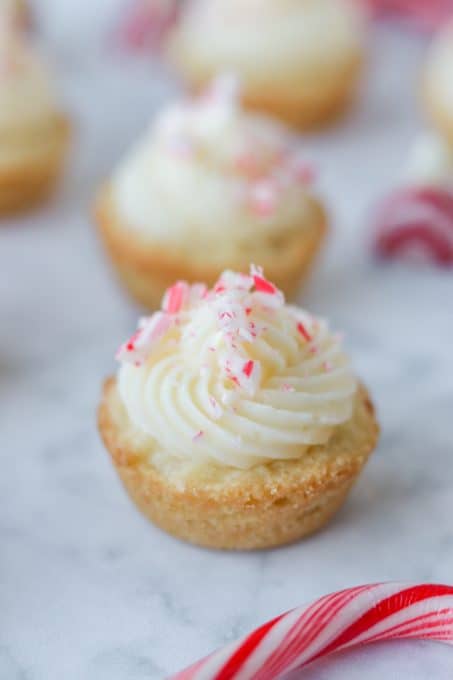 I love bite-sized desserts, especially during the holidays. When I'm surrounded by so many incredible treats, it's hard to choose which one to eat! With these cookie cups, I get to enjoy all the amazing flavor of a good peppermint-frosted sugar cookie and still have room to try everything else on the table I'm craving.
In this recipe, the sugar cookie dough is shaped into mini-muffin tins. A generous dollop of peppermint frosting in the center–along with the Candy Cane Kiss–makes them look and taste so impressive that no one will suspect how easy they are to make.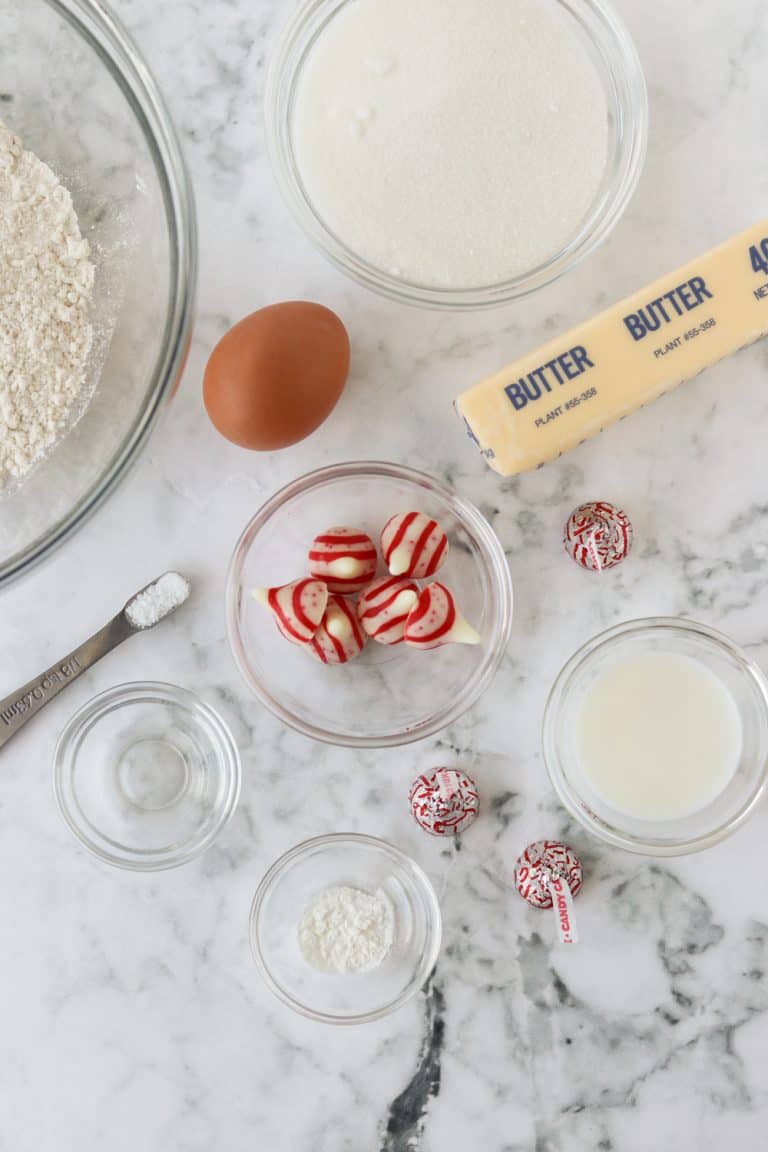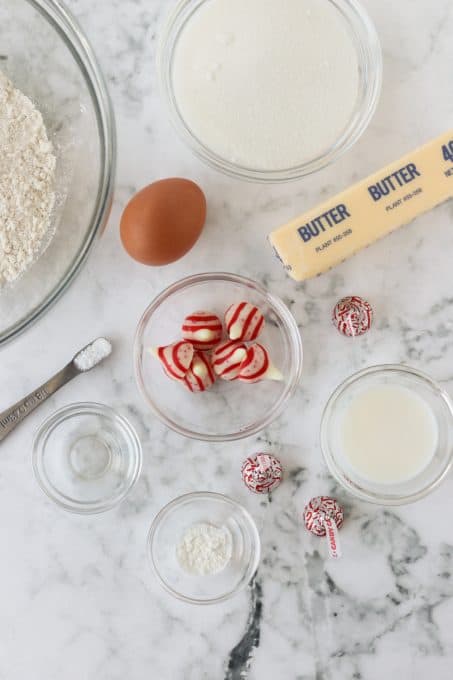 What do I need?
For the sugar cookies, you will need these ingredients:
unsalted butter
sugar
egg
whole milk
all purpose flour
kosher salt
baking powder
And for the peppermint butter cream, you will need:
butter
peppermint extract
confectioner's sugar
kosher salt
heavy cream
crushed candy canes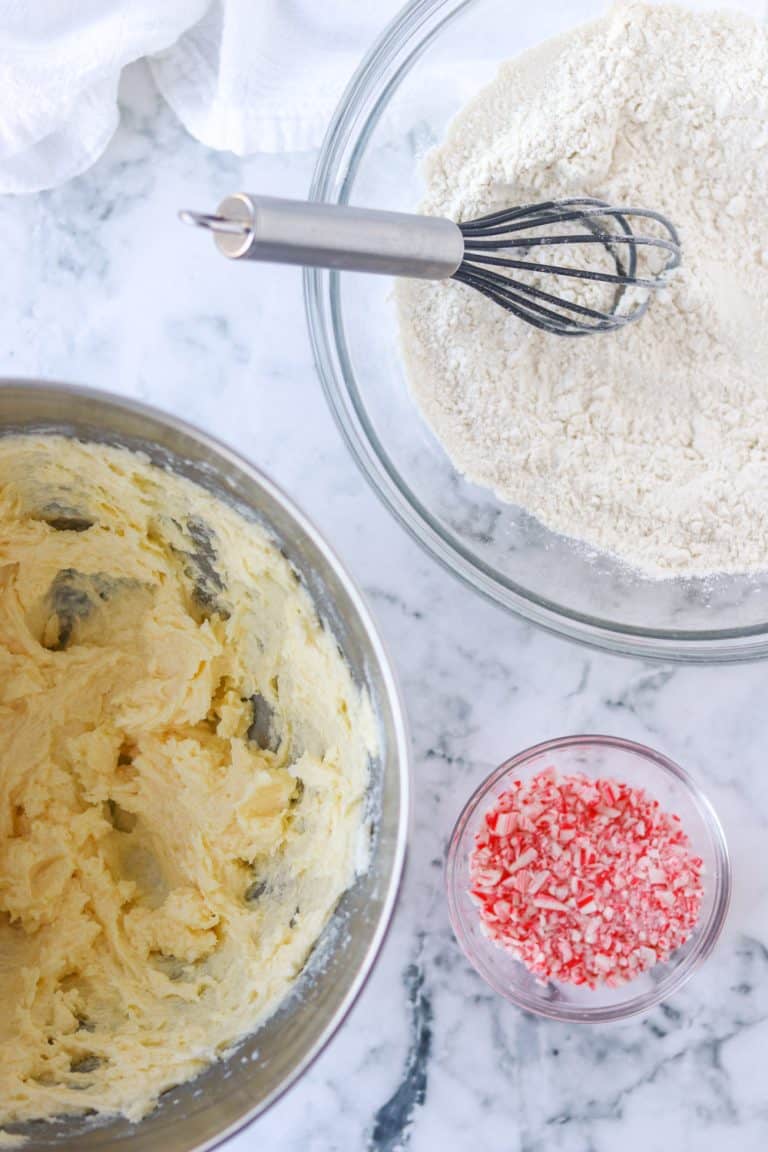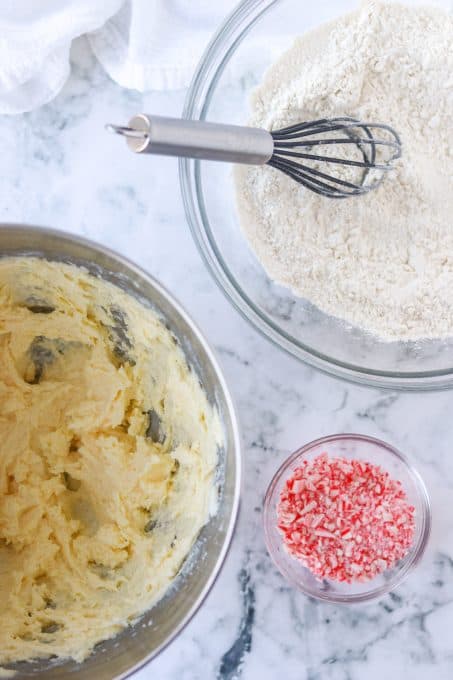 How do I make them?
Make the dough first by creaming together butter and sugar. Add the egg, peppermint extract and milk followed by the dry ingredients. Roll the dough into balls and place each one in the cavity of a greased mini muffin tin.
Now bake the cookie cups for about 15 minutes. Press a Hershey's kiss into the center of each cookie while they're still warm.
While the cookies are cooling, make the frosting. Use a frosting bag to pipe the peppermint buttercream onto the cookies.
For the piping tips, I use the Wilton 1M and Wilton 4B.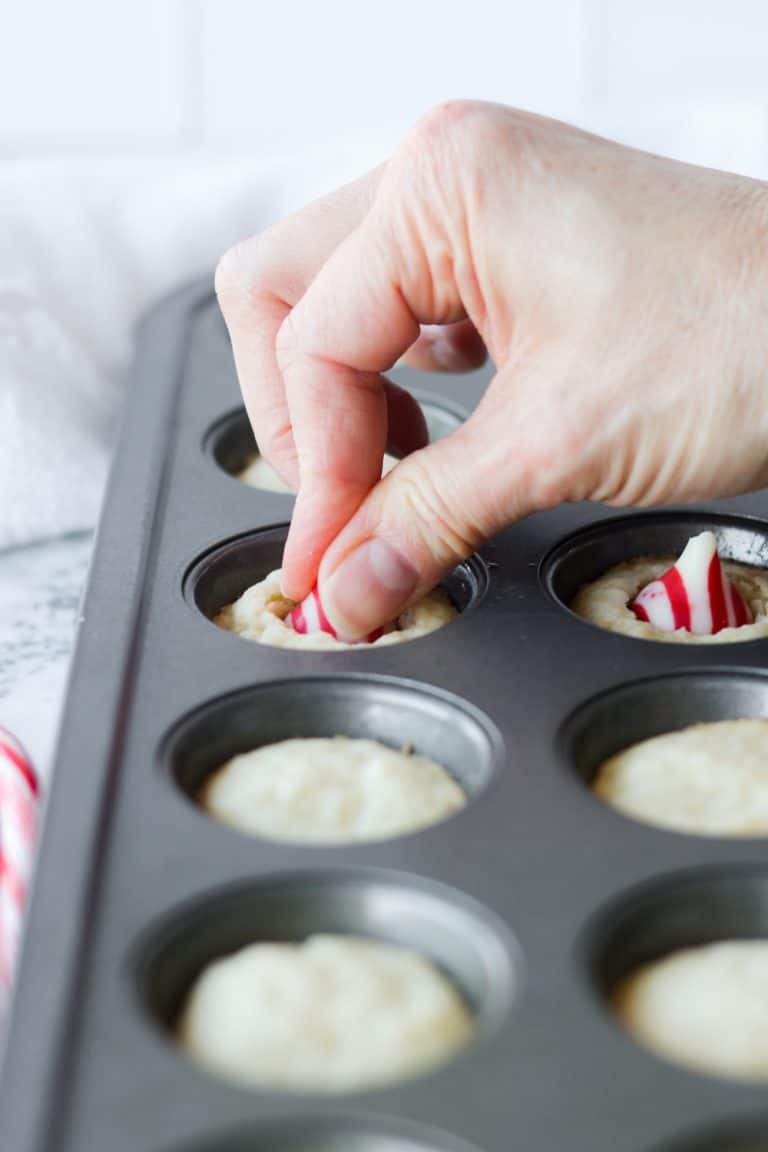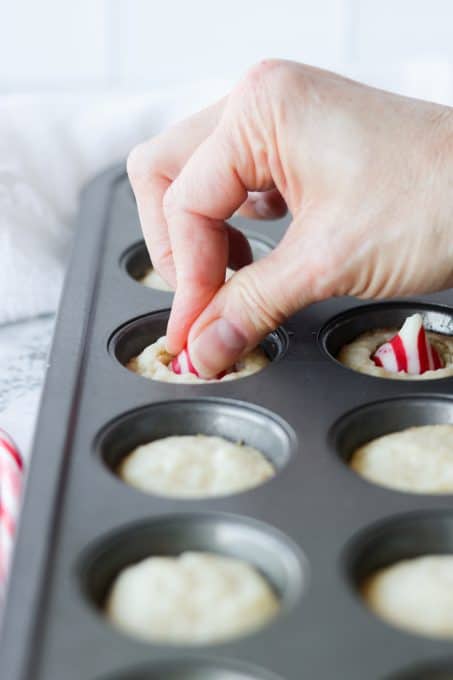 Tips and Tricks for Peppermint Sugar Cookie Cups
Freeze the Hershey's Kisses. The night before baking these cookie cups, unwrap the Hershey's candies and place them in the freezer. This keeps them from melting into the warm cookies.
Use real peppermint. Make sure you're baking with PURE peppermint extract, not imitation flavor, for best results.
Piping tips. I prefer to use Wilton frosting tips 1M and 4B for these frosted cookie cups. They create the prettiest designs!
Storing. Transfer cookie cups to an airtight container. Store at room temperature and enjoy within 3 to 5 days.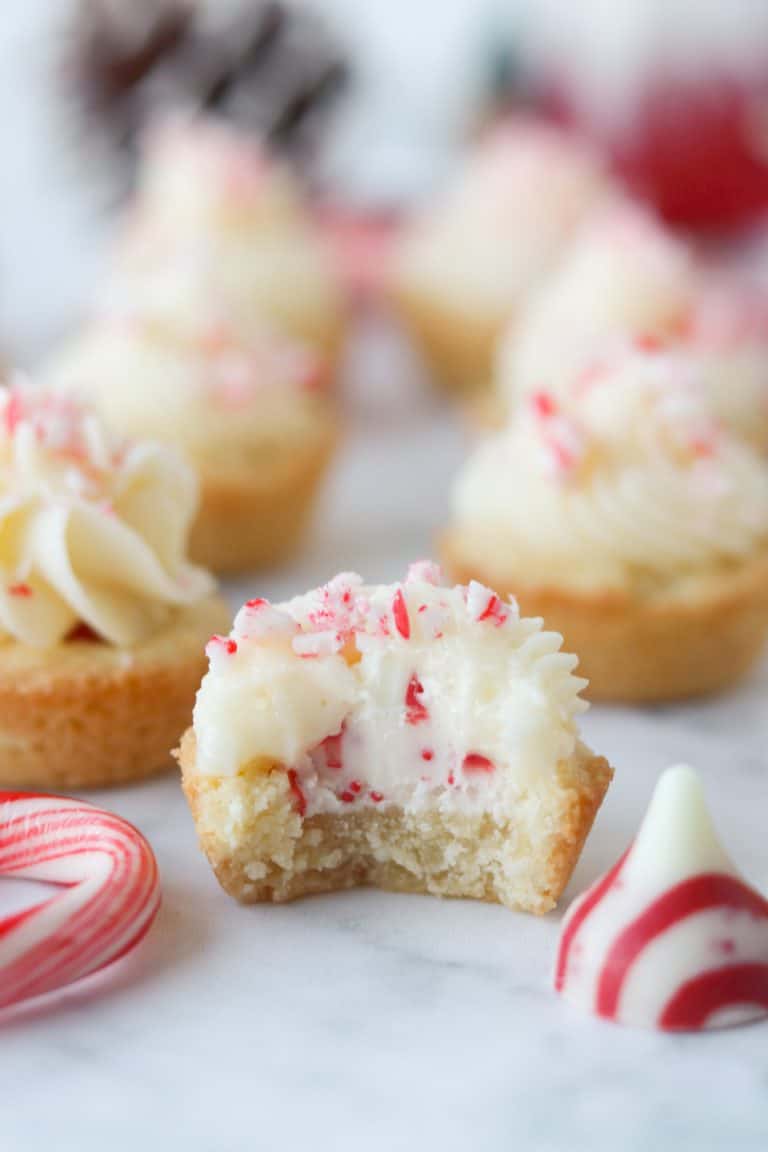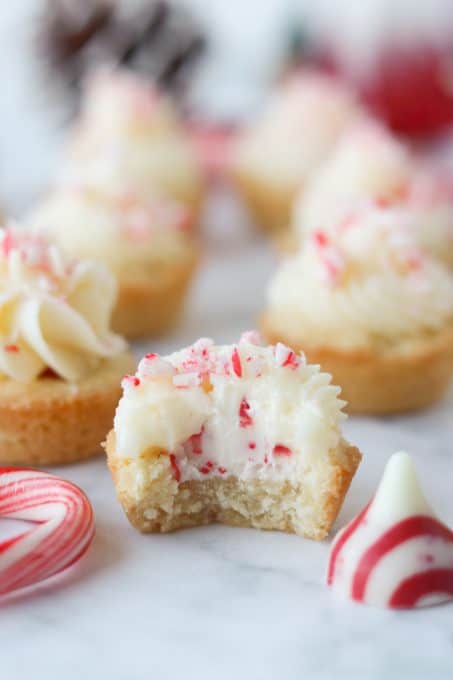 Do you have to chill the dough?
Not for this recipe! This is a sugar cookie dough that doesn't need to be chilled. Instead of rolling out the dough, it is pressed into mini muffin tins, eliminating the need to chill.
While chilling isn't necessary, the dough does stay good in the fridge for a day or two tightly wrapped. You can prep the sugar cookies and freeze the kisses ahead of time. When you're ready to bake the sugar cookie cups will be ready in no time!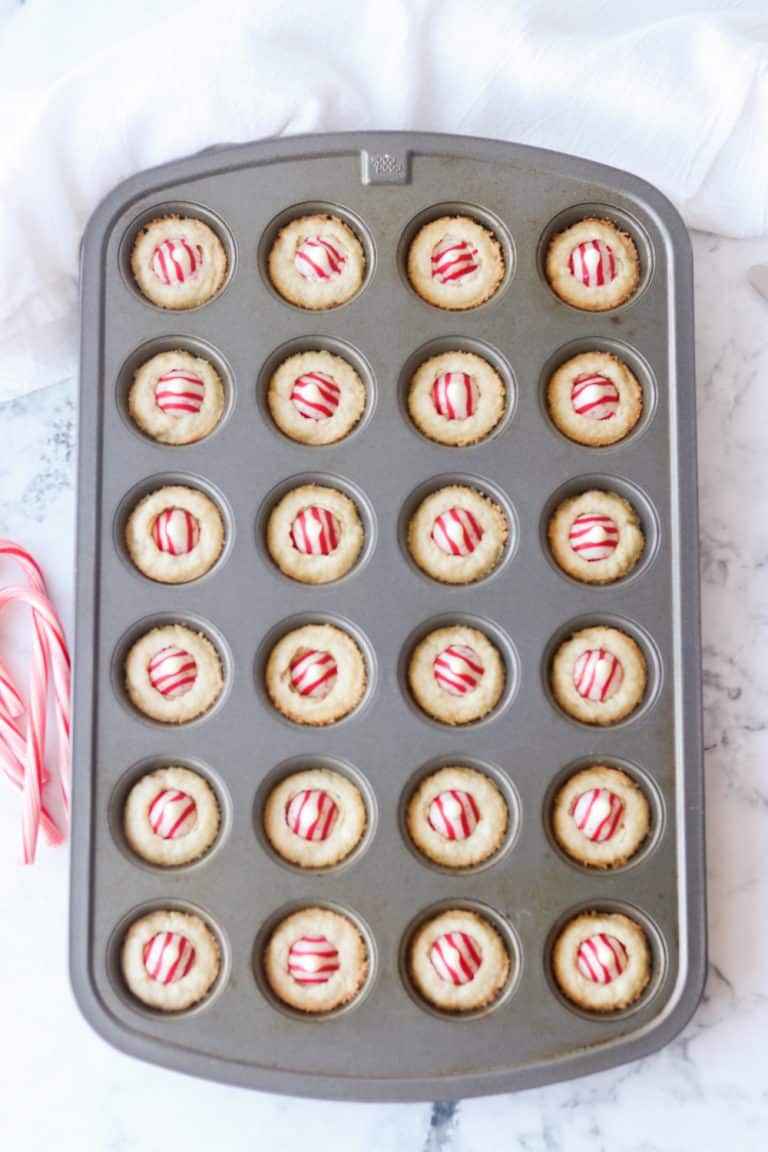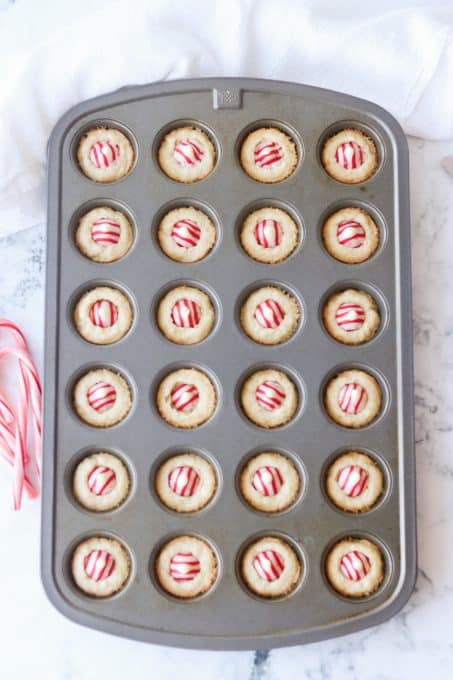 Can I freeze these cookie cups?
Yes, these cookie cups can be frozen. I recommend freezing them unfrosted, then adding the frosting once the sugar cookies have thawed.
Peppermint Recipes
Christmas time means ALL things peppermint are on my radar.
These Peppermint Blossom Cookies are one of my all time favorite easy peppermint desserts. For a chocolate-y variation, you'll love these Double Chocolate Peppermint Kisses too.
If you like bite-sized holiday goodies as much as I do, these Peppermint Brownie Bites are an absolute MUST try! Fudgy brownie, extra chocolate, and a peppermint patty in each one. What more is there to say?
We've been all about the cookies this week here on the blog, so if you need to change it up, let me suggest this Chocolate Peppermint Cream Pie for your holiday menu. It's super easy and always a crowd pleaser!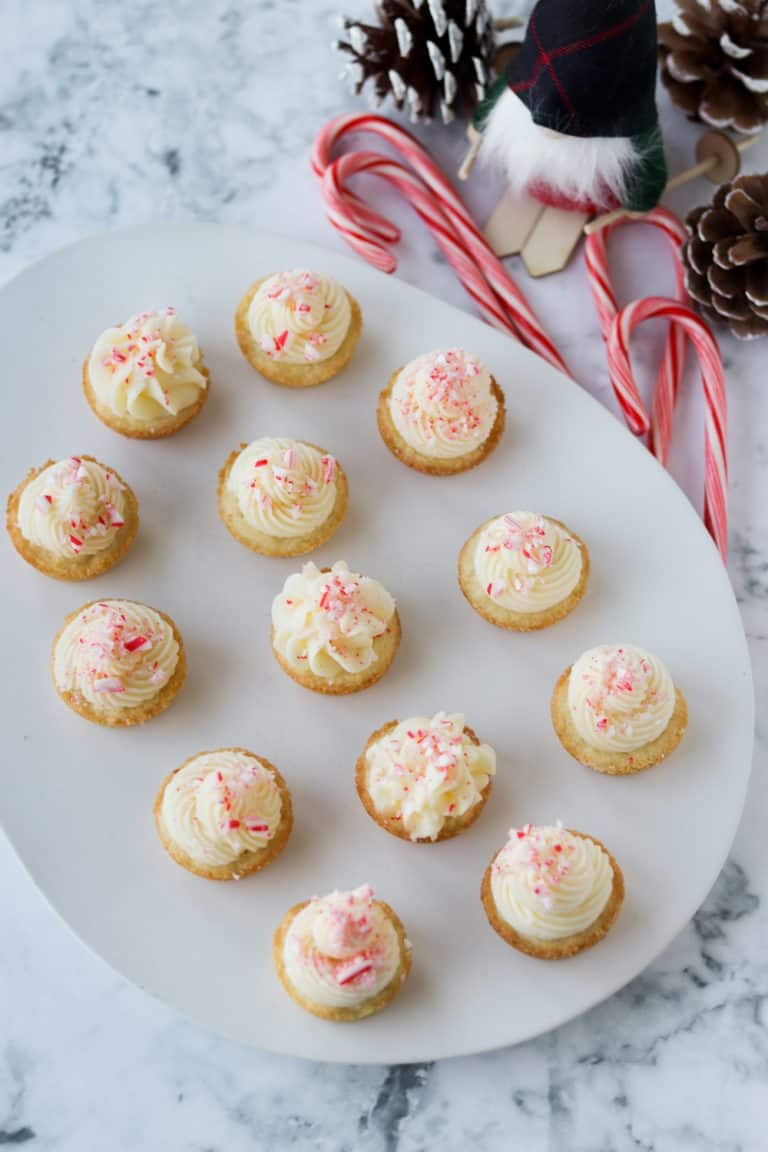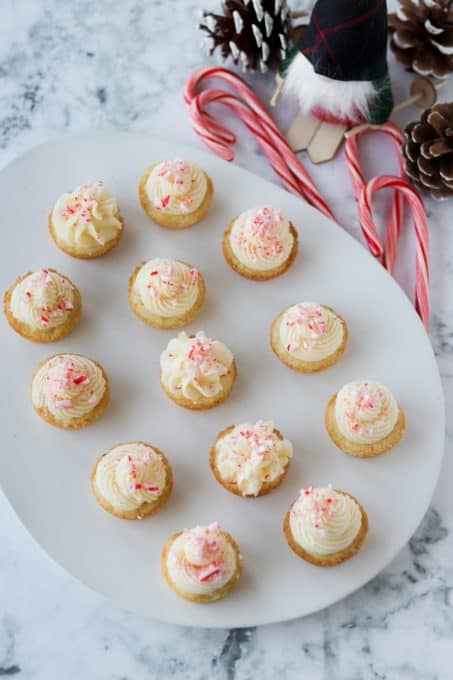 Cookie Cups and Cookies
Bring more sweetness any season with these other amazing cookies and cookie cups!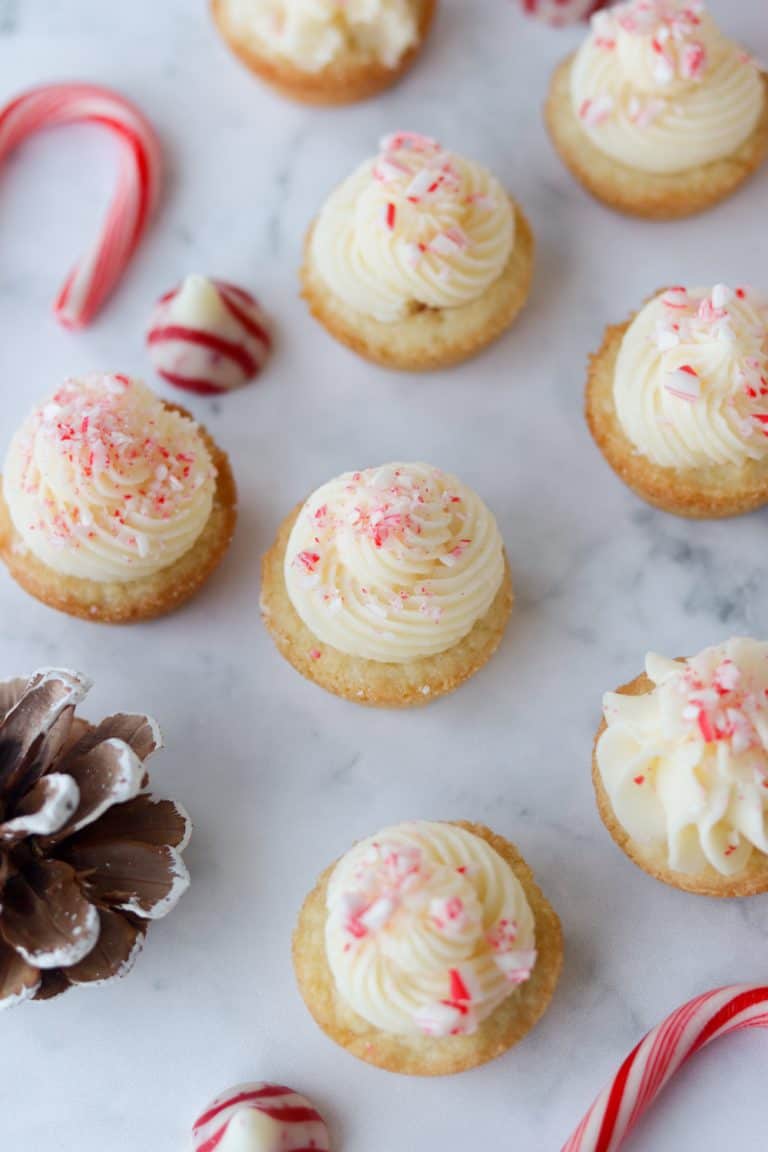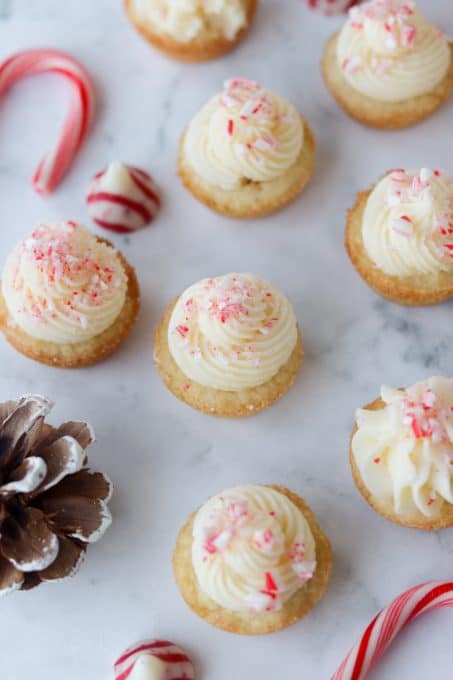 May all your Christmases be filled with desserts as delicious as these Peppermint Sugar Cookie Cups!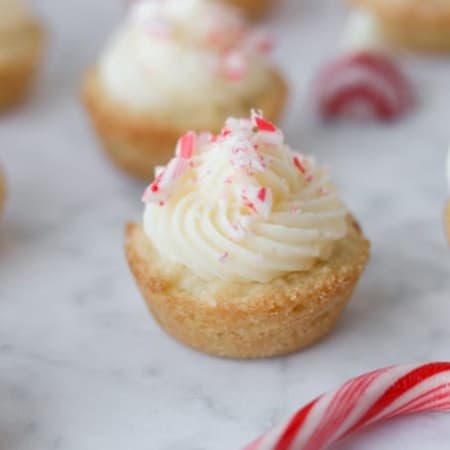 Peppermint Sugar Cookie Cups
Peppermint Sugar Cookie Cups are positively bursting with holiday cheer! Sugar cookie dough is soft baked and filled with peppermint frosting. A Candy Cane Hershey's Kiss adds the finishing touch to this easy Christmas Cookie recipe!
Equipment
mixing bowl

rubber spatula

mini muffin tin

wire cooling rack

piping bag(s)

Piping Tips – Wilton 4B and Wilton 1M
Ingredients
36 Hershey's Candy Cane Kisses
½ cup unsalted butter room temperature
¾ cup sugar
1 egg
½ teaspoon pure peppermint extract
1 tablespoon whole milk
1 ¼ cups all-purpose flour
2 tablespoons all purpose flour
⅛ teaspoon kosher salt
¼ teaspoon baking powder
Peppermint Buttercream Frosting
1 cup butter room temperature
1 teaspoon pure peppermint extract
4 cups confectioner's sugar
pinch of kosher salt
6 tablespoons heavy cream
2 candy canes crushed
Instructions
The night before, unwrap the Hershey's Candy Cane Kisses, and place into a bowl. Put bowl into freezer overnight until ready to use.

When ready to bake the cookies, preheat the oven to 350° F, and spray each muffin cup of a mini muffin tin with cooking spray.

Cream the butter and sugar together until light, about 3 minutes in the bowl of an electric mixer.

Mix in the egg, peppermint and milk.

In a small bowl, whisk together all of flour, salt and baking powder.

Add the flour mixture to the wet ingredients and mix until combined.

Using tablespoons full of dough, roll into balls. Place one ball into each muffin cup and flatten slightly.

Bake for about 15 minutes, until cookies are slightly golden. Cool in tin for about a minute then gently press a Hershey's Kiss into the middle of each. Remove cookie from muffin cups and place on a wire rack to cool completely before frosting
Peppermint Buttercream Frosting
In a mixer, cream the butter and peppermint extract until light and fluffy.

With the mixer on low speed, gradually add the confectioners' sugar and the salt.

Frosting will be dry but should be smooth and creamy. Add the cream, one tablespoon at a time, incorporating each completely.

After all the cream has been mixed in, beat on medium-high speed for about two minutes, till light and fluffy.

Put frosting into a piping bag or bags fitted with Wilton piping tips 1M and 4B.
Nutrition
Serving: 1cookie cup | Calories: 190kcal | Carbohydrates: 25g | Protein: 1g | Fat: 10g | Saturated Fat: 6g | Polyunsaturated Fat: 1g | Monounsaturated Fat: 2g | Trans Fat: 1g | Cholesterol: 29mg | Sodium: 61mg | Potassium: 15mg | Fiber: 1g | Sugar: 20g | Vitamin A: 280IU | Vitamin C: 1mg | Calcium: 16mg | Iron: 1mg
Did you make this recipe?
Share it with me on Instagram and make sure to follow me on Pinterest for more recipes.
*We are a participant in the Amazon Services LLC Associates Program, an affiliate advertising program designed to provide a means for us to earn fees by linking to Amazon.com and affiliated sites as well as ShareASale.
These are links that can take you to a product (or products) that I recommend. I do receive a portion of the sales or credit for my future purchases from any items purchased through those links. Your purchases encourage my baking, cooking and butter habit, and contribute to the life of this blog. I thank you so very much for your support. Let's keep having fun in the kitchen!!
Reader Interactions