The classic peanut butter cookies you crave are now sugar free! Sweet and satisfying, these are a perfect dessert option for anyone cutting back on their sugar intake. With just 3 ingredients, you can make these easy Sugar Free Peanut Butter Cookies recipe in minutes.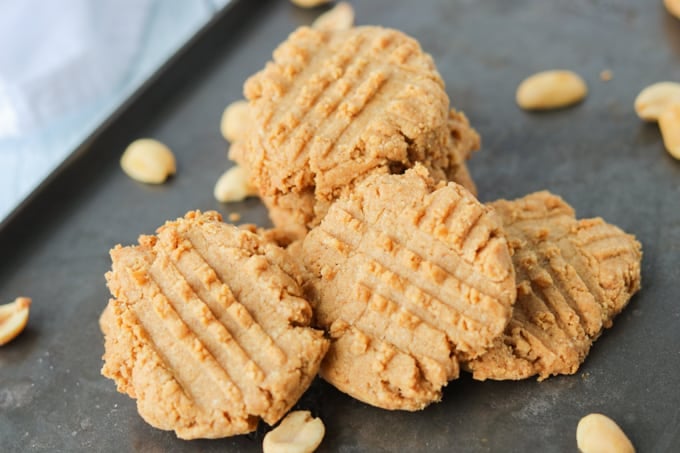 Remember these popular 3 Ingredient Peanut Butter Cookies?
Like all of you, my family can't seem to get enough of them.
Today's recipe is another take on the 3 ingredient criss-cross cookie concept–only this time it's SUGAR FREE!
These 3 Ingredient Peanut Butter Cookies are Day 7 of our 12 Days of Cookies
Be sure to check out all of the other days for more goodies!
Day 1 – Fluffernutter Cookies
Day 2 – Toffee Coconut Oatmeal Bars
Day 3 – Double Chocolate M&M Christmas Cookies
Day 4 – Lace Cookies
Day 5 – Whipped Shortbread
Day 6 – Chocolate Spritz Cookies
Day 7 – You're on it!
Day 8 – Wasabi Chocolate Crinkles
Day 9 – Christmas Sprinkle Cookies
Day 10 – Stained Glass Cookies
Day 11 – Cream Cheese Meltaways
Day 12 – Peppermint Sugar Cookie Cups
SAVE THIS 3 INGREDIENT COOKIE RECIPE TO YOUR FAVORITE PINTEREST BOARD!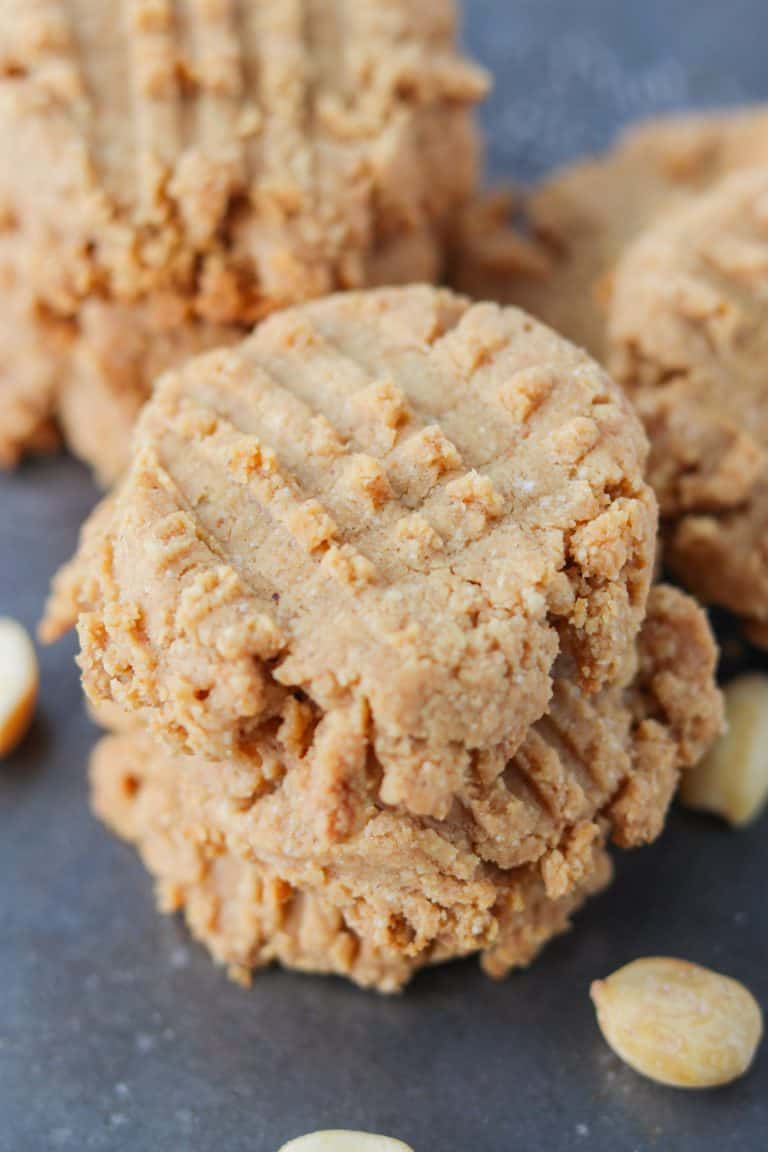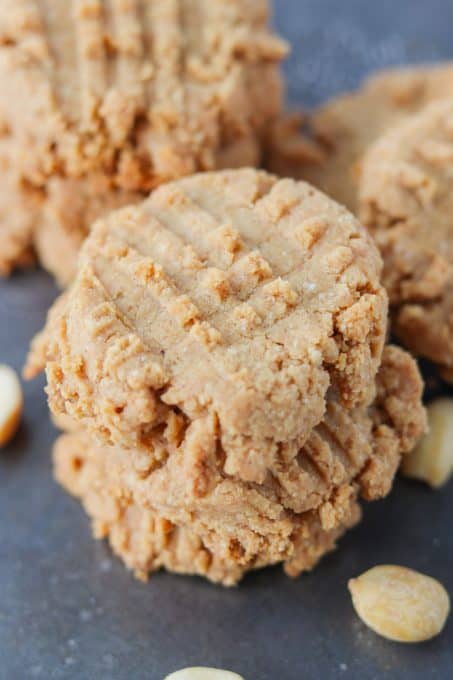 Every batch of peanut butter cookies I make disappears almost as fast as you can say "cookie jar." I can't seem to resist "just one more" of those perfect treats.
Unfortunately, my blood sugar doesn't always love sugary cookies as much as my taste buds do. Sure, I could just stop eating cookies to avoid the afternoon sugar crash.
But what kind of life is a life without COOKIES?
No life at all.
So, I dusted off my cookie crumb covered fingers and got to work. By swapping the sugar in the original 3 ingredient recipe for sugar substitute, I was able to get the same amazingly tasty results!
No complicated ingredients or methods. Just delicious, nutty and sweet peanut butter cookies–that won't wreak havoc on your blood sugar.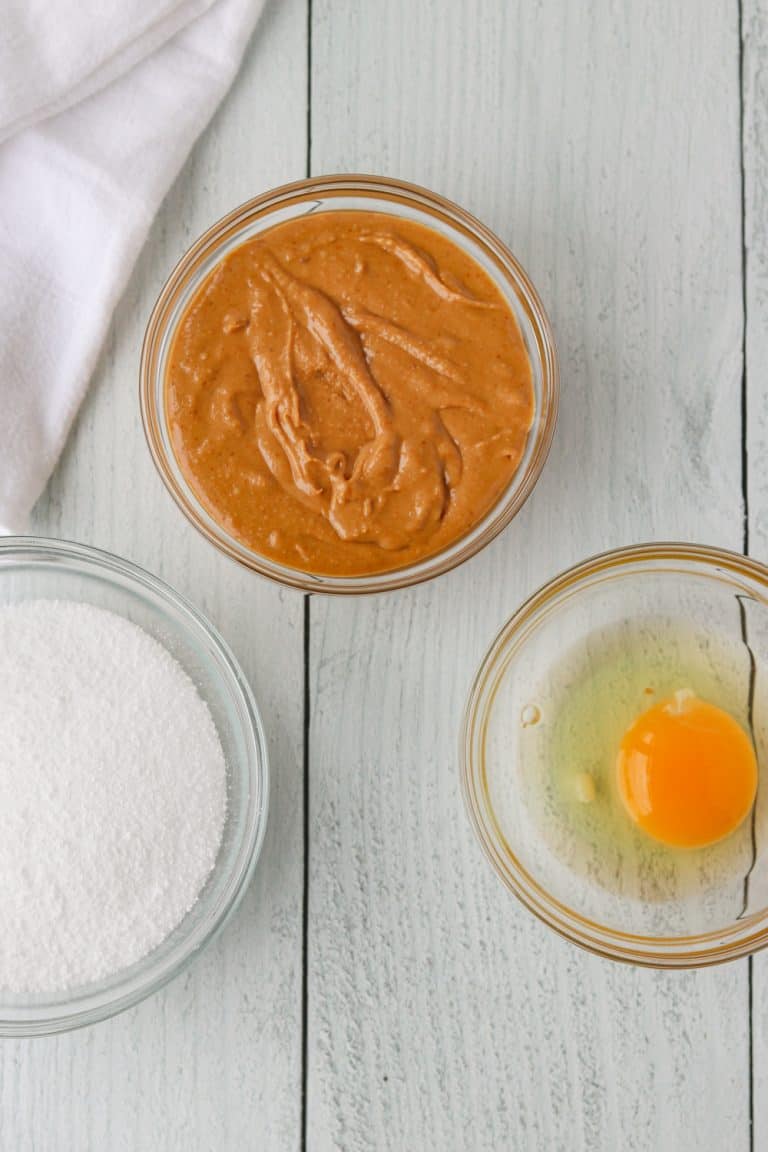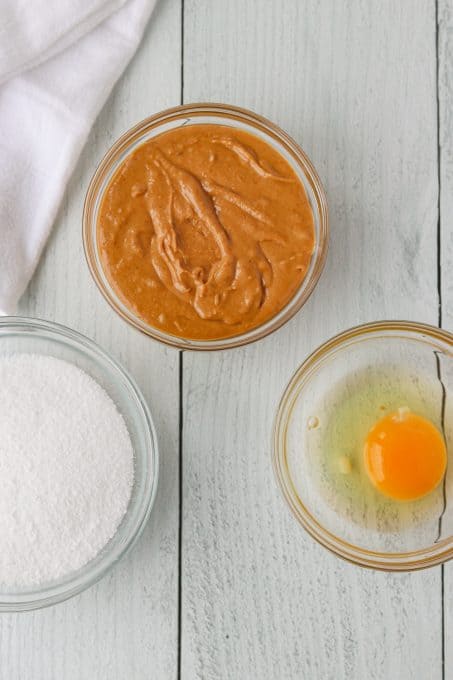 Ingredients for Sugar Free Peanut Butter Cookies
all natural peanut butter
egg
granulated sugar substitute (see below for my favorites)
THAT'S IT! I love not having to set out a zillion ingredients to make a batch of cookies. Always keep these ingredients stocked and you're just minutes away from homemade cookies.
Steps for making Peanut Butter Cookies without sugar
Making these cookies is easy as can be.
STEP 1. Preheat the oven to 350 F. Line a cookie sheet with parchment paper.
STEP 2. Mix together the peanut butter, egg and sugar substitute in a mixing bowl.
STEP 3. Roll the cookie dough into 1 inch balls and arrange in rows on the baking sheet. Flatten the cookies with the back of a form, making a criss-cross shape on top of each cookie.
STEP 4. Bake cookies for about 12 minutes. Let them cool on the baking sheet for 2 minutes before transferring to a wire rack to cool completely.
The hardest part is waiting for the sugar free peanut butter cookies to cool! The sweet peanut-y aroma as these cookies bake is almost impossible to resist.
TIP: The cookies will be soft when you first take them out of the oven. They continue hardening the longer they cool. Be careful not to over bake!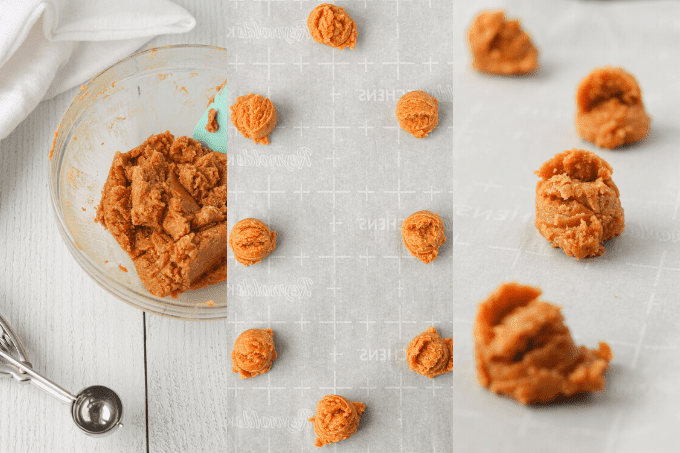 Sugar Substitute Suggestion
Choosing the right swap for your sugar makes all the difference in this peanut butter cookie recipe. The sugar substitute should be granulated, like regular white sugar. Do not use liquid or powdered sweeteners!
Stevia – it's what I used
Granulated Monk Fruit – I haven't yet tested this recipe with it, but plan on doing so in the future.
If you use it to make this recipe, I'd love to hear what you think, so leave me a comment below.
These natural sugar free sweeteners mimic the texture and chemical make up of real sugar remarkably well. Unlike artificial sweeteners, they also tend to leave less of a "chalky" or "chemical" aftertaste.
That said, if you love baking with sweeteners like Splenda (sucralose), they are a great option for these 3 ingredient sugar free cookies!
What kind of peanut butter is best for cookies?
To make this recipe truly sugar free, use a creamy natural peanut butter with no added sugars. They will be a bit more crumbly than peanut butter cookies made with shelf-stable peanut butter.
If you're not totally avoiding sugar, you can also make these cookies with a standard shelf creamy peanut butter (like Jif). It won't be totally sugar free, but it'll still have WAY less sugar than your average cookie!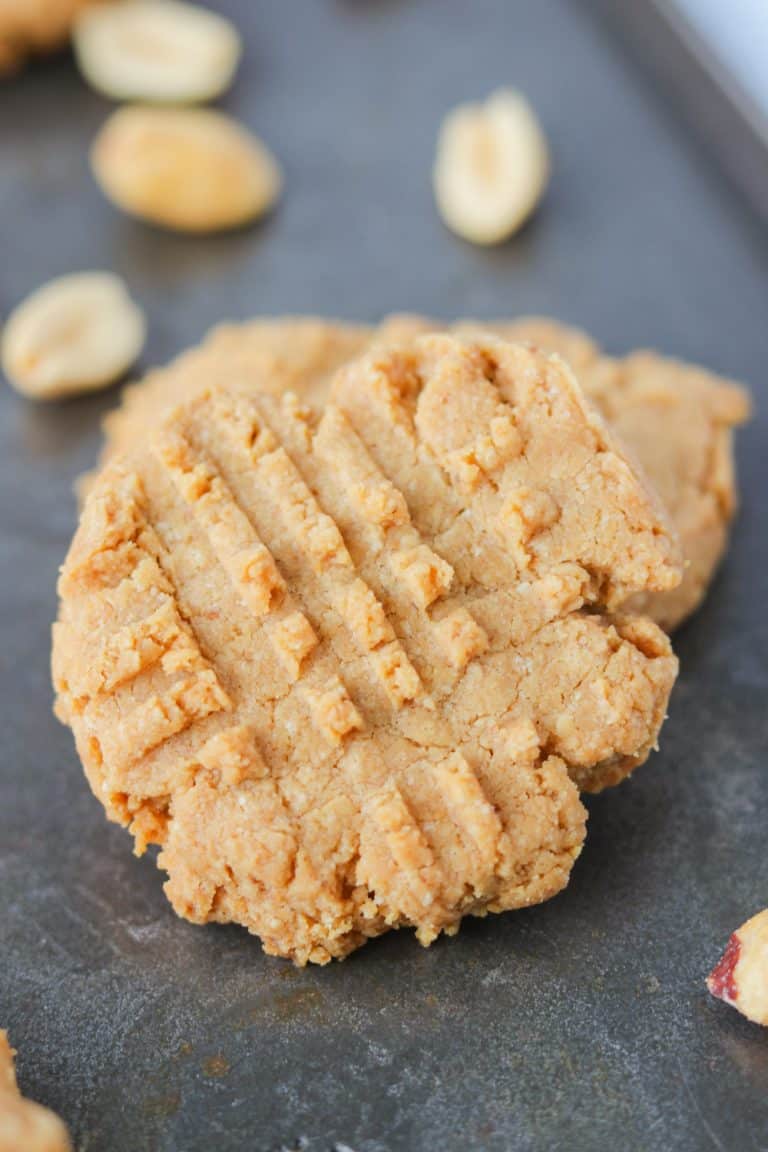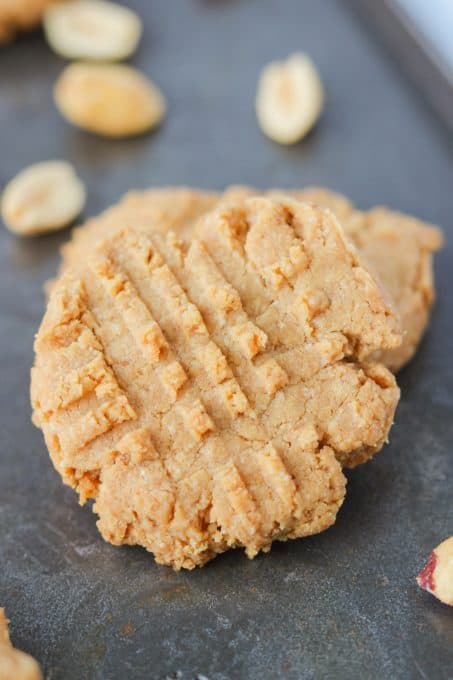 Are these cookies gluten free?
Yes, they are! These easy sugar free cookies are also low carb, keto friendly and dairy free. Hip hip hooray!
Note: If you are baking for someone with celiac disease, make sure you check the label on your peanut butter to ensure cross contamination with gluten products.
Peanut Butter Recipes
After you fall in love with 3 ingredient sugar free peanut butter cookies, give these other delicious peanut butter desserts a try!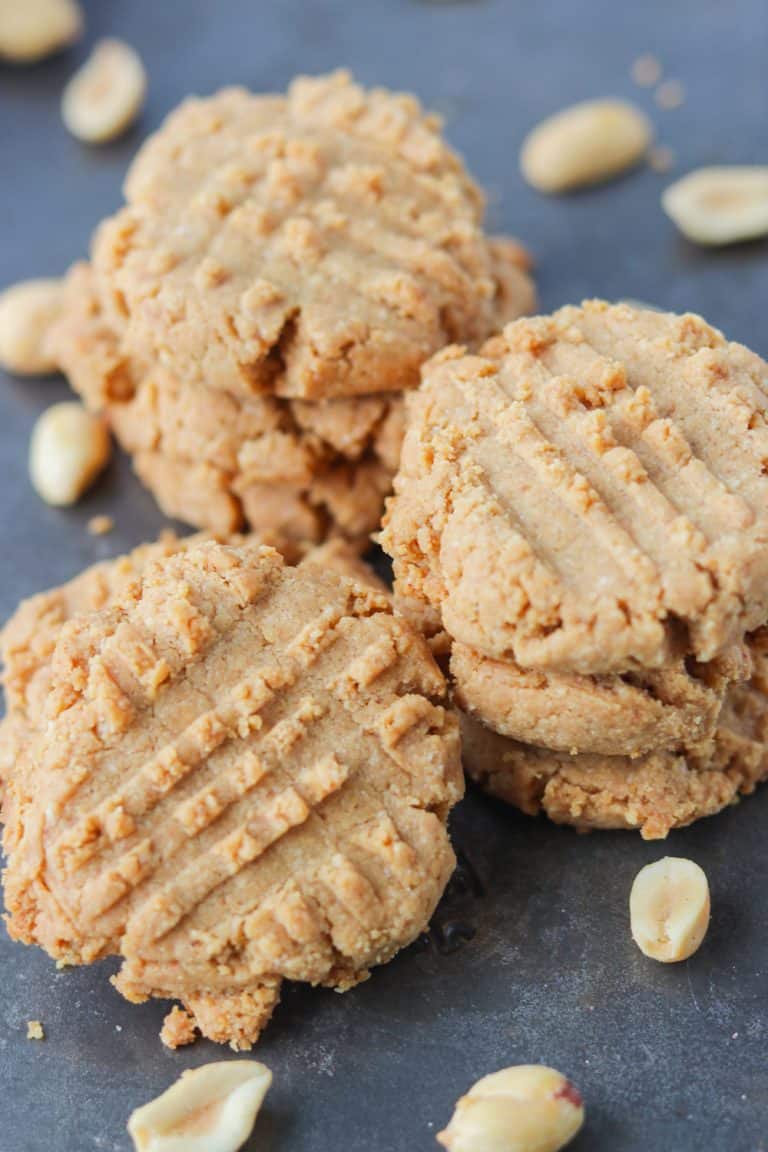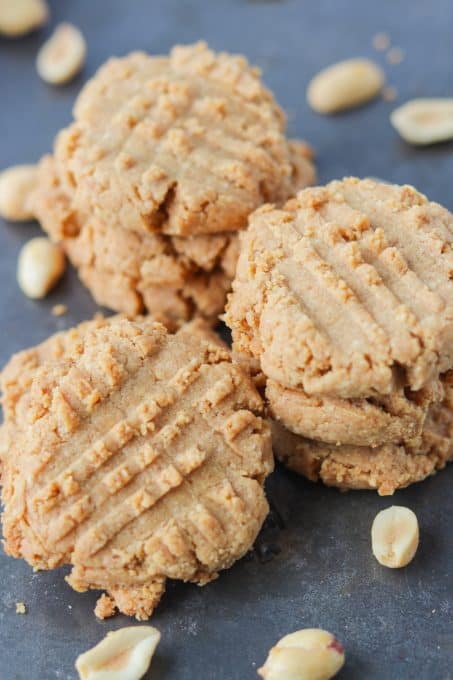 Looking for more sugar free peanut butter dessert ideas? This Sugar Free Peanut Butter Fudge created by my friend Aimee is a must-try!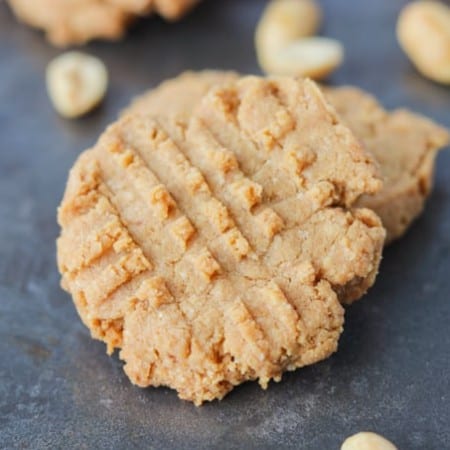 3 Ingredient Sugar Free Peanut Butter Cookies
These 3 Ingredient Sugar Free Peanut Butter Cookies are made with just 3 ingredients–and none of them are sugar! Satisfy your sweet tooth without the sugar crash with this easy recipe.
Equipment
parchment paper

Baking Sheet
Ingredients
1 cup granulated sugar substitute I use stevia
1 cup all natural creamy peanut butter
1 large egg
Instructions
Preheat oven to 350° F.

Prepare a baking sheet by lining it with parchment or with a silicone baking mat.

In a medium bowl, mix the stevia, peanut butter and egg together until well incorporated.

Roll the dough into 1-inch balls and place on the prepared baking sheet. Using the back of a fork, make a criss-cross pattern on each cookie.

Bake for 12 minutes.

Allow to cool on the baking sheet for a minute or two before transferring to a wire rack.
Notes
These cookies will not spread, so can be placed about an inch or so apart. They are not soft and chew and will be a bit crumbly in texture. Be sure to use an all natural peanut butter without any added sugar to get the best nutritional results. 
Nutrition
Serving: 1serving | Calories: 88kcal | Carbohydrates: 4g | Protein: 4g | Fat: 7g | Saturated Fat: 1g | Polyunsaturated Fat: 0.05g | Monounsaturated Fat: 0.1g | Trans Fat: 0.001g | Cholesterol: 9mg | Sodium: 59mg | Potassium: 93mg | Fiber: 1g | Sugar: 1g | Vitamin A: 13IU | Calcium: 9mg | Iron: 0.5mg
Did you make this recipe?
Share it with me on Instagram and make sure to follow me on Pinterest for more recipes.
Reader Interactions