If you need the perfect, melt-in-your-mouth shortbread cookie recipe, you can stop here. Whipped Shortbread is easy to make and fun to decorate. Add some colorful holiday sprinkles or mix it up for the New Year!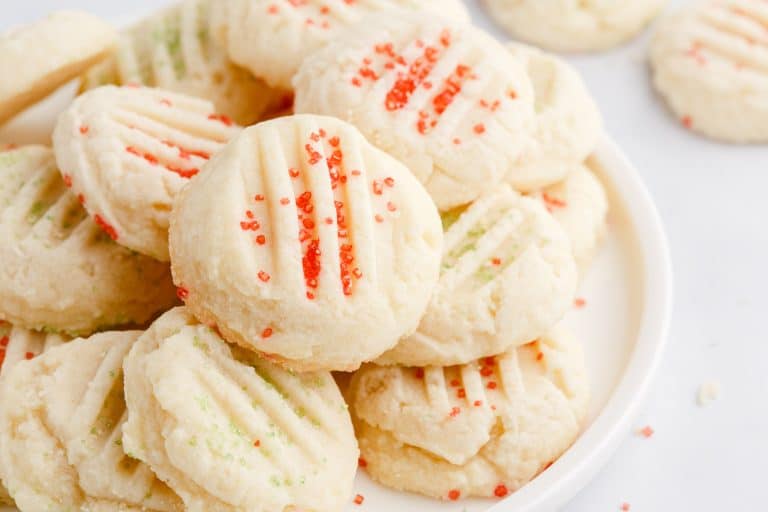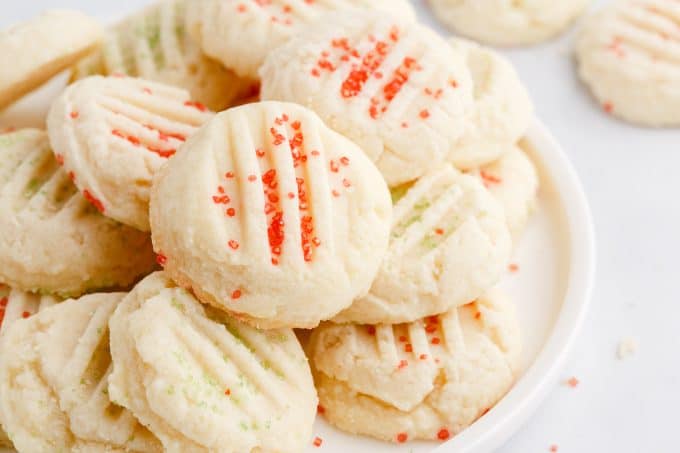 A good shortbread cookie is hard to find.
*This post contains an affiliate link(s).
The best shortbread cookies have a crisp bite that yields to a delicate buttery crumb.
There's nothing more disappointing than taking a bite of a shortbread Christmas cookie only to find it's hard, dense and bland.
These Whipped Shortbread Cookies never disappoint!
SAVE THIS EASY WHIPPED COOKIE RECIPE TO YOUR FAVORITE PINTEREST BOARD!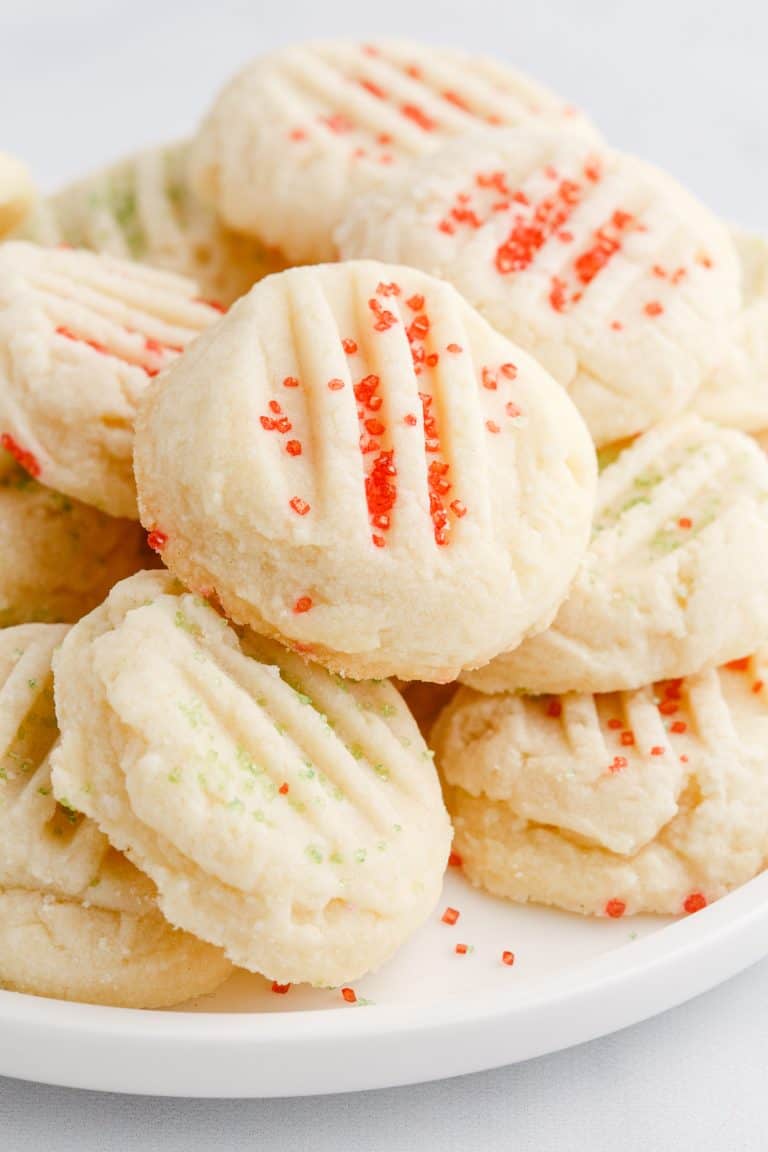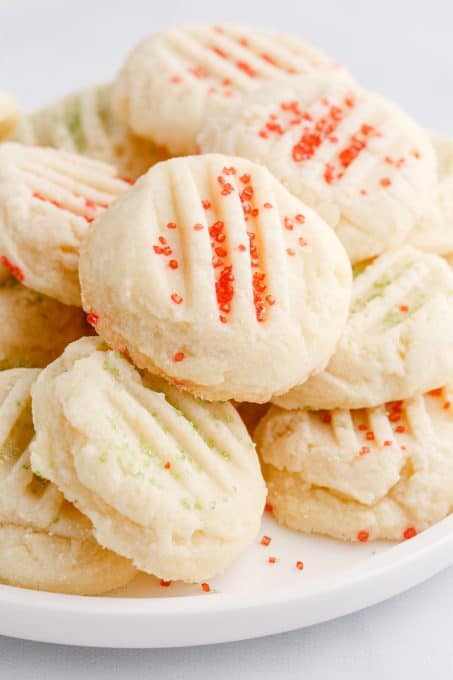 These Shortbread Cookies are Day 5 of our 12 Days of Cookies
Be sure to check out all of the other days for more goodies!
Day 1 – Fluffernutter Cookies
Day 2 – Toffee Coconut Oatmeal Bars
Day 3 – Double Chocolate M&M Christmas Cookies
Day 4 – Lace Cookies
Day 5 – You're on it!
Day 6 – Chocolate Spritz Cookies
Day 7 – 3 Ingredient Sugar Free PB Cookies
Day 8 – Wasabi Chocolate Crinkles
Day 9 – Christmas Sprinkle Cookies
Day 10 – Stained Glass Cookies
Day 11 – Cream Cheese Meltaways
Day 12 – Peppermint Sugar Cookie Cups
These shortbread Christmas cookies are made with whipped butter and cornstarch. The result is melt-in-your-mouth cookies that are light as air! The buttery flavor is enhanced with a hint of aromatic vanilla making your kitchen smell extra cozy as they bake.
Best of all? These cookies are easy enough for anyone to make! The kids will love helping decorate them with different colorful sprinkles.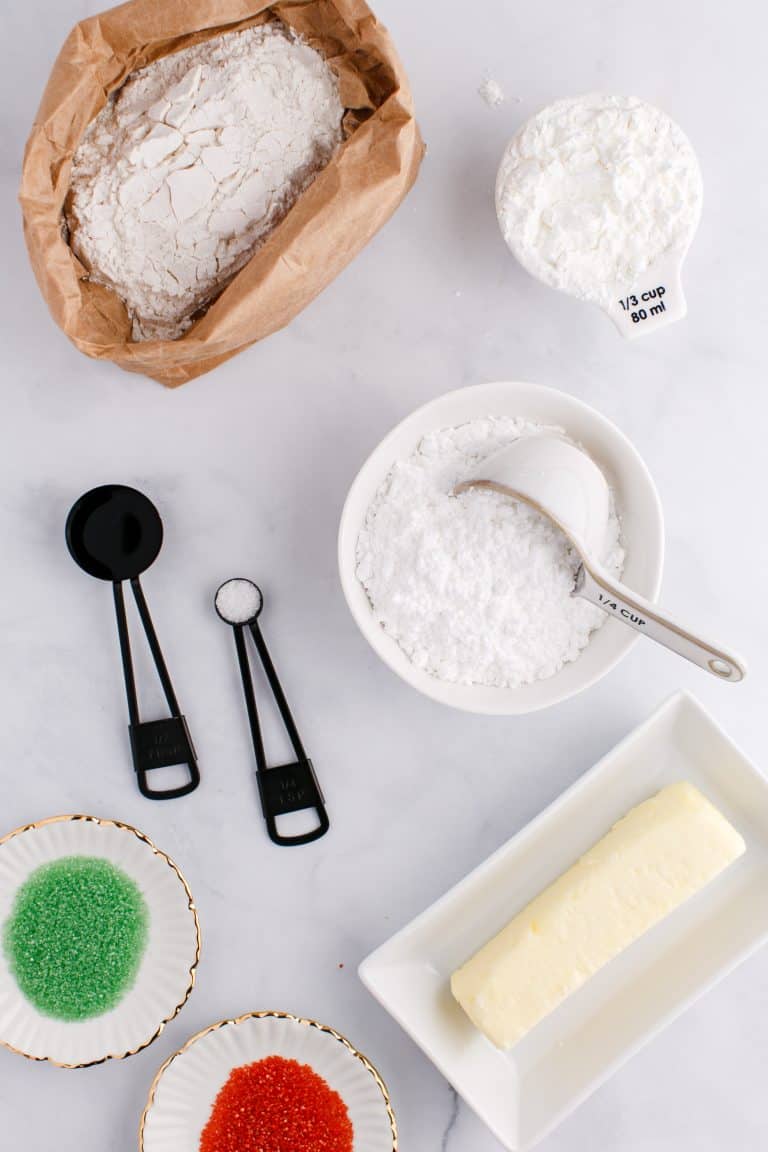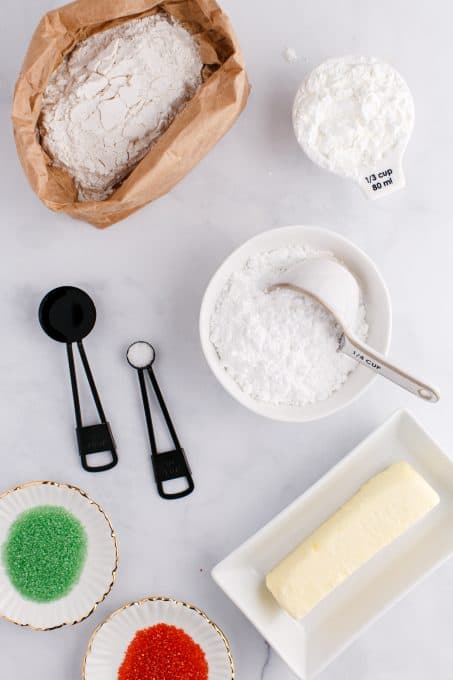 What do I need?
We use these ingredients to make the best Whipped Shortbread cookies:
all-purpose flour
cornstarch
sea salt
unsalted butter
icing sugar (powdered sugar)
vanilla extract
You will need the following supplies to make these cookies too:
Medium mixing bowl
Spatula
Fork
Cooling rack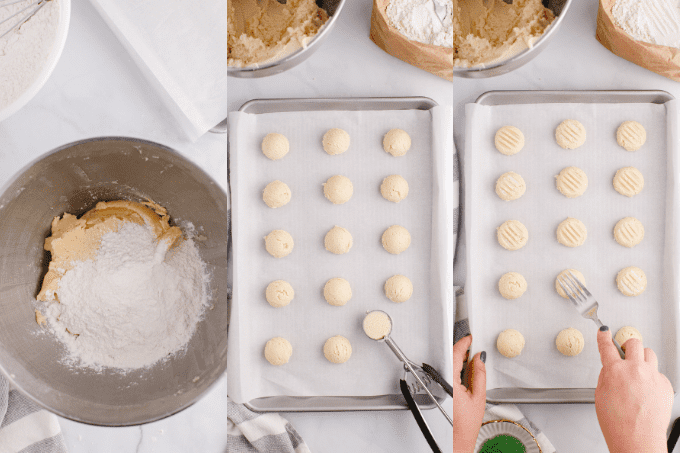 How to Make Whipped Shortbread
Start by whisking together the dry ingredients. Then beat softened butter with powdered sugar and vanilla with an electric mixer until it's fluffy and smooth. This is essential for achieving the best shortbread texture.
Now add the dry ingredient mixture in gradually. Mix until fully incorporated.
Scoop the dough by the spoonful onto a baking sheet. Dip a fork in flour then use the tines of the fork to gently flatten each cookie. Cover with sprinkles, bake until golden brown and let cool. Easy!
Why do you use cornstarch in shortbread cookies?
Adding cornstarch to Shortbread Cookies ensures that the crumb stays soft and delicate. I've made shortbread both with and without cornstarch and the difference is obvious: without the cornstarch, the cookies easily become crunchy and hard. In this recipe, the cornstarch gives the cookies their crumbly and tender texture.
I'll be adding corn starch to all my shortbread cookies from now on!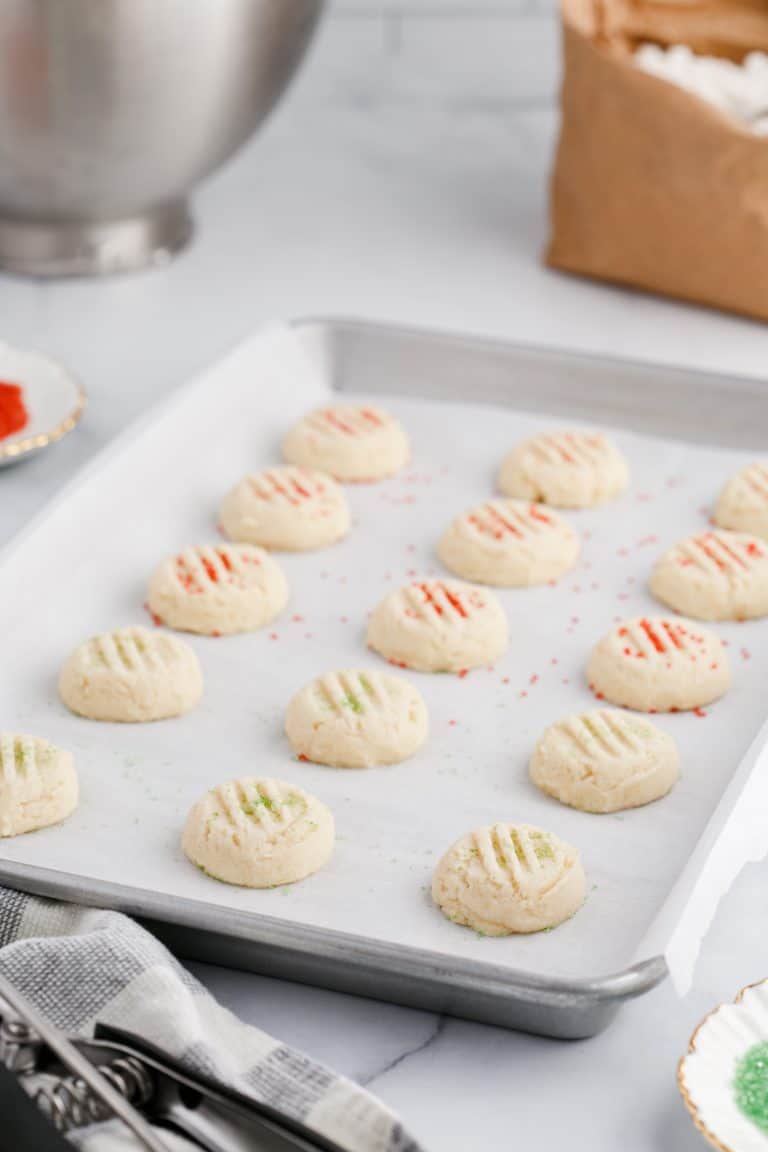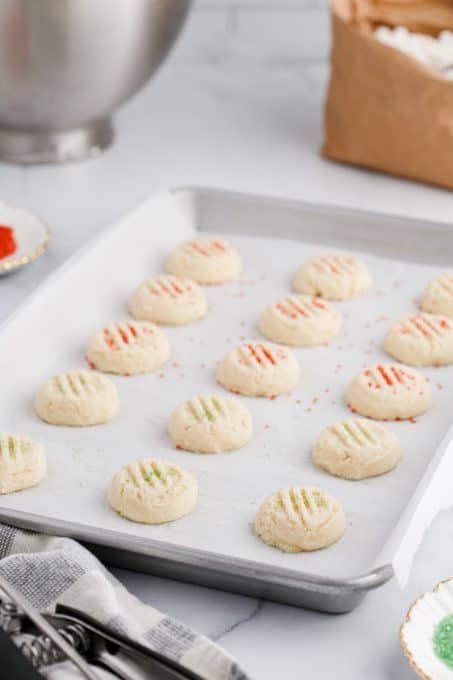 What is the benefit of using butter instead of margarine?
There is a taste difference between the two. Butter gives the shortbread most of its flavor so using margarine changes the taste dramatically. Margarine is also thicker and stickier than butter which makes the dough a lot harder to work with.
Last but not least, butter has a higher fat content than margarine. The fat is essential to give Whipped Shortbread Cookies their structure.
What kind of sprinkles are best?
I like to use sugar sprinkles on my shortbread cookies. You can also use nonpareils or jimmies sprinkles with delicious and festive results.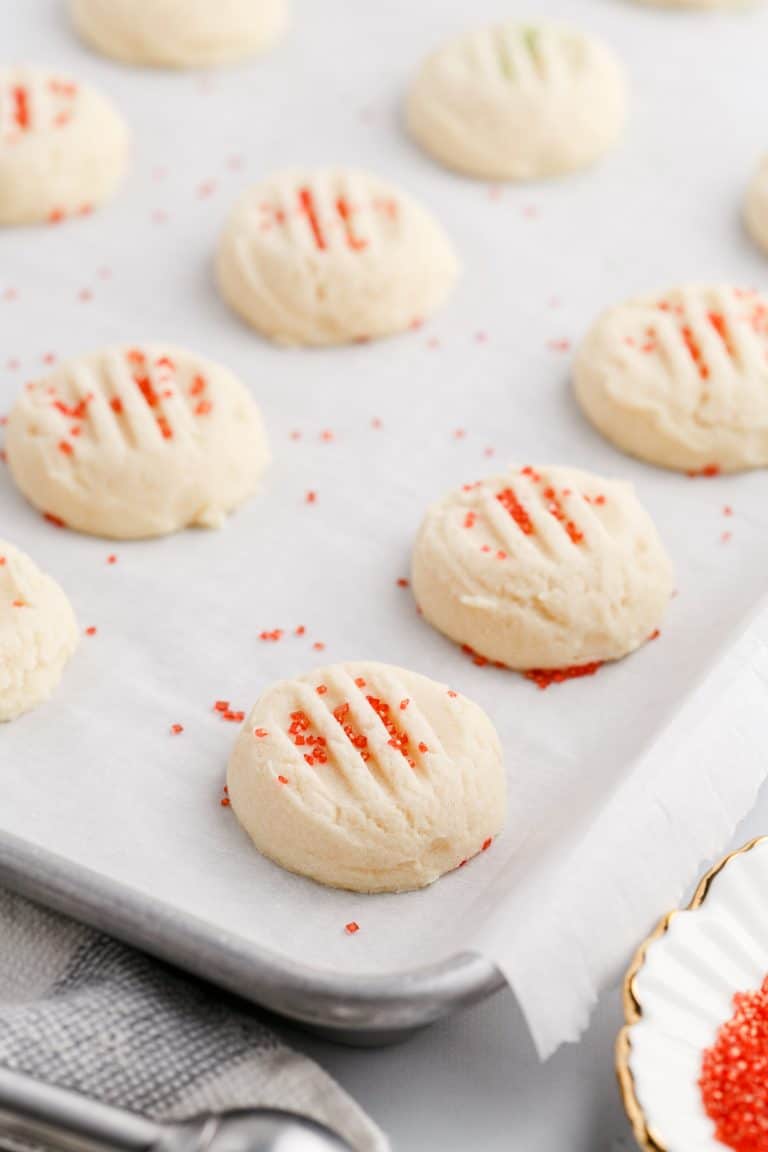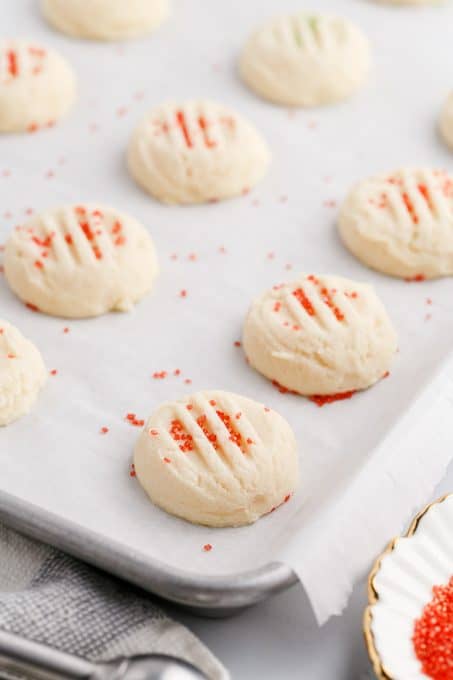 Christmas Cookies
Get caught up on all the tasty holiday treats we're baking this year!
If you have chocolate lovers in your life, show them some love with a batch of Chocolate M&M Christmas Cookies this holiday season. For toffee fans we have Toffee Coconut Oatmeal Bars and these toffee-like French Lace Cookies. Fluffernutter Cookies bring marshmallows and peanut butter together in one easy sandwich cookie.
Check out even more of our readers' favorite Christmas Cookie recipes next.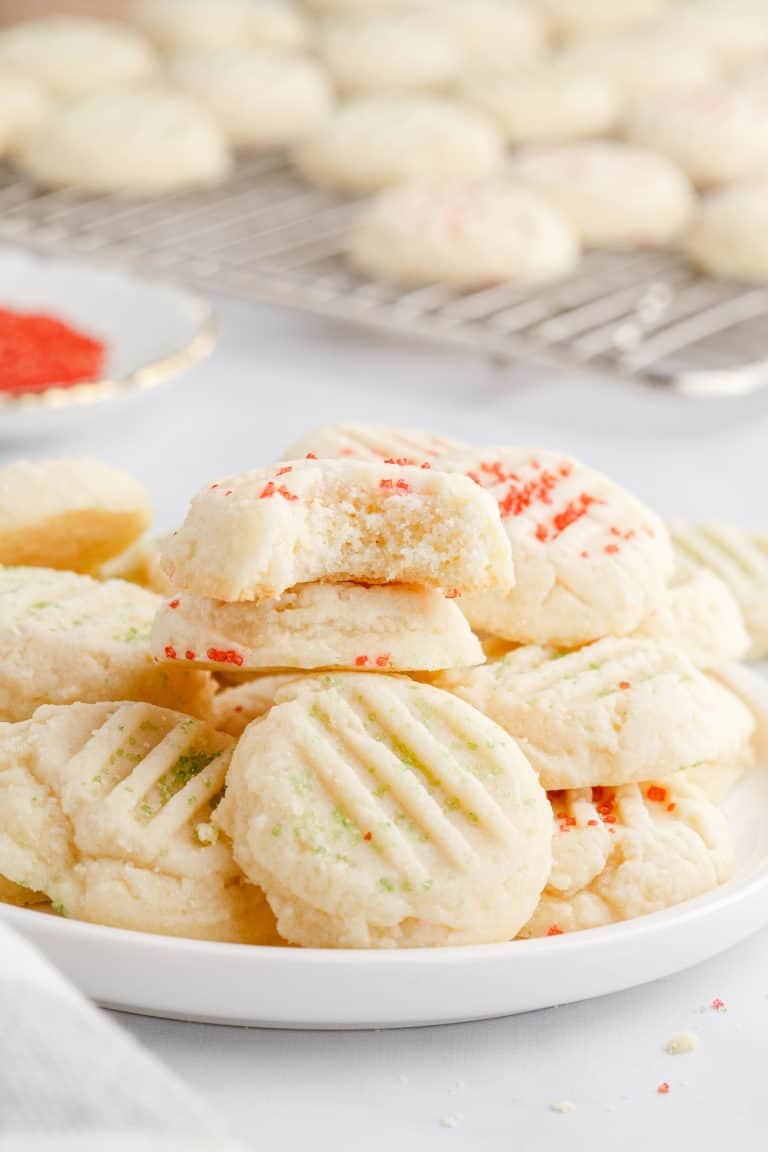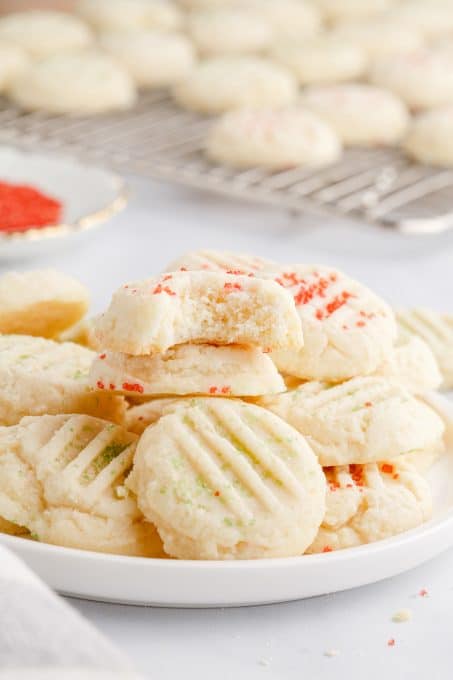 Sprinkle-dusted Whipped Shortbread Cookies are airy, light and melt-in-your-mouth delicious. This easy shortbread recipe is bound to become a new favorite part of your holiday traditions!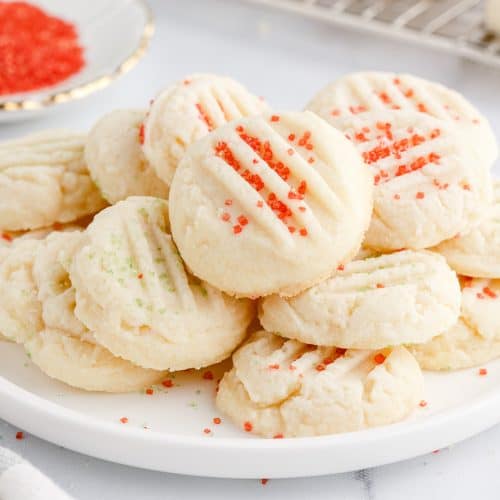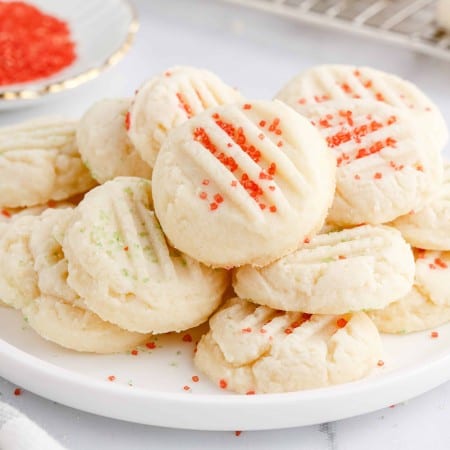 If you need the perfect, melt-in-your-mouth shortbread cookie recipe, you can stop here. Whipped Shortbread is easy to make and fun to decorate. Add some colorful holiday sprinkles or mix it up for the New Year!
Equipment
parchment paper

cookie sheet

medium mixing bowl

Stand mixer

spatula

Cookie scoop

Fork

cooling rack
Ingredients
2 cups all-purpose flour plus additional for tamping
⅓ cup cornstarch
¼ teaspoon kosher salt
1 ¼ cup unsalted butter room temperature
¾ cup powdered sugar
1 ½ teaspoons pure vanilla extract
red and green sprinkles if desired
Instructions
Preheat oven to 300°F, and line a cookie sheet with a piece of parchment.

In a medium mixing bowl, whisk together all-purpose flour, cornstarch and salt and put aside.

Using a stand mixer with the paddle attachment, beat the softened butter, powdered sugar, and vanilla together until light and fluffy (about 3-5 minutes). Scrape down the sides and bottom of the bowl as needed.

Gradually add in the flour mixture, about ½ cup at a time, mixing until fully incorporated.

Using a 1 tablespoon cookie scoop, place dough about 1 inch apart on a baking sheet.

Lightly dip a fork in flour and tap any excess off. Flatten the cookies about 1/3 of the way down. Add sprinkles and bake for 12-13 minutes.

Allow them to cool for at least 15 minutes on the cookie sheet before transferring to a wire rack.
Nutrition
Serving: 1cookie | Calories: 72kcal | Carbohydrates: 7g | Protein: 1g | Fat: 5g | Saturated Fat: 3g | Polyunsaturated Fat: 1g | Monounsaturated Fat: 1g | Trans Fat: 1g | Cholesterol: 13mg | Sodium: 13mg | Potassium: 7mg | Fiber: 1g | Sugar: 2g | Vitamin A: 148IU | Calcium: 2mg | Iron: 1mg
Did you make this recipe?
Share it with me on Instagram and make sure to follow me on Pinterest for more recipes.
*We are a participant in the Amazon Services LLC Associates Program, an affiliate advertising program designed to provide a means for us to earn fees by linking to Amazon.com and affiliated sites as well as ShareASale.
These are links that can take you to a product (or products) that I recommend. I do receive a portion of the sales or credit for my future purchases from any items purchased through those links. Your purchases encourage my baking, cooking and butter habit, and contribute to the life of this blog. I thank you so very much for your support. Let's keep having fun in the kitchen!!
Reader Interactions