Cream Cheese Meltaways are soft butter cookies topped with cream cheese frosting. You only need a few minutes and a handful of ingredients to make these easy melt-in-your-mouth sugar cookies.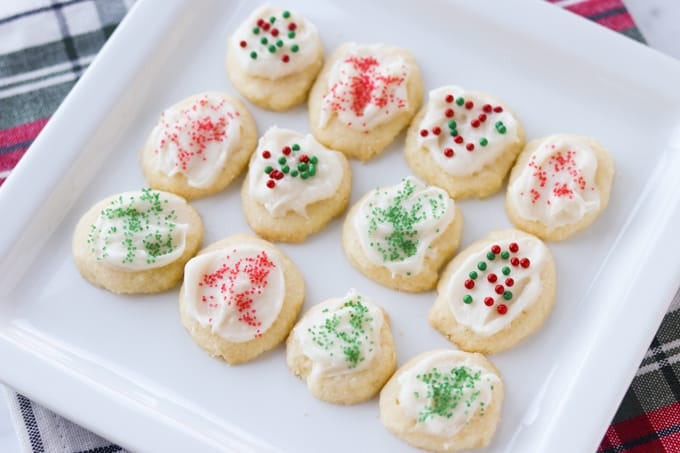 In case you haven't noticed by now, I adore cookies with cream cheese.
Some of my favorite cookies have cream cheese baked right in to the dough – like these Cream Cheese Cookies. In today's recipe the cream cheese is whipped into a fluffy icing and piped onto buttery cookies.
These Meltaway Cookies with Cream Cheese Frosting are Day 11 of our 12 Days of Cookies
Be sure to check out all of the other days for more goodies!
Day 1 – Fluffernutter Cookies
Day 2 – Toffee Coconut Oatmeal Bars
Day 3 – Double Chocolate M&M Christmas Cookies
Day 4 – Lace Cookies
Day 5 – Whipped Shortbread
Day 6 – Chocolate Spritz Cookies
Day 7 – 3 Ingredient Sugar Free PB Cookies
Day 8 – Wasabi Chocolate Crinkles
Day 9 – Christmas Sprinkle Cookies
Day 10 – Stained Glass Cookies
Day 11 – You're on it!
Day 12 – Peppermint Sugar Cookie Cups
SAVE THESE EASY CREAM CHEESE MELTAWAY COOKIES TO YOUR FAVORITE PINTEREST BOARD!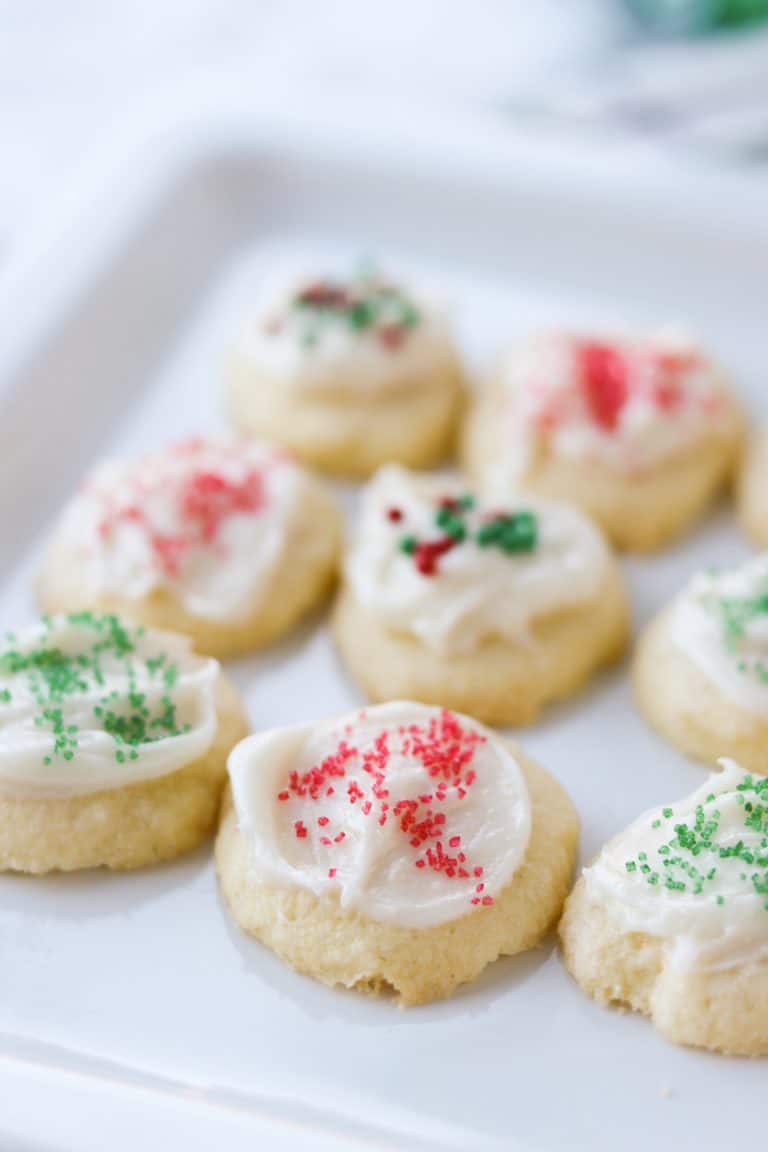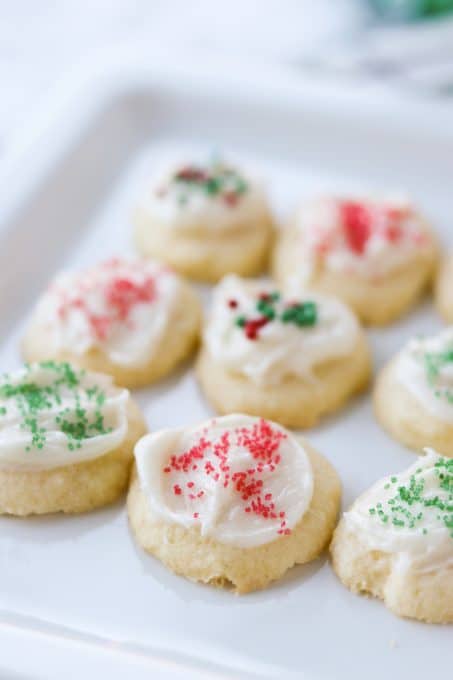 Sugar cookies with cream cheese frosting are a new holiday favorite! Of course, you can totally make them any time of year. Just change up the colors or sprinkles to suit your fancy.
This Cream Cheese Meltaways recipe is amazingly easy. It's perfect for both beginner bakers and seasoned cookie making veterans.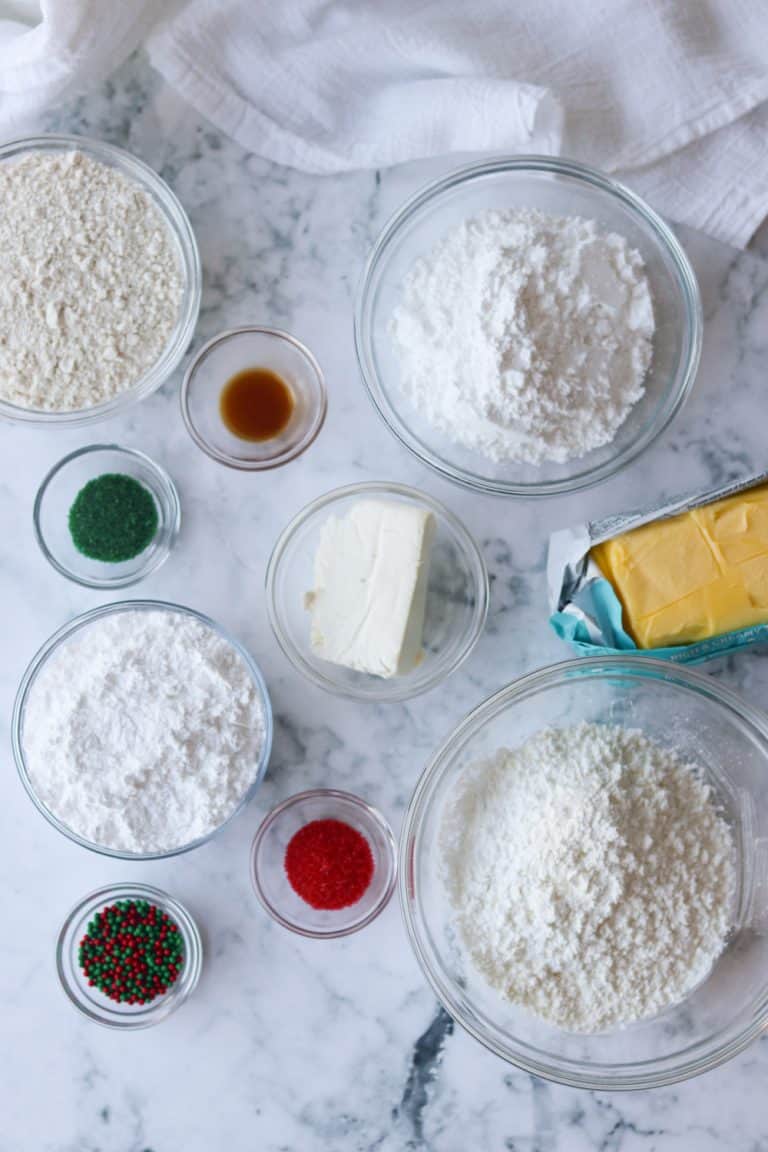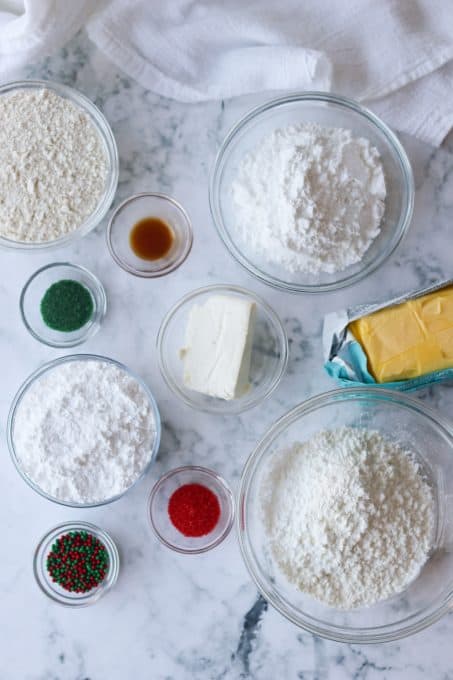 What do I need?
For the sugar cookie dough you will need:
butter
cornstarch
powdered sugar
all purpose flour
And you need these ingredients for the cream cheese frosting:
cream cheese
powdered sugar
vanilla
I also like using sprinkles or a touch of food gel coloring to give the frosted cookies some festive flair.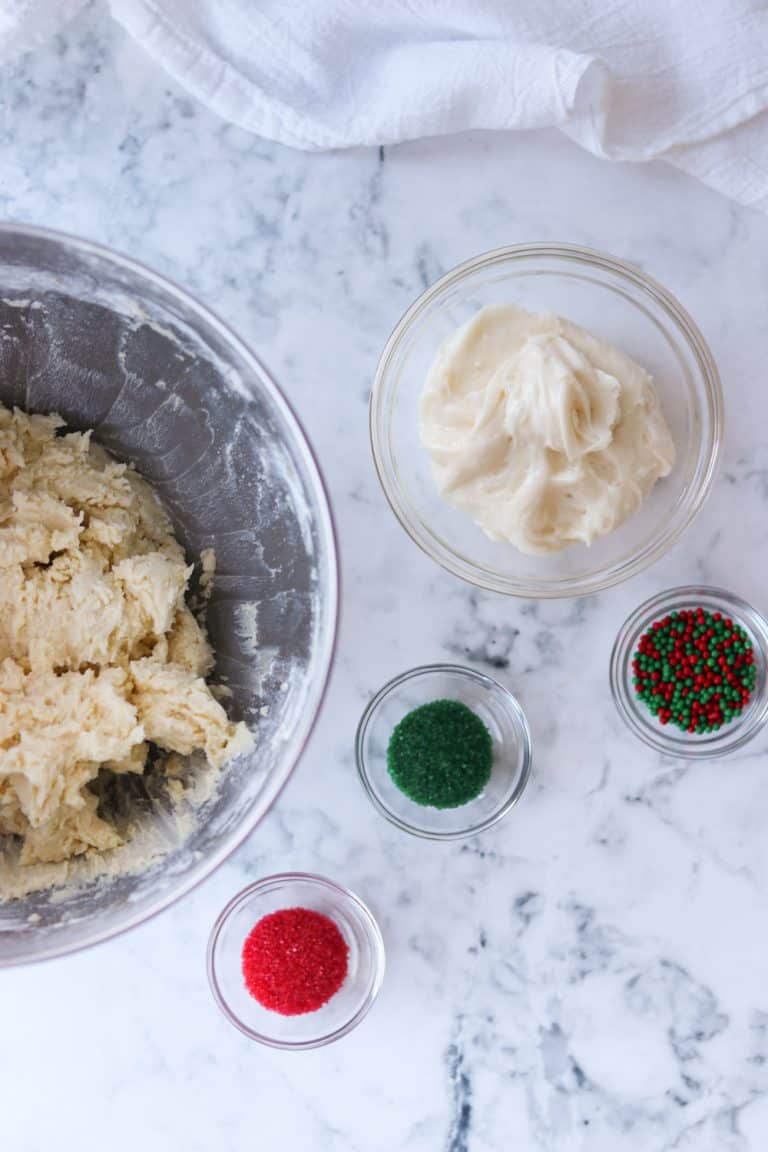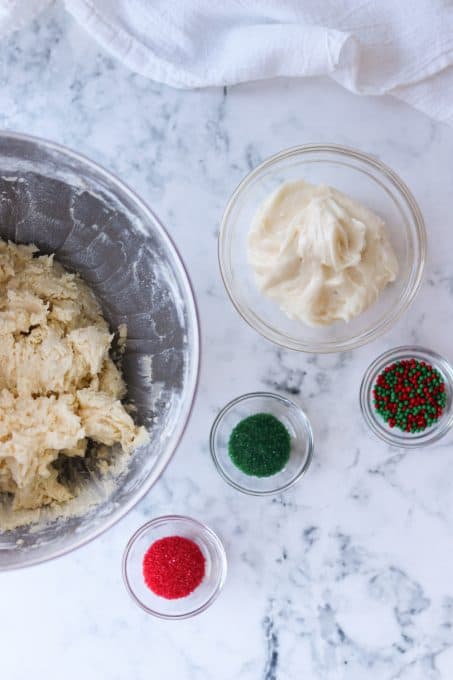 Why cornstarch?
Cornstarch is the secret to making super soft cookies. For Cream Cheese Meltaways we use almost as much cornstarch as flour. Mixed with plenty of butter and fine powdered sugar, this dough bakes into the softest cookies you've ever tasted.
Cream cheese cookies with cornstarch really do melt in your mouth!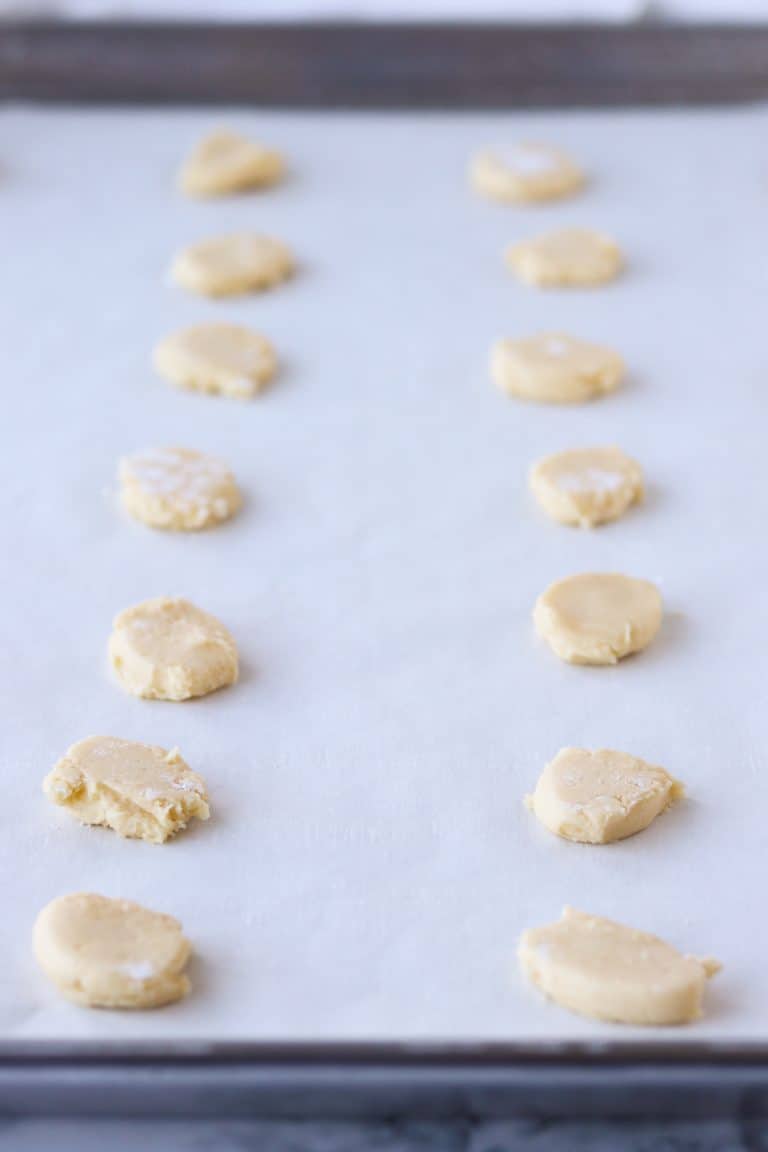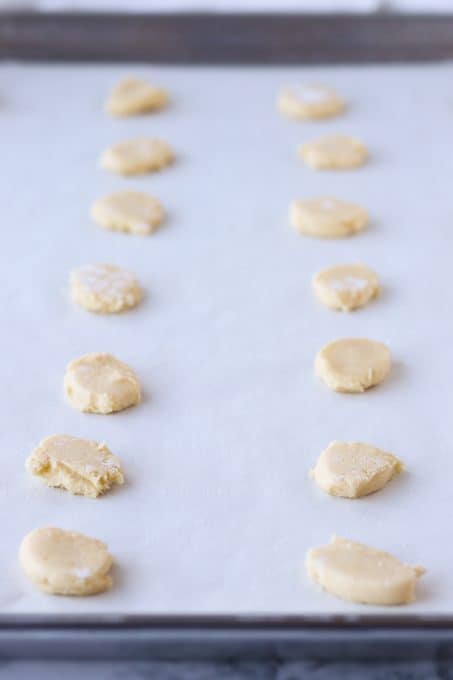 Tips for Meltaway Cookies
Measure dough with a teaspoon. These cookies are best when made on the smaller side.
Flatten slightly before baking. Dip the bottom of a glass in powdered sugar then lightly press each mound of cookie dough into a disk.
Let cool completely. Give the cookies plenty of time to cool before adding the cream cheese frosting. Warm cookies will cause the frosting to run off.
Use a butter knife or rubber spatula to spread frosting over each cooled cookie. Then dress them up with sprinkles to your hearts content! For different colored frosting, add a drop or two of food coloring to the frosting before decorating.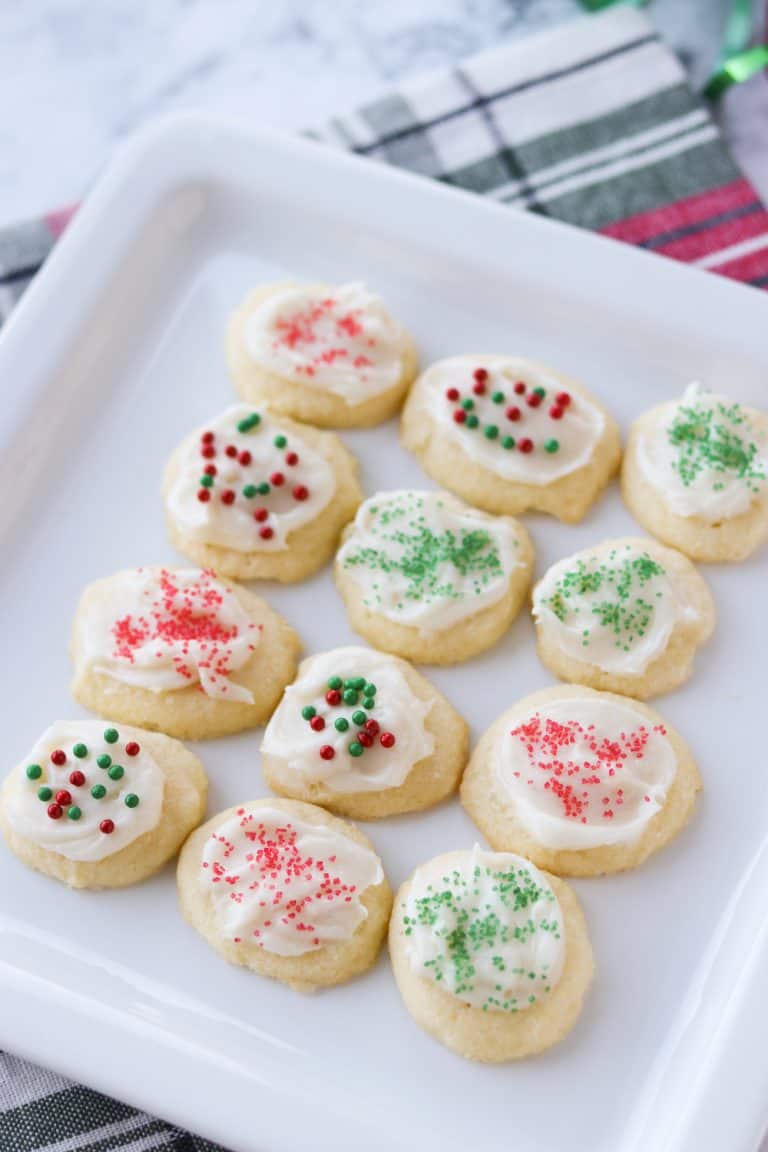 How much food coloring?
A little goes a long way when it comes to food coloring. To control the shade of your frosting, place a couple of drops onto a paper plate. Dip a toothpick into the gel then swirl the gel through the cream cheese frosting.
Repeat until the frosting reaches your desired perfect color or shade.
Should you refrigerate cream cheese frosting?
Cookies frosted with a cream cheese icing should be stored in the refrigerator if not eaten within a few hours. Stored in the refrigerator, these cookies stay good for about one week.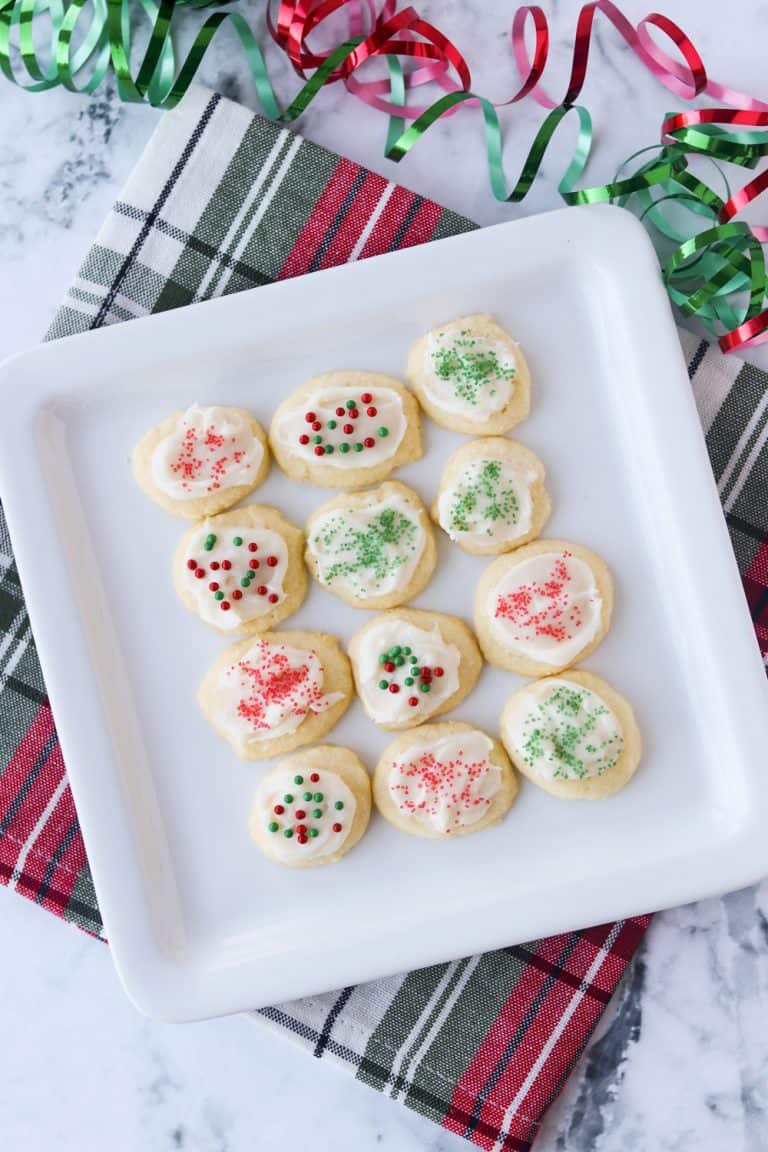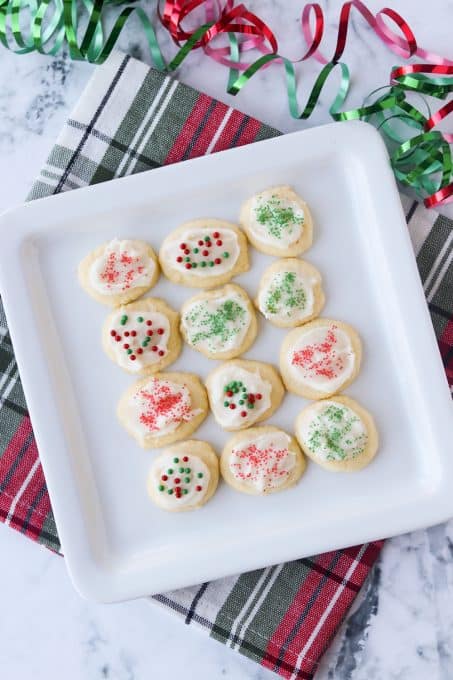 Easy Cookie Recipes
The busy holiday season is prime time for quick and easy cookie recipes.
When you need a last minute homemade dessert for the office party, these 3 Ingredient Peanut Butter Cookies are a lifesaver. They're flour-free and ready in 13 minutes!
For a treat that's as colorful as it is easy, my Peppermint Blossom Cookies are a winner. Readers loved them so much I made a chocolate version too.
No oven? You don't need one to make these popular No Bake Peanut Butter S'Mores Cookies. I love the addition of soft marshmallows to a classic no bake cookie.
More Cookie Recipes
Cozy up this Christmas season with even more delicious cookies with these other easy recipes.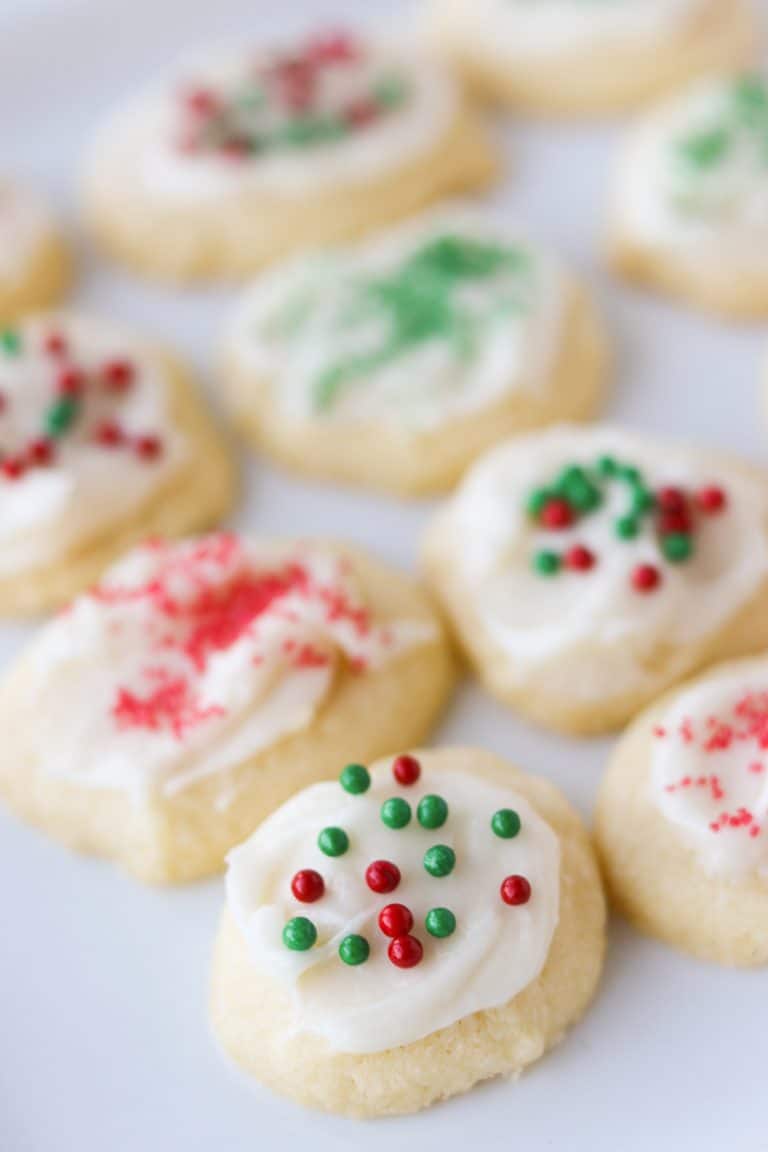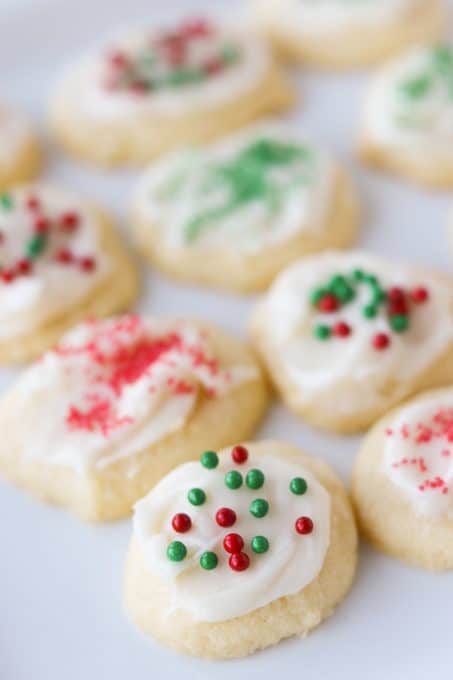 Everyone loves sugar cookies with cream cheese frosting! This Cream Cheese Meltaways recipe is one of the easiest and best tasting cream cheese cookie recipes for the holidays.
A big thanks to Nickie, one of my Facebook followers, for sharing this recipe with us. ❤️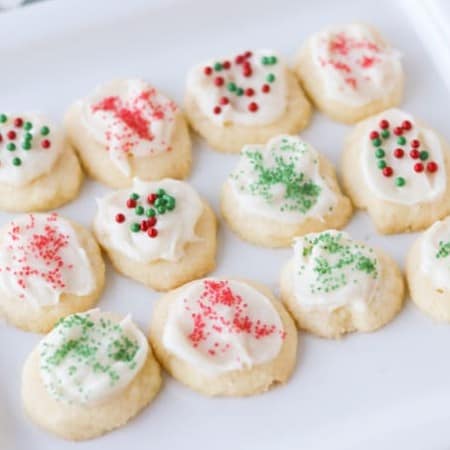 Ingredients
1 cup butter room temperature
¾ cup cornstarch
¾ cup powdered sugar
1 cup all-purpose flour
Cream Cheese Frosting
3 ounces cream cheese room temperature
1 cup powdered sugar
½ teaspoon pure vanilla extract
food coloring, and / or sprinkles if desired
Instructions
Preheat oven to 350°. Line two baking sheets with a pieces of parchment.

In a mixing bowl, cream butter until fluffy, about 3 minutes. Mix in the cornstarch and sugar.

Add flour and mix until well combined.

Drop by small teaspoonfuls onto a prepared baking sheet. Using the bottom of a glass dipped in powdered sugar to prevent sticking, gently press down to flatten the dough.

Bake for 10-12 minutes.

Let sit for about a minute before transferring to wire rack to cool completely before frosting.
Cream Cheese Frosting
In a medium mixing bowl, beat the cream cheese until smooth, add the powdered sugar and vanilla, and thoroughly combine. Add food coloring if desired.
Nutrition
Serving: 1cookie | Calories: 40kcal | Carbohydrates: 5g | Protein: 1g | Fat: 2g | Saturated Fat: 2g | Polyunsaturated Fat: 1g | Monounsaturated Fat: 1g | Trans Fat: 1g | Cholesterol: 7mg | Sodium: 22mg | Potassium: 4mg | Fiber: 1g | Sugar: 2g | Vitamin A: 77IU | Calcium: 2mg | Iron: 1mg
Did you make this recipe?
Share it with me on Instagram and make sure to follow me on Pinterest for more recipes.
Reader Interactions