These Chocolate Spritz Cookies taste as good as they look! A simple cocoa cookie dough is pressed into beautiful holiday designs and covered with sprinkles in this easy recipe.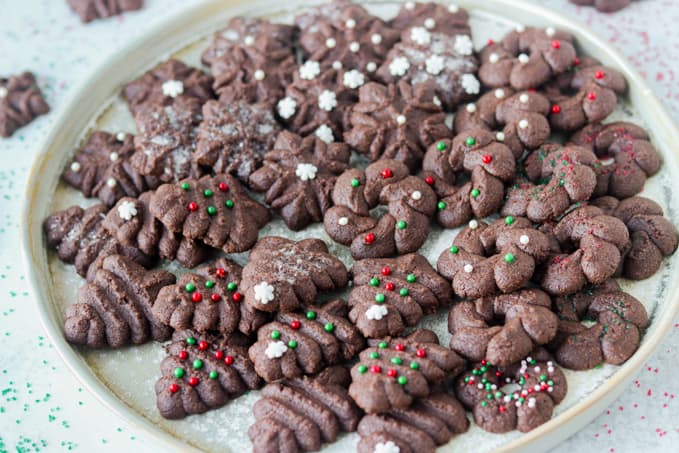 Remember my classic Spritz Cookie Recipe? Like most things in life, they're even better with chocolate!
*This post contains an affiliate link(s).
Chocolate Spritz Cookies look complicated with their intricate designs, but they're surprisingly easy to make. All you need is a few simple ingredients and a good cookie press!
These Cream Cheese Spritz Cookies are Day 6 of our 12 Days of Cookies
Be sure to check out all of the other days for more goodies!
Day 1 – Fluffernutter Cookies
Day 2 – Toffee Coconut Oatmeal Bars
Day 3 – Double Chocolate M&M Christmas Cookies
Day 4 – Lace Cookies
Day 5 – Whipped Shortbread
Day 6 – You're on it!
Day 7 – 3 Ingredient Sugar Free PB Cookies
Day 8 – Wasabi Chocolate Crinkles
Day 9 – Christmas Sprinkle Cookies
Day 10 – Stained Glass Cookies
Day 11 – Cream Cheese Meltaways
Day 12 – Peppermint Sugar Cookie Cups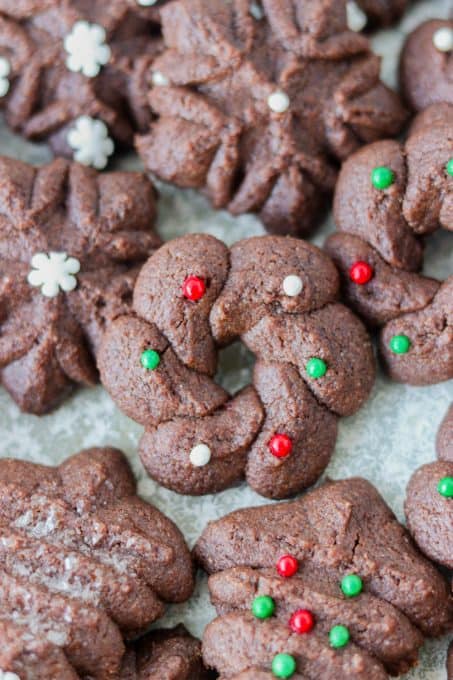 Christmas isn't Christmas for me unless I've made some form of spritz cookie! These light and buttery cookies are piped through a cookie press and dusted with sprinkles before baking.
This year I took my spritz cookie game to the next level by adding a chocolate-y twist. The rich cocoa flavor is spectacular and the colorful sprinkles really pop against the darker cookie.
Chocolate Spritz Cookies take just a few minutes to come together making them the perfect last minute addition to your holiday cookie trays!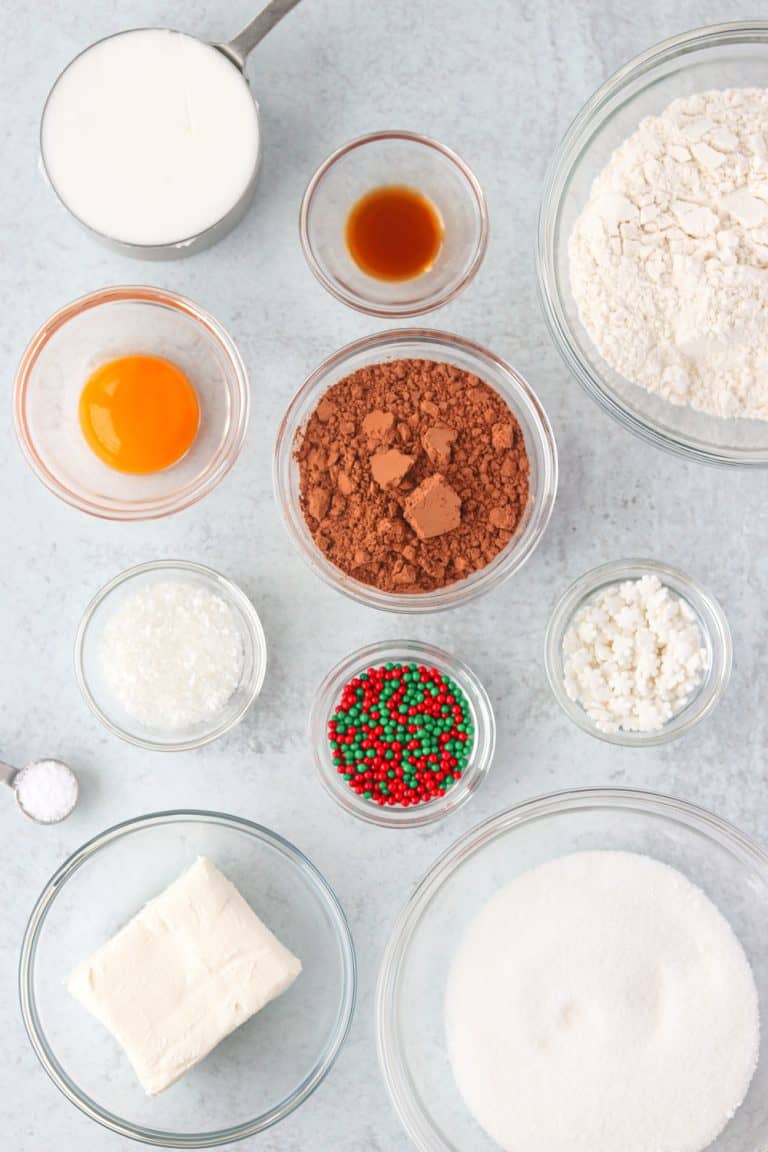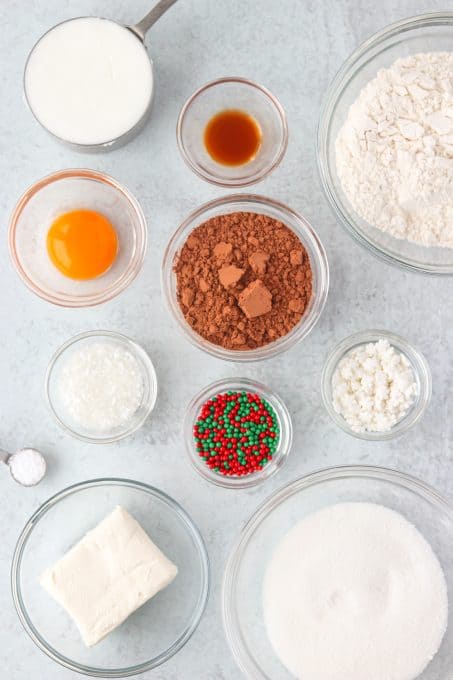 What do I need?
You will need the following ingredients for this Chocolate Spritz Cookies recipe:
cream cheese
shortening
sugar
egg yolk
sifted flour
cocoa powder
vanilla
salt
sprinkles for decorating
You'll also need an electric mixer and a cookie press. Fit your cookie press with disks in holiday shapes to make these cookies even more festive!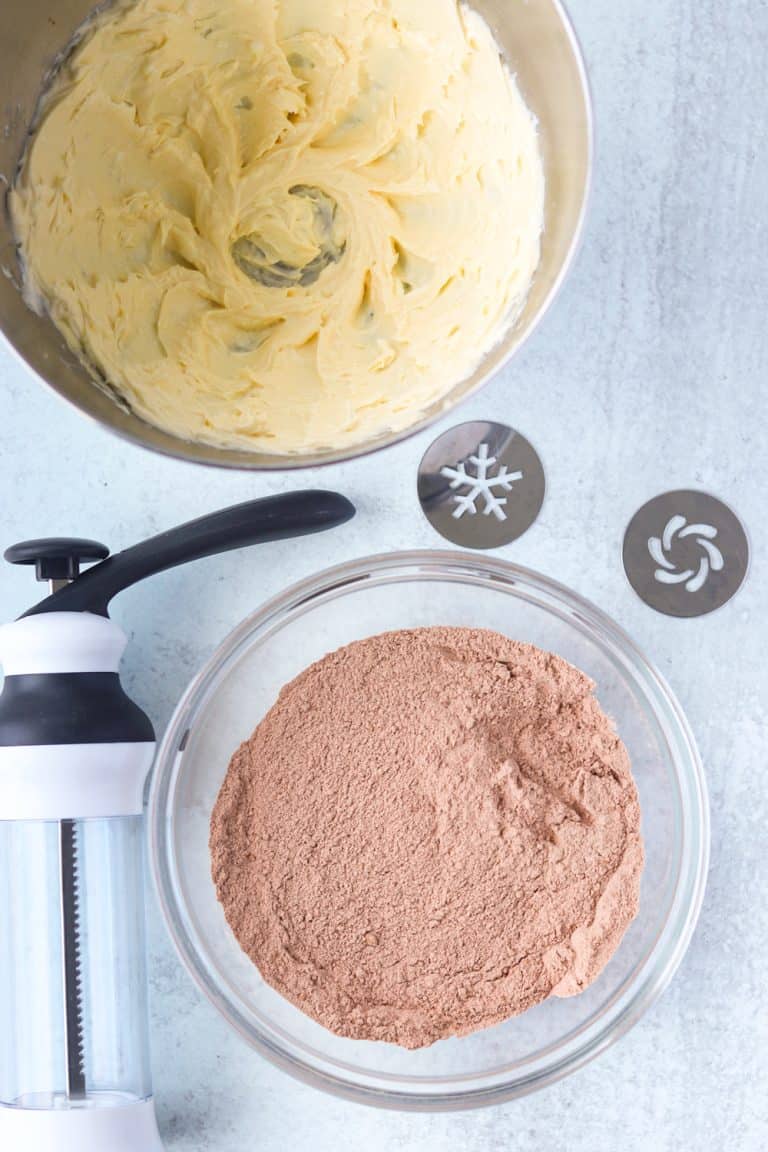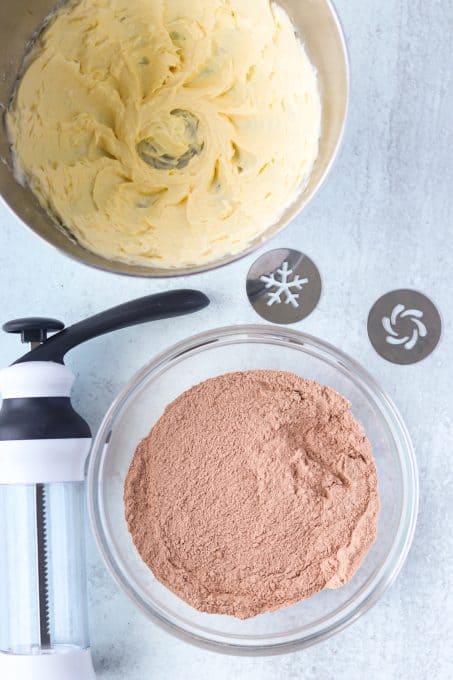 Why do you have to sift the flour?
Sifting flour for spritz cookies serves two purposes. First, sifting helps break up any large clumps of flour which allows for a more even mixing of ingredients. Sifting also incorporates air into the flour giving these cookies their light consistency.
How do you measure sifted flour?
Accurate measuring is essential to baking, especially when it comes to flour. In this cookie recipe, I recommend measuring the flour both before and after sifting for consistency.
Spoon flour into your measuring cup. Use a knife to level off the top. Transfer measured flour to your sifting tool (I use a fine mesh sieve) and sift over a bowl. After sifting spoon the flour back into the measuring cup and level off the top again before adding it to the cookie recipe.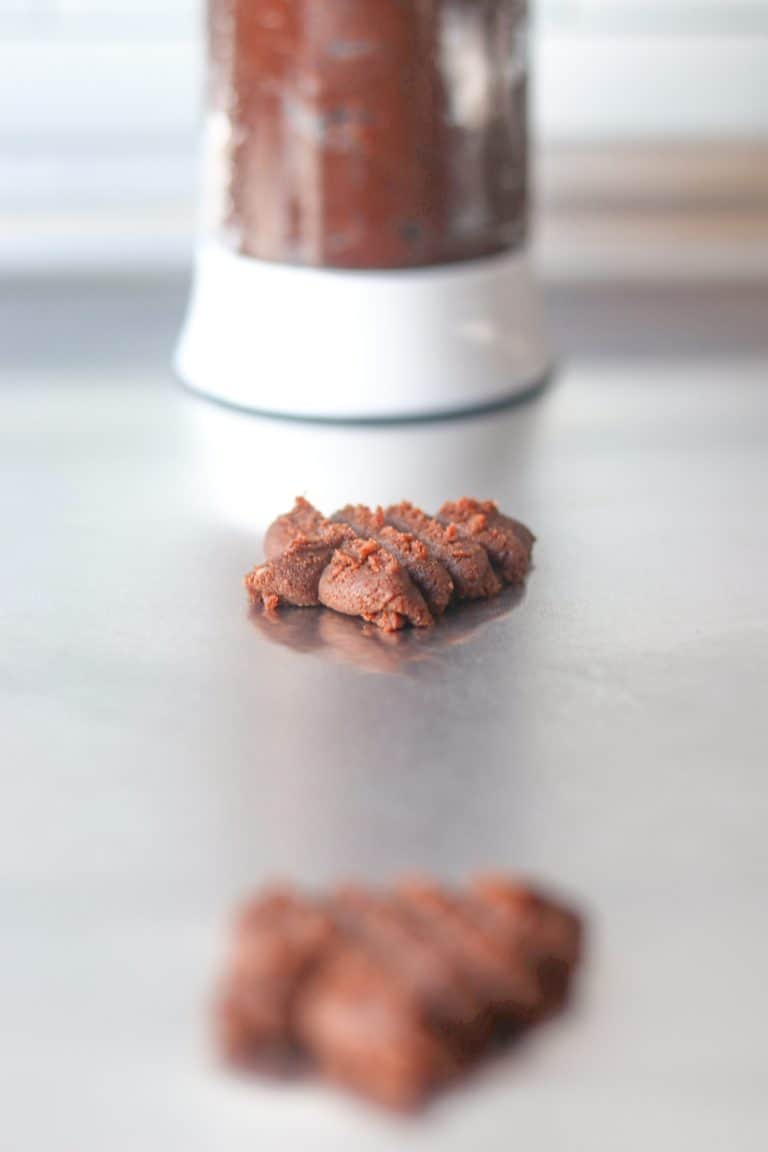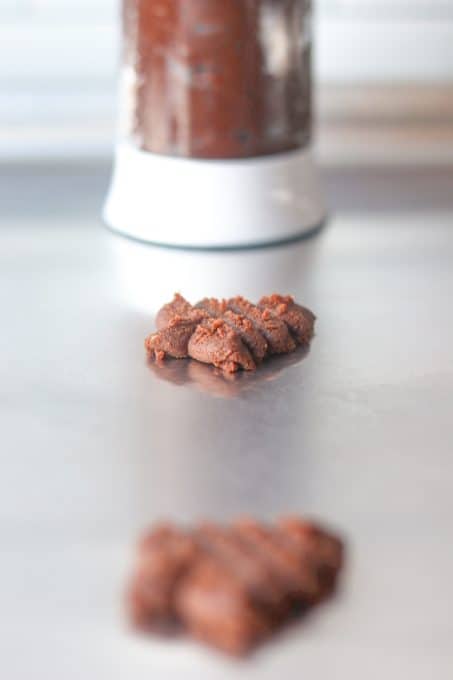 What is a cookie press?
A cookie press is a utensil that is used to create uniform cookies with a consistent shape. Cookie dough is placed in the barrel then pressed through a disk onto a baking sheet.
Cookie presses are fairly inexpensive and easy to use with amazing results. With differently patterned disks you can use it to shape your cookies all year long, not just during the holidays!

I've used a few different cookie presses over the years, and I've found this one to be the best.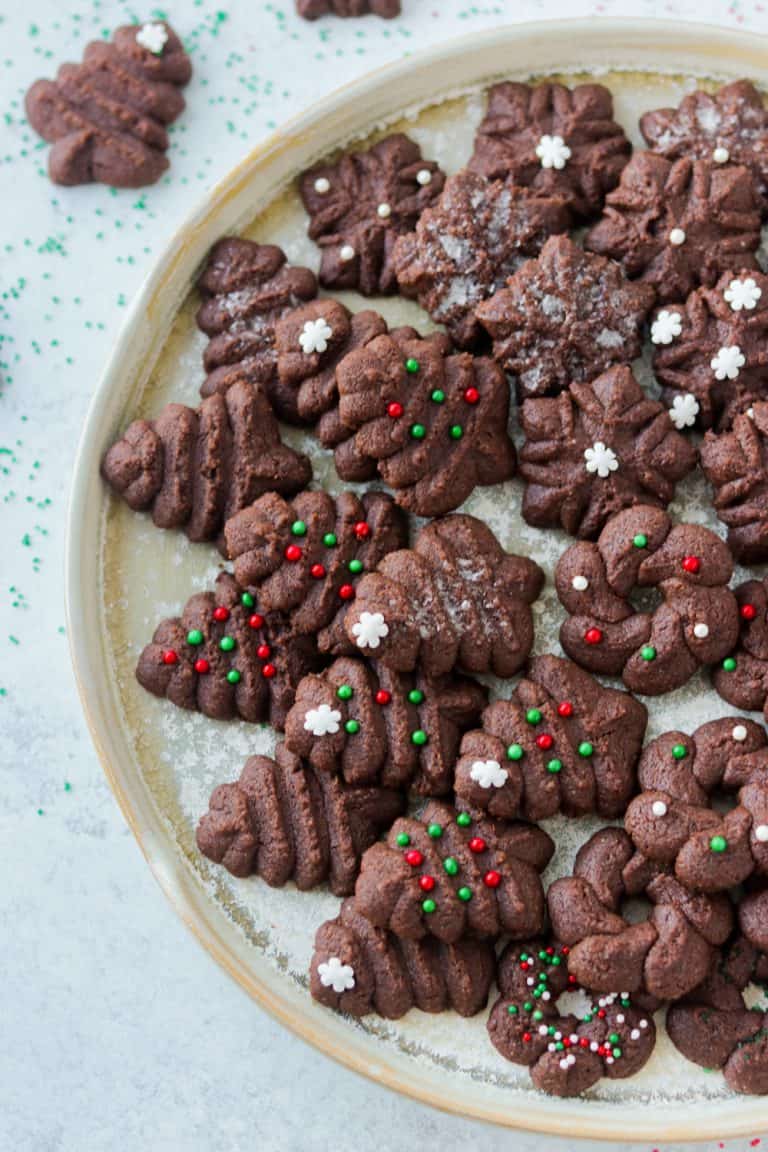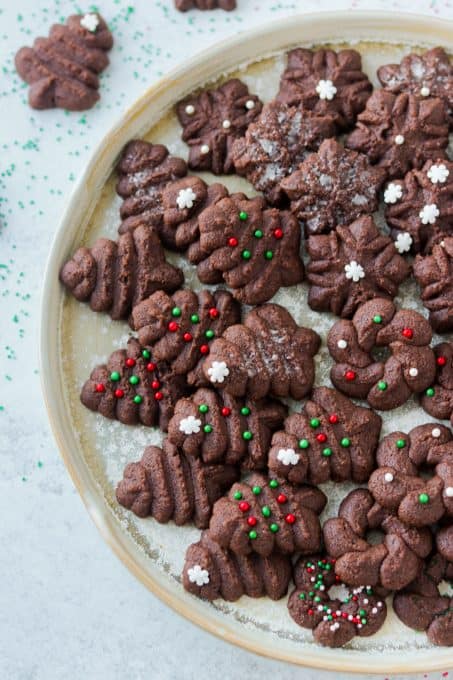 Tips for Making Spritz Cookies
Make sure your cookie press and all its attachments are clean and dry before using. If it's been a while since your cookie press was last used, it's a good idea to give it a scrub with warm soapy water before getting it back in action.
If the dough sticks to the cookie press, use your finger or a butter knife to gently remove it.
Add the sprinkles BEFORE baking the spritz cookies. These Christmas Cookies are not frosted so if you try to add the garnishes after baking, they'll have nothing to stick to.
Use an unlined baking sheet for this recipe! The dough needs something to stick to when it's being piped out of the cookie press.
Do not overbake. It's okay if the cookies still look a little soft when they come out of the oven. They will continue to cook as they cool on the baking sheet.
Can you freeze Chocolate Spritz Cookies?
Yes, Chocolate Spritz Cookies hold up well to freezing. Keep in mind that the sprinkles may bleed color into the cookies as they thaw so they may not look quite as "neat" after freezing and thawing.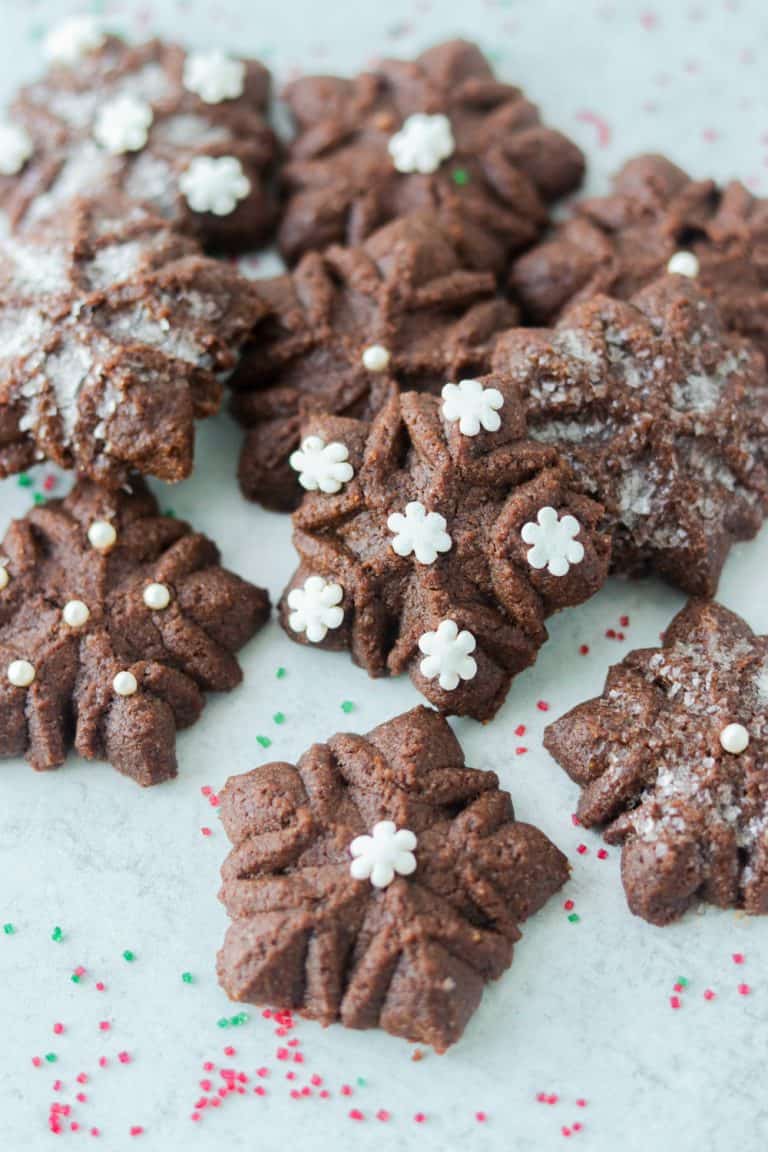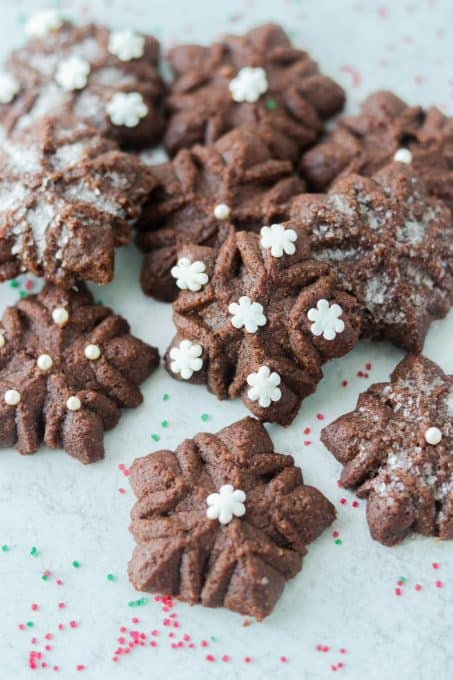 Cookie Recipes
Love spritz cookies but don't have a cookie press? I based both my original Spritz Cookie Recipe and this chocolate variation on these Cream Cheese Cookies! They have the same great flavor of spritzes in easy drop cookie form.
If you like today's Chocolate Spritz Cookies, you'll love these other Christmas cookies too: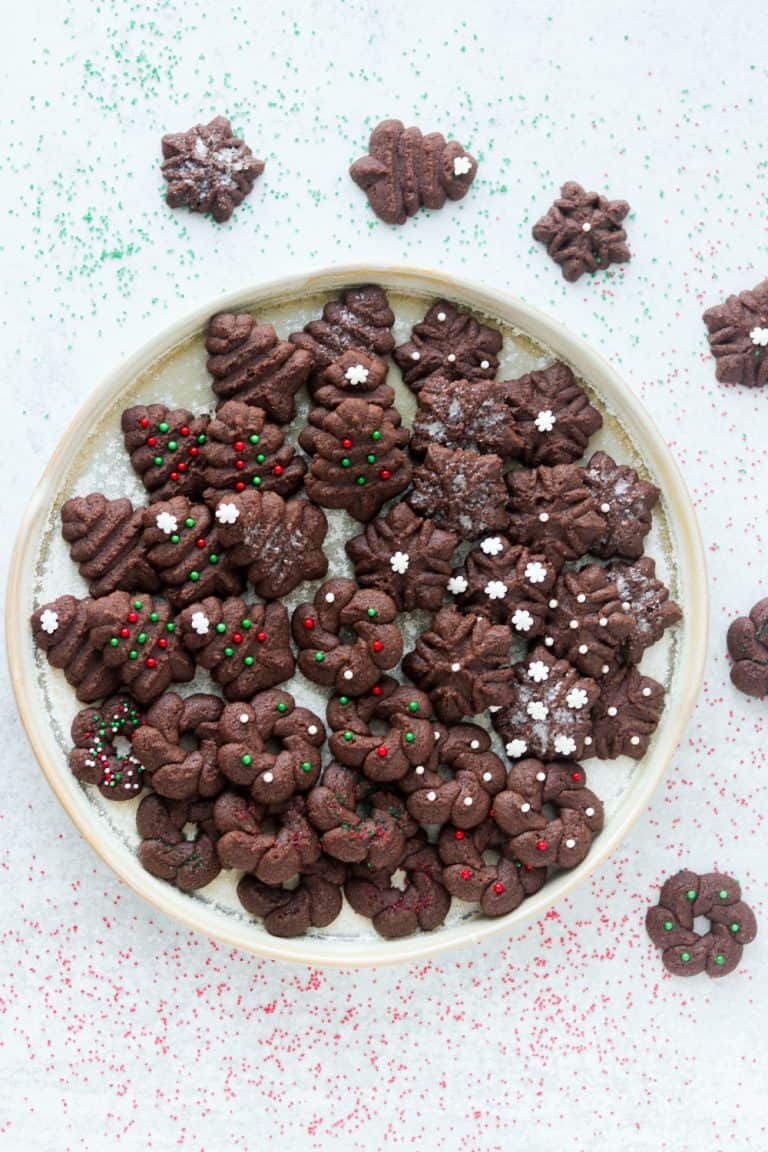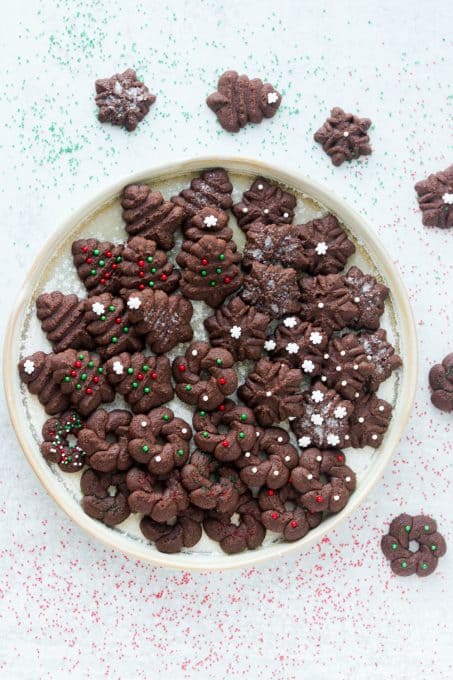 Cream cheese cookies and chocolate come together in this easy Chocolate Spritz Cookies recipe! Grab your cookie press and get ready to impress your friends with beautifully delicious holiday cookies.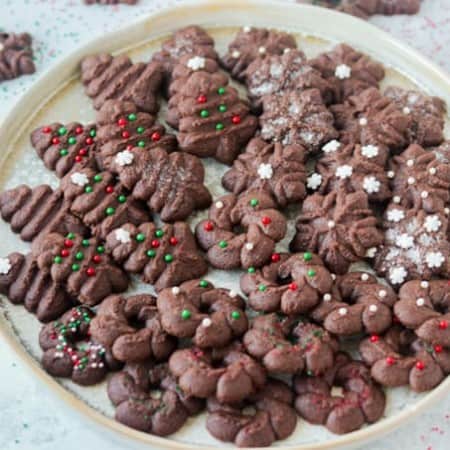 These Chocolate Spritz Cookies taste as good as they look! A simple cocoa cookie dough is pressed into beautiful holiday designs and covered with sprinkles in this easy recipe.
Ingredients
3 ounces cream cheese room temperature
½ cup shortening
½ cup granulated sugar
1 egg yolk
1 cup sifted flour
⅓ cup unsweetened cocoa powder
½ teaspoon pure vanilla extract
¼ teaspoon kosher salt
various holiday sprinkles, cookie decorations and/or melted chocolate if desired
Instructions
Preheat oven to 350° F.

In a mixer, cream the shortening and cream cheese until smooth and well combined. Add the sugar and beat well until light and fluffy, about three minutes.

Add the egg yolk and vanilla and mix well.

In a medium bowl, whisk together the flour, cocoa and salt. Add to wet ingredients and blend until combined.

Using a spatula or knife, press dough into the barrel of the cookie press and use according to manufacturer's directions. Place the cookie press on a baking sheet, squeeze the trigger, and gently lift up. If dough should stick to the press, gently remove with the tip of a knife or finger. Cookies can be about 1 ½ inches apart on the baking sheet. Decorate with sprinkles, etc. if desired.

Bake for 10 minutes.

Allow to cool on baking sheet for a couple of minutes before transferring to a wire rack to cool completely.
Nutrition
Serving: 1cookie | Calories: 36kcal | Carbohydrates: 4g | Protein: 1g | Fat: 2g | Saturated Fat: 1g | Polyunsaturated Fat: 1g | Monounsaturated Fat: 1g | Trans Fat: 1g | Cholesterol: 2mg | Sodium: 15mg | Potassium: 12mg | Fiber: 1g | Sugar: 2g | Vitamin A: 20IU | Calcium: 2mg | Iron: 1mg
Did you make this recipe?
Share it with me on Instagram and make sure to follow me on Pinterest for more recipes.
*We are a participant in the Amazon Services LLC Associates Program, an affiliate advertising program designed to provide a means for us to earn fees by linking to Amazon.com and affiliated sites as well as ShareASale.
These are links that can take you to a product (or products) that I recommend. I do receive a portion of the sales or credit for my future purchases from any items purchased through those links. Your purchases encourage my baking, cooking and butter habit, and contribute to the life of this blog. I thank you so very much for your support. Let's keep having fun in the kitchen!!
Reader Interactions