An unexpected flavor combination makes these Chocolate Wasabi Crinkles stand out from the crowd! Pungent wasabi and crushed wasabi peas are added to classic chocolate crinkle cookies for a uniquely delicious holiday treat.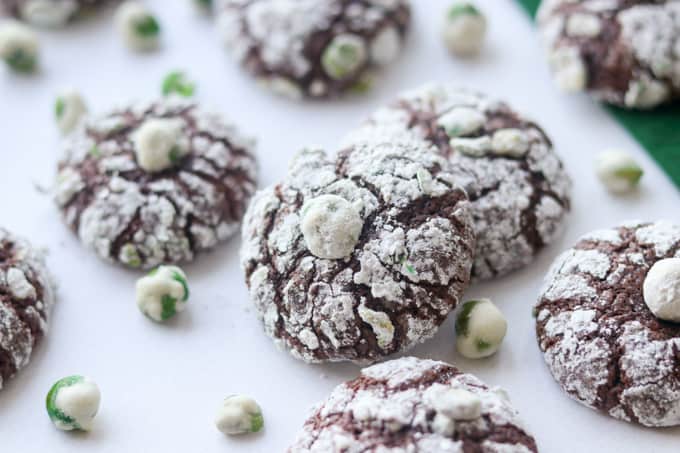 This chocolate cookie recipe is anything but ordinary.
If you love sweet and spicy desserts, this crinkle cookie is about to rock your world.
These Chocolate Crinkle Cookies are Day 8 of our 12 Days of Cookies
Be sure to check out all of the other days for more goodies!
Day 1 – Fluffernutter Cookies
Day 2 – Toffee Coconut Oatmeal Bars
Day 3 – Double Chocolate M&M Christmas Cookies
Day 4 – Lace Cookies
Day 5 – Whipped Shortbread
Day 6 – Chocolate Spritz Cookies
Day 7 – 3 Ingredient Sugar Free Peanut Butter Cookies
Day 8 – You're on it!
Day 9 – Christmas Sprinkle Cookies
Day 10 – Stained Glass Cookies
Day 11 – Cream Cheese Meltaways
Day 12 – Peppermint Sugar Cookie Cups
Have you ever tasted chocolate with wasabi?
Even I wasn't sure what to expect at first.
In my mind wasabi is something that belongs with sushi, not cookies.
SAVE THESE EASY CHOCOLATE WASABI COOKIES TO YOUR FAVORITE PINTEREST BOARD!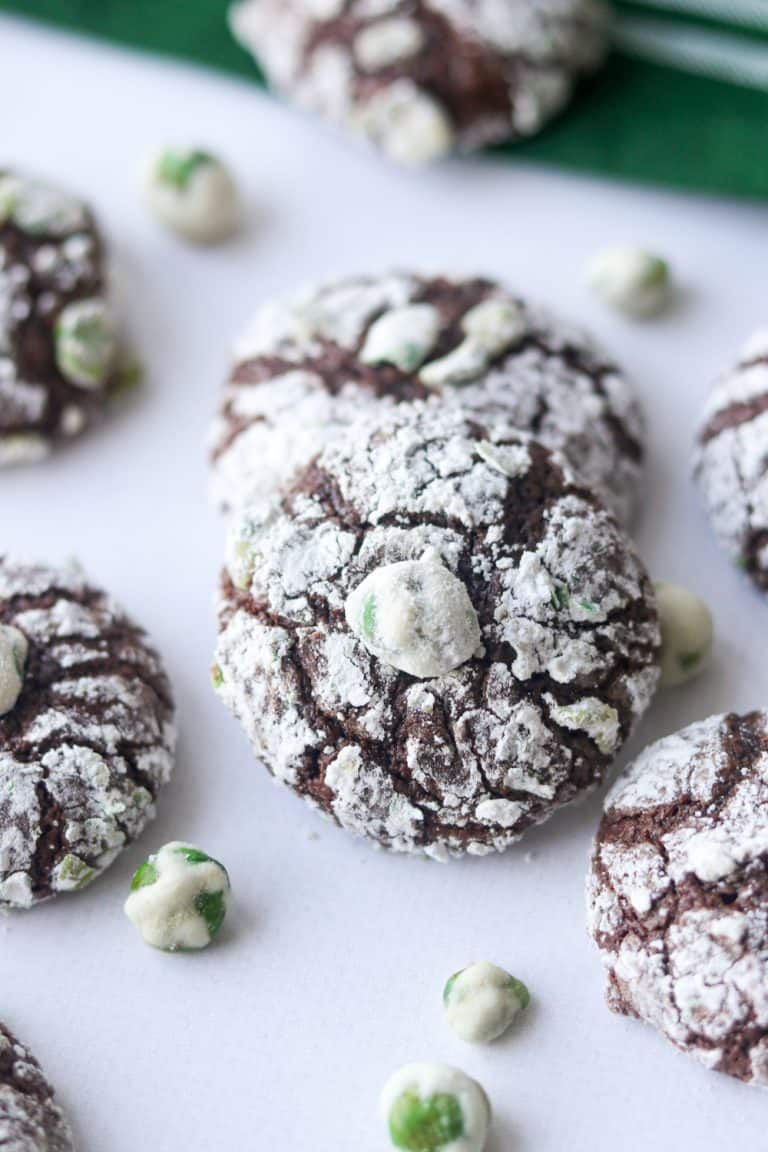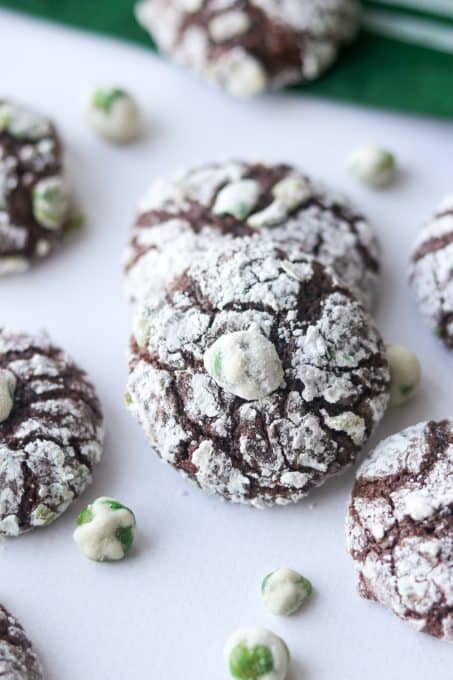 But I've enjoyed chocolate flavored with chile before, so I took the plunge and gave these Wasabi Chocolate Cookies a try. I'm so glad I did because they're like nothing I've tasted before.
Sweet crackly edges, rich cocoa and the spicy kick of wasabi make for a cookie that's bursting with unlikely–and tasty– flavor. This recipe uses wasabi peas which bring a little crunch and a hint of salt to the chewy cookies too.
You can get about 70 cookies from one batch of dough, making this a fabulous recipe to make for a crowd. Try something different this Christmas season and make a batch of Chocolate Wasabi Crinkles to share!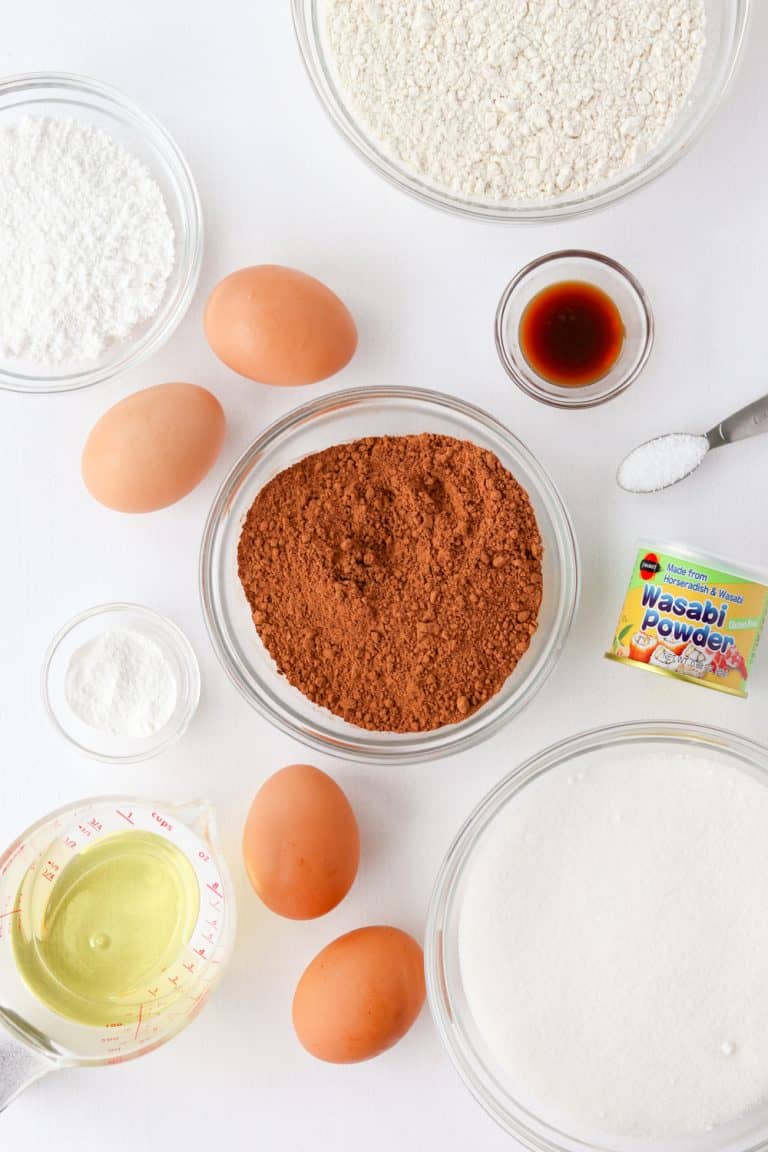 What do I need for these Wasabi Cookies?
You need these ingredients to make our Chocolate Wasabi cookie recipe:
wasabi peas
wasabi powder
water
flour
sugar
baking powder
kosher salt
vegetable oil
eggs
vanilla extract
cocoa powder
confectioner's sugar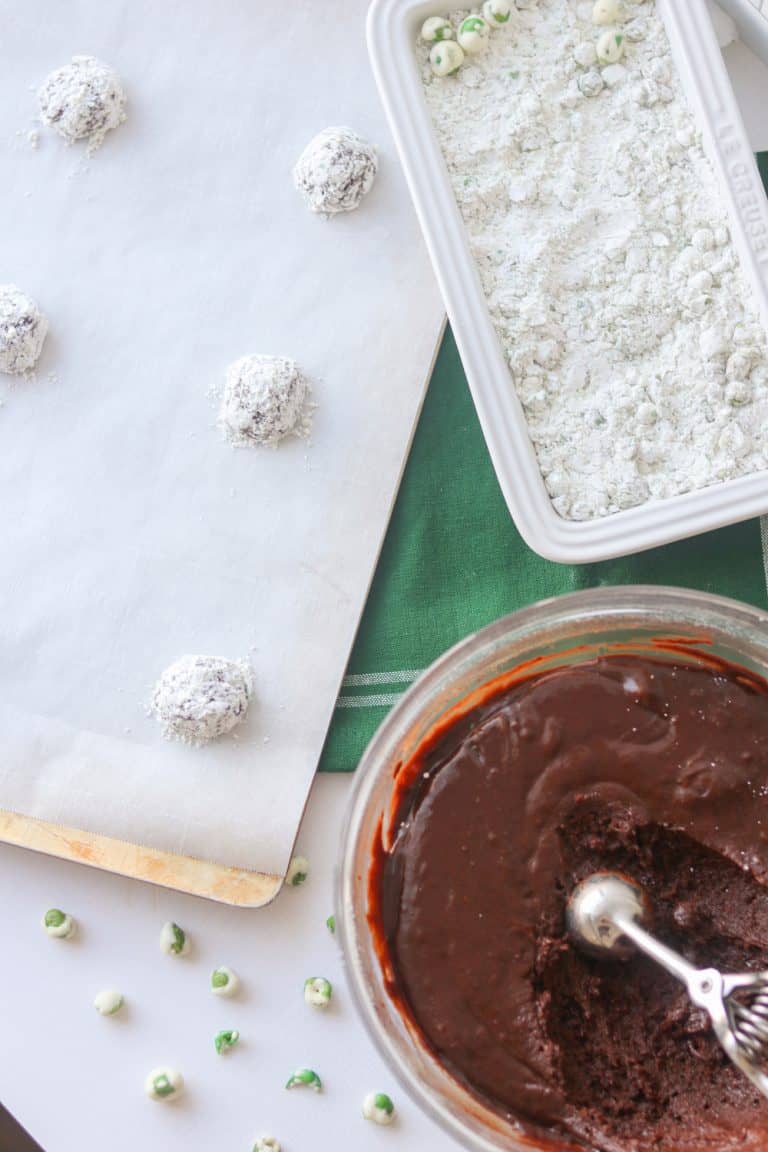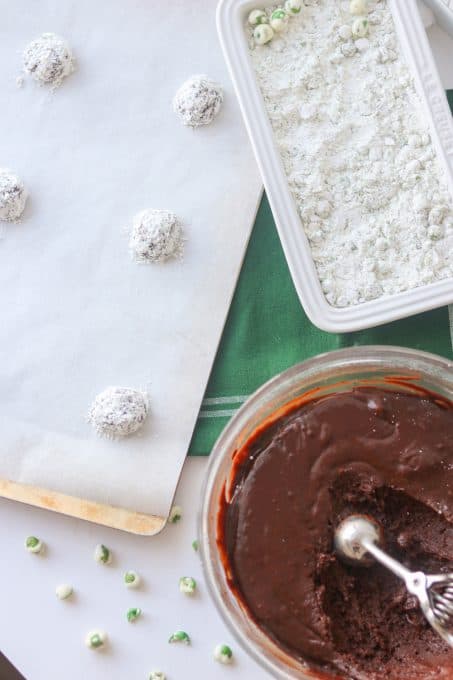 What is wasabi?
Also known as "Japanese horseradish", wasabi is derived from a plant root with a pungently spicy taste. You've probably eaten it in paste form a condiment with sushi. Powdered wasabi is used to add stimulating zesty flavor to baked goods, sauces, marinades and more.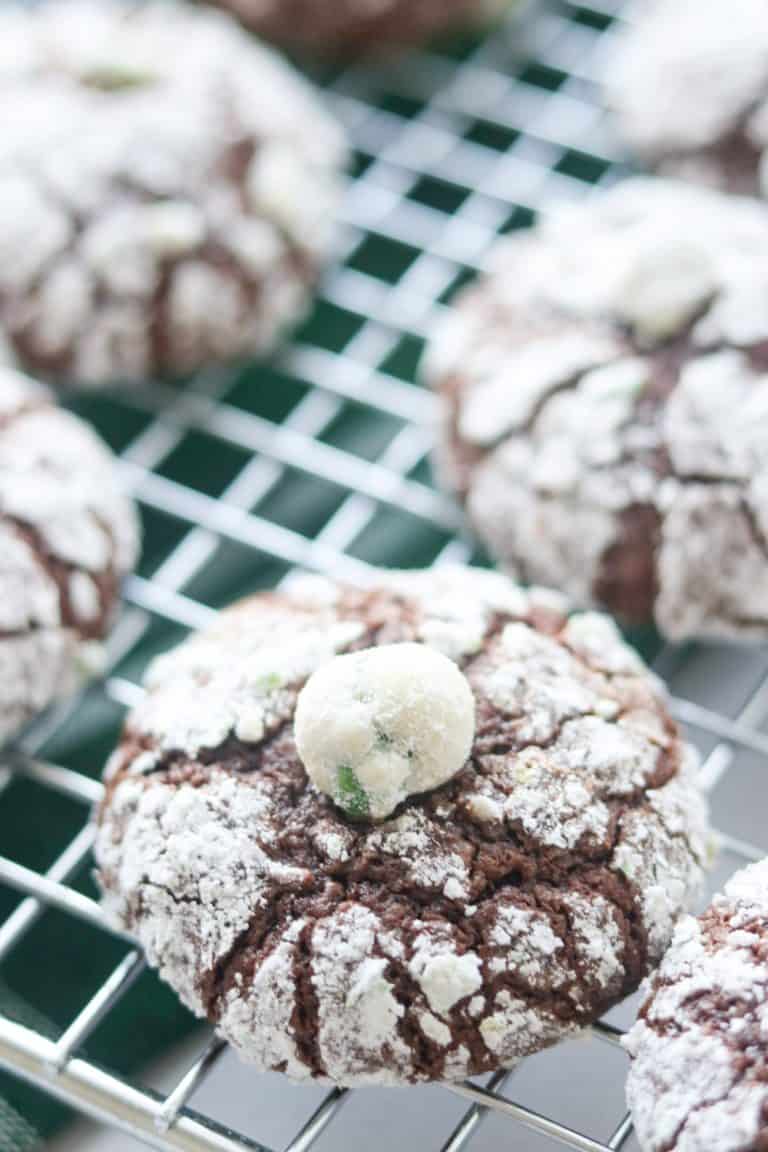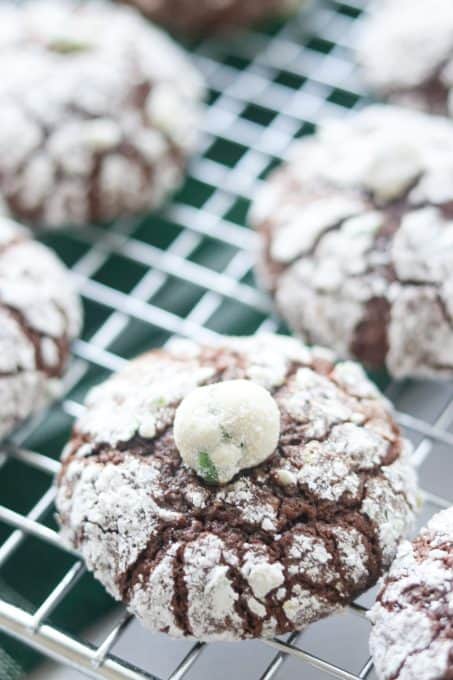 Are these cookies spicy?
Yes, but they are not spicy in the way you might expect. Unlike hot peppers, wasabi's spice hits your nose instead of your tongue. This recipe contains just enough wasabi.
The fiery heat pairs wonderfully with the smooth cocoa and the sweetness of the powdered sugar. Chocolate Wasabi Crinkle Cookies make a perfect treat for the adventurous cookie lovers in your life!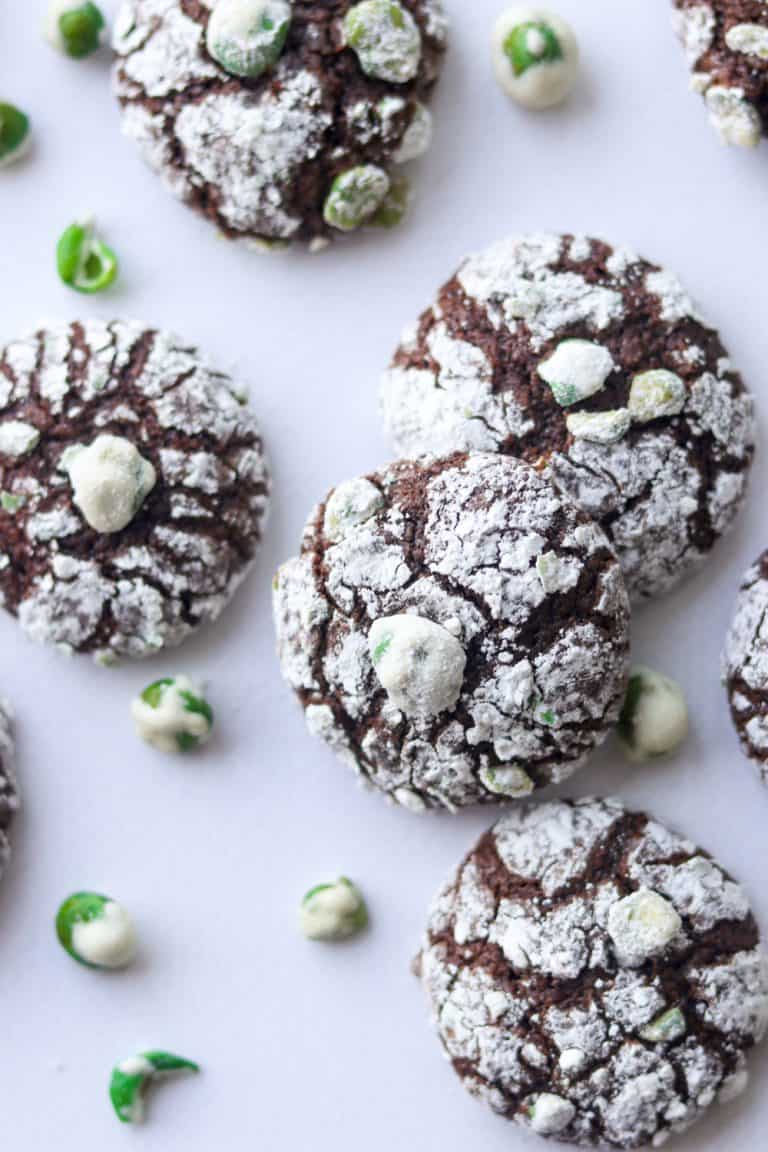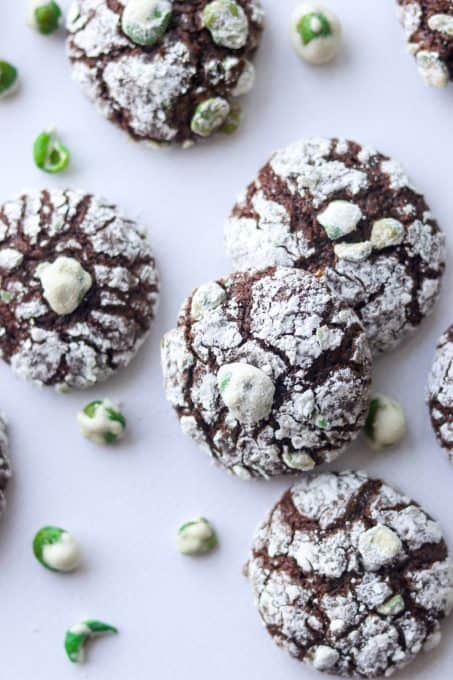 Tips and Tricks
The batter for these wasabi cookies is very thick, like a brownie batter. I suggest buttering your hands and your cookie scoop before handling the dough to keep it from sticking.
You can drop scoops of dough directly into the powdered sugar, then shape into a ball and transfer to the baking sheet.
Place an additional wasabi pea in the center of each cookie before baking. That way no one can mistake these spicy wasabi treats for a regular chocolate crinkle cookie!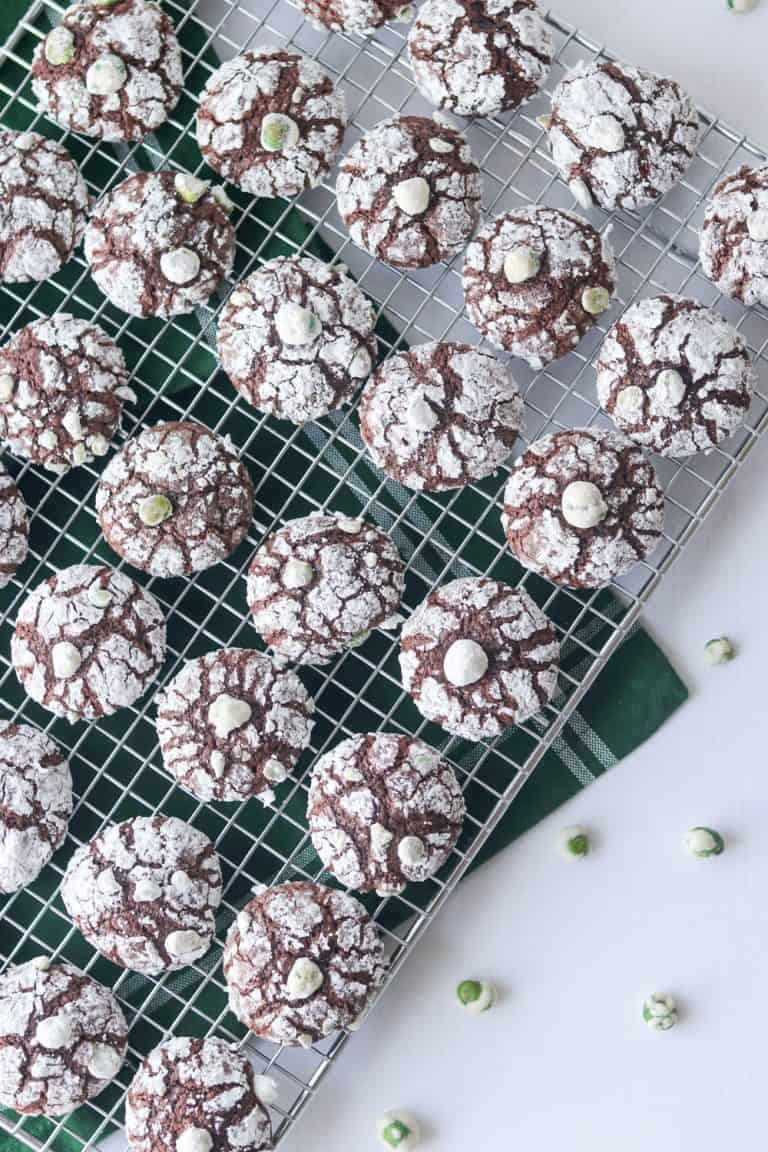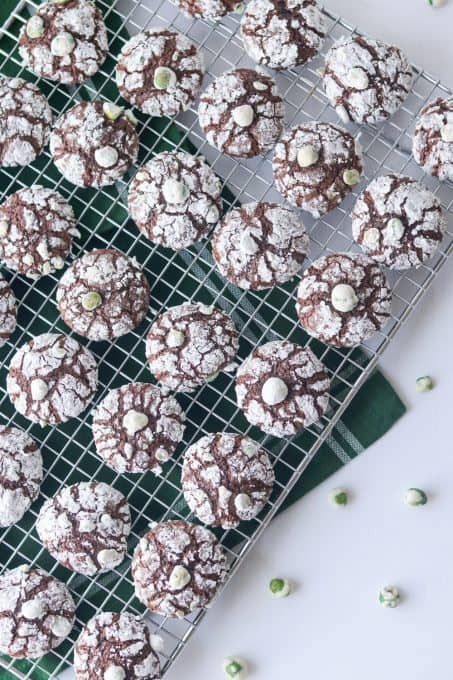 Chocolate Cookie Recipes
We have so many other cookie recipes on the blog for all you chocolate fanatics.
These Mint Chocolate Crinkles are another take on crinkle cookies I love to make around Christmastime. For Valentine's Day (or any time of year, really) make this recipe for Chocolate Cherry Crinkles.
If you haven't tried the Chocolate M&M Christmas Cookies I posted recently, now is the time! They're so easy to make and adults love them just as much as kids.
Finally, I can't talk about the best chocolate cookie recipes without reminding you about Oreo Chocolate Chip Cookies. Who could turn down a plate of chewy chocolate chip cookies with Oreos inside?
Save these other easy chocolate cookie recipes to try next: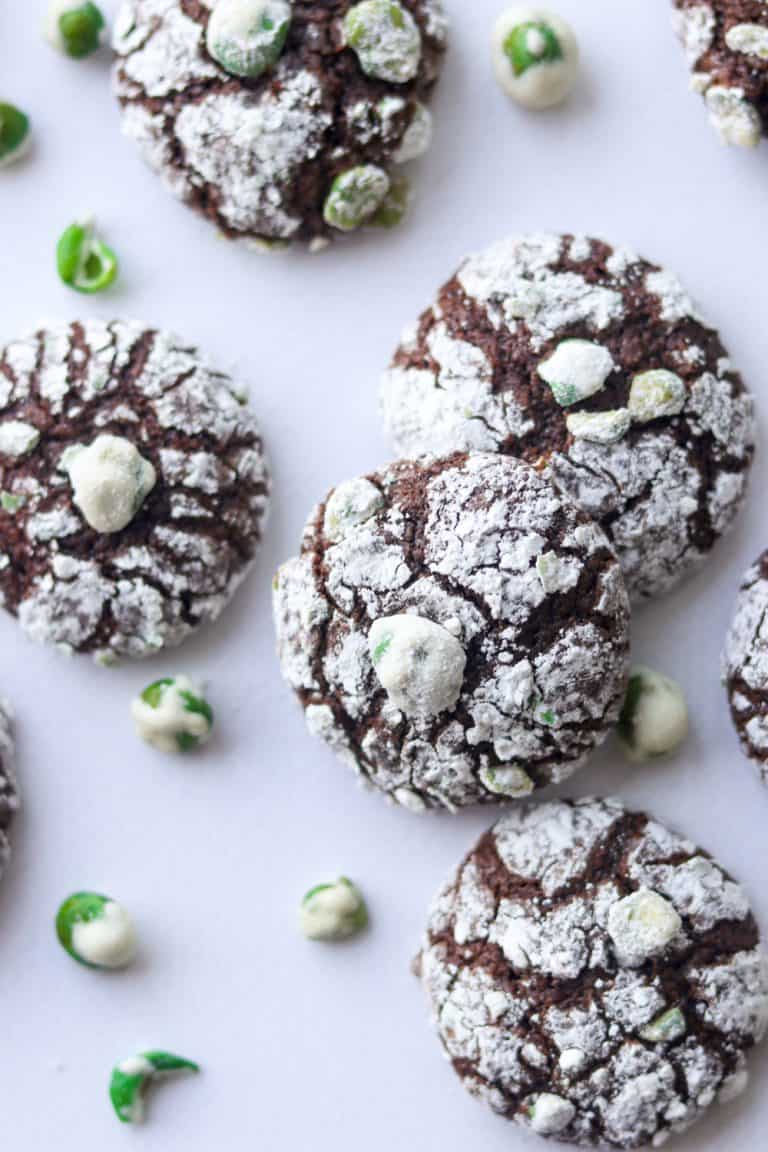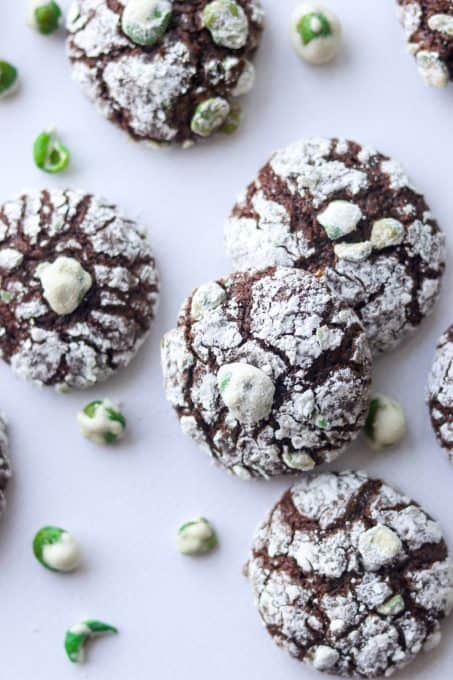 Give your holidays a spicy twist by bringing Chocolate Wasabi Crinkle Cookies to the table!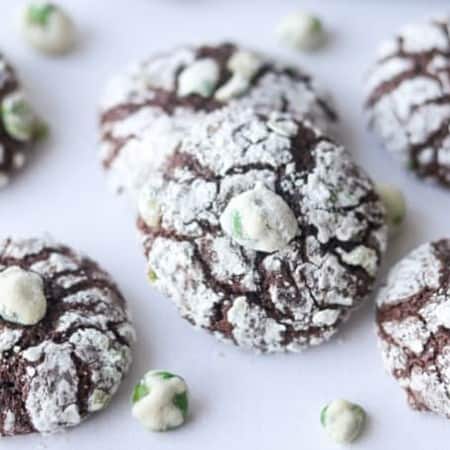 Chocolate Wasabi Crinkles
An unexpected flavor combination makes these Chocolate Wasabi Crinkles stand out from the crowd! Pungent wasabi and crushed wasabi peas are added to classic chocolate crinkle cookies for a uniquely delicious holiday treat.
Equipment
Food processor or blender

rubber spatula

tablespoon or cookie scoop

parchment paper
Ingredients
½ cup wasabi peas plus additional to place on top of cookie
1 tablespoon wasabi powder
2 ½ teaspoons water
2 cups all-purpose flour
2 cups granulated sugar
2 teaspoons baking powder
½ teaspoon kosher salt
½ cup vegetable oil
4 large eggs
2 teaspoons pure vanilla extract
1 cup unsweetened cocoa powder
½ cup confectioners' sugar
Instructions
Place the wasabi powder and water in a small bowl and mix into a paste. Cover the bowl with plastic wrap and set aside for at least 5 minutes.

In a medium bowl, whisk together the flour, baking powder and salt.

In large mixing bowl, mix the cocoa powder, granulated sugar, wasabi paste, and vegetable oil together. Add the eggs one at a time, mixing well. Mix in the vanilla.

Add the flour mixture and stir until completely combined. Cover bowl with plastic wrap and chill in refrigerator for a minimum of 4 hours.
When ready to bake
Place the ½ cup of wasabi peas into a blender or food processor and roughly chop. Combine with the ½ cup of confectioners' sugar and mix well.

Preheat oven to 350°F. and line two cookies with parchment paper.

Using a tablespoonful of dough or cookie scoop of the same size, roll dough into a ball. Place dough ball into confectioners' sugar / pea mixture and roll to completely coat. Put on cookie sheet and lightly push a wasabi pea onto the top of each cookie before putting tray into oven. *SEE NOTE*

Bake for 10 – 12 minutes. Cool on cookie sheet before removing to wire rack to cool completely.
Notes
*NOTE* When rolling the dough into balls, I suggest wiping your hands and the cookie scoop or tablespoon with butter. As the batter warmed up, it became very sticky, almost brownie batter like. At this point, I found the easiest way to roll it was to drop the dough directly from the cookie scoop into the bowl of confectioners' sugar and crushed wasabi peas. Then I rolled the dough around coating it and formed it as best I could into a ball before placing onto the baking sheet.
Nutrition
Serving: 1cookie | Calories: 49kcal | Carbohydrates: 11g | Protein: 1g | Fat: 1g | Saturated Fat: 1g | Polyunsaturated Fat: 1g | Monounsaturated Fat: 1g | Trans Fat: 1g | Cholesterol: 9mg | Sodium: 28mg | Potassium: 38mg | Fiber: 1g | Sugar: 7g | Vitamin A: 14IU | Vitamin C: 1mg | Calcium: 9mg | Iron: 1mg
Did you make this recipe?
Share it with me on Instagram and make sure to follow me on Pinterest for more recipes.
Reader Interactions