Dark Chocolate Cherry Oatmeal Cookies – that comforting oatmeal cookie made even better by the addition of dark chocolate chips and chopped fresh cherries.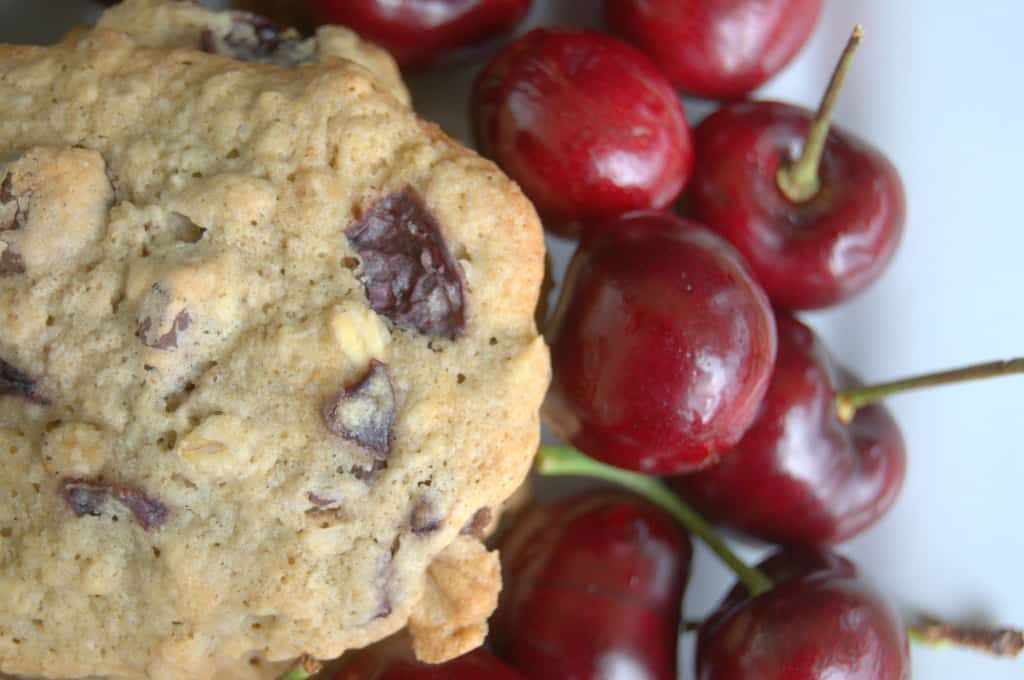 Cherries are still in season!
RUN, don't walk to the store to get some and make these cookies.
No joke.
You really do need to make them.
The dark chocolate chips, the fresh cherries and the greatness of that oatmeal all in one cookie …
*sigh*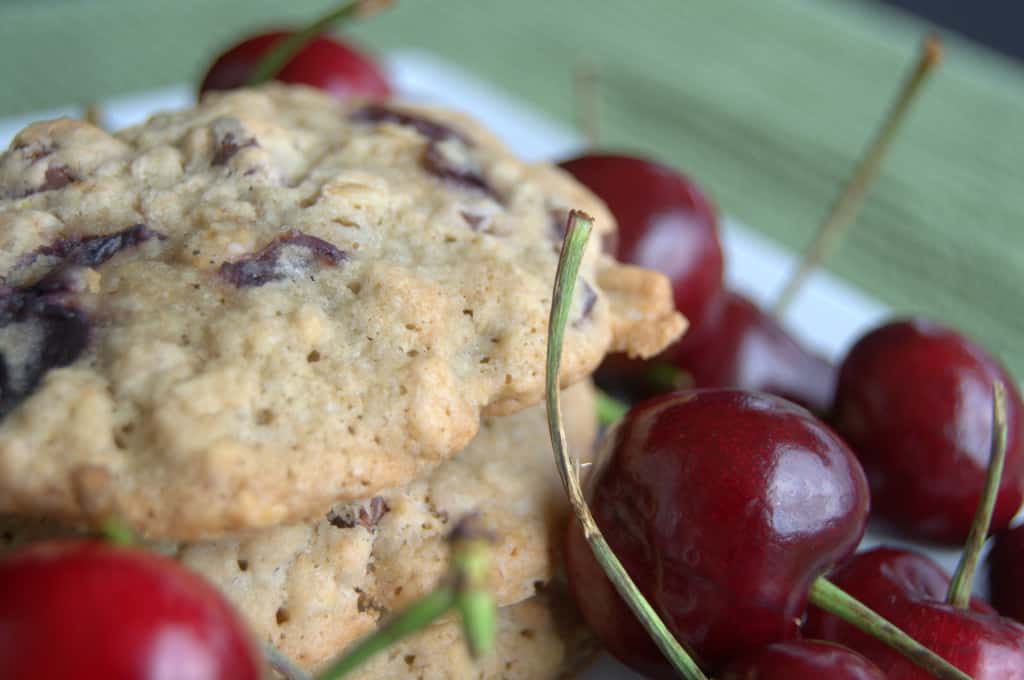 And I even give you permission to use more than the amount of dark chocolate chips called for in the recipe. You can barely see them (if at all), but they're in there!
It may be because I only used a cup. See, when Old Mother Hubbard went to the cupboard to fetch her poor cookies some chips, the stash had been broken into.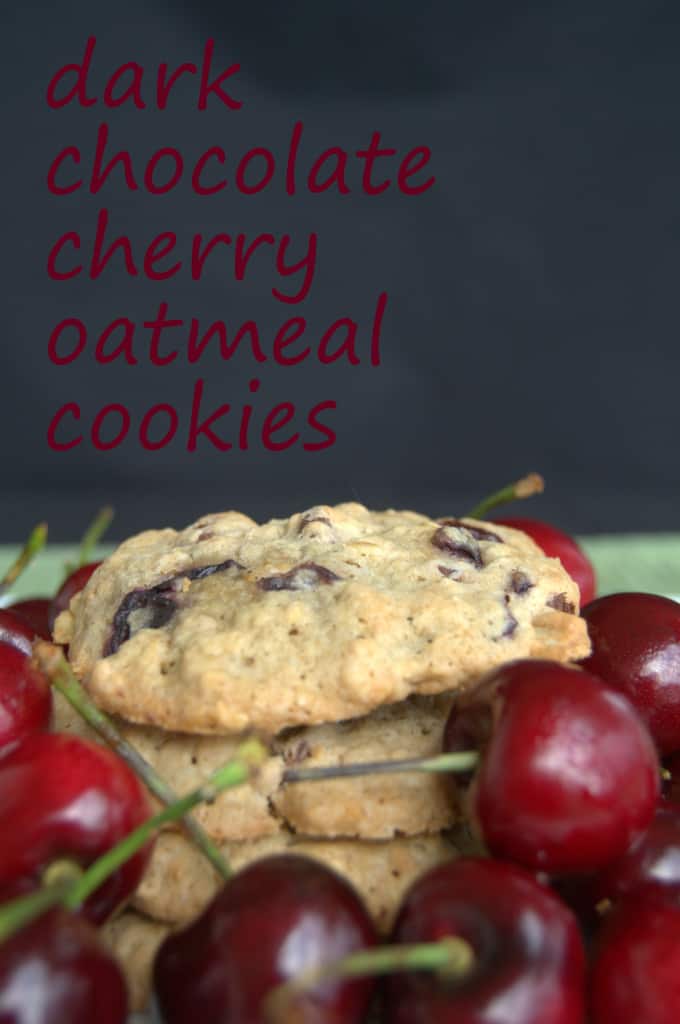 Oh, that lovable son o' mine.
He loves to open up those bags and just help himself., he does.
Soooooo…when the momma is baking away and doesn't take inventory of all necessary ingredients, she runs into some …what's the word I'm looking for?
Hitches, snags, ah, forget it.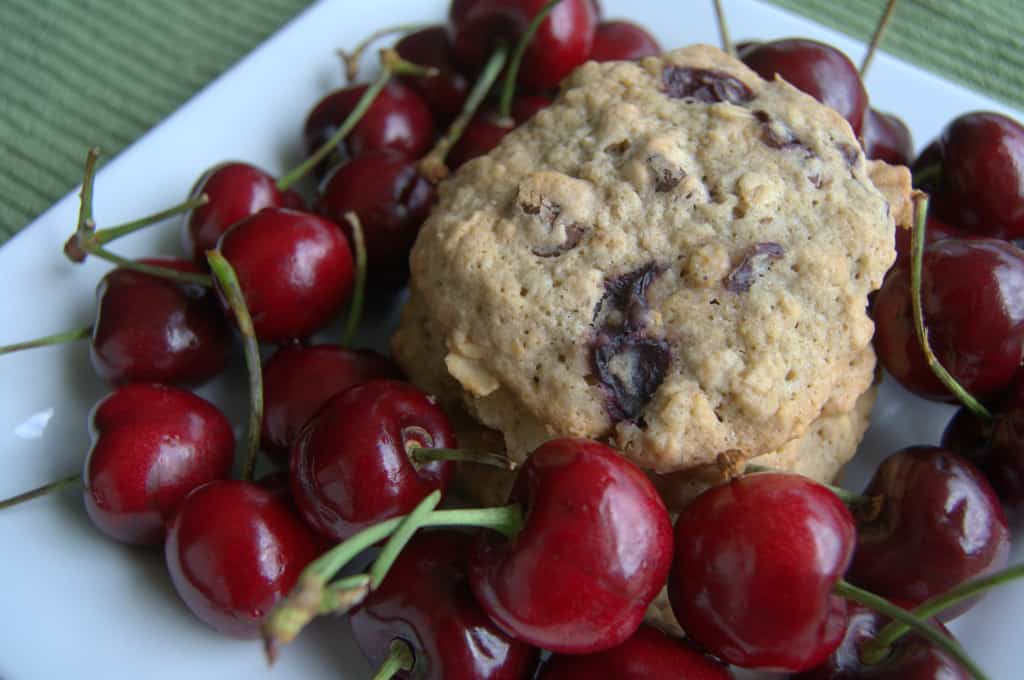 Dark Chocolate Cherry Oatmeal Cookies
Ingredients
1 1/2 cups flour
1 cup granulated sugar
1 tablespoon dark brown sugar
1/2 teaspoon baking soda
1 teaspoon cardamom
1/2 teaspoon salt
1 egg, lightly beaten
1/2 cup melted unsalted butter
1/4 cup milk
1 3/4 cups rolled oats
1 cup dark chocolate chips
1 cup diced fresh cherries
Instructions
Preheat the oven to 350 degrees F.
In a large bowl, whisk the flour, granulated sugar, brown sugar, baking soda, cardamom, and salt together.
Stir in the beaten egg, melted butter, milk and rolled oats.
Mix in chocolate chips.
Fold in cherries, but do not overmix.
Arrange by teaspoonfuls on unbuttered cookie sheets about 2 inches apart. They will spread as they bake.
Bake until edges are brown, about 10-12 minutes.
https://www.365daysofbakingandmore.com/dark-chocolate-cherry-oatmeal-cookies/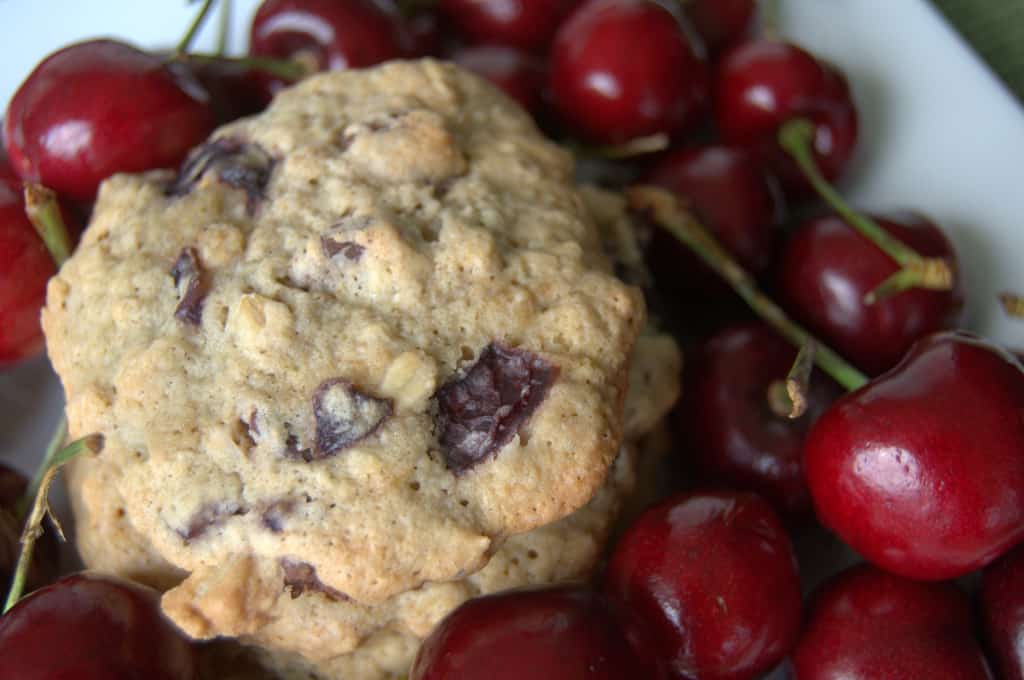 Unfortunately, I can't tell you how many cookies the batch made because they were being eaten and swiped from the rack before I could get a full count.
I rate everything I make on a scale of 1-4 and these Dark Chocolate Cherry Oatmeal Cookies earned 3 1/2 rolling pins.
I've always loved oatmeal cookies and removing the raisins and substituting them with fresh cherries was a wonderful change.
And of course, chocolate always makes everything better!
Cherries will be gone before you know it, so go get some today!!
If you like these cookies then you'll LOVE…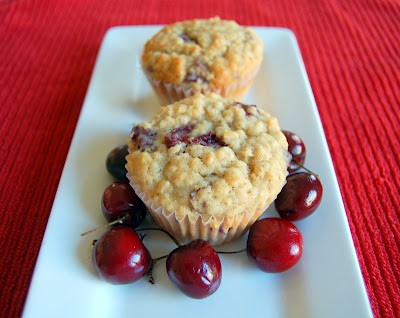 I give you BIG baking hugs and muffins!!