Blueberry Cherry Mini Crumb Pies – fresh blueberries and cherries give you the fresh tastes of summer in a bite-sized treat!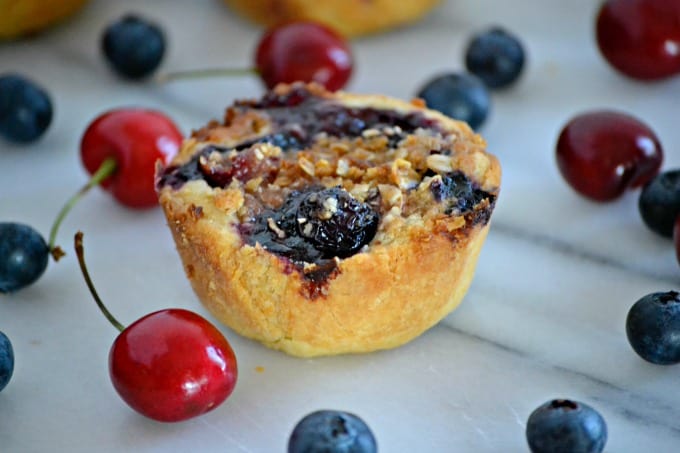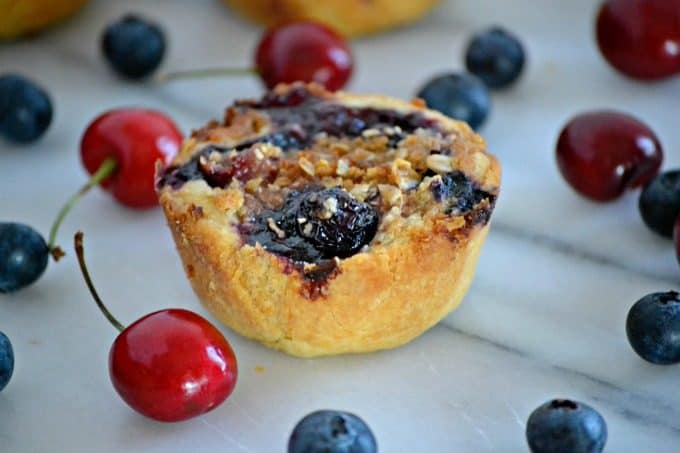 Talk.
*This was originally posted August 25, 2012, but has been updated in format and with pictures. A few original pictures remain below as does the content.
Some people talk too much. Some people don't talk enough. I don't know why I'm telling you this.
I think I'm just trying to fill space because I actually have nothing to talk about.
Really. I can't think of anything.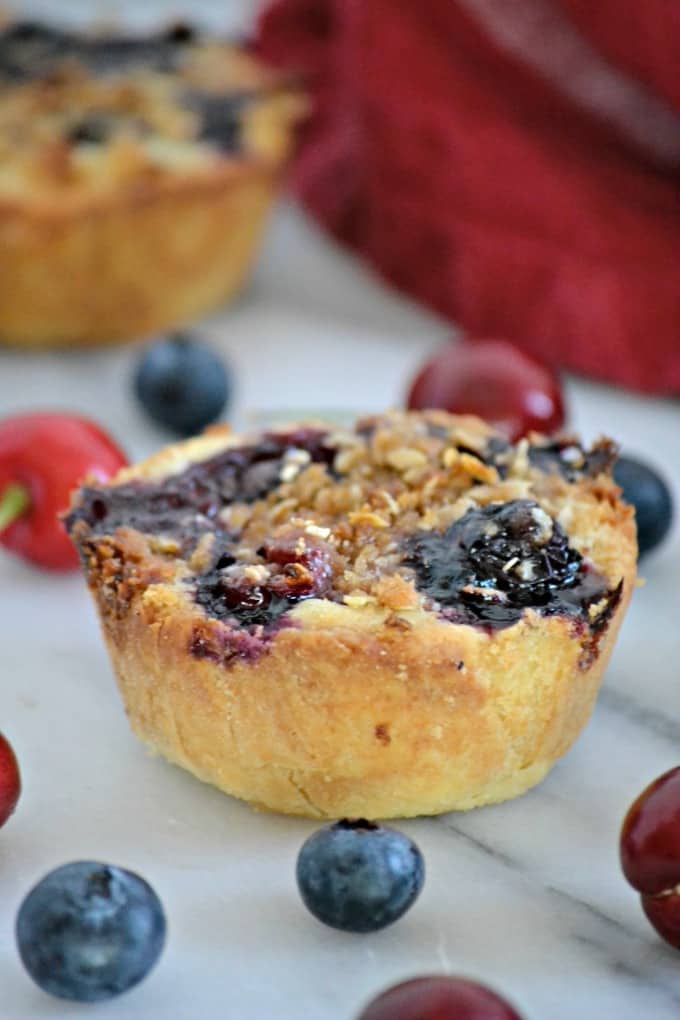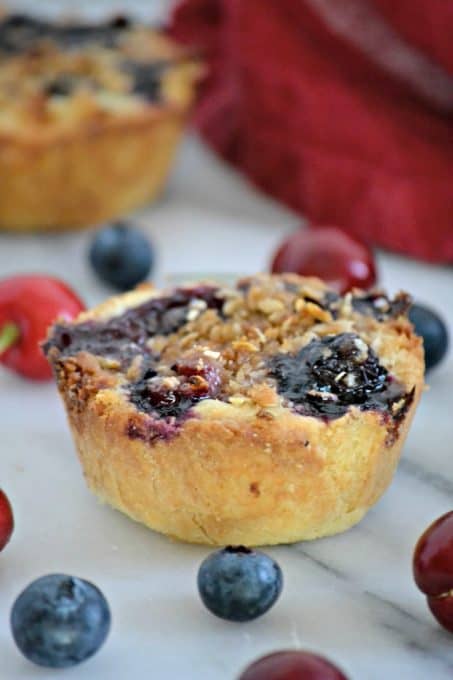 Ok, maybe this. We're watching 'Chopped' and my kids see they're requesting applications for casting, so immediately they both say, "Mom, you should do that!" Yeah, no.
I can put ingredients together and come up with something that might be tasty, but make it in 20 minutes.
Fuggedah 'bahd it! Oh yeah, there's no way. I know myself and when things get too stressful, I have a tendency to freeze.
Check out these other delicious mini pies from my blogger friends…
Mini Apple Pies from Sprinkle Some Sugar
Mason Jar Lid Cherry Pies from Lady Behind the Curtain
Mini French Silk Pie from House of Yumm
Mini Strawberry Pies from Carlsbad Cravings
And I'd freeze especially if Alex Guarnaschelli were a judge that day. Yeah, I love her. Please tell her that. I do think it'd be cool to see my fellow bloggers battling it out with surprise ingredients from a picnic basket though.
They have my total support. Just like these Blueberry Cherry Mini Crumb Pies.
YUM!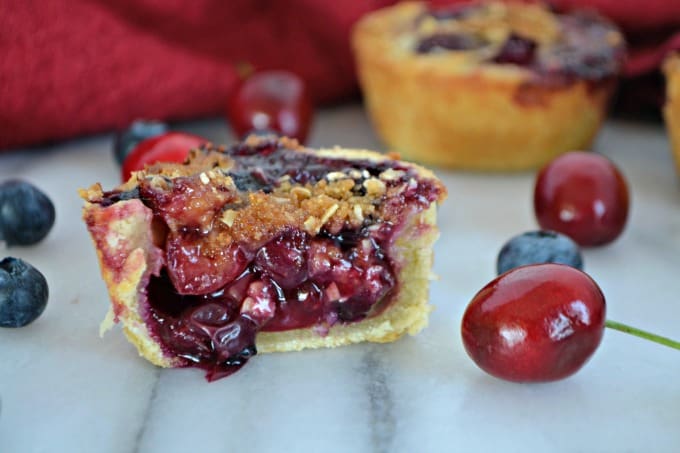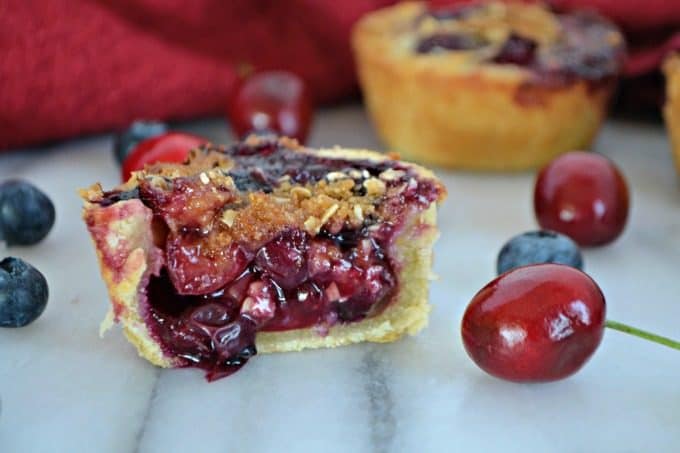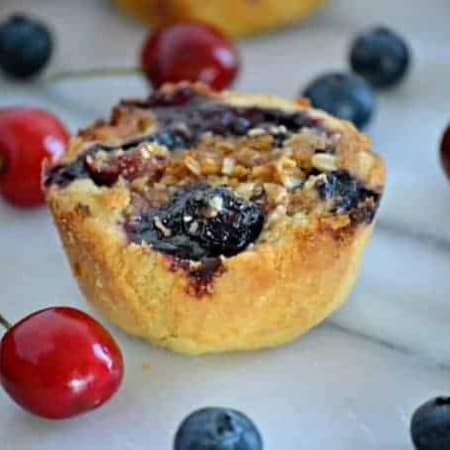 Blueberry Cherry Mini Crumb Pies
These Blueberry Cherry Mini Crumb Pies contain the fresh tastes of summer in a bite-sized treat!
Ingredients
Crust
1 ½ cups flour
1 tablespoon sugar
¼ teaspoon salt
¾ cup cold unsalted butter 1 1/2 sticks
1 egg yolk
3 tablespoons ice water
Filling
1 ⅓ cups blueberries
1 ⅓ cups fresh cherries pitted, and quartered
¼ cup sugar
1 tablespoon cornstarch
zest and juice of 1 lemon
Crumb Topping
¼ cup brown sugar
¼ cup oats
2 tablespoons flour
¼ teaspoon cinnamon
¼ teaspoon salt
2 tablespoons cold unsalted butter
Instructions
Prepare a standard 12-cup muffin tin by greasing it with butter or cooking spray.
Crust
In a large mixing bowl, whisk together flour, sugar and salt.

With a pastry knife, cut butter into flour mixture.

Combine until it resembles coarse meal.

In a small bowl, whisk together ice water and egg yolk.

Add water mixture to dough and mix with a wooden spoon until it comes together in a ball.

Divide dough in half and form into separate balls.

Wrap each in plastic wrap and gently pat down to form a rectangle or square. (It doesn't have to be perfect, it just makes it that much easier to roll out.)

Refrigerate dough for at least 20 minutes.
Filling
In a medium bowl, combine sugar, cornstarch, and lemon zest.

Add the blueberries, cherries and lemon zest and toss gently to completely coat. Set aside.
Crumb Topping
In a small bowl, combine brown sugar, oats, cinnamon, flour and salt.

Using a fork, cut in butter until it resembles coarse meal; set aside.
Assembly
Preheat oven to 425 degrees F.

Remove one package of dough from the refrigerator.

On a lightly floured surface, roll the dough to about 1/4-inch thick.

Using a 4-inch round cookie or biscuit cutter, cut circles in the dough.

Place into a prepared muffin cup, gently molding it to the bottom and sides of the tin.

Gather the scraps of dough, re-roll and re-cut.

Repeat with the second batch of dough.

Place about 1 1/2 - 2 tablespoons of fruit filling into each dough cup.

Sprinkle the crumb topping evenly over each of the filled muffin cups.

Bake for 18-20 minutes, when edges are a golden brown.
Did you make this recipe?
Share it with me on Instagram and make sure to follow me on Pinterest for more recipes.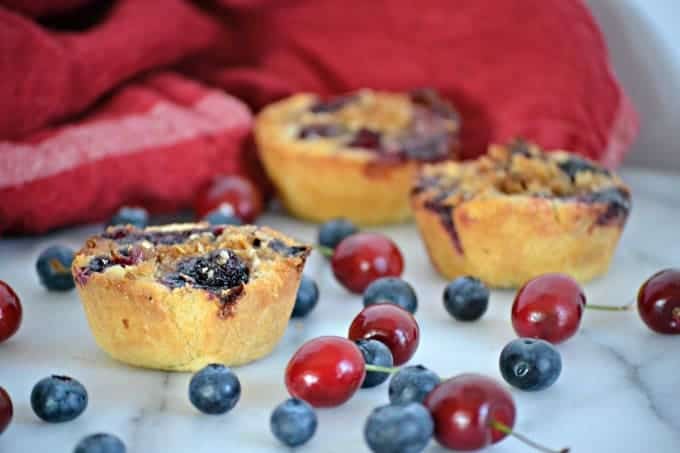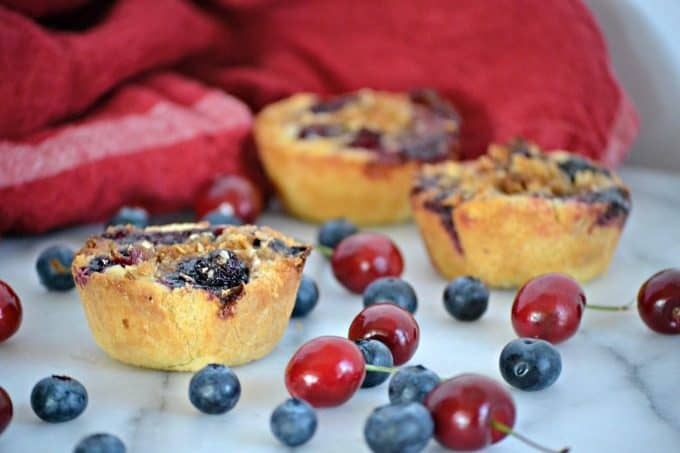 A tip and you can take it or leave it, but I
highly
suggest that you place a baking sheet lined with tin foil on the baking rack below the muffin tin inside the oven. This will prevent any juices that may runneth over the sides of your pies to collect on the bottom of the oven.
Which would consequently set off an alarm which in turn sends the dog into a tizzy, shaking like it's the end of the world. Not like that happened or anything.
I rate everything I bake on a scale of 1-4 with 4 being the best and these Blueberry Cherry Mini Crumb Pies earned 3 1/2 rolling pins. I could have eaten at least 4 in just one sitting, BUT…I was a good girl. And only had one at two separate times. 😉
They really were the perfect size because they weren't too big or too small. They were just right. Kinda like Goldilocks. We loved the blueberry and cherry combination with a hint of lemon and the crumb topping was the perfect finishing touch.
Oh, and the vanilla ice cream we ate it with was pretty good, too. You need to eat it with some ice cream. It's DA BOMB! Here are a couple of the original pictures.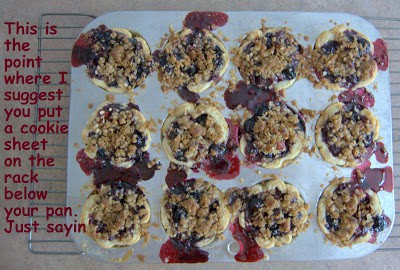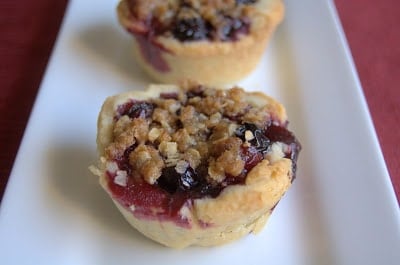 If you like these Blueberry Cherry Mini Crumb Pies then you'll enjoy…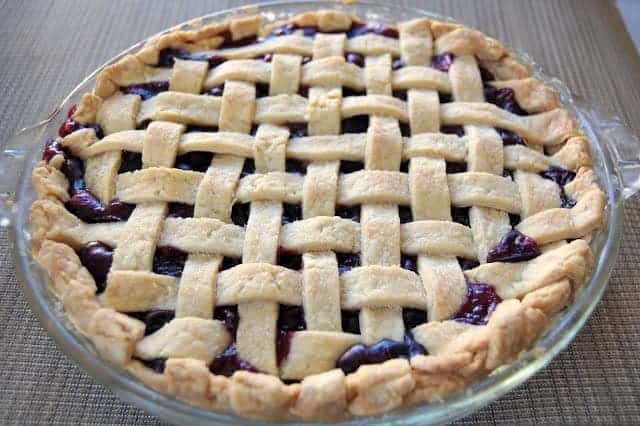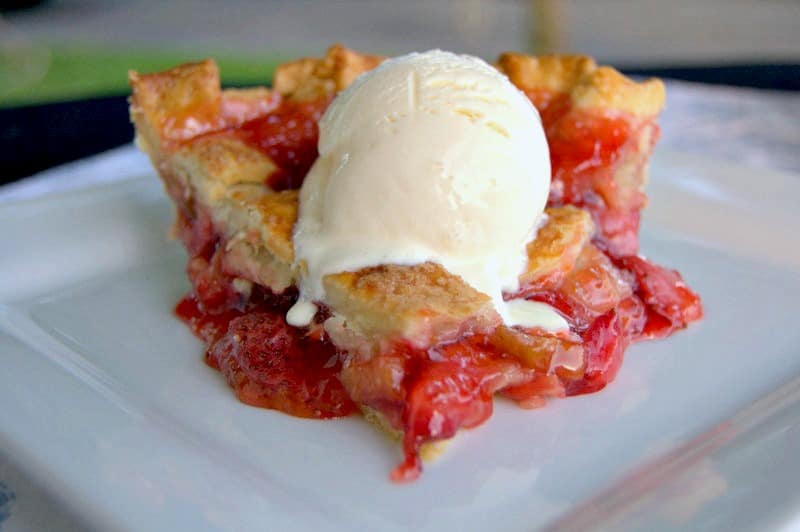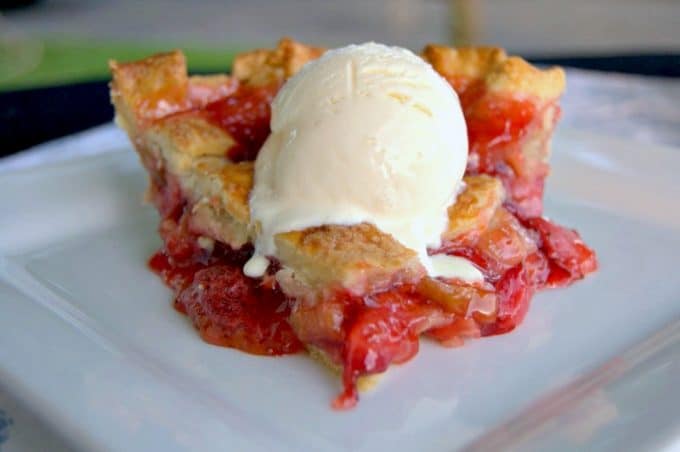 Reader Interactions