Warm blueberries, a soft, beautifully decorated pie crust, and an empty stomach will make this Blueberry Pie a no-brainer family dessert. The traditional pie way is the only way in my book!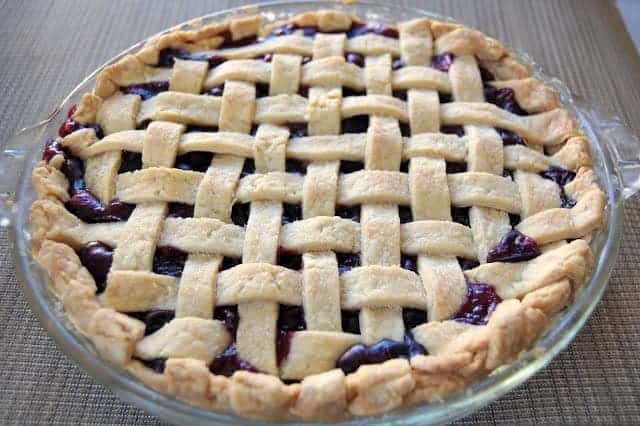 Don't take my word for it! When you try this Blueberry Pie the first time, it'll take you back to when you DID have that first bite as a kid.
Don't you LOVE it when fruit goes on sale? I can tell you it's a great feeling to see that when I first walk into the grocery store. So, as you might expect, blueberries were on sale this week, and that means buying them in bulk. Now, I just need to figure out what kind of recipes I should make with all these blueberries. That's the real test!
Hopefully, the family won't revolt in me making so many of these in a short amount of time. Crossing the fingers everything will be okay.
SAVE THIS BLUEBERRY PIE TO YOUR FAVORITE PINTEREST BOARD!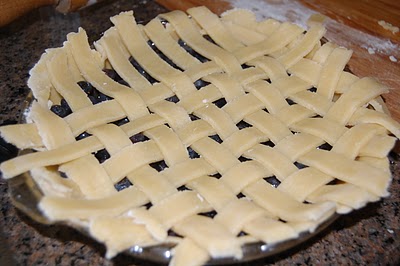 Now, can we talk about that picture-perfect pie crust?! I might be needing a little ego check right now, but every time I look at that photo I absolutely love that pie crust design. Methinks I need to have my own pie crust recipe soon or else I'll put it off more and more. I mean, come one, I'm not getting any younger here!
In my opinion, you can always tell when a pie is done well by looking at the crust. Maybe it's just second nature to me now that I've been doing this for a while. Plus, my perfectionist side wanted to make sure this blueberry pie was done right!
That means somehow getting the crust off the board and into the pie dish. That was a huge accomplishment in itself. I know I've seen it done on cooking shows, but I've had problems in the past.
I just rolled it right onto the rolling pin and unrolled it over the dish. Voila! There will definitely be more pies in the future. I think the lattice crust was what sealed the deal for me because I really liked that there wasn't too much crust.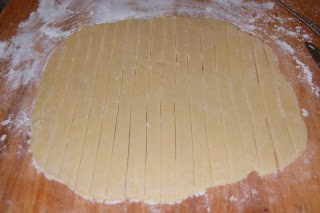 I love sharing other blogger's recipes, and these two are ones I highly recommend.
Sandra from a dashofsanity has a great fettuccine alfredo recipe that I can't get enough of. Every time I think of making pasta, I always think of hers.
These baked spicy chicken tacos from thecookierookie will definitely give you the kick you need. And who doesn't love a good taco?!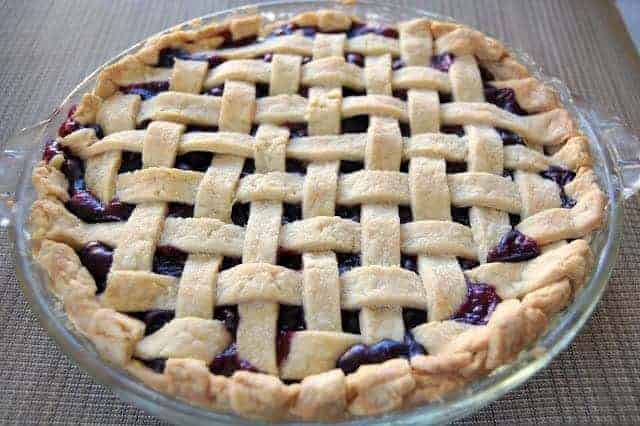 Fresh blueberries in a homemade lattice crust make this pie delicious!
Ingredients
Filling
¾ cup sugar
2 tablespoons cornstarch
½ teaspoon ground cinnamon
½ cup water
3 cups blueberries
1 tablespoon fresh lemon juice
Pie Crust
2 cups all-purpose
1 tablespoon sugar
1 teaspoon salt
¾ cup shortening
1 egg
2 tablespoons water
½ tablespoon vinegar
Flour for dusting
Sugar for sprinkling on the top
Instructions
For the filling, combine the sugar, cornstarch, cinnamon and water in a medium saucepan. Heat rapidly until thickened.

Set aside to cool as you make the pie crusts. When the mixture is cooled, add the blueberries and the lemon juice.

Preheat oven to 425ºF.

Combine flour, sugar, and salt. Cut in shortening.

Whisk together egg, water and vinegar. Add to flour mixture and toss lightly with a fork.

Turn out onto a lightly floured board and combine dough using your hands. Separate into 2 single crusts.

Line the bottom of a pie plate with 1 of the crusts.

Pour filling into dough-lined pie plate.

Place second crust over top, cut vents, and flute the edges. Sprinkle a small amount of sugar on top. Place the pie on a cookie sheet and bake in the oven for 20 minutes. Reduce heat to 350ºF and bake for an additional 25-30 minutes.
Nutrition
Calories: 3280kcal | Carbohydrates: 433g | Protein: 34g | Fat: 161g | Saturated Fat: 40g | Cholesterol: 163mg | Sodium: 2414mg | Potassium: 670mg | Fiber: 17g | Sugar: 207g | Vitamin A: 480IU | Vitamin C: 48.8mg | Calcium: 89mg | Iron: 13.6mg
Did you make this recipe?
Share it with me on Instagram and make sure to follow me on Pinterest for more recipes.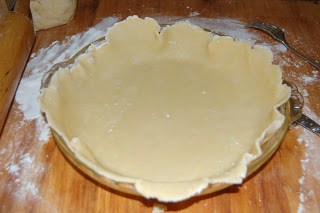 I really think the recipe could've have used 4 cups instead of the 3 cups of blueberries. There seemed as if there wasn't quite enough and it may have cut down on the sweetness just a tad. As I said before, I really wanted to attempt the lattice crust, so I found this video on youtube.
It really wasn't as difficult as I thought it would be. I did mess up in the beginning, but after a while got the hang of it and didn't have any problems (except for a couple of end crust pieces breaking off as I lifted them, but it didn't make a difference). I think I'm hooked now and will have to do more of these.
It was very pretty and fun to do. I also took quite a bit of time rolling out both crusts so that they were pretty evenly rounded.
For those of you who are looking for other great recipes on my blog, be sure to check out these 3 to die for desserts!
I don't think anything will beat this dessert. It's sweet, delicious and you'll be wanting more than one slice for sure!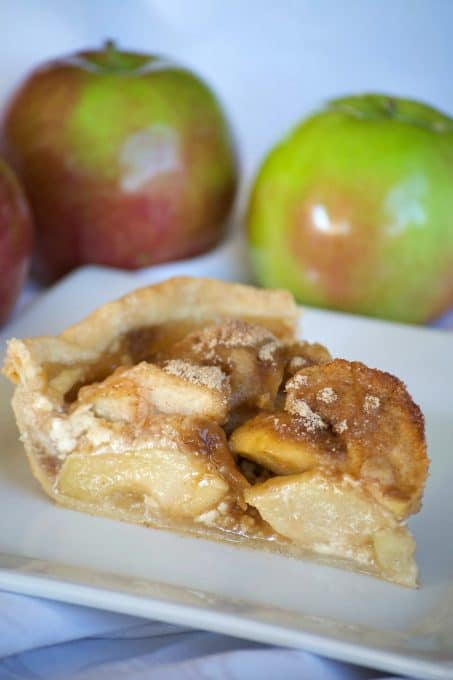 One of the all-time popular dessert recipes on the blog is this bad boy. All those layers team up perfectly to make a great end of the day dessert!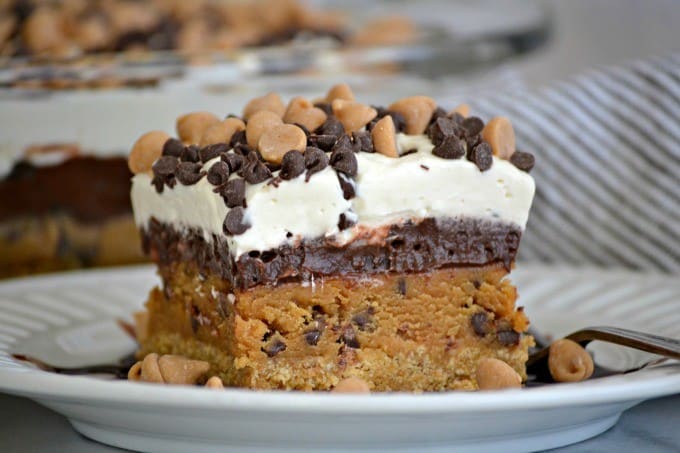 I have to say I'm pretty proud of myself. I've been nervous about making a lattice topped pie crust, but have always wanted to do it. Today was the day and since the pie crust needed to be vented anyway I figured why not give it a shot. It was a success!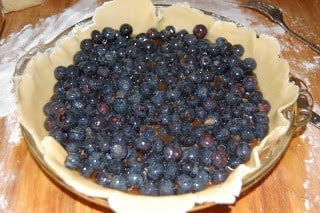 Remember, it's good to try new things and take a risk because you never know how it will turn out or what fun you'll have in the process!
I have a rating system of 1-4 with 4 being the best. Both my husband and son thought it was a little too sweet, but my neighbor said it was the best blueberry pie he's ever had (and no, I'm not making that up and I didn't pay him to say that). I really, really liked it, too!
Reader Interactions