(Just so you know, I'm having font issues. I wanted to use a different font for the recipe, but it is a heck of a lot smaller than I'd like it to be because I can barely read it. I attempted to fix it, but have not had much luck because it just reverts to what I originally used. Now I'm frustrated and I'm going to bed.)
P90X this morning – the cardio DVD. Well, after I became motivated enough to do it and stopped putting it off, I started it around 11:00, but it was technically still morning. At times, I wasn't really enjoying myself, especially the two times I really thought I was going to pass out. Seriously. I have to admit though, I am very glad that I did it. Now I could use a nap.

Tonight's dinner is from The New Doubleday Cookbook, p.176; authors, Jean Anderson and Elaine Hanna; publisher, Doubleday, a division of Random House; ISBN 0-385-19577-X.
I make this dish at least two, if not three times a month. The family likes it a lot, especially the two boys (my husband and son) because it is a really good meat and potatoes dish.
I found this on http://www.whatscookingamerica.net/ regarding the history of the Shepherd's Pie in the 17th century,
English women were baking pies long before the settlers came to America. The pie was an English specialty that was unrivaled in other European cuisines. Two early examples of the English meat pies were shepherd's pie and cottage pie. Shepherd's pie was made with lamb and vegetables, and the cottage pie was made with beef and vegetable. Both are topped with potatoes.
Shepherd's Pie
1 large yellow onion, peeled and chopped fine
1 sweet green pepper, cored, seeded, and coarsely chopped (optional)
2 tablespoons beef or bacon drippings or cooking oil
1¼ pounds ground chuck
1 beef bouillon cube
½ cup boiling water
1 tablespoon cornstarch mixed with 2 tablespoons cold water
1¼ teaspoons salt
¼ teaspoon pepper
1 tablespoon steak sauce
3 cups hot seasoned mashed potatoes
Preheat oven to 400ºF. Saute onion and green pepper in drippings in a large skillet over moderate heat 10 minutes until onion is golden. Add beef and saute, breaking meat up with a spoon, about 10 minutes, until lightly browned; drain off fat as it accumulates.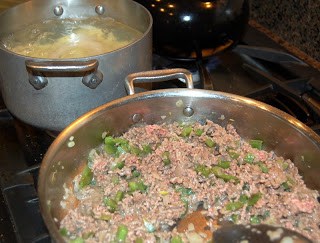 Boiling potatoes and browning the meat with the onion and green pepper.
Dissolve bouillon cube in water, add to cornstarch mixture, then stir into skillet along with salt, pepper and steak sauce. Heat, stirring, 1-2 minutes. Spoon into an ungreased 1½-quart casserole,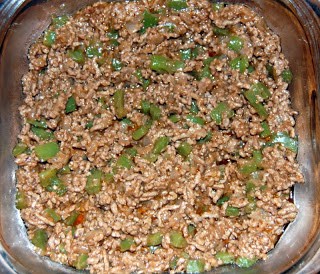 spread potatoes over surface and roughen with a fork.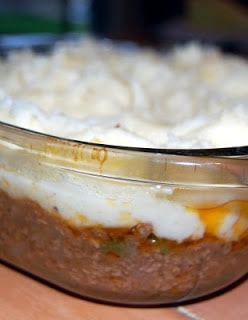 (Note: Recipe may be prepared to this point ahead of time, cool, cover, and chill. Bring to room temperature before proceeding.)
Bake, uncovered, 25-30 minutes, then broil 4″ from heat 2-3 minutes to brown.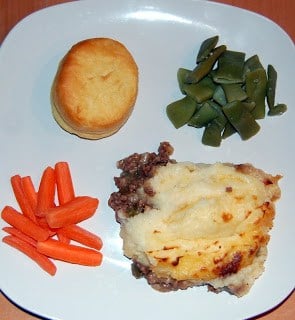 I confess. That biscuit you see on the plate is not something I baked. I feel very guilty about that because I'm doing a baking blog and I go out and by Pillsbury Grands. I had a recipe out so that I could make some homemade biscuits, but then I started digging through my coupons and planning today's shopping trip and that took longer than I expected. It was well worth it though; I went to the store with $111.00 cash and my total came to $112.41, so I had to use my debit for that $1.41. I saved $158.09 – 59%! I suppose this could've gone on my couponing page, but I'm here, so this is where it is.
I have to say that the pictures don't really do the dinner justice. It is a lot tastier than it appears to be. I like to add about a 1½ tablespoons of A1 Steak Sauce even though it only calls for 1. It definitely adds more flavor. I also put about 3/4 cup shredded cheddar/monterey cheese into the potatoes when I'm seasoning those. It was greasier tonight; more so than usual because I mistakenly picked up 85% lean ground beef instead of the 90%-95% I normally buy.
I have a rating system of 1-4 with 4 being the best. The rating for the Shepherd's Pie: 3½ rolling pins. There is never that much of this left over when I make it, but if there happens to be, it's even better the next day as leftovers.
Happy baking!