*I've added a "print friendly" button on the bottom of the posts so that the recipes can be printed out and you can opt to have them with or without the pictures.*
Wow! Day 40. It seems like it's been longer, but there's still such a looooong way to go – 325 recipes to be exact. Yikes! I feel like I do when I go to an Italian restaurant and have a bowl of pasta in front of me. I keep eating and eating, but it seems like it's an unending bowl and that I don't even make a dent in it. Which brings me to the question…Why? Why on earth am I doing this? It wasn't like I needed something to do because there is plenty around this house that could be worked on, finished, cleaned, etc. And certainly having so many baked goods in the house can't be healthy. I'm interested to see the weigh-in (ok, NOT really) because I'm feeling a little more voluptuous this week and not in a good way. I know I've gained something which really makes me want to pull out those P90X DVDs. Yup, maybe I won't bake tomorrow and we'll all just exercise! Haha, my son without even looking at what I'm typing sees that today is day 40 and says, "Wow, it's really day 40? I can't believe we all haven't gained any weight!" Ah, my dear sweet, sweet boy. No wonder your momma loves you so much!
No, I'm kidding – I'll be baking again tomorrow, but I'm pretty sure it'll be something for dinner instead of something sweet. We'll see how I feel when I wake up in the morning.
Today I made Chocolate Peanut Butter Pretzel Brownies. I saw them posted on Joy the Baker. I've got her site listed under my Delicious Blogs. She's got some really awesome recipes on her site and I love her writing, especially the story under her posting of Lemon Cornmeal Breakfast Cake. Very funny!
Chocolate Peanut Butter Pretzel Brownies
from Joy the Baker
makes 9 large brownies
adapted from Martha Stewart

For the Brownie:
8 tablespoons (1 stick) unsalted butter
2 ounces unsweetened chocolate, coarsely chopped
4 ounces semi-sweet chocolate, coarsely chopped
1 teaspoon instant coffee (optional)
3/4 cup granulated sugar
3 large eggs
1 teaspoon pure vanilla extract
2/3 cup all purpose flour
½ teaspoon baking powder
¼ teaspoon salt
coarse sea salt for topping
For the Peanut Butter Filling:
4 tablespoons unsalted butter, melted
½ cup powdered sugar
3/4 cup smooth peanut butter
¼ teaspoon salt
½ teaspoon vanilla extract
large handful of pretzel sticks
Place a rack in the upper third of the oven and preheat to 325ºF. Grease an 8×8-inch baking pan. Line with parchment paper so that it overhangs on two sides and grease the parchment paper as well.
Boil two inches of water in a medium saucepan. Combine butter, unsweetened chocolate, semi-sweet chocolate and coffee powder (if using) in a heat proof bowl and place over simmering water. Stir until chocolate and butter are melted. Use a pot holder to remove the bowl from the double boiler and let mixture cool slightly. Stir in vanilla extract.
In a small bowl, whisk together flour, baking powder and salt.
Whisk granulated sugar into the chocolate and butter mixture.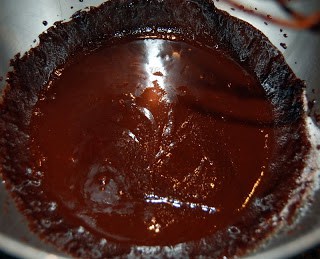 Make sure the chocolate mixture isn't too hot and whisk the eggs into the mixture one at a time.
Fold the flour mixture into the chocolate mixture and spoon into prepared pan.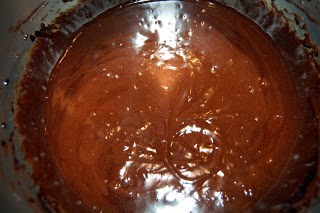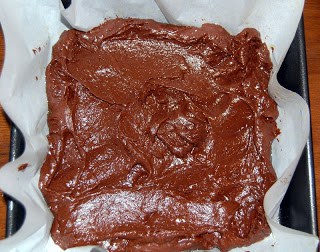 To make the Peanut Butter Filling, whisk together peanut butter, melted butter, powdered sugar, salt and vanilla extract until smooth.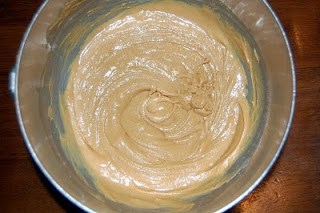 Pour the peanut butter mixture on top of the brownie batter and use a butter knife to swirl the two together.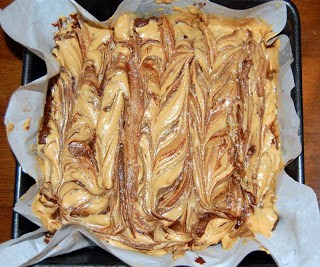 Arrange pretzel sticks on top of the brownie batter in whatever pattern makes you happy.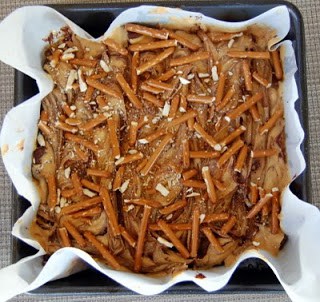 Top with a few sprinkles of coarse sea salt. Bake for 40-45 minutes until a skewer inserted in the center comes out mostly clean or maybe with just a few crumbs.
Let cool for about 30 minutes before slicing and enjoy! (Good luck with being patient enough to "let it cool".)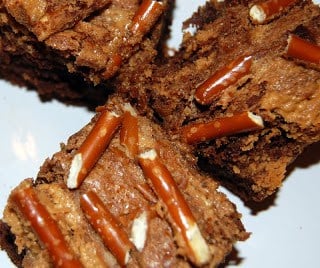 I love the combination of chocolate, peanut butter, salt and pretzels. It is really good and reminds me of those Hershey Take 5 candy bars that I love so much. I was glad the parchment paper was suggested in addition to greasing the pan because I think it would have been a very big mess trying to remove them. The coarse sea salt on them was divine! I used about 3-4 handfuls of pretzels, broke them apart and sprinkled them all over the top. In Joy's picture she had the whole pretzels laid out over the top.
This has gotten to be a lot of fun now because the whole family has a meeting of the minds shall we say about what the day's recipe should be rated (I think it makes them feel important 😉 ). So, after much deliberation this evening, (our rating system (well, my rating system) which is based on a scale of 1-4 with 4 being the best), the family has decided that these brownies deserve 3 rolling pins! Thank you, Joy for sharing it with us!
Happy baking!