Mint Chocolate Crinkles – chopped mint Andes candies are melted throughout that chocolate crinkle cookie we all grew up with.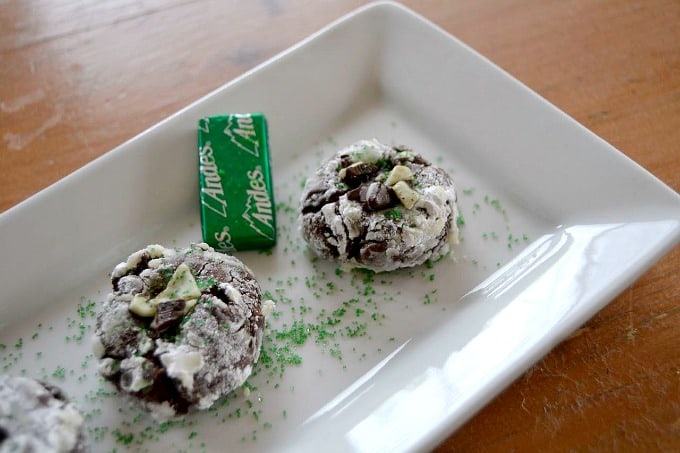 I've always loved Chocolate Crinkles.
It's the first Monday in March which means it's time for the Cookie of the Month. I, along with a bunch of other wonderful bloggers are baking cookies. It's a fun thing to do since cookies are my favorite dessert, but even more fun and challenging because we're given a certain ingredient we have to use each month. For March, the ingredient is mint!
SAVE THESE MINT CHOCOLATE CRINKLES TO YOUR FAVORITE PINTEREST BOARD!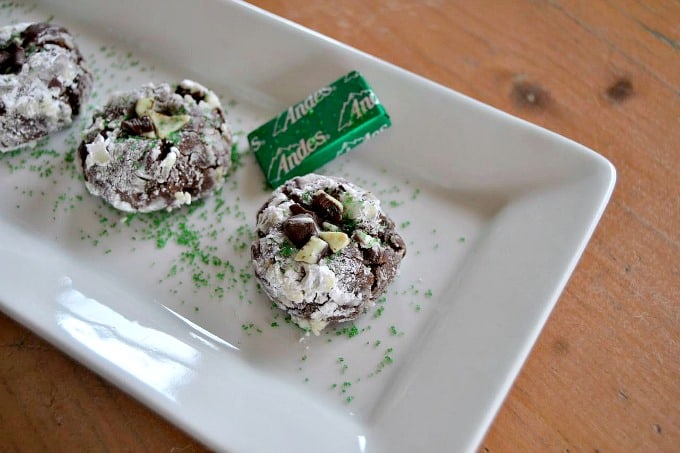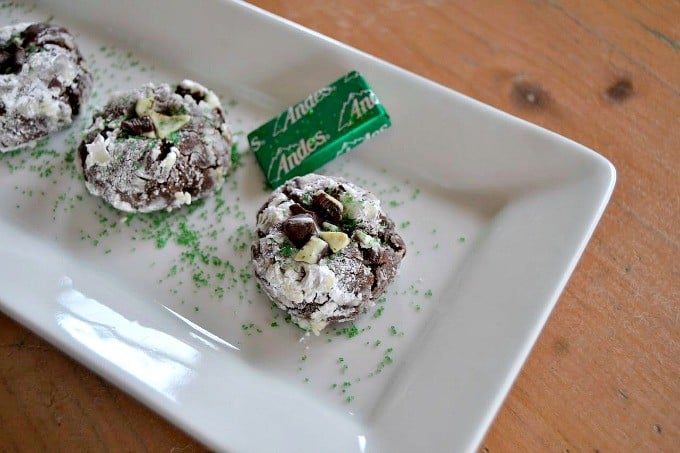 Chocolate Crinkles were one cookie mom made a lot when I was growing up.
I don't ever remember her making chocolate chip cookies, it was always the crinkles.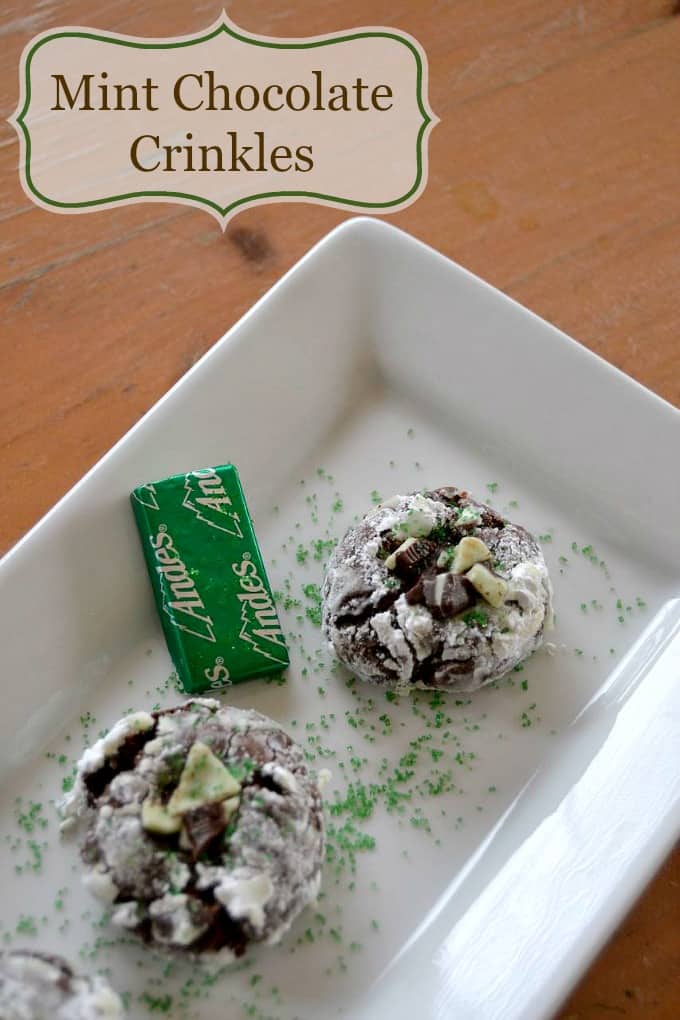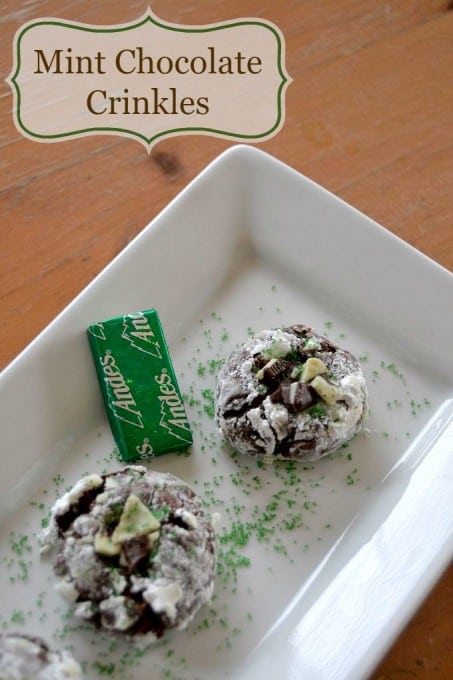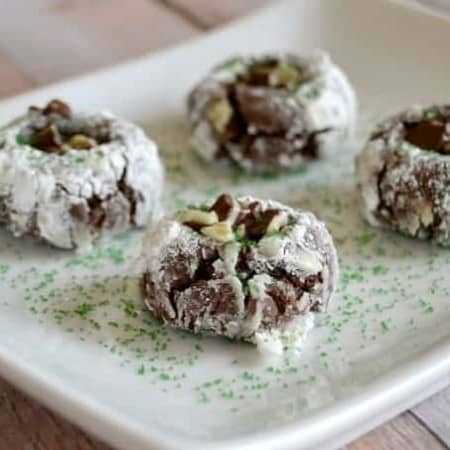 Ingredients
1 ½ cups flour
¾ cup granulated sugar
½ cup unsweetened cocoa powder
1 teaspoon baking powder
½ teaspoon Kosher salt
6 tablespoons unsalted butter melted.
2 large eggs
1 teaspoon pure vanilla extract
¾ cup mini semi-sweet chocolate chips
40 Andes Creme De Menthe Thins chopped, plus remainder chopped for topping
½ cup confectioners' sugar
Instructions
Into a large bowl, thoroughly whisk together the flour, granulated sugar, cocoa powder, baking powder, salt.

In a small bowl, beat the eggs and add the vanilla.

Pour the eggs and melted butter into the dry ingredients and mix until thoroughly combined.

Mix in the chocolate chips, and chopped Andes mint candies.

Cover the bowl with plastic wrap and refrigerate for at least two hours.

Preheat oven to 325 degrees F. Prepare a baking sheet by lining it with parchment.

Place the 1/2 cup confectioners' sugar into a small bowl.

Using a flat tablespoon of dough, roll into a ball and roll in confectioners' sugar.

Your hands could get sticky as the dough warms up, so try to roll them as quickly in your hands as possible.

Place covered dough balls onto prepared baking sheet about 1-inch apart.

Bake for 12 minutes until cookies are puffed and appear crinkled.

Allow to cool on a baking sheet for 5 minutes. Make a slight indentation in the top of each cookie and into it sprinkle a couple of the remaining chopped candies. Transfer to a wire rack.
Did you make this recipe?
Share it with me on Instagram and make sure to follow me on Pinterest for more recipes.
I rate everything I make on a scale of 1 -4 with 4 being the best and these Mint Chocolate Crinkles earned 3 rolling pins.
They were good, I was just disappointed that the Andes candies melted in the cookies. I was hoping they wouldn't, but adding those extra chopped pieces to the top was a good thing.
I didn't add any peppermint extract because it would have been too overpowering with the flavoring and the candy.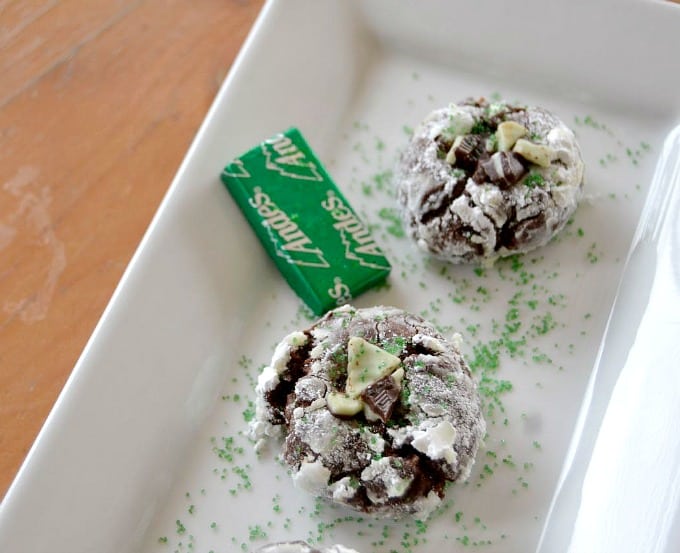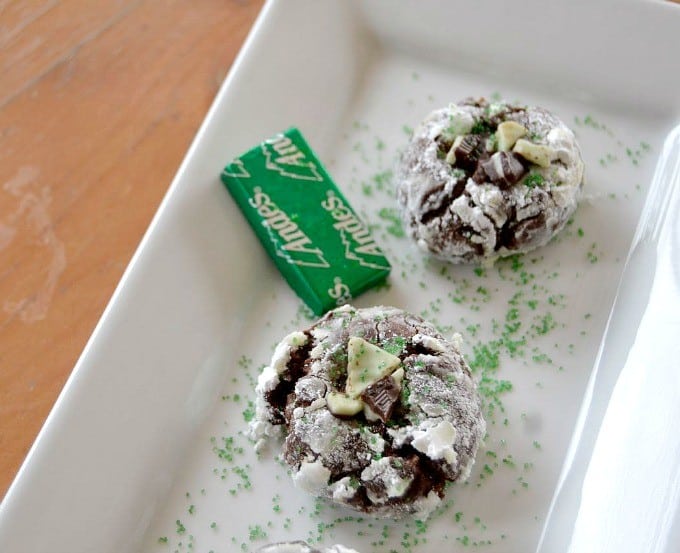 Just the use of the candies even though they melted gave it the perfect taste of mint. I also think I would have liked the cookies to be bigger, and next time I'll use two tablespoonfuls of dough instead of just the one.
Be sure to check out the other mint cookies these wonderful bloggers have made for Cookie of the Month!
If you like these Mint Chocolate Crinkles then you'll probably love…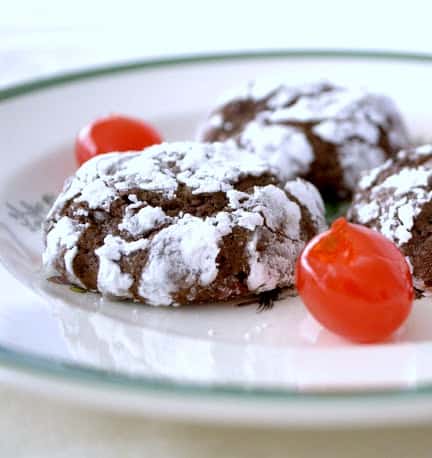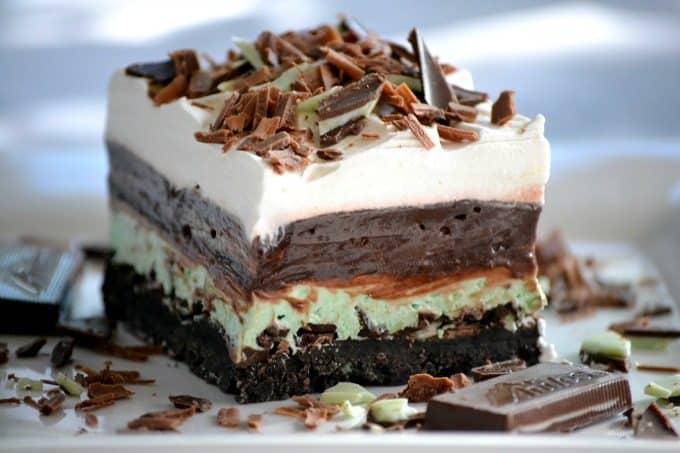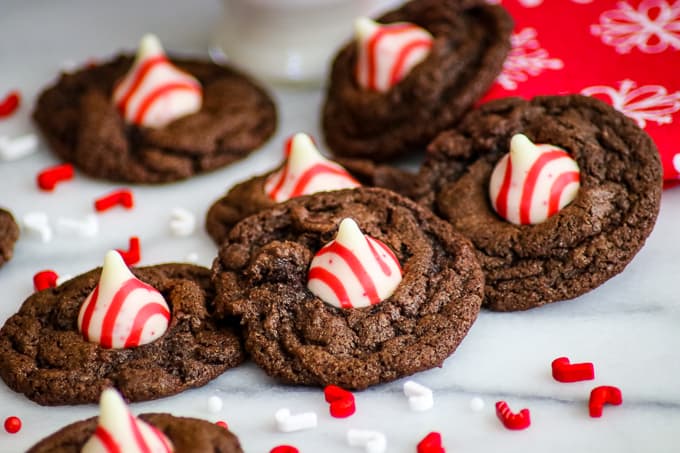 Reader Interactions