These Stained Glass Cookies are rolled sugar cookies cut out and filled with crushed Jolly Rancher candies which melt to create a stained-glass effect. There are a Christmas cookie that kids both young and old will love.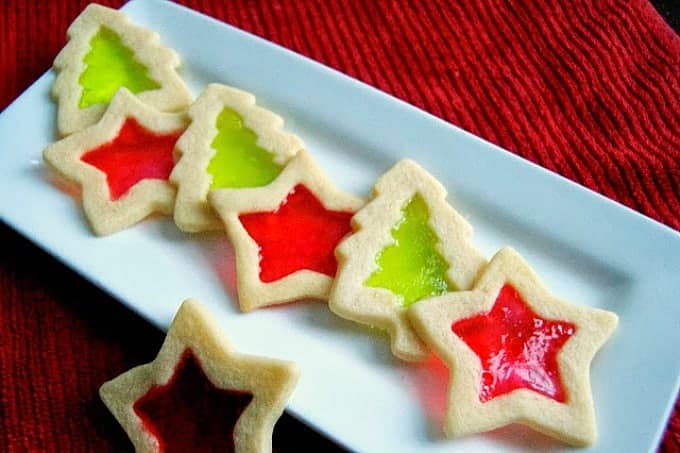 Ok, today is really supposed to be Day 3 of the 12 Days of Cookies. I'm a little behind so I'm bringing you Day 2 instead. . .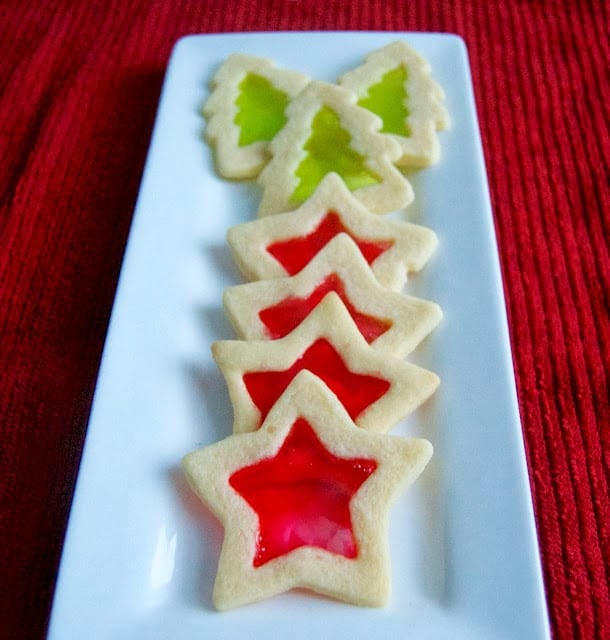 Or is it the other way around? Anywho…We're having a 12 Days of Cookies Party over on the 365 Days of Baking Facebook page and LOTS of people have been sharing LOTS of cookies!!
Sugar Cookies
I've seen so many amazing looking cookie recipes over there so far! If you haven't been over to check them out, please do so and say hello to some new Facebook pages and tell them how much you like their cookies!
I've also been pinning them. You can follow me on Pinterest and check out my boards. I have a board for each day of cookies.
Since we're talking about sugar cookies today and Christmas cookies, more specifically I also don't want to forget to talk about the ones I love on this blog, like classic Peppermint Frosted Sugar Cookies.
Peppermint Blossom Cookies bring tons of festivity to my Christmas cookie platters every year. too! Double Chocolate Peppermint Kisses are another minty holiday treat to try.
Have you made Viennese Crescents yet? If not, those need to be on your baking list this year, too.
SAVE THESE STAINED GLASS COOKIES TO YOUR FAVORITE PINTEREST BOARD!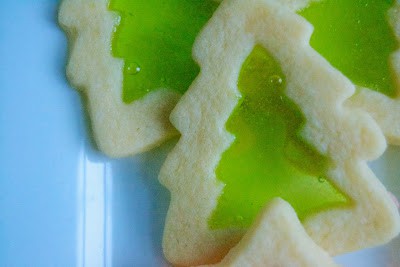 Stained Glass Cookies
Today I give you a recipe that I thought was going to be a bit complicated but turned out to be rather easy. Stained Glass Sugar Cookies look super impressive and fancy and will have everyone "ooh-ing" and "ahh-ing."
YAY for fancy-looking but easy!
Stained Glass Cookies are just a simple sugar cookie using two cut-outs, and crushed Jolly Rancher candies. I'd seen people online using both melted jolly ranchers and melted life savers to make the "stained glass" part of the cookie.
I tried both and VASTLY preferred how the jolly rancher ones looked and tasted.
Read on to see the complete results of both versions. In summary, though, the LifeSaver cookies turned out BLECCHY with a capital B in both taste and melting quality.
The jolly rancher stained glass cookies, though? Gorgeous!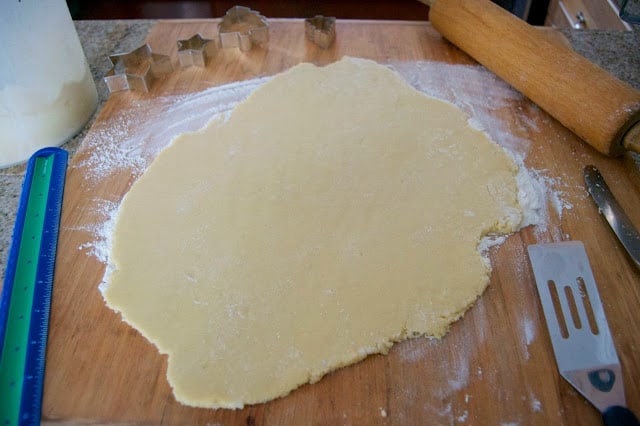 First, you just mix together a sugar cookie dough and roll it out. I used two different cut-out shapes: stars and Christmas trees!
Here are the cookies after 5 minutes in the oven.
Halfway through the baking time, you pull the sugar cookies out of the oven. I sprinkled crushed up candy (jolly ranchers and lifesavers) into the center of each cookie. The candy melts as the cookies finish baking.
Stained Glass Sugar Cookies
Here are the finished cookies made with melted jolly rancher candies. Pretty and jolly, right? (Excuse the pun.)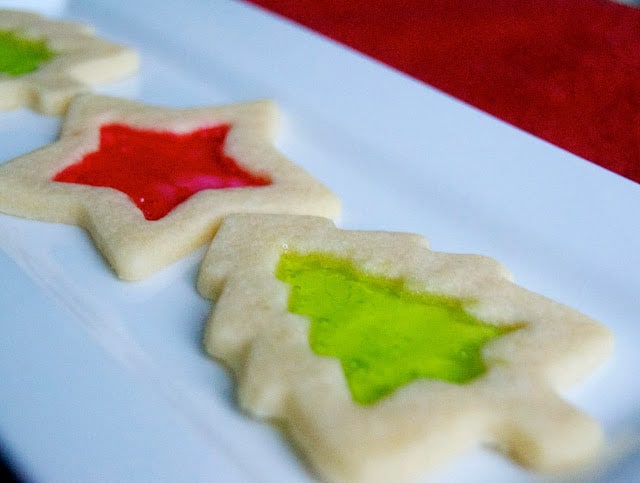 So about the Lifesavers: yeah, no. They tasted horrible and melted even worse. See the difference?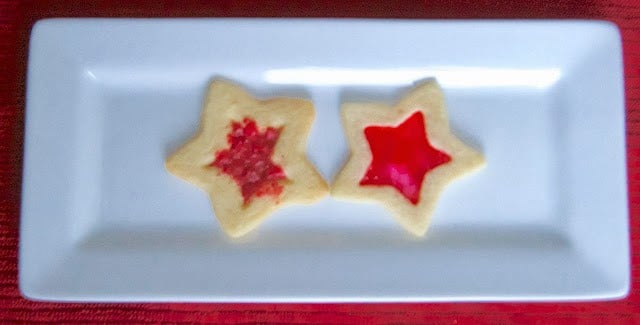 In the picture ABOVE, Lifesavers are on the left, Jolly Ranchers on the right. Even though it's a blurry picture, you can still see the difference. That pink spot in the Jolly Rancher cookie is because I combined the watermelon and cherry candies.
This combining meant the colors were a little different but I think it made it look even more like "stained glass."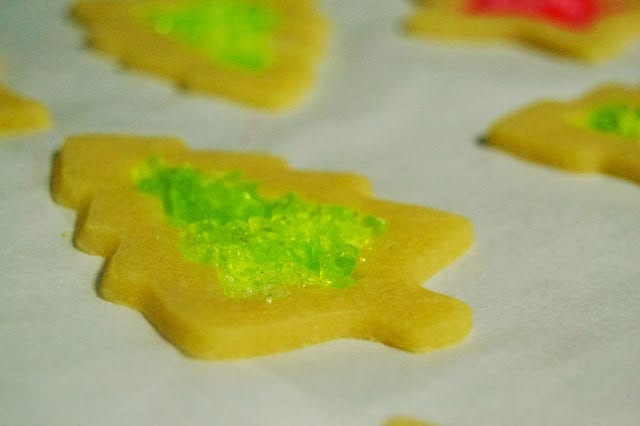 Obviously, with the smaller cut-outs of the dough, I re-rolled those to make more cookies and kept doing that until I was out of dough.
Also, I only baked one tray at a time, as it was a bit time consuming filling the centers and my back started to hurt (haha).
When sprinkling the candy into the center, you want to get as little as possible on the cookie itself because it doesn't "go away" as I somehow thought it might. (See the above picture.)
Where the heck did I think it would disappear to anyway? So, some stained glass cookies were as close to perfect as I could get while others, you could tell Miss Lynne was getting tired from filling cookies with crushed candy.
I rate everything I make on a scale of 1-4 and these Stained Glass Cookies earned 4 rolling pins!
They were easy, fun and tasty to eat.
I made Stained Glass Sugar Cookies for Thanksgiving along with Caramel Apple Pie Crust Cookies. The kids LOVED them–and so did all the adults!
They'll be a hit on that cookie tray or dessert table.
Next time, I'll definitely use only jolly ranchers. I might bake up a batch of these Candy Cane Snowball Cookies by Erin at Well Plated to serve them, with too.
~ FOLLOW ME ~
~ FACEBOOK ~ PINTEREST ~
~ INSTAGRAM ~ TWITTER ~
SIGN UP FOR THE WEEKLY
365 DAYS OF BAKING & MORE
NEWSLETTER!
Stained Glass Cookies Recipe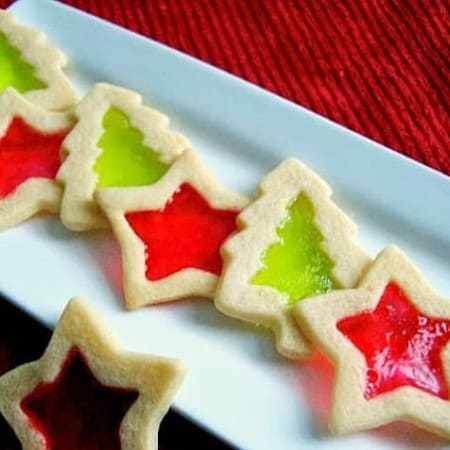 Stained Glass Cookies
These Stained Glass Cookies are rolled sugar cookies cut out and filled with crushed Jolly Rancher candies which melt and create a stained-glass effect.
Print
Pin
Rate
Equipment
Mixer

mixing bowl

Baking Sheet
Ingredients
8

tablespoons

unsalted butter

room temperature

¾

cup

granulated sugar

1

egg

½

teaspoon

pure vanilla extract

1

tablespoon

heavy cream

1 ½

cups

all-purpose flour

⅛

teaspoon

salt

¼

teaspoon

baking powder

Assorted Jolly Rancher Hard Candies

10-15 of each, crushed - I put them in two plastic bags and crushed them with a mallet and you can use any color you prefer.
Instructions
Preheat oven to 350 degrees, F.

Prepare two baking sheet by lining them with parchment paper.

Cream the butter, then gradually add the sugar, beating until light.

Add the egg, vanilla and cream. Beat throughly.

In a medium mixing bowl, whisk together the flour, salt and baking powder.

Add to the butter/sugar mixture and blend well.

Prepare a clean flat surface by covering it with flour, enough so that the dough will not stick to the surface.

Using a floured rolling pin, roll dough to 1/4 -inch thick.

Using the larger cookie cutter, cut shapes into the dough.

Transfer the cut-outs to prepared cookie sheets.

Center the smaller cookie cutter in to the larger cut-out and gently remove.

Bake cookies for 5 minutes, until slightly set.

Remove tray from oven and with a small spoon or small utensil sprinkle crushed Jolly Rancher candy into the center of each cookie.

Return tray to oven and bake for 5-7 minutes more, until candy has melted and cookies are golden.

Allow to cool on baking sheet for about 5 minutes before setting on wire rack to cool completely.
Notes
Makes about 24 cookies depending on your cookie cutter sizes.
Nutrition
Serving:
1
g
|
Calories:
91
kcal
|
Carbohydrates:
12
g
|
Protein:
1
g
|
Fat:
4
g
|
Saturated Fat:
3
g
|
Cholesterol:
18
mg
|
Sodium:
16
mg
|
Potassium:
15
mg
|
Fiber:
1
g
|
Sugar:
6
g
|
Vitamin A:
136
IU
|
Calcium:
5
mg
|
Iron:
1
mg
I took the sugar cookie recipe from my Fannie Farmer Cookbook Thirteenth Edition, p. 617; author, Marion Cunningham; publisher, Alfred A. Knopf, a division of Random House, Inc.; ISBN 0-394-56788-9.
Christmas Cookies
Check out more recipes from the 12 Days of Cookies!
Even MORE cookie recipes. . .
I can't ever have enough cookies, can you?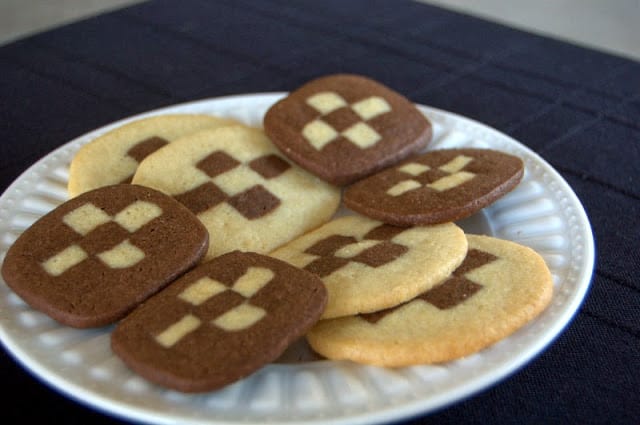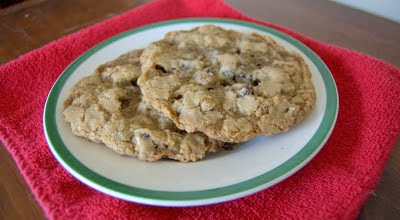 Okay, okay, I know this is a LOT of cookies. But it's the 12 Days of Cookies, after all!
I can't leave you without reminding you with just a few more favorites to pin and try this year.
Happy 12 Days of Cookies, everyone!