Stained Glass Cookies are a Christmas classic. Rolled sugar cookies are cut out and filled with crushed Jolly Rancher candies. As the cookies bake, the candies melt, creating a stained glass effect. Perfect for your holiday cookie tray!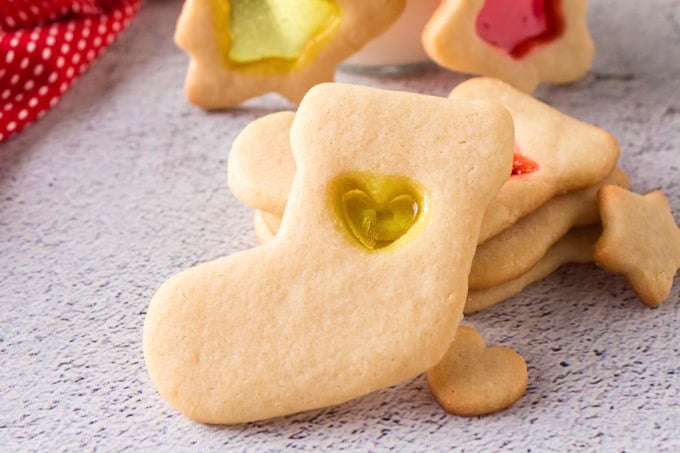 These cookies look impressive and fancy and will have everyone "ooh-ing" and "ahh-ing."

I absolutely love the way these cookies look and everyone always enjoys them whenever I make them, too.
These Stained Glass Cookies are Day 10 of our 12 Days of Cookies
Be sure to check out all of the other days for more goodies!
Day 1 – Fluffernutter Cookies
Day 2 – Toffee Coconut Oatmeal Bars
Day 3 – Double Chocolate M&M Christmas Cookies
Day 4 – Lace Cookies
Day 5 – Whipped Shortbread
Day 6 – Chocolate Spritz Cookies
Day 7 – 3 Ingredient Sugar Free PB Cookies
Day 8 – Wasabi Chocolate Crinkles
Day 9 – Christmas Sprinkle Cookies
Day 10 – You're on it!
Day 11 – Cream Cheese Meltaways
Day 12 – Peppermint Sugar Cookie Cups
SAVE THIS EASY STAINED GLASS COOKIE RECIPE TO YOUR FAVORITE PINTEREST BOARD!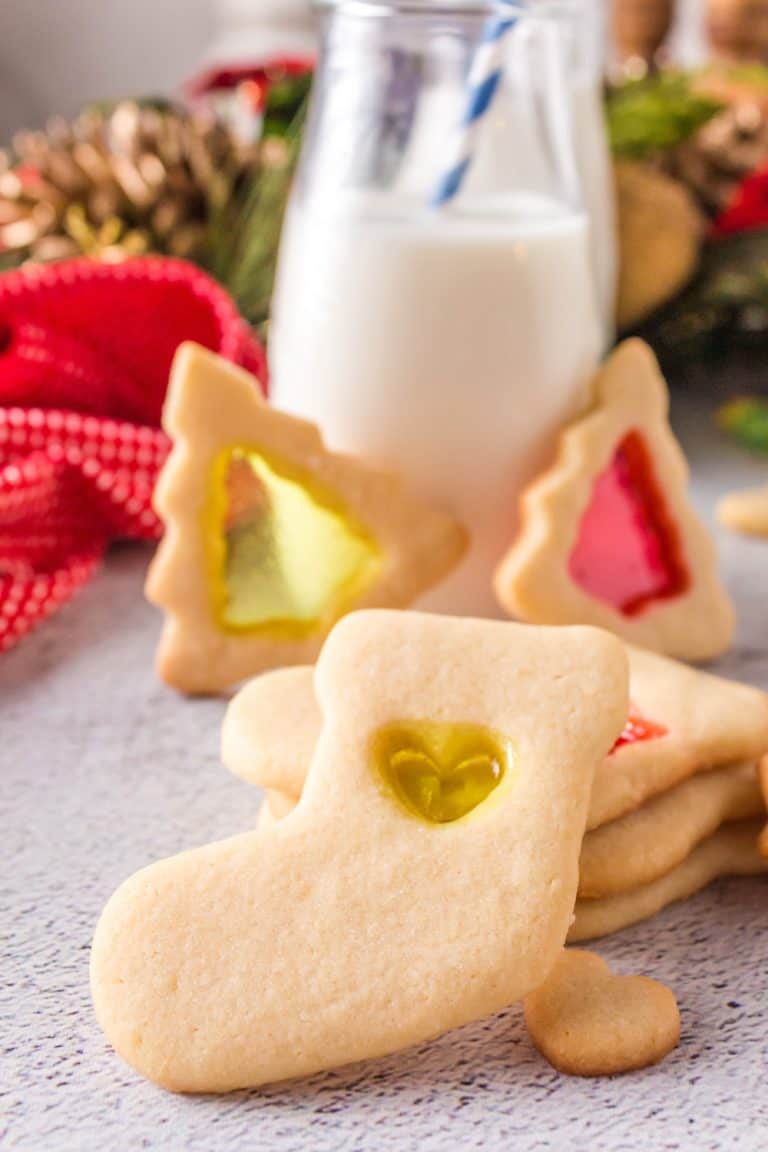 Sugar cookies with candy
Here's the secret: they are super easy to make!
Stained Glass Window Cookies are just a simple sugar cookie using two cookie cutters, and crushed Jolly Rancher candies. The candies melt to fill the center of the cookie with a jewel toned layer that resembles stained glass.
You can make them into any shape you like and any colors you like. Unlike most holiday sugar cookie recipes, they require no frosting or sprinkles.
I love frosted sugar cookies too but sometimes it's nice to have one less step (and less mess) on your baking day!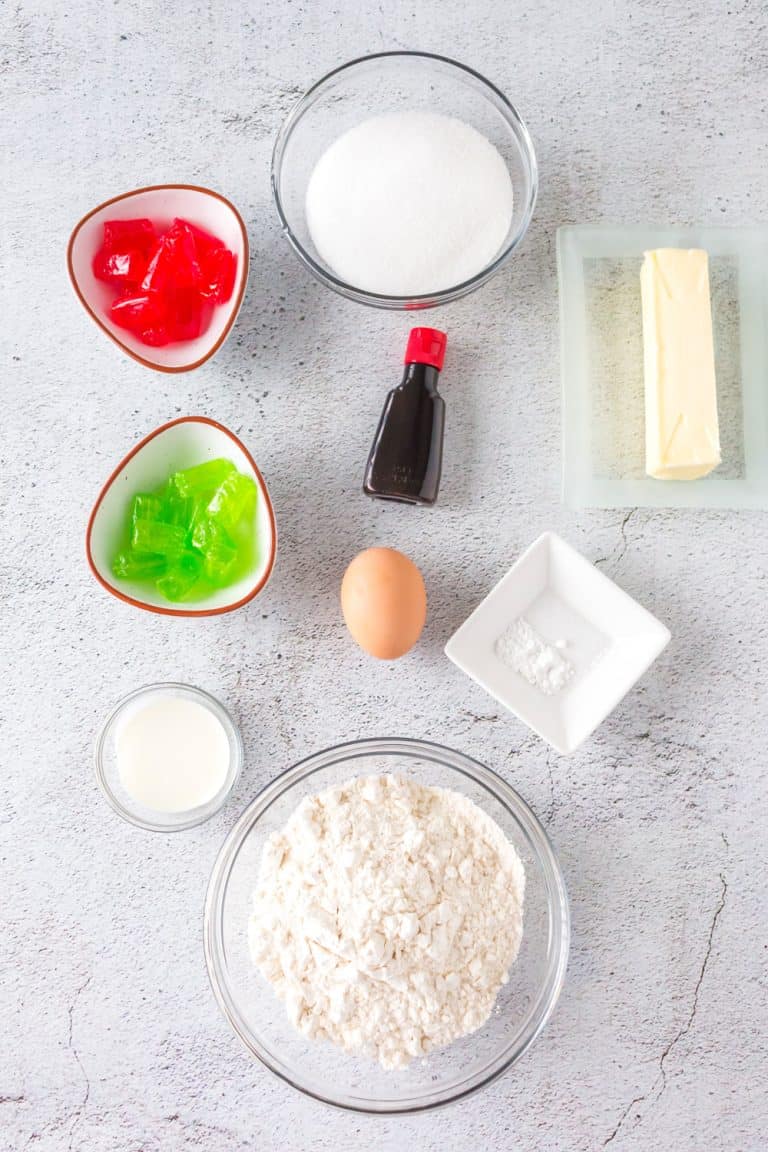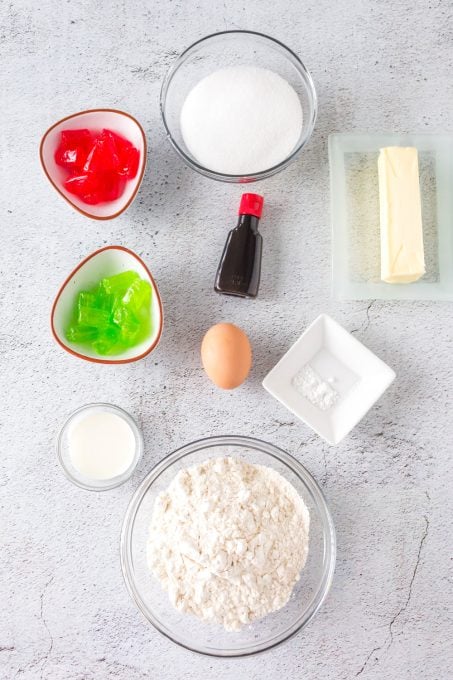 What do I need?
These cookies start with a homemade sugar cookie dough. For the dough, you'll need these ingredients.
butter
sugar
egg
vanilla
heavy cream
flour
salt
baking powder
To make the stained glass center, you'll need crushed jolly ranchers. Any color will do. I chose festive red and green for the holidays.
Put candies in plastic zipped bags. Use a mallet to crush them into fine pieces. They don't need to be totally pulverized, just fine enough to melt quickly in the oven.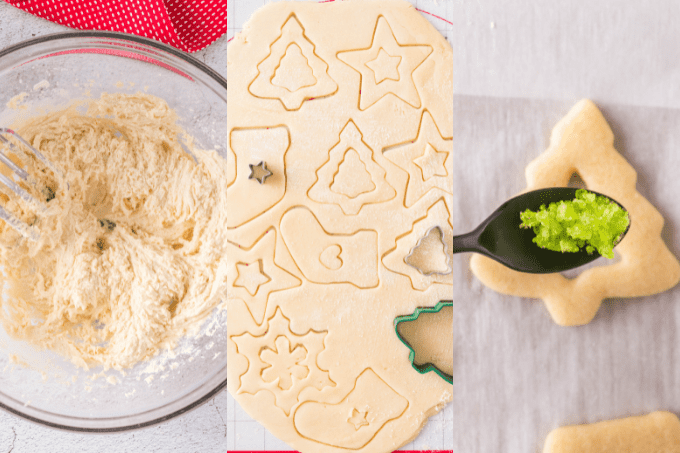 How to Make Stained Glass Christmas Cookies
First, you just mix together the sugar cookie dough and roll it out.
Then you'll need two of the same shape cookie cutters, but different sizes.

Separate the Jolly Rancher candies by color and put them into sandwich bags.
Using a rolling pin or flat heavy mallet, crush the candy.
Use one cookie cutter to cut out the cookie shapes. Then use the smaller cookie cutter of the same shape to cut out the center.
Halfway through the baking time, you pull the sugar cookies out of the oven. Sprinkled crushed up candy into the center of each cookie. Put them back in the oven and let them finish baking as the candy melts.
PRO TIP: Be careful not to get any crushed candy on the actual cookie itself. Keep the cookie part clean and neat for best looking cookies!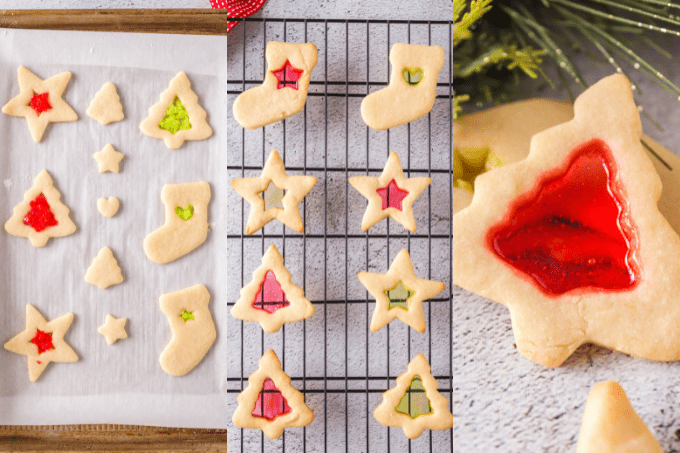 Can I use life savers instead?
I've seen people online mention making Stained Glass Cookies with Life Savers instead of Jolly Ranchers. So I gave it a shot to find out if the results would be just as good.
My answer will always be a resounding no.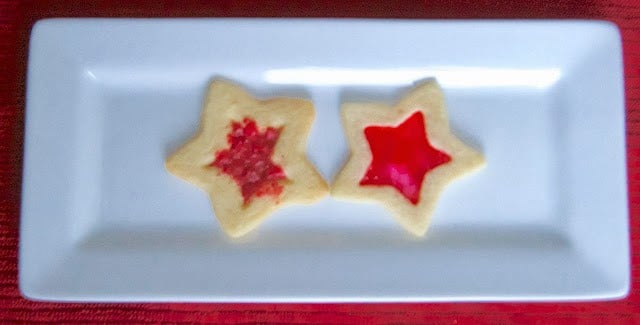 In the picture ABOVE, Lifesavers are on the left, Jolly Ranchers on the right. Even though it's a blurry picture, you can still see the difference. Jolly Ranchers melt so much more smoothly than Life Savers. There's no contest which candies work best in Stained Glass Cookies recipes. Jolly Ranchers will win every time.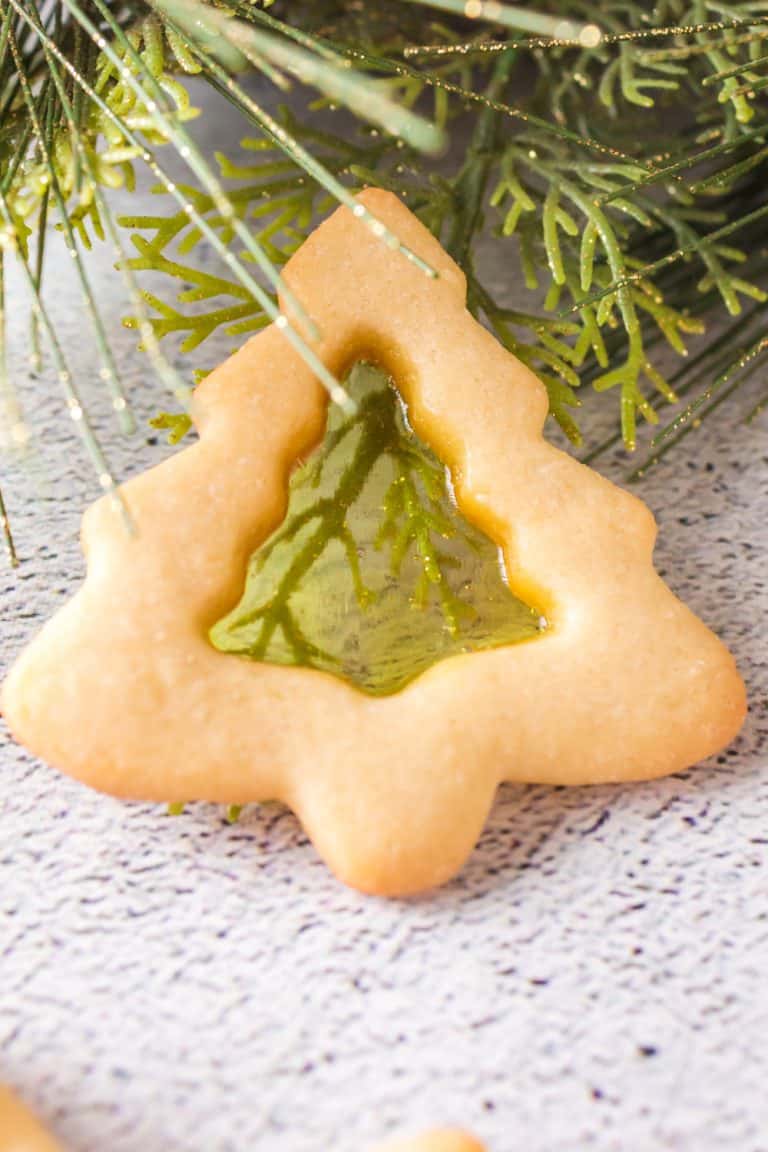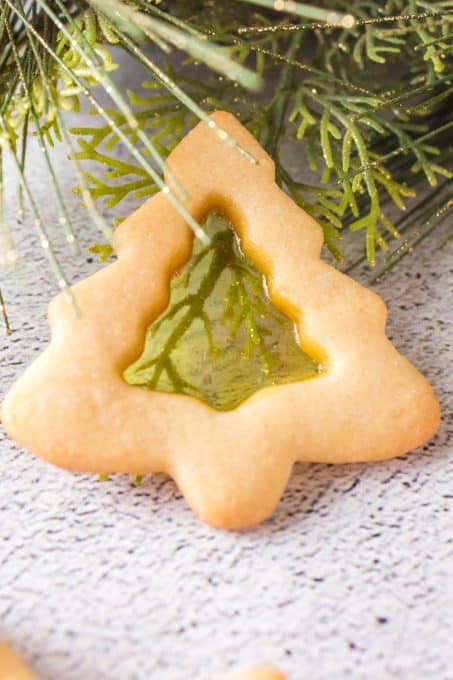 These Stained Glass Sugar Cookies were a hit for Thanksgiving along with Caramel Apple Pie Crust Cookies. The kids LOVED them–and so did all the adults!
Sugar Cookies
Since we're talking about sugar cookies today and especially Christmas cookies, I also don't want to forget to talk about the other ones I love on this blog.
Classic Peppermint Frosted Sugar Cookies make your kitchen smell like candy cane heaven. These Peppermint Blossom Cookies bring tons of festivity to my Christmas cookie platters every year, too.
Have you made Viennese Crescents yet? Those are easy to make and fancy enough to serve at a more formal Christmas soiree or tea party.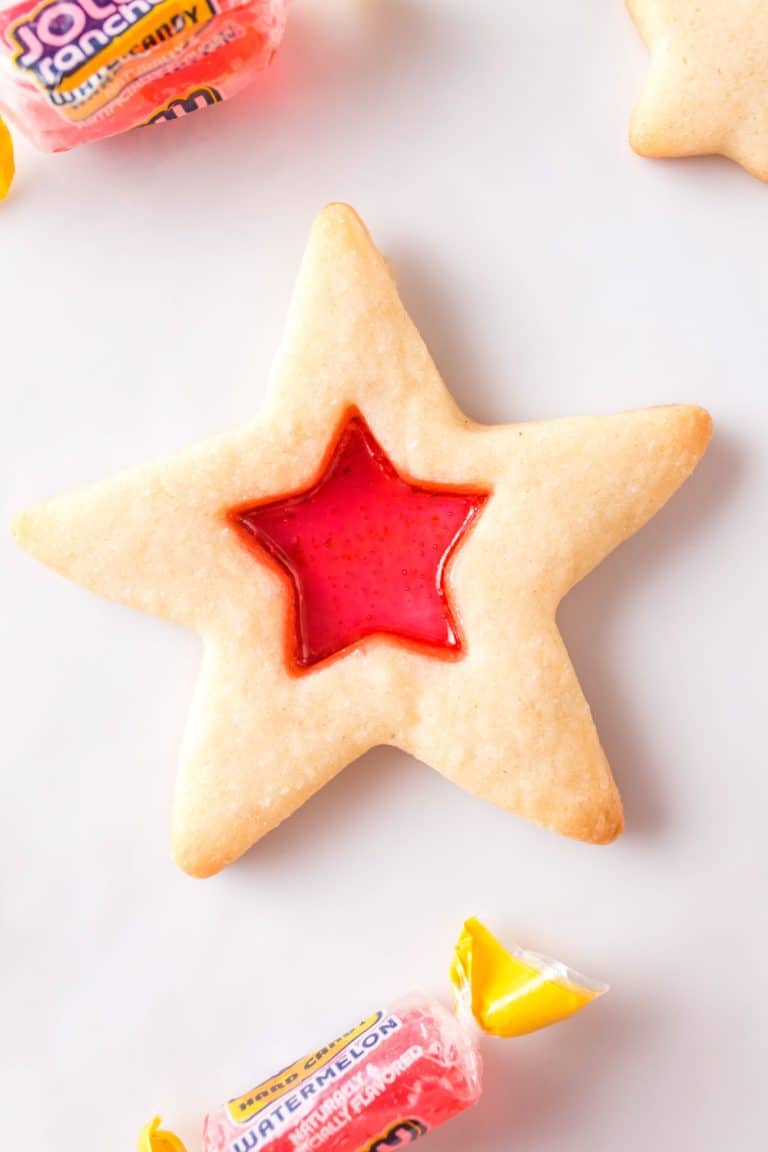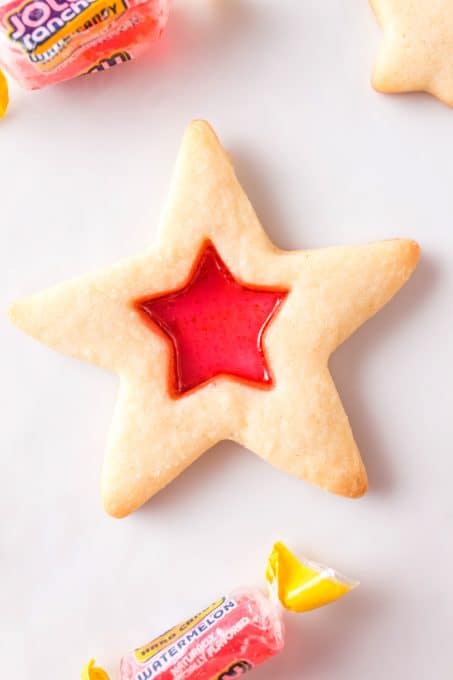 Need a little more cookie inspiration? We've got you covered with these tasty sugar cookie recipes!
~ FOLLOW ME ~
~ FACEBOOK ~ PINTEREST ~
~ INSTAGRAM ~ TWITTER ~
SIGN UP FOR THE WEEKLY
365 DAYS OF BAKING & MORE
NEWSLETTER!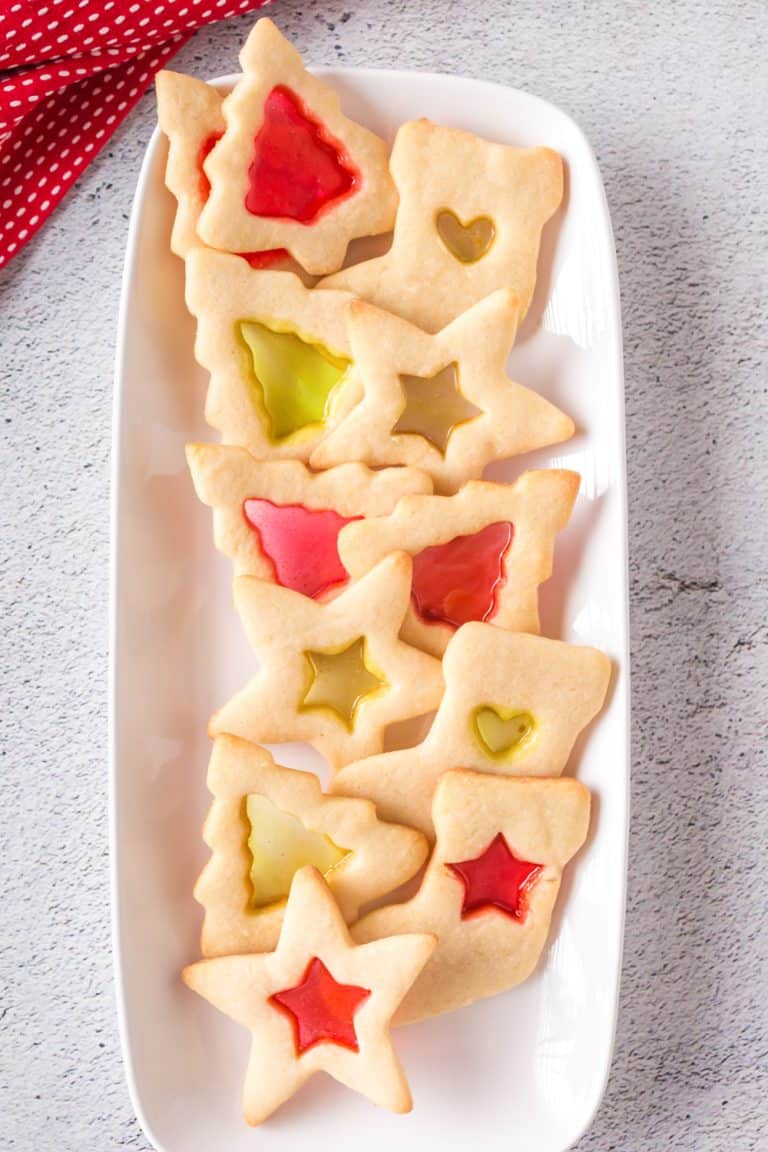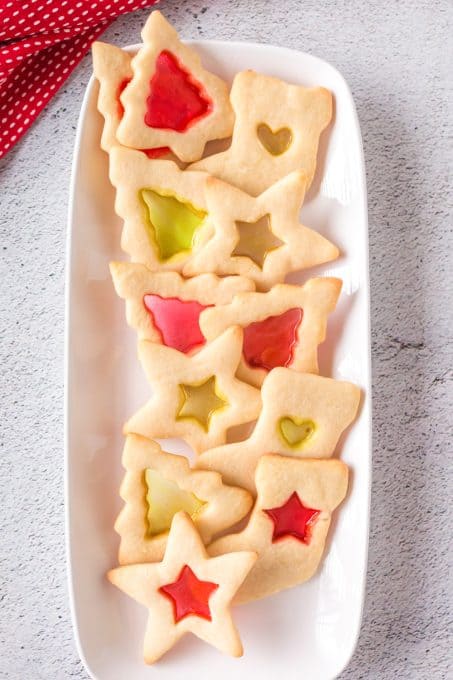 Turn simple sugar cookies into an eye-catching treat with this Stained Glass Cookies Recipe!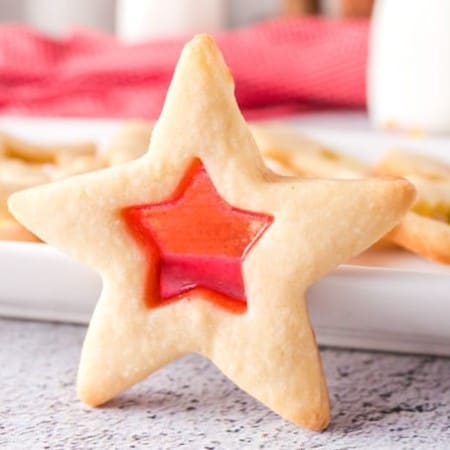 These Stained Glass Cookies are rolled and cut out sugar cookies that are filled with crushed Jolly Rancher candies which melt and create a stained-glass effect.
Equipment
Mixer

mixing bowl

Baking Sheet
Ingredients
8 tablespoons unsalted butter room temperature
¾ cup granulated sugar
1 egg
½ teaspoon pure vanilla extract
1 tablespoon heavy cream
1 ½ cups all-purpose flour
⅛ teaspoon salt
¼ teaspoon baking powder
Assorted Jolly Rancher Hard Candies 10-15 of each, crushed – I put them in two plastic bags and crushed them with a mallet and you can use any color you prefer.
Instructions
Preheat oven to 350 degrees, F.

Prepare two baking sheet by lining them with parchment paper.

Cream the butter, then gradually add the sugar, beating until light.

Add the egg, vanilla and cream. Beat throughly.

In a medium mixing bowl, whisk together the flour, salt and baking powder.

Add to the butter/sugar mixture and blend well.

Prepare a clean flat surface by covering it with flour, enough so that the dough will not stick to the surface.

Using a floured rolling pin, roll dough to 1/4 -inch thick.

Using the larger cookie cutter, cut shapes into the dough.

Transfer the cut-outs to prepared cookie sheets.

Center the smaller cookie cutter in to the larger cut-out and gently remove.

Bake cookies for 5 minutes, until slightly set.

Remove tray from oven and with a small spoon or small utensil sprinkle crushed Jolly Rancher candy into the center of each cookie.

Return tray to oven and bake for 5-7 minutes more, until candy has melted and cookies are golden.

Allow to cool on baking sheet for about 5 minutes before setting on wire rack to cool completely.
Notes
Makes about 24 cookies depending on your cookie cutter sizes.
Nutrition
Serving: 1cookie | Calories: 91kcal | Carbohydrates: 12g | Protein: 1g | Fat: 4g | Saturated Fat: 3g | Polyunsaturated Fat: 1g | Monounsaturated Fat: 1g | Trans Fat: 1g | Cholesterol: 18mg | Sodium: 16mg | Potassium: 17mg | Fiber: 1g | Sugar: 6g | Vitamin A: 136IU | Vitamin C: 1mg | Calcium: 6mg | Iron: 1mg
Did you make this recipe?
Share it with me on Instagram and make sure to follow me on Pinterest for more recipes.
This post was originally published 12/8/2013. It has been updated in format and with new pictures on 12/6/2021.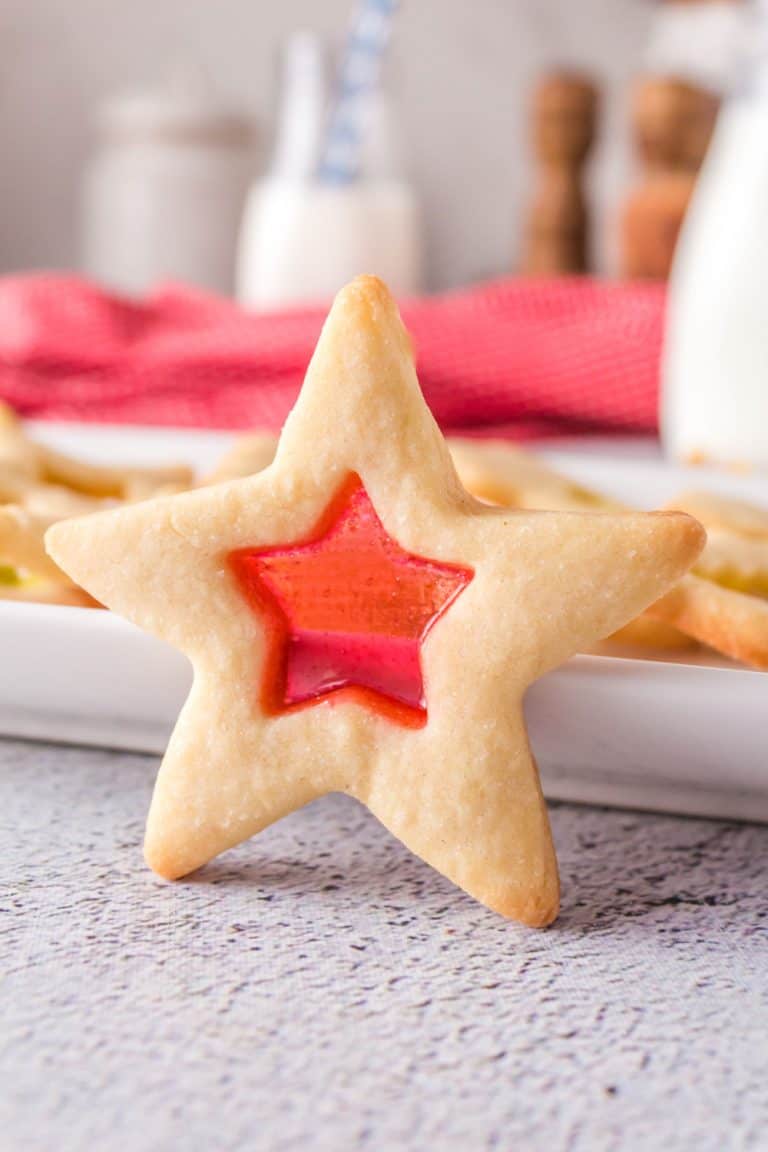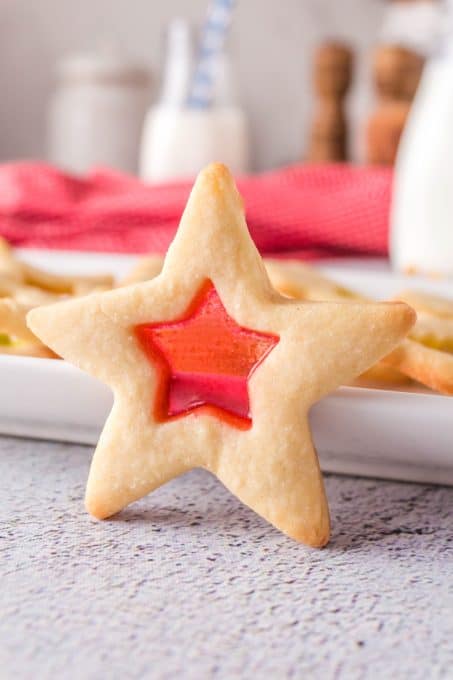 I took the sugar cookie recipe from my Fannie Farmer Cookbook Thirteenth Edition, p. 617; author, Marion Cunningham; publisher, Alfred A. Knopf, a division of Random House, Inc.; ISBN 0-394-56788-9.
Christmas Cookies
Check out more recipes from the 12 Days of Cookies past!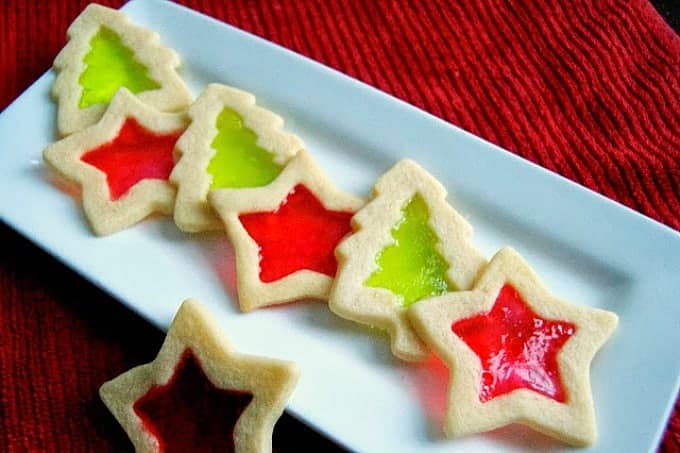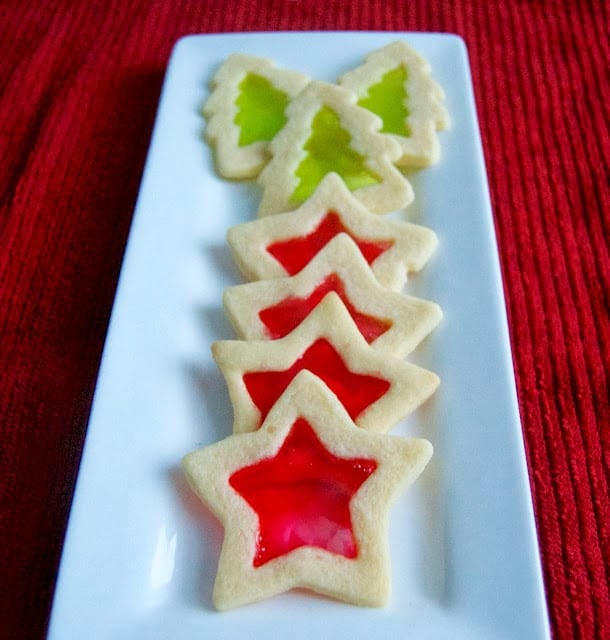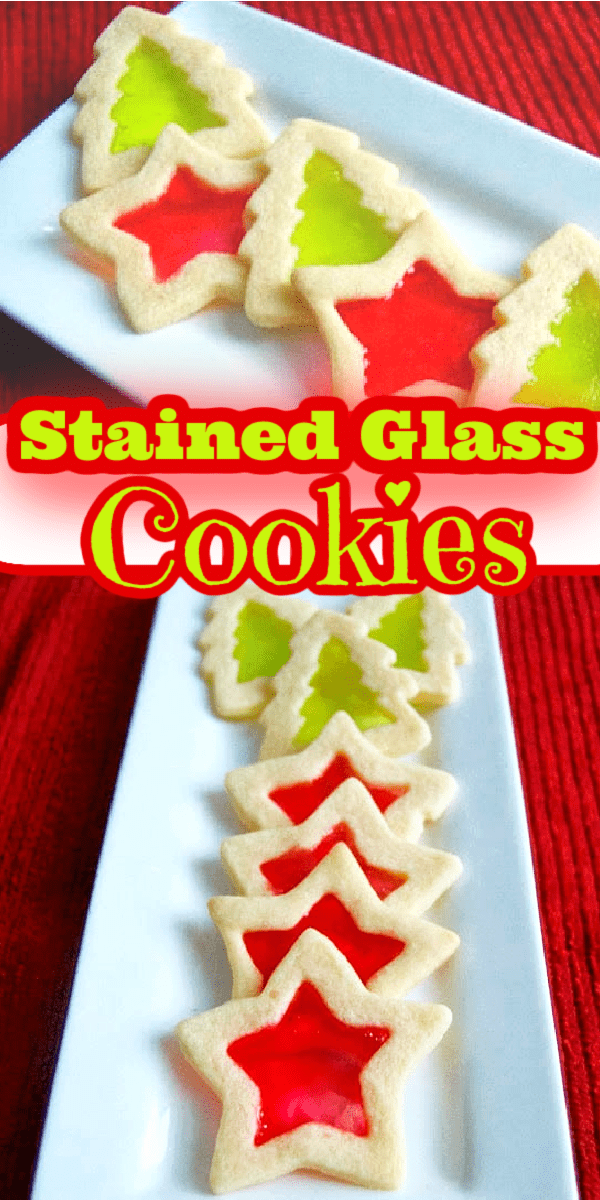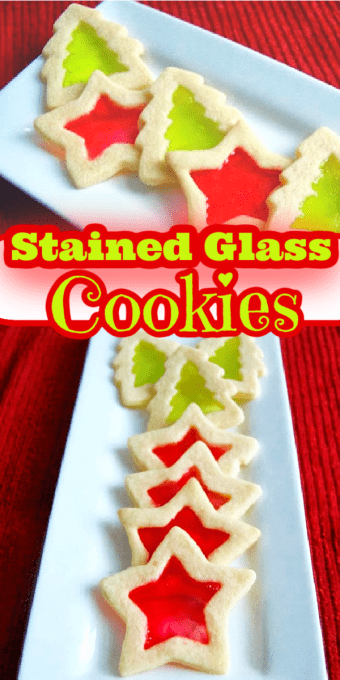 Reader Interactions