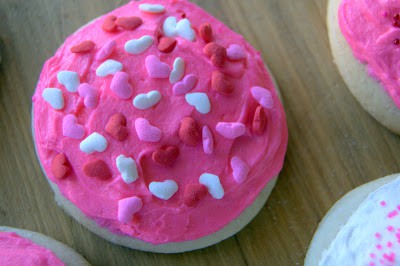 I'd like to congratulate all of you Giant fans.
It was a tough loss here at 365, but we're taking it all in stride.
Our dog, as many of you know is named after the Patriot's quarterback, and I couldn't even bring myself to say his name after the game.
Poor dog.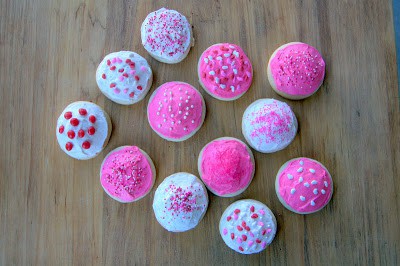 I found this recipe at Michelle's site Brown Eyed Baker.
The dough should be refrigerated overnight, so don't be thinking you'll be able to make these for tonight's dessert.
They just taste better that way and it will make the dough easier to work with.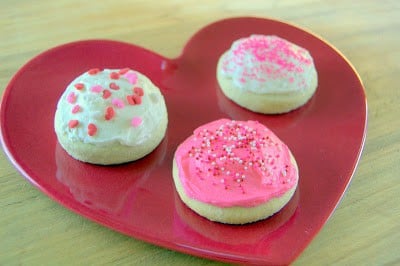 Frosted Sugar Cookies aka Lofthouse – makes 6 dozen
1 cup butter, room temperature
2 cups sugar
3 eggs
2 teaspoons vanilla
1 1/2 cups plain Greek yogurt*
6 cups flour
1 teaspoon baking soda
1 teaspoon baking powder
1/2 teaspoon salt
*Michelle used sour cream in her recipe, but I chose to replace it with the yogurt.*
In an electric mixer fitted with the paddle attachment, cream butter and sugar until light and fluffy, about 4 minutes.
Add eggs, one at a time, completely incorporating each.
Mix in vanilla and yogurt.
In a large bowl, whisk together flour, baking soda, baking powder, and salt. Gradually add the flour mixture to the wet ingredients with the mixer on low speed.
The dough will be sticky, but that's ok.
Divide the dough in half onto separate sheets of plastic wrap. Form each half into a rectangle about 1 1/2 inches thick. Cover in plastic wrap and refrigerate overnight.
When ready to bake, preheat oven to 425 degrees F. Prepare two cookie sheets by lining them with parchment paper or silpat.
Flour your work surface well and remove one of the dough halves from the refrigerator. Flour the top of the dough, also, and rolling pin if necessary.
*I had a BIG problem with the dough sticking to the counter when I tried to place the dough onto the cookie sheets, so make sure you really flour your surface!*
Roll the dough out so that it is about 1/4-inch thick.
Using a 2 1/2-inch round cookie cutter, cut the dough into circles and place on cookie sheets about 1 inch apart.
Bake for 7-9 minutes until just barely golden. Remove cookies from sheets immediately and transfer to a wire rack to cool completely before frosting.
Repeat process with remaining refrigerated dough.


Buttercream Frosting
1 cup butter, room temperature
1 teaspoon vanilla
4 cups confectioners' sugar
pinch of salt
6 tablespoons heavy cream
food coloring, if desired
In the bowl of an electric mixer, fitted with the paddle attachment, cream butter and vanilla until light and fluffy.
With the mixer on low speed, gradually add the confectioners' sugar and the salt.
Frosting will be dry, but should be smooth and creamy.
Add the cream, one tablespoon at a time, incorporating each completely.
After all the cream has been mixed in, beat on medium-high speed for about two minutes, til light and fluffy.
Add food coloring, if desired, and thoroughly combine.
Frost cookies and allow frosting to set before storing in an airtight container.
We found that the longer the cookies sat, the better they tasted.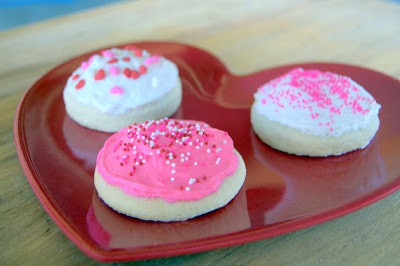 I rate everything on a scale of 1-4 with 4 being the best and these Frosted Sugar Cookies aka, Lofthouse Cookies earned 3 1/2 rolling pins!
The cookie itself was sort of cake-like, and not that sweet, so the frosting complemented it quite nicely.
It was fun to frost these because I did it with my daughter who was home for the weekend from college. She enjoyed it, too.
She had been wanting me to make these for quite some time and I was finally able to surprise her with them this weekend.
I have never had one of the frosted sugar cookies from the store, but my daughter assured me that these were just as good. I personally think these would be better because of the love that's been put into them!
LOVE makes everything taste better!!
She was happy and brought quite a few back to school with her, but I'm not sure how much she'll be sharing them. 😉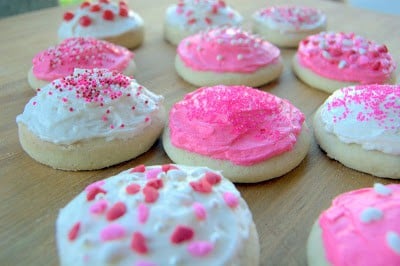 I give you BIG baking hugs and muffins!!