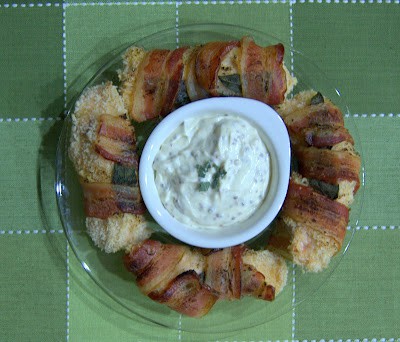 We had this dish at my mother-in law's when we went back east for Christmas.
She found it at Everyday Food. Of course, it wasn't baked and I added the bread crumbs to it.
SAVE THIS BACON SAGE WRAPPED CHICKEN TO YOUR FAVORITE PINTEREST BOARD!
SIGN UP FOR THE WEEKLY 365 DAYS OF BAKING & MORE
NEWSLETTER BELOW!
Bacon Sage Wrapped Chicken – serves 4
2 large chicken breasts, sliced into 1-inch thick slices, made about 14 pieces or you can use chicken tenders which is what the original recipe calls for
1 egg
1 cup Panko bread crumbs
3/4 teaspoon Lawry's Seasoned Salt
Fresh sage leaves
1 package center-cut bacon
Preheat oven to 350 degrees F. Prepare a baking sheet by lining it with tin foil (I was out), and placing a wire rack into the sheet. Spray the baking rack with cooking spray.
In a shallow dish, combine bread crumbs and Lawry's Seasoned Salt.
In a separate shallow dish, beat egg.
Coat a piece of chicken completely with egg.
Coat chicken piece with bread crumbs completely on both sides.
Repeat with remaining chicken.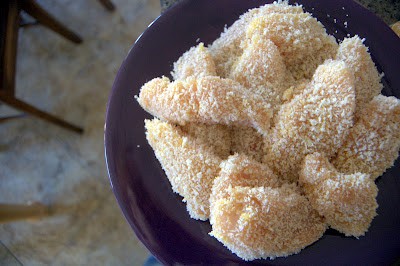 Put a sage leaf on a piece of chicken and roll a bacon slice around the chicken to secure the sage. You will not need toothpicks, the bacon will stay wrapped around the meat pretty well.
For the larger pieces of chicken I used 2 sage leaves and 2 pieces of bacon. I also think the center-cut bacon is shorter, so if you use the regular slices, you may not need two.
Place pieces on prepared baking sheet.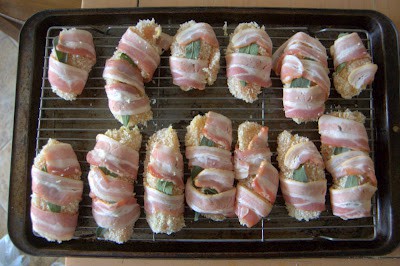 Bake for 45 minutes.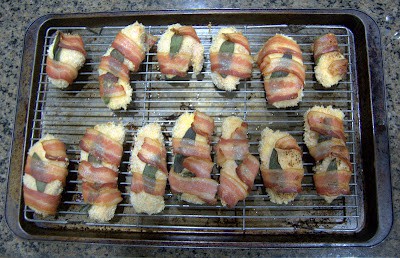 Place under broiler for 2-3 minutes until bacon is crisp, if desired.
Whole Grain Mustard Dipping Sauce
1/2 cup mayonnaise
1 1/2 teaspoons whole grain mustard
In a small bowl. combine mayonnaise and mustard. Mix thoroughly and serve with chicken, if desired.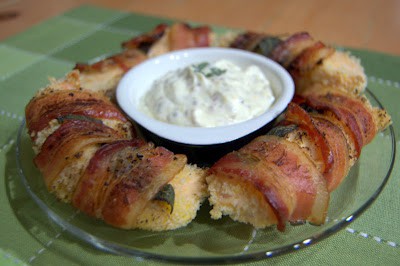 I rate everything I bake on a scale of 1-4 with 4 being the best and this Bacon Sage Wrapped Chicken earned 3 1/2 rolling pins.
It was good the way I made it, and the Panko bread crumbs added a nice crunch. The broiler in my oven is not working since our oven died and Mr. 365 traded the broiler igniter for the oven igniter and hasn't replaced it yet.
I really wanted the oven crisper, uh, no, I meant I wanted the BACON that was wrapped around the chicken crisper. I really can't stand chewy bacon. So, since the broiler isn't functional I took out my handy dandy kitchen creme brulee blow torch and fired that baby up.
Uh, that didn't work so well. It kind of made the bacon a little more well done, but in the process, it also burnt some of the bread crumbs. I think you should use your broiler.