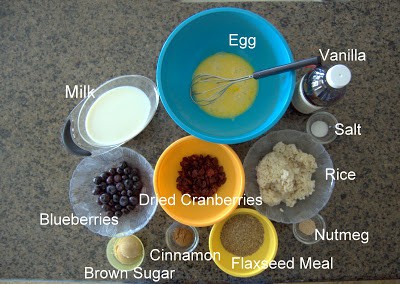 Well, here is it, Day 335, with only 30 days to go in this baking adventure!
Wow!
I'm sure you're going to be hearing that from me a lot these next few weeks.
Wow.
I had some leftover cooked rice, so when I saw this recipe and this recipe, I decided to somewhat combine the two.
And since I'm hooked on the Baked Blueberry Oatmeal I made on Day 269, I decided to add those delicious blue pieces of greatness to the dish.
I think I also may be craving some rice pudding type thing because my baked rice pudding way back when was a debacle! It's not even worth linking to it because it wasn't edible, but of course, if you're really that interested in seeing it, you can do a search for it over on the right hand side.
It was burnt. It was gross. And I was completely disgusted it didn't turn out.
So, I'm hoping this has a different and better result.
Adapted from The Gourmet Mama and Mr. Breakfast.
Baked Rice Breakfast – serves 4 (but it will only be serving one because I know no one else will eat it. Oh well, all the more for ME!)
2 eggs
1 1/2 cups milk
1 cup cooked long grain brown rice
1/2 cup blueberries
1/2 cup dried cranberries
1/4 cup flax seed meal
2 tablespoons light brown sugar
1 1/2 tablespoons vanilla
1 tablespoon flour
1 teaspoon cinnamon
1/4 teaspoon freshly ground nutmeg
1/4 teaspoon salt
Preheat oven to 350 degrees F. Prepare a 1-quart baking dish by spraying it with cooking spray.
In a small bowl, combine blueberries and dried cranberries. Mix with the 1 tablespoon of flour until well coated; set aside.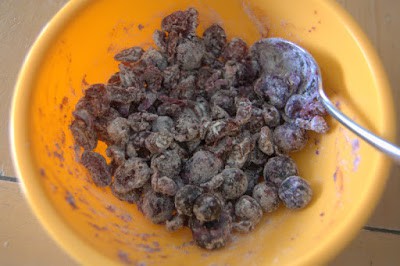 *This will help to suspend the fruit while it is baking instead of it sinking to the bottom. Try this tip in your breads, cakes, and muffins, too! It works!*
In a large bowl, beat eggs. Add milk, rice, flax seed meal, brown sugar, vanilla, cinnamon, nutmeg, and salt. Mix well to make sure sugar is dissolved.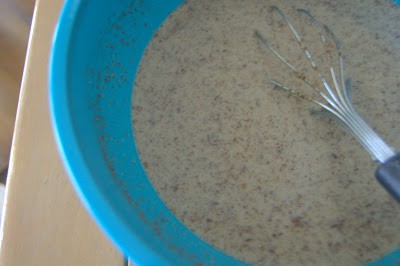 Mix in the blueberries an dried cranberries.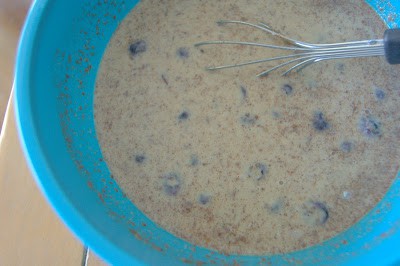 Pour into prepared baking dish. Give it a stir to evenly distribute the fruit, unless of course, you want it all glumped (Oooh, new word! – just sounds better than clumped) together.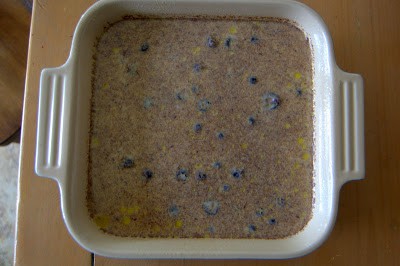 (The cooking spray caused the yellow dots in the batter. No biggie.)
Bake for 1 hour.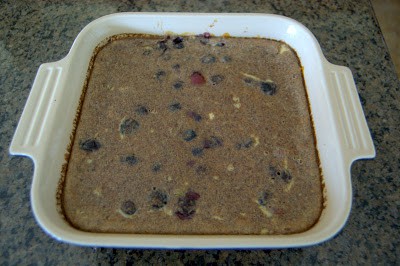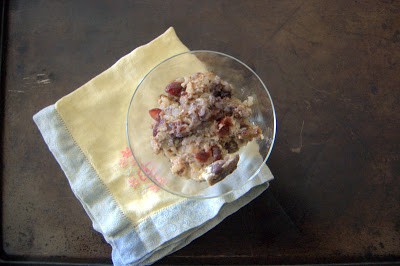 I rate everything I bake on a scale of 1-4 with 4 being the best and this Baked Rice Breakfast earned, uh, 2 rolling pins.
Yeah, it was edible, but it wasn't very tasty.
The blueberries were good in it, but I think overall it may have tasted better with white rice.
I used the brown rice and flax meal to make it healthier, but I think it backfired on me.
This is something that was good to try the first time, however I won't be making it again or if I do, I would use the white rice.
I had one serving and threw the rest away.
It didn't taste anything like rice pudding as I had hoped it would.
Oh well.
You don't know if you're going to like something unless you try it.
I give you BIG baking hugs and muffins!!