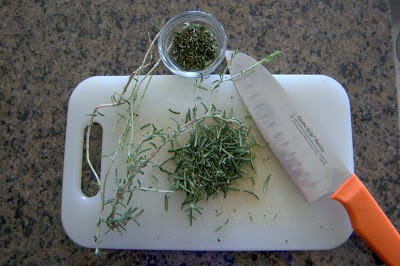 I was going to make BLT's (bacon lettuce and tomato sandwiches) tonight and wanted a really good bread to go with it.
The dinner plans changed as did the bread plan, but I found this one in my Martha Stewart Living Cookbook – The Original Classics, p.550; author, Martha Stewart; publisher, Clarkson Potter/Publishers, an imprint of the Crown Publishing Group, a division of Random House, Inc.; ISBN 978-0-307-39382-1.
Rosemary Flatbread – makes 2 10 to 12-inch loaves
1/4 cup warm water (110 degrees F.)
1 1/4 teaspoons active dry yeast (it was less than 1 envelope because an envelope
contains 2 1/4 teaspoons)
1/2 cup milk, room temperature
1 tablespoon olive oil, plus more for drizzling
1/2 tablespoon salt, plus more for sprinkling
2 1/2 to 4 cups flour, plus more for dusting
2 tablespoons chopped fresh rosemary (I found that 1 tablespoon was plenty for our tastes)
Into a large bowl, pour the 1/4 cup warm water. Sprinkle the yeast over the water in the bowl and let it sit for about 10 minutes until foamy.
Mix in the milk, room temperature water, olive oil and salt.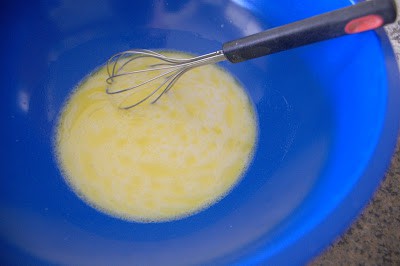 Add 1 cup of the flour and with a wire whisk, mix until smooth.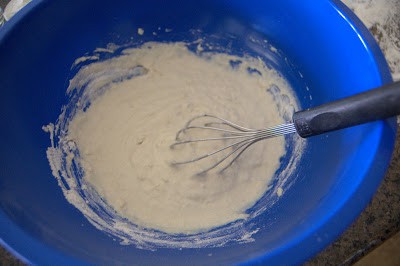 Continue to add flour 1 /2 cup at a time until the dough comes together in a ball and pulls away from the sides of the bowl.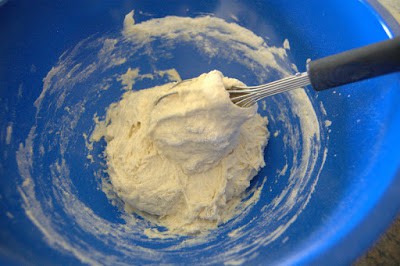 Place the dough on a generously floured work surface.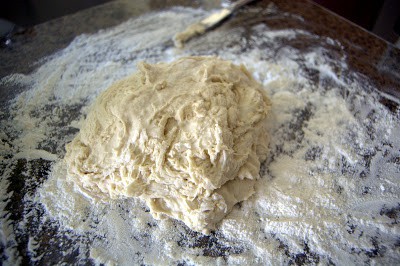 Knead until soft and smooth and no longer sticky. This can take about 6-8 minutes, adding more flour as needed.
Lightly oil a large bowl and place the dough in it, coating it all around with oil.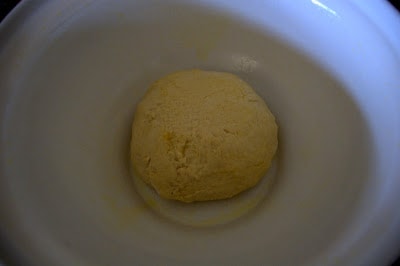 Cover the bowl tightly with plastic wrap.
Place the bowl in a warm place to rise so that it doubles in size for about 1 1/2 hours.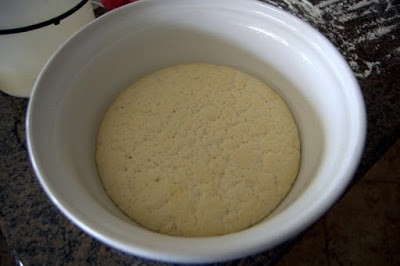 Preheat the oven to 400 degrees F.
Place the dough onto a lightly floured surface, and divide the dough into two pieces.
Form each into a ball and place each on a 12-inch wide, oiled baking sheet.
Press each ball into a 10 to 12-inch circle using oiled fingers.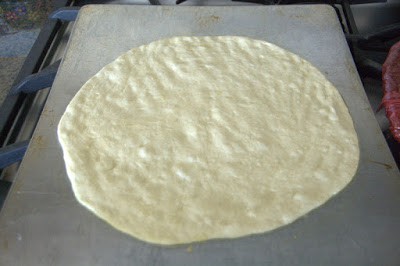 Cover both circles with plastic wrap and allow to rise for another 30 minutes.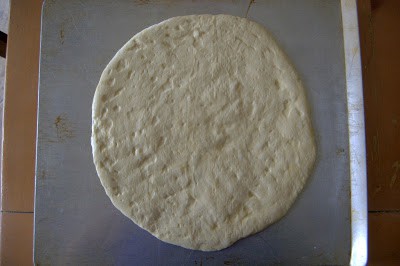 Pressing your finger tips into the dough, make dimples and then lightly drizzle with more olive oil.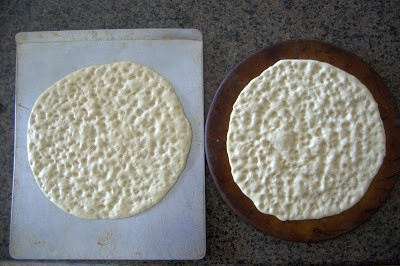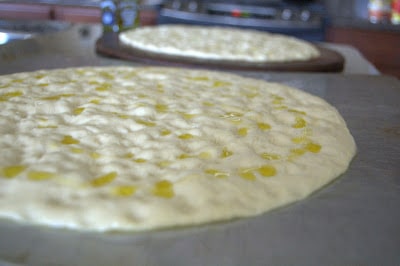 Cover each with a moist towel and place in a warm area to rise for 10 minutes.
Evenly divide the rosemary between the two loaves and sprinkle with salt.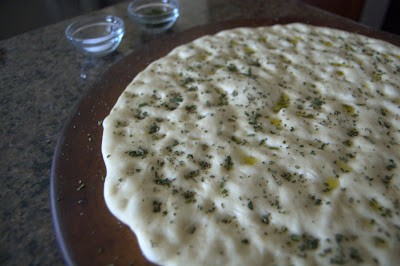 Bake 25-30 minutes, until the bottoms are lightly golden.
Within the first 10 minutes, spray or sprinkle water on the tops to crisp the surface.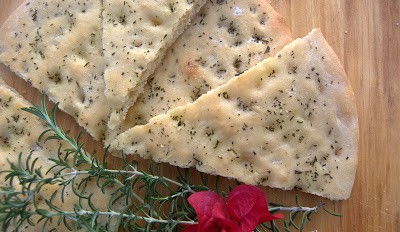 I rate everything I bake on a scale of 1-4 with 4 being the best and this Rosemary Flatbread earned 3 rolling pins.
It was really tasty and I think as my neighbor suggested when she and her son came to drop off some gorgeous Valentine's Day cookies, that it would be over the top if some Asiago cheese were to be put on top.
Oh, YUM!
We ate it with our chili tonight for dinner. Probably not the typical bread you eat with chili, but we didn't care and were dipping it into some olive oil and balsamic vinegar.
It was pretty darn delicious and I know would be 3 1/2, if not 4 rolling pins if one were to add some Asiago cheese.
Hint, Hint.
Just come back and leave me a note to let me know how that turned out for you.
I give you BIG baking hugs and muffins!!