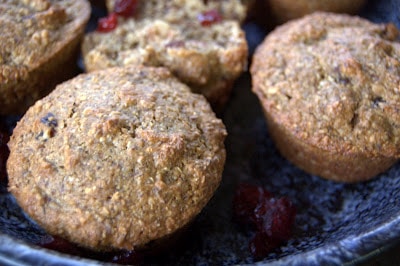 It's Friday and that means it's the start to a great weekend!
I picked up our daughter at college, did some baking and prepared tomorrow's recipe.
I have loads, and I mean LOADS of laundry to do this weekend, some cleaning, and of course there will be Scrabble to play with the family.
We are so into this game now that I actually went out and bought the Official Scrabble Dictionary.
We're serious now, folks.
It's really become a great thing at night to do with the kids. It's wonderful to turn the TV, iPods, and cell phones off and spend some quality time together.
It's also pretty cool to see at what level the vocabulary is at for the youngsters.
There has been that occasional "made-up" word which was the reason for the dictionary purchase, and even Mr. 365 has taken that chance in order to get ahead in the game.
It's something we've really enjoyed and I highly recommend it.
Scrabble's great, and did you know that there are quite a few words that have a "q" that you actually DON'T need a "u" for!
And no, we haven't memorized the dictionary yet.
Oh yeah, and I've heard something about some sort of football game on Saturday?
Anybody know anything about that? 😉
I adapted this recipe from The Essential Vegetarian Cookbook, p. 75; author, Diana Shaw; publisher, Clarkson Potter/Publishers, an imprint of The Crown Publishing Group, a division of Random House, Inc.; ISBN 0-517-59989-9.
Cranberry Flax Meal Oat Bran Muffins – makes 14 muffins (the book said it would make 6 muffins with the cups 3/4 filled with batter. I must have some small muffin tins to come up with 14 instead of 6. And you can tell in the pictures that they don't look as large as your typical muffins.)
1 cup whole wheat flour
1/2 cup flaxseed meal
1/2 cup oat bran
1/2 cup dark brown sugar
1/2 cup dried cranberries
1 teaspoon baking powder
1/2 teaspoon baking soda
1 cup lowfat buttermilk
3 egg whites
Preheat oven to 500 degrees F.
Prepare muffin tin(s) by greasing them with butter. Any cups that are not filled with batter, fill them halfway up with water.
In a large mixing bowl, whisk together wheat flour, flax meal, oat bran, brown sugar, cranberries, baking powder, baking soda.
In a medium bowl, mix together buttermilk and egg whites until thoroughly combined.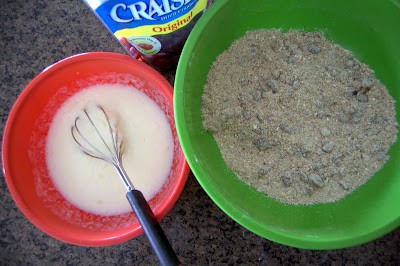 Pour the wet ingredients into the dry and stir until the dry mixture is completely moistened, but still slightly lumpy, about 30 seconds.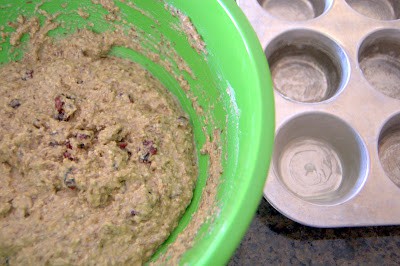 Fill the prepared muffin tins with batter about 3/4 full.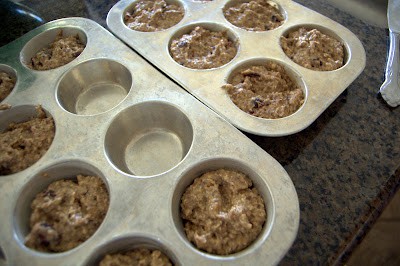 Place the muffin tin(s) into the oven and as you shut the door, lower the temperature to 400 degrees F.
Bake until golden brown, about 22-25 minutes., or until a toothpick inserted in the middle comes out clean.
Place the tin on a wire rack to cool for 10 minutes before removing the muffins from the pan.
Store in a sealed plastic bag and refrigerate for up to 3 days or freeze for up to 6 months.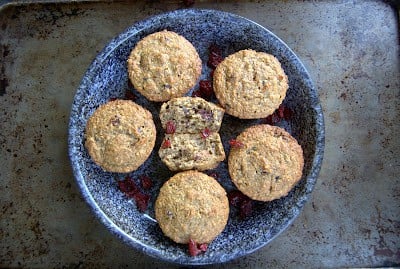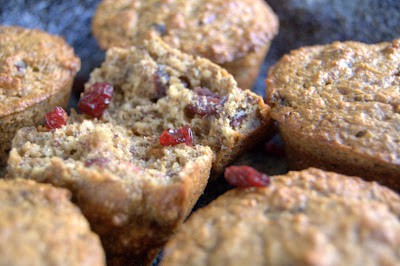 I rate everything I bake on a scale of 1-4 with 4 being the best and these Cranberry Flax Meal Oat Bran Muffins earned 3 1/2 rolling pins.
I really liked these and my daughter did as well.
The best part besides the taste, was the fact that every time I took a bite of one, I felt like I was doing something good for my body!
WOO HOO!
I am doing the healthy muffin dance – duh, duh, duh, duh, duh, DUH! *swings her hip way out to the side*
Oh, my back!
Ok, no more dancing for me, back to baking.
I give you BIG baking hugs and muffins!!