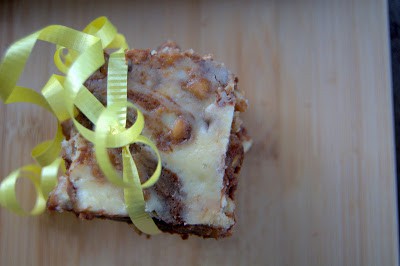 Short and sweet tonight, folks. I have such a headache that it hurts to keep my eyes open.
I've wanted chocolate for the past few days, but then again, when do I go a day that I don't want the good ol' brown, sweet stuff?
Today it was cream cheese brownies. The recipe from Brandy at Brandy's Baking called for semi-sweet mini morsels to be sprinkled on the batter before putting them into the oven, but I decided to use the Reese's Peanut Butter Chips instead.
Cream Cheese Brownies with Peanut Butter Chips – makes 16 brownies
Cream Cheese Layer
1 8 oz. package of cream cheese, softened
1/4 cup sugar
1 egg
1/2 teaspoon vanilla
1 tablespoon flour
Brownie Layer
1/3 cup butter (5 1/3 tablespoons)
4 oz. (4 squares) semi-sweet chocolate, chopped
2 eggs
1 cup sugar
1 teaspoon vanilla
1/4 teaspoon salt
1/2 cup flour
1/2 cup peanut butter chips
Preheat oven to 350 degrees F.
Spray a 9 X 9-inch baking pan with cooking spray and line the bottom of the pan with parchment paper.
For the brownie layer, in a medium microwavable bowl, combine butter and chopped chocolate. Melt in microwave for 30 seconds and stir. If necessary, heat for another 30 seconds, stirring again to make sure butter and chocolate is completely melted and smooth. Set aside to cool.
For the layer of cream cheese, place the cream cheese into the bowl of an electric mixer fitted with the paddle attachment. Beat on medium speed while gradually adding sugar and mix until well combined. Add the egg, vanilla, and flour. Mix until smooth and set aside.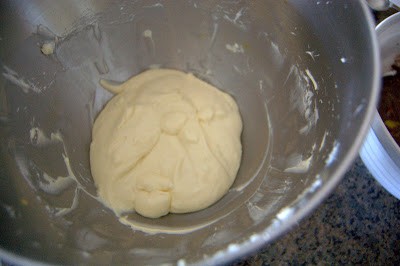 To the chocolate mixture, whisk in the eggs, sugar, vanilla, and salt.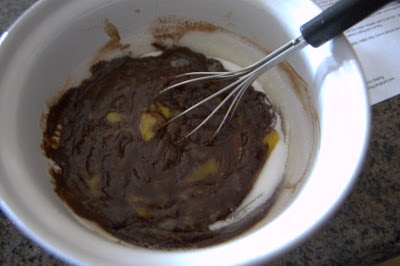 Gradually add the flour combining until thoroughly blended.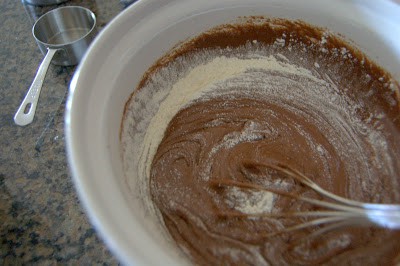 Pour 3/4 of the brownie mixture into the prepared pan, spreading evenly.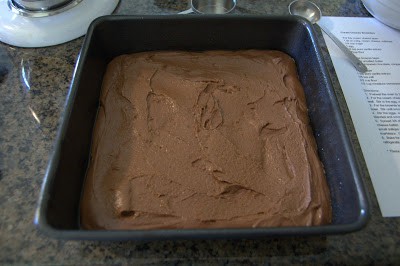 Drop the cream cheese mixture on top by spoonfuls.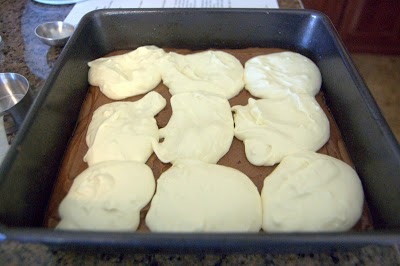 Sprinkle the peanut butter chips evenly over the batters.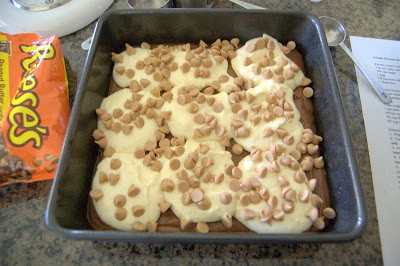 Place the remaining brownie batter by small spoonfuls on top of the cream cheese.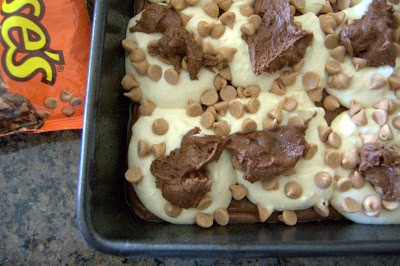 Cut through the batters with a knife, so that it is marbelized.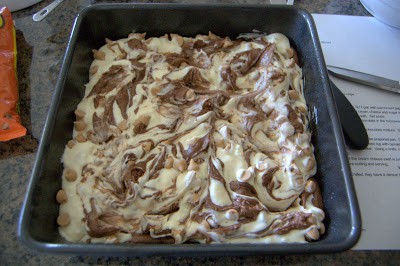 With an offset spatula, smooth the top.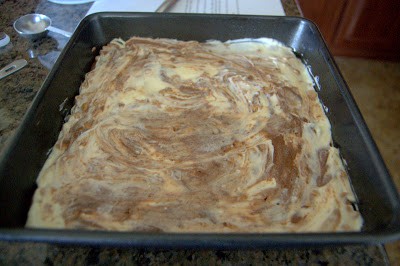 Bake for 30-35 minutes, until cream cheese is just set.
Transfer pan to a wire rack to cool and refrigerate for at least one hour before cutting and serving.
*Brandy's note: These are best served slightly chilled, they have a denser texture and are much easier to cut* I second that.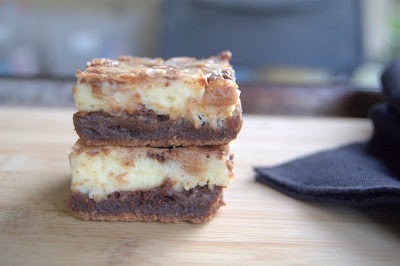 I rate everything I bake on a scale of 1-4 with 4 being the best and these Cream Cheese Brownies with Peanut Butter Chips earned 2 1/2 rolling pins.
I think I should have just stuck with Brandy's suggestion of the mini semi-sweet chocolate chips.
Even Mr. 365 said there was too much going on with all the flavors.
Which I thought was quite odd because I his liking peanut butter was my motivator for switching up the chips.
These were ok, but the peanut butter did nothing for them and I think, actually detracted from them.
Go with the chocolate chips.
I give you all BIG baking hugs and muffins!!