I saw these GORGEOUS cookies on Amanda's website, i am baker. She does absolutely beautiful work and inspired me to decorate some today. My intention was to bake some cookies and decorate them in baseballs and with my son's school logo for today's playoff baseball game. It could be their last or they could advance, who knows? So, regardless of the outcome, my plan was to bring cookies.
Who doesn't like a good cookie, especially a nicely decorated one?
"Boys don't like cookies."
Was what I heard when my husband came home from work and asked what I was doing.
Really?
Hm.
What the heck does THAT mean?! Boys don't like cookies?
Time was passing pretty quickly this afternoon and between some errands and going to the baseball game, I wasn't going to have time to decorate the cookies anyway – scratch the cookies for the game. I come home from one errand and who's sitting in his recliner eating a cookie?
"What are you doing?"
In the best little boy voice he can muster, "I'm havin' a cookie," replies Mr. 365.
"How many have you had?"
Still using that voice, "I wasn't sure if they were gonna be good or not, so I picked a number and that's how many I got."
I'm over at the counter, "1, 2, 3…you had 5 cookies???!!" These are not small cookies.
"Yup, they're good!"
I'm sure. For a "boy" who doesn't like cookies. Hmpf.
He later explained that, "guys don't want to eat cookies after a game. What do you think Big Papi feels like having after he hits a walk-off home run, a cookie? NAAHHHH!" Ok, I get it.
But you could have expanded your answer the first time!
I finished frosting after we came home from the game.
But can I tell you because I really do need to boast – just a little bit?
The team won their game and my son played the game of his life. He's first in the line-up and for his first at bat, he hit an in the park home run. I don't know if I've ever seen him run so fast around third base! It was SO cool! He's running, and I'm screaming, "Run. Run!!!" Not that my yelling made him go any faster.
He made a great defensive play later and then was able to knock in the winning run.
It was wonderful because he's struggled this year and has decided after many years of baseball that this season will be his last. He's decided to play volleyball in high school and both sports are in the spring here. So, this is kind of his last hurrah. I was really very excited for him, and even Mr. Cookie told him he'd done a great job playing a perfect game and gave him a hug. I love my life!
At dinner, even my son agreed that his teammates wouldn't have wanted cookies after the game. Oh, well.
I adapted this from the Fannie Farmer Cookbook, p. 612; author, Marion Cunningham; publisher, Alfred A. Knopf, Inc.; ISBN 0-394-56788-9.
Cinnamon Sugar Cookies – made 26 cookies
¼ pound butter (1 stick)
¾ cup sugar
1 egg
½ teaspoon vanilla
1 tablespoon milk
¼ teaspoon cinnamon
1 ½ cups flour, approximately (Note: only enough so that it can be rolled without being sticky. I used an additional 3 tablespoons after the 1 ½ cups)
1/8 teaspoon salt
¼ teaspoon baking powder
Preheat the oven to 350ºF.
Cream the butter, then gradually add the sugar, beating until light.
Add the egg, vanilla, cinnamon, and milk and beat thoroughly.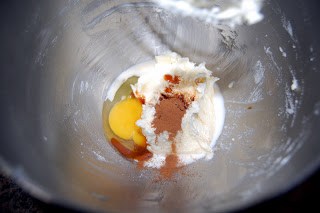 Mix the flour, salt, and baking powder together, add to the first mixture, and blend well.
Roll ¼ inch thick and cut into 3-inch circles.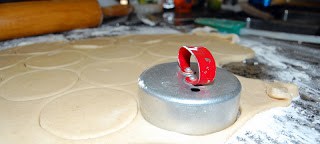 Bake on cookie sheets lined with parchment paper and bake for about 12 minutes or until lightly browned.
Here's the link for the frosting recipe from i am baker. I really enjoyed using it and it was a good consistency to work with. I should have made it thicker though and used a different tip for writing the letters on the black cookies. They didn't come out so hot.
Next time.
To frost the tops, I used about 2 teaspoons of frosting for each cookie base and then finished the decoration.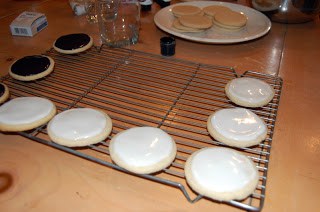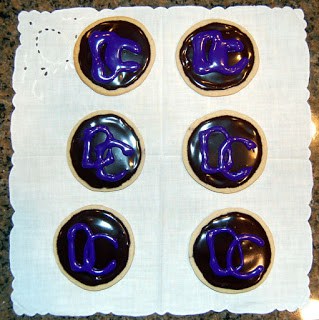 I started with the ones on the top and finished with the two on the bottom.
They're supposed to be the initials D C.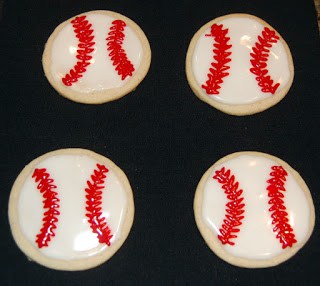 Mr. Cookie said he preferred to eat them without the frosting. With it, he thought they were just too sweet. I liked them both ways. The rating system I use everyday is on a scale of 1-4 with 4 being the best and these cookies earned 3 rolling pins.
Channel your inner baker!