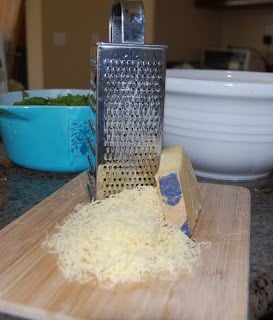 Mmmmm…dinner.
Boys may not eat cookies, but real men eat quiche, right?
I have to say, my husband has never been a "fan of quiche", but the kids have consistently loved it. It's been a few years since I've made it, so I cleaned out the cobwebs in my head to access the recipe in my brain. I also made it tonight because I needed to make dinner and today's recipe for the blog. There's still a couple leftover chicken enchiladas in the fridge anyway if this doesn't turn out and pecan pie for dessert.
Please note that you may want to read through this whole post and decide what oven temp. would work best for you. After 8 hours of baking (ok, I grossly exaggerate, but it was taking FOREVER), the quiche still wasn't setting. Read on and then talk amongst yourselves. The topic: oven temperature settings to ensure that you will be having quiche for dinner and not breakfast the next morning.
Spinach, Bacon & Gruyere Quiche
I used the Fannie Farmer Cookbook Thirteenth Edition for the crust, p. 639; author, Marion Cunningham; publisher, Alfred A. Knopf, Inc., a division of Random House, Inc.; ISBN 0-394-56788-9.
Pastry Shell – 9-inch pie shell
1½ cup flour
¼ teaspoon salt
½ cup shortening
¼ teaspoon dried dill
3-4 tablespoons cold water (I ended up using about 7)

Preheat the oven to 450ºF.
Mix the flour and salt. Cut in the shortening with a pastry blender or two knives. Combine lightly only until the mixture resembles coarse meal or very tiny peas: its texture will be uniform, but will contain crumbs and small bits and pieces. Add dill seasoning. Sprinkle water over the flour mixture, a tablespoon at a time, and mix lightly with a fork, using only enough water so that the pastry will hold together when pressed gently together. Roll the dough out 2 inches larger than the pie pan. Fit it loosely, but firmly into the pan. Crimp or flute the edges.
Cover with a double lining of tin foil and bake for 8 minutes. Uncover and bake for 8 minutes more or until crust is set and dry.
Decrease oven temperature to 325ºF.
(After the uncovered 8 minutes, the bottom of the crust was bubbly and still moist. I lined it with parchment and poured rice into it to add weight. Doing this added another 10 minutes to the baking time.) Notice I also pricked the crust, completely forgetting that I wasn't supposed to do that. Ah well, it's just too difficult to fill in all those tiny holes…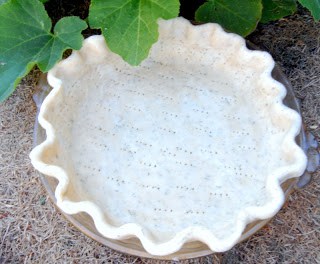 The Filling
4 slices bacon
½ cup chopped onion
1 large garlic clove, minced
1 8oz. bag fresh spinach, chopped (I suggest taking it out of the bag first 😉 )
1 cup shredded Gruyere cheese
4 eggs, beaten
1½ cups milk
1 tablespoon flour
¼ teaspoon salt
freshly ground pepper to taste
In a large skillet over medium high heat, cook bacon. Once cooked, set aside to drain on plate lined with a paper towel, and crumble when cooled.
With at least one tablespoon of bacon drippings in skillet, saute onion and garlic for about 3-4 minutes until softened, making sure burner light doesn't go out or you'll be wondering why it is taking so long to cook. Yeah.
Add chopped spinach to skillet.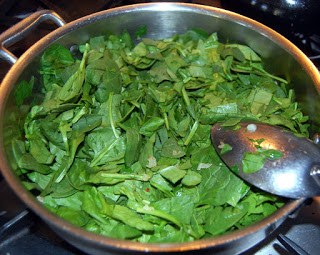 Saute until well wilted (well wilted? wilted well?), until it decreases sufficiently in pan, about 5-7 minutes. Remove from heat and set aside to cool slightly.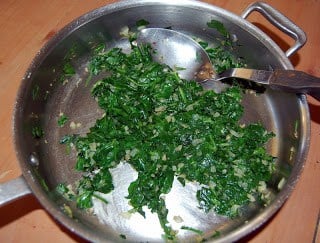 In a small bowl, combine Gruyere cheese and flour. Mix until cheese is thoroughly coated. Set aside.
In a large bowl, beat eggs. Add milk, salt, pepper, crumbled bacon, and cheese/flour mixture. Mix well.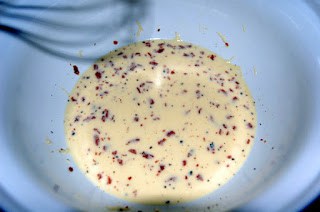 Add spinach mixture from skillet to large bowl. Mix well. Pour into pie crust.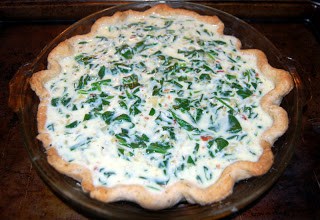 Ok, this is where you come in. YOU are now allowed to make an executive decision. The topic was temperature for the oven so you could eat your quiche at a decent hour for dinner. What's the verdict?
Here's what I did which I don't think I'd recommend:
The oven was at 325ºF, and after the consulting numerous cookbooks on baking times at that temperature, they all suggested that a quiche (with added ingredients such as bacon, or spinach, or cheese) would take about 45-50 minutes until it was set and a knife inserted into the center comes out clean.
UN-UNH.
So, I increased the oven temperature to 350ºF and baked it for another 15 minutes. The edges were starting to puff up and look set, but the knife in the middle came out wet. Another 15 minutes at 350ºF and maybe a couple minutes more were needed before it was sufficiently baked through. Totally frustrating! Fortunately the hungry masses were patient and I was able to temporarily satiate their hunger with sweet potato fries before the quiche emerged form the oven.
So total baking time: 325ºF for 50 minutes, then 350ºF for 30+ minutes.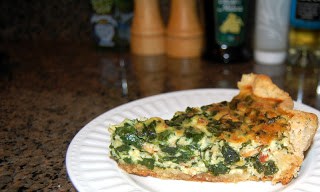 Well, I guess it is true, good things come to those who wait. My husband even liked it this time! The kids weren't thrilled with the way I had changed it. I used to use cheddar/Colby cheese and used ½ of a thawed box of frozen spinach that I didn't saute. I wanted to be different tonight. I also used a store bought pie crust in the past. I REALLY liked the taste of the Gruyere. I had never had it before. I think I will have to use it again.
I don't think the crust needed the addition of the dill. Too many flavors and I could only taste it when I was eating the crust without the quiche.
I use a rating system of 1-4 with 4 being the best and this quiche earned 3 rolling pins.
Happy baking!