Peppermint Frosted Sugar Cookies – Try these soft sugar cookies similar to the ones you find in the grocery store, frosted with a hint of peppermint giving it that special holiday flavor.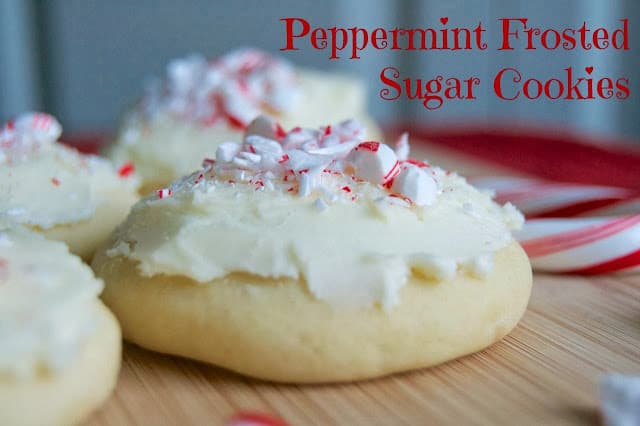 Soft Peppermint Sugar Cookies take two classic holiday treats–candy canes and frosted cookies–and put them together in one tasty indulgence.
Sugar Cookies
Today we start Day 1 of the 12 Days of Cookies!!!! WOO HOO!!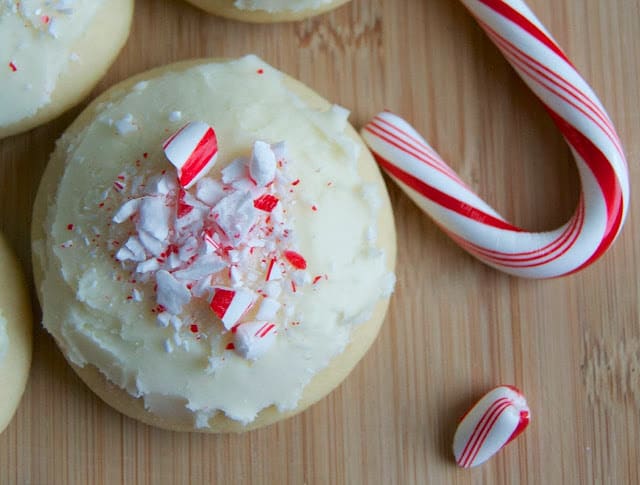 WHO doesn't like cookies, especially at this time of year?! I know Santa does!! These next 12 Days you're going to have plenty of cookies to choose from for those holiday cookie trays. And, there are going to be SO many choices for you to leave on that plate when the big guy comes down the chimney that you may have a hard time deciding!
Please be sure to check out the 365 Days of Baking Facebook page where we'll be sharing LOTS of cookie recipes from bloggers AND followers. And if you have one you'd like to share there, please do! We'd love to see it!
SAVE THIS PEPPERMINT SUGAR COOKIE TO YOUR FAVORITE PINTEREST BOARD!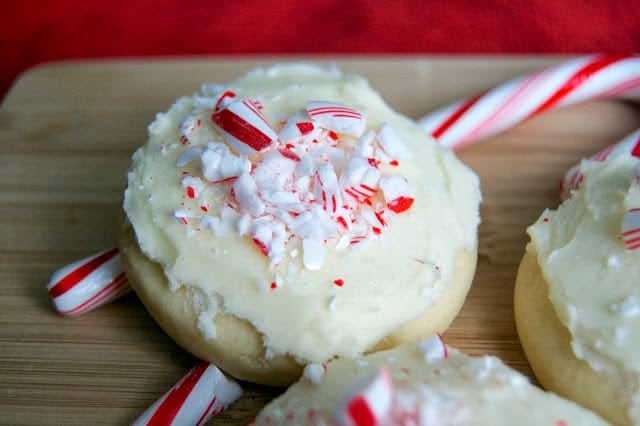 Frosted Sugar Cookies
This peppermint sugar cookie recipe is adapted from the Frosted Sugar Cookies I made on Day 333 of my 365 challenge. You'll also notice something new on the 365 blog today. See that little blue button above the recipe?
That's a button from ZipList. I am now partnering with them so that you are able to save your recipes from our site and others all in one convenient place and so that you can get a handy-dandy printable! So cool, right?
Try it out and see how it works! The button will be on the recipes I post from now on and I'll be adding it to previous recipes on the site. It won't be on all of them but added to the most popular. It's going to take a bit of time, so please be patient, but I'm excited to provide this feature for you all and hope you enjoy it! I'd love to hear your feedback, too!
SIGN UP FOR THE WEEKLY
365 DAYS OF BAKING & MORE
NEWSLETTER BELOW!
Soft Sugar Cookies Recipe
Everyone loves a frosted sugar cookie, especially around the holidays. What I personally DON'T love is a frosted sugar cookie that gets hard just hours after it's taken out of the oven.
Don't get me wrong. I have nothing against crunchy cookies. They have their place in my life in Chocolate Coconut Cookies and Viennese Crescents along with the occasional gingersnap or crispy peanut butter cookie.
I just usually prefer mu sugar cookies to be soft. When I bite into a sugar cookie covered in frosting, I want it to melt in my mouth.
This frosted sugar cookie recipe has never once failed to make cookies that stay soft even days later. (Although they rarely last that long around here!) Greek yogurt in the dough helps give them their soft and tender texture.
Adding peppermint to the frosting turned these cookies into a treat that tastes just like Christmas should. I like to decorate mine with crushed candy canes, but they are delicious just as is.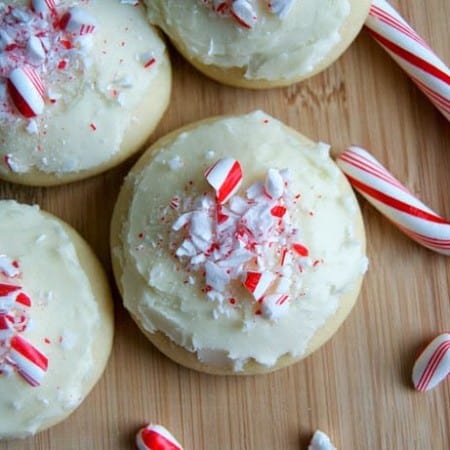 Peppermint Frosted Sugar Cookies
Ingredients
Cookie
1 cup butter, room temperature
2 cups sugar
3 eggs
2 teaspoons vanilla
1 ½ cups plain Greek Yogurt
6 cups all-purpose flour
1 teaspoon baking powder
1 teaspoon baking soda
½ teaspoon salt
Peppermint Frosting
1 cup butter, room temperature
1 teaspoon peppermint extract
4 cups confectioners' sugar
pinch of salt
6 tablespoons heavy cream
food coloring, if desired
colored sprinkles and crushed candy canes for decoration
Instructions
Cookie
In an electric mixer fitted with the paddle attachment, cream butter and sugar until light and fluffy, about 4 minutes.

Add eggs, one at a time, completely incorporating each. Mix in vanilla and yogurt.

In a large bowl, whisk together flour, baking soda, baking powder, and salt. Gradually add the flour mixture to the wet ingredients with the mixer on low speed. The dough will be sticky, but that's ok.

Divide the dough in half onto separate sheets of plastic wrap. Form each half into a rectangle about 1 1/2 inches thick. Cover in plastic wrap and refrigerate overnight.


When ready to bake, preheat oven to 425 degrees F. Prepare two cookie sheets by lining them with parchment paper or Silpat.


Sufficiently flour your work surface and remove one of the dough halves from the refrigerator. Flour the top of the dough, also, and rolling pin if necessary.

Roll the dough out so that it is about 1/4-inch thick.


Using a 2 1/2-inch round cookie cutter, cut the dough into circles and place on cookie sheets about 1 inch apart.

Bake for 7-9 minutes until just barely golden. Remove cookies from sheets immediately and transfer to a wire rack to cool completely before frosting. Repeat process with remaining refrigerated dough.
Frosting
In the bowl of an electric mixer, fitted with the paddle attachment, cream butter, and peppermint extract until light and fluffy.

With the mixer on low speed, gradually add the confectioners' sugar and the salt.

Frosting will be dry but should be smooth and creamy. Add the cream, one tablespoon at a time, incorporating each completely.

After all the cream has been mixed in, beat on medium-high speed for about two minutes, till light and fluffy.

Add food coloring, if desired, and thoroughly combine. Frost cookies and allow frosting to set before storing in an airtight container.
Nutrition
Serving: 1g | Calories: 281kcal | Carbohydrates: 41g | Protein: 4g | Fat: 12g | Saturated Fat: 7g | Cholesterol: 45mg | Sodium: 163mg | Potassium: 55mg | Fiber: 1g | Sugar: 25g | Vitamin A: 372IU | Calcium: 24mg | Iron: 1mg
Did you make this recipe?
Share it with me on Instagram and make sure to follow me on Pinterest for more recipes.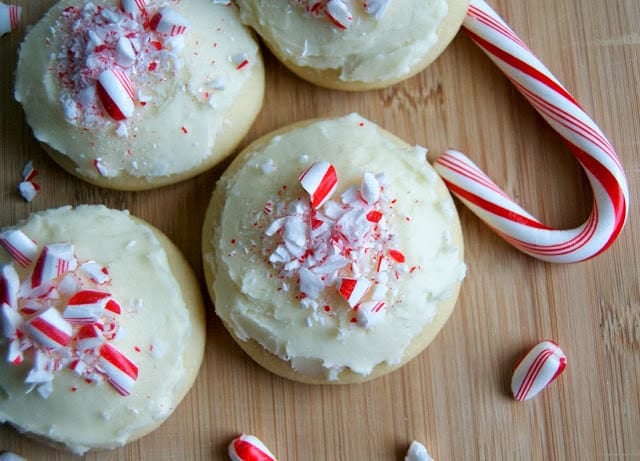 I rate everything I make on a scale of 1-4 with 4 being the best and these Peppermint Frosted Sugar Cookies earned 3 rolling pins. I admit that I personally prefer them without the peppermint in the frosting, using just the vanilla extract.
Mr. 365 said and I quote (with a turned up nose, resembling Mr. Scrooge), "I don't need candy canes on my cookies."
BAH HUMBUG!! Sheesh, try to create a little holiday spirit and I get a fine how-do-you-do! I know, he just likes his plain ol' peanut butter cookies, and Chocolate Peanut Butter Chip Cookies and Peanut Butter Oatmeal Cookies and . . . okay, well he just likes his peanut butter.
Well, Mrs. Santa came through for him. Stay tuned for that recipe during our 12 days.
(Update: Mr. 365 got his wish with these Chocolate Chip Caramel Peanut Butter Pretzel Cookies. You'll have to check out the post to find out how he liked them!)
For another delightful holiday sugar cookie, go ahead and make these Cranberry Ginger Pistachio Sugar Cookies next. You won't be sorry!
If you like this cookie you may enjoy some from last year's 12 Days…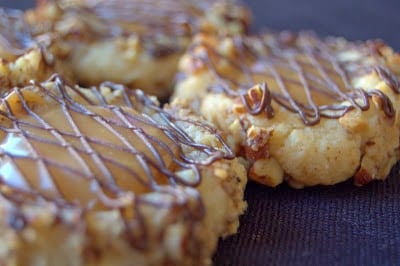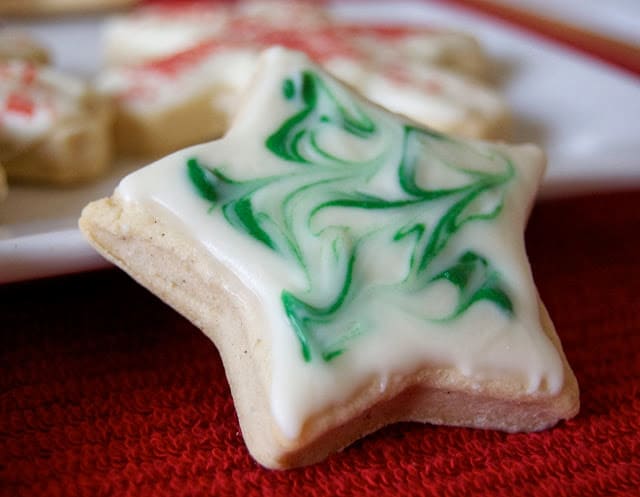 Don't forget to also add these Cream Cheese Cookies, French Butter Cookies and Oreo Chocolate Chip Cookies to your baking list! Around the holidays or anytime of year, they're always a welcome treat.
Reader Interactions