Peppermint extract, baking chips, cheesecake pudding, and an Oreo crust make this Peppermint Dream Dessert a delectable treat family and friends will love. It's perfect for the holidays!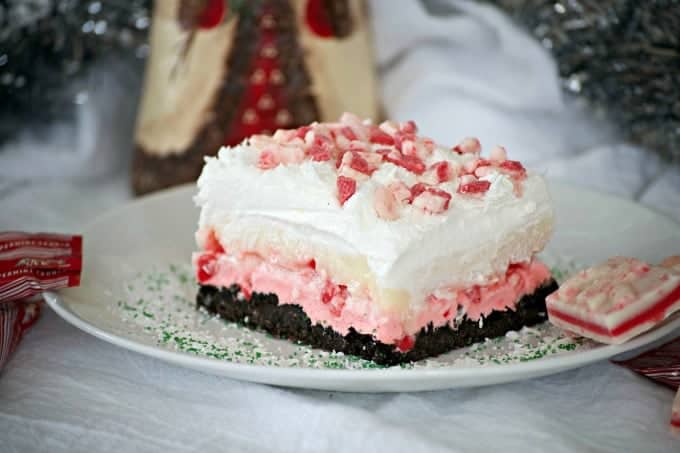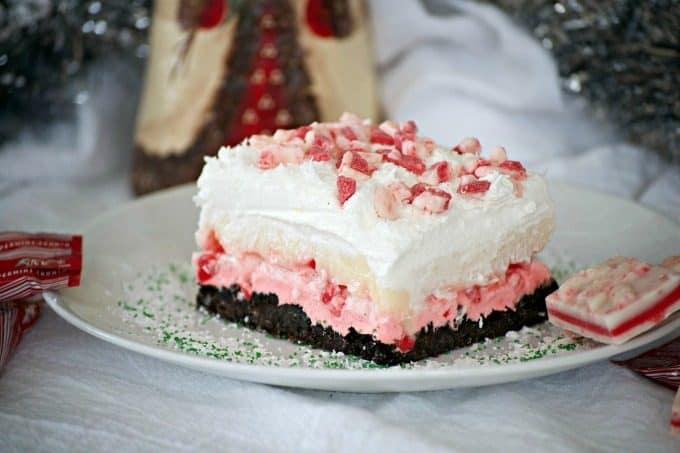 I think you're going like this dessert!
**EDITED TO ADD: I know people are having an issue locating the Andes Peppermint Baking Chips. You can also chop up a 9.5 oz bag of the individually wrapped Andes Peppermint Crunch Candies OR crushed peppermint candy bits will work, too. ***
You may have arrived here expecting to see different pictures. Those have been updated along with a slightly different recipe which I've explained in the notes. I opted for the addition of red food coloring and the use of the white chocolate pudding mix. To me, it wasn't necessary to use the cheesecake pudding.
We just liked the taste better. Also, I think the layers should be Oreo crust, cream cheese layer, pudding layer, then Cool Whip OR you can use my Stabilized Whipped Cream recipe which works just as well, if not better!
This Peppermint Dream Dessert creation just kept popping into my head last year, so I knew I had to make it. And I'm certainly glad I did. If you make one dessert for Christmas, make this.
It's pepperminty, has that awesome Oreo crust, is kind of light (not in calories, mind you) and airy, but at the same time a rich and decadent dessert that will definitely please your family and friends.
SAVE THIS PEPPERMINT DREAM DESSERT TO YOUR FAVORITE PINTEREST BOARD!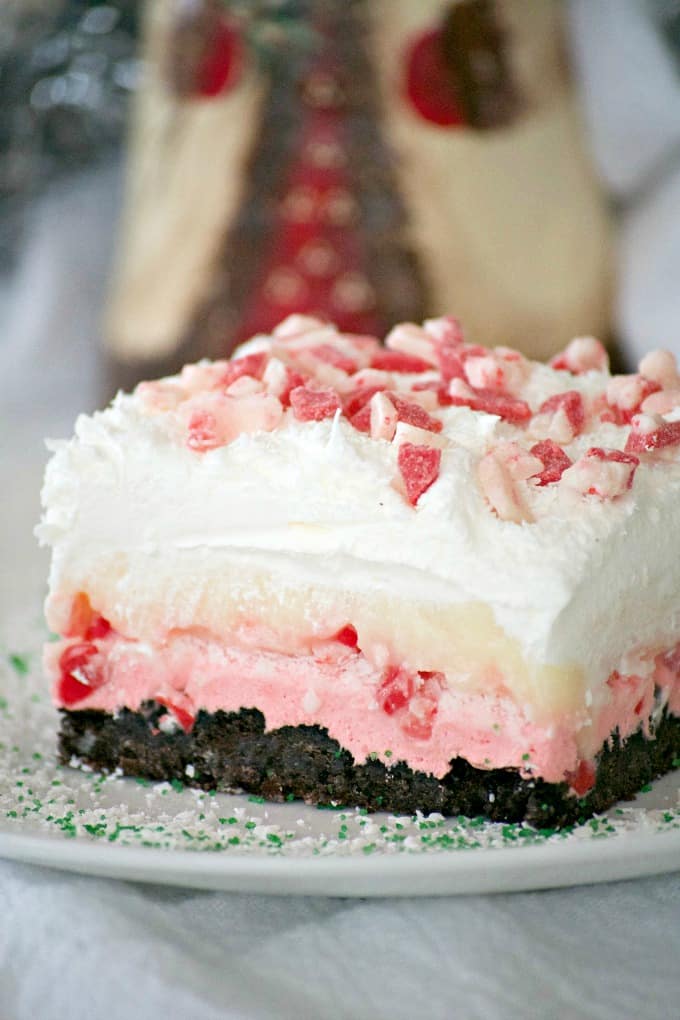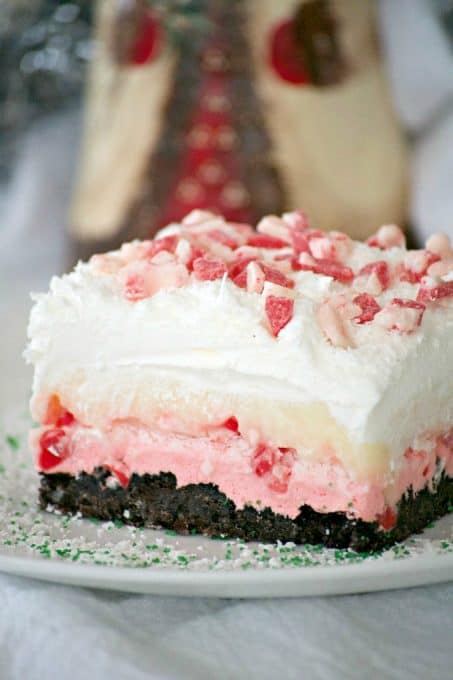 For this dessert, I opted to stick the crust into the freezer as opposed to baking that layer as I had in this dessert. It turned out fine and I think makes for a simpler dessert.
Anything NO-BAKE is always good, right?

SIGN UP FOR THE WEEKLY 365 DAYS OF BAKING & MORE
NEWSLETTER BELOW!
You can find the Andes Peppermint Crunch Baking Chips at your local Walmart, World Market, Target (limited), Big Lots, Harris Teeter, Meijer, Cost Plus, Hannaford, Safeway, Supervalu and also at Amazon through my affiliate link below.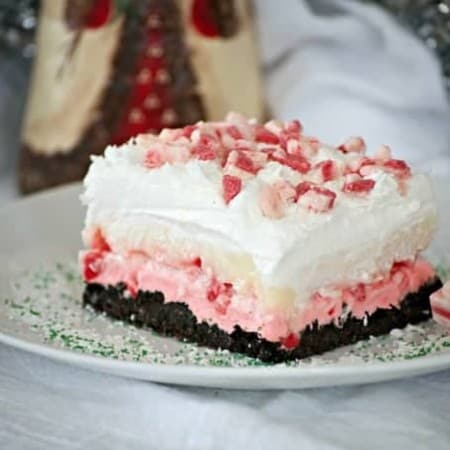 An easy no-bake dessert with the flavors of the season. This peppermint treat with all the fixings will delight everyone after dinner!
Ingredients
1 14.3- ounce package Oreo cookies - you'll need 20 of them and will use the whole cookie
4 tablespoons unsalted butter melted
1 3.4- ounce package White Chocolate OR Cheesecake instant pudding mix we liked it better with the White Chocolate
1 ½ cups milk
4 ounces cream cheese room temperature
½ cup confectioners' sugar
½ teaspoon pure peppermint extract
red food coloring
1 8- ounce container Cool Whip divided
10- ounce package Andes Peppermint Crunch Baking Chips divided
2 ounces white baking chocolate separated
Instructions
In a blender or food processor, finely crush 20 of the Oreo cookies.

In a medium bowl, mix together the melted butter and finely crushed cookies until well moistened.

Press into an ungreased 8 X 8-inch baking dish or line the pan with parchment for easy removal and cutting of the bars.

Place into freezer while mixing other layers, for at least a half hour.

Using a grater, grate the white chocolate into a bowl.

Mix the package of pudding mix with the 1 1/2 cups of milk in a small bowl and place into refrigerator to set.

In a mixing bowl, beat cream cheese, peppermint extract and confectioners' sugar.

Fold in 1 cup of the Cool Whip and mix until well blended.

Add red food coloring one drop at a time until the desired hue is reached.

Place dollops of the cream cheese mixture on top of the Oreo crust and gently spread.

Evenly distribute half of the grated white chocolate and 1 cup of the baking chips over the cream cheese layer.

Place dollops of pudding over the top and with an offset spatula, gently spread to completely cover.

Spread remaining Cool Whip over the pudding.

Refrigerate for at least two hours or freeze for one.

Optional, in a plastic bag, break up 8 of the remaining Oreos.

Sprinkle the remaining chocolate, peppermint baking chips and cookies, if desired over the top just before serving.
Notes
I updated the recipe on 12/7/16 with the White Chocolate pudding to replace the Cheesecake pudding. We enjoyed the flavor of the White Chocolate the best. I also added the red food coloring to give it more of a festive look.
Did you make this recipe?
Share it with me on Instagram and make sure to follow me on Pinterest for more recipes.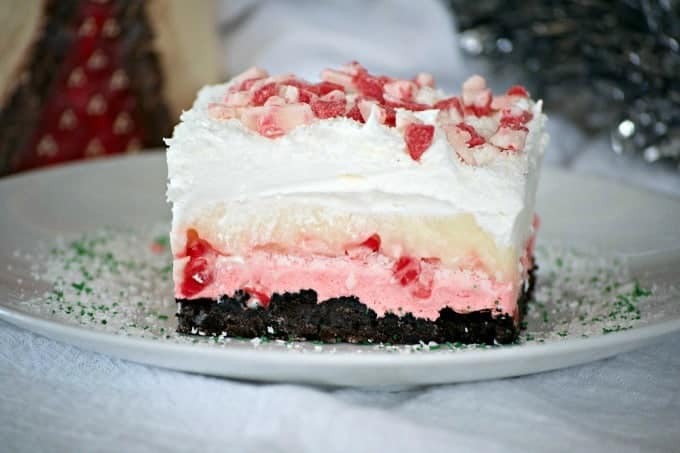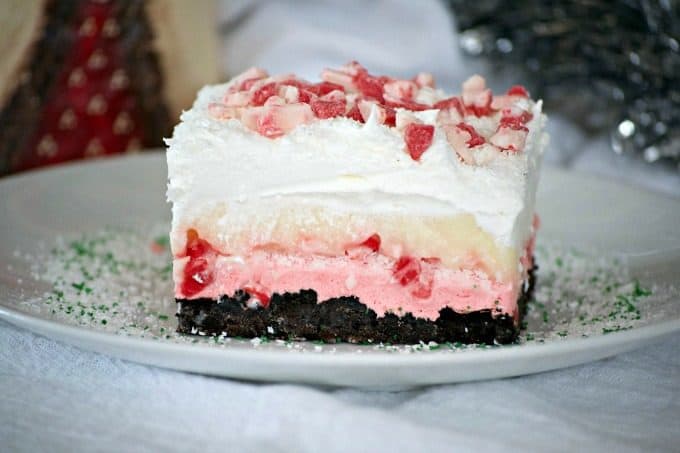 If you like this Peppermint Dream Dessert then you'll LOVE…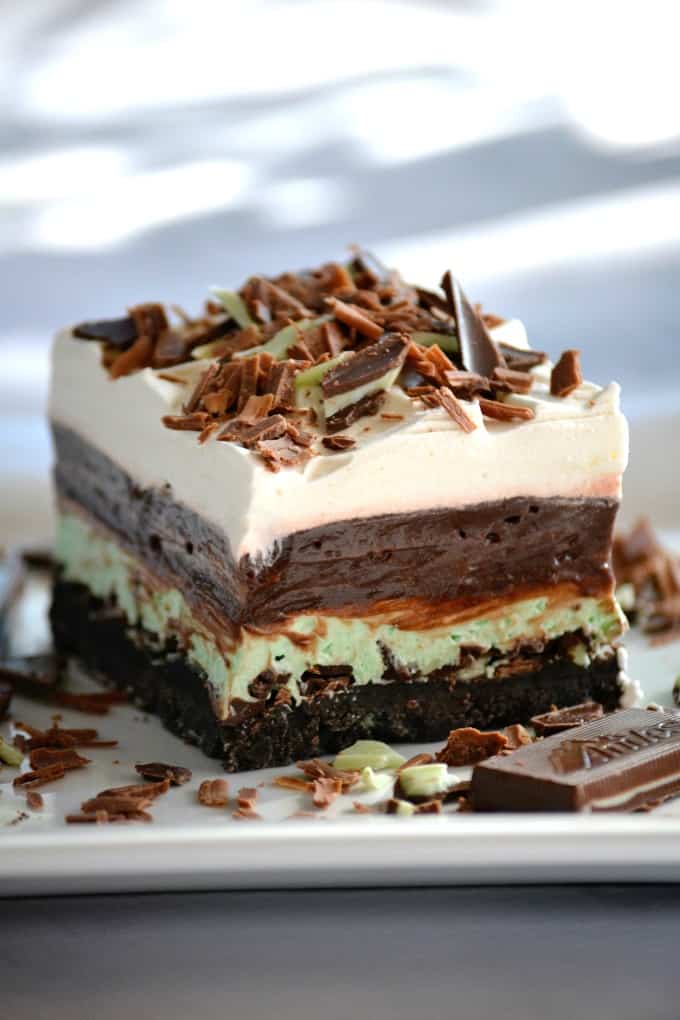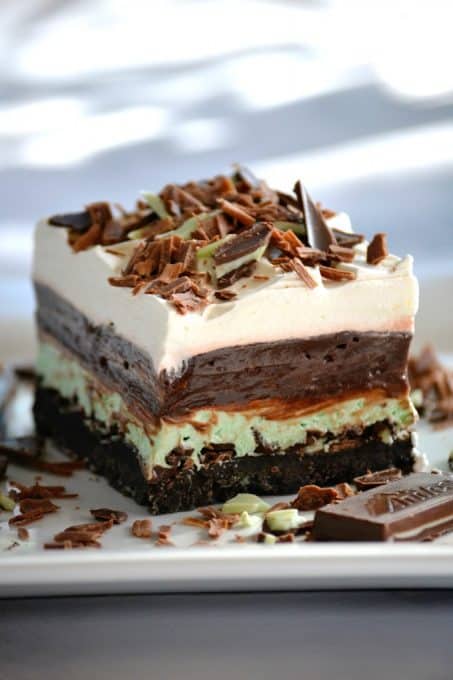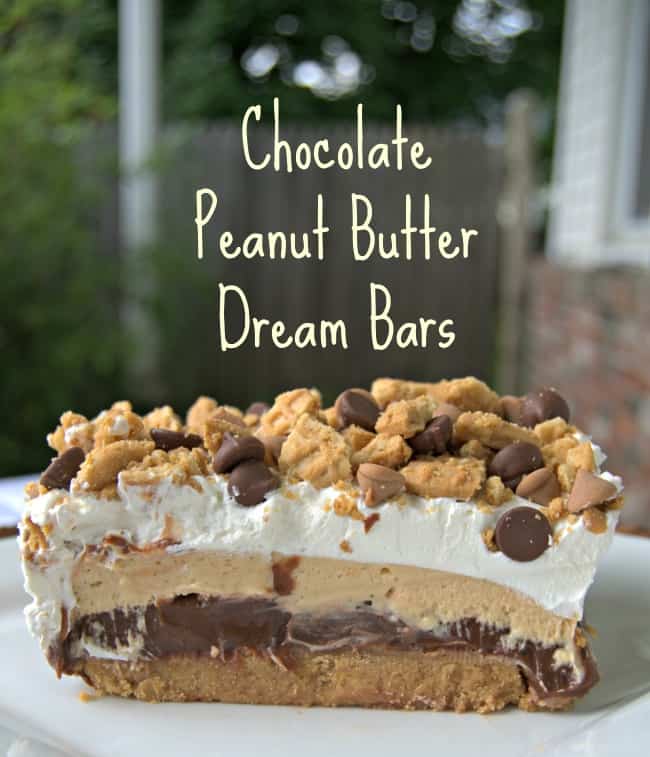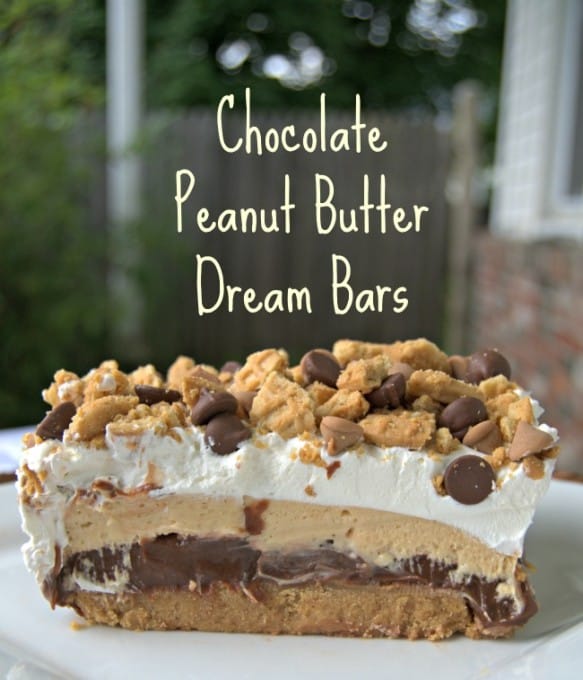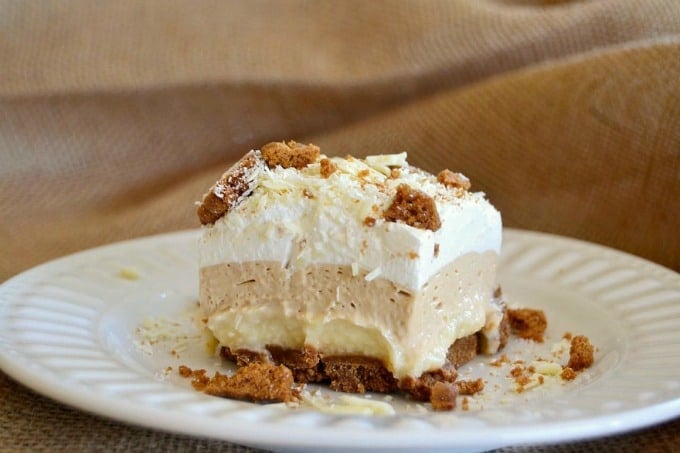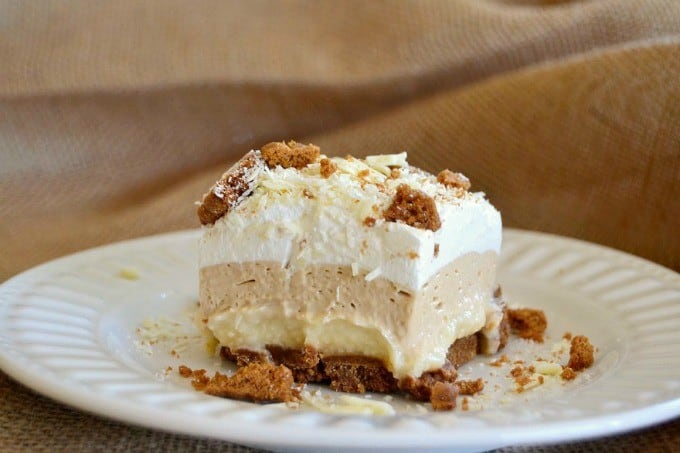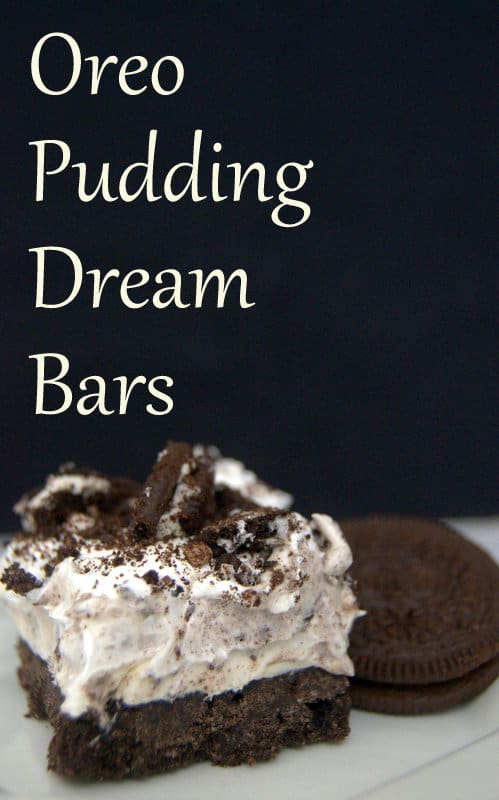 Take a look at these videos to see more ideas for great holiday desserts…
Reader Interactions