This Chocolate Peppermint Cream Pie is sure to be a big crowd pleaser during the holidays with its smooth and creamy chocolate filling, and McCormick Pure Peppermint Extract. Santa might even choose this over cookies!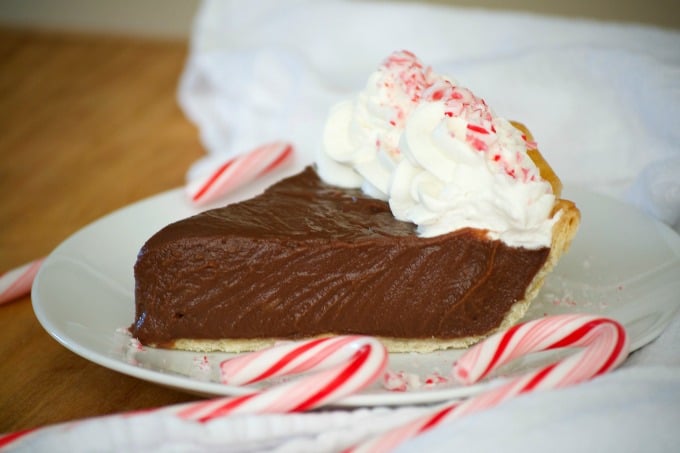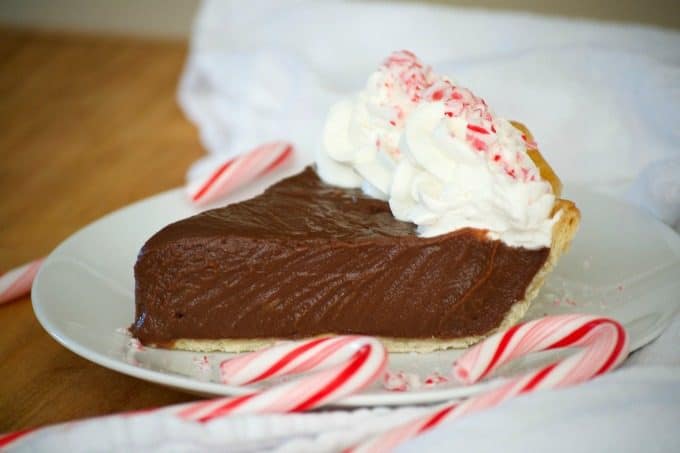 The holiday season is one of my favorite times of the year.
One of the most important things to me is spending time with my family. This was instilled in me as a little girl and I was extremely fortunate to spend a lot of time with both sets of grandparents growing up. For Christmas and Thanksgiving, we would go to my mother's parents and my aunt and her family would come down from New York.
Some very special memories were created during those times.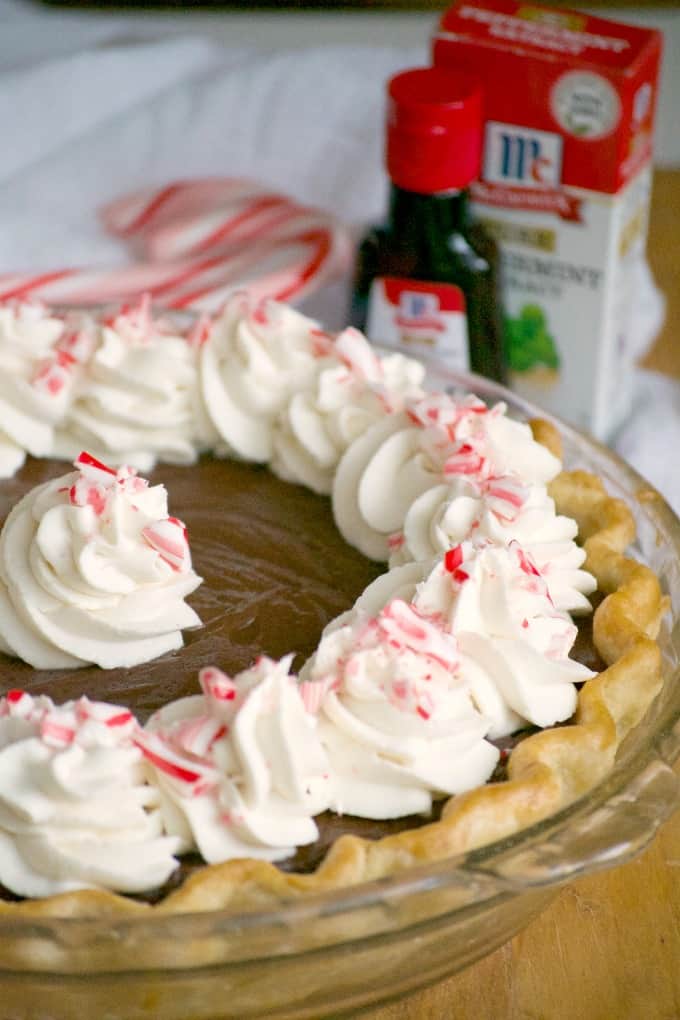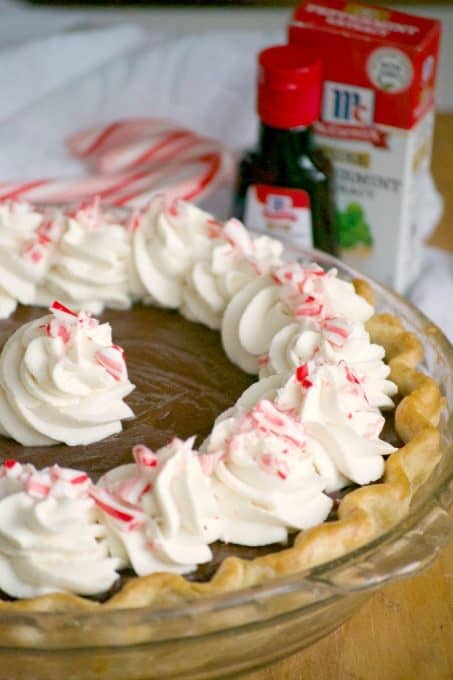 I now hold those memories very close to my heart, as I am now the "matriarch" of that side of the family. I miss those women who influenced who I am today and so wish they were here to see the path my life has taken.
Growing up, I enjoyed spending time in the kitchen, but it wasn't something I ever expected to do for a living. My grandmother largely influenced me, and those times spent with her preparing the holiday meals were priceless. We'd make cookies, pies, bread, and more. To this day one of the very clear memories I have is how the aroma of all the baked goods filled the house.

Now when I bake in my own home I am often taken back to those days with her in the kitchen. I can smell the bread baking, the cinnamon in her cinnamon rolls and Christmas wreath. The smell of the vanilla extract, as she added it to her cookies, was one of my favorites!
Those are the memories I want to create for my children and their children as well.
Preparing for our holiday menus this year, I was going through some of my old family recipes. Unfortunately, there was one I wasn't able to find – my grandmother's chocolate cream pie. It was one of my favorites growing up and I'd never made it for my family.
I decided to recreate this lost recipe and make it more festive for the holidays. I remember Grandma using McCormick spices and extracts, and have used them myself throughout the years.
I knew that some McCormick Pure Peppermint Extract would make her Chocolate Cream Pie an extra special treat. Besides, with candy canes and chocolate so prevalent this time of year, it's the perfect combination.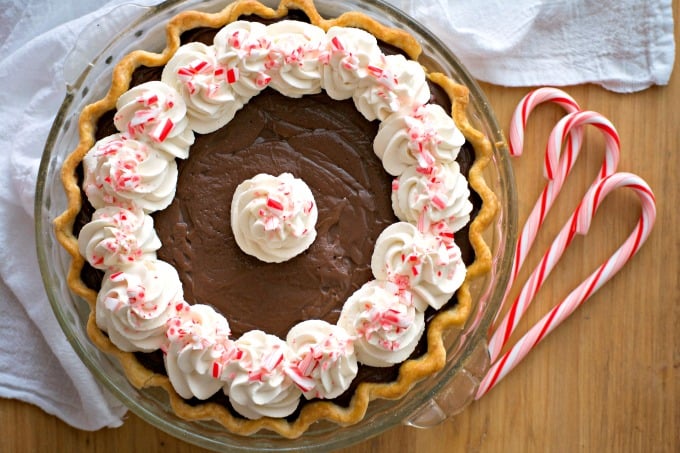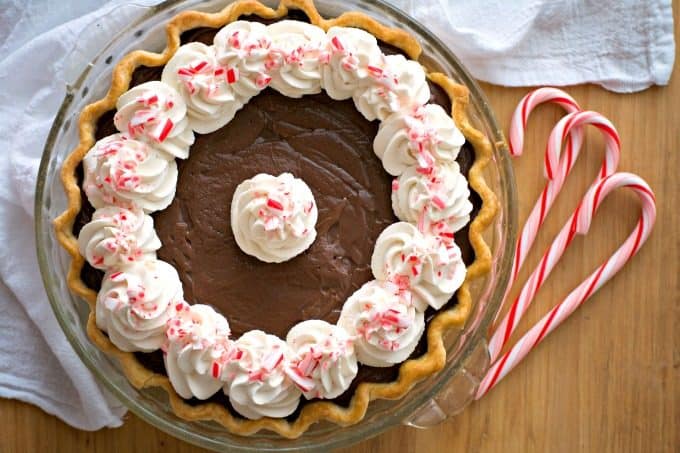 I'd thought about taking some short cuts to make this dessert, but Grandma never did that. Everything she made was made from scratch. I was determined to make that pie just like she did.
It honestly couldn't have turned out any better. The crust stayed firm with addition of the egg wash and wasn't at all soggy as some filled pies tend to be. That filling was chocolaty and rich and had the perfect amount of peppermint. The whipped cream on the top balanced everything so perfectly, too. I really think Grandma would have loved it!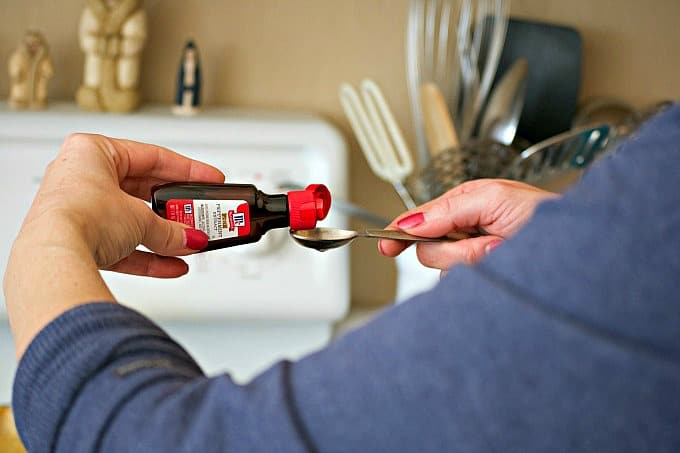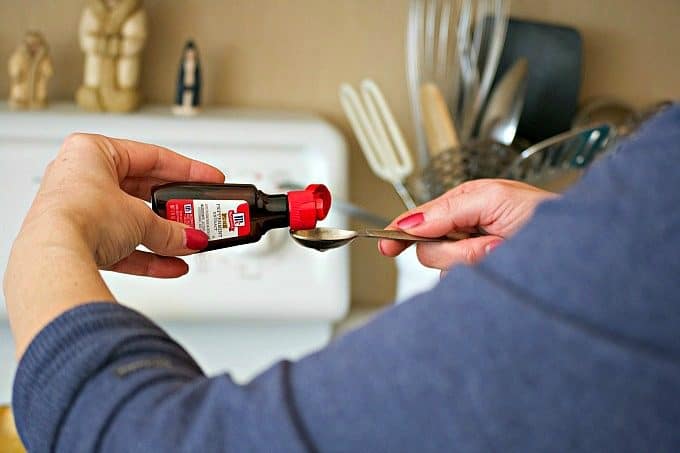 While I was making this pie, every step in the process reminded me of spending time in the kitchen with Grandma. I could see her rolling out the pie crust. She would have me stand on the stool next to the stovetop as she stirred the chocolate pudding.
Whipping the cream with the manual egg beater was always my job and one that I was so very proud of. What really brought me back though was the wonderful smell of the McCormick Pure Peppermint Extract as I added it to the chocolate. And again as I added the McCormick Pure Vanilla Extract to the whipped cream
It was like I was standing in her kitchen all over again and it made me miss her even more.
Then it happened…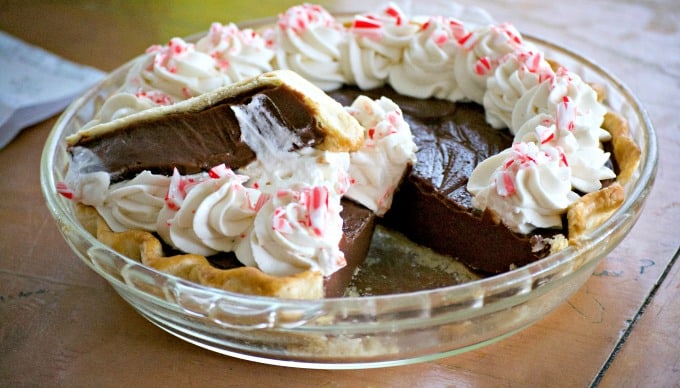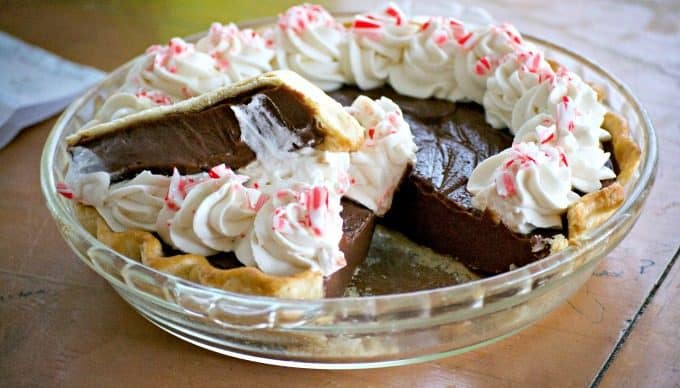 That pie crust was so smooth on the bottom that it slid right off the pie server! Lifting the slice from the pie, it took a nosedive right back into it. I couldn't grab it fast enough.
WHOOPS!
I really think I heard my mother, grandmother, and aunt laughing at my debacle.
So, when you serve each slice be sure to hold the edge of the crust when taking it from the plate. But most importantly, enjoy every bite!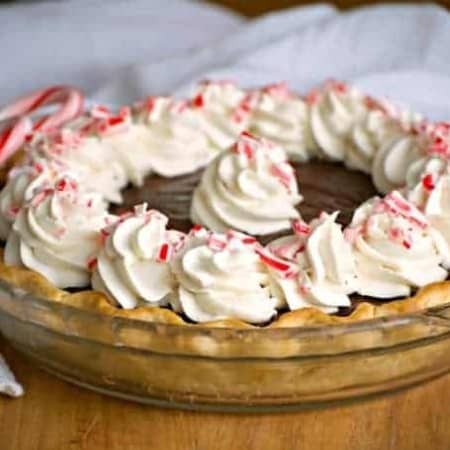 Chocolate Peppermint Cream Pie
This Chocolate Peppermint Cream Pie is sure to be a big crowd pleaser during the holidays with its smooth creamy chocolate filling and McCormick Pure Peppermint Extract. Santa might even choose this over cookies!
Ingredients
Pie Crust
1 ¼ cups sifted all-purpose flour
½ teaspoon kosher salt
⅓ cup vegetable shortening well chilled
1 teaspoon white vinegar
¼ cup ice water
1 egg lightly beaten with 1 tablespoon water
Chocolate Cream Filling
¼ cup cornstarch
1 ¼ cup granulated sugar
1 tablespoon unsweetened cocoa powder
¼ teaspoon salt
1 ½ cups whole milk
1 cup heavy cream
3 large egg yolks
4 ounces bittersweet chocolate finely chopped
½ teaspoon McCormick Pure Peppermint Extract
2 tablespoons salted butter
Stabilized Whipped Cream
2- ounces cream cheese softened to room temperature for at least an hour
2 tablespoons + 2 teaspoons confectioners' sugar
¾ teaspoon McCormick Pure Vanilla Extract
¼ teaspoon McCormick Pure Peppermint Extract
1 cup heavy cream
crushed candy canes for garnish
Instructions
Pie Crust
Place a piece of parchment onto your work surface and flour it very sparsely.

In a medium bowl, whisk together the flour and the salt.

Cut in the shortening with a pastry blender until the mixture looks like coarse meal.

Sprinkle the teaspoon of vinegar and two tablespoons of water over the mixture.

Mix lightly and quickly with a wooden spoon, adding the remaining tablespoons of water as needed until dough just holds together.

Place the dough onto the prepared piece of parchment. Cover with an additional piece of parchment and with a rolling pin starting at the center of the dough, roll to the edge, but not over it.

Continue to roll out from the center, but never back to it every 45 degrees.

Throughout the process it will be necessary to flour the dough at various times. Gently pull back the top layer of parchment, and very lightly flour the dough. Replace the parchment and carefully turn the dough over, doing the same to the other side.

Continue rolling and flouring lightly until the dough is an even round circle about 3 inches larger than the rim of the 9-inch pie plate.

To transfer the dough to the pie plate, gently remove the top layer of parchment. Lightly flour the rolling pin and place it at one edge of the circle. Using the bottom layer of parchment, bring the edge of the dough up over the rolling pin and very lightly roll the pin to the other side of the dough. Move the pie plate under the rolling pin and gently roll the dough out over it. Carefully, fit the dough into the plate and trim any excess, leaving one inch over the rim. Fold the dough under so that it is even with the rim and crimp.

Line the inside with a circle of parchment, add uncooked beans or rice to about 2/3 full and refrigerate for 30 minutes.

Preheat the oven to 350 degrees F.

Bake for 20 minutes. Gently lift the parchment and beans out of the plate and prick the entire crust with a fork. Brush the crust with the egg wash and return to the oven to bake for an additional 15 - 20 minutes until completely golden.
Filling
In a medium saucepan, whisk together the cornstarch, sugar, cocoa powder and salt.

Combine the heavy cream and milk in a large measuring cup. Slowly pour into the saucepan while whisking so that no lumps are formed.

Whisk in the egg yolks.

Heat over medium until just boiling and mixture thickens.

Remove from heat and whisk in the chocolate, McCormick Pure Peppermint Extract, and butter until everything is melted and well combined.

Pour into the baked pie crust. Cover the filling with a piece of plastic wrap and chill for 4 hours.
Stabilized Whipped Cream
In a mixing bowl, beat the confectioners' sugar, cream cheese, McCormick Pure Vanilla and McCormick Pure Peppermint Extracts.

Gradually add the heavy cream and beat until stiff peaks are formed, scraping down the sides and bottom of bowl as needed.

Pipe onto the pie or spread on the top to garnish.

Add the crushed candy canes as a final touch.
Did you make this recipe?
Share it with me on Instagram and make sure to follow me on Pinterest for more recipes.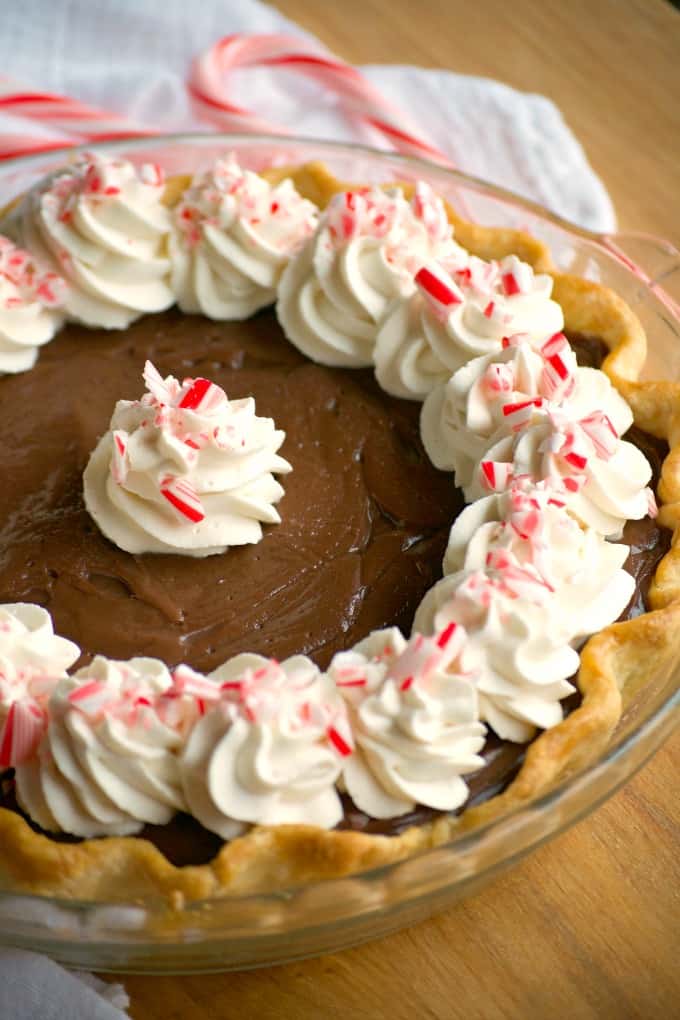 Many times I've been hesitant about recreating my Grandmother's recipes because I fear that what I make won't taste as good as hers. Inevitably when I do I'm taken right back to her kitchen and can feel all the love she put into all of it.
I am forever grateful to my mother, grandmother, and aunt for passing their love of baking on to me. Those recipes and memories that were created in Grandma's kitchen are ones that I want to recreate with my children and grandchildren so that they may pass down for generations to come.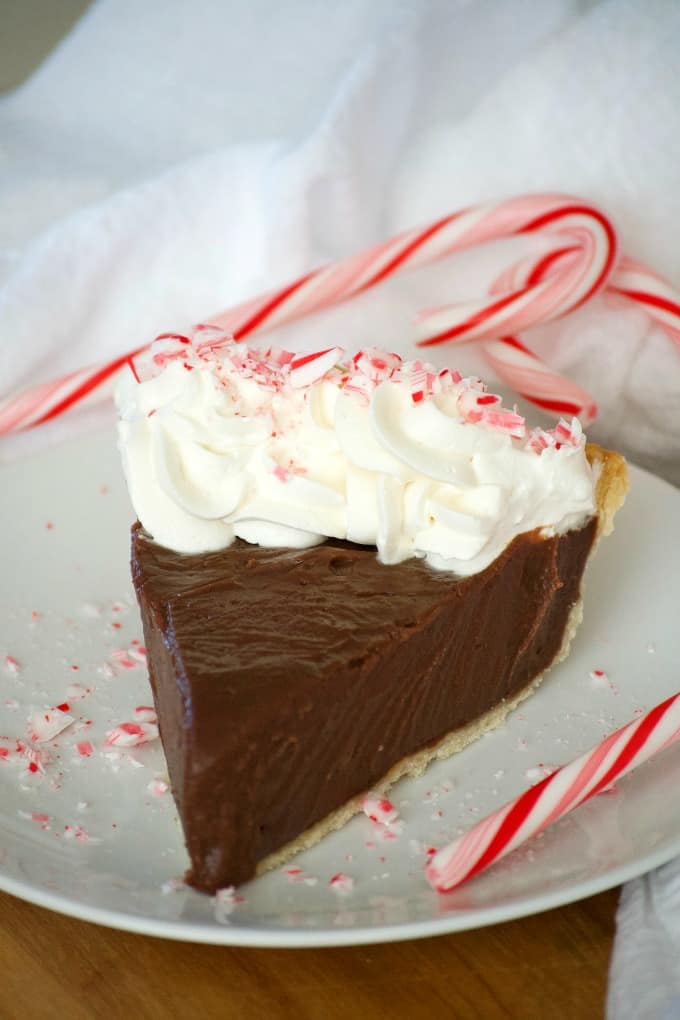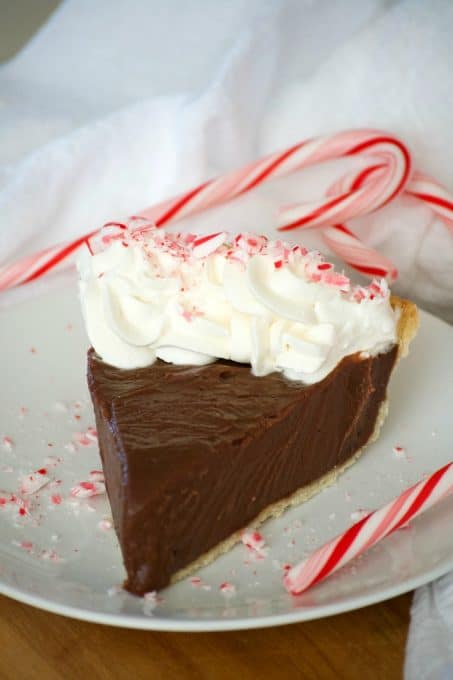 Tell me what recipes you want to create this holiday season. Make those recipes that transport you back to your childhood and recreate them with your children, grandchildren, family, and friends. I'm excited for you to share some wonderful memories in your own kitchen and be able to enjoy them for years to come!
Disclosure ~ I have partnered with McCormick to bring you this post. I grew up watching my grandmother, mother and aunt use McCormick in their baking and cooking. Consequently, I have come to love them myself. I appreciate your support of 365 Days of Baking and More and your support of the brands that help to make it possible.
Here are some more pie ideas and how to easily transfer your crust to the pie plate!

Reader Interactions