There's no better way to use up those Thanksgiving leftovers than by making this fresh, flavorful Leftover Turkey Sandwich! I know what you're thinking—who needs a recipe for a sandwich? Consider it more of a guide to making the best-tasting sandwich you've ever made with all the trimmings!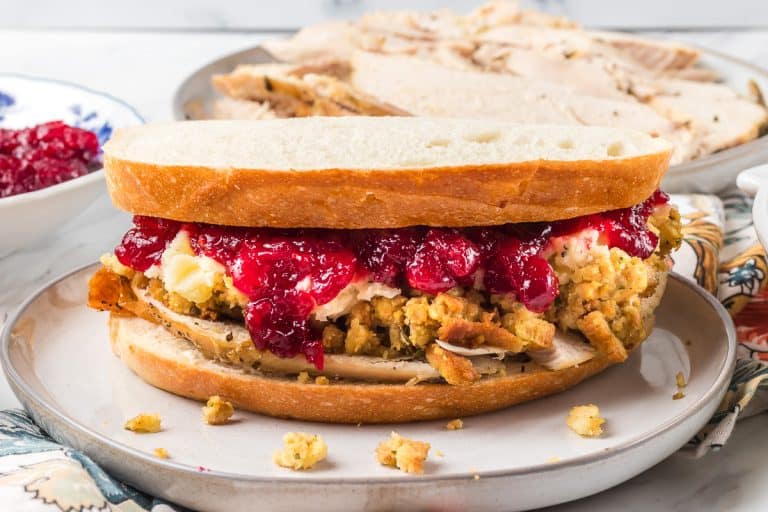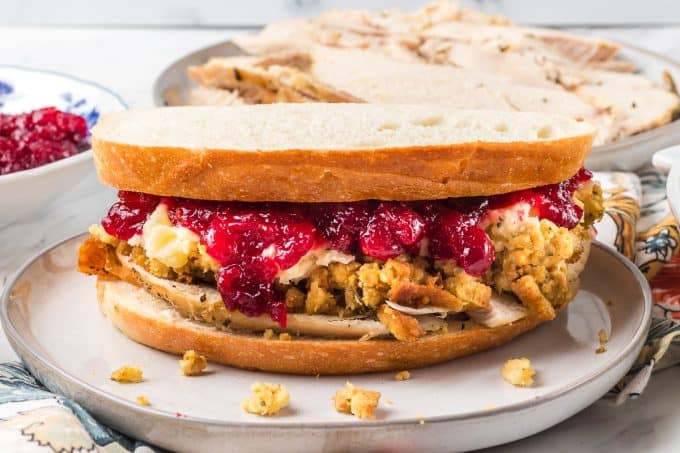 I know the roast turkey is the main event of any Thanksgiving dinner. But honestly, this is the food I crave all year long: that first turkey sandwich made with your Herb Roasted Turkey and smothered in all the delicious leftover Thanksgiving food. There's nothing like it!
Every year, we eat at our main meal at 1 pm, so we can have turkey sandwiches while watching the football game Thanksgiving night.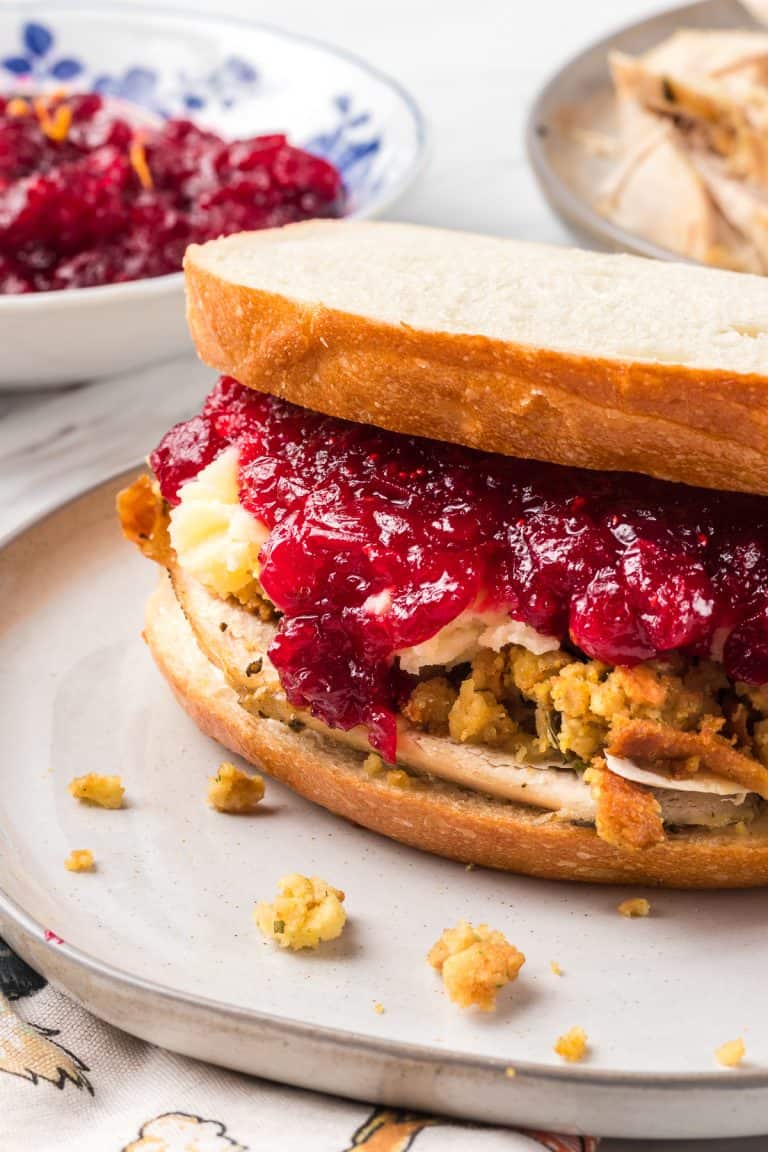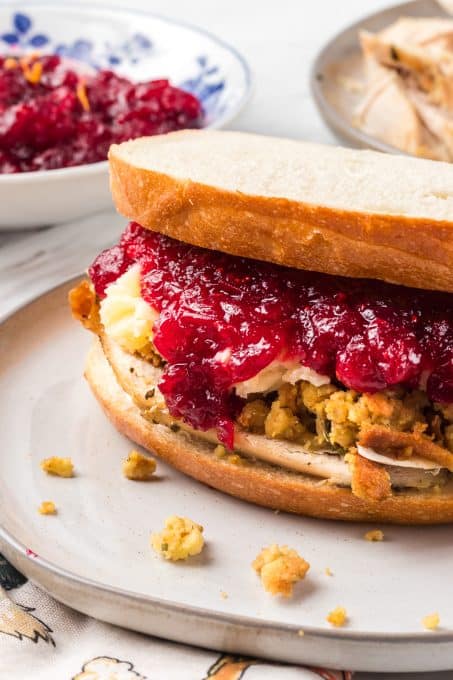 The Best Bread for Sandwiches
This sandwich deserves good crusty bread. I prefer fresh sourdough, but of course, you can use any kind of bread you desire. Just don't use sandwich bread from the grocery store; you'll be doing this sandwich (and yourself!) a huge disservice!
I suggest using one of these bread varieties for your turkey sandwiches:
As I noted above, sourdough is my choice for a traditional turkey sandwich. I love the slight tang, the sturdy texture, and the mild flavor that lets the flavors of the leftovers shine!
Whole-grain bread: anything hearty with grains and seeds is the perfect choice for this amazing turkey sandwich!
Potato bread: this bread has a soft, fluffy texture and the flavor pairs nicely with your leftovers.
Sweet Hawaiian Bread: This slightly sweet bread adds a nice contrast to all the savory goodness of turkey and assorted sides.
If you have leftover rolls, go ahead and use those for a slider version of this sandwich.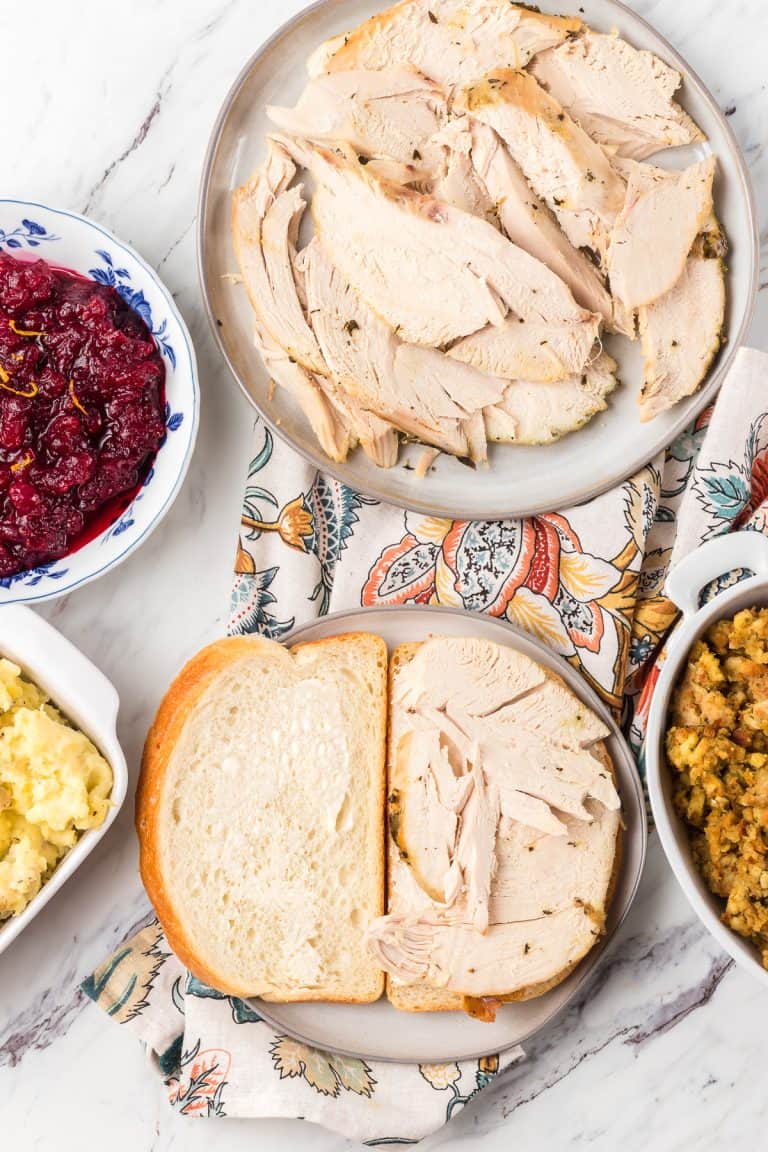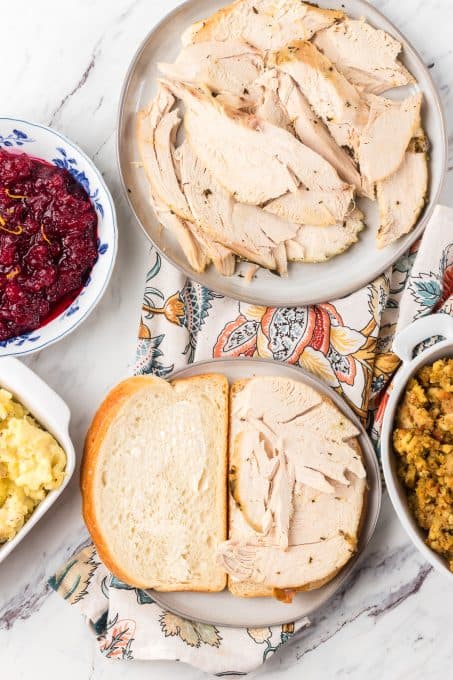 Ingredients for a Thanksgiving Leftover Sandwich
This leftover turkey sandwich is the perfect way to use up whatever leftovers you have in your fridge. Here's what I use to make mine:
Feel free to use more or less of each ingredient according to your tastes. Sometimes I leave out the mashed potatoes. Other times I add a slice of cheese. This sandwich is good with sweet potatoes, too!
Some leafy greens, like arugula or Romaine lettuce, will add some color and additional flavor, too!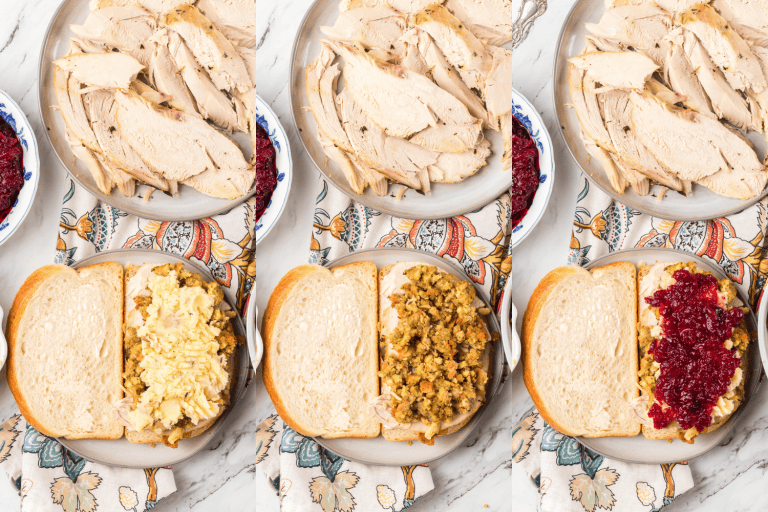 How to Make the Perfect Thanksgiving Turkey Sandwich
These turkey sandwiches taste best when using the leftovers within a day or two. And who really wants to cook the day after Thanksgiving? Whip up a batch to revive you during your Black Friday shopping and you'll be set for the day!
Again, this is really more of a guide than a recipe. Here's how I make the best leftover turkey sandwiches:
First, spread some mayonnaise on each slice of bread. Then place the slices of turkey onto one piece of bread.
Cover the turkey with some stuffing, then mashed potatoes. I like to warm both in the microwave first to make them easier to spread. You could also mix them together before spreading on top of the turkey.
Drizzle cranberry sauce over the mashed potatoes and gently spread it around. Then place the remaining slice of bread on top, mayonnaise side down. Use a sharp serrated knife to cut the sandwich in half diagonally or straight across.
Enjoy all that delicious leftover goodness!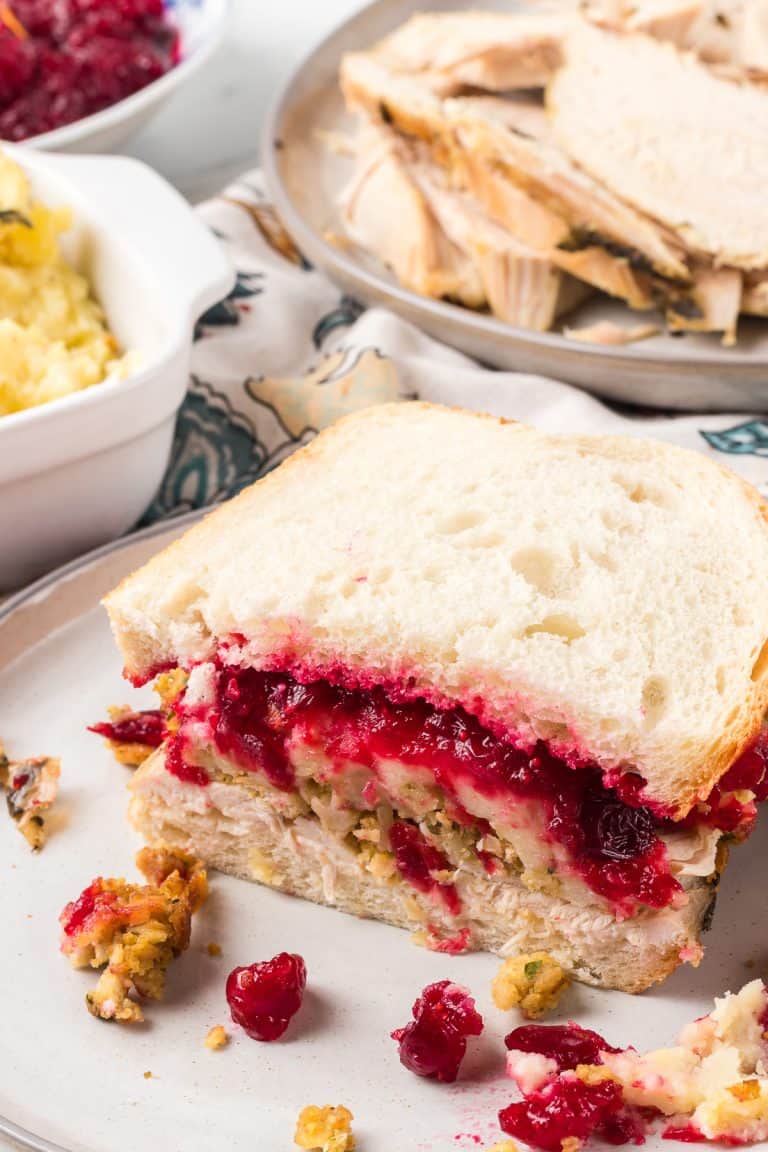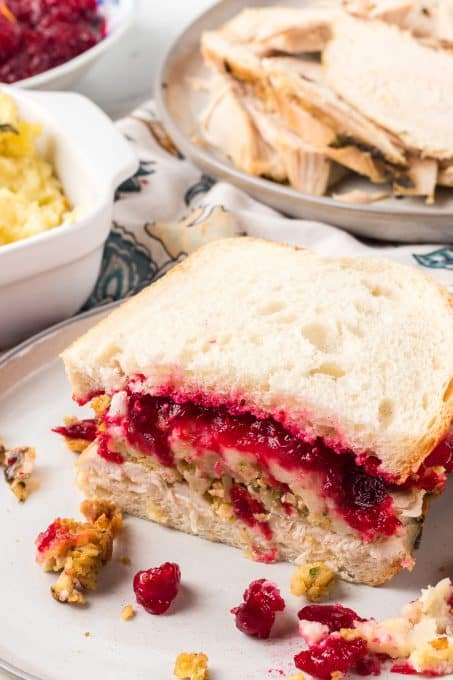 Variations on the Leftover Turkey Sandwich
​We all have different ways of making our favorite sandwiches. Try one or more of these and see which way is the best way!
Toast the bread slices before using them for the leftover turkey sandwich.
Or use a panini press to heat and toast the whole thing once assembled.
Drizzle extra gravy over the mashed potatoes and stuffing before assembling the sandwich or use some on the side to dip your sandwich.
Soak each slice of turkey in gravy before placing it on the sandwich.
Use only one slice of bread topped with leftovers to make an open-face sandwich.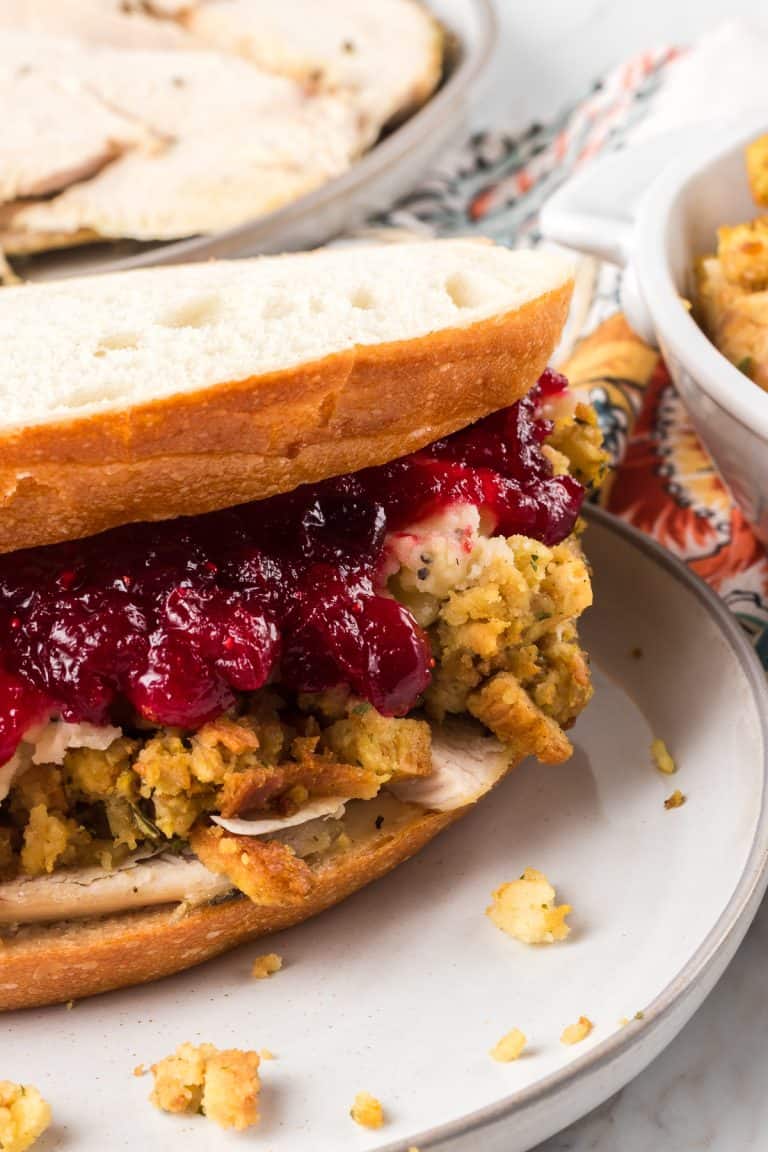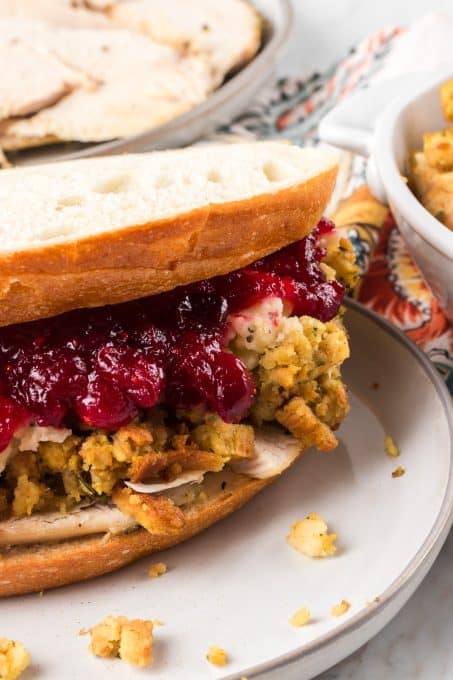 What to Serve With Leftover Thanksgiving Turkey Sandwiches
This is a pretty filling sandwich on its own, so I like to keep the rest of the meal pretty light.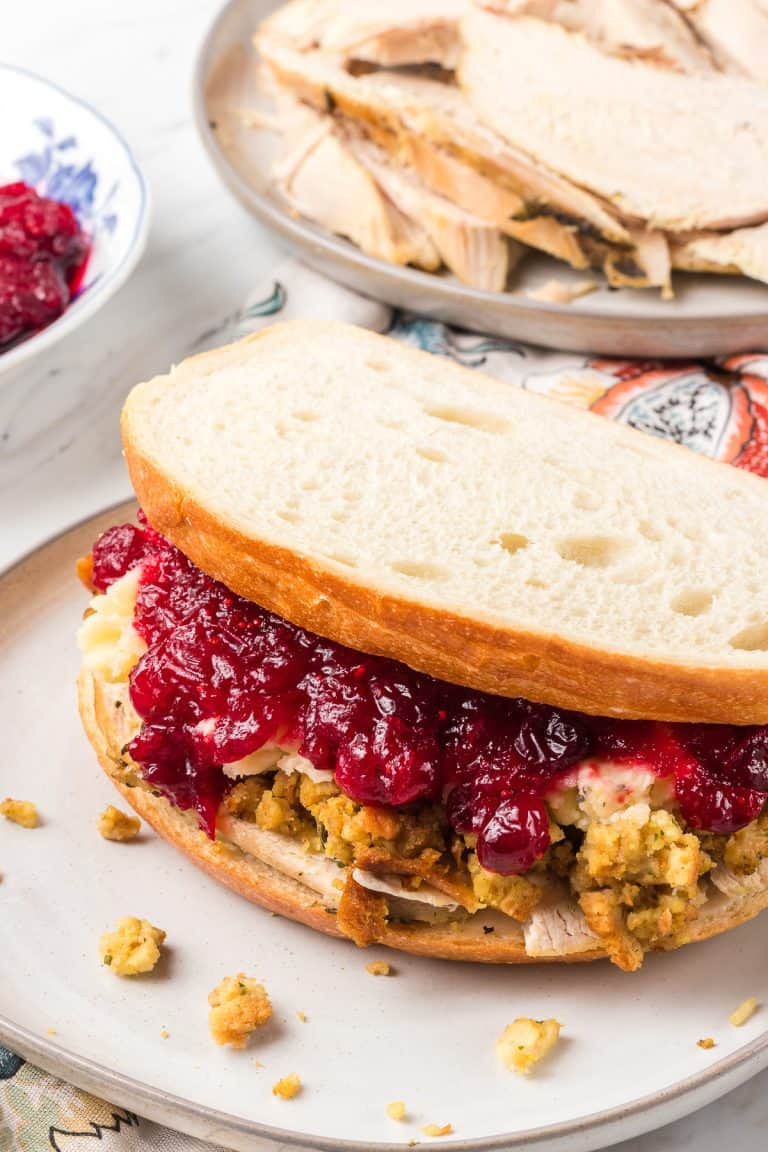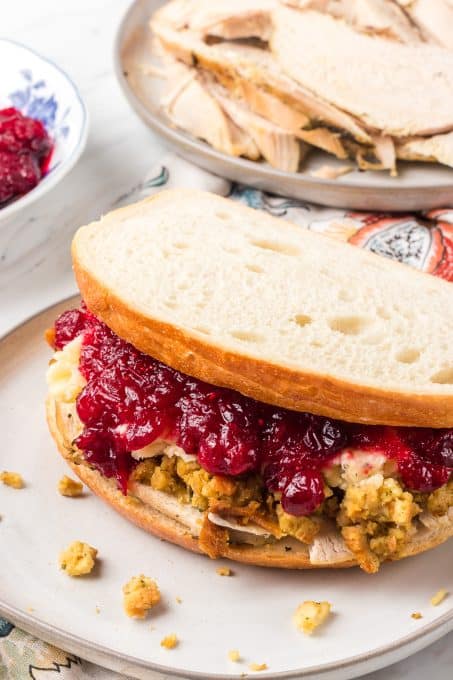 What to Make With Thanksgiving Leftovers
I know, I know, you can only eat so many turkey sandwiches. If you need more creative ideas for using up those turkey leftovers (and other leftovers), check out these recipes: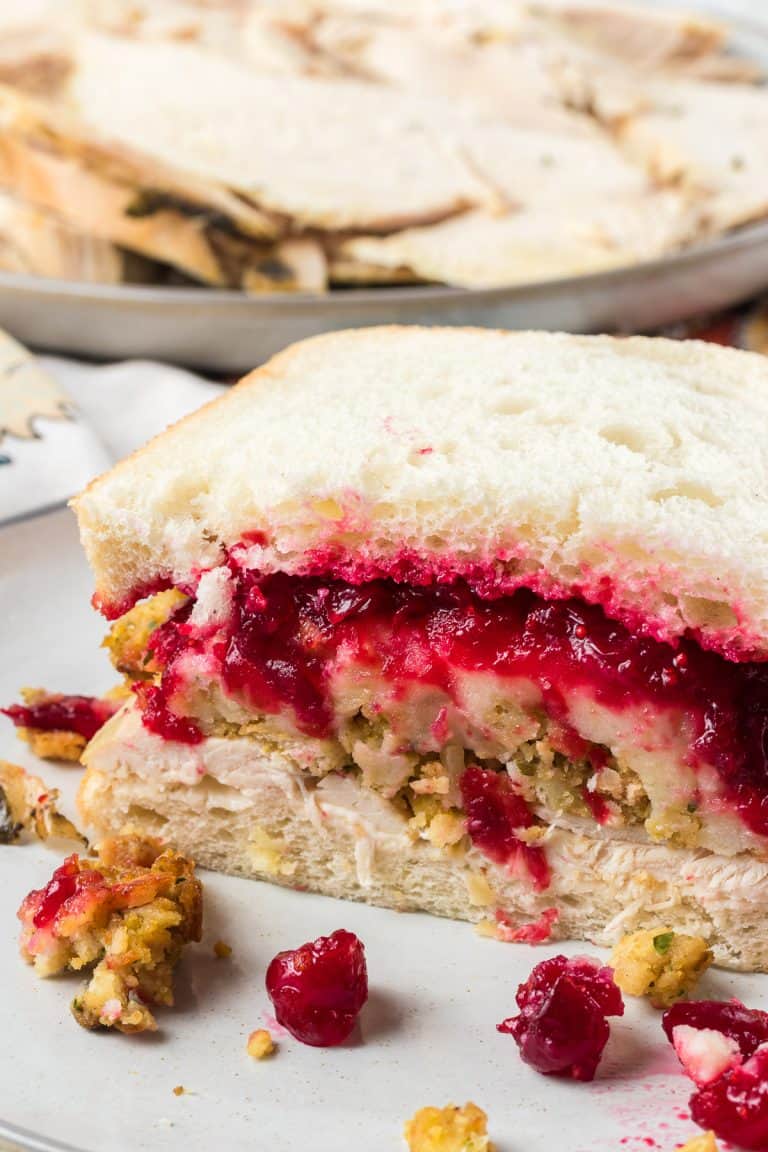 ~ FOLLOW ME ~
Keep an eye out for more of my easy recipes each week!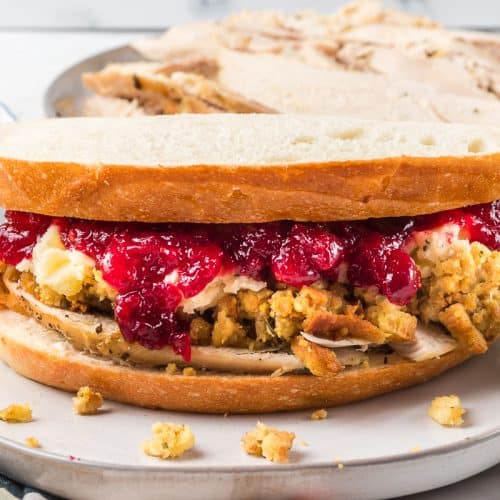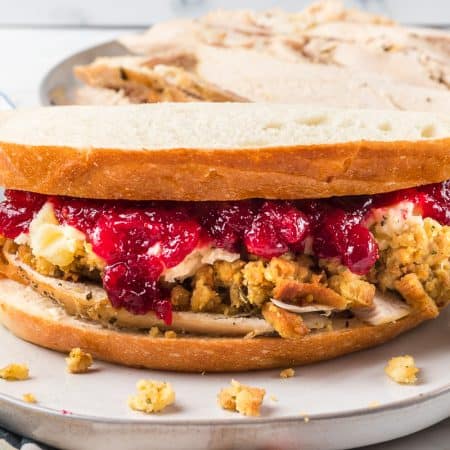 There's no better way to use up Thanksgiving leftovers than with this flavorful Leftover Turkey Sandwich! Here's your guide to making THE best-tasting turkey sandwich ever with all the trimmings of stuffing, turkey, mashed potatoes, and cranberry sauce. You can even dip it in gravy to make an au jus!
Instructions
Place the two slices of sourdough bread onto a plate and spread a tablespoon (or more, if desired) of mayonnaise onto one side of each slice.

Place the slices of turkey onto one piece of the mayonnaise covered bread.

Cover the turkey with the stuffing and then mashed potatoes. I recommend warming them both in the microwave before putting them onto the turkey as they'll be easier to place.

Put the tablespoons of cranberry sauce over the mashed potatoes and gently spread. Cover with the remaining piece of bread, mayonnaise side face down. Cut the sandwich with a serrated knife either in half diagonally or straight across.
Notes
Feel free to use more or less of each ingredient according to your tastes as well as other Thanksgiving leftovers you may have. Nutritional information is given for ingredient amounts displayed.
Nutrition
Serving: 1serving | Calories: 842kcal | Carbohydrates: 115g | Protein: 25g | Fat: 32g | Saturated Fat: 6g | Polyunsaturated Fat: 16g | Monounsaturated Fat: 8g | Trans Fat: 0.1g | Cholesterol: 34mg | Sodium: 1325mg | Potassium: 505mg | Fiber: 7g | Sugar: 22g | Vitamin A: 265IU | Vitamin C: 17mg | Calcium: 100mg | Iron: 6mg
Did you make this recipe?
Share it with me on Instagram and make sure to follow me on Pinterest for more recipes.
Reader Interactions