These chewy no bake Peanut Butter Cornflake Cookies are an easy dessert with few ingredients. Plus, they're better than what Grandma used to make because there's NO corn syrup to boil while standing over the stove. Shhh…we won't tell!
(But yes, there IS corn syrup in the marshmallows. we know that.)
They're similar to your favorite Rice Krispies treats and just as quick to make.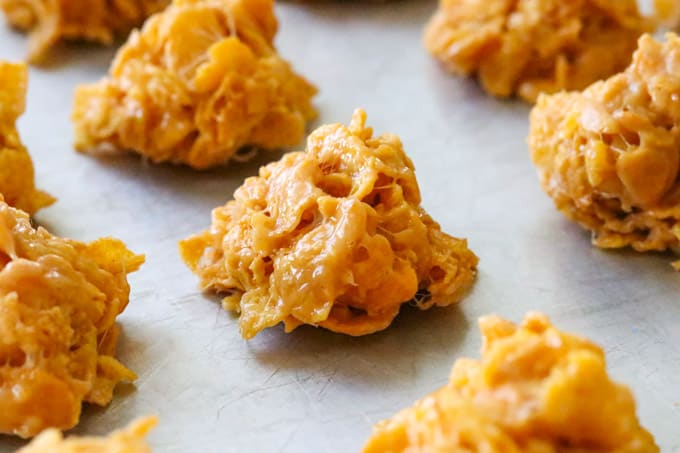 I absolutely love a recipe that's been around for years.
You know, like the ones Grandma used to make – Italian Bread, Three Bean Salad, Crockpot Spareribs, and others.
They are tried and true recipes.
They're the ones that have been around for generations.
That's because people have made them and loved them again and again.
They're a wonderful thing. Relics in a way, and ones we can pass on to future generations.
This cornflake recipe is just that.
While I've never even had a Cornflake Cookie, I knew I had to give this recipe a shot since I've seen them around for years.
SAVE THIS EASY CORNFLAKE COOKIE RECIPE TO YOUR FAVORITE PINTEREST BOARD!
Yes, I'm just as shocked as you are that I've never had one.
Now I've fallen in love with them just as you may have.
A difference with my recipe and many, if not most of the others, is I substituted marshmallows for the corn syrup.
While corn syrup does have its' place in many recipes, like how my mom used to make these O'Henry Bars, I wanted to see if they could be made without it, and VOILA!
I think you'll be pleased with the outcome. My family certainly was and these babies didn't last long at all!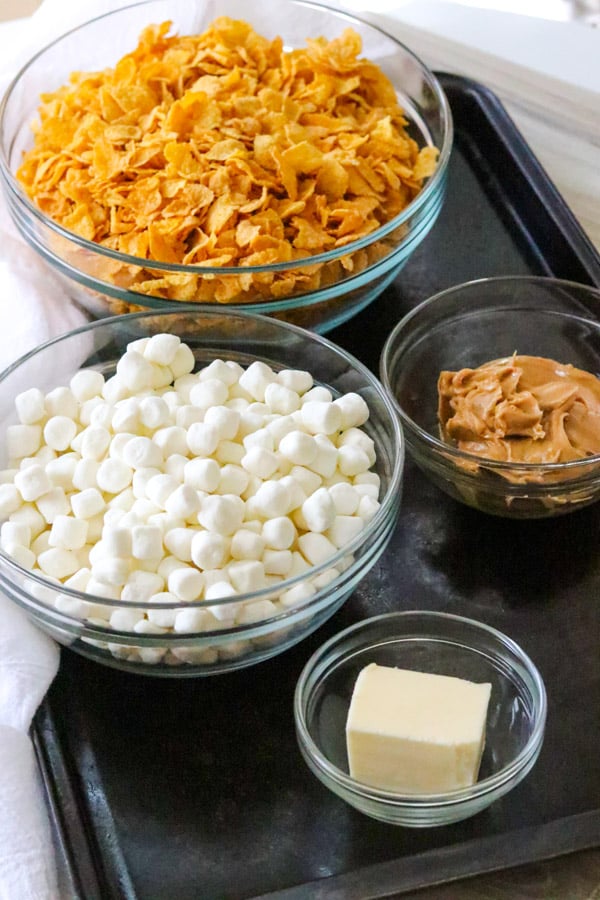 What Ingredients I need to make these cookies with cornflakes in them?
Cornflakes, of course. They wouldn't be Cornflake Cookies without them!
Butter – salted or unsalted, but I prefer salted.
Marshmallows – NO Corn Syrup to boil, folks!!
And yes, I know, there usually IS corn syrup in marshmallows.
I use the miniature marshmallows because they'll take less time to melt.
Peanut butter – I use creamy, but the peanut/crunchy would work as well.
Pure vanilla extract – yes, you can use vanilla extract if you're not using the pure, but PLEASE don't use the imitation! It really does make a difference and you aren't doing yourself a favor even if you are saving a few pennies.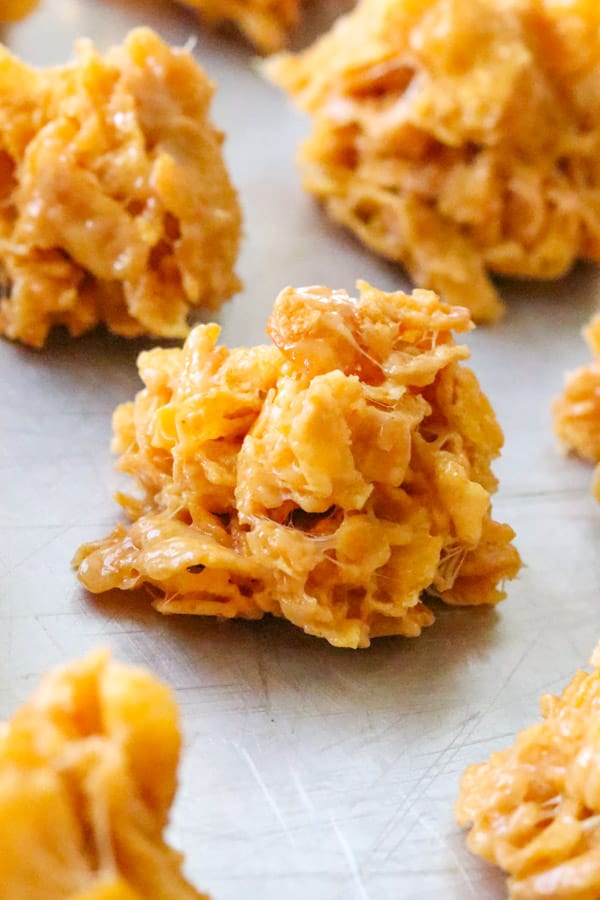 Are these no bake Cornflake Cookies easy to make?
They sure are! Keep reading!
Melt butter in a large pot over medium heat.
I highly recommend using a non-stick pot. For years, and I do mean YEARS, I used just a regular pot to make various Rice Krispies treats, like this one. FINALLY, I bought a non-stick pot and it seriously changed my life. No joke.
After the butter has melted, pour in the marshmallows and continue stirring until melted. Add the peanut butter and vanilla, and mix until smooth.
Pour in the cornflakes and stir until well combined and covered.
Using a tablespoon or a small cookie scoop, place scoops of the mixture onto a non-stick baking sheet.
Allow to cool completely and harden.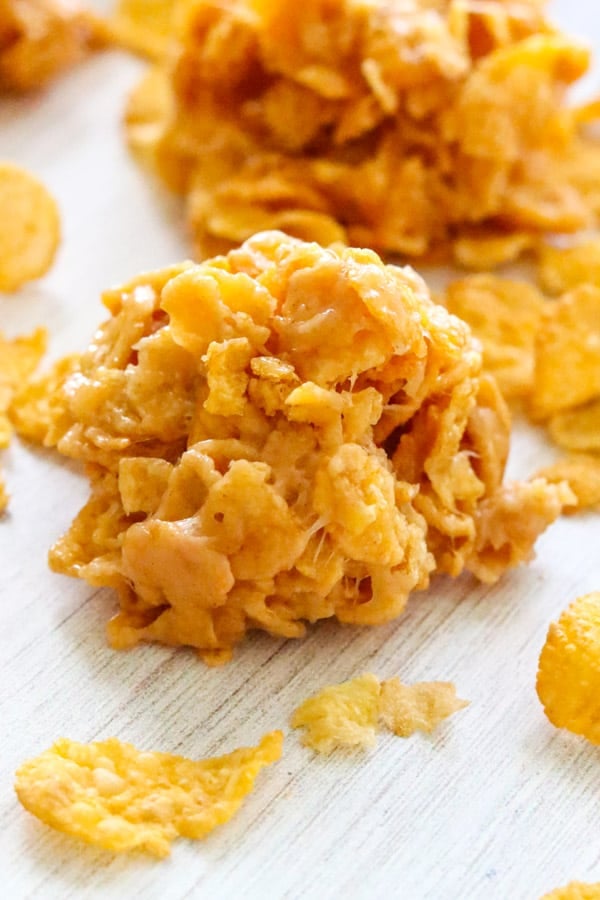 SIGN UP FOR THE WEEKLY
365 DAYS OF BAKING & MORE
NEWSLETTER BELOW!
Looking for more easy, no bake recipes? I've got plenty to satisfy any sweet tooth!
My most popular recipes are by far, my Dream Bars. I've got quite a collection with a variety of flavors, so there's something for everybody.
The most popular is the Chocolate Peanut Butter Dream Bars. This is the one that started it all. Similar to a Lush Dessert recipe, it's comprised of layers that make every bite absolutely delicious.
If strawberries are your thing, then the Strawberry Cheesecake Dream Bars have your name written all over them. They're delicious all year round, but we especially enjoy them when spring and summer hit.
Want to feel like a kid again? Then make these Circus Animal Cookie Dream Bars. Colorful and fun, they're sure to bring smiles to lots of faces.
Love turtle candy? Then you'll enjoy every last bite of these Easy No Bake Turtle Dream Bars. Who can resist chocolate, caramel and pecans? Not me, that's for sure!
Out of all of the Dream Bar recipes though, I think the Orange Creamsicle Dream Bars and No Bake Pumpkin Dream Bars are my favorites.
I LOVE the flavors in each of them.
The Creamsicle dessert reminds me of my summers as a kid, and tastes JUST like one of my favorite ice cream treats.
I don't like pumpkin pie at Thanksgiving, but I will HAPPILY eat the Pumpkin Dream Bars any day of the week! They're going to be a regular on our Thanksgiving menu for sure.
I've seriously fallen in love with all of them and love creating them, so definitely be on the lookout for more!
Another very popular no bake favorite is this No-Bake Lemon Cheesecake. This delicious dessert is perfect for a hot summer day when you want something refreshing.
Looking for a no bake snack? Then these No-Bake Rice Krispies Granola Bars and No-Bake Peanut Butter Energy Bites need to be in your pantry. Each is full of flavor and are treats the whole family will enjoy.
Of course, cornflakes can be used in a variety of recipe besides these delicious cookies. And, it's not just a cereal!
I love to use it when I'm cooking chicken. This Cheesy Chicken, Broccoli and Rice Casserole and my Cornflake Chicken both use them. I love how the cornflakes give each recipe a great crunch factor. It's so good!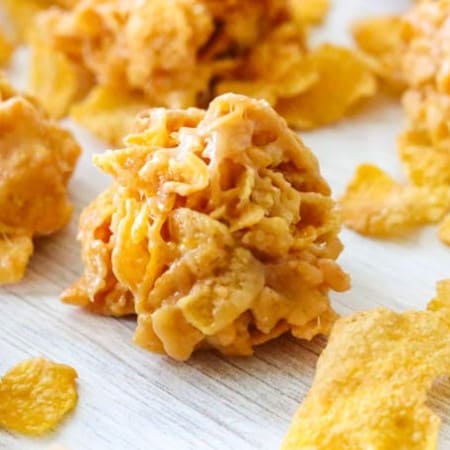 No Bake Peanut Butter Cornflake Cookies
These chewy no bake Peanut Butter Cornflake Cookies are an easy dessert with few ingredients. Plus, they're better than what Grandma used to make because there's NO corn syrup to boil. Shhh…we won't tell! With only 5 ingredients and minutes to make, the family will love how quickly they'll be enjoying them.
Equipment
Baking Sheet

large bowl

rubber spatula

non-stick pot
Ingredients
3 tablespoons butter
10 ounce miniature marshmallows
½ cup creamy peanut butter
½ teaspoon pure vanilla extract
6 cups corn flakes
Instructions
In a large pot, over medium low heat, melt the butter.

Pour the marshmallows into the pot and stir until completely melted.

Add peanut butter and vanilla and mix until thoroughly combined and peanut butter has melted. Turn off heat.

Pour in the cornflakes and with a rubber spatula, mix until thoroughly coated.

Using a tablespoon or small cookie scoop, place scoops of mixture onto a cookie sheet and form into a mound.

Allow cookies to cool and harden for at least 15 minutes before serving.
Nutrition
Serving: 1g | Calories: 64kcal | Carbohydrates: 10g | Protein: 1g | Fat: 3g | Saturated Fat: 1g | Cholesterol: 2mg | Sodium: 59mg | Potassium: 28mg | Fiber: 1g | Sugar: 5g | Vitamin A: 101IU | Vitamin C: 1mg | Calcium: 2mg | Iron: 1mg
Did you make this recipe?
Share it with me on Instagram and make sure to follow me on Pinterest for more recipes.
Reader Interactions