With these crockpot Spare Ribs, leftovers will be even better than the first night. It's a hearty meal that is perfect for a cold winter day, thanks to the carrots and potatoes!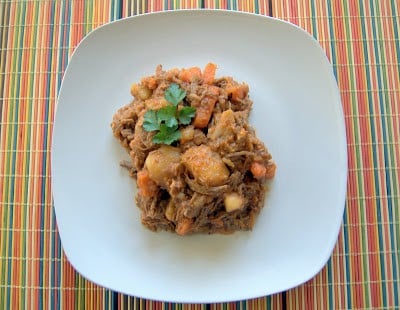 Your own Spare Ribs recipe can really go a long way, especially if they're multiple things you need to do.
That's why I decided to make my own. I looked at multiple ways of making spare ribs, and I didn't realize they're that many. But, can I just tell you that the slow cooker spare ribs are the way to go!
This was one of the recipes I discovered in my mother's recipe box after she passed away. That was nearly 20 years ago and I've been making them ever since. Mr. 365 LOVES crock pot ribs!! The kids enjoy them, too.
And is it a slow cooker or a crockpot? I guess it's for you to decide.
SAVE THIS SPARE RIBS SLOW COOKER RECIPE TO YOUR FAVORITE PINTEREST BOARD!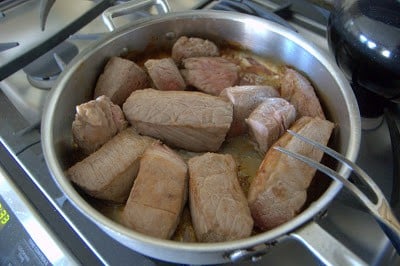 I don't remember ever having these at my grandmother's (my father's mother), but I do remember my mother making them quite often.
I LOVE them because they are so darn easy peasy to make, about a 30-minute prep. in the morning and dinner is good to go when you walk in the door from a busy day. It doesn't get any better than that!! Ok, maybe if you had your own personal, hot looking chef to cook and serve you dinner when you walked in the door from your busy day, but then again, who's spouse would really allow that?
Ok, can I tell you? This is just weird to me. I've taken the past few days off from baking, and recipe creating, and oh yeah, photographing food and that in and of itself has been odd. I've welcomed the rest, but do admit that I missed it.
I start to type today's post and what was extremely bizarre to me was that I didn't have to start my post title with "Day…"
…I started to type it and went, "Oh, yeah, I don't have to do that anymore." It looks weird without a number in front of it. And it's going to take some getting used to, I suppose.
Here are some tips and tricks to help you enjoy those Spare Ribs even more!
Place the 6 tablespoons of water into the empty chili jar, shake and add to blender. This will remove the remaining contents from the jar and you won't have to rinse it to recycle!
This recipe can also be baked, but keep in mind that I have not had them or made baked spare ribs. So, you're on your own!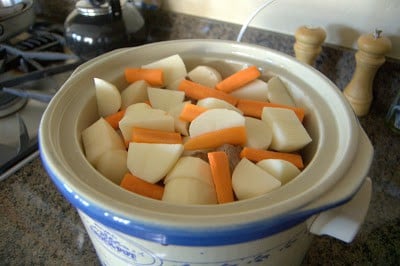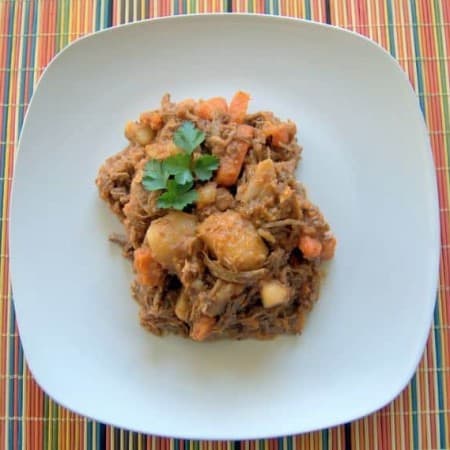 Ingredients
3 lbs. boneless spare ribs
2 tablespoons chopped onion
6 tablespoons lemon juice
3 tablespoons white vinegar
1 tablespoon Worcestershire sauce
3 tablespoon light brown sugar
6 tablespoons water
1 12 oz. jar chili sauce
1 teaspoon salt
freshly ground pepper
4-6 carrots
5-7 medium potatoes
Instructions
Turn crockpot onto low, and cut ribs into 6 servings.

Prepare a large skillet by coating it with cooking spray. Place ribs in the skillet over high heat and brown all sides.

Peel potatoes and carrots. Cut them into thirds, then halves. Place half of potatoes and carrots in the bottom of the crockpot.

Place the spare ribs on top in a single layer if possible. Cover with the remaining carrots and potatoes.

In a blender, combine onion, lemon juice, vinegar, Worcestershire sauce, brown sugar, and chili sauce.

Blend on high until all ingredients are mixed well. Evenly distribute the sauce over the carrots and potatoes.

Cook on low for 8-10 hours, or low for 6-7 hours then turn to high for an additional 1 1/2 hours, stirring occasionally.
Nutrition
Calories: 29kcal | Carbohydrates: 7g | Sodium: 418mg | Potassium: 46mg | Sugar: 6g | Vitamin C: 6.2mg | Calcium: 8mg | Iron: 0.2mg
Did you make this recipe?
Share it with me on Instagram and make sure to follow me on Pinterest for more recipes.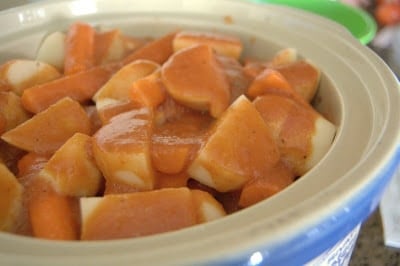 The latter is what I usually do and I know they're done when the meat begins to shred as I stir it.
These are really good, if not even better the next day since the flavors have a chance to really mix together.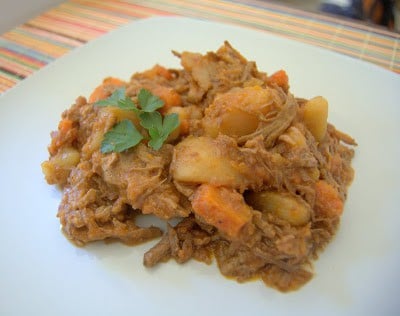 I rate everything I MAKE now 🙂 on a scale of 1-4 and Gram's Crockpot Spareribs earned 4 rolling pins. Serve it with a salad and you're all set to go. These are SO easy and SO delicious that I think it'd be silly if it wasn't added to your menu.
You don't have to make them, but when you know you're going to be taking the kids to school, volunteering in Susie's class, having lunch and a pedicure with Jill, then shuttling the youngins' off to dance, boy scouts, basketball practice, trombone lessons and a Little League game after dinner…
AND picking up Junior from daycare in between all that, how could you NOT want something quick, delicious and ready for you when you walk in the door at WHATEVER time you do happen to walk through the door?
Looking for some awesome recipes similar to this Spare Ribs recipe? Here are some you should definitely make.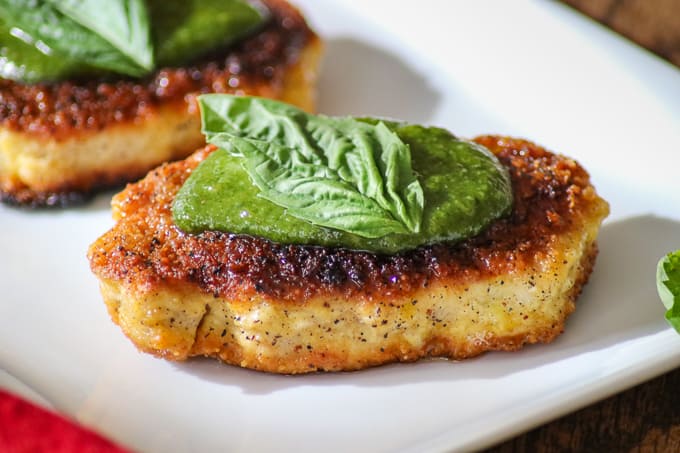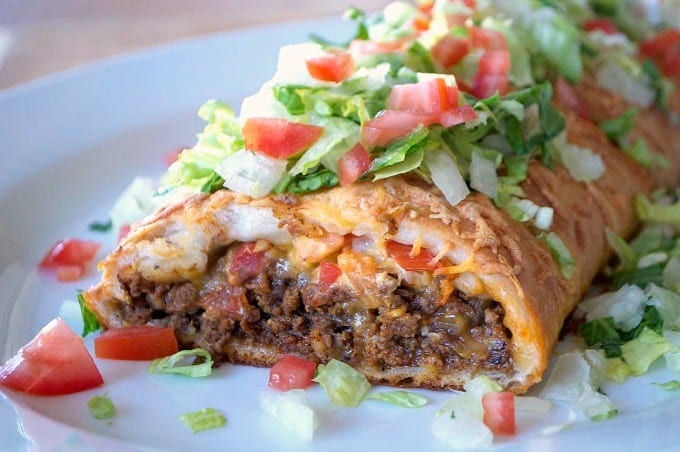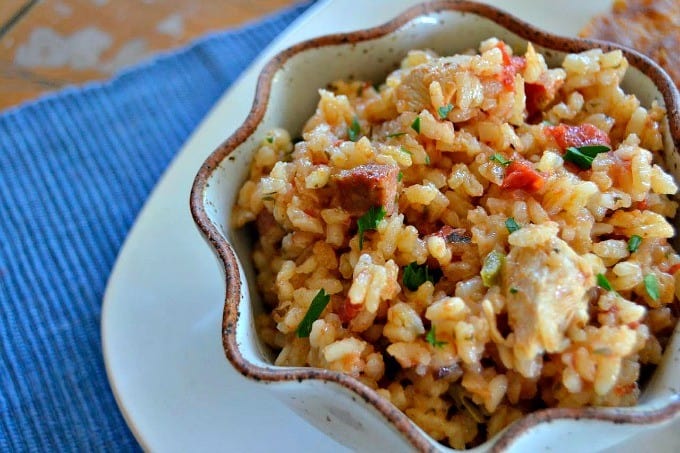 Gram wasn't no dummy. And no, my life is not that busy. (I got tired just writing and thinking about all that stuff!) BUT, I know some of you are, and all the power to you!
This has been shared at the Gooseberry Patch Slow Cooker Recipe Round-Up!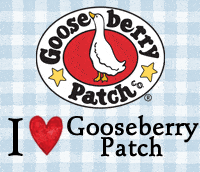 Reader Interactions