These Braised Short Ribs are a hearty and flavorful meal. They are perfectly seared then slowly cooked in a sauce of Nebbiolo wine, beef broth, tomato paste, onion, carrots, celery and more. Inspired by a dinner I had onboard my Western Caribbean cruise with Princess Cruises, this recipe is a must for any Sunday dinner.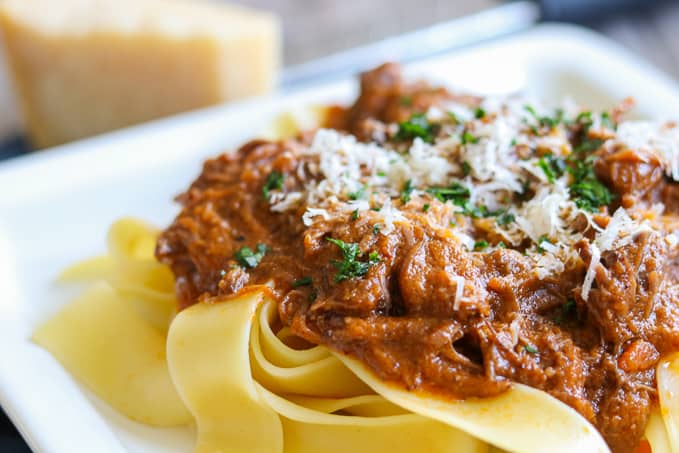 There's just something about comfort food, isn't there?
I am proud to be partnering with Princess Cruises to bring you this post. As always, all opinions are 100% my own.
*This post contains an affiliate link(s).
Comfort food just makes us all warm and fuzzy inside.
It can be sentimental, bringing back memories of growing up or of meals spent with family and friends.
For me, this Braised Short Ribs recipe is it.
With every bite, I feel joy from the tips of my toes to the roof of my mouth.
I'm reminded of my childhood spent at my grandparent's.
It's also reminiscent of the incredible meal I had my recent trip to the Western Caribbean with Princess Cruises at the beginning of last month.
What a great combination, hunh – comfort food and a cruise to exotic destinations with Princess Cruises?!
SAVE THIS BRAISED SHORT RIBS RECIPE TO YOUR FAVORITE PINTEREST BOARD!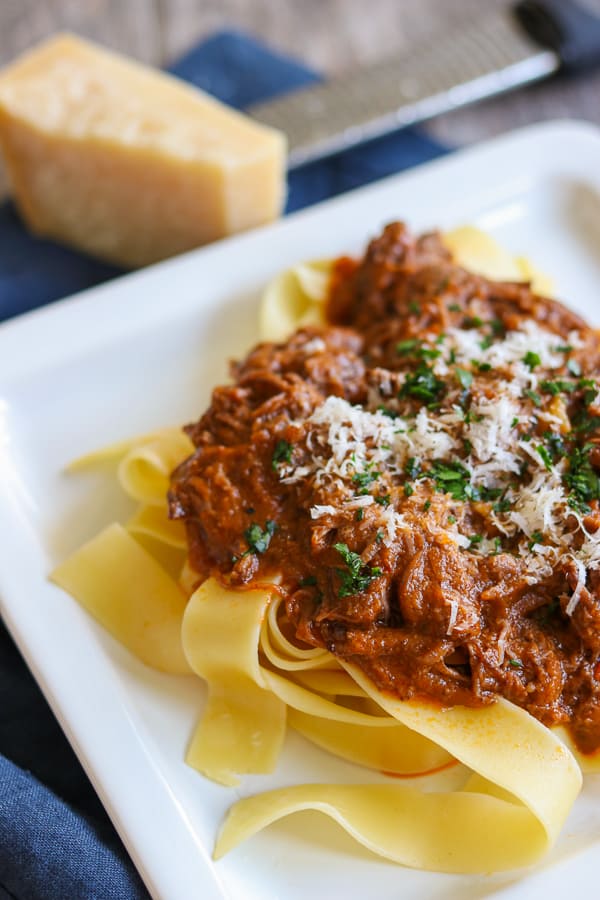 The meal that I had at Sabatini's while on board the Caribbean Princess was beyond amazing. So amazing in fact, that I was content to not even eat dessert that night!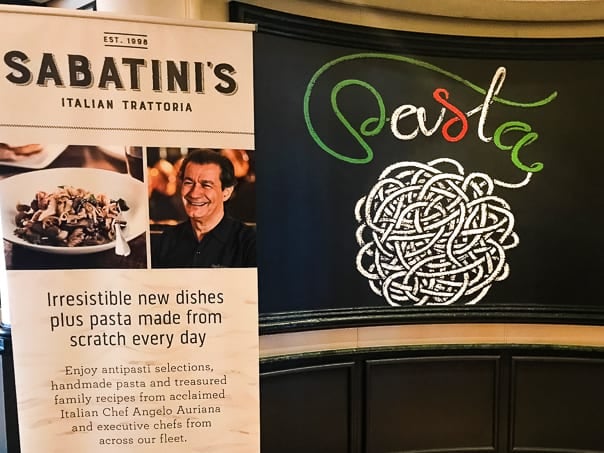 Sabatini's is one of the specialty restaurants on board the ship. While not included in the standard dining package, it requires an additional charge per person, but is well worth it! It is also recommended that you make reservations in advance preferably before you depart or as soon as you board.
Looking at the menu, I noticed the Buckwheat Pappardelle. I'm a sucker for those wide noodles, so whenever I see it on any menu it's a given that I'll order it.
The only thing that concerned me was when I saw "beef cheeks". While I'm not one to have a very adventurous palate, I decided to go out of my box and live a little.
This dish DID NOT disappoint. I also have to admit that I was super bummed it wasn't in a larger portion and almost ordered two servings the second night we dined there. But I refrained knowing that I would definitely be eating dessert.
Hence the reason I decided to make these braised short ribs here at home.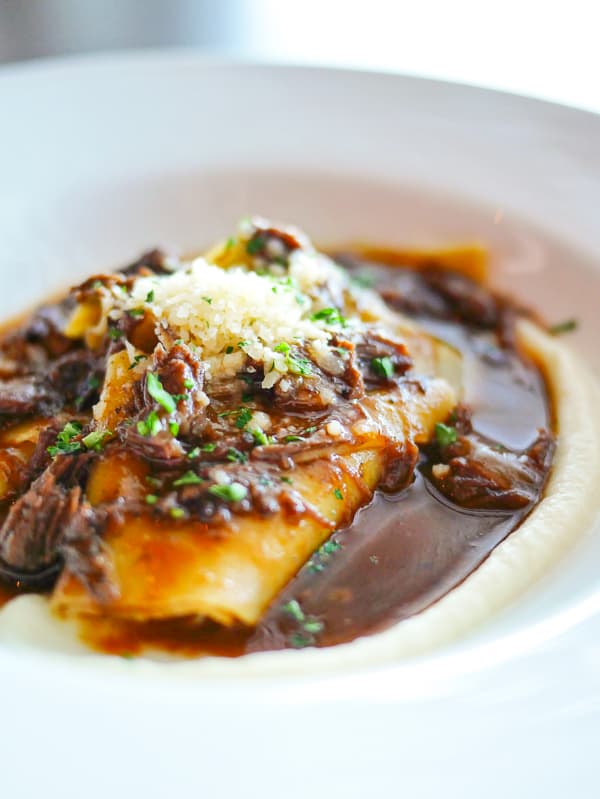 Ok, so mine doesn't really look similar, but it does taste pretty darn delicious.
I didn't make the pappardelle noodles, so they aren't buckwheat or homemade. Confession, they're store bought.
I didn't make the celeriac that you see on the bottom of the dish. We'll work on a recipe for that. It's a neat vegetable that I didn't even know existed until this meal.
I also didn't use beef cheeks. While they were SUPER delicious, I figured I'd use a meat a little less pricey and something you'd actually be able to pick right up at your meat counter.
What I did use was Nebbiolo. It's a red wine that is on the more expensive side for cooking, but I wanted to include it.
If you choose not to use it (don't worry, my feelings won't be hurt), a cabernet sauvignon should work just fine – or at least that's what my research has told me.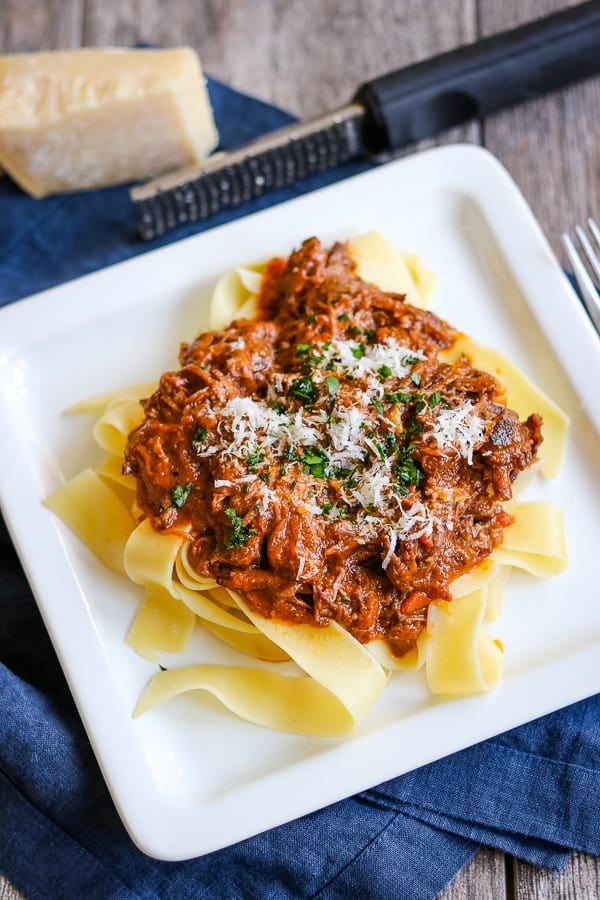 As I sit here writing this post, Kurt is enjoying the leftovers with some shredded cheddar cheese and tortilla chips. haha
So, I guess you could say it's a versatile dish as well.
That wouldn't have been my first way of eating these Braised Short Ribs the day after, but whatever floats your boat.
LOL
See what I did there?
I made a reference to a boat in a post talking about my cruise! haha
Geeky, I know. So, anyway…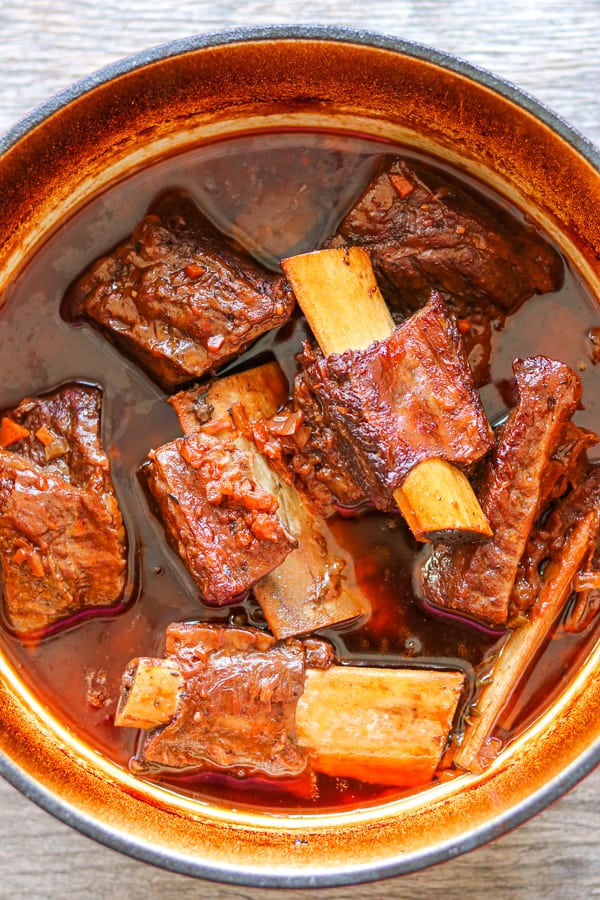 What is braising?
According to my New Doubleday Cookbook, braising is a cooking technique that is "to brown in fat, then to cook covered on top of the stove or in the oven with some liquid".
First, you'll want to season your meat on all sides with some salt and pepper, and any other spices and seasonings that might be called for at this point in the recipe as with my Crockpot Pork Ragu.
Searing the meat in some oil over medium-high heat to brown it will absolutely enhance the flavor and give the dish a bit of texture as well from the crust.
Once this step is complete, the meat is generally removed so that the vegetables and liquid(s) cook and deglaze the pot, imparting even more flavor into the dish. The meat is then returned to the pan.
Finally, the pot is covered and left to cook at a low temperature for at least a couple of hours.
Why braise meat?
Braising your meat in this Braised Short Ribs recipe or any other recipe that calls for it will give it great flavor.
It turns a less expensive, tougher cut of meat into fall-off-the-bone delicious.
And for the most part, it is a hands-off method of cooking after the initial searing.
I love using this method because it just puts SO much extra flavor into the recipe and it's beyond easy!
It's also a way of wowing friends and family with little effort. You'll also have a restaurant quality meal at half or a quarter of the price.
AND the best part, since the meat is cooked in a liquid you'll have a delicious sauce for the meat and whatever you're serving it with be it pasta, potatoes, etc.
What meats are best for braising?
The best meats for braising are the less expensive, tougher cuts of meat.
That's why you'll see many pot roast, rib, and other recipes calling for it.
You do not want to use leaner cuts of meat since there's little fat.
Also, when possible, you'll want to use meats that have the bone in them as I did here with the ribs because it will give your recipe more flavor.
However, boneless meats can be used, like in my Gram's Crockpot Spareribs and you'll get more for your money as well.
Chuck (front section)
Brisket (lower front section)
Rounds (back section)
Shoulder
Ribs
Short ribs
Shank
Bone-in chicken thighs
What do I use to braise meat?
Recipes that call for braising are usually best made in a Dutch Oven which is then placed into the oven or on top of the stove, a slow cooker or pressure cooker.
I find it easiest to use a pair of tongs as opposed to a fork when turning the meat while searing it.
I also like to use a good wooden scraper to remove those delicious browned bits at the bottom of the pot during the deglazing.
Also, for this Braised Short Ribs recipe, I used an immersion blender to make the sauce smooth. While it isn't necessary, it is a handy tool to have in the kitchen and can be very useful when making soups like my Creamy Tomato Basil Soup.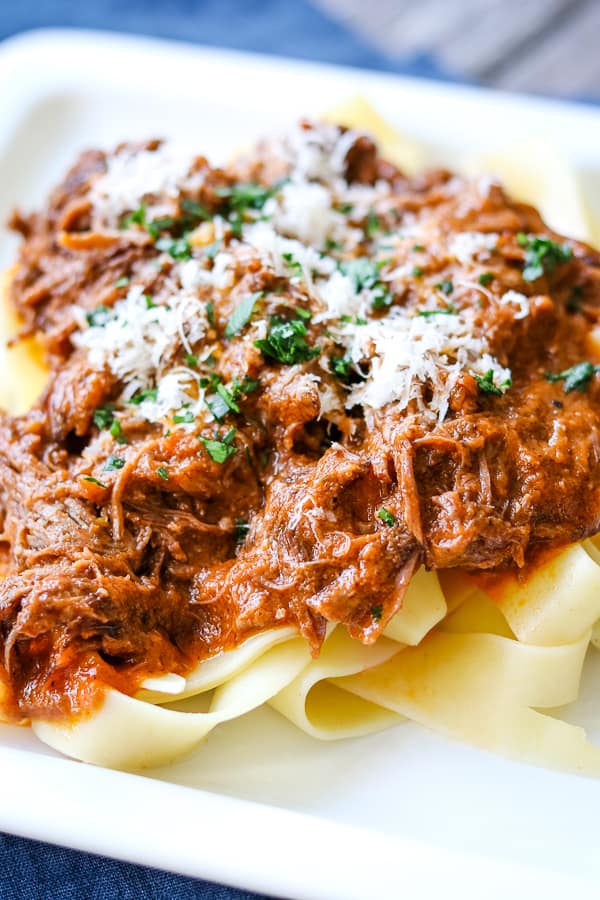 While I couldn't exactly recreate the recipe that I enjoyed so very much at Sabatini's, I was able to find this recipe and adapted it slightly.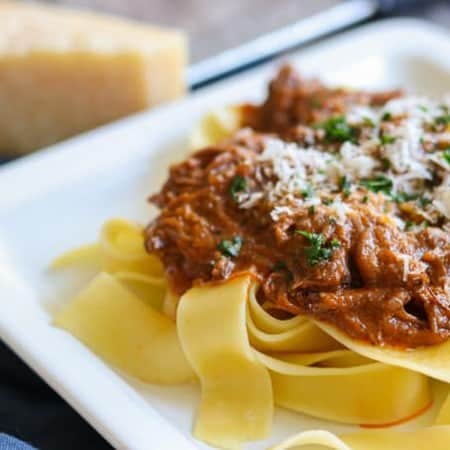 These Braised Short Ribs are a hearty and flavorful meal. Perfectly seared and then slowly cooked with Nebbiolo wine, tomato paste, onion, carrots, celery and more making this recipe a must for any Sunday dinner.
Equipment
Medium Dutch Oven

Kitchen Tongs

Immersion Blender
Ingredients
3½ lbs. short ribs Bone-In
1½ tablespoons olive oil
salt and pepper to season ribs
1 medium yellow onion, finely diced
2 medium carrots, peeled and finely diced
1 stalk celery, finely diced
1 tablespoon minced garlic about 6 cloves of garlic
3 tablespoons tomato paste
2 cups red wine, preferably Nebbiolo or Cabernet Sauvignon
1 teaspoon sugar
1½ cups beef broth
½ teaspoon kosher salt
¼ teaspoon pepper
2 inch Parmesan rind
2 tablespoons fresh thyme
2 teaspoons chopped, fresh rosemary
2 bay leaves
1 package Pappardelle noodles
Freshly grated Parmesan cheese for serving
chopped fresh parsley for serving
Instructions
Preheat oven to 325°F. and prepare ribs by seasoning all sides with salt and pepper.

Into a medium Dutch Oven, add the olive oil and heat over medium-high heat.

Working in batches, add the ribs and sear until nicely browned on all sides, about 1-2 minutes per side. After browning, transfer to plate.

Add the onion, carrots, celery, and garlic to the Dutch oven. Continue to cook over medium-high heat until the vegetables soften, about 3-4 minutes. Stir frequently, scraping the bottom of the pan.

Add tomato paste and cook, stirring frequently for three minutes or until paste becomes deep red in color. Be careful not to burn and slightly reduce heat if needed.

Add the wine, and sugar and simmer for 5 minutes, stirring occasionally.

Add the beef broth, salt, pepper, Parmesan rind, thyme, rosemary and bay leaves and return to a simmer.

Gently place the ribs in the pan, submerging them as much as possible in the liquid and cover. Place into the oven and cook for 2 1/2 hours.

Place ribs on a plate and separate from the bone, removing any fat and shred the meat.

Remove the bay leaves and Parmesan rind from the pot. Skim any fat from the surface.

Optional - use an immersion blender to make a smooth sauce or leave as is. I used the blender.

Return the shredded meat to the pan and gently stir to coat.

Cook Pappardelle according to directions and serve covered with Braised Short Ribs. Sprinkle with freshly grated Parmesan cheese and fresh parsley.
Nutrition
Serving: 1g | Calories: 1337kcal | Carbohydrates: 94g | Protein: 96g | Fat: 52g | Saturated Fat: 20g | Cholesterol: 332mg | Sodium: 1115mg | Potassium: 2047mg | Fiber: 6g | Sugar: 7g | Vitamin A: 5600IU | Vitamin C: 13mg | Calcium: 180mg | Iron: 12mg
Did you make this recipe?
Share it with me on Instagram and make sure to follow me on Pinterest for more recipes.
If you like this Braised Short Ribs recipe then you'll enjoy these recipes inspired by my previous cruises with Princess Cruises, too!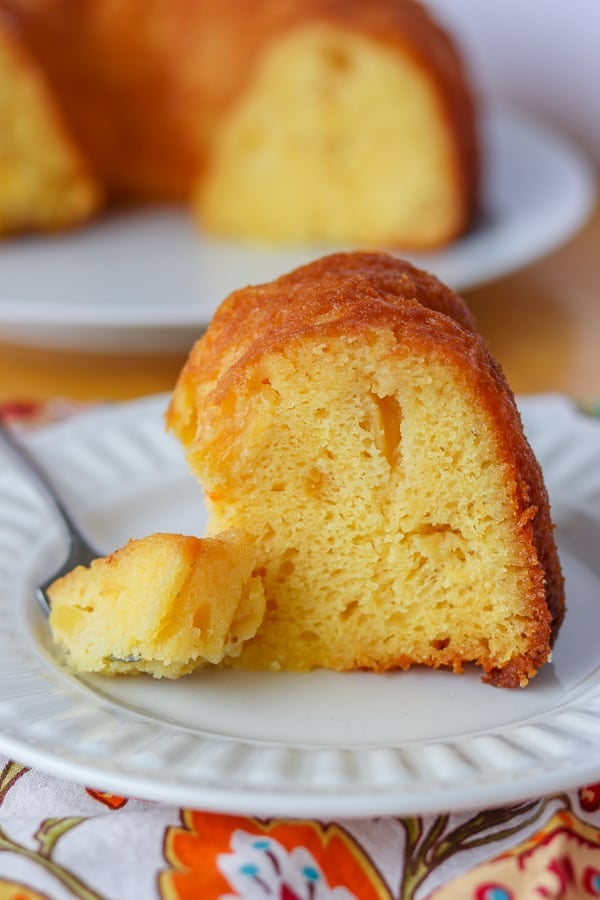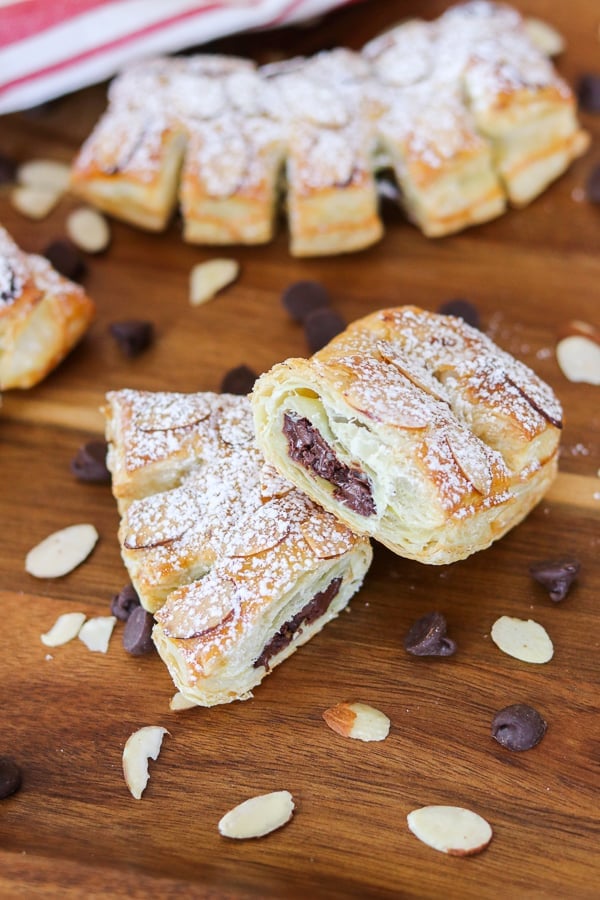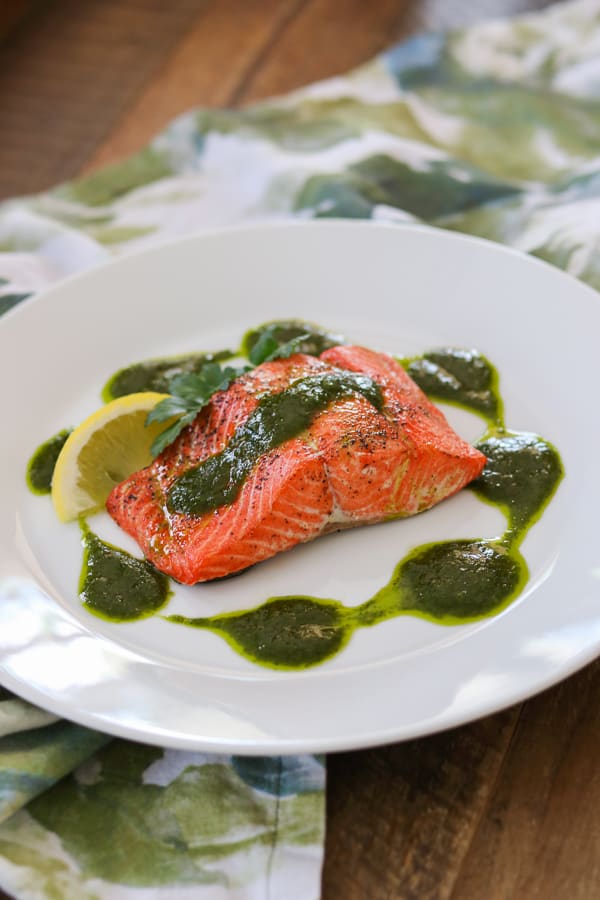 Take a look at these Princess Cruises Offers and plan your next adventure with them! You can even enjoy dinner at Sabatini's when you travel on the Caribbean Princess. WHAT are you waiting for??
And when you do, I'd love for you to report back to me and let me know what you thought!
*We are a participant in the Amazon Services LLC Associates Program, an affiliate advertising program designed to provide a means for us to earn fees by linking to Amazon.com and affiliated sites.
These are links that can take you to a product (or products) that I recommend. I do receive a portion of the sales or credit for my future purchases from any items purchased through those links. Your purchases encourage my baking, cooking and butter habit, and contribute to the life of this blog. I thank you so very much for your support. Let's keep having fun in the kitchen!!
Reader Interactions