So, you're thinking about or have already booked a cruise with Princess Cruises MedallionClass? Believe it or not, this cruise will be even easier, more relaxing, and lots more fun!
Getting on and off the ship is faster, food and drinks are delivered to you anywhere on the ship, and now you have access to the very best Wi-Fi at sea through MedallionNet. What are you waiting for? Your next Princess MedallionClass cruise awaits you!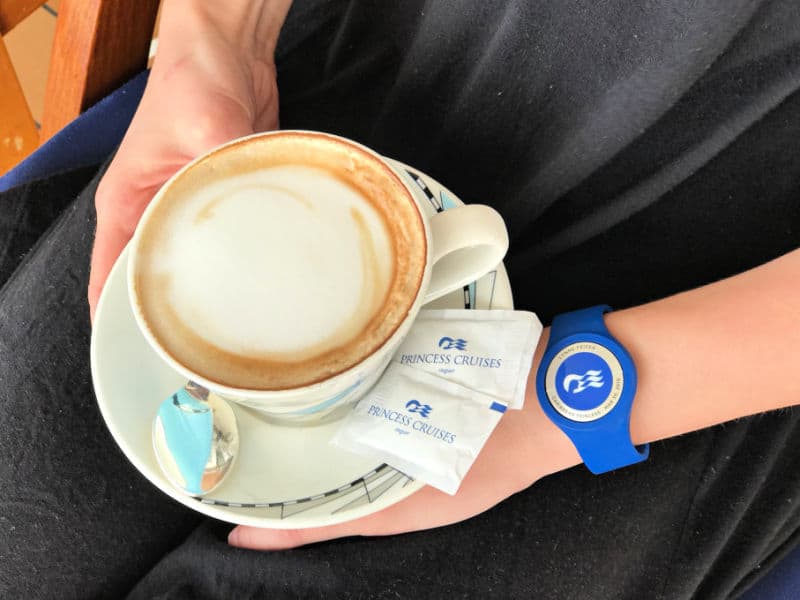 Are you ready for the cruise of a lifetime?
I am proud and honored to be partnering with Princess Cruises to bring you this sponsored post. As always, all opinions are 100% my own.
I mean seriously, you're in for a real treat!
I had the opportunity to cruise with Princess MedallionClass on a recent trip through the Western Caribbean and I loved it!
If you have never cruised before, have been thinking about planning one or are even a seasoned cruiser, I highly encourage you to book a MedallionClass cruise with Princess Cruises.
It will be a cruise you will never forget!
SAVE THIS CRUISE WITH PRINCESS MEDALLIONCLASS POST TO YOUR FAVORITE PINTEREST BOARD!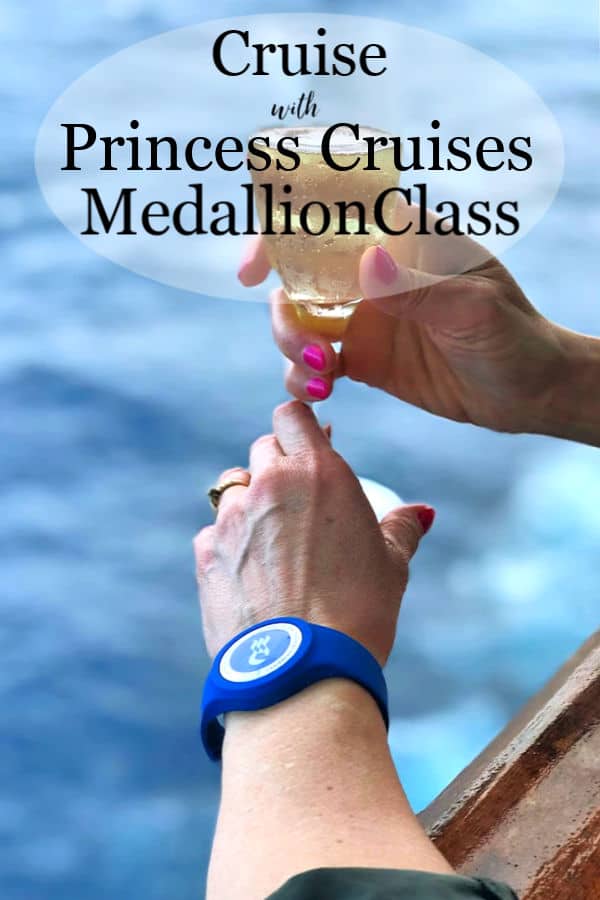 See that blue disc in the wristband in the above picture?
That little piece of technology puts everything right at your fingertips (or wrist, or wherever you choose to carry it)!
It is a game changer for cruising and you might just never go back to "regular cruising" again.
Why Cruise with Princess MedallionClass?
Every passenger who sails on a MedallionClass cruise receives this complimentary Ocean Medallion.
Your OceanMedallion makes it easier to embark and disembark the ship not only the beginning and end of your cruise, but for every excursion as well.
There's no keycard to open your cabin door, so you won't have to worry about losing it or having the magnetic strip deactivate.
It stores ALL of your cruise information. Any time you make a purchase on board the ship, you just present your OceanMedallion and BOOM, it's yours!
There are 6 apps you can download to your smart phone, available to both iOS and Android users, which will make this cruise an absolute breeze and spoil you, too. And come on, who doesn't want to be just a little bit spoiled on a cruise??
You have THE BEST Wi-Fi at sea. No more buffering when streaming your favorite shows or movies, and you'll see clear pictures and have speedy service when staying connecting with the loved ones you made stay home.
One of the best features is that you can order food, drinks, and store purchases right through the apps on your phone and have them delivered to you anywhere, yes, I said ANYWHERE on the ship! Talk about relaxing!
And there's even more!
Booking your cruise with Princess MedallionClass –
Your cruise has been booked aboard a Princess MedallionClass ship. How exciting!!
As of this date, there are three ships in the Princess fleet that are MedallionClass ready and sail to various destinations all over the world. They are the Caribbean Princess, Regal Princess and Royal Princess with more coming very soon.
You can begin your process of getting OceanReady at home.
If you live in the United States, have the OceanMedallion shipped directly to your home. Make sure that you fill in your shipping information at least 12 days ahead of your departure date. This way it will arrive in plenty of time.
For people living outside of the U.S., you are still able to get OceanReady by downloading the apps to your phone and you'll be able to pick up your Medallion when you get to port.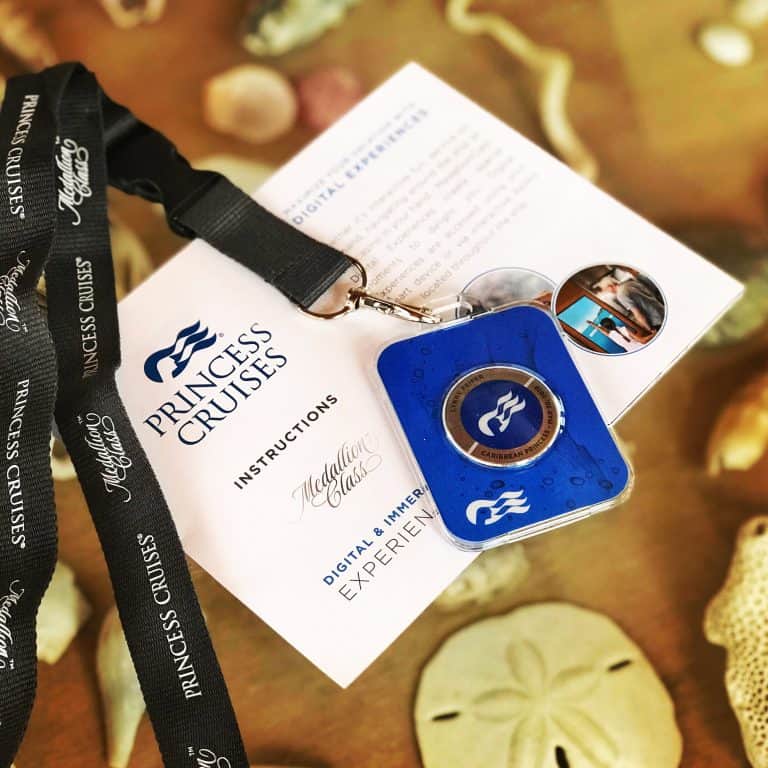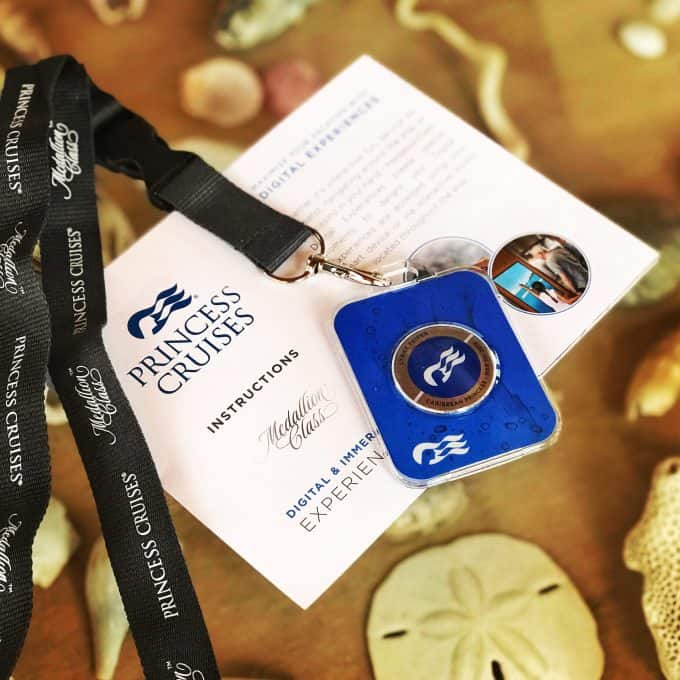 When your OceanMedallion arrives at your home, it will come with instructions as well as a complimentary lanyard.
You can choose to keep the Medallion in the lanyard or once on board purchase an accessory for it such as a wristband, pendant, clip or bracelet for an additional fee.
The Medallion is waterproof as well as sand and salt resistant, so you don't have to worry about going to the pool or beach with it.
You don't need to charge it either as it's always on.
Embarking and Disembarking on a Princess MedallionClass ship –
When you are wearing your Medallion, it is such a breeze to both embark and disembark the ship.
We arrived at the port the day of our departure and I seriously couldn't believe how easy and fast we were able to board.
It was amazing and it's all because your cruise information is stored in that quarter-sized little gem.
Also, all of your credit card, driver's license and passport information is in it as well so you don't need to carry those around with you on the ship. Although if making purchases during excursions, you will want to bring a credit card and your license.
And get this, when you walk up to your cabin door, it automatically unlocks for you! Then you can press down on the handle to enter hands-free! Makes it so easy when you're tired and your arms are full after a day off the ship!
No more worrying about losing your key card or having that magnetic strip deactivate if you've been holding it near your phone.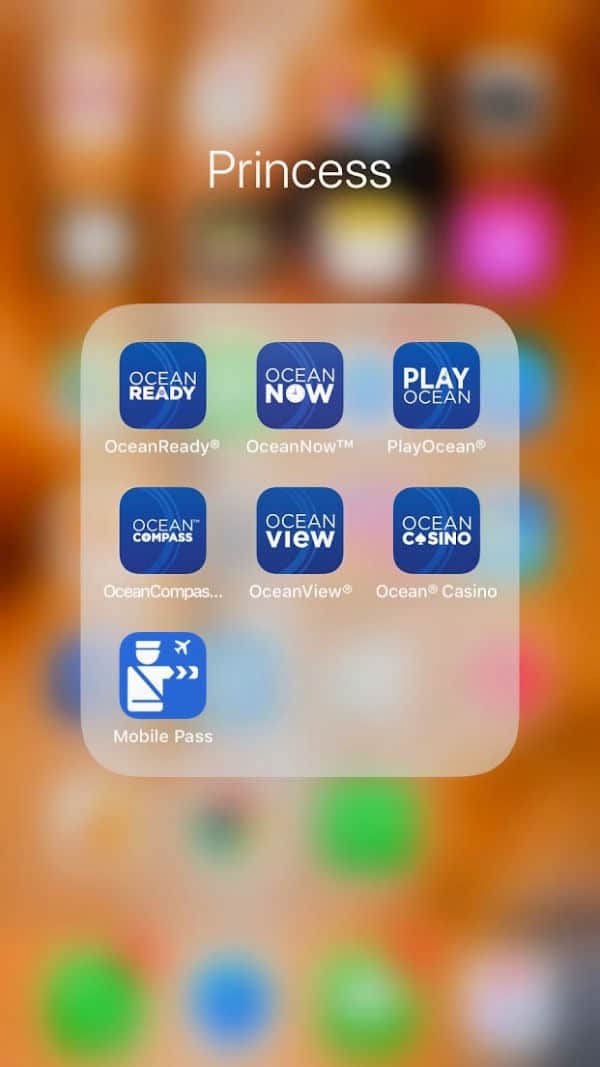 OceanMedallion Apps –
There are six apps available for both Android and iOS users that work right along with your Medallion.
Even though you won't be able to use them before your trip, you'll want to make sure your OceanReady by downloading them beforehand. It will just make things that much easier.
I put them all in one folder as well as the Mobile Passport app so I wouldn't have to search for them throughout the trip. The Mobile Passport app allows you to fill out customs forms before arriving at customs making it much easier to pass through.
These apps are pretty incredible and you can do so much with them. I'll go into more detail about each of them in an upcoming post.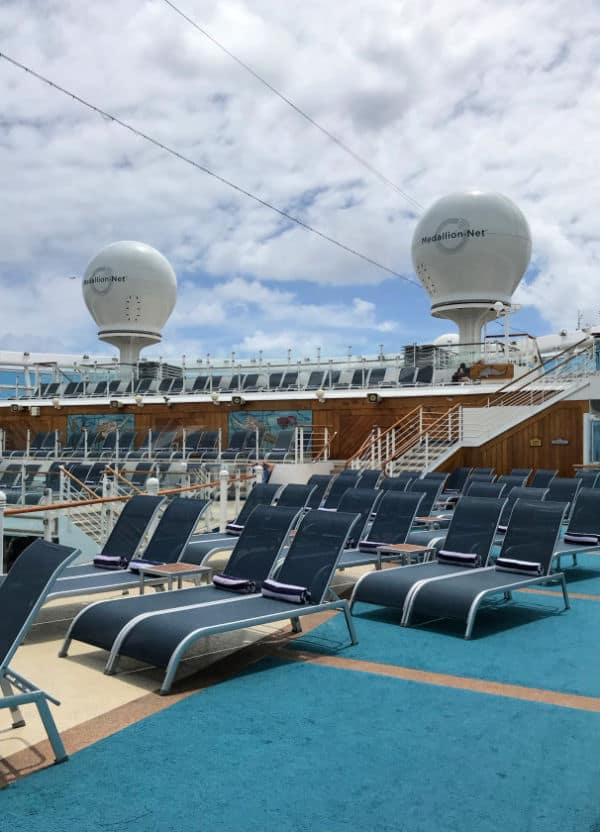 Cruise with Princess MedallionClass and have the very best Wi-Fi at sea in MedallionNet –
Today, having fast, reliable Wi-Fi is everything.
Having it just as fast out in the middle of an ocean as it is right in your living room is even more than everything!
On previous cruises with Princess, I'm not going to lie, sometimes the internet connection was frustrating. It was slow, and when doing my live videos or FaceTiming family was fuzzy.
Not. Any. More!!
With MedallionNet, access to the internet is instantly at your fingertips.
Streaming your favorite movies, tv shows, or videos is seamless as is talking to the family who misses you so very much when you're away.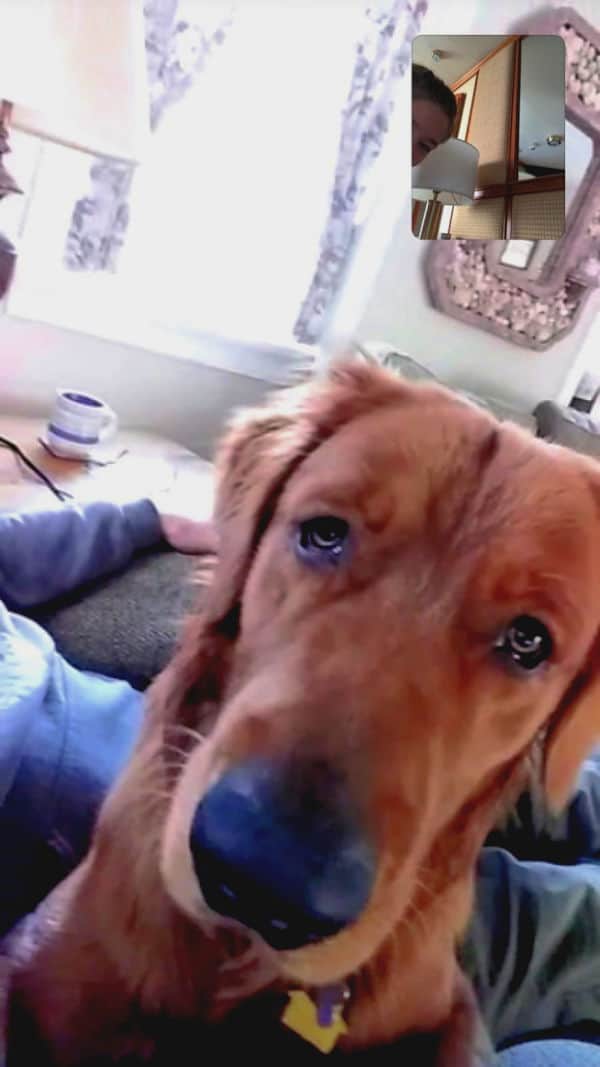 Yes, I am on of "those people" who had to FaceTime our pup, Logan the Golden Dog, while I was on the cruise.
He missed me, what can I say. ?
Not only did I FaceTime the dog, but I was also able to wish my daughter, Alex who's living in Berlin, Germany, a happy birthday.
Ironically enough, her sister, Emma (who I brought with me on) and I went zip lining on her birthday just as she and I had done two years before on our Panama Canal cruise.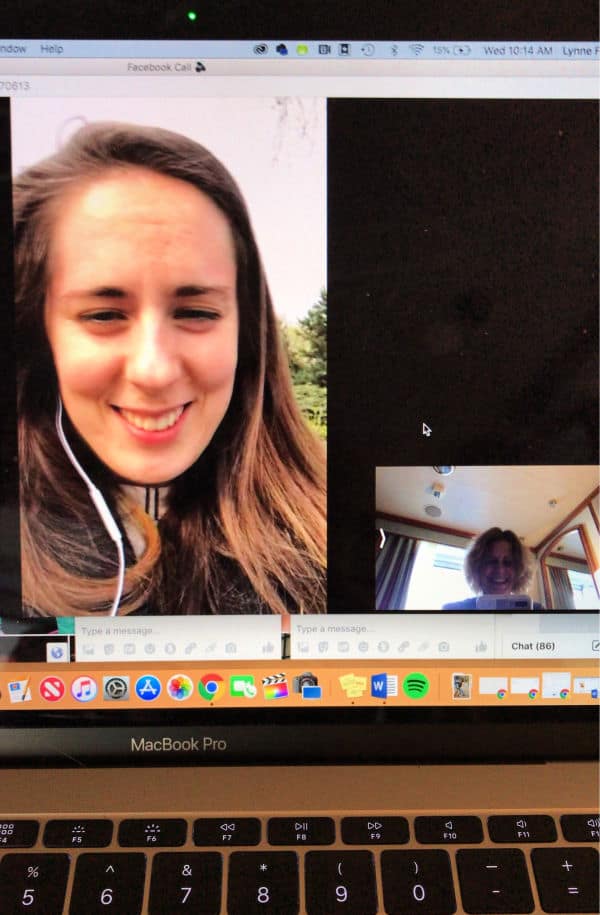 See how clear that picture is? We were in the middle of the Caribbean Sea and she was thousands of miles away in Berlin, Germany.
Amazing!
Princess MedallionClass puts food, drinks and shopping right at your fingertips –
With your OceanMedallion and the Medallion apps on your phone, you can order food and drink and have it delivered to you anywhere on the ship.
Relaxing at the pool and don't want to go stand in line for something to eat or drink? No problem!
When you order it through the OceanNow app and are wearing your Medallion, crew members will know your exact location, charge it to your room and deliver it right to your chaise lounge.
Also, if you want to take some souvenirs home from your trip or if you've forgotten to pack something, ordering items through the app is the way to go. You can have them delivered right to you in your cabin.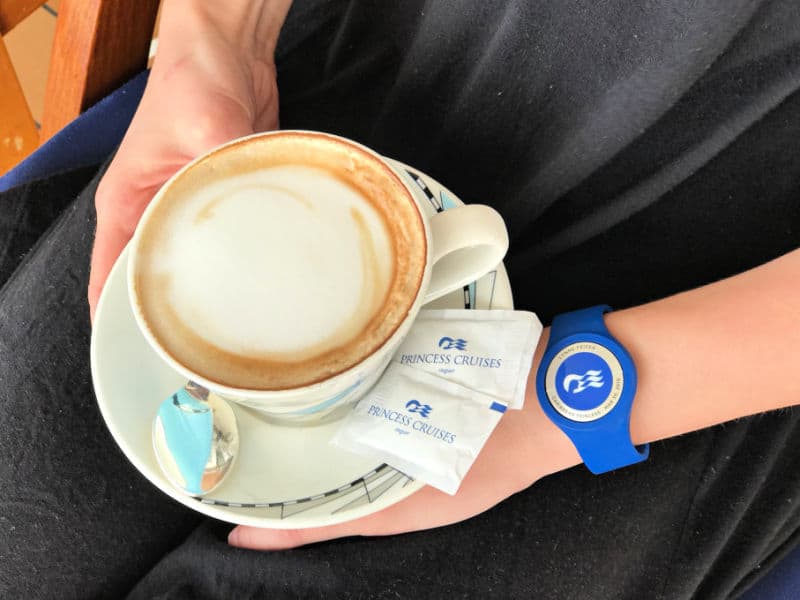 I'm not gonna lie, we were spoiled wearing our OceanMedallions.
I know it's hard to believe when cruising is so relaxing, but this MedallionClass cruise was the easiest and most relaxing way to go.
I'm not sure if I could go on another cruise without it now.
Interested in learning more about the MedallionClass and the OceanMedallion? You can watch videos explaining all about this great way of cruising here.
So, where will you go on your next cruise with Princess MedallionClass?
If you've enjoyed this Cruise with Princess Medallion Class post, then you'll enjoy more of my posts about cruising with Princess Cruises.

And for recipes inspired by my Alaska, Panama Canal and Western Caribbean cruises, take a look at these –