If there's one thing you need to put on your bucket list, it's a cruise through the Panama Canal! Read about the Panama Canal Cruise Excursions my daughter and I took during our trip, and the fun we had in Aruba, Colombia, Panama, Costa Rica, and Jamaica!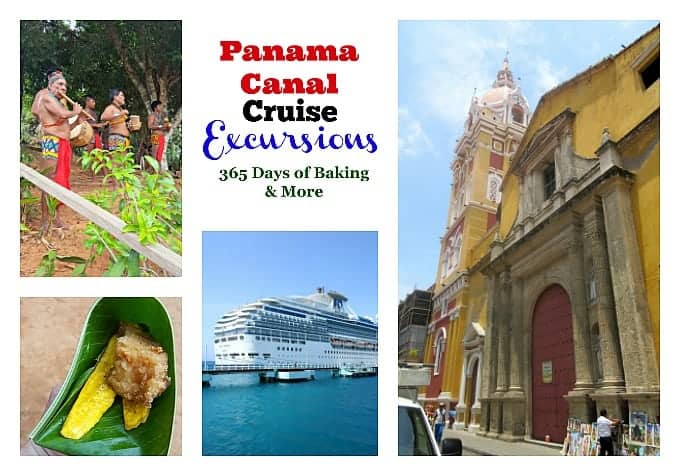 One of the things I enjoy most about taking a cruise are the many different places you're able to visit.
*This post is sponsored by Princess Cruises and as always, all opinions are 100% my own.
My daughter (whom I'll be referring to as Alex and Lexi) and I truly had the experience of a lifetime this past March when I was invited to take a 10-Day Panama Canal Cruise with Princess Cruises. We set sail at the end of March from Ft. Lauderdale, FL and had the most amazing trip! We enjoyed spending time at sea but were most excited about the excursions we'd be taking in Aruba, Colombia, Panama, Costa Rica and Jamaica.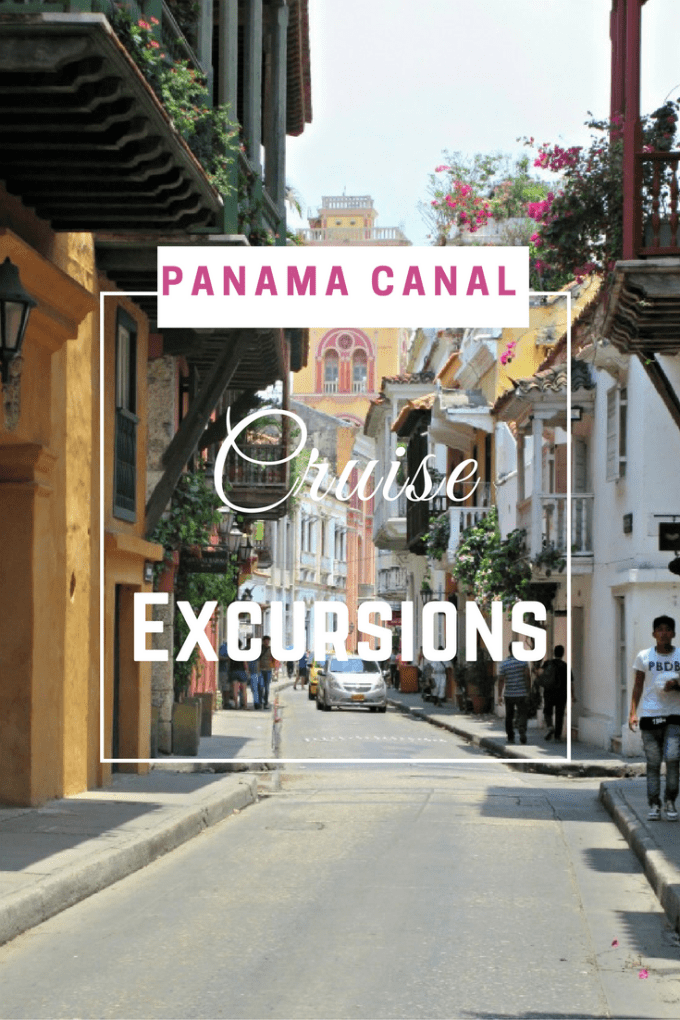 As you may or may not know, during a cruise you are able to go on excursions when you arrive at each port. Typically, your ship will pull into port as you are sleeping and the excursions begin the following morning. These day trips are booked through your cruise line for a fee and allow you to experience each location through sightseeing, shopping, cultural events, or physical activities.
When you book your cruise with Princess Cruises, you'll be able to see the list of excursions offered in each port on your itinerary. You'll see the cost, length of the tour, and details about what you can expect.
Whether cruising by yourself, with a friend, spouse, or family I suggest reading each trip description carefully. It's important to take into consideration any physical limitations you or others may have. Be sure to note any requirements as well. Highlighted in red will be any age and weight limitations. There will also be notes about medical, and photography/video restrictions, along with the physical activity you can plan for.
Unfortunately, on some of our excursions a few people weren't able to participate in some physical activities and were disappointed. You want to have a fun and memorable trip! Select adventures that you find interesting, exciting, and those that give you a taste of the local culture and geography.


I admit I was nervous about booking our Panama Canal Cruise Excursions. I tend to become overwhelmed with a lot of information and am afraid I'll regret the decision I make. Fortunately, that didn't happen.
Your tickets for each excursion will be delivered to your stateroom. Make sure you put them in a safe place where they won't get mixed in with other papers. You'll get a lot of papers over the course of your trip.
Alex and I kept our excursion tickets, room keys and passports in the same spot so we always knew where they were. You'll need those things when you depart the ship. On the tickets you'll see time and meeting places (or they will be announced through the ship's speakers) for your group each day. You'll meet your excursion group and be issued color-coded or numbered stickers to identify you. Then you'll wait in line to leave the ship as the crew scans everyone's room key. They'll do this when you return to the ship as well to make sure everyone is on board. AND they'll offer you water and a hot wet cloth to refresh yourself with!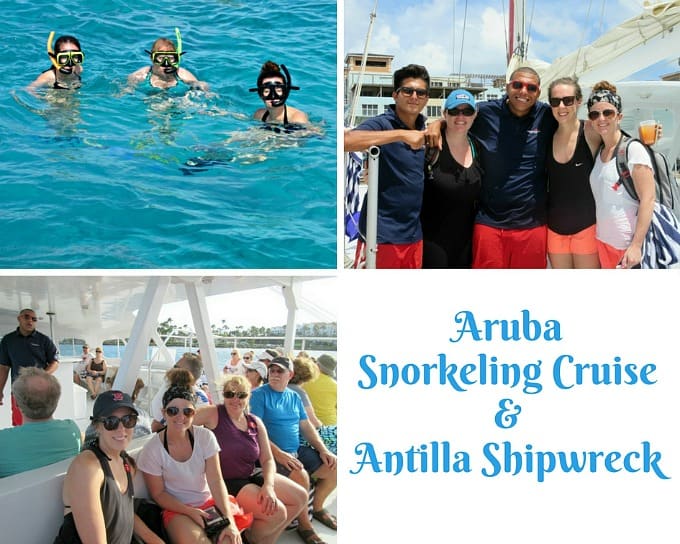 Our first stop after two days at sea was Aruba.
I've heard so much about it and how beautiful it is, that to be honest I wasn't impressed. It sort of reminded me of the desert. I live in a desert, I want to see the tropics! Apparently, there are parts of the island that truly are gorgeous, so I guess I'll just have to go back.
One thing I was most excited about for this excursion was to go sailing and be closer to the water. I grew up on sailing, so now that I'm land-locked any chance I can I go for it!
My daughter Lexi, Sandra from A Dash of Sanity, and Erin from Dinners, Dishes & Desserts disembarked the Coral Princess to board our catamaran.
We sailed along for about 45 minutes before we dropped anchor, put on our snorkeling gear and jumped (not literally) into the water. I'd been snorkeling when I'd gone to Hawaii last September and thought it was amazing! I was excited to do it again and even more excited for Lexi because this would be her first time.
Our first stop was at the Antilla Shipwreck. It was really fascinating to hear the history and how it sank. You can learn all about it in Sandra's post, Panama Canal Cruise Ports: Aruba, & Cartagena, Colombia.
It was creepy and cool all at the same time! To think I was swimming over a piece of history in the Caribbean Sea. With my daughter and blogging besties. AND hundreds of fish. Really blew my mind!
It was incredible to see all of the gorgeous and different kinds of fish and to swim right along with them! I even saw some small squid floating in a line and was wishing I'd had a waterproof camera.
Oh, and another perk of this tour was the bottomless (and I do mean bottomless) cups of rum punch. Seriously. You can't be in the Caribbean and not enjoy a libation or two, right? Randy, our captain, who we originally thought was JayZ – haha, was great at keeping our cups filled and handing out shots. I had quietly told the crew that we were celebrating Sandra's birthday, so as we came into the dock, everyone on the boat sang Happy Birthday to her. Randy offered her a shot, but she declined, so I took one for the team. I'm nice like that.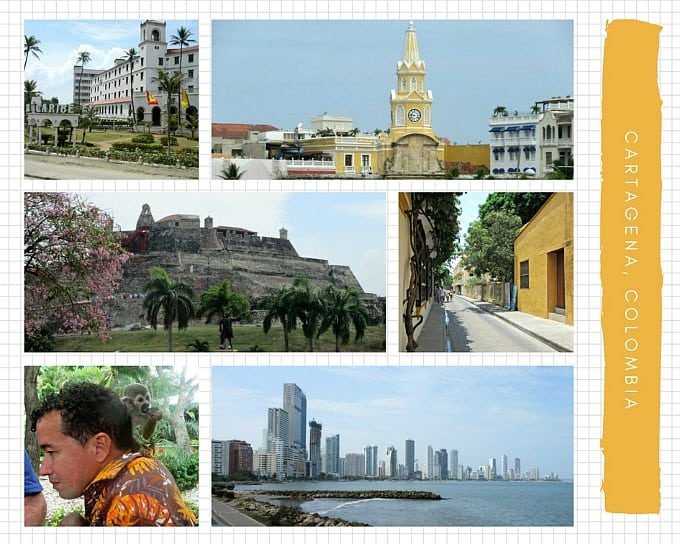 The next day we arrived in Cartagena, Colombia. There were quite a few different excursions to choose from for this day, and I was wanting to do it all so we wouldn't miss anything. Ultimately, you have to realize that you just won't possibly be able to do it all and will probably have to return for another visit. 😉
Alex and I decided to do the Hop On/Hop Off Bus Tour. We boarded a double decker bus, and sat on top. Just a note, it was hot and humid and there was no air conditioning. Had we sat on the lower level there would have been. Yet, I liked our choice because we were able to see more of the buildings.
On this tour there are 13 stops throughout the city and you can get off at any time, do your own thing and then board the bus to go to a different stop. There were museums to tour, shops to explore, a church, other places and Las Murallas. It was built in the 16th century to protect the city from enemies.
We rode the bus through all of the stops before exiting at the last one. There we met up with a walking tour of Old City which we ditched halfway though because we weren't enjoying the pace. I fell in love with this place. It was absolutely breathtaking with the old architecture, colors, and flowers. It was another world and I'd love to go back.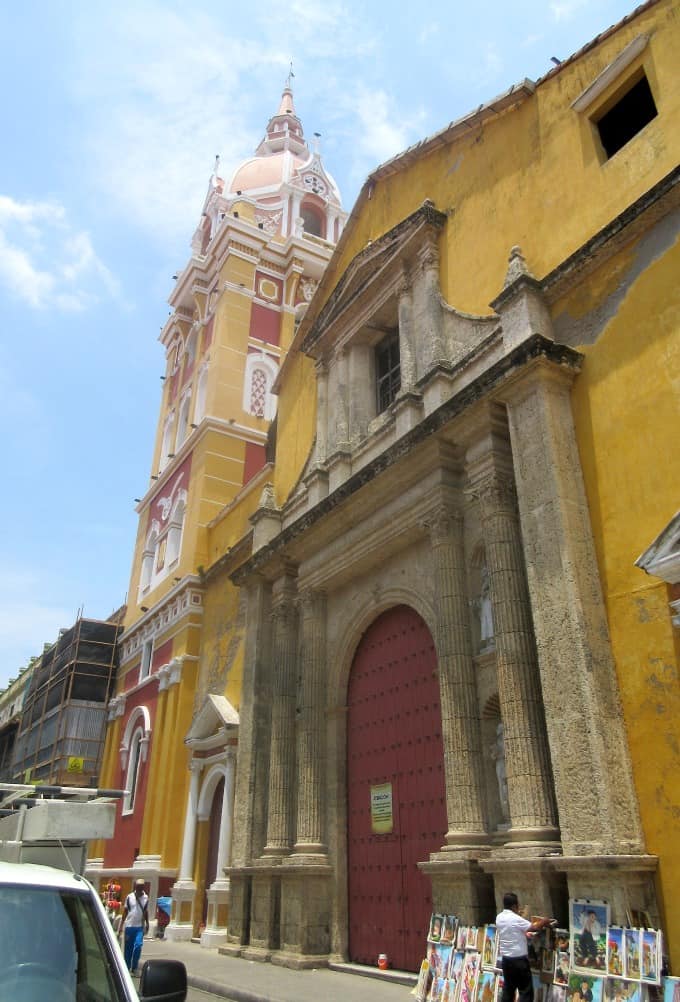 What really fascinated me was the contrast between Old City and the more modern skyscrapers of the city not too far away. You can see them in the collage above. Two completely different worlds.

On our sixth day, we arrived at the Panama Canal. After going through it, the ship anchored and guests were taken by tenders (small boats) to land where we boarded the buses. We enjoyed thoroughly enjoyed the air conditioning once on board because it's SO humid in the rain forest. Who knew? 😉
Our tour guide shared a lot of interesting facts both about Panama and the canal as we drove to a river.
Once we arrived there, we each donned a life jacket and boarded wooden canoes similar to the one the children are playing in above. We were taken to the reservation where we sat in a thatched theater surrounded by the Embera Indians, and tables of wares each family had made.
We were told about the culture, enjoyed and participated in native dancing, and were fed a lunch of fried tilapia and plantains. They talked about the significance of their colorful dress and even selected Alex to become an honorary Embera Indian!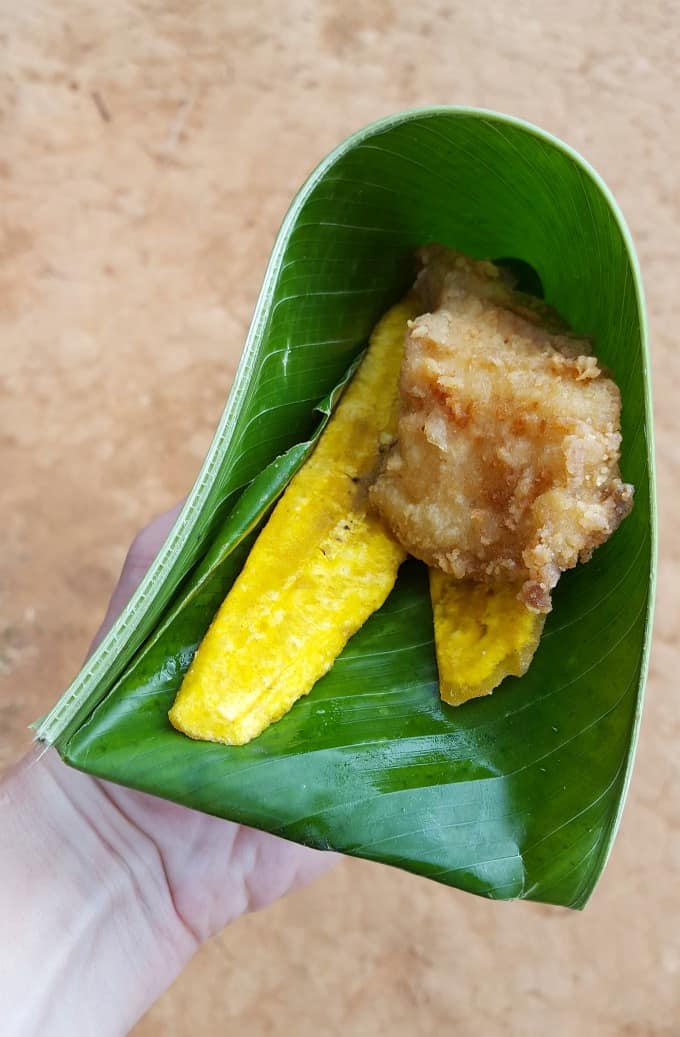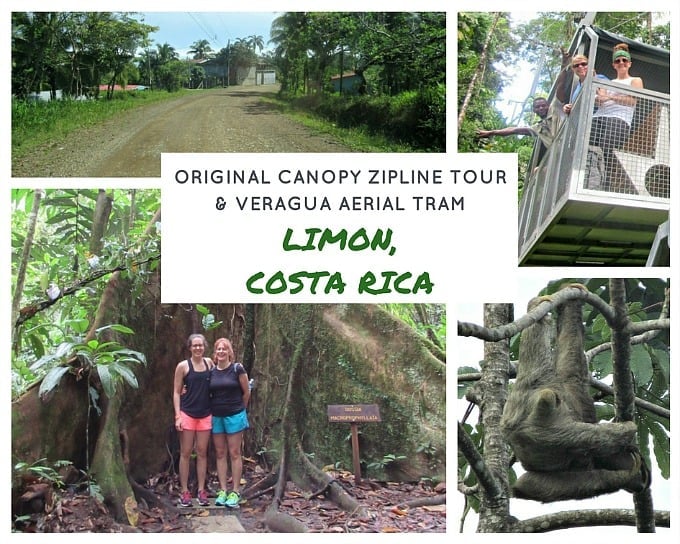 Of all the excursions, Costa Rica was my favorite for the activity we did and I'll go more into it in a separate post.
It was a full 8 hour day with lunch provided. Our tour guide, Christopher and bus driver of the same name were fantastic. Along our bus ride to the Veragua Rainforest, they would stop along the way pointing out sloths hanging from trees (bottom right, above. His face is at the bottom right where the limbs intersect.), frogs, cocoa and more sloths. It was incredible.
We arrived at the forest and went on a walking tour where we learned about the rainforest and animals. We ate a Costa Rican lunch and then toured a peaceful butterfly garden. Then we were put into harnesses for the ultimate experience.
And ultimate it was! I was nervous at first, but it quickly went away as I was flying through the trees. Surprisingly, I felt completely safe too, dangling hundreds of feet above the forest floor. Our guides were hysterical and had us laughing the entire way. If you've ever considered doing this, I say without a doubt, go for it!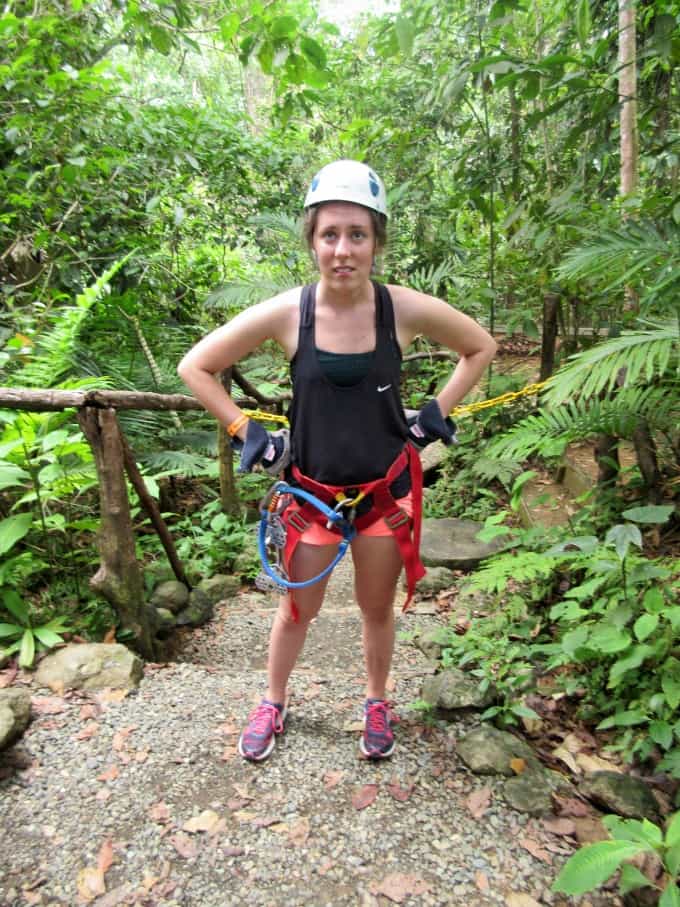 And this one. We celebrated her 25th birthday that day. I can't think of a better way to celebrate her life than to be on such an amazing trip, zip lining in the rainforest of Costa Rica!
She said it had been on her Bucket List, so I'm thrilled that we were able to have such a great experience together.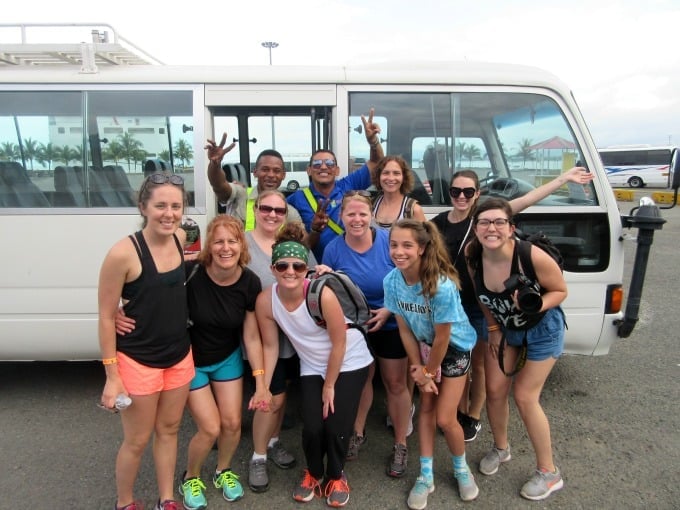 The gang after our incredible zip lining adventure!
Pictured above from left to right,
Back row – Christopher, our tour guide / Christopher, our bus driver /
Tanya of Lemons for Lulu.
Middle row – Katrina of In Katrina's Kitchen, Erin of Dinners, Dishes, & Desserts, and Kerrie M. Burke.
Front Row – Lexi (my daughter) of A Traveling Veggie, yours truly,
Sandra of A Dash of Sanity, Ellie -Tanya's daughter, and Madeline Heising.
I'd love it if you could take a look at each of their sites and follow them on Instagram!
Brenda from A Farmgirl's Dabbles and her family visited a sloth sanctuary that day. You can read about it in her post, Pineapple Fruit Salad with Honey Vanilla Bean Yogurt Dressing.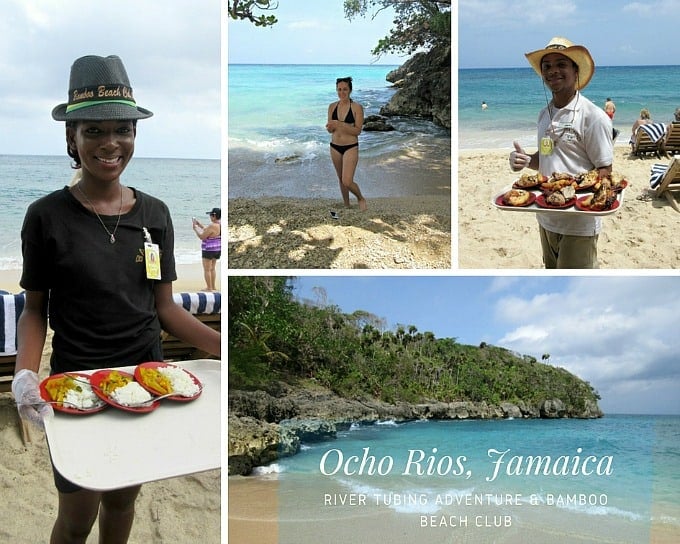 Ocho Rios, Jamaica.
"Yeah, mon!" "No problems only solutions."
Since she'd never been to the Caribbean, one of the things Lexi wanted to do was enjoy some time on a beach during our trip. I'm not one for sand, but I do love to hear the sound of the waves, and beaches have always been my "happy place".
We boarded our bus with our tour guide, Sammie Jo, and were taken to the White River. There we put on helmets, were given an inner tube and led into the river by our two tour guides. I cannot possibly tell you how incredible an experience this was. It was so, so SO very relaxing and fun that we were seriously bummed when after a half hour it was over. Riding the waves and enjoying the cool water while singing was very good for the soul!
We then ventured to the Bamboo Beach Club for a few hours of fun in the sun. We each had a beach chair, enjoyed a dance show, and were served a delicious lunch. There was SO much food! There were fried plantains and much more, but I fell in LOVE with the Jerk Chicken! It was phenomenal! You can read more about it from Tanya's post Jamaican Jerk Chicken Recipe. And again we had an endless supply of water, mojitos and rum punch.
I fell in love with the relaxed atmosphere of the country and thought it was a great way to end our trip.
Final Thoughts –
Lexi and I couldn't have been happier with the excursions we went on. We never regretted our decisions and after each talked about how pleased we were with our choice.
I cannot recommend enough taking advantage of these trips when you go on your Panama Canal Cruise. It really will make a difference in your overall trip experience. You'll walk away with so much more and great memories to last you a lifetime.
Even after being home for a few months, I still have to pinch myself as I did on the boat. I actually went on a cruise to the Panama Canal!! Seriously, it still seems like a dream and someplace that was far behind my reach. I can't thank Princess Cruises enough for providing my daughter and I with this amazing opportunity. It's a trip that needs to be on everybody's bucket list!
I'd love to hear what your favorite excursion was if you've been on a cruise. If you haven't been on one, tell me what you would like to do!
I give you BIG baking hugs and muffins!!