With the Princess Ocean Medallion, your next vacation will be the easiest, most relaxing, and fun cruise you've ever been on. And, if you've never been on one, why not start with this one?
Using the Princess Ocean Medallion, you'll board the ship without waiting in long lines, order food and drink from your phone to have them delivered poolside, easily navigate your way around the ship, and so much more!
Cruising has never been so much fun!
I am proud to be partnering with Princess Cruises to bring you this sponsored post. As always, all opinions are 100% my own.
Have you heard about the Princess Cruises Ocean Medallion?
I'm so very excited to share it with you because it's a cruise experience you'll never forget, and will want to do again and again.
If you've never been on a cruise and want to learn more about it, Princess can answer all of your questions and you'll be planning your next adventure in no time.
SAVE THE PRINCESS OCEAN MEDALLION TO YOUR FAVORITE PINTEREST BOARD!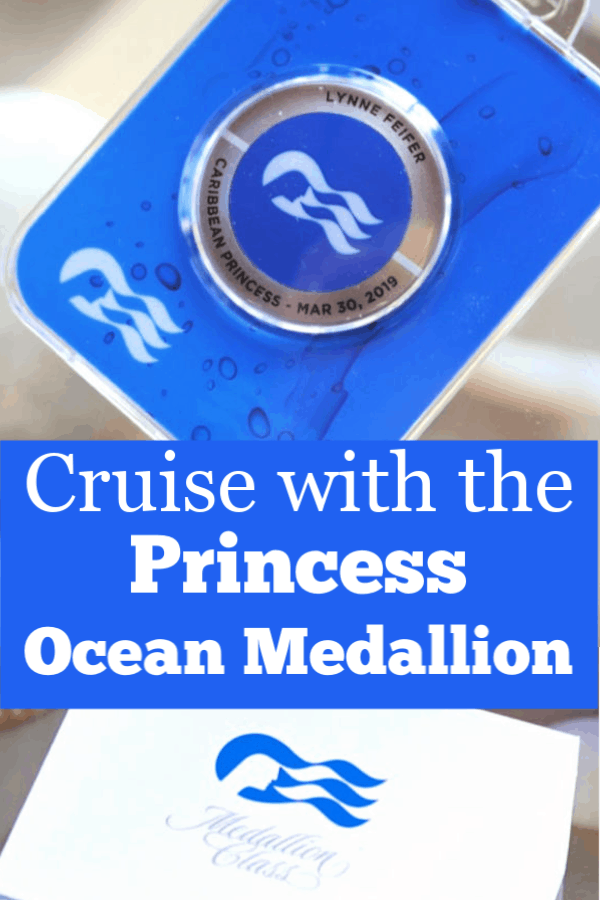 What Princess Ships Have the Ocean Medallion and the MedallionClass?
As of this date, three ships currently are MedallionClass ready. They are Caribbean Princess which I sailed on this past April to the Western Caribbean, Regal Princess and Royal Princess. Over the next two years, Princess will be adding the MedallionClass to eight more ships.
The Ocean Medallion is available on Princess cruises all over the world.
Do I have to pay extra for the Ocean Medallion?
No, you don't pay extra for it.
Everyone sailing on a MedallionClass cruise will receive an Ocean Medallion.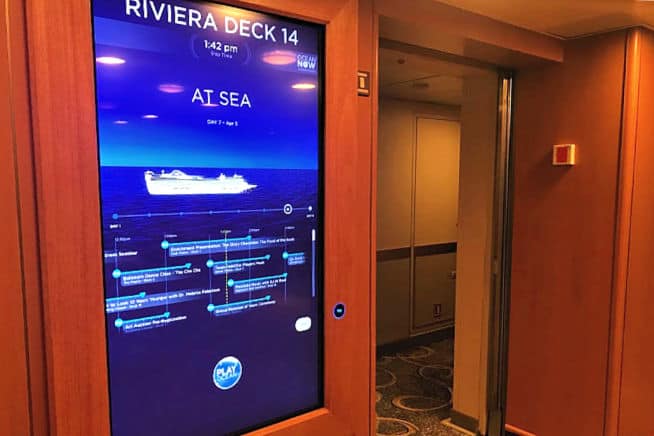 What does the Ocean Medallion do?
Actually, maybe it'd be easier to say what it doesn't do for you on your cruise, like your laundry. haha
But seriously, going on a Cruise with Princess MedallionClass and wearing your Ocean Medallion throughout will allow you to have a most wonderful vacation.
With the Ocean Medallion you can –
get on and off the ship with ease like you've never experienced.
open your cabin door without the need for a key card.
order food and drinks which will be delivered to you ANYWHERE on the ship.
stores all of your cruise information including your id/passport, and credit card.
navigate your way around the ship
communicate with your fellow cruisers and locate them.
have fun family time and play interactive games at various kiosks around the ship.
easily order any items you might have forgotten to pack or purchase souvenirs to take home and have them brought to your cabin
access the BEST Wi-Fi at sea with MedallionNet
have your cruise information at your fingertips including the ship's itinerary, dining information, and even your stateroom account
watch original travel shows
play games for cash anywhere on the ship, not just in the casino
Pretty cool, eh?
That Ocean Medallion packs a lot in just a little quarter-sized (ITEM)
Do you need to charge the Ocean Medallion?
No, you don't need to charge it.
I'm a food blogger with a little bit of travel sprinkled in. I don't know anything about technology, so I'm not even going to take a guess at how they power the thing up.
Let's just say it's magic.
Are there Princess Ocean Medallion Accessories?
Yes, there are multiple accessories to choose from for an additional price.
When you register for your cruise, you'll fill in all of your necessary information, including the address as to where the Medallion should be shipped. Make sure you fill this information in at least 12 days before your cruise departs.
The Medallion will arrive with a complimentary lanyard that you can wear throughout the cruise.
You also have the option once you board the ship to purchase either a bracelet, wristband, pendant or clip.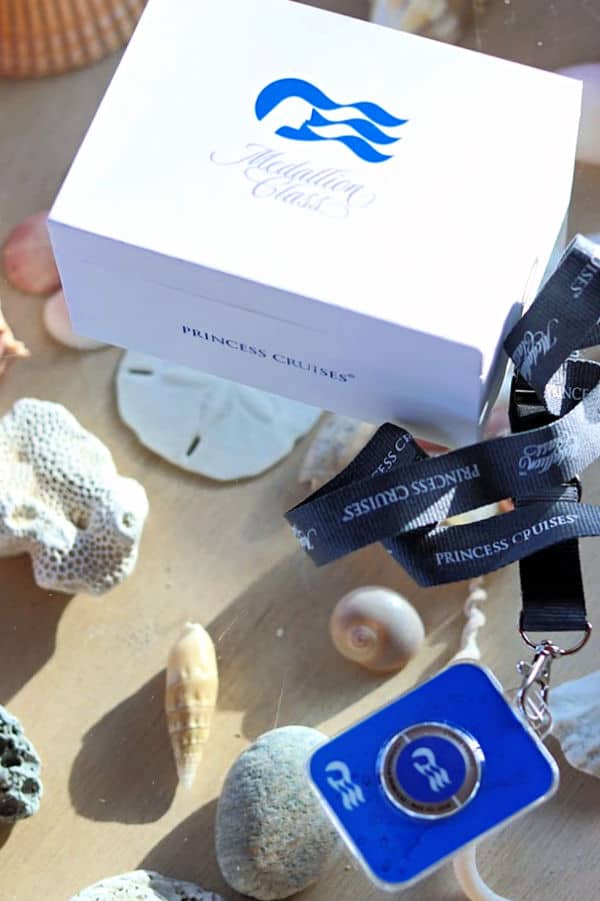 Is the Ocean Medallion waterproof?
Yes, it is waterproof!
It is also sand and salt proof, so you don't have to worry about swimming with it in the pool, hot tubs or even at the beach.
Are there Apps that work with the Ocean Medallion?
Yes!
There are 6 apps and they are truly a cruising game changer.
These apps are available to both Android and iOS users and easy to use.
Make sure you're OceanReady and download them before you board.
OceanReady –
With this app, you'll upload your security picture, passport and other travel documents and create an ocean profile.
It will allow you to by-pass those long check-in lines that you might dread if you've cruised before. Your embarkation will be faster and easier as will disembarking and getting on and off the ship for each of your excursions.
OceanNow –
Using OceanNow, you'll be able to order drinks, food, retail items and more and have them delivered to you anywhere on the ship.
Yes, you read that correctly, I really said anywhere.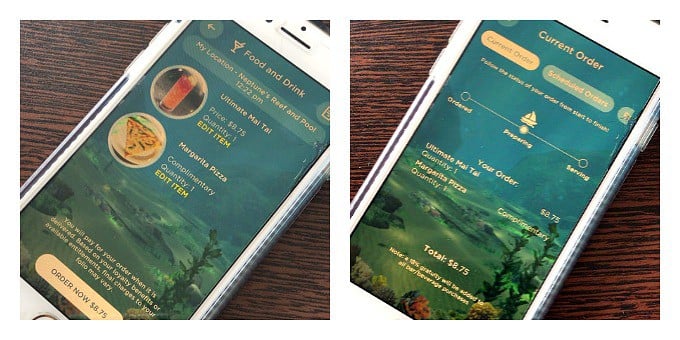 Lounging by the pool, want something to drink, but don't want to go stand in line? No problem!
Order the drink of your choice and maybe some food to go with it and a server will bring it right to your seat poolside.
With the information in the Ocean Medallion, it will be charged to your room and your server knows your location, so you can be sipping in the sunshine in just a matter of minutes.
Talk about relaxation, hunh?
Forgot an SD card for your camera and need it for excursions? Order one with the app!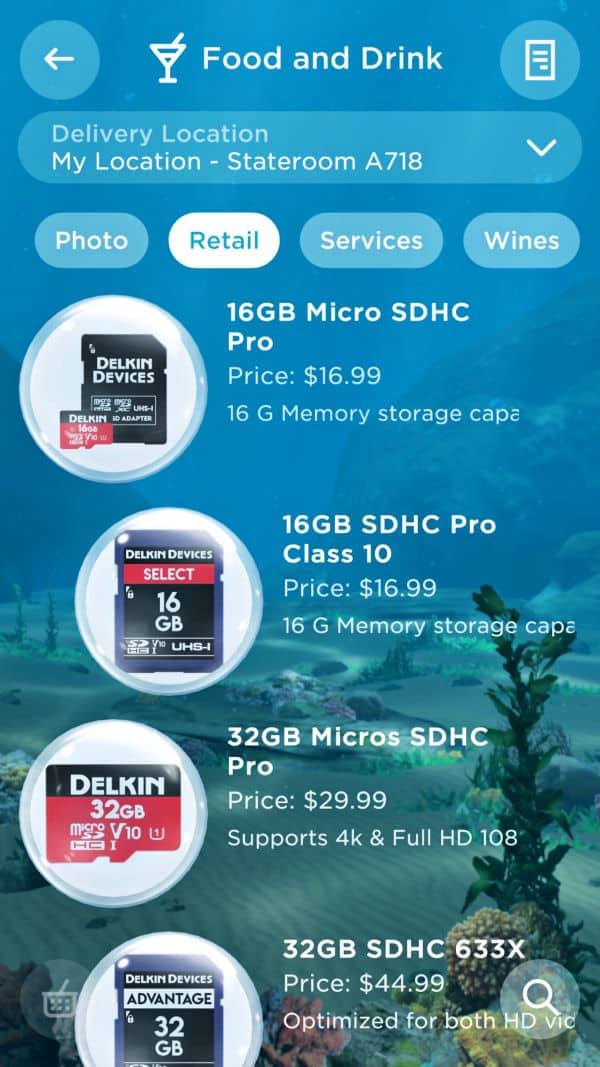 Need a more hangers for your cabin? Forgot to request the bathrobe when setting up your reservation? You can order those, too!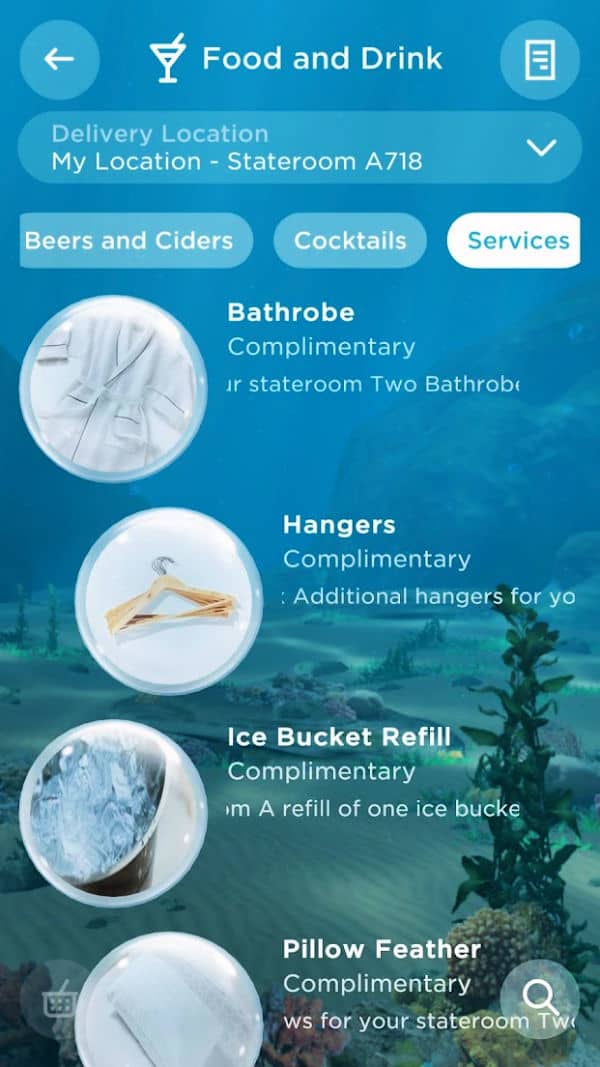 OceanCompass –
Have you lost track of those you're cruising with and want to be sure they know to meet you at Sabatini's for your 6:30 reservation?
You can all communicate through the OceanCompass and not have to worry about using your phones.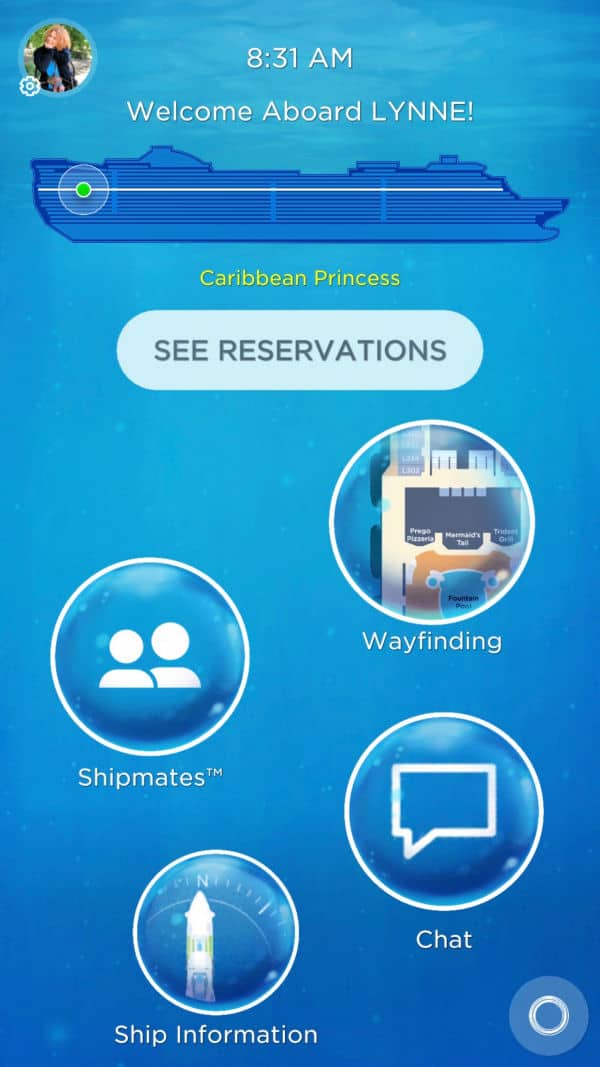 Talk to each other in a group chat, find the location of family and friends and even be directed step by step on where you can all be together again.
I did this with Sandra from Dash of Sanity. It was cool to watch the app direct me as I moved about the ship and I was able to locate her in just a matter of minutes.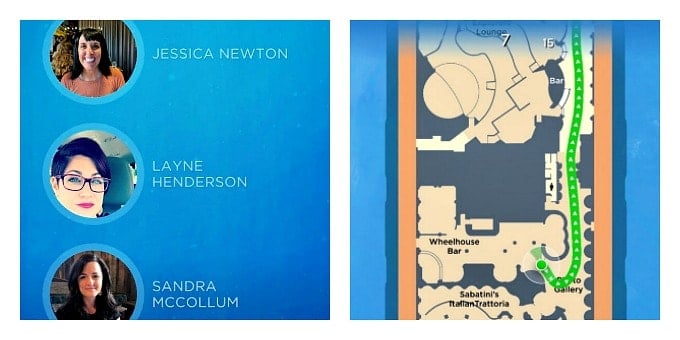 OceanView –
OceanView gives you the opportunity to watch Ocean Originals TV series. You can view them in your stateroom on your TV or anywhere on the ship using using the app.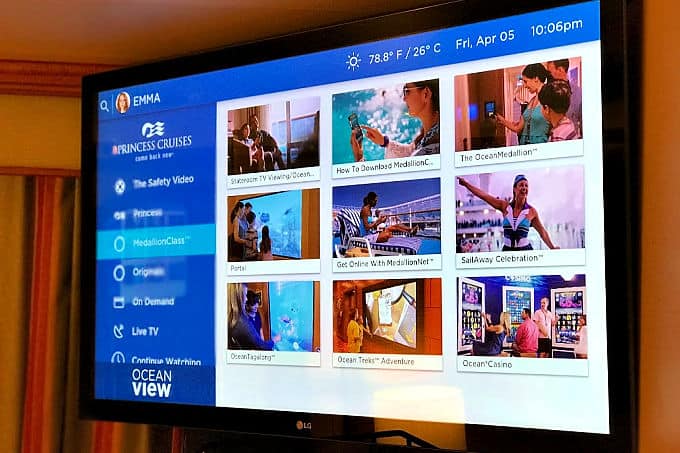 PlayOcean –
Want some interactive fun time with family or friends? PlayOcean lets you play games on large screens on different floors of the ship.
Like a scavenger hunt? They've got that, too!
You can also create your own digital companion, an Ocean Tagalong that will appear and interact with you whenever you're near one of the PlayOcean portals.
Your Tagalong will also be useful when playing Games Under the Stars and competing against other players on the ship.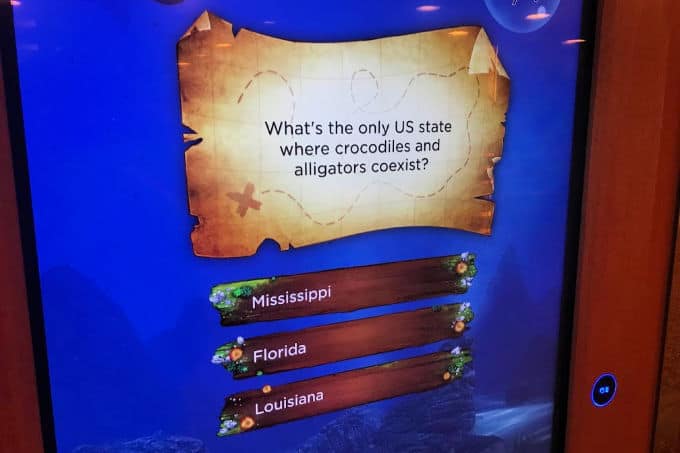 Did you guess the correct answer?
It's Florida!
OceanCasino –
As with PlayOcean there are various locations around the ship where you can play games for cash using your Ocean Medallion, so you don't even need to go into the casino.
Also, without a keycard and all of your cruising information stored in the Medallion, playing in the casino is easy, too. You'll just hold your Medallion up to the disc at any machine or table, wait until it turns green and you're ready to go!
The Princess Ocean Medallion will make your next cruise one of your most relaxing ever.
I can't wait for you to experience it!
If you've enjoyed this information about the Princess Ocean Medallion, take a look at more of my Princess Cruises posts…