When going on a cruise with Princess Cruises, you'll be able to busy yourself with a myriad of interests. In this post, I'll tell you all about the things to do and activities aboard the Coral Princess.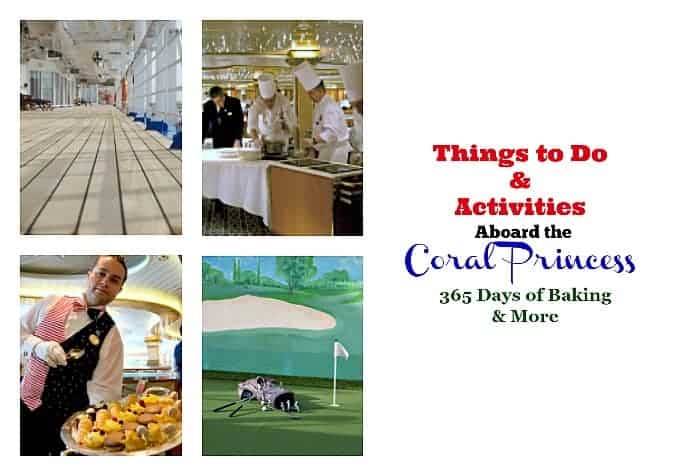 There are a variety of reasons people decide to go on a cruise.
*This post is sponsored by Princess Cruises and as always, all opinions are 100% my own.
For some, it's being able to see new places and do new things. Others like that you can eat what you want whenever you want. Others like that they're able to do all of those things while spending time with family and friends.
Whatever your reason for joining Princess Cruises on one of their tours, you won't be at a loss of things to do whether it's on or off the ship!
When I knew I was going on a 10-Day Panama Canal Cruise, I originally thought, "oh my gosh, so much time spent on a ship! What in the world are we going to do with ourselves? I'm going to have so much down time!"
Fear not. If you're concerned about becoming bored, you won't have an opportunity to do so. On the other hand, if activities are not your thing, you can find many ways to relax and take time to yourself, too!

Make Friends –
This was one of my favorite things to do while we were on the ship! But if you're an introvert, this probably isn't your thing, and that's ok. You don't need to.
A few years ago I'd gone on a cruise aboard a ship with about three times the people who were aboard the Coral Princess. It was a wee bit overwhelming for my little brain.
I can't tell you how much I enjoyed talking to strangers who'd later become friends on the excursions, waiting in lines, at various activities and while dining. Granted, I went with a group of people and we spent quite a bit of time together, but there was plenty of time to get know others, too!
We'd originally met Susan and Marsha while waiting in line to board the ship after our excursion in Aruba. Two women from New York City who'd been friends for years. They were absolutely wonderful to talk to and so very interesting. We'd see them at various times during the cruise and were able to enjoy some meals with them as well.
Lexi and I also met a couple at breakfast one morning who'd said they were on their 23rd cruise with Princess Cruises. That's saying something! They've been everywhere with them, too. The longest cruise they've taken is a month because then Jim has to get home. He runs out of his meds. and it's the longest amount of time he says he can spend with his wife in a cabin. haha
Also, be sure to make friends with the crew – those attending to your cabin, servers, bartenders, etc. They're on these trips for months at a time before many of them return home to spend time with family. They enjoy seeing familiar faces and engaging in conversation. AND if you make friends, especially with a bartender like Lan in the Explorer's Lounge, you'll be well taken care of and really enjoy yourself.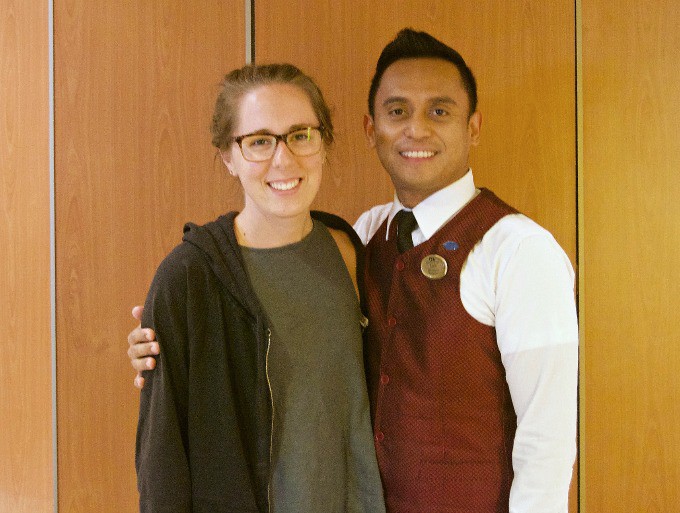 Go Shopping –
There are a few boutiques if you'd like to spend your days at sea making some purchases and enjoy "duty free" shopping meaning you won't have to pay tax.
From jewelry to alcohol, clothes to personal items, there's something for everyone. There's even an art auction!
Don't worry you've forgotten any personal items, chances are you'll be able find it at Calypso Cove.
Book a Massage, Manicure or Pedicure at the Lotus Spa –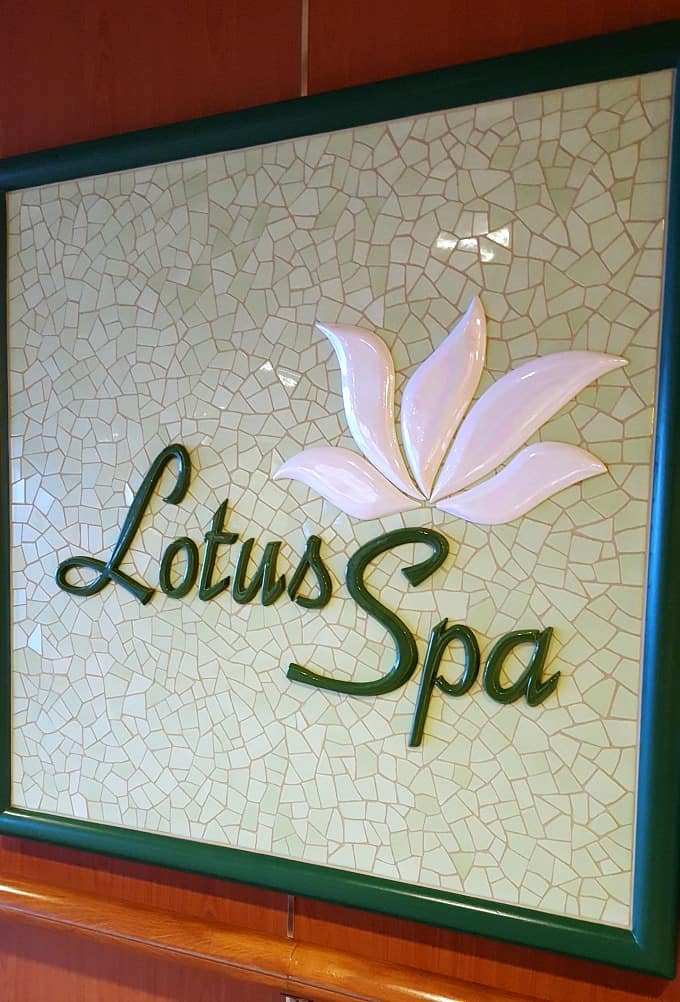 Want to be pampered? Book an appointment or two at the Lotus Spa.
Here you can have your hair done and relax while enjoying a manicure or pedicure. You can also go all out and  book yourself a Chocolate Massage like the one I enjoyed! It was SOOOOO relaxing and smelled absolutely delicious. The best part was being surrounded in plastic then lowered into a water bath where the gentle sway of the ship nearly put me to sleep. I was in heaven!
Play Bingo or Trivia –

If you enjoy trivia, you can can head to the Universe Lounge as well as the Wheelhouse Bar. Compete against others as teams in a daily game of trivia for your chance at bragging rights and a prize. There's also Bingo, as well as an onboard casino that has various card tables in addition to slot machines.
Take a Bridge Tour –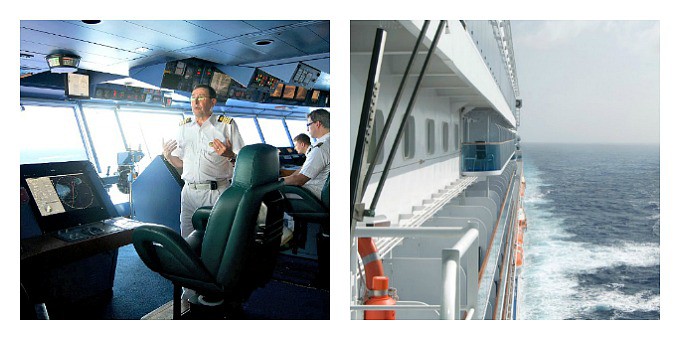 You can book a tour of the ship, and enjoy views from the ship's bridge while listening to the captain talk about the ship. It was very interesting to hear how they navigate, things they do when pulling into ports, and the meaning of the flags that are flown. It was fascinating to learn little details and how things work behind the scenes.
Enjoy Dinner at the Chef's Table –
If you're into food, this is something you definitely want to do! A dinner at the Chef's Table is well worth the experience. Bring sure to bring your appetite because you won't be leaving hungry. There is a lot of food! You'll enjoy many different recipes as well as a great selections of wines, so make sure you book your reservations as soon as you board the ship.
I was completely impressed by Chef Jeremy, his staff, the food and attention to detail. It was by far one of the most impressive dinners I've ever had!
Prior to dinner we enjoyed a tour of the galley (you'll want to wear close-toed shoes!) and sampled appetizers while drinking champagne. I felt spoiled!
The appetizers, dinner, desserts, wine pairings and a 25th birthday celebration for my daughter, Lexi made our Chef's Table experience a definite event to remember.
Relax at Afternoon Tea –
I've always loved going to tea. It's so elegant and you can eat so many delicious items all while enjoying a soothing, hot cup of tea!
Attire is resort casual or you can dress up if you'd like. Relax while you're waited on, and savor every delicious morsel.
Read Books, Play Games, Enjoy Sports –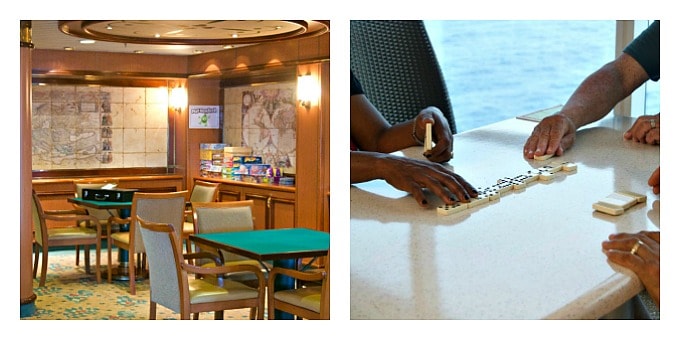 Play games, cards, or do a puzzle in the Card room.
There's also plenty of time to enjoy your hand at dominoes.
If you're a golfer, you can practice your short game.
There's shuffleboard, basketball and ping pong available, too!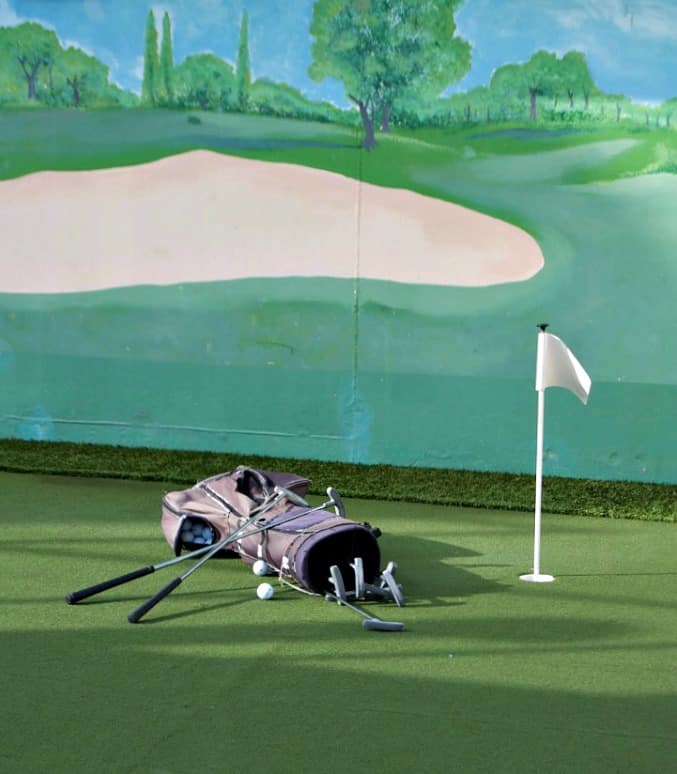 Take Time to Exercise –
Since you'll be eating plenty of delicious food , you'll want to make sure you do your body good and get that heart pumping!
On deck 7, the Promenade Deck, you can take a brisk or leisurely stroll around the outside of the ship. The deck circles the entire ship and I think takes 3 1/2 times around to make it a full mile. Don't worry, there are signs though.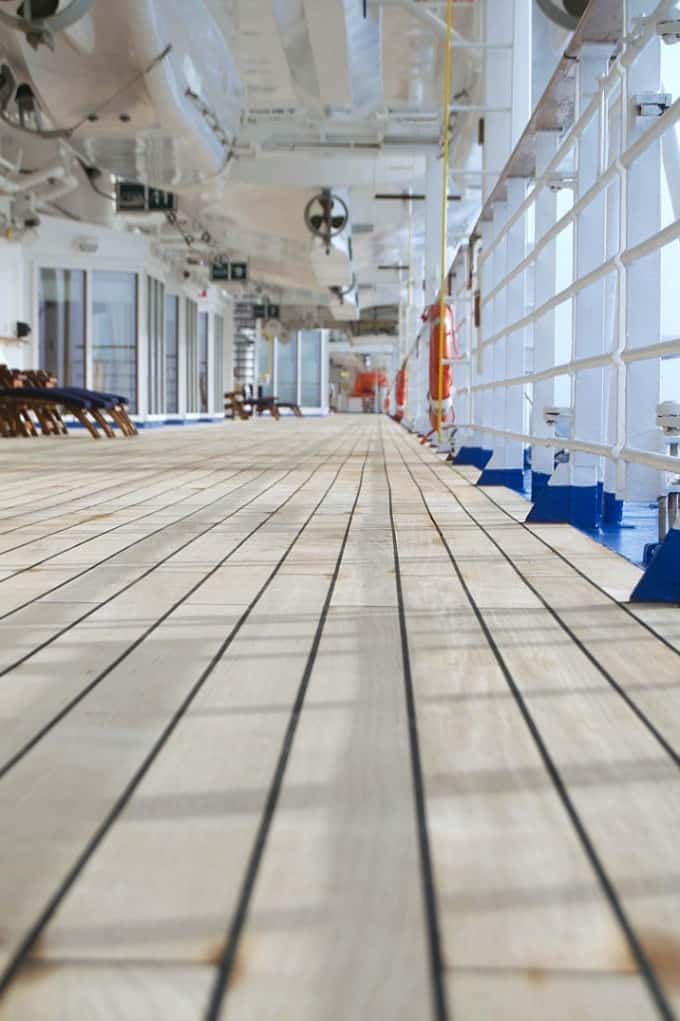 Want more than just walking? Don't worry, there's a fully quipped fitness center along with classes you can sign up for as well.
Tanya from Lemons for Lulu was in the gym everyday. Read her post on Staying Fit on Vacation (Health & Fitness Tips for Cruising).
Swim –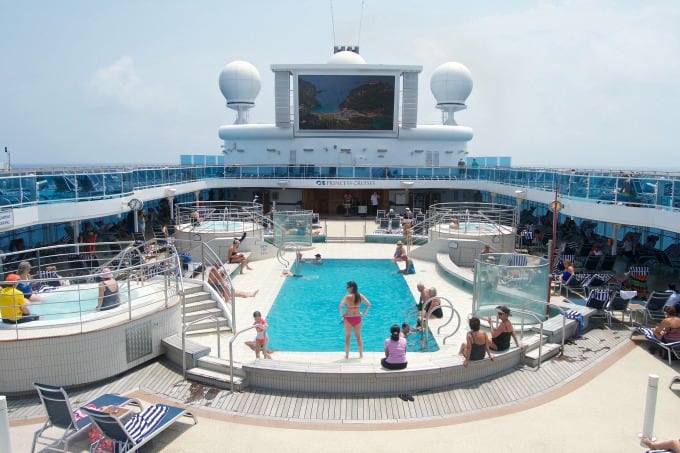 You can swim the water on a ship in the water in either of the indoor or outdoor pools. On  excursion days return to the ship and soothe those tired muscles in one of the hot tubs.
At night you 'll be able to eat some popcorn while watching a movie under the stars or dance the night away during "The Love Boat" Disco Deck Party!
Get Away at The Sanctuary –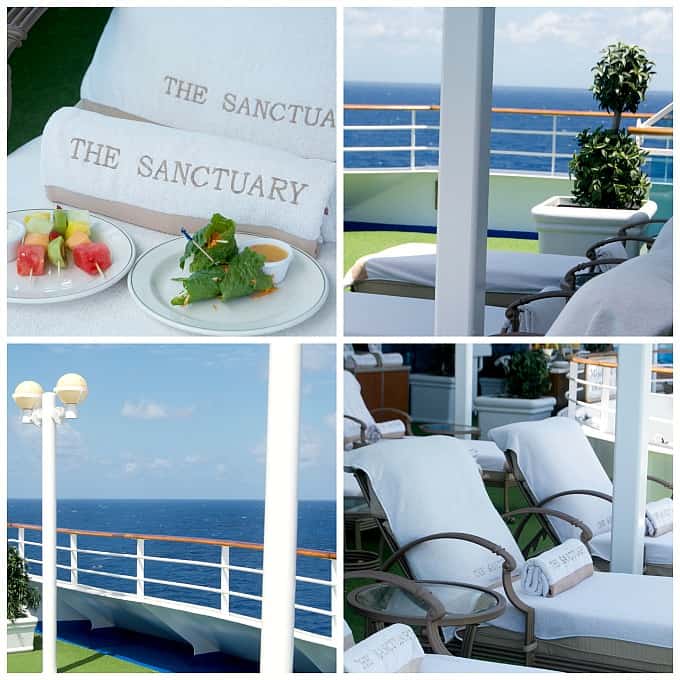 Comfy chaise lounges, iced flavored waters, gorgeous views, delicious food and spot-on service await you when you book time a morning or afternoon at The Sanctuary.
For an additional fee, this adult-only spot on the ship is perfect for those looking to avoid the crowds at the larger pools or wanting to really relax for a few hours.
You can read more about it here in Cruise Tips by an Introvert from Jen at Baked By an Introvert.
These are just some of the things my daughter and I enjoyed doing while we were on Princess Cruises Coral Princess. 
While we enjoyed our excursions at each port, there is plenty to do on the ship, so you never even have to leave!
PSST! And sometimes, if everyone's leaving the ship to see sights and things on shore, that is THE best time to take advantage of the pools or really enjoy some time to yourself.
Up next, more about going through the Panama Canal and your Dining Options Aboard the Coral Princess.
I'd love to hear your favorite things to do when you go on a cruise. Let me know!
I give you BIG baking hugs and muffins!