When you're cruising the Panama Canal with Princess Cruises, you'll find many dining options aboard the Coral Princess. From Italian to formal and room service to steak, there truly is something for everyone and no one goes hungry!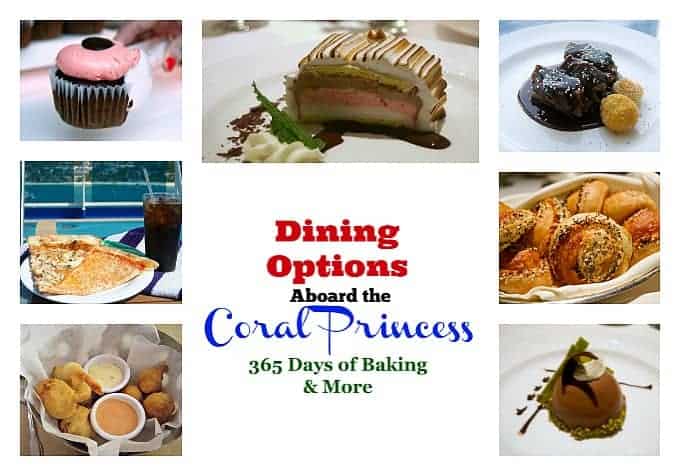 There are just so many wonderful things to do on a cruise and one of them is definitely eating the food.
*This post is sponsored by Princess Cruises and as always, all opinions are 100% my own.
So you've packed for your cruise. You've planned your cruise excursions, and have thought about the fun and activities you'll be doing while on board. Now it's time to talk about what you'll be eating. Let's get to it!
I have to just say that the FOOD aboard our Panama Canal Cruise with Princess Cruises was phenomenal.
And there was A LOT of it.
I kid you not.
I enjoyed this cruise with my daughter Lexi who had recently became a vegetarian. I was concerned that she was going to be "missing out" so to speak on some of the dining options, but everyone on the ship was very accommodating and the food she ate was just as incredible as mine. (I know because I tasted them all, too! 😉 )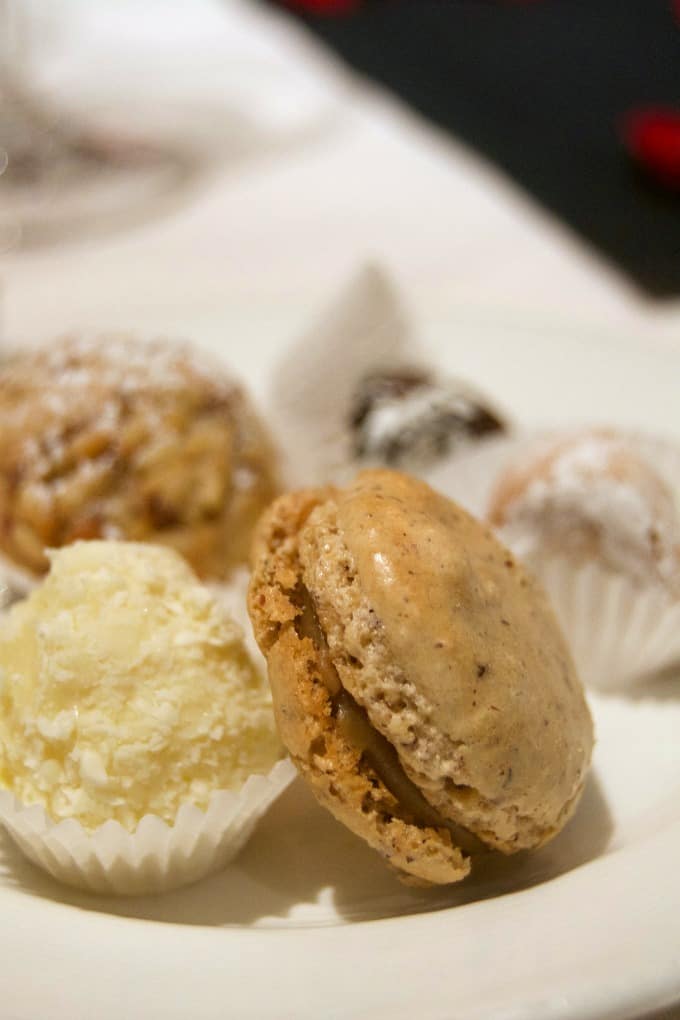 You'll find a variety of dining and seating options on the Coral Princess. There are a couple of upscale dining establishments, some casual, as well as a 24-hour cafe in case you should have a midnight craving.
Some of the restaurants require a cover charge and a reservation is suggested. You can read more about them here.
Also, Princess Cruises is happy to assist with any dietary restrictions you may have. Be sure to let them know as you're planning your trip and then talk to your Maître D' once on the ship.
Horizon Court –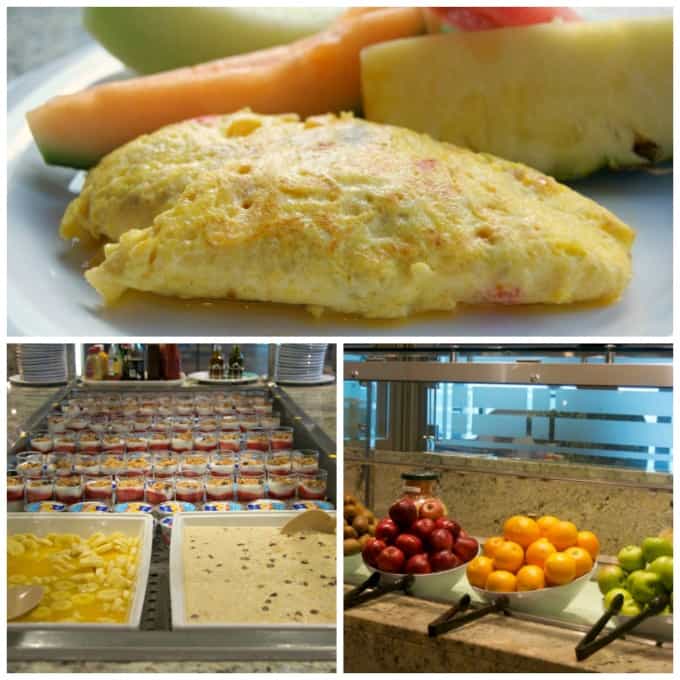 Horizon Court is the largest casual meal area serving breakfast, lunch and dinner in buffet style, and is located at the bow (front) of the ship. Servers are on hand to deliver water, coffee, or lemonade to your table as well as to take your dirty plate so you can go back for more!
It is a wonderful place to eat. The views are gorgeous, there are plenty of windows and the food is delicious and abundant.
For breakfast there are pancakes, waffles, muesli, yogurt parfaits, and freshly prepared omelettes. As well as delicious pastries that are made daily on the ship.
Hot dishes along with some cold are served for lunch and dinner. You can make your own sandwiches, salads and sample a variety of pasta, too!
Crab Shack –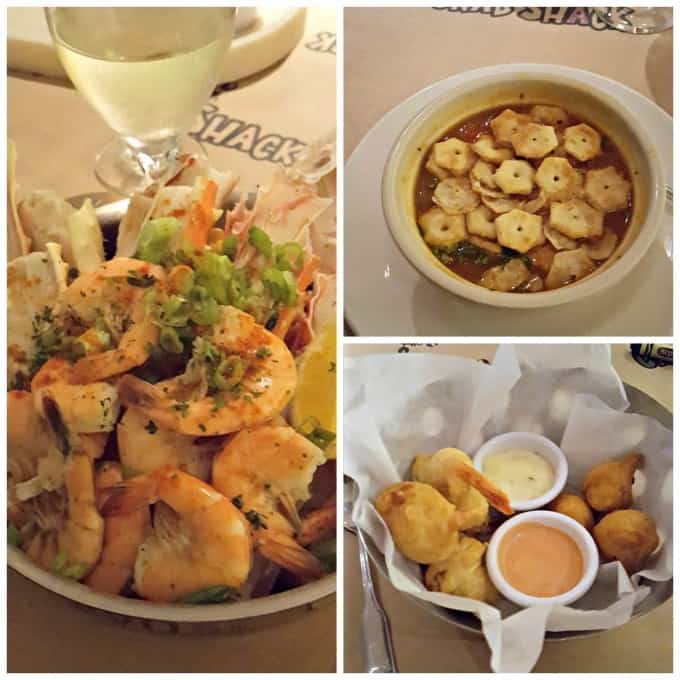 Two nights during the trip the staff transforms half of the Horizon Court into a bayou-styled Crab Shack. They'll fit you with a bib and you'll be given the supplies you need to dive right in to your meal. You can also enjoy the crayons and brown paper table cloth, so you can draw while waiting for your food.
Dinner starts with Manhattan Clam Chowder (red broth). Then you'll enjoy a basket of hush puppies and popcorn shrimp. For the main course, you'll receive a bowl filled with snow crab, jumbo shrimp, clams and mussels. It's a feast fit for a king and there are other items on the menu as well. And of course, dessert.
PIZZA –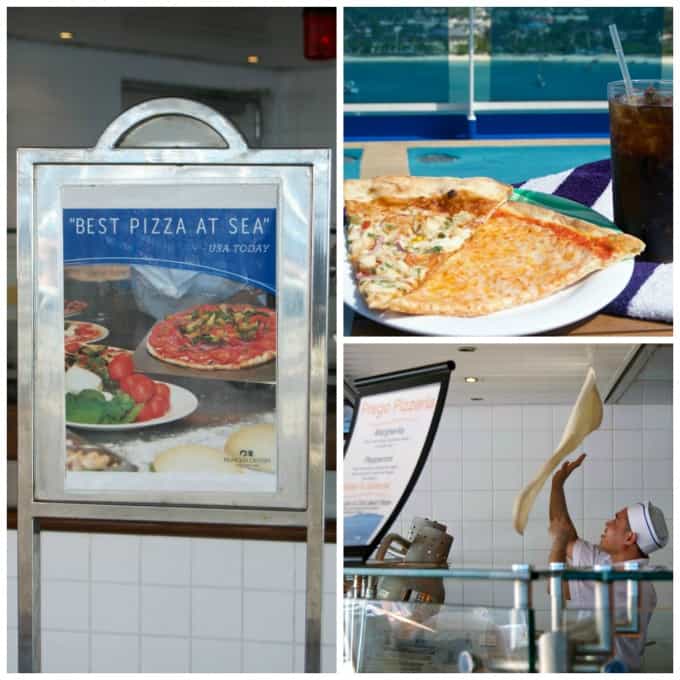 I honestly can't go a week without eating some pizza, so I was very pleased to see that the Coral Princess has "The Best Pizza at Sea" according to USA Today. And they aren't kidding!
Not that I've had other pizza at sea, but I have to say that it really was delicious.
Freshly hand tossed, you can have it covered with cheese or a variety of ingredients. It makes for a delicious meal and is sure to satisfy your pizza craving.
Sandra from A Dash of Sanity made a recipe for Sheet Pan Pizza so that we can recreate it at home, too!
Sabatini's –
A couple of nights we ate at Sabatini's, an Italian restaurant.
I highly recommend the Artichoke Soufflé. It was such a delicious appetizer!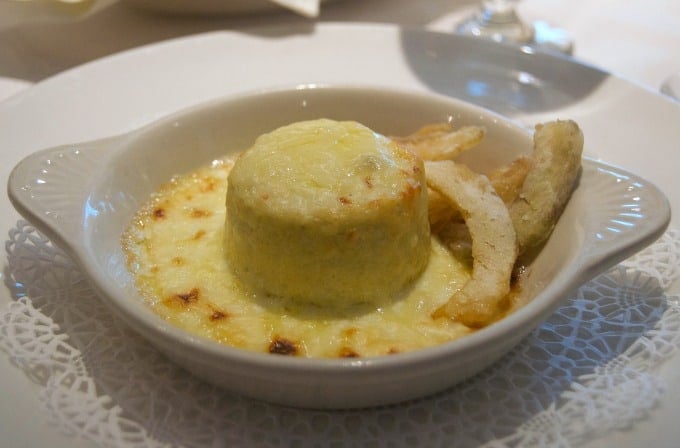 Another highlight was the Pasta Primavera. This was one of the vegetarian dishes Lexi was served. She enjoyed it so much she had it a couple of different nights.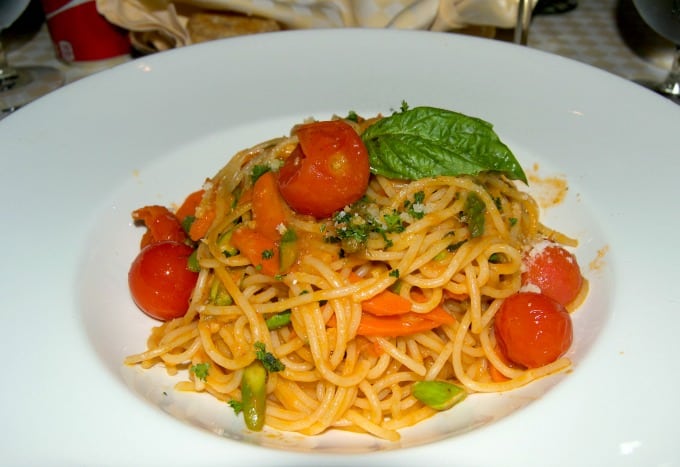 The Bayou Cafe –
I have to say that the Bayou Cafe was my most favorite place to eat on the ship.
The food was AH-MAZING!!!!
We ate there two nights and I definitely could have gone for a third. No lie.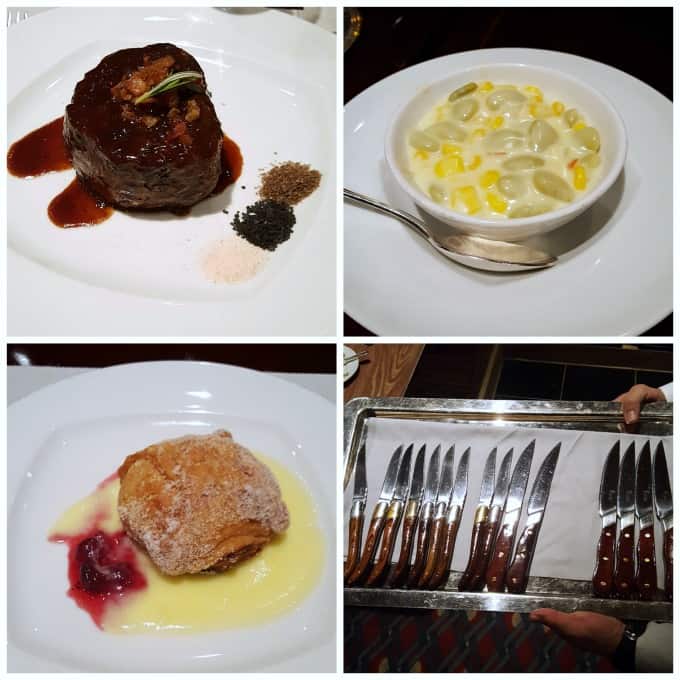 It was the steak, the Carpetbagger's Trinity Smothered Filet of Beef that completely stole my heart. OMG!! When you order it (or any steak on the menu), you'll be shown a tray of knives so that you can select your own. How COOL is that?! I was so excited!!
Make sure that you ask for all three of the salts when offered – the Pink Himalayan, Black Lava, and Applewood Smoked. Each of them highlights the meat in a different way and added so much flavor to an already phenomenal steak.
Tanya from Lemons for Lulu ordered the catfish and talks about it here in her Southern Fried Catfish Recipe.
I had never had succotash, and I fell in love with the one they brought to our table. Oh, and order the grits, too! They are out. of. this. WORLD!!
The Fried Yellow Peach Pie was delicious dessert to end the meal but we also had chocolate cake to celebrate Sandra's from A Dash of Sanity's birthday. It was similar to this Easy Chocolate Overload Cake made with Box Cake Mix from Mama Loves Food.
and I walked away a very happy woman that night. I knew the first night we were there that I definitely had to return  before the end of the trip.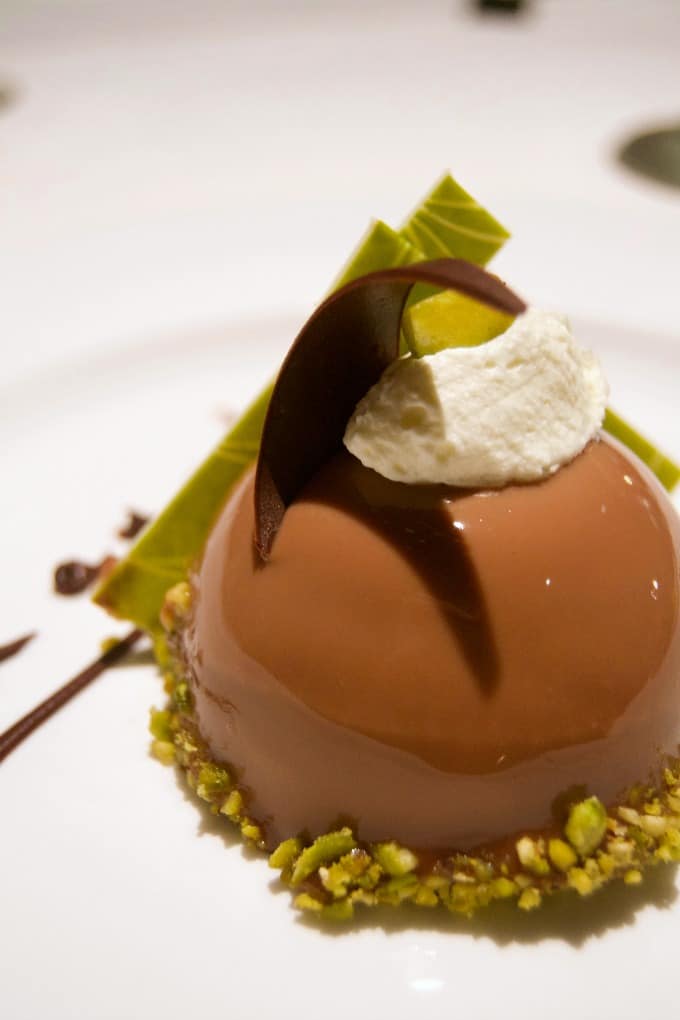 Farewell Dinner –
On the last night of our cruise we had our Farewell Dinner in the Bordeaux Dining Room. The highlight was the Baked Alaska Parade. The chefs and servers carry plates of the Baked Alaska while the lights are dimmed and music is playing. It was a fun way to end our final dinner.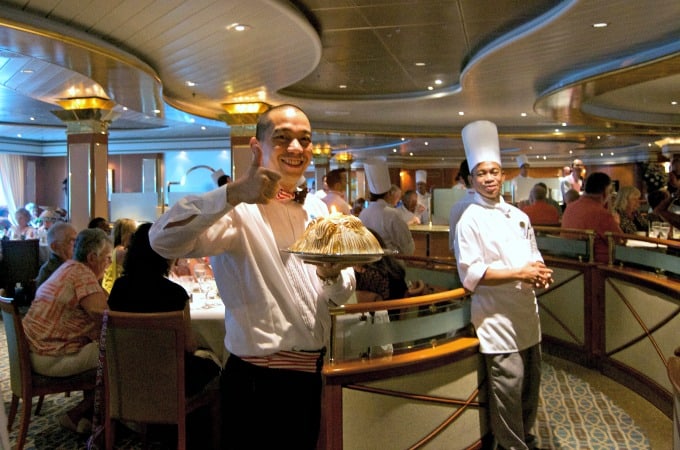 I had never tasted Baked Alaska, so I was very excited to. Not only was it pretty, it was quite delicious as well. I don't think mine could ever be as beautiful as Chef Jeremy's was.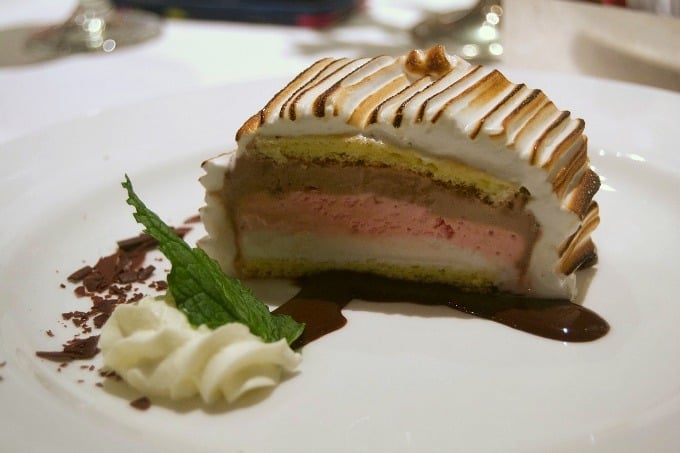 Food Highlights –
A few of the dishes we ate really left an impression on me.
The first was the Chocolate Pistachio Dome. Seriously, so delicious.
I thought I might go into withdrawal not being able to have them, but Jen from Baked By an Introvert has taken care of that. You can see her recipe for here Chocolate Pistachio Dome here!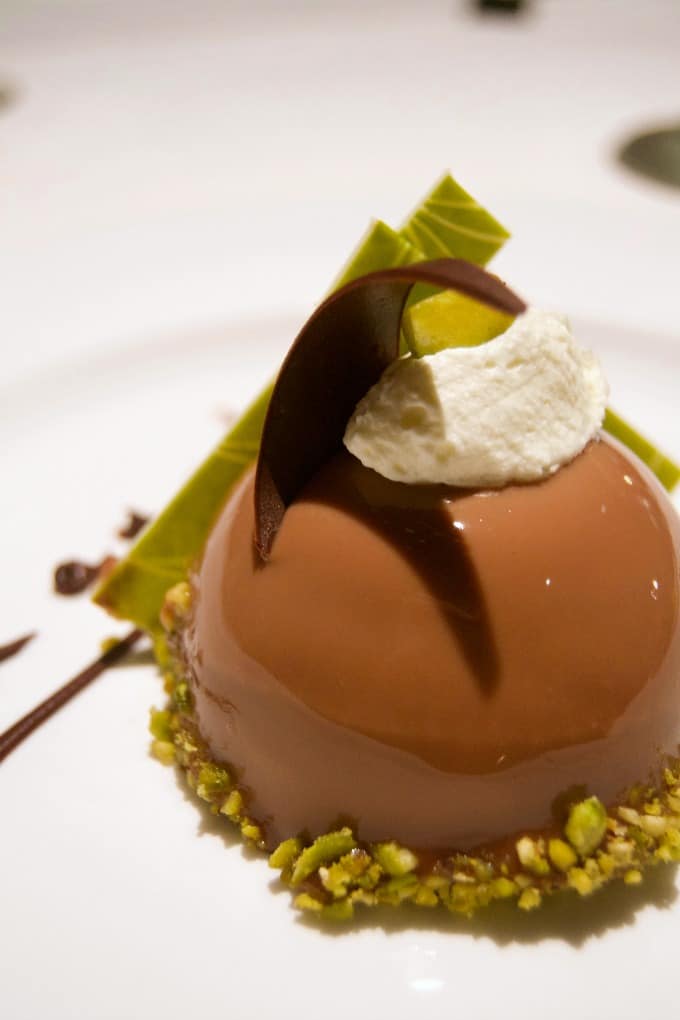 I have to say that the Gorgonzola Rolls served in the Bordeaux and Provence Dining Rooms were truly magical. I so wanted to stuff a few in my purse so I could take them back to our cabin.
They were so light, airy and had just the right amount of gorgonzola. I'm drooling just thinking about them.
I tried to recreate them, but wasn't successful, so am going to have to keep working at it. Keep your eyes peeled for the recipe.
Aren't they gorgeous??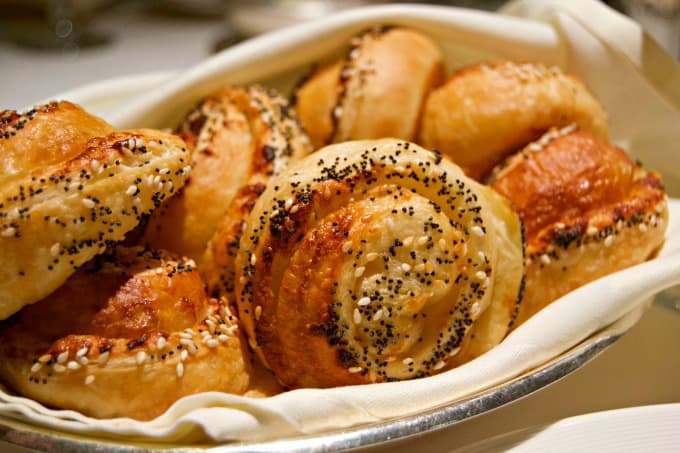 When you're going on a cruise with Princess Cruises, bring your appetite!
I definitely did not leave feeling hungry, but completely satisfied with everything I ate.
I was very impressed with the quality, freshness and attention to detail in all of the food we were served.
I would love to go again just to eat. haha
I give you BIG baking hugs and muffins!!