Put leftover turkey to good use by turning it into a delicious homemade soup! This easy turkey soup recipe is made from scratch with noodles and vegetables in a savory broth. It's the perfect comfort food after Thanksgiving, but is a great recipe to be enjoyed all year long.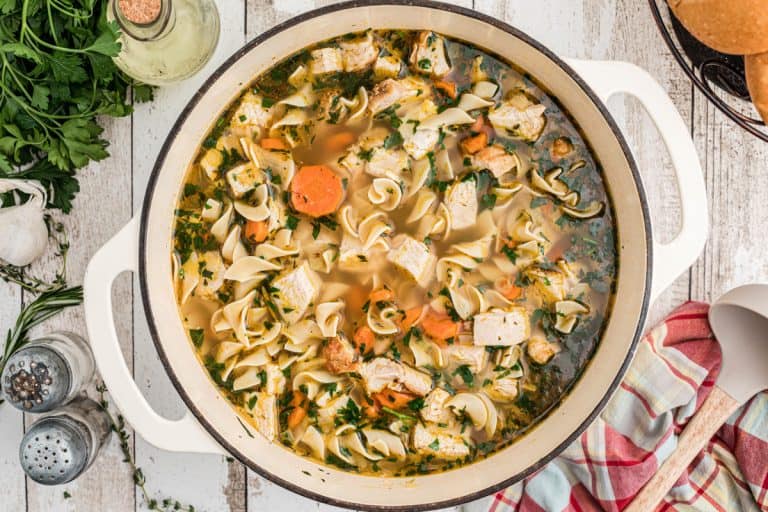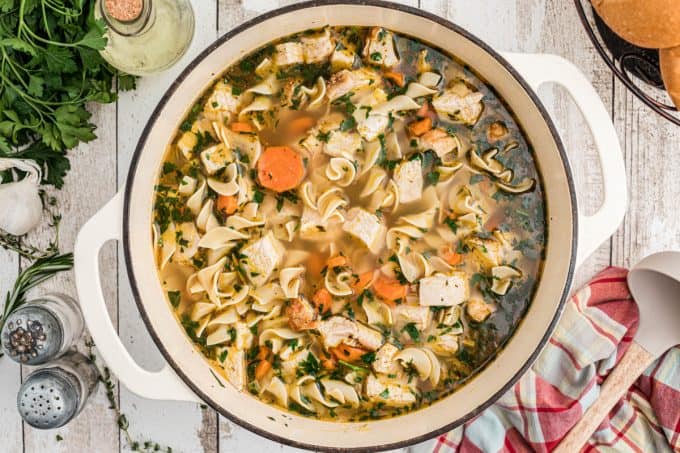 I love, love, LOVE Thanksgiving dinner leftovers.
Thanksgiving isn't just about one meal for me. It's about the DAYS of meals you get to enjoy from the leftovers! One of the easiest ways to repurpose your leftover holiday turkey is by adding it to a simple homemade soup.
Today's homemade turkey soup is an ultimate comfort food for good reason: it's easy to make, inexpensive, and feeds lots of hungry mouths. This recipe combines leftover Thanksgiving turkey with flavor-enhancing ingredients like onions, carrots, garlic and herbs to make the best leftover turkey soup.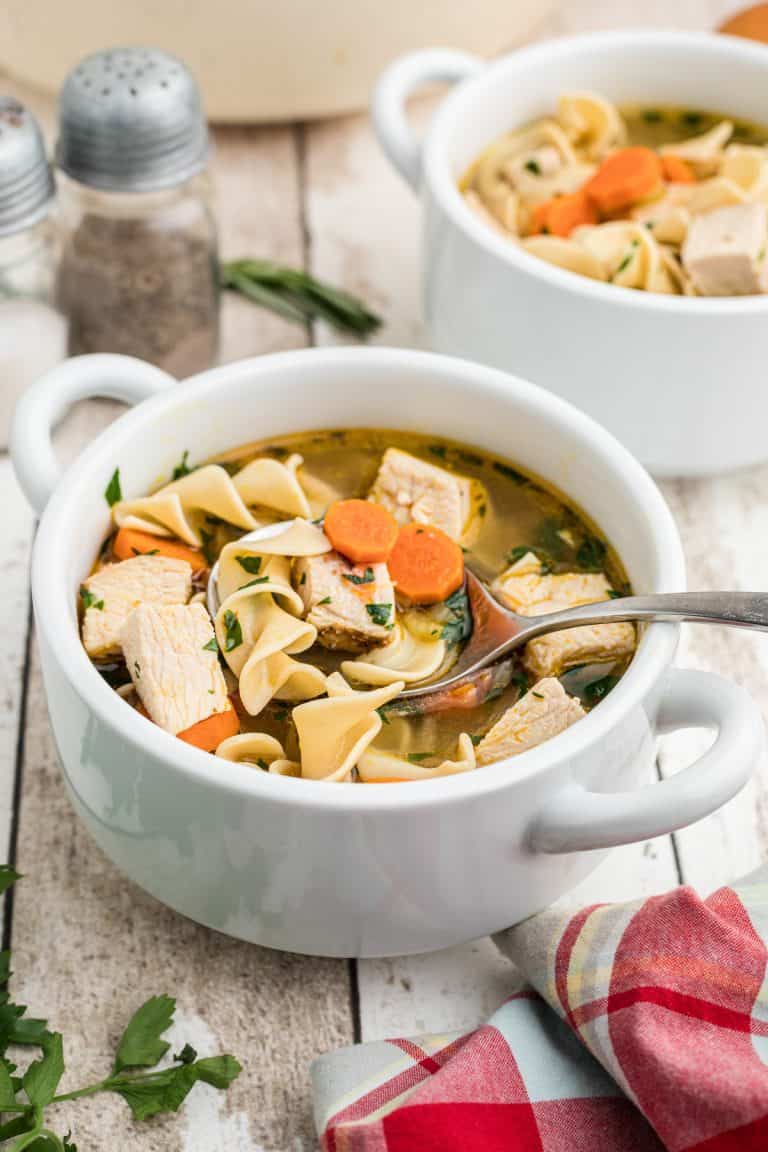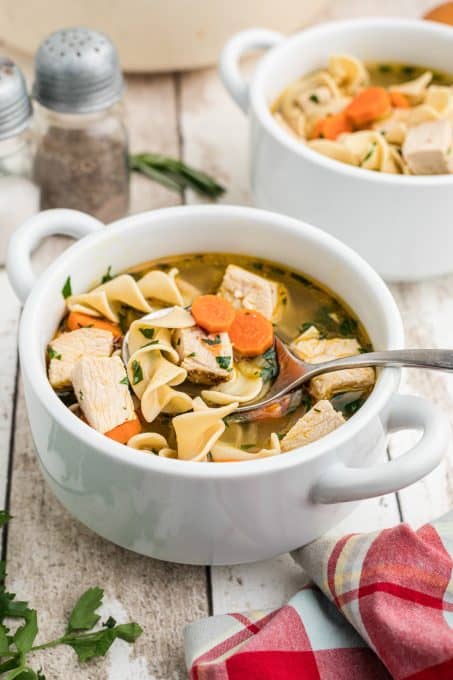 Usually, my preferred way to serve turkey is ground and browned with spices. It makes a perfect swap for higher fat ground beef in these Black Bean and Turkey Stuffed Peppers and Turkey Gyro Pockets with Tzatziki Sauce.
A steaming hot bowl of homemade turkey soup is the food equivalent of a cozy sweater on a chilly day or for cold nights. Wouldn't you rather be eating delicious SOUP than braving the Black Friday crowds or untangling Christmas lights?
This easy soup recipe is destined to become part of your day-after-Thanksgiving traditions!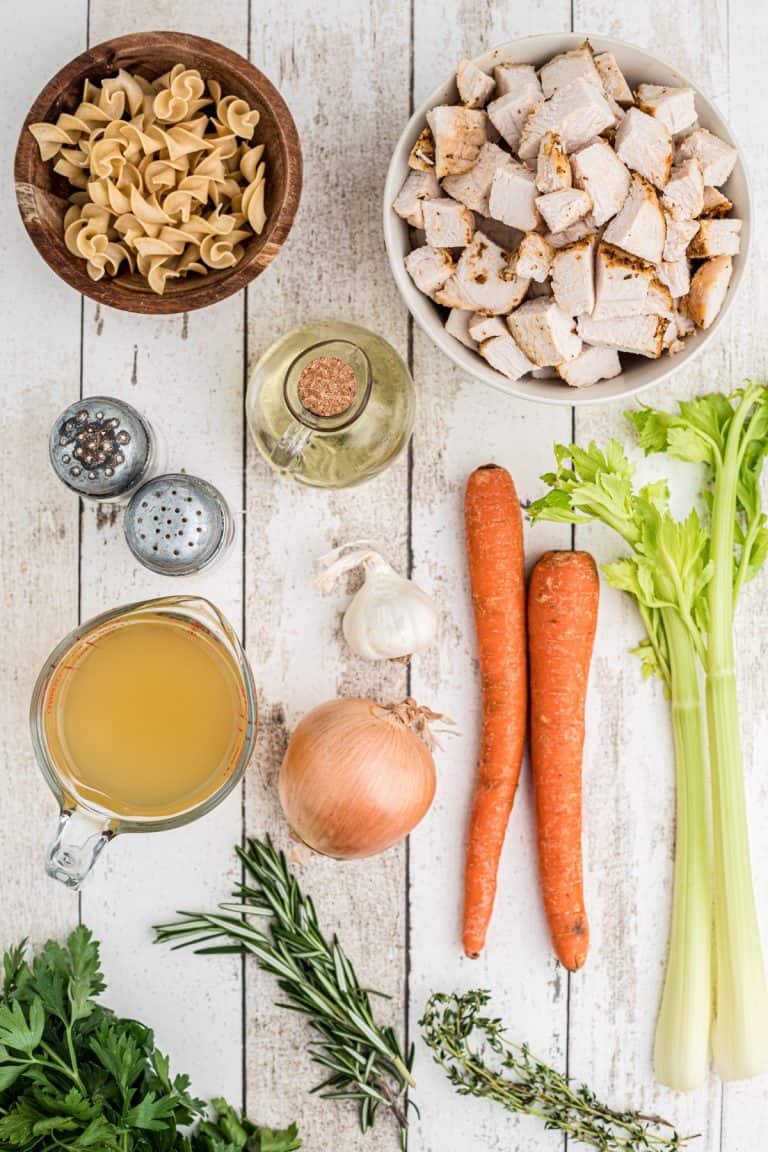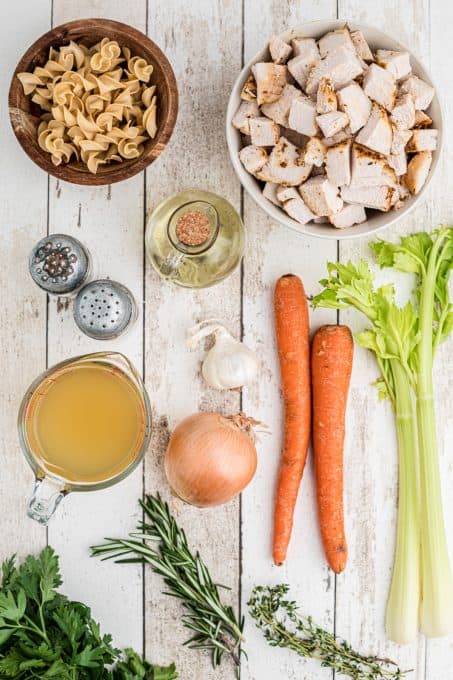 What do I need for delicious turkey soup?
To make this recipe for turkey soup, you will need the following ingredients:
olive oil
carrots
celery
garlic or garlic powder
cooked turkey – I used leftover turkey meat from my Herb Roasted Turkey recipe.
fresh rosemary
fresh thyme
store-bought chicken broth
or homemade chicken broth if you have that on hand
traditional noodles
fresh parsley
kosher salt and pepper – added at the end to taste.
I make my turkey soup on the stove top in a Dutch oven like this one. Any large soup pot or large stockpot will do!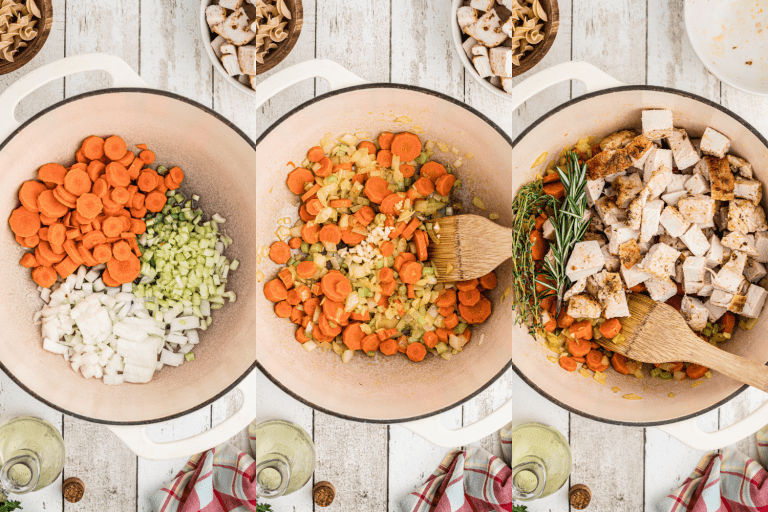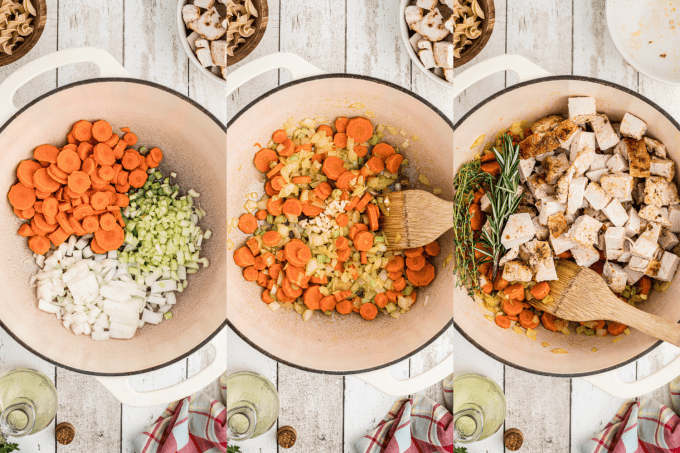 How to Make This Homemade Turkey Soup Recipe
Start by cooking the onions, carrots and celery in the olive oil on medium-high heat for a few minutes. This step is essential for bringing out the mild sweetness and aroma of this "holy trinity" of vegetables.
Now add your minced garlic and cook until fragrant (about 2 minutes). Be careful not to overcook or the garlic will burn and taste bitter.
Add the turkey, chicken stock and fresh herbs. Bring the soup to a boil, then cover and simmer for 10 to 15 minutes. While the soup is simmering, boil your egg noodles in a separate pot according to package directions, but do not overcook. Drain the noodles and add them to the turkey soup.
Stir in fresh parsley when the soup is done cooking. Add salt and pepper to taste.
Ladle your homemade turkey soup into bowls and serve hot with slices of my Grandma's Homemade Italian Bread. It's the perfect accompaniment to any soup because it's a crusty bread with a soft, chewy center.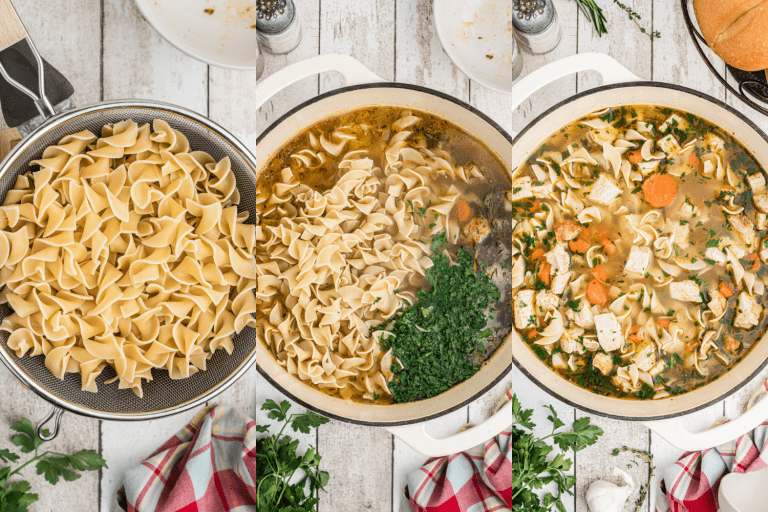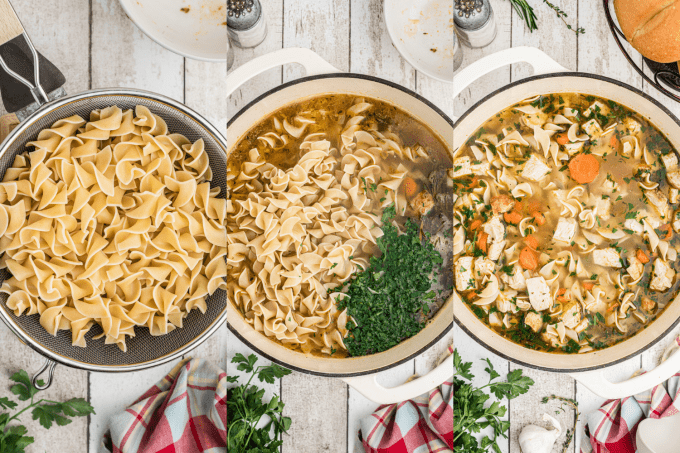 Storing Turkey Noodle Soup
This recipe makes multiple delicious servings of soup. Don't worry about having too much. Stored covered in an airtight container in the refrigerator, turkey soup stays good for several days.
You can also freeze homemade turkey soup for longer storage. Frozen leftover turkey soup tastes best thawed, reheated and eaten within 4 months. Make sure to store it well sealed in a freezer-safe container. Freezer bags with a zip top are a perfect space-saving solution for soup storage.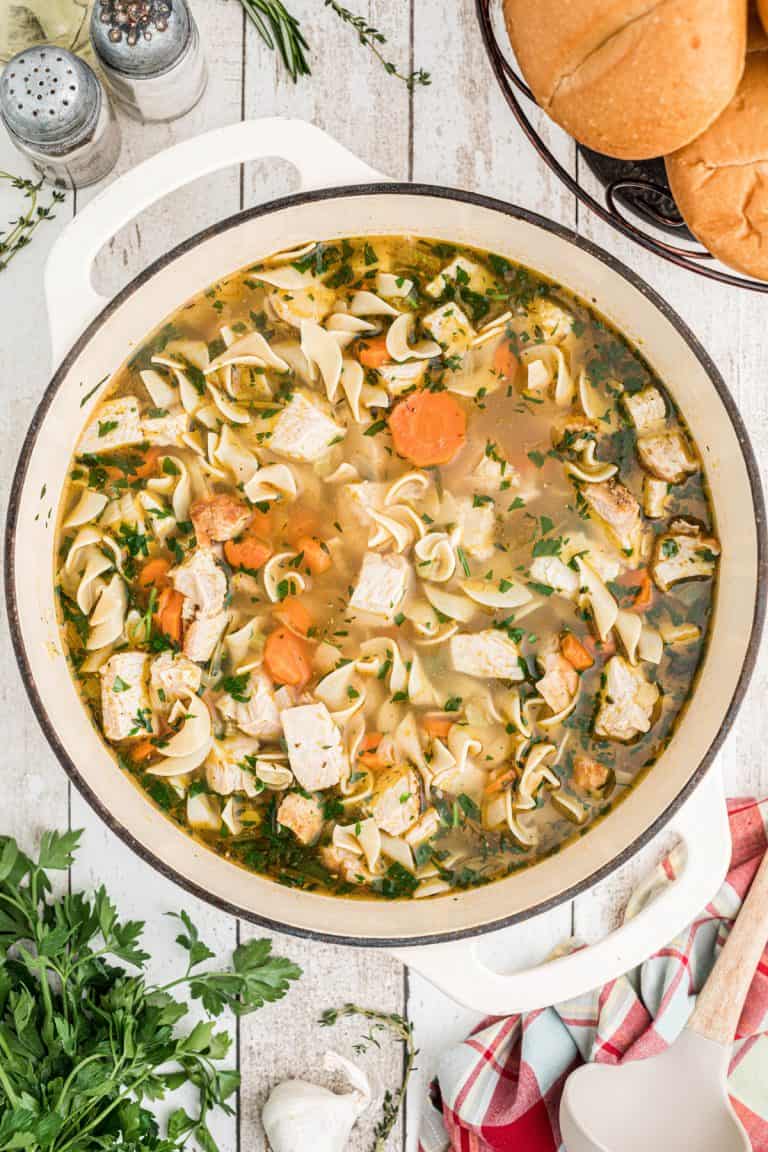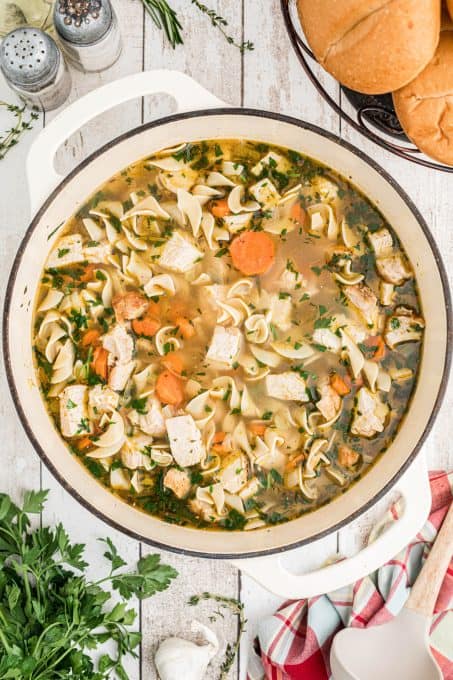 Substitution Ideas
Homemade turkey soup is a versatile and adaptable soup recipe that still tastes good if you need to make substitutions. Here are a few suggestions.
Swap out the chicken broth in this recipe for turkey broth or stock. You can even make homemade turkey stock from the turkey carcass to use in this soup recipe.
Only have dried herbs? Substitute 1 tsp each of dried rosemary and thyme. The flavor isn't quite the same but it still tastes good!
Don't have egg noodles? You can use any thick ribbon-shaped pasta instead. Even rice pasta or other gluten free noodles will work. Avoid thin stir-fry noodles or glass noodles; they will dissolve into the broth and get mushy.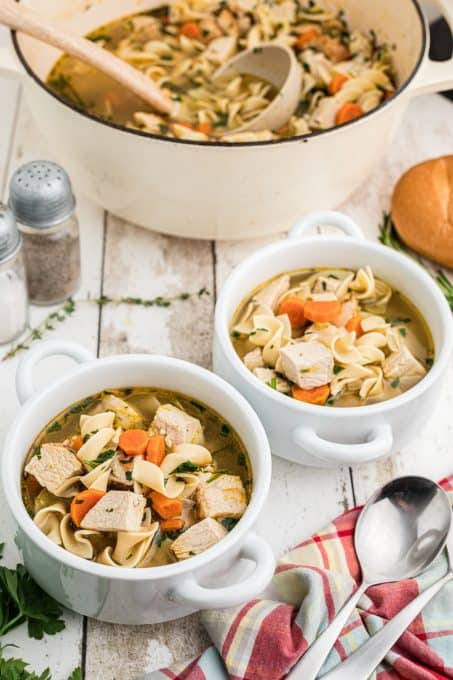 Easy Soup Recipes
I've been on a soup kick lately. It's been an occasionally chilly fall around here, but it gives me plenty of excuses to revisit my favorite soups, stews and other cozy comfort foods.
Like today's turkey soup, this homemade chicken noodle soup uses leftovers as the main ingredient (in this case, a rotisserie chicken). I also add a touch of heavy cream to the broth to make it even richer and heartier! If you love creamy chicken soups, this Avgolemono Soup is another one to try soon!
Looking for a creamy soup without meat? My Easy Instant Pot Tomato Basil Soup and this stovetop Creamy Tomato Basil Soup are two favorites of ours! I can't choose which one I like more. Make sure to serve them with plenty of crusty bread or even some grilled cheese croutons on top.
My family loves when Instant Pot Pizza Soup is on the dinner menu. All the great taste of pizza but even easier than ordering delivery–and probably better for you, too!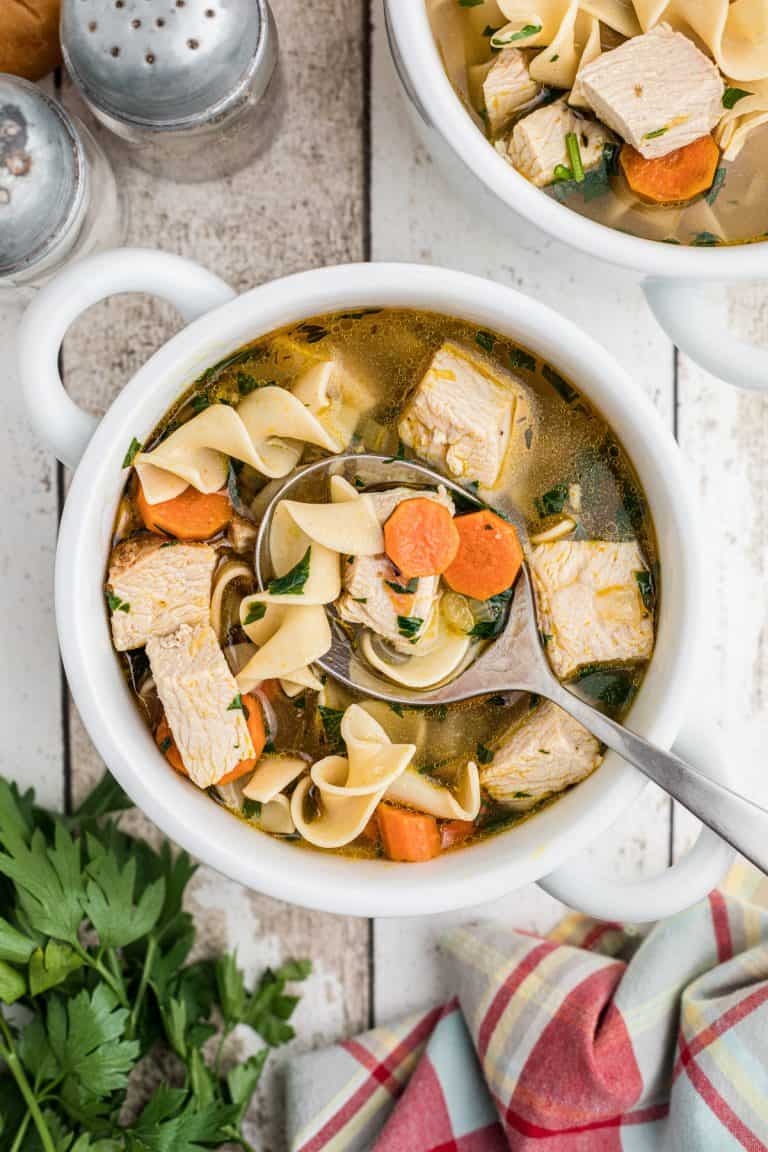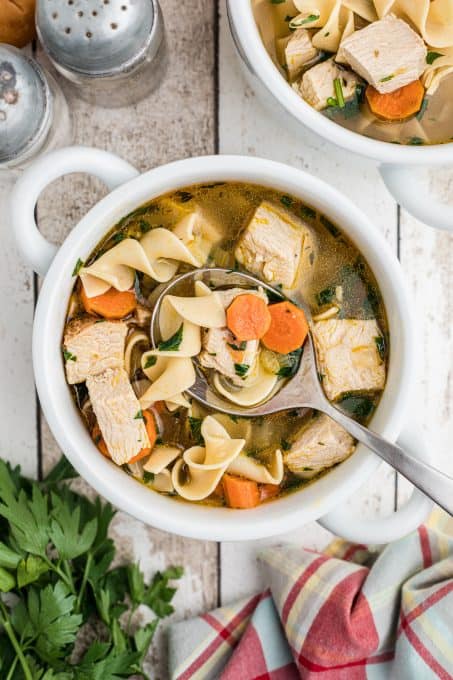 What to Serve with Turkey Soup
Turn your homemade turkey noodle soup into a meal with these tasty breads, rolls and side dishes!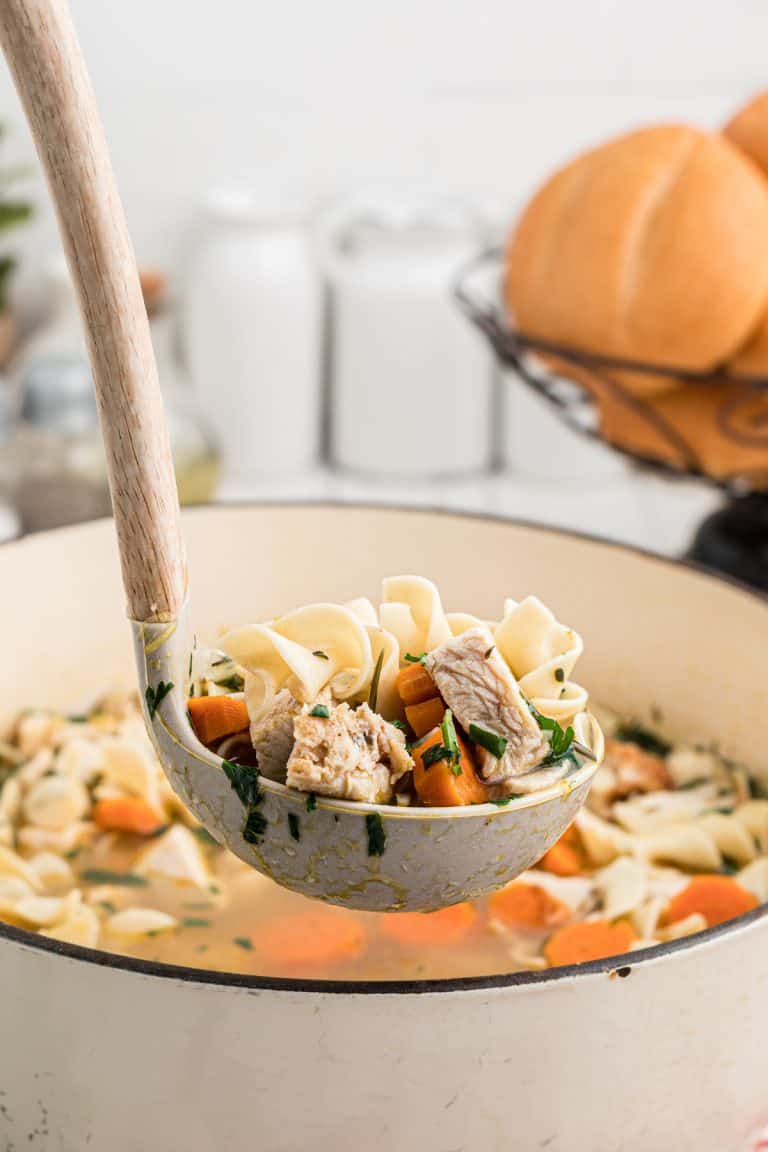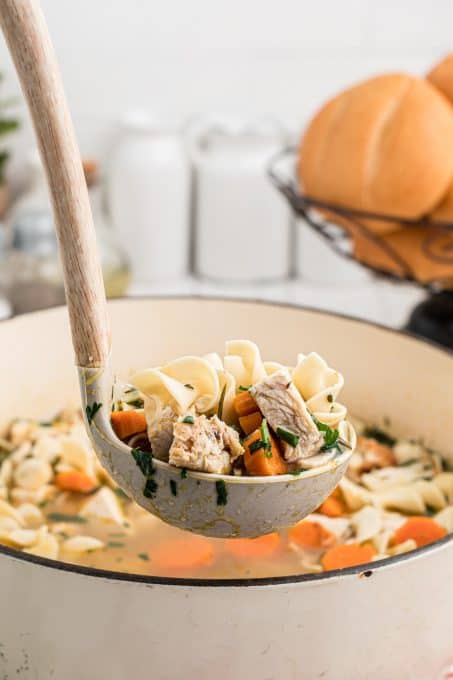 The whole family will love when you use turkey leftovers for more than just sandwiches. My favorite way is to make turkey soup from scratch with this easy recipe!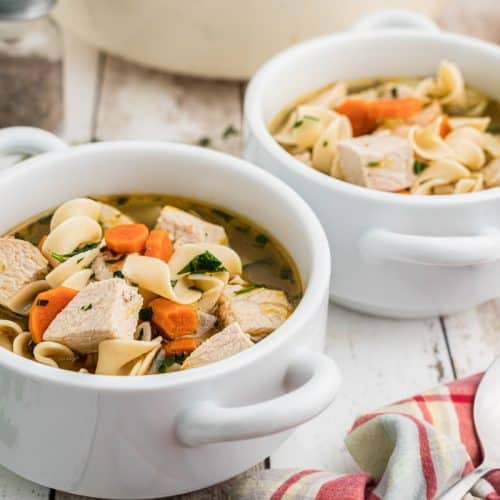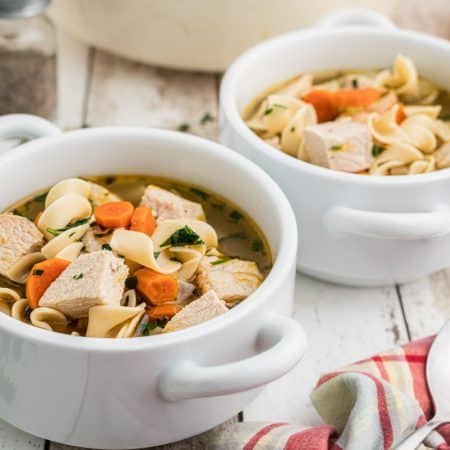 Homemade Turkey Soup Recipe
Put leftover turkey to good use by turning it into a delicious homemade soup! This easy turkey soup is made from scratch with noodles and vegetables in a savory broth.
Ingredients
2 teaspoons extra virgin olive oil
1 large yellow onion chopped
2 stalks celery chopped
4 medium carrots sliced
4 cloves garlic minced
3 lbs cooked turkey cut into 1" pieces
1 sprig fresh rosemary
2 sprigs fresh thyme
8 cups chicken broth
2 cups egg noodles cooked
⅓ cup fresh parsley chopped
kosher salt and pepper to taste
Instructions
In a large heavy bottomed pot, like a Dutch oven, add the olive oil and heat on medium-high.

Add the chopped onion, celery, and carrots. Cook for about 5 minutes until vegetables soften.

Add the minced garlic and cook for about 2 minutes until fragrant.

Add the turkey, rosemary, and thyme and then pour in the chicken broth.

While the soup is heating to a boil, cook the egg noodles to al dente and drain.

Once the soup has come to a boil, lower the heat and simmer for 10-15 minutes.

Add the noodles and chopped parsley. Stir and taste test, Add salt and pepper to taste.
Nutrition
Serving: 1person | Calories: 319kcal | Carbohydrates: 26g | Protein: 31g | Fat: 10g | Saturated Fat: 3g | Polyunsaturated Fat: 2g | Monounsaturated Fat: 3g | Trans Fat: 0.1g | Cholesterol: 92mg | Sodium: 1139mg | Potassium: 485mg | Fiber: 3g | Sugar: 4g | Vitamin A: 5436IU | Vitamin C: 8mg | Calcium: 48mg | Iron: 3mg
Did you make this recipe?
Share it with me on Instagram and make sure to follow me on Pinterest for more recipes.
Reader Interactions