This decadent Peppermint Brownie Pie is full of chocolate and peppermint patties. Topped with chocolate ganache and peppermint pieces, it's a delicious dessert for the holidays!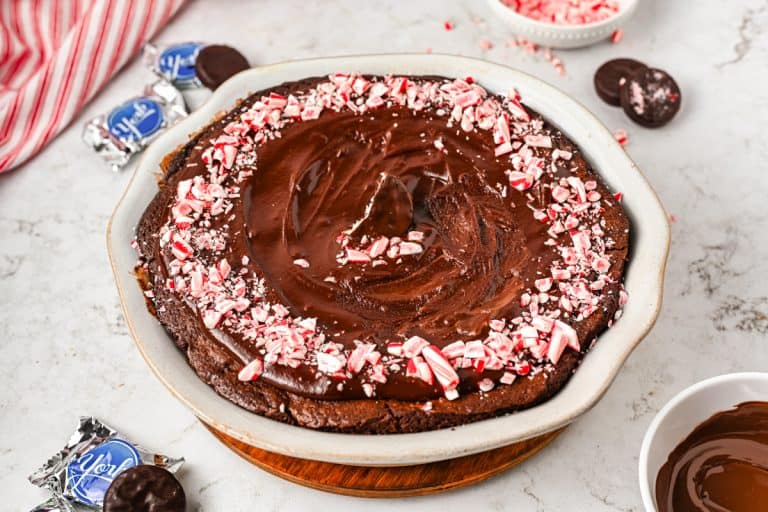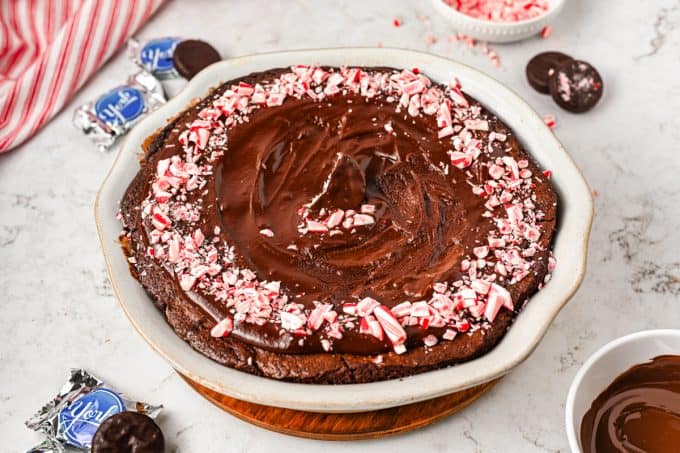 Rich, fudgy brownies meet cooling peppermint in this amazing brownie pie. If you love chocolate and peppermint together, make sure to try my Chocolate Mint Dream Bars recipe too.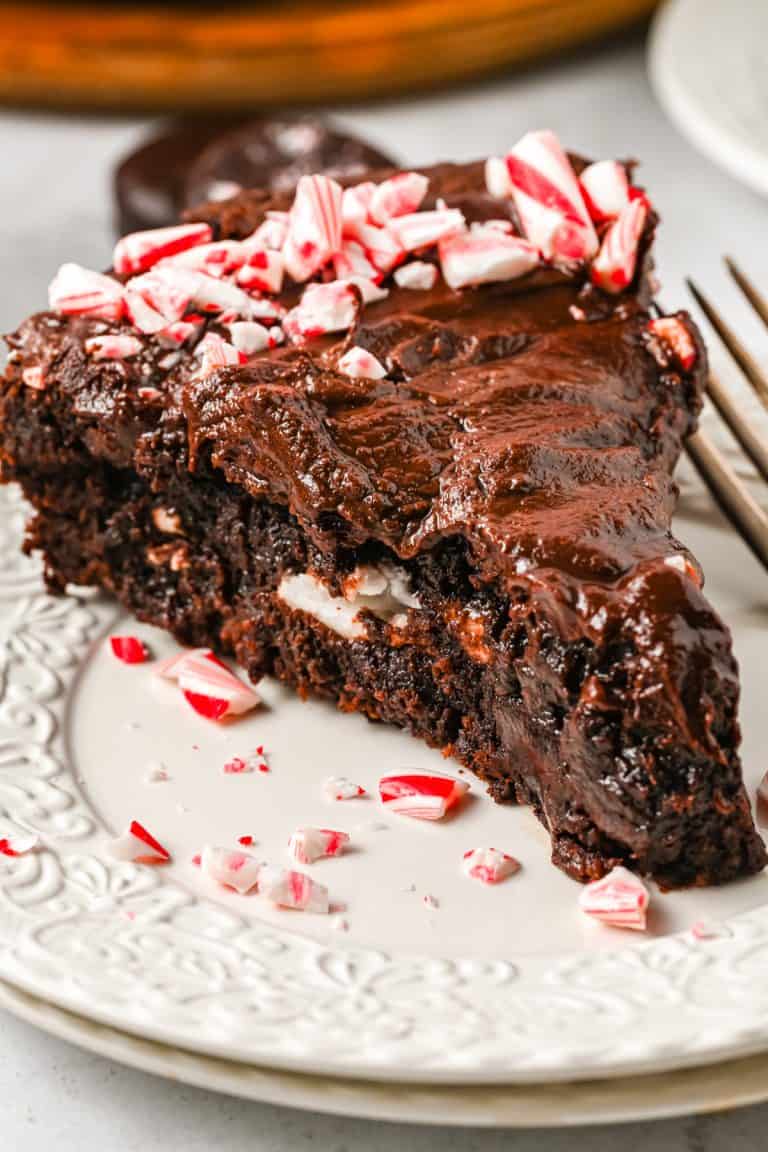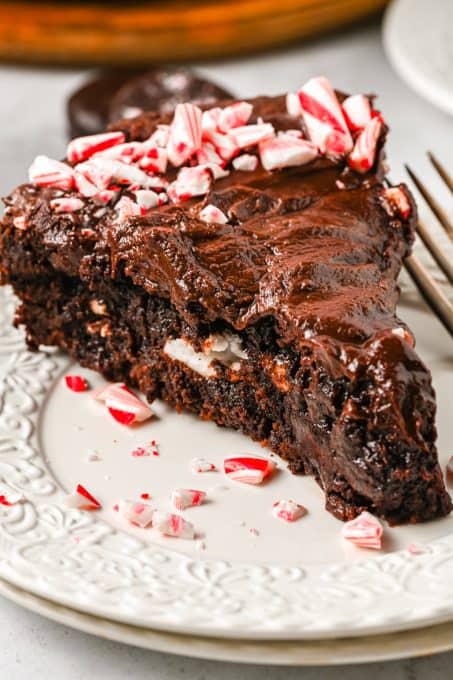 Just like my Peppermint Brownie Bites, this brownie dessert has a peppermint surprise tucked inside. In this case, it's a full layer of peppermint patties candies baked into the batter.
I love everything about this dessert. It has the chewy, fudgy taste of the best chocolate brownies, an incredible homemade ganache AND that refreshing "zing" of peppermint cream in the middle.
You can make this chocolate peppermint brownie pie in a square baking dish, but I like to make it in a pie plate! Sliced into wedges and eaten with a fork, brownie pie makes a fun addition to your holiday pie rotation.
One of my most favorite peppermint desserts this time of year is my no bake Peppermint Dream Dessert. It is absolutely heavenly with lots of great flavor in every bite. It's got a chocolate cookie crust, peppermint cream cheese layer, pudding, whipped topping, and chopped peppermint candy. It's a favorite holiday dessert among my readers.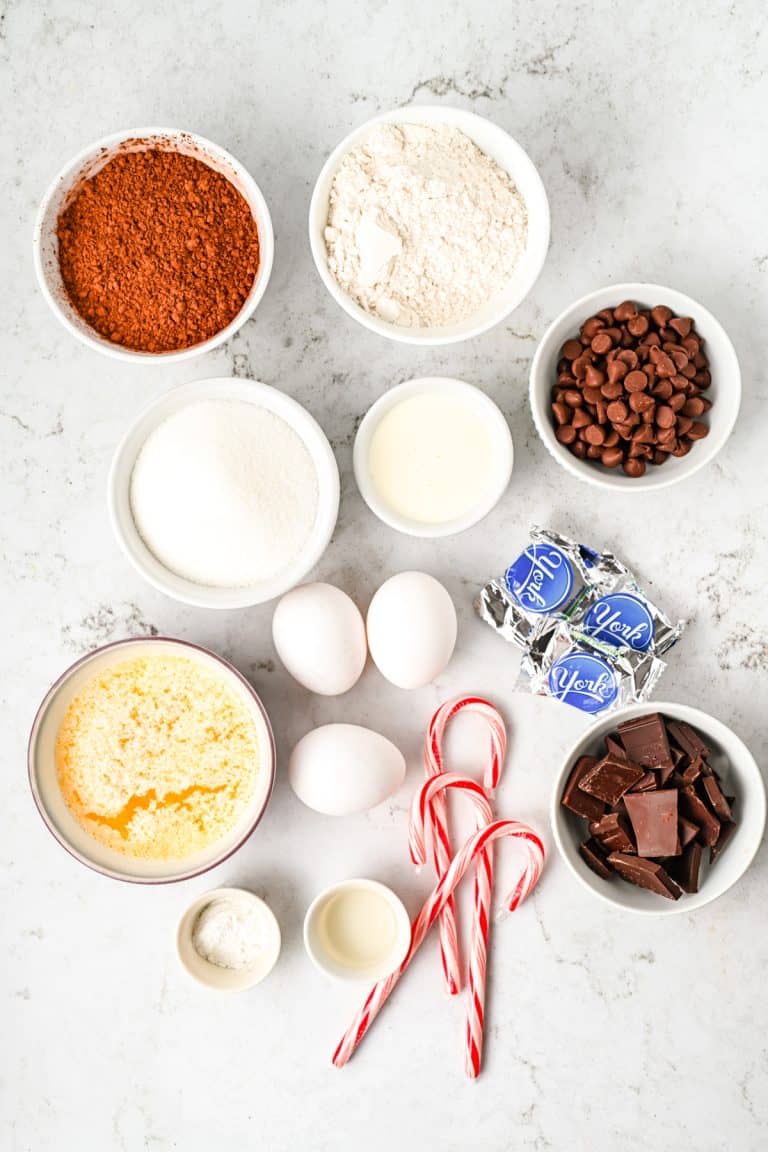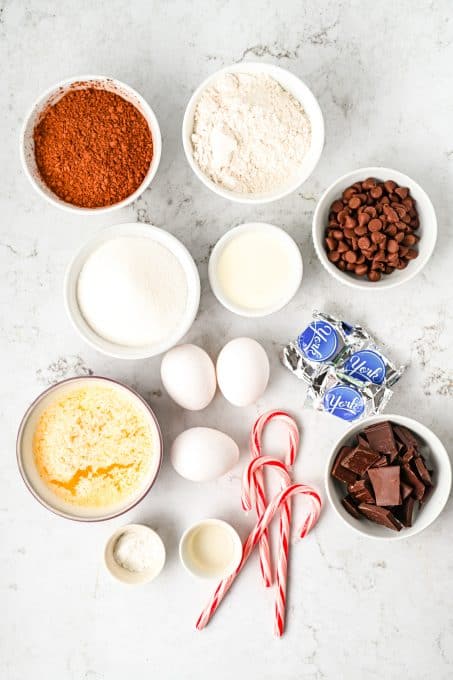 What do I need for this brownie recipe?
Here are the ingredients you'll need for this new recipe.
● Butter, divided
● Unsweetened cocoa –Use a good quality Dutch processed cocoa like Ghirardelli for best results.
● Sugar
● Eggs
● Vanilla extract
● All purpose flour
● Baking powder
● Semi sweet chocolate chips – Again, the higher the quality of your chocolate, the better the gooey, chocolatey flavor!
● Mini peppermint patties – I used York, but any brand is fine.
● Heavy whipping cream
● Crushed candy canes – Or use any crushed peppermint candies you like.
You can also use these Andes Peppermint Crunch Baking Chips for garnish.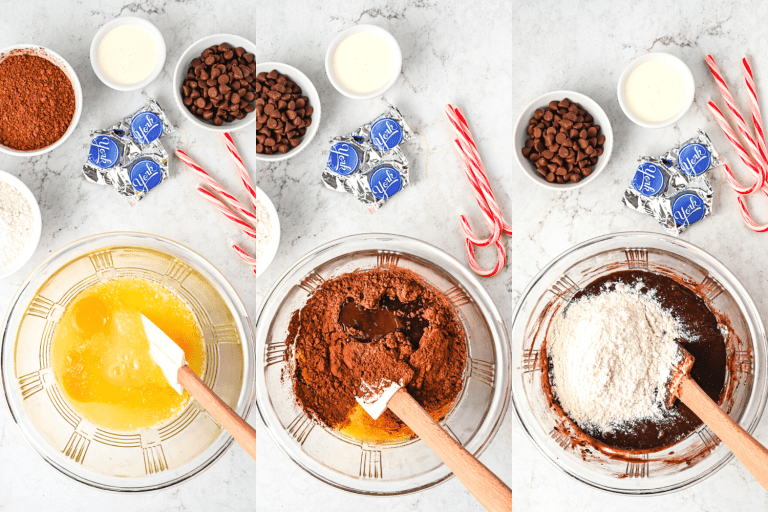 How to Make Peppermint Brownie Pie
First, you'll make a brownie batter. Melt butter and chocolate pieces in a small bowl for 30 second increments in the microwave until melted and completely smooth. Set aside. In a mixing bowl, combine eggs, and the melted butter. Mix the cocoa powder, sugar, and vanilla, Add the melted chocolate, and stir until completely smooth. Whisk the baking powder and flour together and add to chocolate mixture. Mix well, but do not over mix.
Spread half the brownie base in an even layer into a 9-inch pie plate or baking dish. Arrange the peppermint patties on top in a single layer. Now spread the final brownie layer over the candies.
Bake pie for 30 minutes in the preheated oven. It should be soft and a little gooey in the center but not runny. Remember the brownies will firm up as the pie cools on a wire rack!
Now it's time for the best part: the chocolate ganache!
To make the ganache, melt the rest of your chocolate chips in the microwave with heavy cream. Stir until melted and combined.
If you notice the chocolate is still lumpy, heat the mixture again in 10 second increments. Stir after each round in the microwave until the chocolate is fully melted and smooth.
Spread the ganache over the brownie pie. Sprinkle with crushed mini candy canes, and garnish with whipped cream, if desired. Slice into squares or pie wedges and enjoy!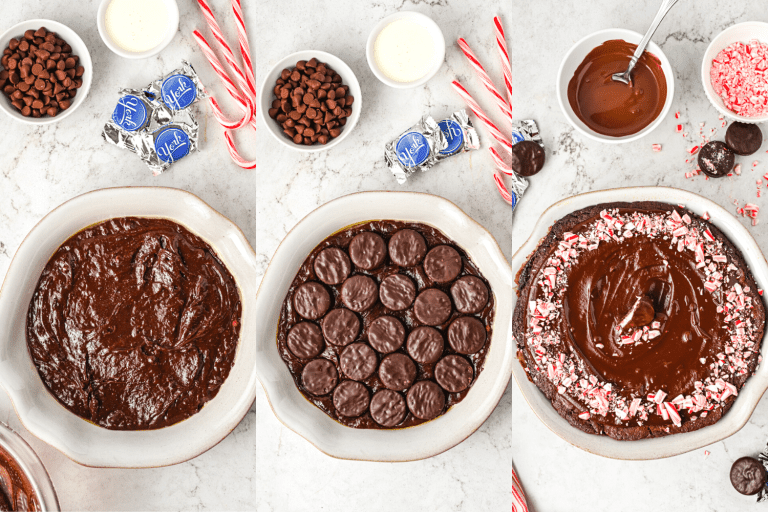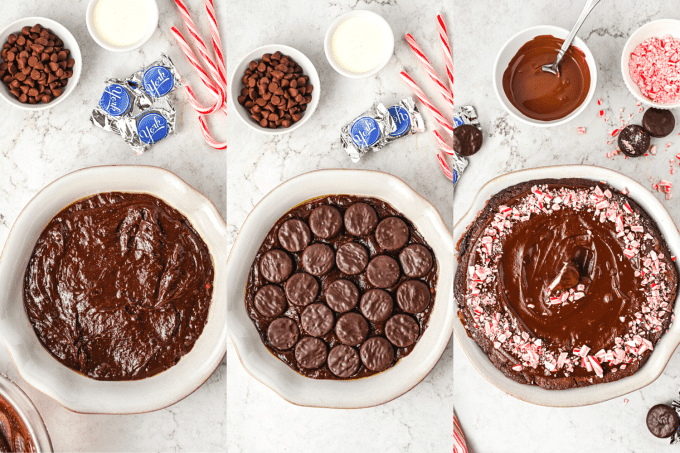 How do I crush the candy canes?
The easiest way to crush candy canes is by placing them in a plastic bag with a zip top. Use a mallet or rolling pin to crush them into small pieces. I like to leave a few larger pieces for variety.
This is also a great way to use those candy canes that get broken in the box!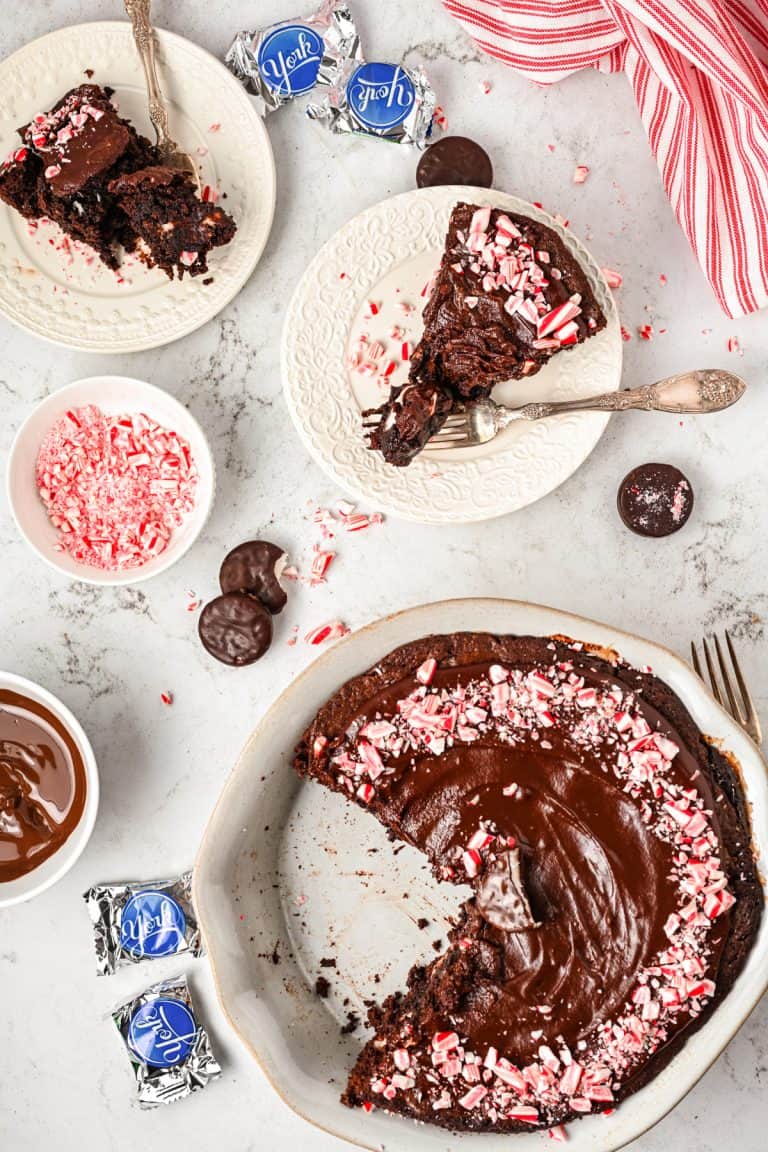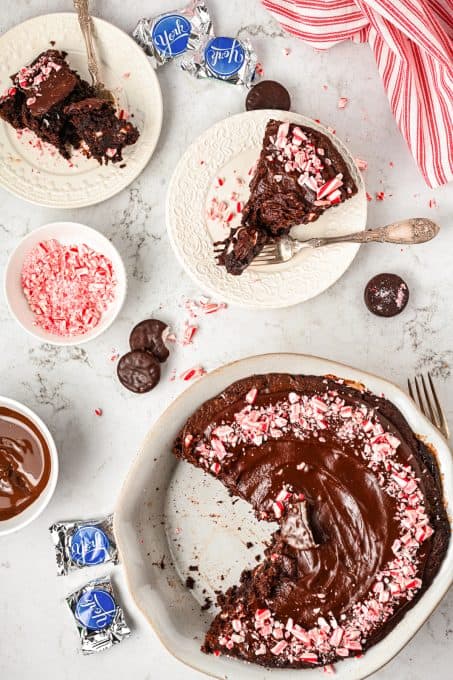 How do I store brownie pie?
Keep your peppermint brownie pie covered in the refrigerator when you're not eating it. It keeps for about 5 days and tastes delicious chilled.
You can also freeze the brownie pie if you want it to last longer. In the freezer, it stays good for up to 3 months.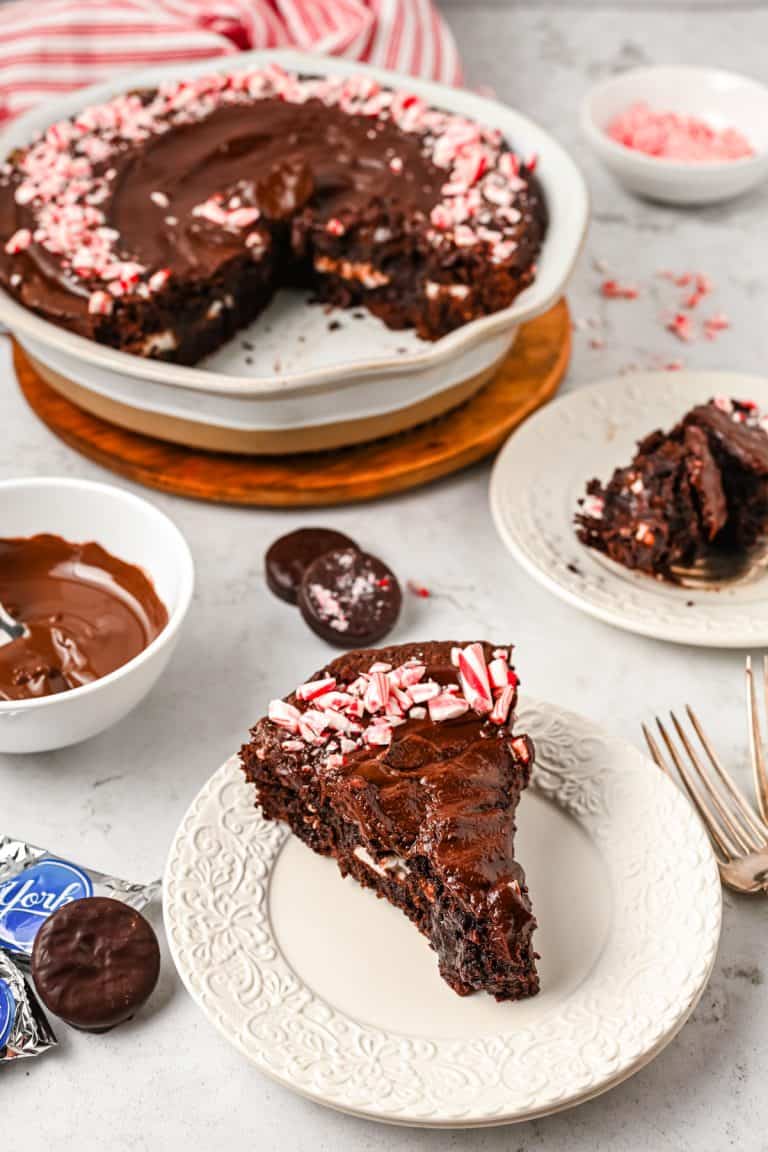 Peppermint Dessert Recipes
My Christmas baking isn't complete without at least a couple of peppermint-y treats. I love the flavor so much that peppermint extract is most definitely one of my go-to ingredients this time of the year.
Last year, everyone raved over these Peppermint Sugar Cookie Cups, so I will definitely make them again! These Peppermint Blossom Cookies are a hit every year, too.
If I'm being honest, I'd trade sugar cookies for a couple of Peppermint Chocolate Biscotti any day. I can't get enough of those crunchy breakfast cookies, especially with a strong cup of coffee on the side for dunking! Add a splash of Peppermint White Chocolate Coffee Creamer to your mug for even more delicious holiday flavor. This Peppermint White Chocolate Mocha is another perfect coffee drink to pair with biscotti or any breakfast pastry!
You can turn any cake, cupcake or cookie into a peppermint dessert when you top it with Peppermint Buttercream Frosting. Sprinkle a few crushed candy cane pieces over a frosted cupcake and you have an easy festive dessert for your Christmas parties.
Looking for more holiday pie recipes with peppermint? Try my Chocolate Peppermint Cream Pie next! It's full of rich chocolate with the perfect zip of peppermint.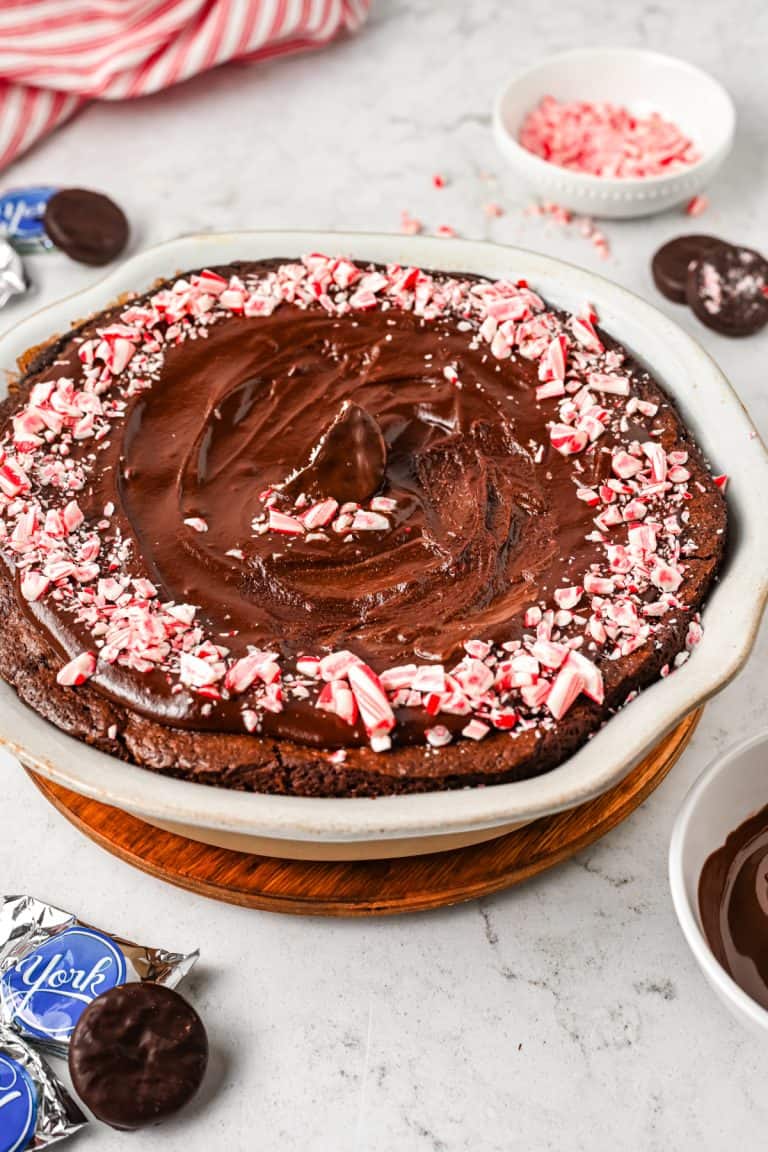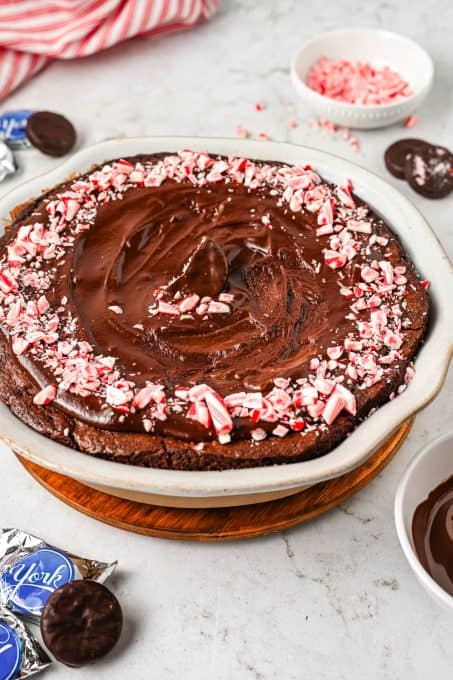 Delicious Brownie Recipes
Crazy about brownies? Us too.
We have enough brownie recipes on the site to keep your oven busy this holiday season and beyond. Whether you like your brownies with peanut butter or salted caramel, or just in their purest form, we have the perfect brownie recipe for you.
I had never thought to add butterscotch to brownies before making these Butterscotch Chocolate Chip Brownies. The results were fantastic: extra chewy, rich and fudgy! These TWIX® Bites Brownies are topped with a caramel buttercream that makes them "over the top" in the best possible way.
For all you brownie purists who don't want any distractions from the chocolate: try my Chocolate Overload Loaded Brownies. I baked them in honor of one of the biggest chocolate fanatics I've known, and I think of her every time I make them.
Love marshmallows in your hot cocoa? These Hot Chocolate Brownies taste just like a cozy cup of cocoa, with just a touch of mint.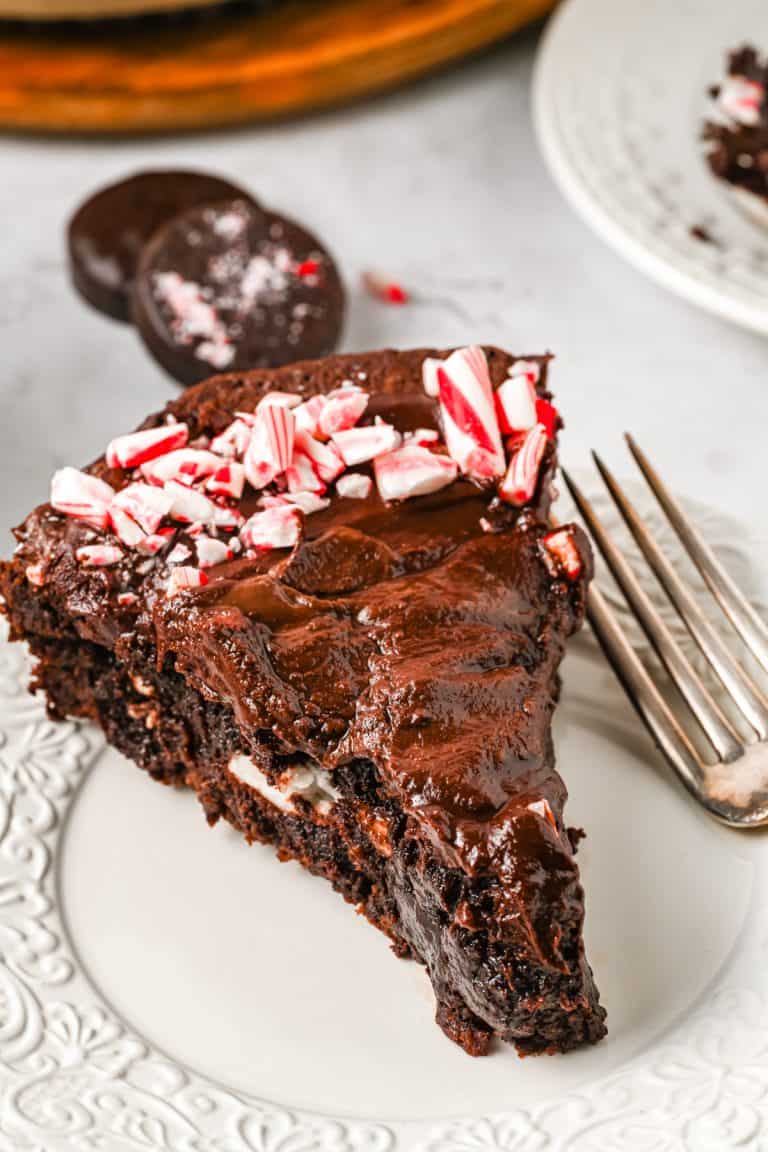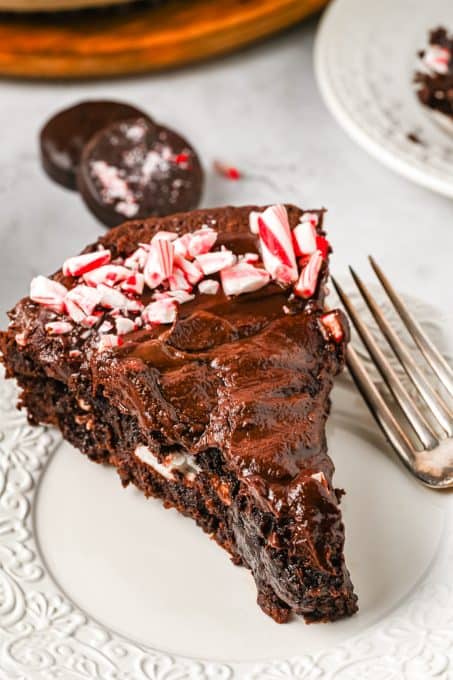 If you want ALL the mint flavor in your chocolate brownies, you can't do better than this Brownie Pie. It's a Peppermint Brownie Dessert that'll have everyone coming back for another slice.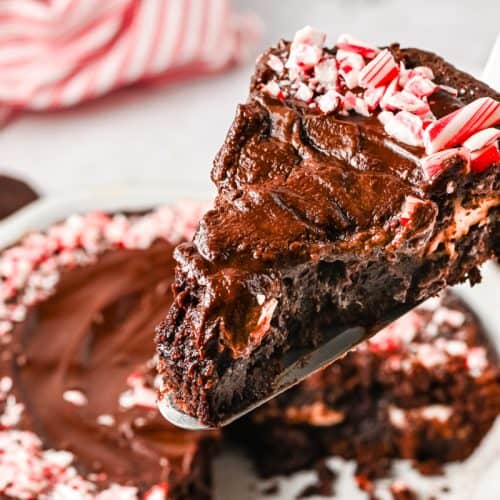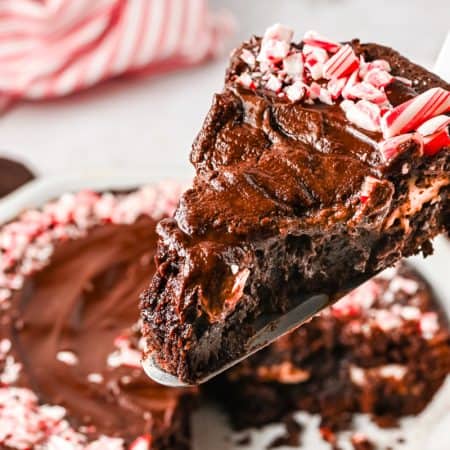 This decadent Peppermint Brownie Pie made from scratch is full of chocolate and delicious peppermint flavor. With homemade brownie batter, peppermint patties tucked inside, and topped with chocolate ganache and peppermint pieces, this delicious dessert is absolutely perfect for the holidays!
Ingredients
¾ cup salted butter divided
1 ½ cups semi-sweet chocolate chips divided
3 large eggs
¾ cup unsweetened cocoa
1 ½ cups granulated sugar
1 teaspoon pure vanilla extract
¾ cup all-purpose flour
1 teaspoon baking powder
15 mini peppermint patties
¼ cup heavy whipping cream
crushed candy canes or peppermint candies
Instructions
Preheat oven to 350°F, and spray an 8 X 8-inch baking pan or round pie pan with cooking spray.

Place 1/4 cup butter and 1/2 cup semi-sweet chocolate chips in a small microwavable-safe bowl. Microwave for 30 seconds.

In a large microwavable bowl, melt the remaining 1/2 cup of butter. Allow to cool before mixing in the eggs. Add the cocoa, sugar, and vanilla and mix until smooth. Add the melted chocolate and stir until combined.

Whisk the baking powder and flour together in a medium bowl, and then add to the chocolate mixture. Combine well, but do not over mix. Spread half of the batter into the prepared pan.

Place the peppermint patties on top of the batter, then spread the remaining batter on top.

Place into the oven to bake for 30-35 minutes. It will be soft, but not completely runny when baked.

Allow to cool completely while making the ganache.

In a clean medium microwavable-safe bowl, pour the whipping cream and chocolate chips. Microwave for 30 seconds. Remove and stir until smooth. If mixture is still lumpy, microwave in 10 second increments, stirring between each time until smooth.

Spread ganache over pie, and sprinkle with crushed candy canes or peppermints.
Nutrition
Serving: 1person | Calories: 734kcal | Carbohydrates: 108g | Protein: 8g | Fat: 33g | Saturated Fat: 20g | Polyunsaturated Fat: 1g | Monounsaturated Fat: 8g | Trans Fat: 1g | Cholesterol: 101mg | Sodium: 155mg | Potassium: 405mg | Fiber: 6g | Sugar: 81g | Vitamin A: 612IU | Vitamin C: 0.04mg | Calcium: 68mg | Iron: 4mg
Did you make this recipe?
Share it with me on Instagram and make sure to follow me on Pinterest for more recipes.
Reader Interactions